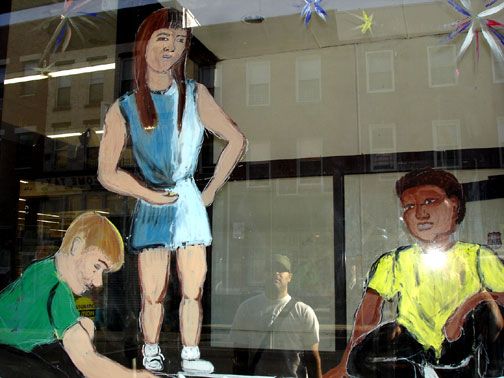 I have a pathological fear of mannequins. I can't explain why. Maybe it was an early childhood visit to a wax museum that scarred me? How about those green glowing monster hands trying to bust through a door in the Haunted Mansion ride at Walt Disney World? Maybe my Action Jackson action figures winked at me or my stuffed clown doll whispered something terribly mischievous? I. Don't. Know. There's something inherently evil about inanimate objects in the shape of human. I still freak out whenever I watch the horror film TOURIST TRAP.



incogvito met up with me in Carroll Gardens to go over his scripts and my character sketches of a new back-up feature we're producing for a comic book company [details to be announced later]. Inbetween our Greek diner lunch break at Salonike and scoring new comix at Rocketship, we walked passed a grocery store that displayed the most creepy window art. It purported to showcase a pleasant summer scene that, instead, brandished the stiff and broken body language of sub-humans painted by a child of extremely limited talent. I couldn't take my eyes off it.

I've avoided many a junior high school mural and ignore most kids festival art shows but, today, something in the grocery store window clicked. With the zombie fad reaching critical mass, I realized the eerily inaccurate yet bare bones expression of children's art could make for the most chilling zombie comic book. I imagined a world of bad children's acrylics coming alive in burnt umbers and yellow ochres while slipping and sliding in cadmium red as I ran down Smith Street, mouth agape, eyes bulging, losing my mind.