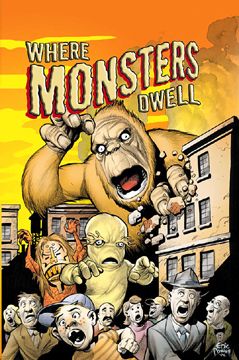 I grew up a Marvel Comics junkie. I've got no bones about it. Anybody that follows genre comics and knows my stuff knows I'm a big Jack Kirby fan, possibly the greatest comix innovator who ever lived and the co-creator of the Marvel Universe, including a slew of expendable monsters. When I learned that Marvel was going to bust out some new spins of their old monsters, I felt...left out. Sure, I knew Eric Powell and gang would do a bang up job but there are editors at Marvel that know my stuff and know I would give my big toe to draw a Marvel Monster comic. Heck, I drew a 4-issue THING mini-series a couple of years ago to critical acclaim, why didn't my phone ring?

It was
ianbrill who alerted me to a funny bit in this weeks release of WHERE MONSTERS DWELL, a comic that was sitting atop DEVIL DINOSAUR in my "to read" pile.





I'm extremely flattered by writer Jeff Parker's shout out [he's a good guy and hella talented], but I guess I'm extra bummed now that nobody called me to draw one of these bad ass monster comics. You'd think somebody over at Marvel would've been the wiser? Darn. I guess I'm gonna havta roll up my sleeves and write my own monster comix. Yeah, that's it. That's what I'm gonna do. Monster Romance!