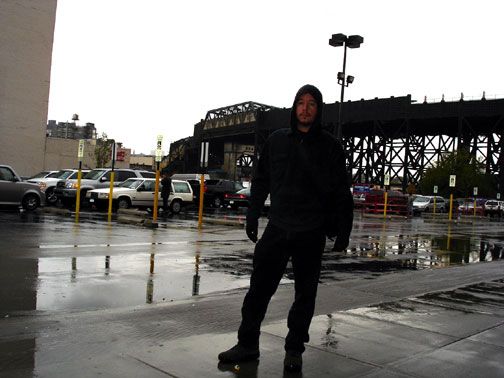 [Waiting in front of Lowes while SBX scores a sump pump for her flooded basement]

I cherish good semi-autobio comix and have dabbled in it myself. I think I have an interesting enough life to share only I have yet to make my stories read with universal appeal. My complaint about OPPOSABLE THUMBS is that the reader is forced to stand idle like a voyeur rather than a participant; creating an unfortunate distance. In the past I have taken a narcissistic, almost reportage, approach in my semi-autobio comix when I should have fictionalized it in some broad way in order to secure the readers loyalty. The best semi-autobio authors manage to tell their story while making you feel it's yours, too. I rarely ever achieved that primal connection in my work except, maybe, in my BILLY DOGMA stories which I have always felt was MORE autobiographical than anything else I've done. With BILLY DOGMA, I achieved a certain distance that allowed for the truth.

I started typing a Blog over 4-years ago and it got REALLY personal REALLY fast. It became an awfully ugly read. A heartbreak finally caused me to chill out with all the gnarly details and then I learned to use my Blog as a place for text sketches, communal parlay and procrastination, and a hype tool for my work. Since then, I've sparked picture diary's and written short yet anecdotal autobio. Just like film school taught me how to think about sequential narrative solutions better than any fine arts class could, the nature and potential of Blogs have taught me how to be a better conveyor of textual sound and beats.

Semi-autobio authors and provokers like Eddie Campbell, R. Crumb, Harvey Pekar,
4_eyez, Jeffrey Brown, Vanessa Davis, Chester Brown, James Kochalka, Gabrielle Bell, Charles Bukowski, Jonathan Ames,
digitante, Jonathan Lethem, David Sedaris,
larrondo,
niggerkojak,
digital_ink, and most recently,
stereolabrat, manage to create the perfect distance between their real life and ours, manifesting a symbiotic relationship between writer and reader.

Undie Press has approached me to publish an art memoir of sorts come summer of 2006. A combination of my best Blog posts mixed with some comix and sketches. It's going to be raw and titled POST-DISASTER ADVENTURE CHRONICLES. Maybe this will be the start of something? I think I need to read Henry Miller.