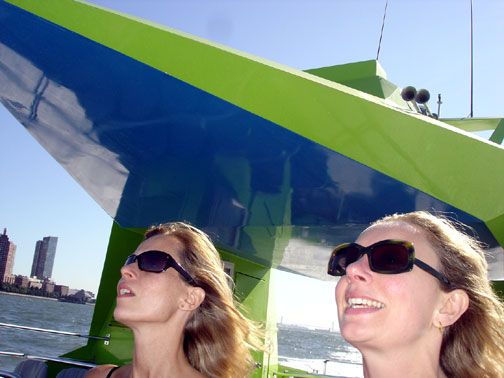 SBX's cousin, Louise, came to town from the UK to visit NYC for 4-days. SBX took Louise to the Empire State Building, Central Park, Grand Central Station for a Cosmopolitan, Myla Goldberg's reading of WICKET'S REMEDY at the book fair in Bryant Park, shopping, more shopping, etc.

I joined in on one goofy excursion when we rode our bikes over the Brooklyn Bridge to Pier 17 for sushi and sight seeing. SBX wanted to take a ride around Manhattan on the Schooner Pioneer but its season had ended and the boat was being stripped. Confounded, our only options were to take a fat party boat or ride The Shark. One look at the shark's jagged jaws painted along the side of its florescent green front and we immediately knew our answer.

We hopped in and grabbed the railings. The Shark started playing "Eye of the tiger," and the speed went from the Keystone cops to hyper space within nanoseconds. As the music raged and The Shark went full blast, it became painfully obvious that we were the jerks of the river as sailors and fisherman sneered at us in disgust. It was like a Coney Island ride on the Hudson. The faster we got and the harsher our turns, the more sea water soaked our hair and clothes. People screamed and laughed. I tried to wipe the salt from the front of my shades only to be drenched in a splash of Tsunamic proportions. By the time we swung by the Statue of Liberty, The Beastie Boys' "No sleep 'til Brooklyn," kicked in and then The Shark cranked up another notch of assholia as we went Mach 5. Battered, we ended our thrill staring up under the belly of the Brooklyn Bridge, admiring its massive wonder of interlocking steel and wires as cars and bikes rolled by. When we got back to land, I wanted to go back for another.