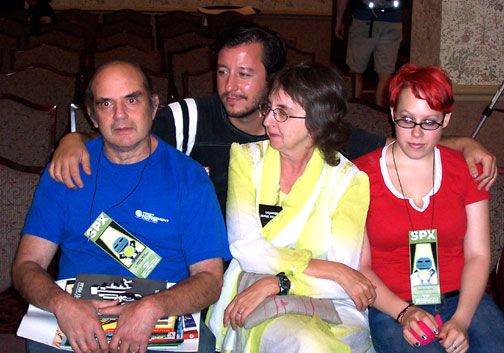 [Harvey Pekar, Dean Haspiel, Joyce Brabner, and Danielle]

I hitched the cheap bus to Washington D.C. with
4_eyez, his wife Sari, and
rantcomics. I read some KAMANDI but Jack Kirby's "last boy on earth" was distracted by the attractive yet hungover 21-year old Columbia University student cum journalist who sat next to me dressed in a rebellious high school girl skirt and black tie. We talked about independent comix and shared candid college stories. She was heading to D.C. to meet up with her 42-year old boyfriend/actor to raise their fists in solidarity for the anti-war protest that was, among other events, competing with this weekend's Small Press Expo [SPX].


After a short metro ride and walk to Bethesda, we arrived at the Holiday Inn Select where SPX is held annually. The familiar lobby with the cash bar and spiral staircase brought me smiles and I felt a fond sensation of home. I realized that I've been coming here for 8-years in a row. The first person to tap my shoulder and spin me around was Baltimore Comicon organizer Marc Nathan. I gave him a big fat hug for missing his show the week prior [due to obnoxious deadlines] and then we're square. This tap on my shoulder starts a domino effect of high-fives, kisses, and hugs. A perpetual string of good will tribes and vibes, new and old; the stuff that makes SPX my favorite comix experience of the year, and it never lets up for the entire weekend. And when Chris Oarr shows up, all bets are off, and the sauce is traded.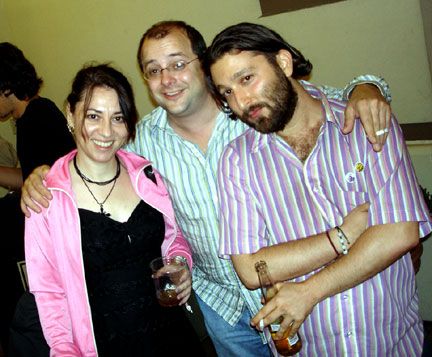 [Heidi MacDonald, Chris Oarr, and
dangoldman]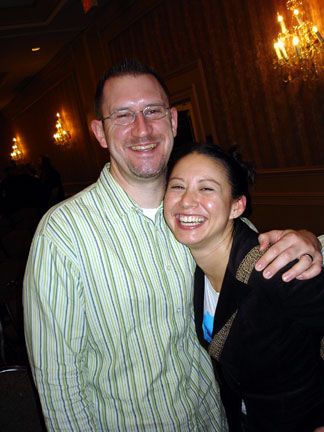 [
chatterbox_dc and his lovely wife, Rachel, who gave us a generous lift back to the cheap bus home]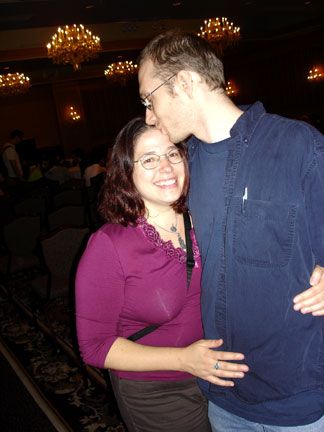 [
ebess and
purvision]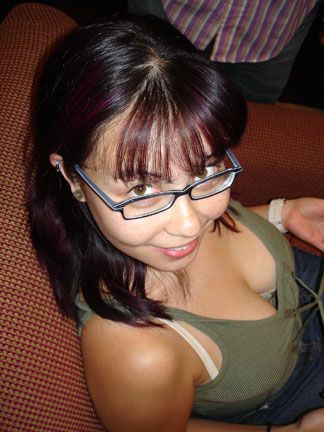 [
caramiaculpa]

Nick Bertozzi and I managed to finish most of a bottle of Jim Beam before we hit the hotel lobby @1AM, Friday night. Then, we steal liquor from our friends until 4AM or so? When I wake up Saturday morning next to Bert in bed, I figured I must be at SPX. And, I was. By late afternoon I'm stealing Makers Mark from Charles Brownstein's flask at the CBLDF table while coercing
chatterbox_dc, et al, into buying me hotel whiskey throughout the evening. That, and the tequila shot I stole from Keith Knight's bottle on stage with Matt Madden during the Ignatz ceremony. An hour later,
trishalynn,
caramiaculpa, and Heidi MacDonald, MAKE ME take off my shirt for prime photo ops in the Versailles room so I can keep THE BEAT on point while keepin' the X in SPX.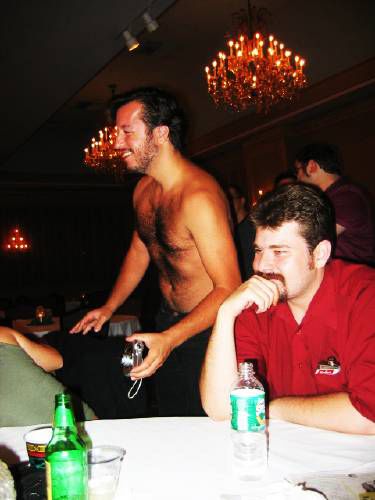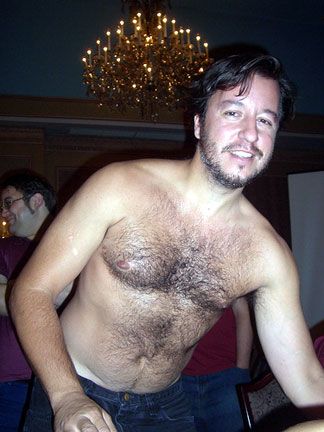 [snapshots of me courtesy of Heidi MacDonald and
dangoldman]

Sunday's hangover wouldn't let me keep my bat swing level in the softball game vs. Diamond Distributors and, even though I make some solid defensive plays, I fumble a couple of easy catches. My long pop flies out don't help matters and we lose the game like we do every year. I manage to only get on base once.
4_eyez gives me that look that screams "The fuck!?!" I blame the dust in my bones and the rust in my muscles.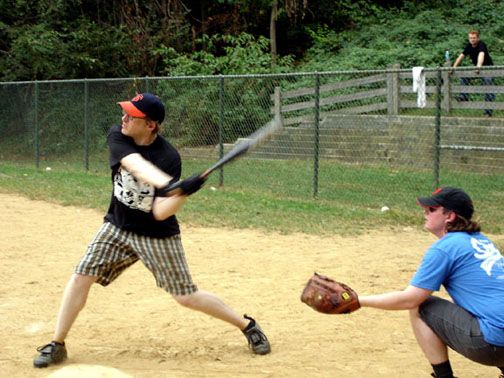 [
4_eyez represents team SPX]

Overall, I spent a bunch of my time pimping THE QUITTER with Harvey Pekar. We were situated by the CBLDF table and I drew a quick Pekar sketch that Harvey wrote original dialogue for that commanded over $100 at the CBLDF Auction. We met lots of fans and shook hands with many friends. We signed plenty of AMERICAN SPLENDOR books and THE QUITTER promo cards, including a 40 oz. bottle of Olde English 800. I drew a bunch of sketches that ranged from The Thing to Billy Dogma.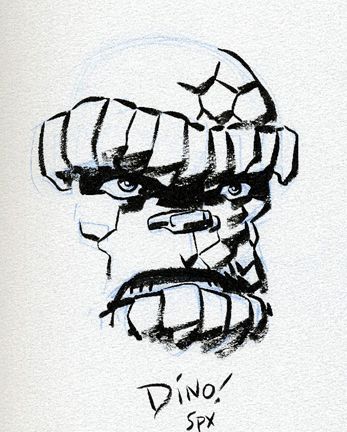 Everybody seemed to dig the advance galley of THE QUITTER which made us extremely happy. I turned Harvey on to many cartoonists, including the talents of
rantcomics,
dangoldman, and
zegas. Harvey made many comments of how great a lot of the comix were at the show and he received a standing ovation at the Ignatz ceremony which blew him away. You could see it in his eyes. I was so proud of the old guy. It's comix like AMERICAN SPLENDOR that helped set the stage for independent comix shows like SPX, and Pekar had more than earned his "guest of honor" status. As I stated in a recent interview, Harvey Pekar spent the first 32-years of his life thinking with his fists and, after a critical paradigm shift, has spent the rest of his life fighting with his pen.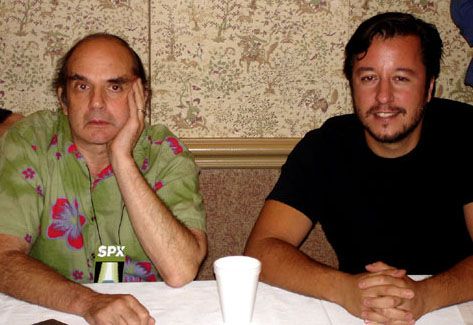 [Harvey Pekar and I]

"Visualizing American Splendor" with Pekar,
4_eyez, Ed Piskor, and moderated with intelligence and ease by academic, Michael Rhode, was a lot of fun. I managed to rib both Pekar, Joyce Brabner, and
4_eyez, and score some audience laughs. Piskor tried to shock me by flashing me his nut sack a second before the panel started, but I managed to recover quick from the bulbous pink horror.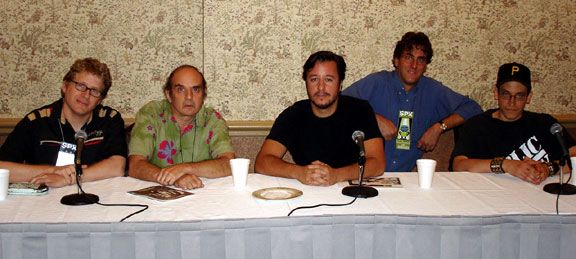 [
4_eyez, Harvey Pekar, Dean Haspiel, Mike Rhode, Ed Piskor]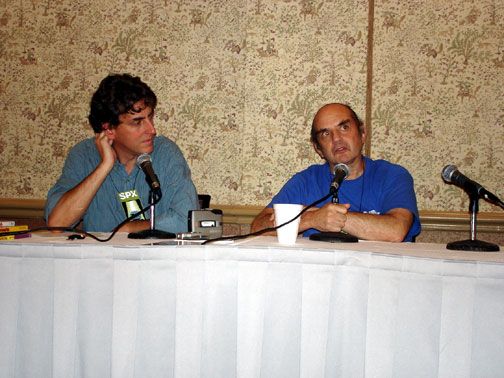 [Mike Rhode and Harvey Pekar]

Bethesda proper was in good form, too. The Thai food was swell and the whiskey was masterful. I suppose I was waiting for something outrageous to happen at night but nothing really took it to the bridge. Then again, the only after hours party I snuck into were hosted by Big Planet Comics' Greg Bennett, and I usually stumbled into his suite when I should've been making a fluffy pillow my prison wife. So, I missed out on what shenanigans the "kids" were up to and that's okay. As Heidi MacDonald keenly suggested in her column, perhaps it's time I retire and let the newbies bring the noise; like the very shy yet very talented Norwegian cartoonist, Ronja Svenning Berge, who one late night, drew a flattering portrait of me that I could never live up to.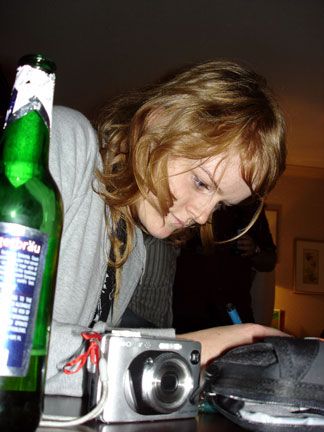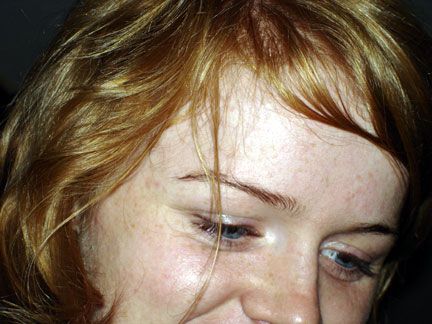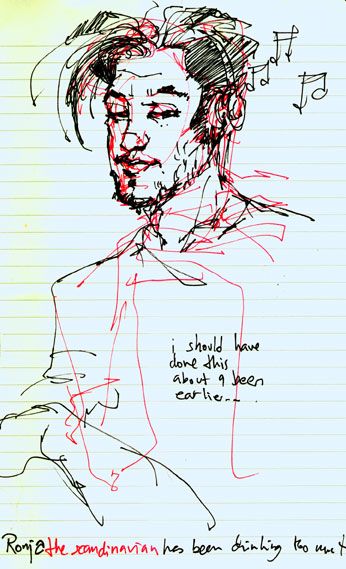 [the mysterious Ronja Svenning Berge and her drunken portrait of me]

Unfortunately, I never got the chance to visit every table I wanted which was a terrible shame to miss out on where so much hand-made comic book gold at a show like this is heartfelt and honest. A lot of kind folks graced me with their wares and were much appreciated. Some stand-outs were:

Chris Radtke's EVERYDAY

sneakymonkey & Rami Efal's AS ABOVE SO BELOW [with a cover by
dangoldman
ebess's WEIRD SISTER

chatterbox_dc and
purvision's DEAD MEN'S TALES
Meirav Shaul's DIMONA 3
Noa Abarbanel & Amitai Sandy's SHIRLEY!
Damien Jay's PLATES ARE CULT 3, and THE PROBE
K. Thor Jensen's BATMAN: TRAPPED IN THE CLOSET 1 - 5

portermcd's COW PUNCH Book One
Tomasz Kaczynski's LIESURE, and TRANS AIREOIS
Jim Campbell's KRACHMACHER 2
Mike Dawson's GUITAR SOLO
Reliable Press' new felony-sized anthology, YOU AIN'T NO DANCER

SPX director Steve Conley was extremely generous to us as were the rest of the SPX staff and volunteers including: Karon Flage, Jeff Alexander, and the stunning Elizabeth Gordon, who threatened to buy me drinks the whole weekend and never did! Perhaps she was saving my liver from extinction level event? Thanks, E! One late night in the lobby bar Harvey Pekar's wife, Joyce Brabner, confided to me that, for extra coin, she wrote erotica for old people....................I still can't wrap my mind around that one.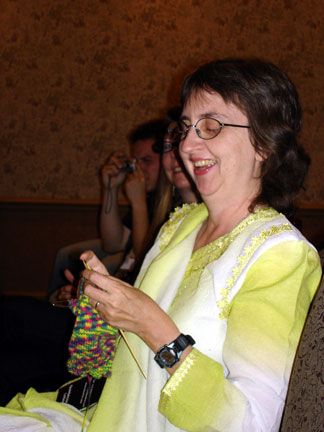 [Joyce Brabner laughs at her own jokes]

Finally,
chatterbox_dc gave me a surprise gift that had me in stitches. He had attended the Baltimore Comicon the week prior and hung out with my mentors, Walter Simonson and Howard Chaykin. When they got wind that I had to cancel my appearance at the 11th hour, they decided to dub me a pansy and send a very loud graphic message: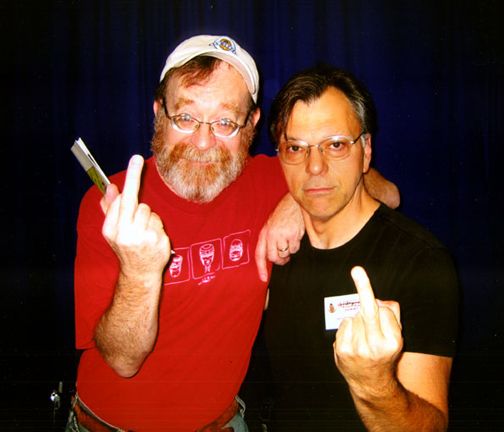 That photograph is now hanging on my wall next to my art table and under my 2002 Will Eisner nomination for "Talent deserving of wider recognition."