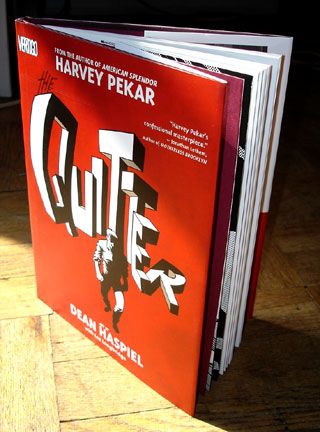 This coming Weds. [10/5], Barnes & Noble [Union Square] is going to host a very important discussion and signing for both Harvey Pekar and I. We are very proud of our new collaboration, THE QUITTER, and we hope you can come join us help make our graphic novel a success.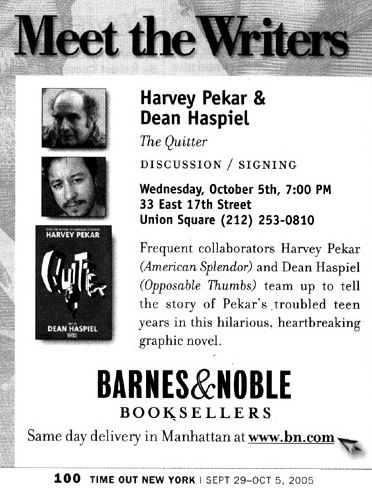 DC Comics/Vertigo hype:

Who: Writer Harvey Pekar (AMERICAN SPLENDOR) and acclaimed artist Dean Haspiel
What: Discussing and signing their new graphic novel THE QUITTER
Where: Barnes & Noble Union Square, 33 East 17th Street, New York, NY
When: Wednesday, October 5, 7 PM
Why: Why?

Why Part 1) THE QUITTER is a helluva read. In traditional literary terms, THE QUITTER is Harvey Pekar's coming of age story; in traditional comic book terms, it is his secret origin. For the first time, one of American's most distinctive writers (and one of our most beloved curmudgeons) reflects back on his childhood years. Before the American Splendor comic books, his contentious appearances on Letterman and the acclaimed biopic of his life, Harvey was one angry young man. Dramatically illustrated by acclaimed New York City-based artist Dean Haspiel, THE QUITTER explores how Pekar's obsessive fear of not succeeding led him to become a skilled athlete, a schoolyard bully and, finally, the lovable, cranky writer that we know today.

Why Part 2) It's damn beautiful. VARIETY.Com says "Haspiel's clean, black-and-white art evokes the best qualities of great comics art, from Jack Kirby to Bruce Timm." Jeff Smith says "Pekar and Haspiel complement each other perfectly. The Quitter may be my favorite work from both artists. Completely engaging!"

Why part 3) Harvey Pekar is unconventional, uncompromising and challenging. Dean Haspiel has the gift of the gab and just might be the best kept secret in comic books.

On October 5th, Vertigo will publish THE QUITTER, Pekar's graphic novel in collaboration with Haspiel. Please join us for the kickoff of the book's publication.