Staggering out of slumber unusually early Wednesday morning at the catatonic hour of 6:something-in-the-AM., I knew the evening was going to be especially rough on my bike legs and drink tickets. Armed with this sobering foresight, I helped my lovely Valkyrie, SBX, renovate her house only to hold up progress for a good 15-minutes when I sliced open my finger tips on the sharpest of metal siding while applying masking tape for primer. Relief found purchase when SBX nursed and bandaged my gashed digits making sure to keep my compromised paw above the equator of my heart; lessoning the spill of bloodshed. A beautiful sunny day kept our step in pep and by late afternoon we took a well deserved coffee break, sitting around the patio table for post-school catch ups and ginger snap giggles with her two daughters, Ola and The Haze.



By dusk, I was back at my studio after a brisk comix shop at Rocketship. I hopped in the shower and out on my bike over the magnificent Brooklyn Bridge, stumbling in fashionably late for the debut of
digitante and
biffsatan's THE NEEDLE EXCHANGE [http://www.needlex.net/] at Junno's on Downing street.
zegas and pals were holding a seat for me while I grabbed for a whiskey and a listen.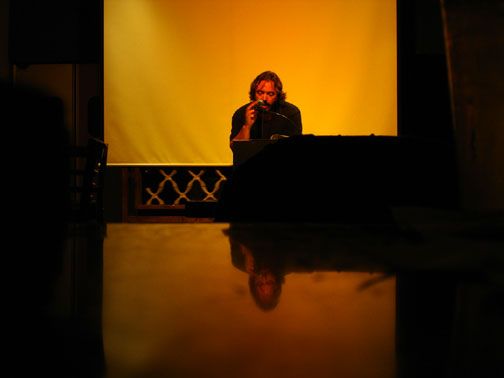 [
digitante reads his scathing tale about the inane cult of literary revolution]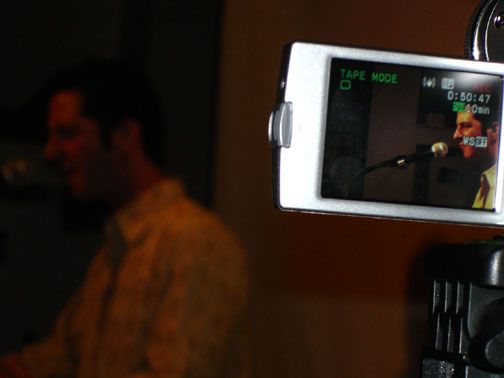 [
biffsatan waxes rednecks and religion with The Wizard of Oz]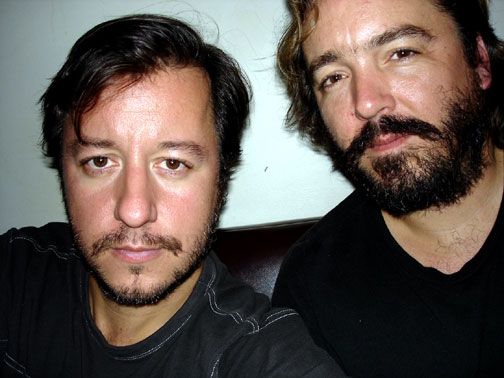 [me and
digitante trying our best not to smile]

Having to split the Exchange early for Robert Goodin's art show at Jigsaw, I grabbed a 3-piece "chicken selects" box from Mickey D's around the corner and headed far east to 11th street between aves A and B, where Jigsaw gentleman, Ben Jones, furnished me with a whiskey the second my right foot left bike pedal. Excellent conversation was shared with Robert and his wife as we discussed the power of comic book pacing and the staccato nature of James Ellroy.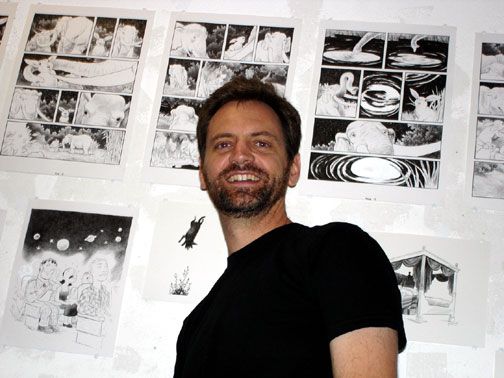 [Robert Goodin stands before a wall of his talents made manifest]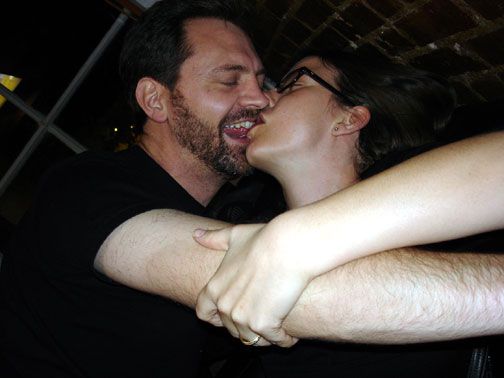 [Disgruntled by the lack of public sex, I ordered Robert to tackle his wife for a good snog]

Back on my bike, I rode over to Stromboli's for a slice and called my pal Doug who, coincidentally, is an executive editor at SPIN Magazine. He was at Webster Hall celebrating the 20th Anniversary of SPIN among peers and high profile music acts, and I was to be his "date" [thanks to his lovely fiance,
deuxchiens, opting to, instead, enjoy a relaxed evening at home]. Adopting her royal treatment, I scored a gold colored VIP bracelet that had me plied with free cups of orange flavored vodka for the duration of the evening.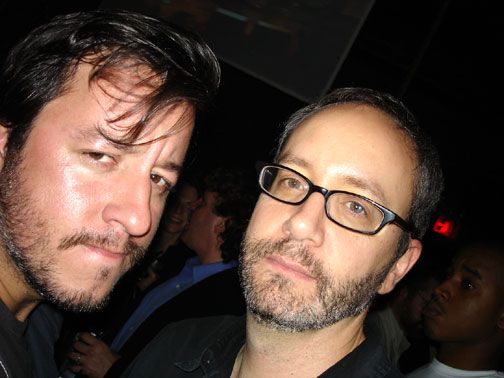 [I mug with Doug like two pugs]

Not being the type of a guy that clubs it up, I soaked in the purple lights and faux mist while bodies, nubile and naive, slipped and slammed my frame sans resistance. Doug introduced me to his cheerful and informed SPIN peers as actress cum singer, Juliette Lewis, intermittently hosted the nights rotating stage festivities.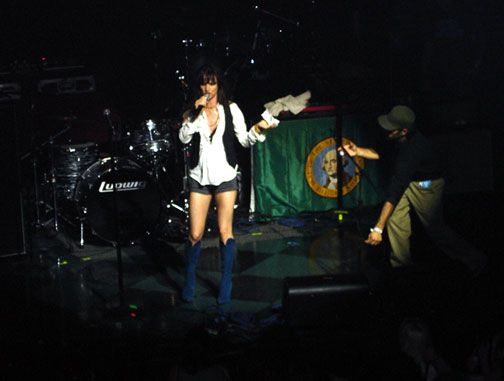 [Juliette Lewis looking kinda nice!]

I saw PUBLIC ENEMY'S Flavor Flav waver through the mixed crowd like black steel in the hour of chaos, giving home boy hugs and high-fives to his peeps. Determined to shake his hand, I hovered around him and his entourage like a police helicopter in West Compton until he finally gave me the nod and flashed that gold mouth of his with me.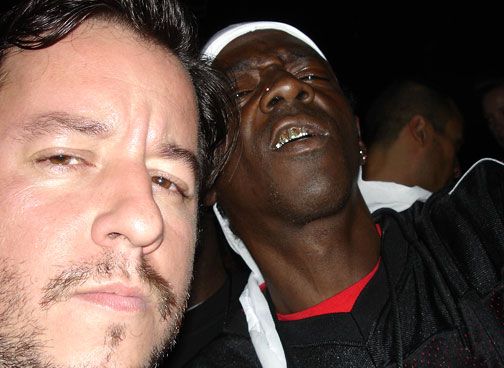 [yeeeeeah boyeeeeeeee!!!]

After a few live tunes from the UK's latest grime star, Lady Sovereign, I was downstairs with Doug waiting for THE LIVING THINGS to get ready to play when along came DMC [of Run-DMC]. I stopped him and said "DMC, I grew up with you, bro!" Meaning, his music was the soundtrack to many of my days. DMC smiled and reached to give me a hug. After we hugged, DMC handed my camera to a guy next to us to immortalize our bonding moment.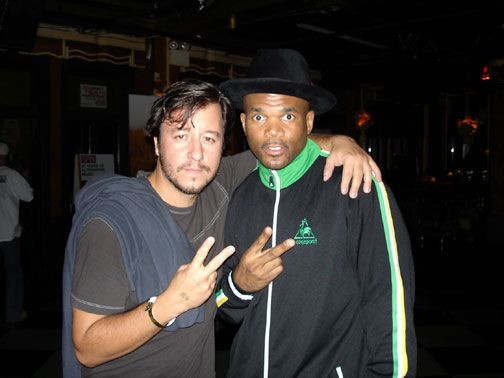 [Dean-DMC]

Elated, I started to crash from the long day, loss of blood, bike rides, whiskey, and vodka. Doug stood up for THE LIVING THINGS as I sat back in a chair like a nerd while FAST TIMES AT RIDGEMONT HIGH played on various screens. Having recently gotten bitten by the white music bug, and actually forming educated opinions, I dug THE LIVING THINGS music, taking note to seek their debut album, "Ahead of the Lions."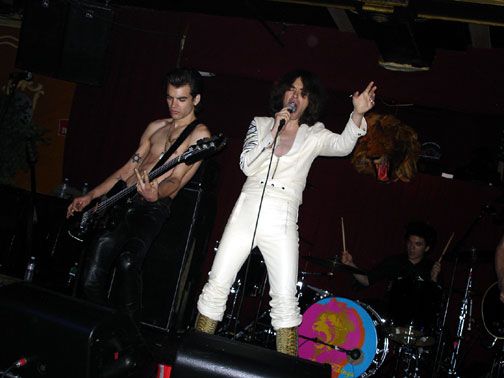 [The Living Things]

Doug brought me back upstairs to the main dance floor as DMC moved the crowd and introduced PUBLIC ENEMY!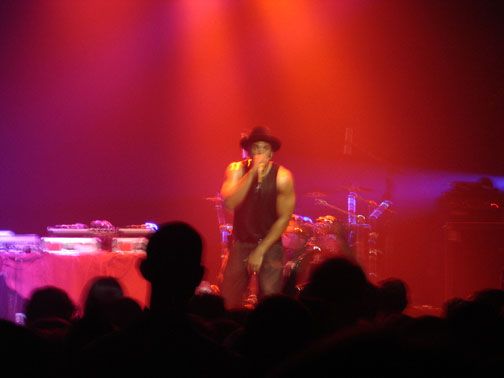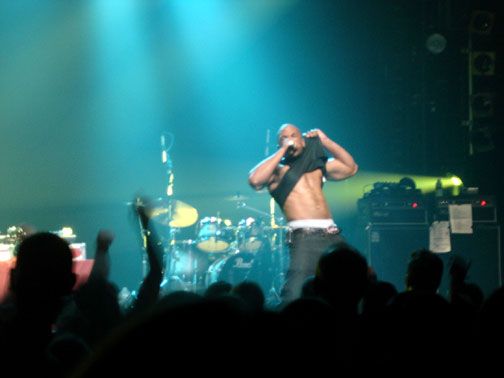 [he's like that and that's the way he is]

Too black...too strong, Chuck D's booming voice came pounding over the sound system as he and Flavor Flav exchanged rapid fire parlay, bringing me back to the late 80s/early 90s, as Professor Griff and the rest of the PE gang [excluding Terminator X], brought the noise and tore up the terror dome. JUST-ICE made a surprise appearance and then a chorus of "Fuck Bush" raised a room of encouraged middle-fingers [including my damaged one] as Chuck D rapped the lyrics from a new tune about the recent disaster and tragedies in New Orleans. The DeeJay dropped classic beats and the floor undulated with dancing feet in communal unison. Growing up, PUBLIC ENEMY was the first punk band I ever listened to and they were proving tonight, 20-years later, that the revolution would not be televised.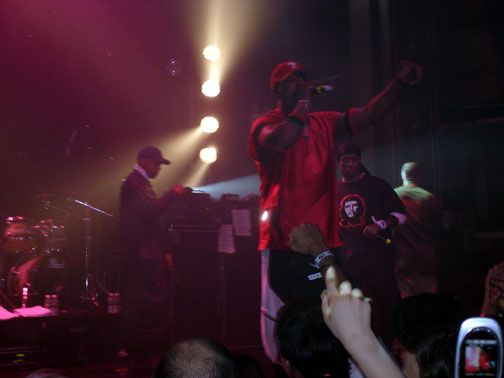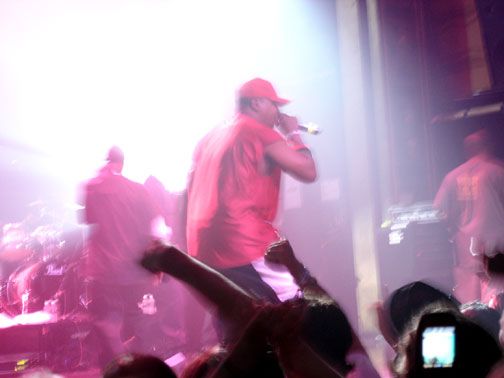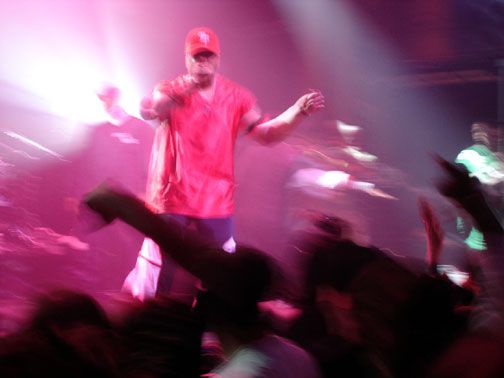 Nearly depleted of my reserves, I couldn't muster the energy for Afrika Bambaataa's late night turn at the wheels of steel. Doug convinced me it was time to hit hay and we let the kids grab our veteran baton for them to run the rest of the SPIN party marathon. We split for shwarma at Chickpea on St. Mark's Place and went back home primed to battle presidents and evil CEO's in our deep unconscious sleep.