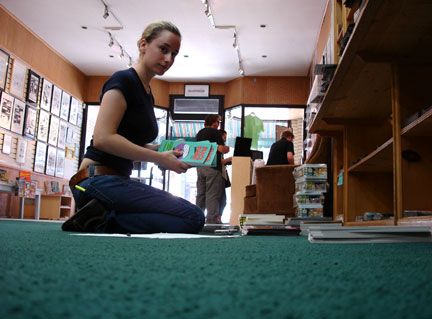 [Mary Gibbons, co-owner of Rocketship, prepares the new haul for purchase.]



Last Wednesday called for a rendezvous at Rocketship with
digitante and
dangoldman for new comix and grub at El Pitayo, across the street.
digitante was appalled that I wore flip-flops fearing for my escalation into emasculation. I assured him it was a two-fisted macho decision and that my Doc Martens had gotten the best of me early this summer. SBX joined us late for lunch and we all caught up on our current projects. We took a look at the Undie Press galley for BURNING BABIES, a new novel by young author Noah Cicero [w/cover art by
zegas], coming out soon: http://www.undiepress.com/. Salsa and comix were navigated between right ideas and left jabs.
digitante gave me the belated birthday gift of Preston Sturges' THE PALM BEACH STORY, and I remembered meeting actress Claudette Colbert in front of the Beacon Theatre on the upper west side of Manhattan when I was a teenager.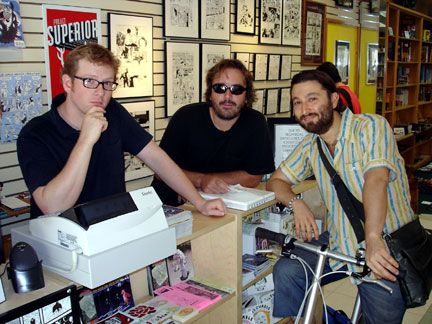 [Rocketship co-owner, Alex Cox,
digitante, and
dangoldman]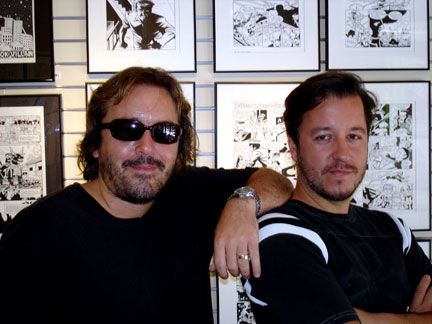 Thursday night: SBX and I saw THE 40-YEAR OLD VIRGIN, which wasn't nearly as good as THE WEDDING CRASHERS, but well written and acted well enough even though the directing was amateurish bordering on the incompetent. It played like the 2-hour pilot for a new HBO show. Only, in the final throes, our hero loses his virginity. And then what...amnesia?

Friday night: SBX, Rachel, Doug, and Eric, and I, went to Mo Pitkins House of Satisfaction to see our pal Jonathan Ames perform a one-man, one-hour monologue as a part of the Howl Festival. He slayed. The sold out space was in stitches. Poor Ames and his hard knock life. I finished his latest novel, WAKE UP, SIR! and it's laugh out loud brilliant. Do yourself a favor:

http://www.amazon.com/exec/obidos/tg/detail/-/074344907X/qid=1125412718/sr=8-1/ref=sr_8_xs_ap_i1_xgl14/104-0124858-7523923?v=glance&s=books&n=507846

And, while you're there, why not pre-order THE QUITTER:

http://www.amazon.com/exec/obidos/tg/detail/-/140120399X/qid=1125412762/sr=2-1/ref=pd_bbs_b_2_1/104-0124858-7523923?v=glance&s=books

Saturday: SBX and I took advantage of Prospect Park for a nap, pop culture rag reading, and frisbee. Then she sat like this--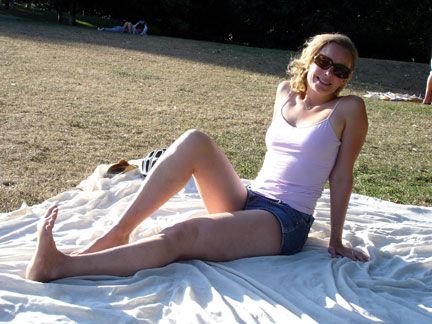 --and I was all like "damn girl you look good!" And so I took some pictures and then I no longer wanted to be in the park around other people. I wanted to be somewhere private and legal with her.

Sunday's planned beach day was squandered by cloudy weather so we cleaned house and bought books. I grabbed Ray Bradbury's FAHRENHEIT 451, and Augusten Burroughs' RUNNING WITH SCISSORS. That evening, we hosted a BBQ in SBX's backyard, deck, and living room, for 20-or-so of our friends. The communal effort was delicious and merry. The music I played consisted of XTC, Yaz, Louis XIV, Orchestral Manoeuvres in the Dark, The Postal Service, Depeche Mode, The Cure, and Public Image Ltd. It was my "coming out" party. It became official:

I am white.