A belated birthday gift,
digital_ink scored me two tickets to see The Dan Band, a bunch of blue collar guys who sing girly powered love ballads. Recently featured on BRAVO or VH1, I think they played in the movie OLD SCHOOL. Were I not an old man who hates waiting for an hour-and-a-half, I might have brought the noise. Instead, combine a long day struggling at the drawing board, a long line that wraps around Times Square, midnight on a Friday night while bridge & tunnel folks whoop it up and spin around on party bikes, and dub me a curmudgeon.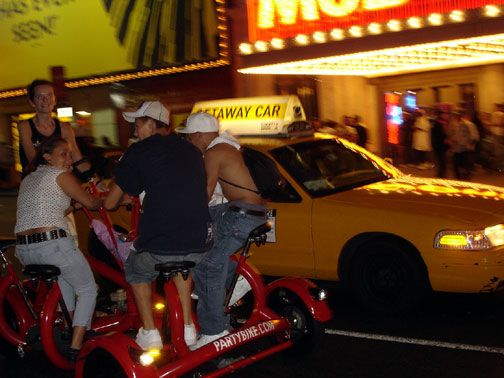 Luckily, I brought
incogvito along and he kept me in line. We stuck it out and entered the B.B. Kings nightclub only to cram into a packed room of human sardines. It started to heat up quick. I felt extremely claustrophobic. Finally, the lights dimmed and they showed a very funny "origin" video to the tune of Missy Elliot's "Get ur freak on" and The Dan Band took stage to the theme of WONDER WOMAN and started to rock out. To be honest, I think The Dan Band is funnier in concept than what was realized. It didn't help that I was exhausted and ready to bolt. I felt bad.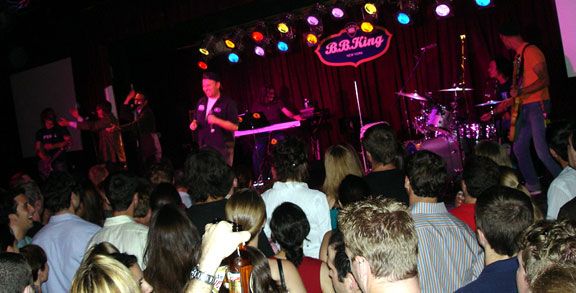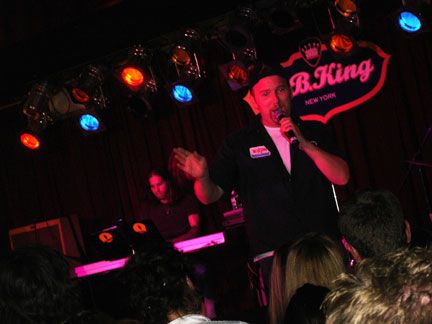 In the middle of their version of Tony Basil's "Mickey,"
incogvito got attacked from behind. Some asshole wanted to body surf over him and
incogvito showed him otherwise. The commotion got tense and I thought there might be a fist fight. Instead, the guy got pissed off only to try the same body surf trick on two burly guys standing in front. I turned to
incogvito and we decided to bail. We didn't want to stick around for the impending riot because some drunk jerk wanted to piss in everybody's cornflakes.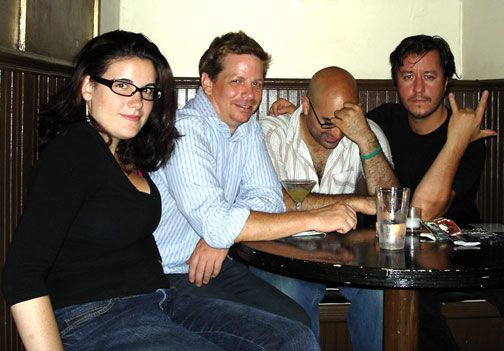 [
eeriemusic, Eric,
incogvito, and me]

We hopped the F-train to Brooklyn Social on Smith street where we rendezvoused with
eeriemusic and Eric S. for whiskey and jokes and a late night gyro at the 24-hour diner. Before
incogvito split, he perpetuated the trend of belated gifts by giving me a box of three JUSTICE LEAGUE UNLIMITED action figures: Metamorpho, Batman, and Wildcat. If I had a bathtub they'd surely be in it with me.

Saturday afternoon had
dangoldman and
sneakymonkey meet up with me at Hope & Anchor in Red Hook. The creative brunch got us excited about future comix projects and I read them the first scene of a book I want to do called [believe it or not], "Red Hook," to positive reception.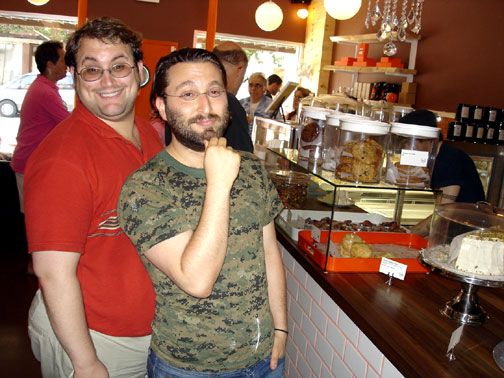 [
dangoldman and
sneakymonkey at Baked]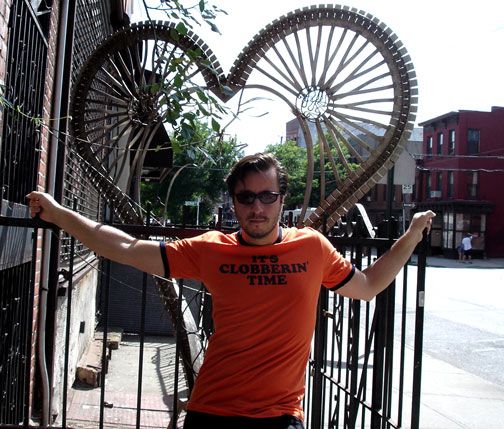 I left the Bros. to jam at Baked and rode my bike to the very end of Van Brunt where bodies stop thinking and minds start breathing.