SBX split today for the United Kingdom with her daughters. She'll be back in 5-weeks. I miss her. In the meantime, I'll be juggling various gigs which include:

1] illustrating the protagonist for a major magazine franchise cum video game proposal
2] drawing mascot ideas for a Saudi Arabian Dairy company.
3] drawing a 1pp comic for SPIN MAGAZINE featuring The Black Eyed Peas and Sting.
4] illustrating six badges for SPX.
5] attending the San Diego Comicon to pimp THE QUITTER [see below].
6] drawing a 16pp ESCAPIST story written by someone who's name I can't announce yet.
7] attending the 75th Anniversary of the Kellogg Foundation in Battle Creek, MI

By mid-August I hope to draw that script Warren Ellis threatened to write me. After that? I might just take a week off when SBX gets back.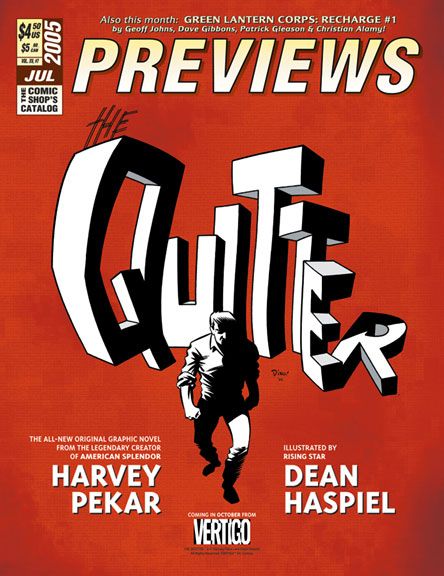 THE QUITTER HC
Written by Harvey Pekar
Art and cover by Dean Haspiel
In this virtuoso graphic novel, Harvey Pekar - whose American Book Award-winning series American Splendor was the basis for the celebrated film of the same name - tells the story of his troubled teen years for the first time, when he would beat up any kid who looked at him wrong just to win the praise of his peers. And when he failed to impress, whether on the football team, in math class, in the Navy or on the job, he simply gave up. A true tour-de-force, THE QUITTER is the universal tale of a young man's search for himself through the frustrations, redemptions and complexities of ordinary life.

With gritty, atmospheric artwork by indie-comics luminary Dean Haspiel (American Splendor, Opposable Thumbs), THE QUITTER is both Pekar's funniest and most heart-wrenching work yet, an unforgettable graphic novel for all those, like Pekar, who have tried, failed and lived to quit another day.

Advance-solicited; on sale October 5 o 6.875" x 9" o 104 pg, B & W, $19.99 US o MATURE READERS
Edited by Jonathan Vankin