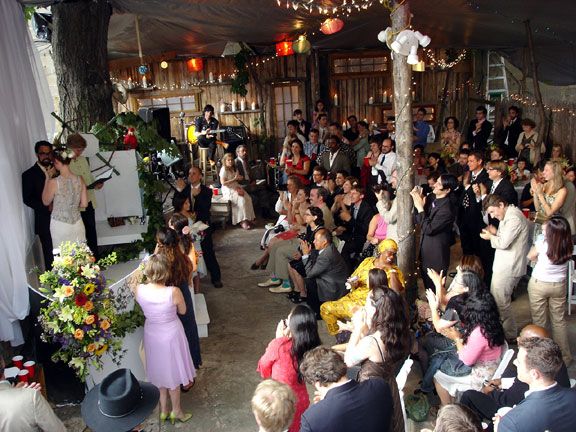 My pal, Gabe Soria [who wrote the lead story I drew in BATMAN ADVENTURES #9], got married this past weekend in the backyard of a Red Hook house to his sweet gal, Amanda. It was beautiful, thoughtful, and touching. When Gabe cried, I cried. It's an awesome undertaking to witness the power of two people who desire to spend the rest of their lives with each other by presenting a series of vows and commitment rings in front of their dearest friends and family. It truly felt as if a community married them.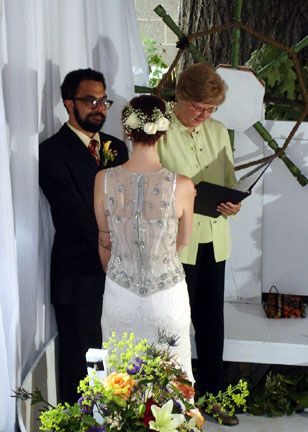 I sat above the wedding on the porch with my gal, SBX, and comix culture cohorts, which included, Nick Bertozzi and family, Jessica Abel and Matt Madden, Kate and Patrick Hambrecht from THE FLAMING FIRE, Paul Pope, and
theremina, who played violin in illustrator Marcellus Hall's band, WHITE HASSLE, later that same evening.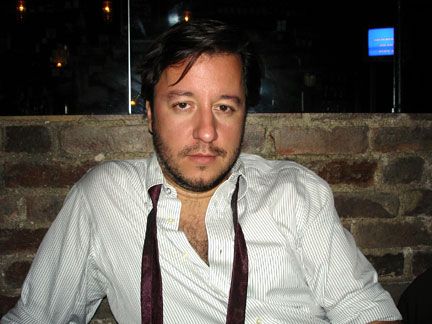 [my drunken mug dressed up in rat pack rags]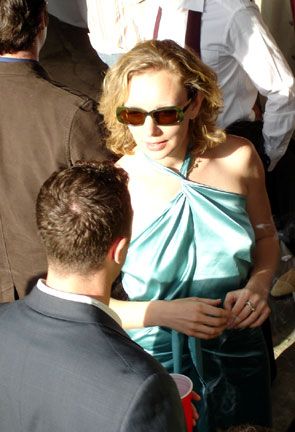 [SBX, ever the Hollywood starlet poached from the UK]

After a couple of rounds of whiskey, cheese, fruit, chicken mole tamales, roast pig, beans and salad, I was feeling blitzed and needed a burst of caffeine. As did SBX. After all, it was only 9PM! So we hustled off to Hope & Anchor two blocks away for take out coffee and came upon a rollicking session of Karaoke. SBX's pupils lit up like beacons! For the record, I think Karaoke is awful and should be banned. The people who can't sing shouldn't and those who can sing only make those who shouldn't sound worse. It's a lose/lose situation where narcissism is enabled to belch and fart another day. Still, SBX's sparkly eyes had me bartering with the transvestite host as I threw "her" and extra $5 to let SBX skip ahead. The host declared a "Karaoke emergency" as SBX stepped to the microphone and sang Madonna's "Like a prayer," which sent the room into a gleeful tizzy. Post haste, we waved goodbye and scrammed as the host declared our interruption a "surreal episode of SIX FEET UNDER."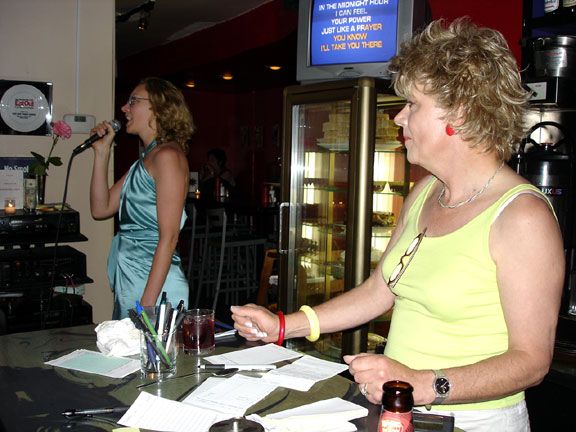 [like a prayer, SBX takes them there]

When we returned for wedding cake and dance, SBX was determined to rally our posse into a late night of Karaoke hi-jinks. After a few more drinks, bride & groom hugs, and some ink in the register, our select bunch were off to Hope & Anchor.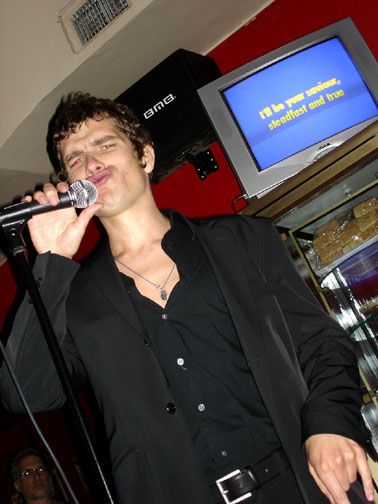 [Paul Pope does his best Mick Jagger rocking out to "Emotional Rescue"]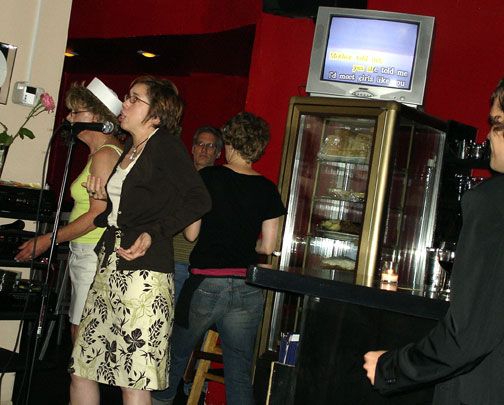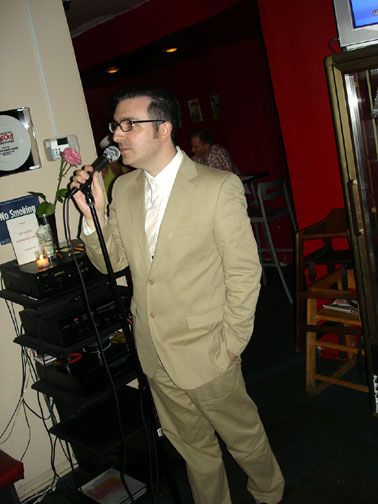 [Jessica Abel and Matt Madden punk out and croon. Their Latin duet was killer.]

Despite my severe stance against Karaoke, I was man-handled to sing a duet of Tom Jones' "What's New Pussycat?" with SBX, and a near solo rendition of Prince's "Little Red Corvette" with Jessica Abel providing what would technically be considered back up vocals.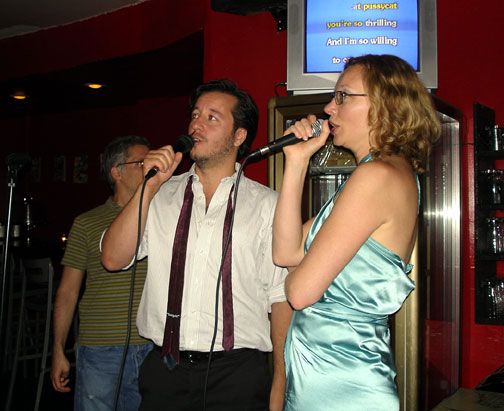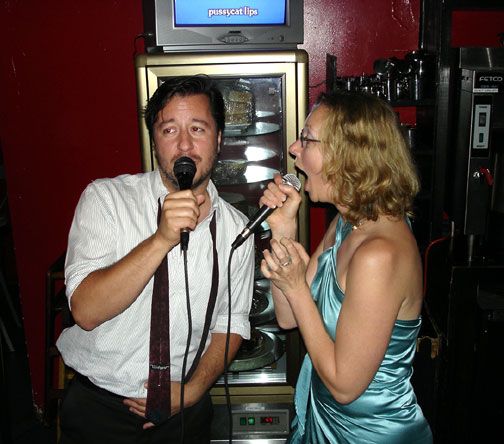 The only thing that could restore my integrity was a night cap at Sonny's at the very end of Red Hook, the last bar on earth. I slammed a shot of whiskey, shook the embarrassment from my guts, and all was sound.