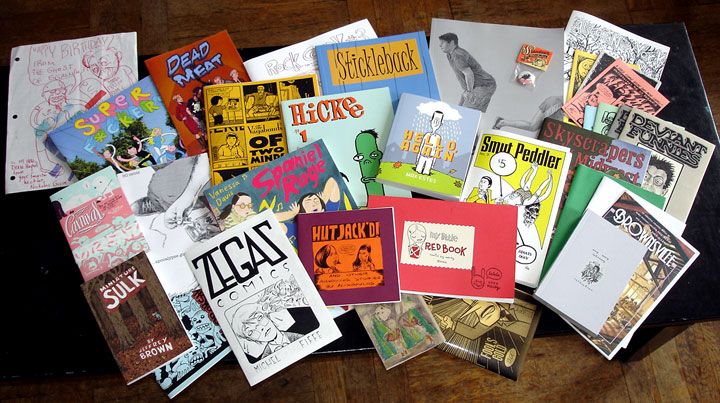 Putting the final inks on THE QUITTER for a Friday delivery, here are my short strokes regarding MoCCA 2005:

Friday night's pre-MoCCA party at CAKE SHOP was cool and it warmed me up for a weekend of non-stop small press comix and their creators. Lots of us have Blogs and LJ's so I'm hip to more people's square than our usual annual catch-up affair, and our community has come to sport an official wave of new cartoonists weened on...small press comix! After surveying the new crop at CAKE SHOP, Top Shelf publisher Chris Staros whispered in my ear "Who are all these people?" To which I responded "I don't know. We're fat and old and out of the loop and you're bald, my friend." I'm sure the likes of Charles Burns felt his age a few generations of cartoonists ago. Which is all good and it only means our industry is thriving more than ever as evidenced by the invention and popularity of an indie/alt comix show in the middle of Soho, NY.

I didn't have anything new to hawk or sign, so I roamed the rooms and picked up some keen stuff. I showed off a sneak-peek of THE QUITTER and got encouraging responses. Catching up with peers and matching faces to names is always gratifying. The few minutes I actually sat down at the Alternative Comics table [where I kept my stash], I drew a few sketches. Otherwise, my feet were hot footing it around making sure my rookie pals were getting some play. It's my onus and pleasure to hook my people up the best I can. I learned a long time ago that there isn't a line outside my door of folks waiting to pick up what I have to lay down. You gotta grab eyes and shake mitts and make with the real if you want to strike any kind of impact. Only, it's hardly politics when you care deeply for these shoulders you bump and glide with. It's more than bread and butter. It's blood. I caught some fakers voguing, but for the most part, creators were selling stories which is what comix are for me. A sexy format inebriates the senses but thin content sobers me up right quick. I've got an eagle eye for the one trick pony and those that don't flex narrative don't make it home. I don't care if it's honest or genre, just show me a story. However, who doesn't love a Sara Varon t-shirt? I wish I'd spent more time indulging what was what but time was fickle and wallet was tight.

An editor from Houghton Mifflin took me to a sweet little French cafe on Prince street for career woo and we discussed my ideas for original graphic novels. I'm still at a crossroad weighing my options for an agent and I'm having a hard time taking that leap of faith. Still, it looks as though THE QUITTER will allow for some doors to crack open for me and I need somebody to stick their foot in 'em while I manifest those books that will potentially make me monies while I sleep.

Saturday dinner had a bunch of us eating at Dojo Restaurant near NYU after a brutal thunderstorm drenched our humidified bodies. I was visibly pissed off but eventually sated by the knockout charm of our Russian waitress. Soon after,
4_eyez and I met up with
eyehawk near Lincoln Center so we could attend a small gathering of folks for our 20th High School Reunion! Like what a time machine must invoke, it was mind-boggling to see people you spent formative years with two decades later. Highlights included catching up with Delmo, Michele, Vivian [aka Keith], Miho, and Adrienne [who is sexier than ever]. Some folks travelled as far as Holland and Shanghai for this Music & Art/La Guardia HS reunion. Still reeling from my emotional rendezvous with the past, I rode my bike from Lincoln Center down Broadway through the lively tourist infected Times Square and down to Botanica [a bar on Houston], where I ended the evening sipping whiskey and talking shop with the heavy hitter trio of Heidi MacDonald, Calvin Reid, and Dennis Kitchen, before riding my bike the rest of the way home to Brooklyn.

On Sunday, SBX brought her daughters [9 and 11] for comix shopping and Staros was uber-gracious as he gave each of them a starter bag filled with Top Shelf goodies [OWLY, SHARK HUNTERS, MAGIC BOY, etc.] and SBX scored some free choice selections. We made a quick scan of the rooms for kids oriented comix which were sparse but we managed to snag all 6-issues of TEEN BOAT and a collection of QUICKEN FORBIDDEN. Then, we attended the captivating and intelligent talk between Daniel Clowes and Jonathan Lethem and split MoCCA before the long goodbye's.