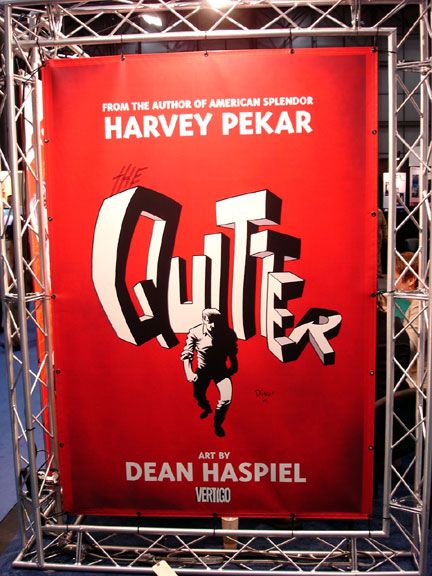 DC/Vertigo were kind enough to invite Harvey Pekar and I to a BEA [Book Expo of America] media and book seller dinner Friday night at The Park Bar, that featured Frank Miller, Kyle Baker, Brad Meltzer, and us. It was a fancy meal where we got to hype THE QUITTER to the folks who make and break books. Harvey handed me his hand-scrawled script for a short project I'm slated to draw post-QUITTER for another publisher [I'll drop dime once it's cool to], and Kyle showed me pages from his upcoming NAT TURNER graphic novel. DC/Vertigo publicist David Hyde and Vertigo publisher Karen Berger kept me in line while Publisher's Weekly comics editor, Calvin Reid, and The Beat's, Heidi MacDonald, kept it real. SBX met me for a late drink before we hopped a taxi down to the east village with Heidi for a birthday drink with Chris Oarr, and other comix luminaries, including Top Shelf publisher Chris Staros, whose been crashing my futon for BEA and next weekends MoCCA comix festival.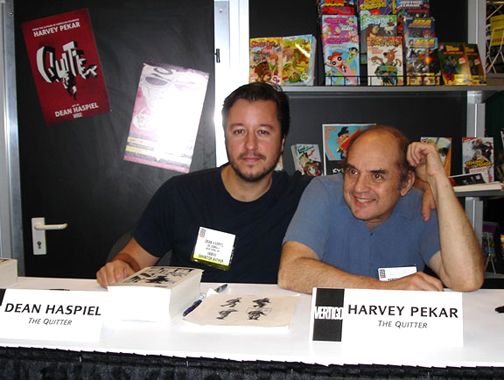 Early Saturday morning had Pekar and I signing QUITTER swag for over an hour at the Jacob Javits Center where BEA was hosted. I was tired from the previous evening's festivities but the line was packed and folks were excited about the upcoming graphic novel. I made it a point to shake everyone's hands and thank them for waiting. Afterwards, my Vertigo editor, Jonathan Vankin, and Vertigo publisher, Karen Berger, took Harvey and I to brunch in the meat packing district for more fancy food. We talked about future projects, jazz, and the truth we're too afraid to write about. Harvey's car service dropped us back at the BEA and he split for a flight home to Cleveland. I walked around a fraction of the enormity of BEA with
incogvito and made sure to fill a bag full of free graphic novels and books while the getting was good.




[SBX gets serious with Pekar]