Thanks to everyone who wished me a Happy Birthday, which actually started early when
chatterbox_dc sent me a personalized edition of Richard S. Prather's SHELLSHOCK [http://www.livejournal.com/users/man_size/115605.html].

First birthday phone call of the day came from
incogvito who got me brewing my first pot of coffee. Soon after, SBX surprised me with fresh croissants, a gift certificate for a much needed massage, and romance, followed by more celebratory phone calls from
jcrichards and
digitante. Then,
zegas showed up with the gift of FAT TRUCKERS, a Euro band I'd been going ape-shit looking for and it was well worth his hunt. This complimented my Prather book and the portable DVD player my mother gave me for road trips. Now, all I needed was some new DVDs. Hmm...

I managed to ink one QUITTER page while fielding more calls and emails from friends and family when my new laptop arrived at my doorstep! It was a well earned birthday gift to myself. People, I am finally armed and ready to travel abroad.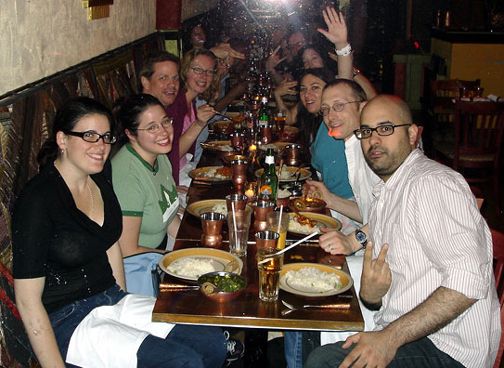 I scheduled a dinner @7:30pm at Baluchi's Indian Restaurant on Smith & Degraw, which included SBX,
incogvito [who gave me a bootleg SPIRIT dvd] and his lady
eeriemusic, my best friend
eyehawk [who gave me CHAPPELLE'S SHOW, Season 2], my other best friend
4_eyez & his wife Sari [who customized me a "best of" Beatles cd],
purvision and
ebess,
red_letter_days [who, for the health of my virility gave me pure coconut juice housed in what looked like a wooden butt plug & baked me a box of brownies], Doug B., Eric S., Ian McC., Sean V., Heidi MacDonald [who finally returned my LOSERS war comics after a 5-year loan], Vanessa W. [who gave me an imported hand-carved death totem with a beehive hairdo], Bob Fingerman & his wife Michele [Bob gave me two LITTLE RASCALS collections on DVD, and a movie I've been itching to see ever since I discovered it at imdb; GAY NIGGERS FROM OUTER SPACE]. Michele scored me a slew of fine summer GAP clothing [flip flops, beach hat, t-shirts, shorts, and a hoodie that made SBX swoon]. The conversations were lively, the food was delicious, and
red_letter_days' brownies were shared.

Then we walked over to Brooklyn Social where Ivan the bartender bought me a birthday Maker's Mark on the rocks.
eyehawk's wife Marie joined us as did Lena K. and her beaux Jim, and Jonathan Ames and his gal Katie for a game of pool before SBX surprised me, again, with candles on homemade brownies for my birthday wish where upon I slammed a shot of whiskey, blew out the candles, and we called it a good night.

Thanks, everybody.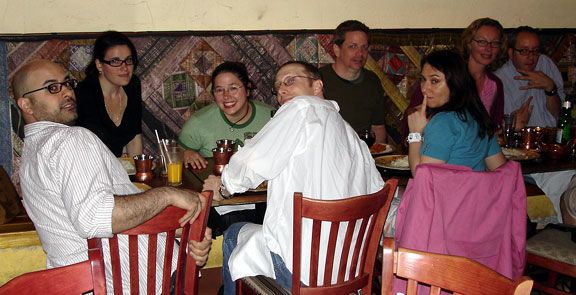 [L to R:
incogvito,
eeriemusic,
ebess,
purvision, Eric S., Heidi MacD., SBX, Doug B.]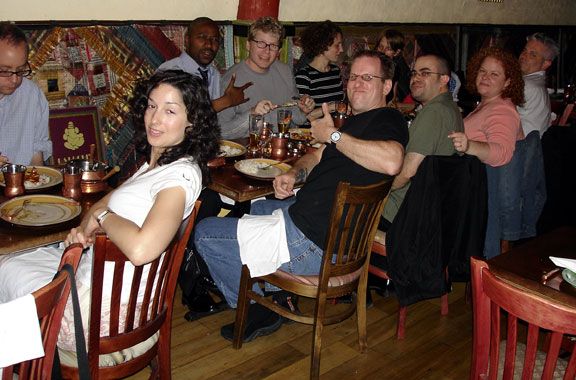 [L to R: Doug B.,
red_letter_days,
eyehawk,
4_eyez, Sari, Sean V., Vanessa W., Bob & Michele, Ian]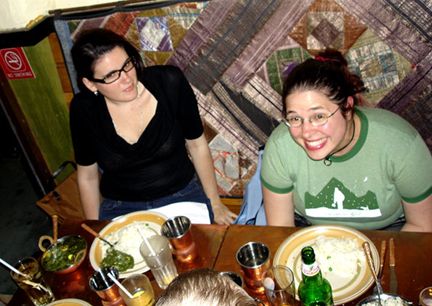 [
eeriemusic and
ebess]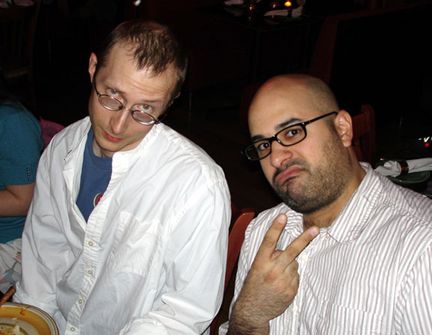 [
purvision and
incogvito]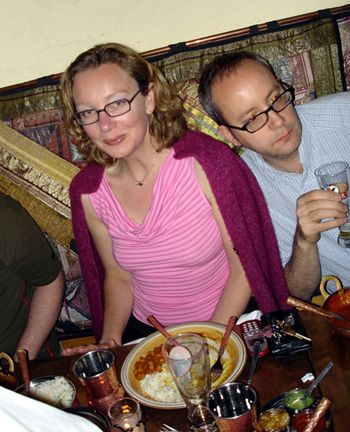 [SBX and Doug B.]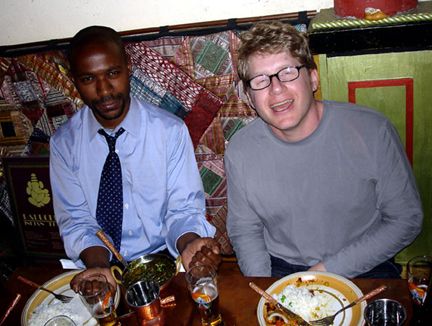 [
eyehawk and
4_eyez]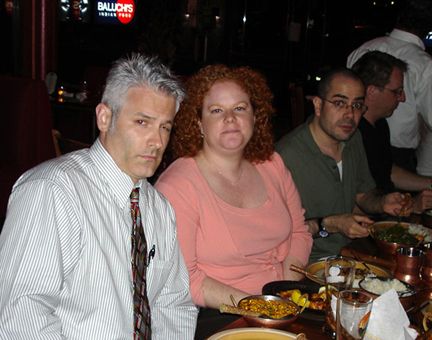 [Ian McC., Michele & Bob, Sean V.]

Lastly, pool table action with SBX, Katie, Ames, and Dean: