My holiday weekend plans are to catch up on delinquent QUITTER pages during the day and try to get drunk during the night because SBX is in Baltimore and the sun mocks me and the people outside kiss and play frisbee and dance to tweeting birds. On pp90 [of 96], I am nearing the end of this graphic novel.

Tonight/early evening: Nick Bertozzi's birthday dinner in Jackson Heights. I'm giving Nick a bizarre DVD produced [on a shoestring budget] by Gilbert Hernandez [of LOVE & ROCKETS fame] called QUINTAS in THE NAKED COSMOS, and the first four issues of WESTONE PAGE by Emmanuel P. Gill, the best mini-comic series I have ever read [thanks to
incogvito for alerting me to this gem at Jim Hanley's Universe]. Here is a sample: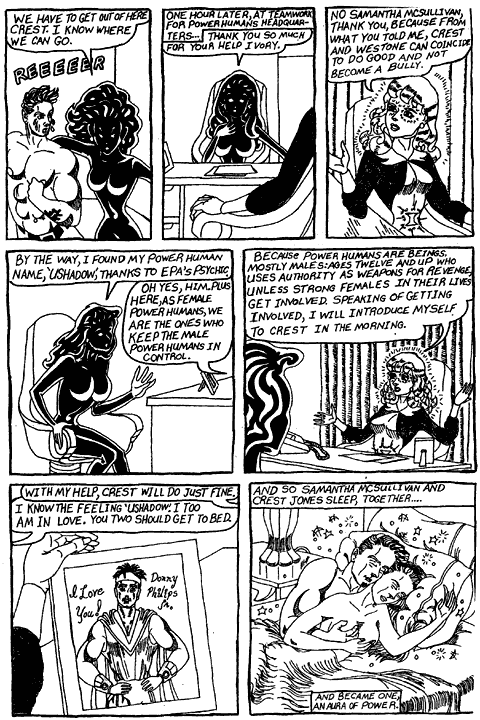 [WESTONE PAGE copyright 2005 Emmanuel P. Gill]

Tonight/late evening: I might go see free burlesque with
zegas at The Knitting Factory.

Sunday, I knock brain pans with Bertozzi over an X-MEN UNLIMITED pitch and finish the character design for a "chronic" oriented video game project I can't talk about yet. That, plus, stoke other irons in the fire.

This coming Friday, I attend a DC Comics hosted BEA [Book Expo of America] dinner that features me, Harvey Pekar, Frank Miller, Kyle Baker, and Brad Meltzer. We're there to hype our upcoming graphic novels and collections to book sellers and media. Saturday morning, Pekar and I do a signing from 11AM - 12PM at BEA proper [Jacob Javits Convention Center] and then I run wild.