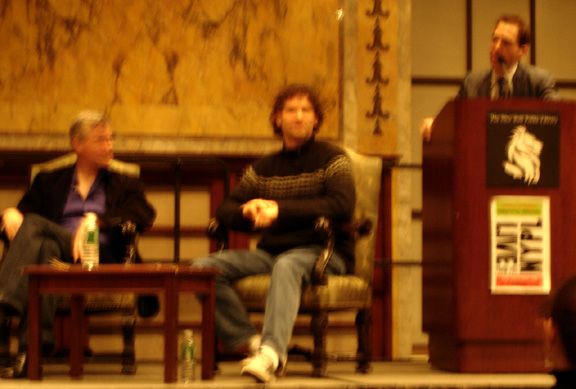 [fuzzy snapshot of John Patrick Shanley, Jonathan Vankin, and Paul Holdengraber]

Jonathan Vankin, my Vertigo editor on THE QUITTER, was part of a late night discussion at the New York Public Library that Eric Bogosian moderated last evening on the "New Literacy" with play writers John Guare, John Patrick Shanley, and Stephen Adly Guirgis. My friend/author Jonathan Ames was spectating, too, so we rendezvoused at The Fall Cafe in our neighborhood and hopped the F-train to 42nd street where, upon entering the NYPL, Ames introduced me to Paul Holdengraber, director of Public Programs. Holdengraber was responsible for bringing R. Crumb stateside for a discussion at NYPL two weeks prior and showed infectious enthusiasm for the comix form. In the Green Room, Vankin handed me a copy of THE SPIRIT ARCHIVES Vol. 16 and told Holdengraber that I was the cartoonist currently illustrating Harvey Pekar's "origin" and prequel to AMERICAN SPLENDOR - THE MOVIE. Excited, Holdengraber illuminated that he wanted to hold a Will Eisner Tribute and could I help? I promised him I would do my best to help curate the proposed event and then we discussed the possibility of NYPL hosting a discussion with me and Pekar when THE QUITTER hit stores.

Eric Bogosian presented a night with two topics 'the new literacy' and 'the death of literature.' He feels, and rightly so, that there are many new forms of story-telling, many of which he admires, but he also fears that old-fashioned literature is dying. So it seems that he has mixed feelings on all this. He applauds the new but fears for the death of the old. He is going to be venturing into the graphic novel arena with Vertigo, and I'm curious to see what he produces. His double-fold topic lead to a lively, funny discussion.

The discussion was also worthwhile for Guare and Shanley's historical and confident insights while Guirgis' street logic stance and Vankin's forward thinking propositions made the debate a well rounded melee. In the back of my mind, I wondered if the internet had competed with the modern author? I read somewhere [I think it was Heidi MacDonald's THE BEAT] that 40,000 people per month sign up to spark a Blog. I'm sure 500 folks last after six-months, but still, that's 500 more budding authors, per month, making a dent in a free world wide forum that must inadvertently steal from bookstore shelves and from the wallets of our "great American" authors and play writes. Not to mention popular website's and message boards. In our post-9/11 terrorist-rattled culture who wants to come home from their job just to read a gut-wrenching soul spilling novel when they've already read amateur dribs and drabs online of the same thing during their lunch and coffee breaks? Who wants to spend $100 for a seat in the theatre for DEATH OF A SALESMAN only to come home and stare at Willy Loman in the mirror? Of course, none of this explains the popularity of television shows like CSI and 24 [of which I subscribe to] yet, a few years ago I never would have watched, much less, laughed at a show like EVERYBODY LOVES RAYMOND or KING OF QUEENS. And now, I find myself staring at the tube for such happy go lucky fodder while drawing a comic called THE QUITTER.

At the end of the discussion, I shook John Patrick Shanley's hand and told him how much I adored DANNY AND THE DEEP BLUE SEA and FIVE CORNERS. Then, Vankin told him I was a cartoonist and Shanley's eyebrows raised. I told him graphic novels were the wave of the future and he raised his fist and declared "I'll bet!" with a wink and a grin.

Ames and I split NYPL and went downstairs to the subway to discuss feelings about our own art and the future.