Six years ago, my [then] roommate and pal, Nick Bertozzi, wrote a slogan on a piece of scrap paper and taped it above his art table. It read:

LIVE LIKE A RAT.
BE A RAT.

Not that we lived likes rats but I knew what he meant. I was hitting my mid-30s and he was just entering his. We lived the plight of two struggling cartoonists sharing a one bedroom apartment [I claimed the living room] trying to make ends meet, and Nick wanted to make sure there was a light at the end of this damned tunnel. The year Nick lived with me he rallied hard: won a Xeric Grant for BOSWASH, got out of debt, published THE MASOCHISTS, proposed to his girlfriend, and created the blueprint for RUBBERNECKER [his critically acclaimed comix series]. Nowadays, Nick lives in Jackson Heights with his wife and beautiful 3-year old daughter, won industry accolades and awards, scored a literary agent, and is about to unleash THE SALON in the original graphic novel market.

Ever the unorthodox artist, I never embraced a credo. Never saw past next year. Ergo, I floundered. In 1997, I met the inimitable Chris Oarr at SPX, and he coined two lines of advice that made a modicum of sense: "Don't let the perfect get in the way of the good" and "Give a crippled crab a crutch."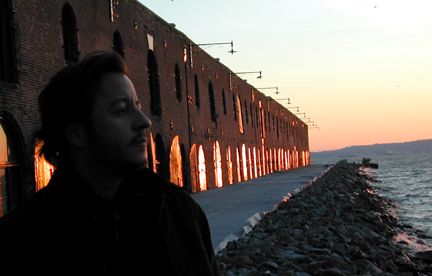 Since Nick split, I've grown accustomed to living alone, eating cheap Chinese take-out, indulging Wednesday's new comix, and my usual impulse buys of books, music, and movies. The petty pop culture I reward myself like a gay man with expendable income for completing assignments and scoring gigs. It doesn't take much to immediately gratify me. Yet, it doesn't occur to me to save money for a "vacation" or buy a new shirt. When I walk, there are two holes in the right sole of my boot. My swagger is beginning to betray my limp from a crippling fall, 15-years ago, and I don't have health insurance. These days, I get tired on a Friday night. Which boggles me. I've become increasingly disciplined in my work and I have great friends and romance has been magical if unsustained. But, I'm losing my focus. I get so caught up in keeping it on the down low while reaching for that mysterious brass ring that I get lost living small to make it so.

My mother once said "I'd rather be happy than right." What mantra nags your noggin in perpetual loop?