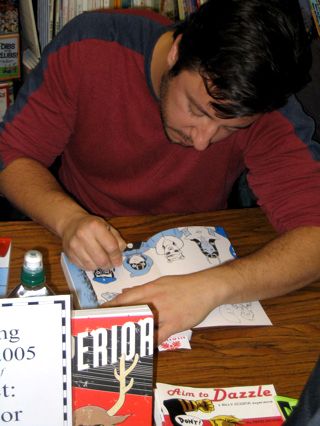 Thanks to all those folks who came by the PROJECT: SUPERIOR signing. Leland Purvis gifted me a pen eraser which was golden. Thanks, man! BIZARRO WORLD editor, Joey Cavalieri swang by to pick up his second copy of SUPERIOR. I ribbed him that he was "the competition." He reminded me I was in BOTH anthologies! D'oh. It was a great success. I think we sold 35-copies. I drew THE YELLOW KITE in almost every one. SUPERIOR officially ships next Weds. Be sure to grab yours.



digitante was keen enough to snap some digi-pix and post 'em here: http://www.livejournal.com/users/digitante/2192.html?mode=reply

I picked up some good comix, including the TEENAGERS FROM MARS collection, THE WALKING DEAD #16, as well as, Kirkman & Kolins' MARVEL TEAM-UP #6 [loads of fun sans a lick of drama, which is odd for Kirkman], ANGRY YOUTH COMIX #8 [why, oh why, oh why?], Chaykin & Heath's LEGEND, the final installment of Jessica Abel's LA PERDIDA, Azzarello & Bermejo's LEX LUTHOR [which reads more like a SUPERMAN story in its opening chapter than the ten issues of Azz & Lee's SUPERMAN story I've read, thus far], SHEENA #2 [for ultimate cheescake], and ULTIMATE IRON MAN #1, which was fun. Written by some sci-fi writer named Orson Scott Card. Last sci-fi I read was BIO OF A SPACE TYRANT [all five parts] by Piers Anthony. I think I was 15?