Sunday, May 31st, 2020
---
12:36 pm
- Dino FAQ


Start reading WAR CRY here: http://www.webtoons.com/en/super-hero/war-cry/ep-1/viewer?title_no=1247&episode_no=1




http://www.deanhaspiel.com/

Emmy & Ringo award winner (and Eisner & Harvey award nominee) Dean Haspiel created Billy Dogma, The Red Hook, War Cry, illustrated for HBO's "Bored To Death," was a Master Artist at the Atlantic Center for the Arts, is a Yaddo fellow, a playwright, and helped pioneer personal webcomics. Dino has written and drawn many comix for Marvel, DC, Image, Archie, IDW, Dark Horse, Heavy Metal, and LINE Webtoons; including The Fox, The Fantastic Four, Spider-Man, X-men, Deadpool, Batman, Wonder Woman, Godzilla, Mars Attacks, Creepy, The Walking Dead, SpongeBob SquarePants, and semi-autobio collaborations with Harvey Pekar, Jonathan Ames, Inverna Lockpez, Jonathan Lethem, Stoya, and Stan Lee.

Read THE RED HOOK, and WAR CRY for free at LINE Webtoons http://www.webtoons.com/en/super-hero/the-red-hook/list?title_no=643 & http://www.webtoons.com/en/super-hero/war-cry/ep-1/viewer?title_no=1247&episode_no=1

Instagram: https://www.instagram.com/deanhaspiel_art/
Twitter: https://twitter.com/deanhaspiel

Artist's Statement:
I'm impelled to excavate universal truths and impart life experiences from my unique perspective to communicate with strangers and perpetuate hope with no permissions and no apologies.

Honors:
-Yaddo fellow
-Master Artist at The Atlantic Center for the Arts
-Emmy Award winner for title design work on HBO's "Bored To Death."
-Eisner Award nominee for "Talent Deserving of Wider Recognition" and "Outstanding Webcomic."
-Ringo Award winner for "Best Webcomic 2017" for THE RED HOOK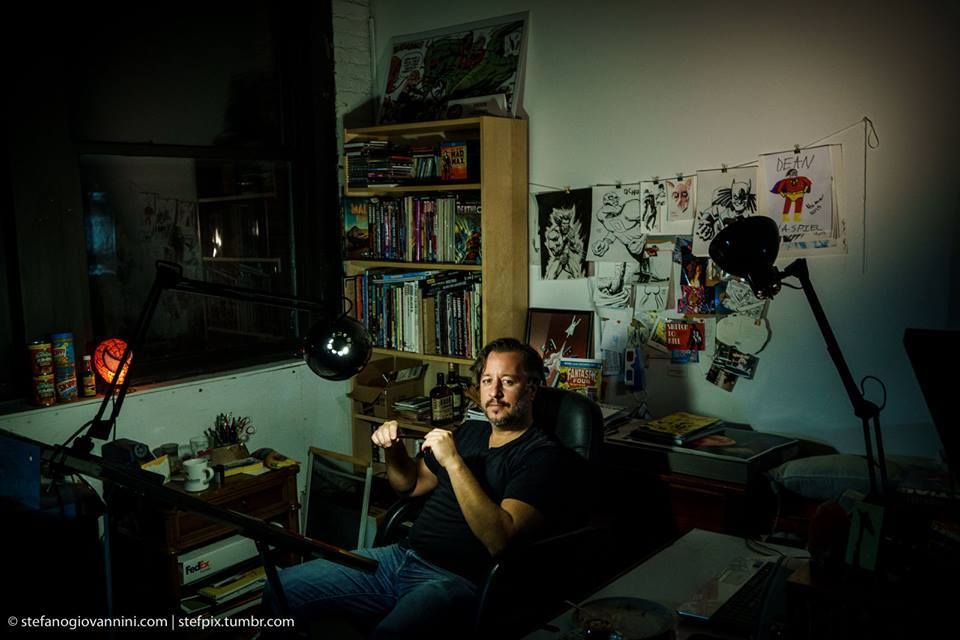 Please click here to see what Dean's been up to at TRIP CITY: http://welcometotripcity.com/author/dean-haspiel/

HANG DAI Editions: http://hangdaieditions.com/

Experiencing Yaddo First-Hand: An Interview with Cartoonist Dean Haspiel: http://thefreegeorge.com/thefreegeorge/dean-haspiel-yaddo-interview/

The Atlantic Center for the Arts: Residency #147: http://welcometotripcity.com/2012/12/the-atlantic-center-for-the-arts-residency-147/

Tom Spurgeon interviews me for The Comics Reporter: http://www.comicsreporter.com/index.php/cr_holiday_interview_2_dean_haspiel/

Poet Sandra Beasley interviews me for Barrelhouse Magazine
http://www.barrelhousemag.com/barrelhousing-with-comic-artist-dean-haspiel-an-interview-by-sandra-beasley/

Dean Haspiel speaks at The Library of Congress: http://www.loc.gov/today/cyberlc/feature_wdesc.php?rec=5709

ATTENTION Art Directors, Editors, Publishers, Writers, Etc: if you'd like to see current samples of Dean Haspiel's art, please check out his gallery: http://welcometotripcity.com/2012/01/dean-haspiel-gallery/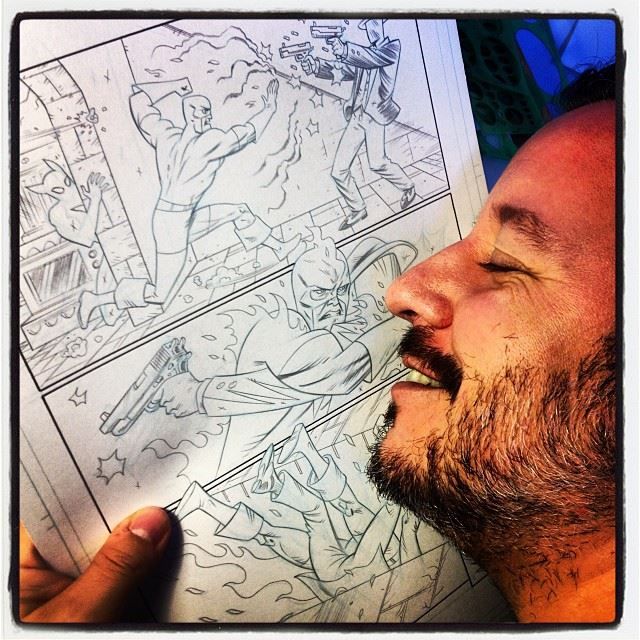 (
Click here for comix, interviews, news, videos, and other essential links
Collapse
)
Friday, March 16th, 2018
---
4:29 pm
- For your Ringo Award consideration: WAR CRY - Best Webcomic 2017
Wednesday, March 14th, 2018
---
1:35 pm
- Tickets now available for Dean Haspiel's THE LAST BAR AT THE END OF THE WORLD


You are invited to the World Premiere of Emmy-award winning cartoonist Dean Haspiel's new work "The Last Bar at the End of the World." Dean returns to the stage with this existential tragicomedy about a dying graphic novelist, his best friend, and the sages, teachers, lovers, and losers that fill up his cityscape in a play that asks the question "Why are we here and what do we have to do to move on?

Thin Duke Productions in association with Sparkplug Productions presents:
"THE LAST BAR AT THE END OF THE WORLD"
Directed by Philip Cruise
Written by Dean Haspiel
Featuring performances by:
Philip Cruise, Tarik Davis, Lex Friedman, Seth Gilliam, Christopher Lee, Edward Miller, Alyssa Simon, Anna Stefanic, and Stoya
Associate Producer/Traci DiGesu, Stage Manager/Becky Spurr, Technical Directors/Ian W. Hill & Berit Johnson/Gemini CollisionWorks, Costumes/Holly Pocket McCaffrey

The show runs ONE WEEK ONLY from April 10, 2018 - April 15, 2018 at Urban Stages. Click the link below for tickets!

https://lastbar.brownpapertickets.com/

Please share and forward to friends, family & peers.

We look forward to seeing you pull up a stool to the last bar at the end of the world.

Facebook page: https://www.facebook.com/events/2022560034651892/


Friday, March 9th, 2018
---
11:58 am
- The Fox: Fox Hunt collection


Good news! "Fox Hunt," the second Fox story arc I plotted & illustrated for THE FOX, published by Archie/Dark Circle, and scripted by Mark Waid, is finally being collected in September 2018.

THE FOX: FOX HUNT is the clever, darkly humorous story of The Fox, a father and vigilante hero trying to keep his family alive and together. Plotted and illustrated by acclaimed, Emmy-winning artist Dean Haspiel, and scripted by Eisner Award-winning comics legend Mark Waid, The Fox is similar in tone to Waid's DAREDEVIL.

Paul Patton, Jr. dealing with the reality that his son wants to be like his father: a superhero, the very thing Paul no longer wishes to be himself. However, a psychopathic philanthropist won't let Paul end his duel identity when he puts a million dollar bounty on The Fox's head for messing with his business plans. Attracting a slew of super-villains, The Fox has to find a way to survive their attacks and save his son from a life fighting crime while coming to except his true calling.

Here is the Amazon link to pre-order FOX HUNT: https://www.amazon.com/Fox-Hunt-Mark-Waid/dp/1682558878/

The first THE FOX story I plotted & illustrated (and scripted by Mark Waid) is called "Freak Magnet" https://www.amazon.com/Fox-Freak-Magnet-Mark-Waid/dp/1936975939/
Tuesday, February 27th, 2018
---
4:44 pm
- Dark Horse & Berger Books announces The Alcoholic Tenth Anniversary Expanded Edition


Dark Horse is celebrating with a Berger Books Tenth Anniversary Expanded Edition of Jonathan Ames and Dean Haspiel's The Alcoholic. The latest addition to Vertigo founding editor Karen Berger's Dark Horse line features the original story in a trade paperback format, but fans will also get a look at the book's creation with a special behind the scenes artist section. The Tenth Anniversary Expanded Edition will also feature a new prose piece by Ames, which will expand on the story material.

The Alcoholic: Tenth Anniversary Expanded Edition tells the awkward and agonizing tale of a boozed-up, coked-out, sexually confused, and hopelessly romantic author Jonathan A. Marked with humor and heartbreak, this poignant and moving tale explores the life of a failing writer who's coming off a doomed romance and searching for hope. Unfortunately, the first place his search takes him is the bottom of a bottle as he careens from one off-kilter encounter to another in search of himself. From a touching relationship with his aging great aunt, to an inebriated evening with an amorous octogenarian dwarf, The Alcoholic tells a story at once hilarious, excruciating, bizarre, and universal about how our lives fall to pieces and the enduring human struggle to put things back together again.

Fans will know Jonathan Ames as the creator of HBO's Bored to Death, Starz's Blunt Talk, and the critically acclaimed writer of Wake Up, Sir!, The Extra Man, What's Not to Love?, and You Were Never Really Here, which has also been turned into a film starring Joaquin Phoenix. The art on the Alcoholic is provided by Emmy Award winner and Eisner Award-nominated artist Dean Haspiel, who fans will know from The Quitter, Billy Dogma, and The Red Hook.

The Alcoholic: Tenth Anniversary Expanded Edition TPB hits stores on September 12, 2018.

News broke at Comicbook.com: http://comicbook.com/comics/2018/02/27/dark-horse-the-alcoholic-tenth-anniversary-edition/
Monday, February 26th, 2018
---
12:40 pm
- The Fantastic Four #42 - One Minute Later - all dressed up


I recently discovered a piece of Fantastic Four art I did with the old FF dressing applied and now I want to color it!

I wrote about the FF #42 "One Minute Later" commission I did for Michael Finn in an previous post here: https://man-size.livejournal.com/826194.html
Sunday, February 25th, 2018
---
4:33 pm
- Ideate TV interviews Dean Haspiel at Long Beach Comics Expo 2018
2:34 pm
- My post-Avengers Infinity War prediction of the MARVEL CINEMATIC UNIVERSE
MY PREDICTION: the Marvel Cinematic Universe will reboot after The Avengers Infinity War and be marketed "It's About Time" because it's about time a 1960s Fantastic Four defeated Annihilus and escaped from their 60-year trap in the Negative Zone to finish their battle with Kang the Conqueror JUST IN TIME for the coming of Galactus!
Saturday, February 24th, 2018
---
4:11 pm
- Dean Haspiel's The Red Hook, Vol. 1 New Brooklyn: the first 7-pages sneak-peek
Thursday, February 22nd, 2018
---
9:14 pm
- IndieGoGo campaign for Dean Haspiel's THE LAST BAR AT THE END OF THE WORLD


We've launched an IndieGoGo campaign for my new play, THE LAST BAR AT THE END OF THE WORLD, produced & directed by Philip Cruise.

Off-Broadway theater is difficult to produce, especially in NYC, and any support you can give; monies, spread-the-word, cheer, etc., is helpful and we're incredibly grateful.

Philip Cruise, Stoya, Seth Gilliam and I got together and shot a fun video for y'all, thanks to our filmmaker pal, a good/old friend of mine, Shannon Goldman.

Here is a link to the crowdfunding page and video with all its campaign perks: https://www.indiegogo.com/projects/dean-haspiel-s-last-bar-at-the-end-of-the-world#/
1:03 pm
- Will Eisner: Breaking Fourth Walls since 1940 at NY Comics & Picture-story Symposium, 2/27/2018 @7pm
I will be speaking at Will Eisner: Breaking Fourth Walls since 1940 (if not earlier) at The 209th meeting of the NY Comics & Picture-story Symposium which will be held on Tuesday, Feb. 27, 2018 at 7pm at Parsons School of Design, Kellen Auditorium (Room N101, off the lobby), Sheila C. Johnson Design Center. 66 Fifth Avenue. Free and open to the public.

Join comics writer and historian Danny Fingeroth (chair of Will Eisner Week) and a panel of fourth-wall-breaking experts including Dean Haspiel (The Red Hook), R. Sikoryak (The Unquotable Trump) and Miriam Katin (Letting It Go) as they explore Eisner's innovative illusion-shattering in comics, and place it in an enlightening context of creative risk-taking in other comics and in other media.

https://nycomicssymposium.wordpress.com/2018/02/21/will-eisner-week-event-feb-27-2018-at-7pm/
12:56 pm
- Image Comics to print publish Dean Haspiel's THE RED HOOK
Saturday, February 10th, 2018
---
1:50 pm
- Algorithms
Algorithms? The more you share hate & garbage the more stool surrounds your pool. Want a sewer or a clean moat to dive into? Celebrate what you like & love; what you did & do, and shift your algorithms towards the light.
Thursday, February 8th, 2018
---
4:12 pm
- Dean Haspiel at Long Beach Comics Expo & C3 2018


I am a guest at C3 (Comic Creators Conference) and Long Beach Comics Expo 2018 from February 16th - February 18th, 2018 and will be doing panels and signings all three days. Please come see me and ask about my current projects.

C3: http://longbeachcomicexpo.com/c3-comic-creator-conference/
LBCE: http://longbeachcomicexpo.com/

FRIDAY, February 16,

3:10-3:55pm / C3 Session 1: Comic Book Production - The Digital Workflow
Come learn how the whole production puzzle comes together, and where all the pieces fit in the digital workflow of creating comics. Join Adobe Education Leader Sean Glumace, colorist David Baron, publisher/writer Chris Dickens, and artist/writer Dean Haspiel for this panel on how the Adobe Creative Cloud and other programs are used in comic book production workflow from layouts, artwork, coloring, lettering, design, production, and more. Come learn how to put the whole production puzzle together, and where all the pieces fit. Adobe will be giving away a 1 year (12 month $599 value) subscription to the Adobe Creative Cloud during the panel.

SATURDAY, February 17

SPACE EXPO signing booth #148:
1pm-2pm Dean Haspiel

4:00pm-5:00pm / Room 103 / Shelfing Yourself–Adventures in Self-Publishing!
Join comics entrepreneurs Buddy Scalera, Dean Haspiel, Barbara Randall Kesel and Neo Edmund for an insider's view of the joys and perils of making your own books!

SUNDAY, February 18

12:30pm-1:30pm / Room 104 / The Webcomics Advocates Present: The Webcomics Gathering
Join a group of experienced webcomics creators – including Dean Haspiel (THE RED HOOK, WAR CRY) – as they celebrate and discuss the exciting world of webcomics! Any webcomic creators in the audience will get thirty seconds to promote their comic to the crowd. All creators and fans are welcome!

SPACE EXPO signing booth #148:
2pm-3pm Marc Bernardin and Dean Haspiel
3:34 pm
- "Comics Industry Asks 'NYT' to Restore Graphic Bestseller Lists"
Here is a link to a Publisher's Weekly article about the comics industry asking The NY Times to restore Graphic Bestseller lists for graphic novels: https://www.publishersweekly.com/pw/by-topic/industry-news/comics/article/75998-comics-industry-asks-nyt-to-restore-graphic-bestseller-lists.html

I honestly have mixed feelings about lists like this. Artistic merits aside, it becomes a popularity contest for publishers with deep pockets, great business relationships, intensive marketing campaigns, and lazy consumers. These lists NEVER sway me to see a movie, read a book and/or listen to an album. Never have. Never will. HOWEVER, I have to assume lists like these influence A LOT of consumers. So, there is a lot of power in these lists.

Bottom line: let's give graphic novels their due; give 'em some space to share among books, movies, music and other popular media in our go-to-institutions for "what sells" (if not necessarily "what's cool"). Lord knows graphic novels SHOULD sit at the same table as the others. And, let's not forget the outliers and small comix publishers who fight the good fight and never even get a mention on them there lists while they continue to innovate the form.

In other news, when are we gonna get more webcomic reviewers? As much as I covet & crave print, the future is digital. The future is in your hands (literally). Let's tell our print comix fans more about it.

ADDENDUM:

A comix peer asked, "If anything it'll encourage competition among creators. I can't speak for the comics community as a whole but at CCS there didn't seem to be much encouragement of competition which I think is important in creation of anything your planning on selling."

I responded:

Healthy competition is good. But, there are games being played that a bunch of cartoonists and publishers don't have a rook, much less a pawn, to enter the game with.

The comix peer asked, "Do you mean going up against companies like Marvel and DC? Because now may be the perfect time to hit them as Marvel is losing a lot of its long-time fans due to poor characters and stories with their big-name arches like Iron Man and Miss Marvel."

I responded:

Actually, Marvel doing well makes everyone in comix do well. Their sales uplifts the industry. Marvel Comics is the product that saves most brick & mortar comix shops from going under. So, in a way, the NYT List I have some gripes with is, at the very least, keeping cats like me alerted to what consumers are consuming while I wrestle with art over commerce concerns. And, I have no beef with large corporations who finally broke through (historically, Marvel has been on the brink of shuttering every decade, until now). When DC Comics starts to make more successful movies & TV that rivals Marvel, therein lies a healthy superhero competition, but it's still an upward battle for other kinds of comix that DON'T have eons-old Intellectual Property to exploit via movies/TV/etc.

It's a bigger, longer, more complex discussion to have than I can muster online, but the NYT List -- and others just like it -- never represent what any given form has to fully offer, DESPITE sales. Everyone know you can't pay rent with critical acclaim.
1:01 pm
- Romance genre
Tuesday, February 6th, 2018
---
12:20 pm
- Simple sophistication
First decade of Marvel comics is near perfection in terms of character designs, narrative clarity, and reader availability. That, and C.C. Beck's Captain Marvel, and Bob Montana's Archie. I try to employ those same graphic/narrative tenets in my recent work (The Fox, The Red Hook, War Cry, etc.) where less is more and colors define character and space. Character designs in comic books should've quit right after Rich Buckler's Deathlok.
Saturday, February 3rd, 2018
---
3:29 pm
- The Lone Ranger
Someone close to me started binge-watching STRANGER THINGS (please don't spoil it, I've only seen the first 3-episodes) and she complained that she hadn't left her chair in hours and was hungry; had to get up and move around, cook dinner, walk the dog. I told her about a bunch of other good shows she could watch and joked that all she needed to do was order in take-out food, fill a cooler with drinks, and get a bed pan. We laughed about that kind of ridiculous predicament. And then it occurred to me -- there are hundreds of thousands of people who live alone and watch a lot of TV, right? My idea is to design THE LONE RANGER; a comfortable lounge chair that can lean back into a horizontal "sleeping" position AND also serves as a toilet. You're alone so there's no one around to offend, right? You can start off your day filling up the cooler with drinks, grab a handful of money or a credit card, some take-out food menus, a roll of toilet paper, and your smart phone, sit down and watch all the TV you ever wanted to and never have to leave your seat until it's time to hit hay. And, even then, you might just call it a day and sleep in the comfort of your LONE RANGER. The executive version of THE LONE RANGER could provide heat and massage capabilities. Anybody know anything about getting a patent?
Friday, February 2nd, 2018
---
12:03 am
- Breaking into comix as a writer in 2018
I received an email recently from a freelance writer asking me advice about breaking into the comic book business and if I knew of anyone that was hiring. The writer was looking for a full-time job in comics.

This is how I responded:

I'm two months away from having no paying work in comix. When you're an old, freelance semi-outlier like me who hopscotches between occasional mainstream work and living by the skin-of-your-teeth indie/alternative comix, you live paycheck-to-paycheck. And, that's WITH a solid 25-year resume to recommend you. Yeah, working in comix is anxiety-inducing; mentality & physically unhealthy. And, because I've been at this for way too long, I don't know that I have any NEW insight into scoring a writing gig except that you gotta pair up with an exciting/intelligent artist who is committed to developing/co-creating a comic (basically for free) and pitching it to the best publishers. If you're lucky enough to gain interest and a fair deal, cross your fingers that your series scores loyal readers and sells. Market the hell out of your wares and don't disappear.

I still covet print but digital is where it's at. Post your comix online, get traction. Use places like LINE Webtoons; upload your stuff in their "Discovery" section. Launch a Patreon. Show up to comix shows/events/signings. Be part of the community. It's very rare that a creator shows up outta nowhere and sticks the landing right out of the gate.

Keep writing. Write for other venues. Get your name out there; become synonymous with comix. Make friends with artists and collaborate on small/doable stories. Spark a weekly webcomic if you can.
Sunday, January 28th, 2018
---
4:57 pm
- Private reading of THE LAST BAR AT THE END OF THE WORLD


Last night we hosted a private reading of THE LAST BAR AT THE END OF THE WORLD at The Parkside Lounge. It's always helpful to hear written words performed in front of a live audience, even if it's just a reading and not the actual theatrical version. You get a sense of how people react to certain lines, monologues, and scenes, and if the entire piece resonates. Luckily, we got a great response to the reading and we're heading into production for an early April show. Details once I have them. Thanks!