Sunday, May 31st, 2020
---
12:36 pm
- Dino FAQ


Start reading WAR CRY here: http://www.webtoons.com/en/super-hero/war-cry/ep-1/viewer?title_no=1247&episode_no=1




http://www.deanhaspiel.com/

Emmy & Ringo award winner (and Eisner & Harvey award nominee) Dean Haspiel created Billy Dogma, The Red Hook, War Cry, illustrated for HBO's "Bored To Death," was a Master Artist at the Atlantic Center for the Arts, is a Yaddo fellow, a playwright, and helped pioneer personal webcomics. Dino has written and drawn many comix for Marvel, DC, Image, Archie, IDW, Dark Horse, Heavy Metal, and LINE Webtoons; including The Fox, The Fantastic Four, Spider-Man, X-men, Deadpool, Batman, Wonder Woman, Godzilla, Mars Attacks, Creepy, The Walking Dead, SpongeBob SquarePants, and semi-autobio collaborations with Harvey Pekar, Jonathan Ames, Inverna Lockpez, Jonathan Lethem, Stoya, and Stan Lee.

Read THE RED HOOK, and WAR CRY for free at LINE Webtoons http://www.webtoons.com/en/super-hero/the-red-hook/list?title_no=643 & http://www.webtoons.com/en/super-hero/war-cry/ep-1/viewer?title_no=1247&episode_no=1

Instagram: https://www.instagram.com/deanhaspiel_art/
Twitter: https://twitter.com/deanhaspiel

Artist's Statement:
I'm impelled to excavate universal truths and impart life experiences from my unique perspective to communicate with strangers and perpetuate hope with no permissions and no apologies.

Honors:
-Yaddo fellow
-Master Artist at The Atlantic Center for the Arts
-Emmy Award winner for title design work on HBO's "Bored To Death."
-Eisner Award nominee for "Talent Deserving of Wider Recognition" and "Outstanding Webcomic."
-Ringo Award winner for "Best Webcomic 2017" for THE RED HOOK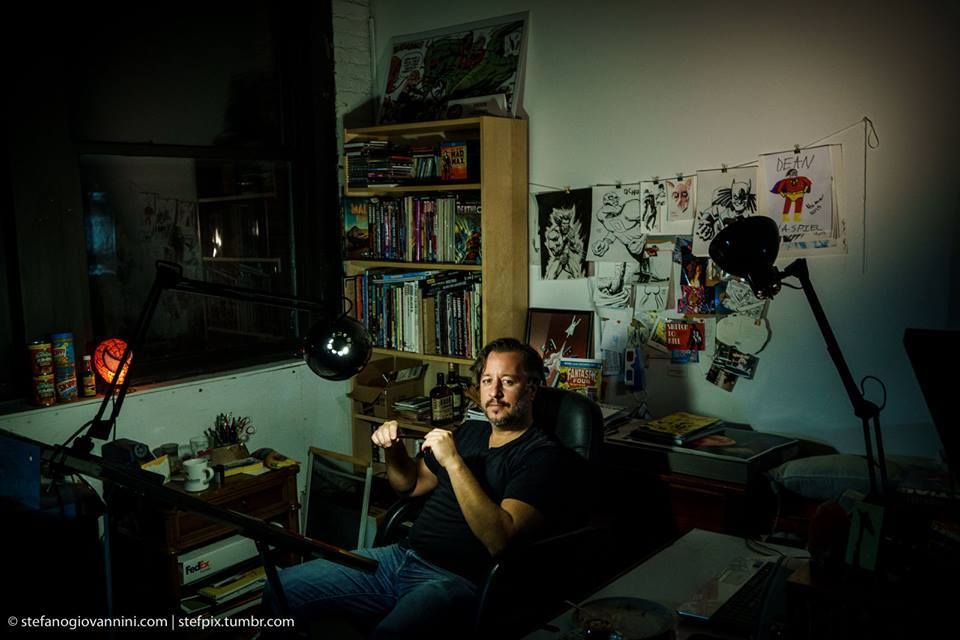 Please click here to see what Dean's been up to at TRIP CITY: http://welcometotripcity.com/author/dean-haspiel/

HANG DAI Editions: http://hangdaieditions.com/

Experiencing Yaddo First-Hand: An Interview with Cartoonist Dean Haspiel: http://thefreegeorge.com/thefreegeorge/dean-haspiel-yaddo-interview/

The Atlantic Center for the Arts: Residency #147: http://welcometotripcity.com/2012/12/the-atlantic-center-for-the-arts-residency-147/

Tom Spurgeon interviews me for The Comics Reporter: http://www.comicsreporter.com/index.php/cr_holiday_interview_2_dean_haspiel/

Poet Sandra Beasley interviews me for Barrelhouse Magazine
http://www.barrelhousemag.com/barrelhousing-with-comic-artist-dean-haspiel-an-interview-by-sandra-beasley/

Dean Haspiel speaks at The Library of Congress: http://www.loc.gov/today/cyberlc/feature_wdesc.php?rec=5709

ATTENTION Art Directors, Editors, Publishers, Writers, Etc: if you'd like to see current samples of Dean Haspiel's art, please check out his gallery: http://welcometotripcity.com/2012/01/dean-haspiel-gallery/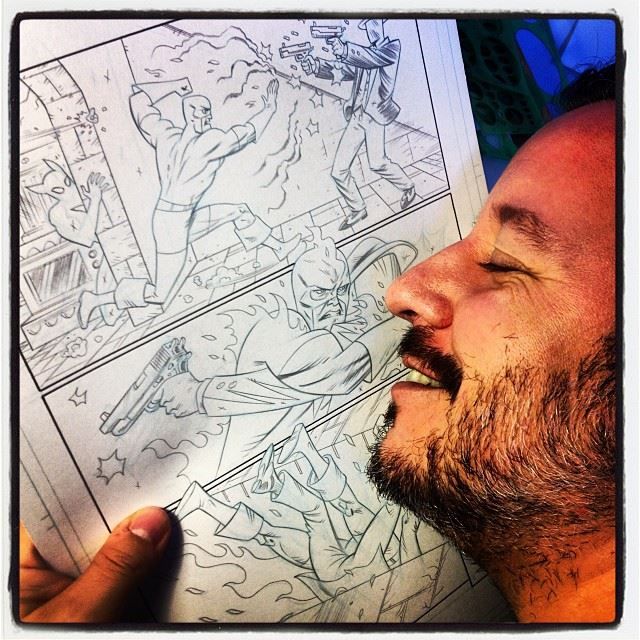 (
Click here for comix, interviews, news, videos, and other essential links
Collapse
)
Saturday, June 23rd, 2018
---
4:55 pm
- NY1 News: The subway, through the eyes of cartoonists
NY1 News reporter Jose Martinez did a piece called "The subway, through the eyes of cartoonists" on NY Transit Museum's "Underground Heroes" cartoon & comics art exhibition.

You can watch it here: http://www.ny1.com/nyc/all-boroughs/transit/2018/06/22/subway-comics-transit-museum-exhibit.html#

Excerpt:

"The exhibit displays drawings from the 1800s, when streetcars carried New Yorkers, to the delay-plagued system New Yorkers endure today.

Some of the themes are eternal, like the plague of overcrowding and the difficulty of getting a seat.

There is satire. "Houston, we have a pronouncation problem..." says one cartoon.

And, of course, fantasy: Superman, Spider-Man, The Punisher, Daredevil and Brooklyn's own "Red Hook."

"There's superheroes, there's monsters and there's regular people just like us," said Jodi Shapiro, associate curator with the New York Transit Museum.

The subway has long been fertile ground for cartoonists, and not just because many of them live here. It offers a chance to create intracate drawings and, with nearly 6 million daily riders, weigh in on the human condition."
Thursday, June 21st, 2018
---
2:20 pm
- Warren Ellis: Captured Ghosts documentary
I was honored to participate in the documentary, Warren Ellis: Captured Ghosts, celebrating one of the very best modern writers and thinkers of the 21st Century. The movie took a couple of years to produce but debuted in 2011.



https://www.youtube.com/watch?v=OtnkhgDn8A8
Tuesday, June 19th, 2018
---
1:18 pm
- Underground Heroes: New York Transit In Comics


I'm honored to participate in an exhibit, "Underground Heroes: New York Transit In Comics" at the NY Transit Museum. Some of my art from THE RED HOOK will be featured among a train of esteemed cartoonists (only a few of who are listed in the press release). When visiting NYC, please be sure to visit.

Here is the official exhibit information:

Underground Heroes: New York Transit In Comics

June 21, 2018 – January 6, 2019

New York's rich visual vernacular is a colorful setting for illustrated stories, so it comes as no surprise that our iconic transportation system plays a starring role in comics and graphic novels. Drawing on satirical cartoons, comic strips and comic books from the 19th through the 21st centuries, Underground Heroes: New York Transit in Comics is a raucous ride through New York's transit system from a range of visual storytellers. The exhibit includes such luminaries as Winsor McCay, Will Eisner, Bill Griffith, Roz Chast, Ronald Wimberly and Julia Wertz whose work demonstrates the influence that mass transit has on the stories that are irrevocably woven into the cultural fabric of New York City.

The Big Apple is often as important as the people (and creatures) in comics narratives, and the creators of these fantastic stories draw inspiration from the world around them. The transit system serves as the scene for heroic rescues, as secret lairs for supervillains, and as the site for epic battles of wills. Subways, railroads, streetcars, and buses can whisk heroes to far-flung corners of the city, or serve as a rogue's gallery of unusual characters.

http://www.nytransitmuseum.org/exhibits-collections/
http://www.nytransitmuseum.org/exhibits-collections/exhibits/
Monday, June 18th, 2018
---
9:51 pm
- WhoDooTV Comics interviews Dean Haspiel about The Red Hook at Image Expo 2018
Thursday, June 14th, 2018
---
11:53 am
- In My Not So Humble Opinion: NEW BROOKLYN DREAMS: DEAN HASPIEL'S THE RED HOOK
Ben Herman wrote a sweet review with great insights about my graphic novel, THE RED HOOK vol 1. New Brooklyn at his comix blog, In My Not So Humble Opinion.

Excerpts:

"In the past I have observed that Dean Haspiel is a creator who appears to effortlessly leap back & forth between the spheres of independent and mainstream comics. The Red Hook is an effective distillation of those two poles, an action-packed super-hero saga possessed of oddball indie sensibilities and a distinctive authorial voice."

"Haspiel conceived the New Brooklyn Universe not just as a setting for fantastical stories, but as a representation of the cultural mecca that NYC once was, a mythic remembrance of a time when the city may have been dangerous & grimy, but also pulsed with life and vitality."

"Haspiel's writing is simultaneously humorous, strange and poignant. The plot is compelling, as are the characters. Haspiel has always been great at scripting couples. Sam and Ava's romance possesses a tangible authenticity.

The artwork in The Red Hook Volume One is breathtaking and dynamic. This is some of the best work that Haspiel has done in his entire career."

Read the entire review here: https://benjaminherman.wordpress.com/2018/06/14/dean-haspiels-the-red-hook/
Wednesday, June 13th, 2018
---
1:51 pm
- Dean Haspiel at Denver Comic Con 2018


I am a guest at Denver Comic Con 2018 from June 15 - 17. I will be selling and signing my new graphic novel, THE RED HOOK vol.1 New Brooklyn, and participating in a few panels. Plus, demonstrating comic book storytelling.

https://denvercomiccon.com/

Friday, June 15

Representation Book Shelf: Building A More Diverse Comics Classroom
2:30pm - 3:20pm
Room 301 - Education
Discuss the importance of diverse titles in classroom libraries and suggestions for titles. Educators, publishers, and artists will offer suggestions on racially diverse titles, explore multiple cultural, gender-based, and religious contexts, and open the discussion amongst your students about being different and understanding differences. With Dean Haspiel, Kazu Kibuishi, Gale Galligan, Stacey Robinson, Adan Alvarado, Eric Kallenborn

Illustrating Empathy: How Comics can Breed Kindness and Understanding
3:30pm - 4:20pm
Room 301 - Education
Can educators use graphic literature to show students how to be kind? Join professionals as they show there are positive life lessons in comic books. With Tony Medina, Stacey Robinson, Dean Haspiel, Candy Markle, Tracy Edmunds

Saturday, June 16

Comic Book Storytelling with Dean Haspiel
4:00pm - 4:50pm
Room 406/407 - Authors
Comics are a unique marriage of words and pictures where is image is text, too. Learn how to think about stories in a visual way, where every panel is meaningful, and maximize the narrative real estate of the blank page with cartoonist Dean Haspiel.

Sunday, June 17
No More Capes - Moving beyond Superheroes with Classroom Comics
1:30pm - 2:20pm
Room 301 - Education
This panel of teachers and creators will discuss the importance of exploring comics beyond the superhero genre. They will discuss classroom implementation of books like My Friend Dahmer, Pashmina, Yummy, I am Alfonso Jones, The Alcoholic, and others to move students beyond the capes and cowls in order to engage deeper genre studies. With Nidhi Chanani, Amy Chu, Dean Haspiel, Tim Smyth, Eric Kallenborn
Tuesday, June 12th, 2018
---
10:50 am
- Comics Alternative interviews Dean Haspiel
I enjoyed a lively conversation with Derek Royal and Gene Kannenberg Jr. about my new graphic novel, THE RED HOOK vol.1 New Brooklyn, plus a wide-range of stuff, including the world of webcomics, for the Comics Alternative podcast.

Listen here: http://comicsalternative.com/comics-alternative-interviews-dean-haspiel/

From the show notes:

"Gene and Derek are happy to have Dean Haspiel on The Comics Alternative to discuss his new book from Image Comics, The Red Hook, Vol. 1: New Brooklyn. This is the first in a planned trilogy introducing readers to his universe of New Brooklyn. The Red Hook is a reluctant hero. Once a super-thief, his unlikely encounter with the legendary superhero, The Green Point, bequeathes unto him The Omni-Fist of Altruism. This transform him into a hero, where he cannot resist helping others in distress, despite his better judgment. In this role, The Red Hook becomes a major player in New Brooklyn, a borough whose heart had been broken by commerce and real estate speculation, and, as a result, secedes from New York, and America. Sound unlikely? Well, listen to Dean as he explains the premise and his plans for future New Brooklyn narratives. The guys talk with Dean, asking him a variety of questions not only about his new book, but about his other publications, as well. But then Dean turns the tables and begins interviewing Gene and Derek. It's a wild experience with an indefatigable Haspiel."
Monday, June 11th, 2018
---
4:18 pm
- Publishers Weekly Podcast, More To Come ep 318: featuring Dean Haspiel & The Red Hook
11:27 am
- Villain Media Interview: Dean Haspiel talks THE RED HOOK VOL. 1: NEW BROOKLYN!
Jorge Solis discussed my new graphic novel, THE RED HOOK Vol. 1 New Brooklyn with me at Villain Media.

Excerpts:

"New Brooklyn was born out of a frustration of trying to make ends meet as an artist in NYC as the price of living rose exponentially and freelancer rates remained the same. My then-studio was losing its space and my studio mates were being displaced. Some went back into the closets and bathrooms of their homes, while others moved to more affordable states. My current studio consists of refugees from the fall-out, but some of us continue to shave corners; to keep our pledge to create personal art that reflects and reacts to the world. Alas, autonomy is a privilege you need to earn.

Besides New Brooklyn setting the stage for an experimental economy where you can barter art for food and services, it's also the backdrop for The Red Hook to negotiate right from wrong. New Brooklyn honors its broken bridges by building new bridges within its diverse neighborhoods, brokering authenticity with gentrification. Where heroes are revealed to be the most unlikely candidates."

"The Red Hook is just trying to make ends meet. He isn't evil but he doesn't dream big either. Clearly a cat I can relate to. However, his girlfriend, The Possum, has higher aspirations and is looking to retire before she plucks her first gray hair. They enjoy a healthy friction, where their biggest concern is whether to make love in their costumes or not. The Red Hook tends to over-analyze. He's a worry wart brought on from years of insecurity; he hesitates. The Possum is more curious and confident, bordering on dangerous; willing to take risks. And their different personalities speaks to where they each end up in the finale of volume one."

"The Green Point is a demi-god. He's kinda like New Brooklyn's Thor but with a mystical sword instead of a hammer. And, when his immortality is compromised, he passes his burden of altruism onto, or to be more precise, into the nearest person who happens to be Red Hook's resident super-thief. This complicates matters as The Green Point's imbalanced girlfriend, The Invisible Light, expresses megalomania, endangering earth's infrastructure.

Without giving too much away, The Green Point should have been the protagonist of this tale but his life was cut short. And now, the guy who sneaks around stealing valuable art and household items to pay for his waterfront warehouse, is left holding the bag to help save the world from cracking in half. Were I to ever produce a pre-New Brooklyn story about The Green Point and The Invisible Light, I'd call it, "The Pure and The Damned.""

"Because comics are formally a sequential series of words and pictures that culminates into a whole story, a single piece of narrative, I don't really have favorite pages, or panels, or dialogue. Sure, there are a bunch of things that stick out, but they're earned by what occurs before and after. Because all of my published comics are what I dub "deadline art," drawings attached to a clock, I can't allow myself the indulgence of playing favorites. And given the luxury of time, I'm not sure I want to find out what my art really looks like."

"I was never ready for prime time and my work frankly was never up to snuff for the Big Two. The Red Hook encouraged me to not care about how my art looked and how my writing read. I went with my heart to produce something honest and possibly embarrassing yet wholly pleasurable despite the market."

Read the entire interview here: https://villainmedia.com/interview-dean-haspiel-red-hook-vol-1-new-brooklyn/
11:19 am
- Comicon.com: Book Expo 2018: The Image Comics Genres Within Genres Panel

(L-R: Tee Franklin, Brigid Alverson, Charles Soule, Kit Seaton & Dean Haspiel. Photo c.2018 Hannah Means-Shannon)

Hannah Means-Shannon reported The Image Comics: Genres Within Genres Panel at Book Expo America 2018 for Comicon.com

Excerpts:

"Each of the panelists used genre terms when introducing their works, Alverson noted, and asked them to comment more on that usage.

Haspiel was known as a superhero creator, but he commented on the inclusion of action, sci-fi, and even romance, in such works. He commented on Guardians of the Galaxy being about a group of misfits who become friends, and later family. But there's romance and other elements, too."

"Haspiel said that when he was drawing, The Quitter, a story with Harvey Pekar, some fans complained that the artwork looked to "superhero-y", even though there was no aspect of that in the story. They were expecting more of an R. Crumb approach. Haspiel said it may be down to the "limitations of our brains" in coming in with certain expectations for certain types of art style."

"Haspiel has worked a lot in black and white and a lot in limited palette, he added, agreeing about the impact of color. He feels that black and white and limited palettes are harder to sell to readers these days since they seem to feel they are getting "less of a book", but look at the work of Frank Miller or The Walking Dead, and the ways in which they work without color.

Source material influences reader expectation based on what they might have first encountered in comics, Haspiel feels, which encapsulates the tropes that then have to be broken."

"Circling back to the definition of genre, Haspiel explained that he's recently been writing plays, and that he loves "story" and "mixing up stuff". He loves "bad B movies" and cheesy movies because "there's something in there was well". He picks and chooses and "mashes up" the things he loves in his work, so he finds genre hard to define. If he was asked to do a "straightforward genre", he probably couldn't do it. Asked once to pitch "Hulk noir" to Marvel, with him as a military character, he couldn't do it. But asked to do a "strange tales" story, he was fine. He found the weirdest character he could, one called "Wood God" and added many other Marvel characters to the story.

Alverson wondered if "genre is what other people write", meaning we apply it to others rather than our own products. Haspiel mentioned the film The Arrival, a science-fiction movie that broke genre rules and his heart. There are expectations, but he loves it when something "turns" on the audience in that respect."

"Haspiel has been reading a lot of biographies and auto-bios of comedians and actors, who are "fascinating people" with "really cool anecdotes". Maybe that helps with "character building". Some television is as quality as literature, he commented, including a show called "Banshee" he's been watching.

Asked if there was a genre they hate or wouldn't write, Haspiel said he can't wrap his head around "fantasy" like sandals, swords, and dragons. He loves Game of Thrones though. He played D&D as a kid, but he has an "allergic reaction" to the idea of doing it. Despite those elements in his own work already."


Read the entire report here: http://www.comicon.com/2018/06/02/book-expo-2018-the-image-comics-genres-within-genres-panel-with-soule-franklin-seaton-haspiel/
Thursday, June 7th, 2018
---
10:22 am
- Charles Hatfield reviews THE RED HOOK
"Try curling up with this in a bathtub for an hour. I did, and it did wonders for me.

The Red Hook is close to the pure Haspiel, combining the slaphappy yet traditional heroics of The Fox with the soulful urbanism of Dino's autobio comix (Beef with Tomato, Opposable Thumbs, etc.) and the surreal romance, dizzying patter, and sheer loving lunacy of his Billy Dogma series. More plot-driven than Billy, it is still much freer than, say, his Marvel or DC workouts. Sexier and crazier than The Fox, it is still a more straightforward read than Billy. The result has some gravity, some plot a la mainstream serials, but is still a pinballing comics lark. Frankly, the plot takes a back seat to Haspiel's cartooning, which fizzes madly here, released.

This is part of a shared universe called New Brooklyn that promises further weirdness from several artists and writers—but, again, it's not plot-rigging that charms here, but the electric drawing, gusty inventiveness, and sheer personal quirkiness of it all. For supercharged cartooning with a rugged brush line, for divine patter and head-snapping verbal gymnastics, and above all for the sheer joy of saying to hell with realism in favor of the joys of comics—well, seek no further."

--Charles Hatfield, author of Alternative Comics - an emerging literature, Hand Of Fire - the comics art of Jack Kirby, and The Superhero Reader

https://www.facebook.com/photo.php?fbid=10156310166562086&set=a.10150708341542086.415887.662377085&type=3&theater
Wednesday, June 6th, 2018
---
12:00 pm
- Villain Media reviews THE RED HOOK vol.1 New Brooklyn
Thanks, Jorge Solis, for your kind review of THE RED HOOK at Villain Media!

Excerpts:

"An eye-pleasing nostalgic throwback, The Red Hook Volume 1: New Brooklyn (Image Comics) delivers a pulpy and action-packed adventure full of superhero wit."

"At a fast pace, writer Dean Haspiel spins his own coming-of-age tale, twisting the origin story of a superhero. The Red Hook learns the hard way that it must easier to be the bad guy, than being a do-gooder. The first volume follows the Red Hook's interesting character arc as he tackles family, crime, and his love life."

"Taking over the art duties as well, Haspiel has the titled superhero dominate the page with his red bodysuit. The Red Hook looks the part of a Silver Age hero with his bulky muscles, the charming smile, and the swashbuckling mustache. Even the antagonists stand out with their luchador masks and oversized heavy weight."

"I think it's also interesting how New York becomes a full-fledged character in the narrative. Cut off from the rest of the world, New Brooklyn has become a dystopia where crime flourishes and the gods could care less about the average citizens. The future looks bleak, but if you end up at the right corner in Brooklyn, there's always hope."

Read the entire review here: https://villainmedia.com/5-reasons-red-hook-vol-1-new-brooklyn-image-comics/
Tuesday, June 5th, 2018
---
10:31 am
- PopCultHQ.com reviews THE RED HOOK vol.1
"Dean's writing for Red Hook is quite frankly fantastic. It is straightforward and witty and full of great hero one-liners. It's like he took a deep drink from the same well that Jack Kirby, Will Eisner, Stan Lee and so many other stalwarts of the Golden, Silver and Bronze Age drank from. Not one line, not one word of this TPB's writing will leave readers wanting. This is a Dean Haspiel win all the way.

Dean's art is also a big win. His style is sleek, yet a bit rough. To this reviewer, it is a means of showing the crazy world that Red Hook lives in, a Brooklyn that is its own land with new rules. So what does this lead to artwise? Nothing short of spectacular superhero brawls, eye-popping splash-panels, and out-of-the-world action."

Read the rest of the review here:

http://www.popculthq.com/2018/06/05/comics-review-image-comics-the-red-hook-vol-1-new-brooklyn-tpb-by-dean-haspiel/
Sunday, June 3rd, 2018
---
12:12 pm
- Reading and Literature Resources Blog reviews THE RED HOOK
"The Red Hook by Dean Haspiel is clearly intended for mature audiences, brimming with creativity, and just pure fun to read. The artwork reminds me of the art deco work on Bruce Timm in the 1990s, and also calls to mind Madman by Mike Allred, all while doing its own thing with invention.

The story is full of characters and plot movements that kept me turning pages to see what lush image would appear in the next panel. Another unique adventure from Image Comics, and nicely done indeed."

http://readingandlitresources.blogspot.com/2018/06/a-note-on-red-hook-volume-1-by-dean.html
Wednesday, May 30th, 2018
---
12:46 pm
- The Fox: Fox Hunt graphic novel


THE FOX: FOX HUNT (TR)
Paul Patton, Jr. is dealing with the reality that his son wants to be a superhero like his father; the very thing Paul no longer wishes to be himself. However, a psychopathic philanthropist won't let Paul end his duel identity when he puts a million dollar bounty on The Fox's head! Includes FOX HUNT issues #1 – #5!
Script: Mark Waid and Dean Haspiel
Art: Dean Haspiel, Allen Passalaqua, Rachel Deering
Cover: Dean Haspiel
978-1-68255-887-4
$14.99 US/$16.99 CAN
6 5/8 x 10 3/16"
TR
136 pp, Full Color
Direct Market On-Sale Date: 8/22

http://www.mightycrusaders.net/2018-08-solicitations-dark-circle-comics/
12:09 pm
- Dean Haspiel at Book Expo America 2018
Wednesday, May 23rd, 2018
---
12:49 pm
- Wyatt Cenac & THORGOOD


In January of 2017, my pal, Marianne Ways, one of NYC's premier producers of comedy and variety shows (a few years ago, she convinced me to create/curate and host a few of my own salons at Union Hall in Brooklyn, NY), contacted me to illustrate a superhero conceived by comedian/actor Wyatt Cenac. They were producing a televised version of their variety show, Night Train with Wyatt Cenac, and one of the segments would riff on cos-play and comic book conventions. Wyatt came up with his new superhero based on a combination of lawyer and former Associate Justice of the Supreme Court of the United States, Thurgood Marshall, and Norse god, Thor, called THORGOOD. It was very easy to design and was fun to collaborate with the comedian. They recorded the episode early February, 2017.

Even though the variety show was produced for many years at Littlefield in Brooklyn, NY, two seasons of NIGHT TRAIN with Wyatt Cenac were also produced for the now defunct Seeso, and you can see those shows on the Starz network. The episode my art appears on is 202: https://www.starz.com/series/38335/episodes/38271/details

Thanks, Marianne and Wyatt!
11:23 am
- Dean Haspiel's The Red Hook graphic novel Summer 2018 Tour!
Wednesday, May 9th, 2018
---
1:14 pm
- Nominate Dean Haspiel's WAR CRY for the Ringo Awards