Wednesday, April 6th, 2016
---
4:46 pm
- The Brooklyn Paper / Going indie: New comic shows the borough seceding


Giaco Furino interviewed me about my new WebToons series, THE RED HOOK, for The Brooklyn Paper.

Here are some excerpts:

In the opening panels of "The Red Hook," which launches its first chapter today, a seismic shock shatters the Brooklyn and Manhattan bridges and separates Kings County from Queens. The comic's creator came up with the earth-shaking idea in July 2014, when artists replaced the American flags on the top of the Brooklyn Bridge with white flags.

"I joked to a friend, 'Oh my God, Brooklyn gave up!' " said Dean Haspiel. "That's a really interesting idea, what if Brooklyn was sentient? And it literally and physically decided to secede from America?"

"I was aiming for a superhero but what I came up with is a super-thief," said Haspiel. "I thought about Red Hook and how difficult it is to live there. And I thought about what kind of superhero would be in Red Hook and I kind of created a bad guy. He's kind of like a Robin Hood, but he only takes care of himself and his girlfriend."

"I like that simplified, streamlined look," said Haspiel. "I can't get into all the bells and whistles of the new superheroes designed today. I like simplicity and clarity."

You can read the entire article/interview here: http://www.brooklynpaper.com/stories/39/15/24-dean-haspiel-red-hook-2016-04-08-bk.html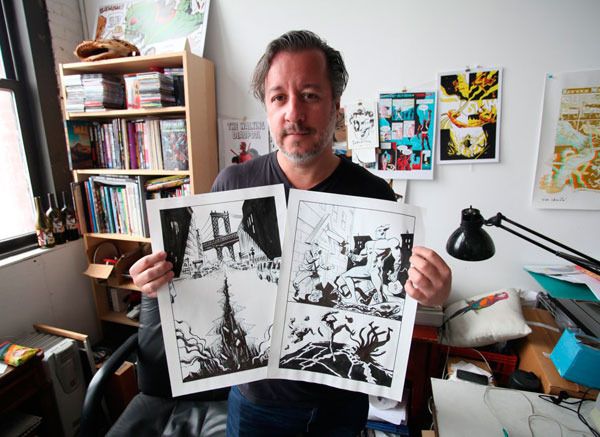 (photos by Jason Speakman for The Brooklyn Paper)
Sunday, March 27th, 2016
---
1:33 pm
- MoCCA 2016
1:27 pm
- Comix autonomy
Metrics may disprove my theory but I FEEL like I'm a polarizing creator (not necessary in the negative sense but in the binary sense). In 2010, when I debuted CUBA: My Revolution at Small Press Expo (SPX) my book was met with a distinct "stink" of being produced by DC Comics (Vertigo), even though it could have easily been published by Top Shelf, Fantagraphics or Drawn & Quarterly. It gave me insight into a certain kind of "indie-comix branding" I wasn't wholly aware of. I felt that us die-hard, old-school SPXers (I'd been exhibiting at SPX since the mid-90's) had been trying to infiltrate the Big Two and other "corporate comics" publishers for many years with our subversive content and I was one of the ink-ninja's who cracked the system only to be quarantined into some bizarre section of SPX "sell-outs" or something. It was a paranoid feeling. I can understand if my book was shit but it wasn't (I swear). And, more importantly, it was hardly considered...barely perused. I sat at my corner table for 2-days playing a far-sighted staring contest with invisible crickets while 12-page mini-comix (folded & stapled the night before) were flying left and right. Again, a weird thing for me to witness. I get it. I get that a modern SPX is more about the DIY charge and bucking a certain kind of "old white dude" system. I just thought I had the kind of street credit (I've been an SPXer since its 2nd or 3rd year, hawking my indie-wares) that would forgive my occasional alliance with the Big Bad Two only to discover I had scarlet DC letters scorched into my chest. I don't believe there's an actual line drawn between cartoonists who hopscotch between the Big Two and alternative comix but nowadays you never EVER have had to indulge a franchise comic to read modern comix and make 'em. Hell, you hardly need to know comix history. Who cares? Maybe 2010 was the year that comix became much more autonomous?
Thursday, March 17th, 2016
---
3:06 pm
- Harvey Awards 2016 nominations for your consideration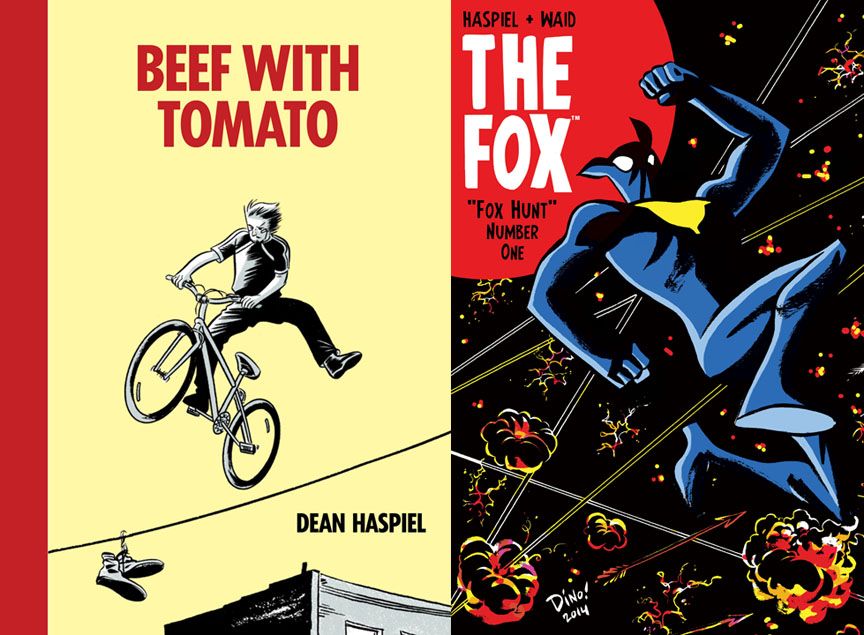 Comix nominations are currently being considered by comix professionals for The Harvey Awards 2016. Ballots due May 9th: http://www.harveyawards.org/2016-nomination-ballot/

Please consider my graphic novel memoir, BEEF WITH TOMATO, published by Alternative Comics (in conjunction with Hang Dai Editions), and THE FOX, 5-issue "Fox Hunt" arc I co-wrote and drew for Archie/Dark Circle Comics (in collaboration with Mark Waid, Allen Passalaqua, John Workman and Rachel Deering).

Please also consider Gregory Benton's SMOKE, Seth Kushner's SCHMUCK (illustrated by various artists), and Josh Neufeld's THE VAGABONDS #4, all published by Hang Dai Editions.

Also, consider:

--John Leguizamo's GHETTO KLOWN, written by John Leguizamo and illustrated by Christa Cassano & Shamus Beyale (Abrams Books).
--THE BUNKER by Joshua Hale Fialkov & Joe Infurnari (Oni Press).
--PLUNDER by Jonathan Lang & Skuds McKinley (Archaia)
--MINIMUM WAGE by Bob Fingerman (Image)
--BORB by Jason Little (Uncivilized Books)
--STRAY: Who Killed The Doberman? by Vito Delsante & Sean Izaakse (Action Lab)

There are so many great print and digital comix to consider from what was released in 2015. I wish there was a proper list to consult but I know I will be rifling through my comix to help pick and choose and I hope you will, too.
Friday, March 11th, 2016
---
11:53 am
- RIP Sunny Balzano
Sunny Balzano of Sunny's Bar in Red Hook, the last bar at the end of the world (and my favorite bar), has passed away. Strength and love to Tone Johansen and the rest of the Sunny's Bar gang. Sunny's spirited and beautiful legacy will live forever via the people and community he impacted and inspired.

Here is a comic I did awhile ago that takes place in front of the last bar at the end of the world.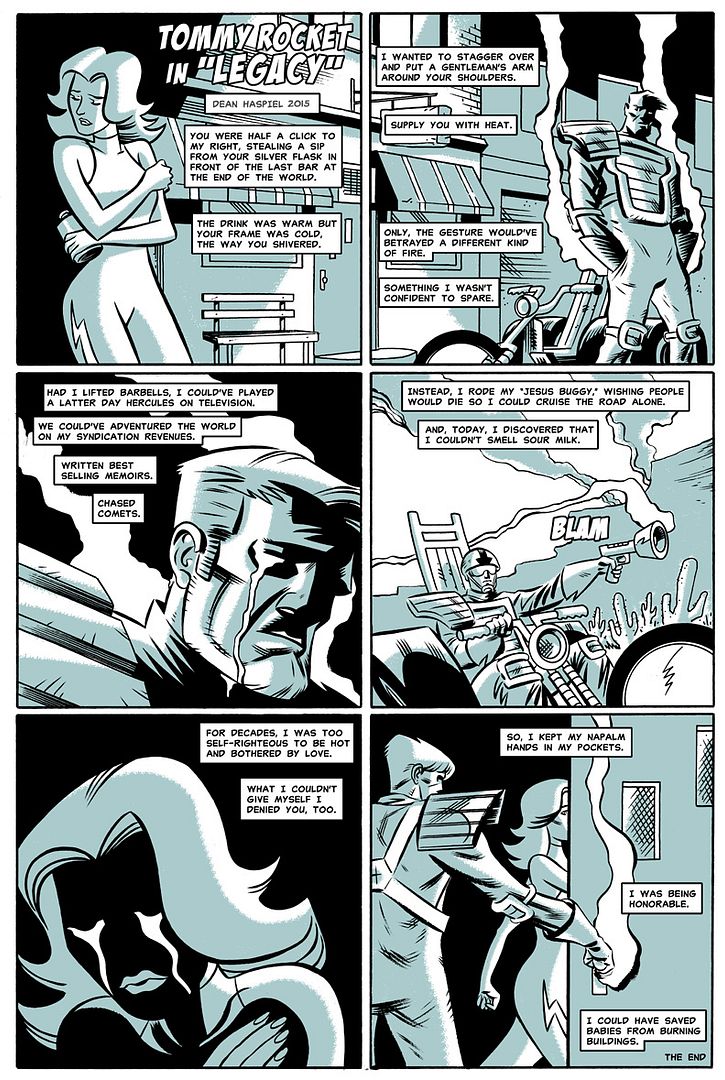 Thursday, March 10th, 2016
---
10:44 pm
- Webtoon: The Evolution of Korean Digital Comics at Stony Brook University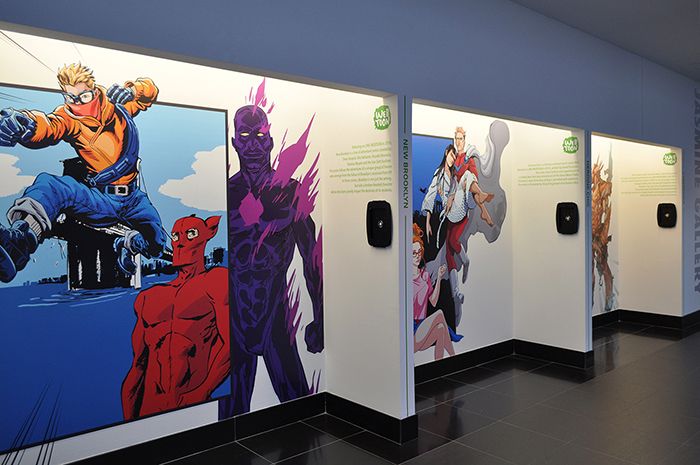 THE RED HOOK is my new, original weekly webcomic launching April 6th at LINE Webtoons (which inaugurates the "New Brooklyn" web-series featuring The Red Hook, The Brooklynite by Seth Kushner & Shamus Beyale, and The Purple Heart by me, Vito Delsante & Ricardo Venancio) and is currently part of a special exhibit at The Charles B. Wang Center in Stony Brook University presenting "Webtoon: The Evolution of Korean Digital Comics," from March 10th to May 31, 2016.

You can see more pix from the exhibit and read the full press release here:
https://www.artsy.net/show/charles-b-wang-center-webtoon-the-evolution-of-korean-digital-comics
Wednesday, March 9th, 2016
---
11:33 am
- FLASHed music playlist for Largehearted Boy
Largehearted Boy asked me to select a song for a music playlist to accompany the anthology "FLASHed: Sudden Stories in Comics and Prose," of which I contributed a comic ("Angel") that was then expanded upon by another writer and cartoonist to create a triptych called "Venus & Mars."

Here is my song selection and explanation:

"My World" by Sly and the Family Stone
Sly Stone's "My World" makes for a deceivingly happy yet soulfully haunting soundtrack to the triptych my monster-romance comic "The Angel" manifested. Backed by world weary horns, the song lyrics alludes to a sense of obsession that is not necessarily healthy. Love can be selfish. Love is often a grotesque projection of ideas put upon another person, desperately knitting together a narrative that doesn't exist. Unlike a cat or dog, love needs to be earned. And, after the car explodes and the house burns down, it's the smoldering person standing next to you that is the one to high-five with sunflower kisses.

Read the rest of the selections by some of the authors and listen to a music mix here: http://www.largeheartedboy.com/blog/archive/2016/03/book_notes_flas.html

Learn more about FLASHed here: http://flashedthebook.tumblr.com/
Monday, March 7th, 2016
---
12:48 pm
- True Detective season 2
Watched season 2 of True Detective. Almost threw the boxed set against the wall after 3- episodes but stuck with it despite its many storytelling faults. By the end, I felt for all four major characters. The production was as broken and bleak as its tragic protagonists but it ultimately shed a certain kind of beauty that makes me want to watch it again. Study it for its blemished virtues. I may be the only one who watches True Detective season 2 ~ twice.
Wednesday, March 2nd, 2016
---
2:34 pm
- Comic Art: Fantasy & Imagination exhibition at Safe Harbor's Ann Street Gallery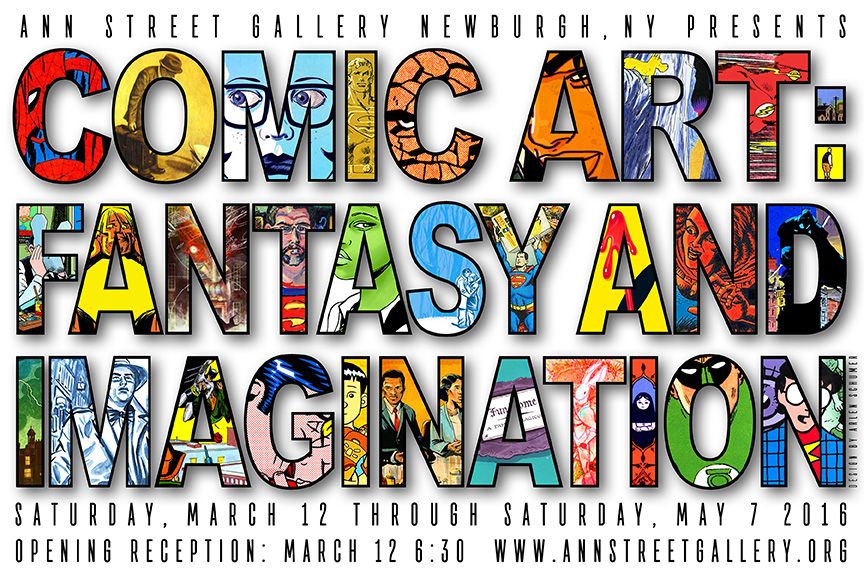 Please join me, Jen Ferguson, Christa Cassano, Arlen Schumer, and other artists for Safe Harbor's Ann Street Gallery exhibition "Comic Art: Fantasy & Imagination," the evening of Saturday, March 12th from 6:30pm - 8:30pm, located at 104 Ann St, Newburgh, New York 12550

"This new exhibition highlights a selection of artists whose work examines a diverse array of comic styles, as well as, investigates how contemporary artists —beginning with Pop Art legends Roy Lichtenstein and Andy Warhol—are appropriating the comic book medium, its imagery, and visual tropes into their work."

This exhibit was curated by Virginia Walsh. For more information call (845) 784-1146 or vwalsh@annstreetgallery.org.

http://www.safe-harbors.org/events/comicart/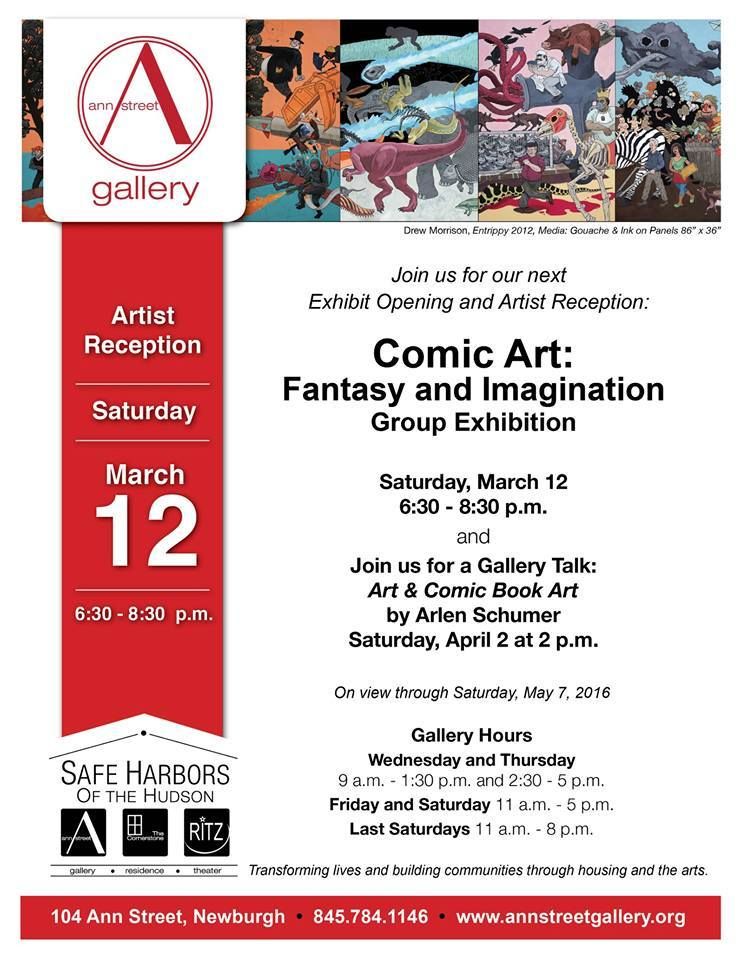 Facebook event page: https://www.facebook.com/events/1073100009376829/
Friday, February 26th, 2016
---
12:29 pm
- FLASHed anthology debut at BookCourt



Join an all-star line-up of authors and illustrators to celebrate the release of Flashed: Sudden Stories in Comics and Prose. Featured authors Anna North (The Life and Death of Sophie Stark), Ben Greenman (The Slippage), Jason Little (Borb and Motel Art Improvement Service), and Dean Haspiel (Beef with Tomato), along with co-editors Josh Neufeld and Sari Wilson will present an exciting visual display of the comics, prose, comics triptych presented in their new book.

Friday, February 26th at 7 PM
BookCourt
163 Court St, Brooklyn, New York 11201

About Flashed: Sudden Stories in Comics and Prose:

Flashed is a collection of flash fiction stories in comics and prose, pressed up against one another. In dialogue. In concert. In conversation. The stories are arranged in "triplets"—each grouping a kind of call-and-response among the respective contributors. So Flashed is more than an anthology; it's a conversation—among some of today's most exciting prose writers and cartoonists—and between the forms of prose and comics.

https://www.facebook.com/events/220332404976713/
Monday, February 15th, 2016
---
1:26 pm
- Wizard World Portland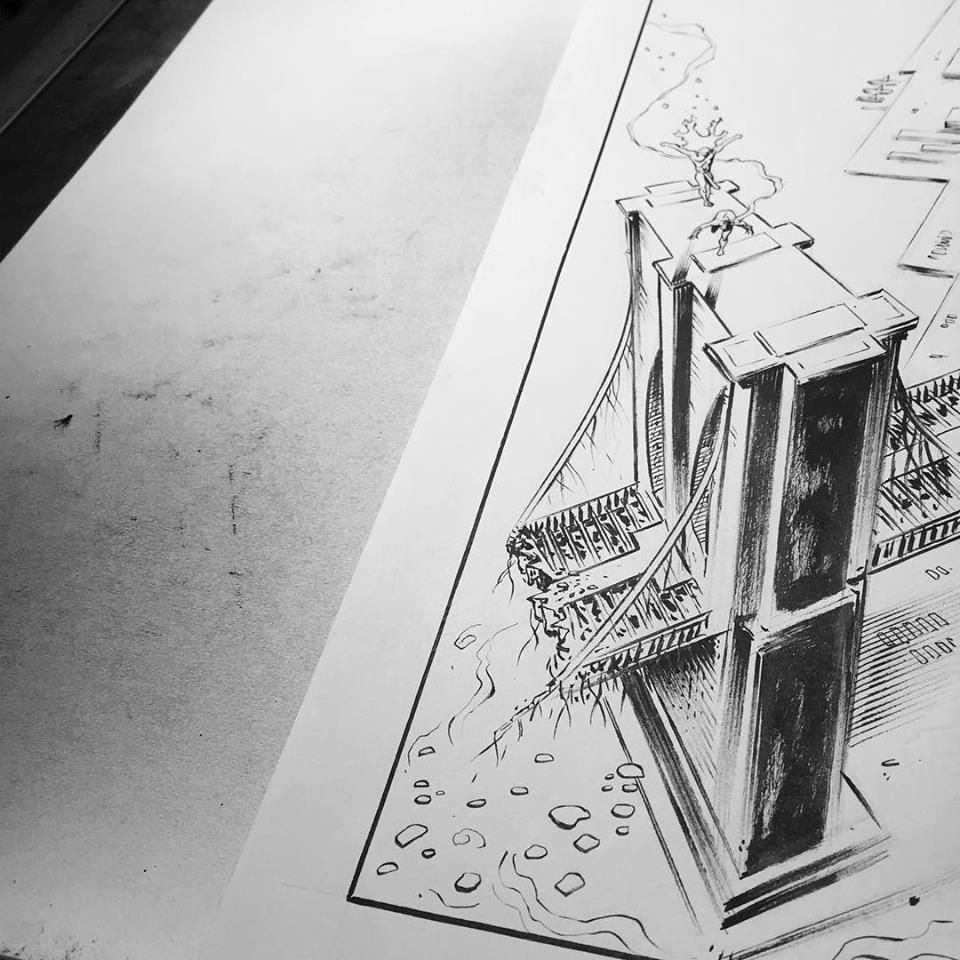 I am a guest at Wizard World Portland, February 19 - 21, 2016, stationed at table A21. I will have some copies of my latest graphic novels, BEEF WITH TOMATO, and FEAR, MY DEAR. Plus, rare copies of my exclusive THE WALKING DEAD cover. Ask me about my new, upcoming webcomix series, THE RED HOOK, to be published at LINE Webtoons. And, I'm available for commissions. I will also be doing two panels on Sunday, which is also my father's 78th birthday.

http://www.wizardworld.com/home-portland.html

SUNDAY, 2/21

1:30-2:15 PM SUPERSTAR ARTISTS: SUPERIOR FOES OF SPIDER-MAN'S STEVE LIEBER, THE FOX'S DEAN HASPIEL, BUFFY'S REBEKAH ISAACS & DR. WHO'S SIMON FRASER (ROOM B110)
Top comics artists talk about their careers, their craft, the comics business and whatever else might come up—and may even show you some of their top-secret techniques! Join peerless pencilers Steve Lieber (Superior Foes of Spider-Man; Whiteout), Dean Haspiel (The Fox; Beef With Tomato), Rebekah Isaacs (Ms. Marvel; Angel & Faith) and Simon Fraser (Judge Dredd; Dr. Who). Danny Fingeroth (How to Create Comics from Script to Print) moderates.


2:30-3:15 PM INDY COMICS CREATORS TELL ALL with BILLY DOGMA'S DEAN HASPIEL, HEREVILLE'S BARRY DEUTSCH, DAVID CHELSEA IN LOVE'S DAVID CHELSEA & BAGGYWRINKLES' LUCY BELLWOOD [A Will Eisner Week Prequel] (ROOM B110)
The model of comics creators tethered to one or two major publishers, working on adventures of corporately-owned characters is no longer the only game in town. Many of the top talents in comics work either exclusively on their own material, while others work both sides of the street, alternating independent work with mainstream assignments done in their own distinctive styles. In this lead-up to the worldwide comics and graphic novel celebration, "Will Eisner Week," speaking about how they have forged their own paths (and reading from their work), are some of the most distinctive creators in comics today: Dean Haspiel (Spider-Man; Billy Dogma), Barry Deutsch (Hereville: Hereville: How Mirka Met a Meterorite), David Chelsea (David Chelsea in Love; Everybody Gets it Wrong! and Other Stories) and Lucy Bellwood (Baggywrinkles; Down to the Seas Again). The panel is moderated by Danny Fingeroth (The Rough Guide to Graphic Novels; Studs Terkel's Working).
Friday, February 12th, 2016
---
12:18 pm
- DEADPOOL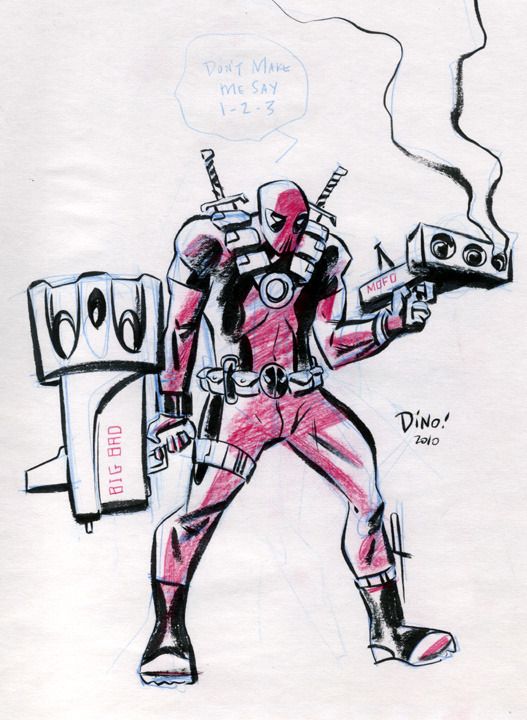 (my first Deadpool sketch in 2010)

When Marvel editor-in-chief, Axel Alonso called me up in 2010 to ask me if I'd like to write & draw a short Deadpool story for DEADPOOL 1000 (a one-shot anthology celebrating 100-issues of Deadpool), I immediately said "Yes." When I got off the phone, I hopped from my (then) studio (DEEP6) directly next-door to ask studio mate, Reilly Brown what he could tell me about Deadpool, a character I'd never read and one he'd drawn many times. I walked away with the understanding that Deadpool was Marvel Comics' schizophrenic yet sassy Looney Tune with guns galore. A combination of Spider-man and Wolverine and Russell Brand. I had to whip up an idea fast.

Once my story was approved, I drew it and, with one minor (major?) edit (Deadpool's fist was adjusted to enter the side of the demonic cat and NOT through his anus, which I'm sure would've been approved had I drawn it TODAY), I asked Joe Infurnari if he would color it and he did a fantastic job.

Below is a low-resolution version of my 4-page Deadpool story, "A Nightmare on Elm Tree." There's also the cover to DEADPOOL 1000 by Dave Johnson, and a recent poster I made available for sale at conventions I attend, mashing up Deadpool with The Walking Dead (a no-brainer...literally).

Deadpool was co-created by Rob Liefeld and Fabian Nicieza 25-years ago for Marvel Comics and opens as a feature-length film this weekend at a theater near you. Obviously, the characterization of Deadpool has been added to over the decades by a slew of other creators and that's how franchise comics works. 'Nuff said!

Enjoy!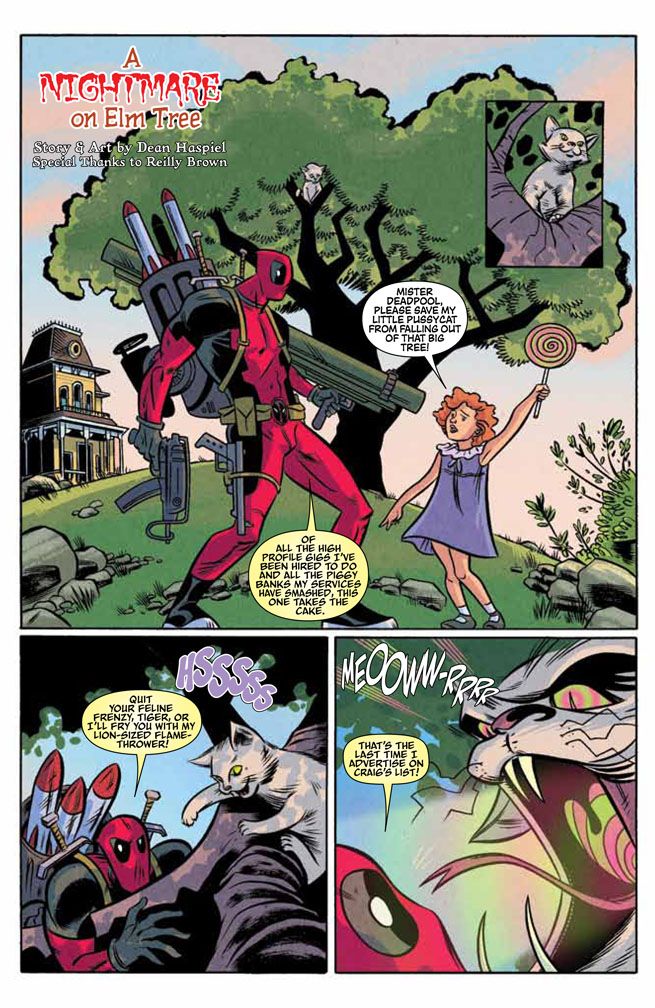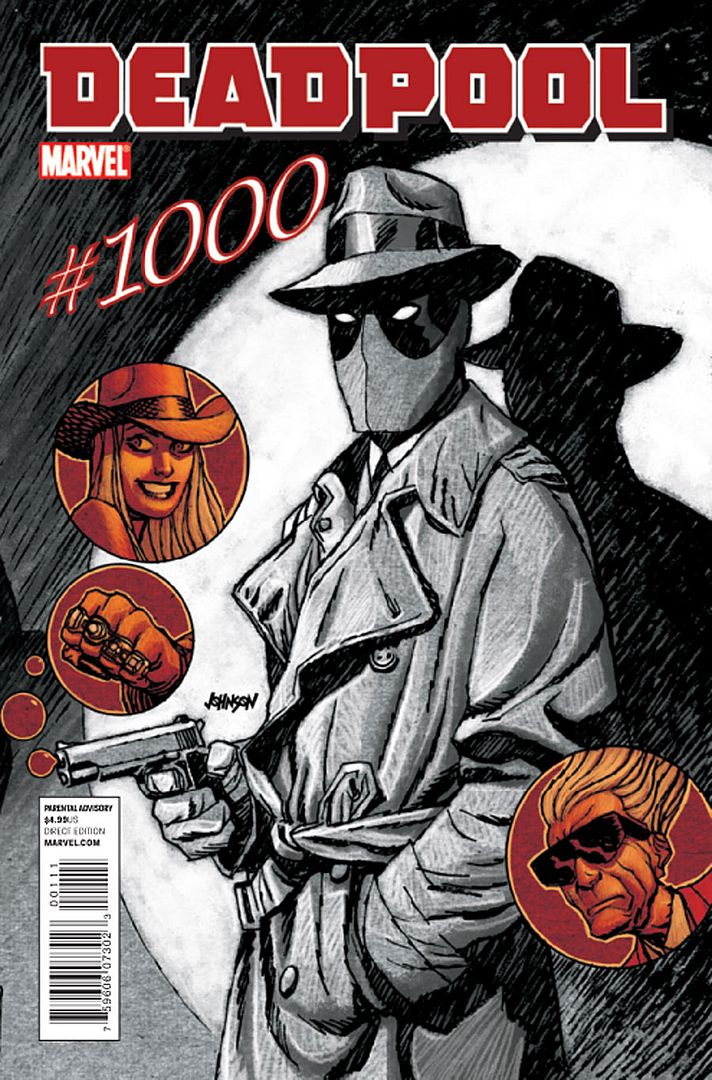 Friday, January 29th, 2016
---
1:47 pm
- You better make art or else!
There was a video going around on Facebook showing what happens when you ask normal work-force people and executives to work for free and they were like HELL'S NO. I'm constantly reminded that artists are often asked to create content for free or near-free but everyone - EVERYONE ELSE - gets paid: the printer, the distributor, the marketers, the internet bill, etc/etc gets guaranteed monies in their pocket while artists are often asked to take a back-end deal ("royalties") and do it for "exposure."

Better bring a coat. Too much exposure might get you pneumonia or cancer.

No one put a gun to our heads and said "You better make art or else!" But, I think doing anything else might just kill me. Only, it would take a lot longer then a well aimed bullet.
Sunday, January 24th, 2016
---
12:11 pm
- X-men and the 2nd biggest blizzard in NYC
Wednesday, January 20th, 2016
---
12:11 pm
- Awakened
I recently tried to read a contemporary book written for 9-year old's and I didn't connect with it as much as I thought I could. So, I left it on my stoop for the taking. In other news, I really liked Star Wars: The Force Awakens because it connected to the 9-year old in me from 39-years ago. I guess nostalgia and the desire to lose myself in trite, somewhat predictable fantasy means I don't want those 2-hours and 17-minutes back. Instead, I'll just smile a genuine smile and feel tickled by it's core mythology and steep in the things about it that made me happy. Tomorrow, I'll try to find something I hate in pop-culture and publicly share my outrage. Stay tuned!
Monday, January 18th, 2016
---
1:58 am
- The world's greatest comic magazine
The Fantastic Four is what clinched superhero comics for me when I was very young. It's been a lifelong dream of mine to crack FF and I had the honor of illustrating a handful of canon FF scenes last year in the FF series proper, but I can't believe Marvel Comics has officially decided to abandon their flagship title just because another company currently holds the moving picture rights. I don't understand big business but that seems like a lame reason to NOT produce 20-pages of monthly FF continuity. It's not like FF has ever been Marvel's worst selling title. I usually don't care what a company decides to do with their franchise characters and the FF will most likely return to their own title once Marvel regains movie rights, and the core characters will currently exist on the fringes of the Marvel Universe, but I'm genuinely upset about losing the FF comic book to a corporate Mexican standoff.

I actually developed an FF concept that I believe would be a very fun, exciting and controversial yet a respectful way to bring back the FF and put them into regular rotation. In a burst of inspired anxiety, I wrote it a year-and-a-half ago when rumors of Marvel cancelling the FF started to hit the internet. I know it's hacky for a fan cum pro to complain and then claim they have a solution but I've been loyal to the FF for 40-years and I'm passionate about this particular comic book series. Hell, it's what creative people do and I couldn't help myself. I'm genuinely sad to see my favorite superhero team disappear and, perhaps, planning a way to perpetuate their monthly existence is a coping mechanism-of-sorts. At least there are so many great FF stories to steep in by the likes of Kirby & Lee, John Byrne, Waid & Wieringo, and many more custodians of "the world's greatest comic magazine."


The Hollywood Reporter: "Marvel Confirms Shelving 'Fantastic Four' as Ongoing Comic Book Concern" http://www.hollywoodreporter.com/heat-vision/marvel-confirms-shelving-fantastic-four-855567

Bleeding Cool: "Dean Haspiel Has A Plan To Save The Fantastic Four" http://www.bleedingcool.com/2016/01/18/dean-haspiel-has-a-plan-to-save-the-fantastic-four/
1:28 am
- Wonderman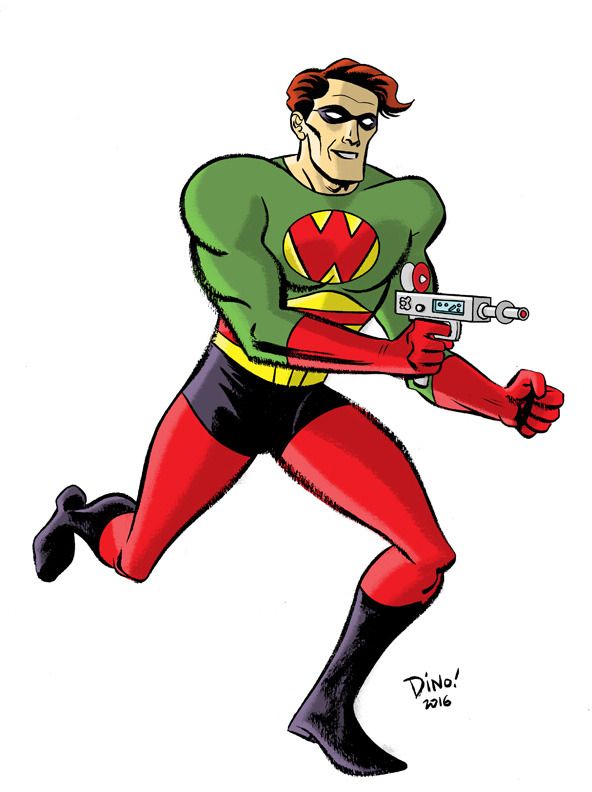 Both studio mate/pal/comix writer, Vito Delsante, and comics historian/pal, Christopher Irving hooked me up with Bill Murphy, who is producing several public domain superheroes from the Golden Age of comics (including Mike Allred's contemporary Madman) for a series of action figures called Amazing Heroes. Bill assigned me to draw Wonderman. Here is a mock up of what the packaging will look like:




It is not known who Wonderman was created by in 1945 but here's a link to the only info I had access to: http://pdsh.wikia.com/wiki/Wonderman_(Brad_Spencer) My quick iteration of Wonderman was inspired by this image (below):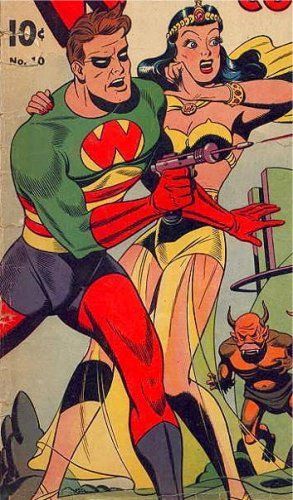 For more information about the Amazing Heroes action figures: http://www.freshmonkeyfiction.com/
Sunday, January 17th, 2016
---
12:30 pm
- Last art of 2015
Sunday, January 10th, 2016
---
4:15 pm
- Illustrate like a designer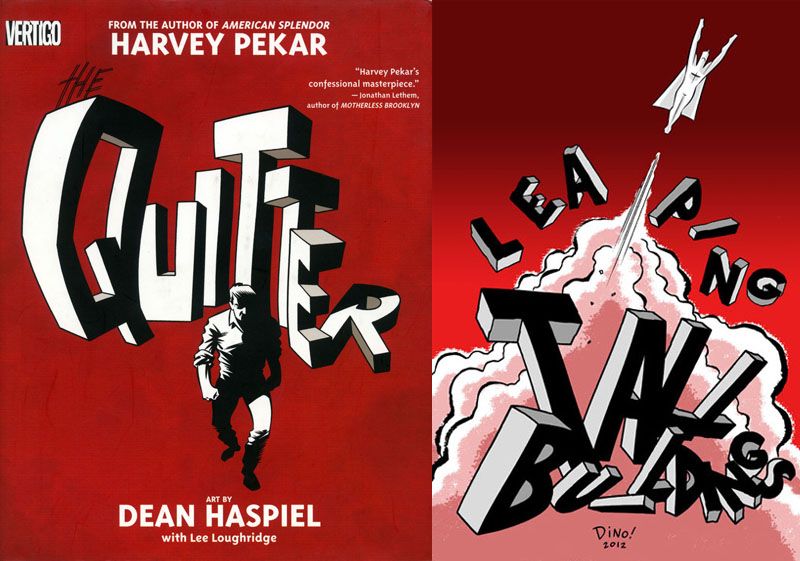 Local artist/children's book author, Stephen Savage is teaching a new class at School of Visual Arts called ILLUSTRATE LIKE A DESIGNER. Course description: "These days, artists are expected to wear many hats. That means that Illustrators often are required to act as their own graphic designers and typographers. In this course, we'll hone your design sense in a series of type based assignments: a poster, a logo, a book cover, a tattoo, a sign and a children's book/graphic novel spread. You'll learn how to integrate type and image... and even create your own personal font."

Steve asked me to send him some examples of my art and lettering for his class and give him a brief description about what I think about the subject.

I wrote:

My years of illustrating and designing comix comes from growing up reading comix, a multimedia narrative where image is text, too. In comix, words and titles and sound effects are as important as the art, if not more, in order to insure the clarity of story. In my late teenage years, I studied under the influences of Howard Chaykin and Walter Simonson on American Flagg! and Marvel Comics' Thor (respectively), two comic book creators who worked closely with their letterers, Ken Bruzenak and John Workman, to create a seamless hybrid of art and letters. I consumed the likes of Jack Kirby, Alex Toth, and Will Eisner, especially Eisner, who often turned fonts into landscapes on the splash pages of his Spirit comics. Many of our best cartoonists consider the power and impact of text as image and the subtle magic of proper placement so as keep the reader immersed in story.
Saturday, January 9th, 2016
---
4:56 pm
- Goodnight Locust Moon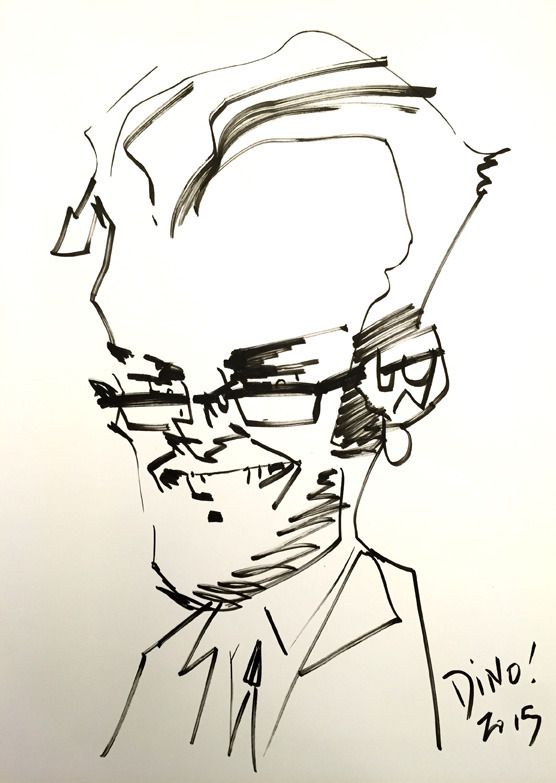 I knew when I first stepped foot into the Locust Moon Comics compound that I'd suddenly been hazed into a tribe. These cats wore the faces of enthusiasts and entrepreneurs but they were straight up gangsters putting their monies and their souls where their mouths and hearts were. Comix lifers imprisoned by their passions to break-out and make a dent in an industry that doesn't know what to do with itself anymore. So what if some rules got broken. Who cares if the ink was paid for in blood. Dream another dream? Get in line. That's what sparked their books, events and festivals, and keeps comix street. I'll miss the backyard pow-wows under the canvas teepee where peace pipes perpetuated the night with friends and peers (going AWOL with Pope & Scioli, Playboy proverbs from Kitchen, waxing weird with Sienkiewicz, swapping brushes with Mack & Thompson, getting real with Wimberly, bonding Hang Dai spirits with Cassano & Benton, etc.), but I know that nothing can stop Josh from spreading light with his smile, Chris from whispering cuckoo voodoo, and Andrew for keeping the trains on time. A three musketeer operation flanked by the the likes of David, Sugar Bear, Proch, Kelly, Ed and other lieutenants. Locust Moon made an old bruiser like me feel like a damned luminary while reminding all of us we're only as good as our last page. Cheers to a mighty transition from sassy retailers to full-time taste makers. Long live Locust Moon Comics.

http://locustmoon.com/