Thursday, December 10th, 2015
---
12:34 pm
- It was us.
I haven't clicked on the FriendsWhoLikeTrump thing because, frankly, if you're my "friend" and you "like" Trump, it was probably in response to something negative and/or insane about Trump. Not because you support him (but, still, it's your right to actually "like" Trump if you're that stupid). However, I don't care if you like a dumb ass (I like a lot of dumb ass people and things and places) but what CONCERNS me is the ability to track YOUR Facebook behavior (as you can mine) and then knee-jerk JUDGE you for it and eradicate you from my digital life because of some taken-out-of-context algorithm meant to DIVIDE us rather than UNITE us. I find that kind of clickable hate-bait repulsive and disgusting and the embryo of what will surely destroy us all. Just like guns, it wasn't the machines that killed us...it was us.
Thursday, December 3rd, 2015
---
12:07 pm
- 10 Phases to Making Comix
1 - Idea. What is it? Where do these things come from!?!

2 - Notes/sketches/designs. Jotting down meaningful images. What does it look like?

3 - Inspiration/Research. Now that you have an iota of an idea -- what influences, supports and destroys that iota?

4 - Plot/Story breakdown. Turn that iota into meaningful clarity.

5 - Script/Words. Give the story pace and personality. Scrutinize the story and let it start to tell YOU what it is.

6 - Layout. What does it look like on the blank page? Where do you hide and exploit its secrets?

7 - Pencils. Fully realize those visuals.

8 - Inks. Embellish those visuals and make it sing. Allow for deliberate accidents where structure meets art and makes something you never saw coming.

9 - Colors. Embed color codes and put lipstick on the pig.

10 - Lettering. The very thing that makes it all work when everything else is failing.
Monday, November 30th, 2015
---
9:52 pm
- Affordable Art Show at Urban Folk Art Dec 4th, 7pm
12:46 pm
- Yaddo News features BEEF WITH TOMATO
Sunday, November 29th, 2015
---
1:46 pm
- Hang Dai & Jennifer Hayden at BookCourt - Thursday, Dec 3rd @7pm
Saturday, November 28th, 2015
---
1:35 pm
- My God
I've never successfully orchestrated a project that made me money while I slept. Worried I'd be pegged by lazy underwriters and critics wanting a repeat? Perhaps. Too naive to play the market better? Probably. If only emblems were my calling. Maybe I prefer to subsist on cheap food and working long hours so I can wave my freak flag freely and unexpurgated. Who needs caviar and champagne when there's cool stories to create for curious minds to discover? Therein lies the true currency; an authentic parlay between reader and author over story. Crafting narrative is my god. No spoilers, please!
Friday, November 27th, 2015
---
2:29 pm
- Hyperallergic examines BEEF WITH TOMATO
Monday, November 23rd, 2015
---
12:37 pm
- Instagram
12:25 pm
- Carpet bombing and blowing up new TV shows.
Haven't seen Daredevil, SHIELD, Agent Carter, Green Arrow, Flash, Jessica Jones...none of the new superhero TV shows. It's fine. I will - maybe - someday. Meanwhile, I'm world building my own creations (it's what I do - so don't feel sorry for me) based off 48-years of reading comix, books and watching TV and movies, etc. Back when we didn't have a surefire way to destroy story for the sake of attention. And, hell, the networks who produce these shows are the worst offenders. They're practically force-feeding narrative spoilers because they're not secure in the product they're producing. As smart and multi-layered as TV has become, the shilling is pathetic. I guess that's what happens when you have too many channels and too many delivery systems to compete with. Might as well act like you're invading a small country and carpet bomb TV shows from airplanes like they're porno mags and bibles.
Thursday, November 5th, 2015
---
3:17 pm
- The Brooklyn Paper interviews Dean Haspiel about BEEF WITH TOMATO

(Photographed by Stefano Giovannini)

Colin Mixson interviewed me about my graphic novel, BEEF WITH TOMATO, for The Brooklyn Paper in the article "Escape from Manhattan! Carroll Gardens cartoonist draws tale of finding a home in Brooklyn."

(Big Ups to Bill Roundy)

Excerpts:

"I was age 30, and I said, 'I know everything I need to know about New York, I'm a Manhattani­te,' and then I moved to Brooklyn and confronted the real concept of community," Haspiel explained.

"It's my love letter to Brooklyn," he said. "It's, warts and all, to expose the things that are really cool and f----- up about it."

"The old Italians in the neighborhood I moved into looked at me like I was some kind of yuppie," Haspiel explained. "I don't have anything against yuppies, I'm just not one of them."

"It's funny, because, as I get older, I'm starting to get those inklings of 'Get off my lawn,' " he said. "But it has gentrified a lot more and I get it. Neighborhoods like to be neighborhoods, and quarantine. It creates a sense of safety."

"I can't tell you what a New York story is, you have to live in it and it becomes that," he said. "I'm shrugging off the rigors of Manhattan, while trying to embrace the history of Brooklyn."

Read the entire article here: http://www.brooklynpaper.com/stories/38/45/24-dean-haspiel-to-carroll-gardens-2015-11-06-bk.html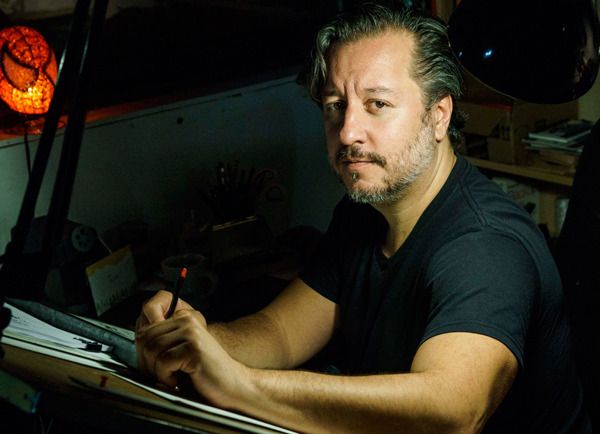 (Photographed by Stefano Giovannini)
Tuesday, November 3rd, 2015
---
11:26 pm
- Comic Arts Brooklyn 2015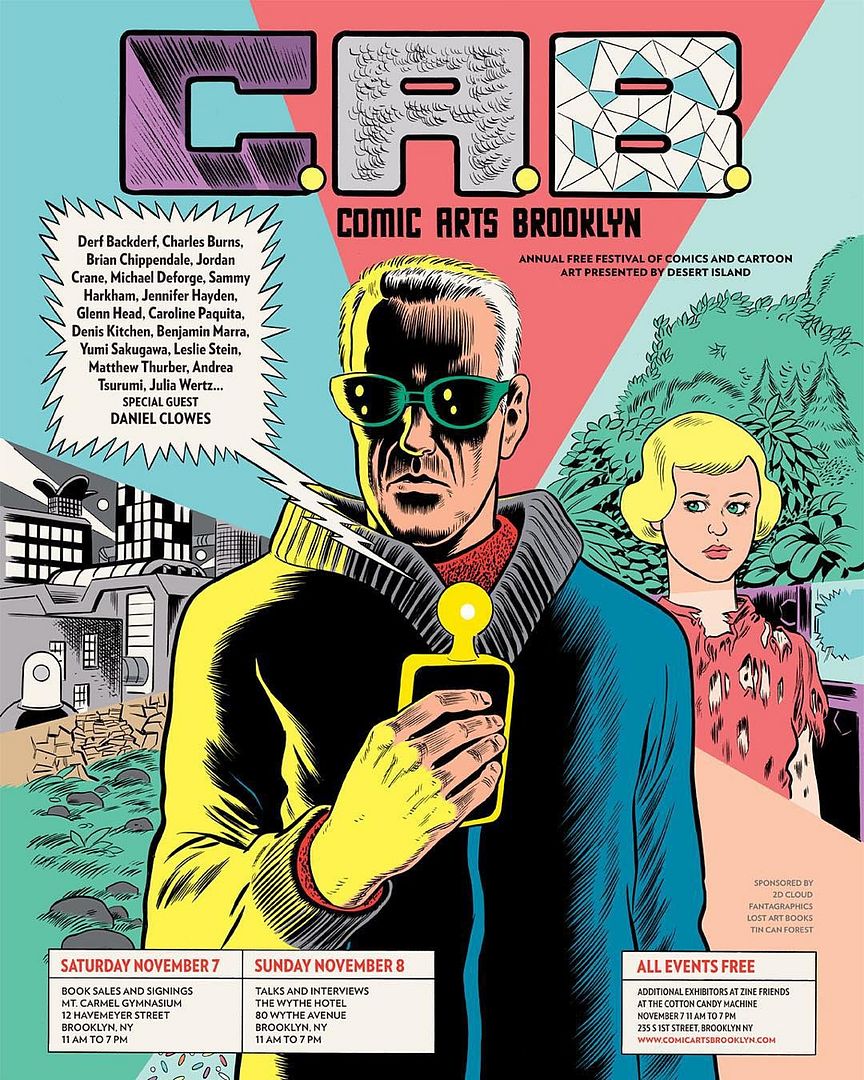 Gregory Benton, Josh Neufeld, and I will be selling & signing our books and prints at Table U39, at Comic Arts Brooklyn 2015.

Saturday NOV 7, 2015
Comic Arts Brooklyn: Book Sales & Signings
Our Lady of Mt. Carmel Church
12 Havemeyer Street, Brooklyn, NY 11211
FREE
11 AM - 7 PM
http://comicartsbrooklyn.com/
8:56 pm
- Moose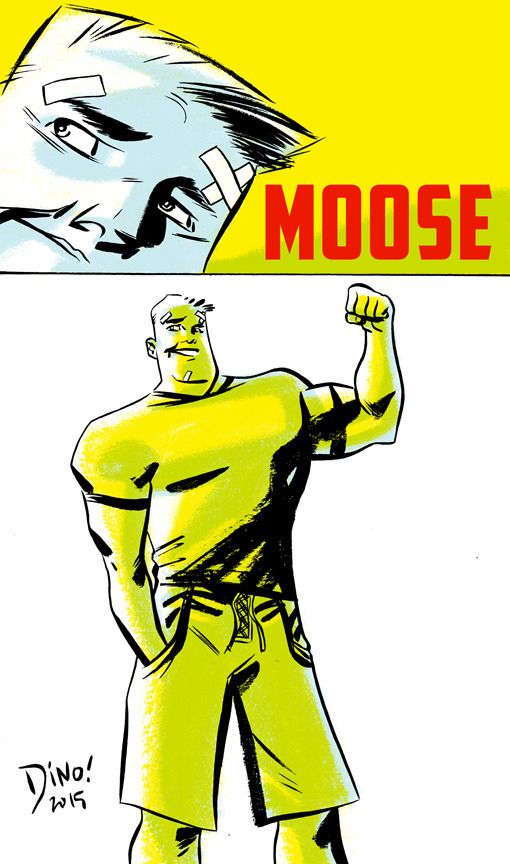 It would be fun to collaborate with Mark Waid on a MOOSE comic book for Archie Comics.
12:18 am
- Sequential Tart / A Life in Comix: An Interview with Dean Haspiel
Jennifer Contino interviewed me for Sequential Tart: http://sequentialtart.com/article.php?id=2825

Here are some excerpts:

I pray I've improved since the late 90s, and I believe the comix industry has to. There's much more diversity, much more access and communication, and you don't have to have read a Marvel or DC Comics to know what a comic book is or enjoy one. Recently, I was at The Small Press Expo, my beloved SPX that I've been attending (mostly) since 1996, and I realized I was a dinosaur. What with my Billy Dogma and semi-autobio comix, I've always kept one foot firmly planted in the indie/alt-comix scene and even felt that I was subversive at DC/Vertigo when I produced three graphic novels that could have easily been published by the likes of Fantagraphics, Top Shelf and/or Drawn & Quarterly. But, SPX isn't my party anymore. SPX is for the new kids; the new Deans and Renee Frenchs and James Kochalkas and Jessica Abels and Sam Hendersons, who are going to affect the future of comix. And, perhaps, elder creators of my ilk, are now the cheerleaders to their testament. It's an interesting time for me as I approach my latter years.

Marvel and DC Comics have changed a lot, too. I remember when editors and publishers were invisible. Nowadays, they're the voices we tend to hear from more than the creators. Mainstream comics now have show-runners not unlike television. What used to be a creator-driven gig has now become an editorially directed one and work-shopped to bits. Sure, once in awhile something odd and cool sneaks into the mainstream but, if you're looking for different and exciting comix, peruse Image and other independent publishers who are interested in exploring new terrain while honoring original visions. And, webcomix cum digital comix has changed what we expect to read and how we consume stories. The comix landscape has become a wild west of breaking new ground, more than ever before.

***

I sacrifice a quality of life to get the job done. That's how I've done it for many, many years. I've said "no" to too many invitations and spontaneous life stuff and I've ridden my bike home in the middle of the night to a sleeping girlfriend only to wake up late morning's alone in bed because the time escaped me. My life has become a cruel zephyr of fleeting deadlines and not enough ogling of sunsets with the ones I love. I'm currently undergoing physical therapy because my lower back is suffering acute spasms. I'm in chronic pain. My spine is compromised from years of sitting and crushing my core. I can't work or live like this anymore. Maybe it means I work less and I live smaller but my back -- and my soul -- will appreciate the breaks.

***

It's very important to step away from your regular work-space and be challenged by the unfamiliar. Dip your toes in new waters. Push your comfort zone. Expand your boundaries. Face the proverbial man in the mirror. Someone recently advised me that I should walk home a different way. A simple yet profound concept that is important to my creativity and life experiences.
Monday, November 2nd, 2015
---
10:46 pm
- Boing Boing: Why do people put broomsticks in trees in Brooklyn?
9:40 am
- Broken Frontier: Beef with Tomato – full review
My favorite review of my graphic novel memoir, BEEF WITH TOMATO, thus far! Thank you Jason Wilkins at Broken Frontier.

Excerpts:

"As I recently noted in my coverage of Patrick Atangan's autobiographical Fires Above Hyperion, an artist's relationship with his home informs their work in myriad ways, colouring the way they view and interact with the world around them. This couldn't be more true of Haspiel's latest book, in which we witness the artist come to terms with New York City's fickle, ever-changing character.

Haspiel wears his feelings for his city on his sleeve without apology or illusion. He loves the place, warts and all, unable to deny its deep, lasting impact on his development as an artist and his maturation into the man he is today. He casts an unflinching eye on the city's triumphs and tragedies alike, often discovering through his graphic documentation a corresponding truth about his own character.

In 'Doored', Haspiel's encounter with a pugnacious line cook in the wake of 9/11 evokes the realization that despite the injuries sustained during his unfortunate and unexpected introduction to a car door, he was nearly guilty of greater ignorance during the catastrophe than his adversary's callous disregard for human life.

Nothing is as it seems in Haspiel's experiences of the Big Apple. Large, seemingly menacing black men turn out to be healthcare aides for the physically challenged; hard-ass gangsta-wannabes show genuine human concern for an elderly woman struck down in traffic; a local waterfront dive reveals itself to be a rich repository of strange, beautiful stories told by strange, beautiful people.

Haspiel unveils his city's wondrous eclecticism. His New York is infused with a hard-boiled magical realism. He refuses to turn a blind eye to his hometown's shortcomings but can't ignore its singular gritty charm and steadfast heart. There's magic in these streets and Haspiel teaches us how to see it.

By using innovative page layouts and decompressed time, Haspiel allows the reader to see and experience New York through his admittedly skewed filter. There's a comfy urban claustrophobia evident in his densely packed, atmospheric establishing shots, where backgrounds ooze ink against a jagged skyline of squat low-rises and battered brownstones.

And although the observant reader will find elements of both Jack Kirby and Will Eisner in Haspiel's style, he never loses his own artistic voice. His art is robust and brash and powerful, like the King's best work, but filtered through an Eisnerian lens of emotional nuance and refined technique.

It's a finely tuned balancing act between spectacle and substance that perhaps gives readers their clearest, most unimpeded glimpse into the mind of the artist. There are few creators working today whose artistic style embodies who they are as people so completely.

This might sound like a bold statement coming from someone who's never met the man, but there's an undeniable transparency and honesty in all of Haspiel's work (including his fantastic collaboration with Mark Waid on The Fox) that welcomes his audience into his rough, bear-like embrace. We get the sense as readers that the Dean we meet in Beef with Tomato isn't so different from the real deal.

Genuine, visually stunning, insightful – these are all adjectives that aptly describe Beef with Tomato. However, the real power of Haspiel's graphic memoir is its ability to resonate with readers on a deeply emotional level, encouraging them to consider their connections with their own hometowns in a new light, and maybe even celebrate their magic just a little bit."


Read the entire review:
http://www.brokenfrontier.com/beef-with-tomato-dean-haspiel-hang-dai-editions-alterntive-comics-graphic-novel-review/
Thursday, October 29th, 2015
---
2:14 pm
- APB: Artists against Police Brutality: A Comic Book Anthology
10:39 am
- Dean Haspiel special guest at Locust Moon Comics Festival 2015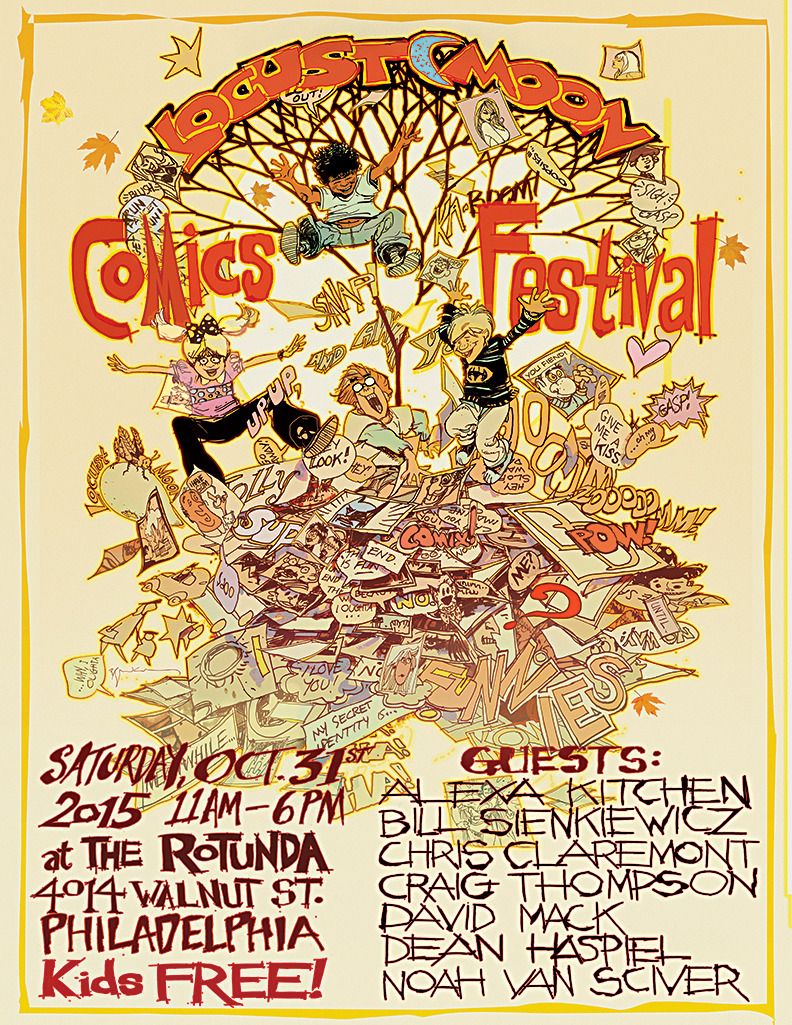 I'm a special guest at the Locust Moon Comics Festival 2015 this Halloween. I'll be sitting at table 21 with Hang Dai studio mates, Gregory Benton and Christa Cassano. I'll be selling/signing copies of BEEF WITH TOMATO and FEAR, MY DEAR, plus prints. I'll also be available for commissions.

And, I'll be taking part in a panel:

12:00pm – 1:00pm: DRAWING ON LIFE
Craig Thompson, Dean Haspiel, Andrea Tsurumi, moderator Kelly Phillips.

The 2015 LOCUST MOON COMICS FESTIVAL
SATURDAY, OCTOBER 31 – Halloween!
11am – 6pm
@ The Rotunda
4014 Walnut Street
Philadelphia, Pennsylvania 19104

http://locustmoonfest.com/
Tuesday, October 27th, 2015
---
2:56 pm
- Broken Frontier reviews Beef With Tomato
Monday, October 26th, 2015
---
12:09 pm
- Make Comics Culture: An Evening With Hang Dai Editions Closes A Circle
Really nice essay about Hang Dai, our event at Greenlight Bookstore, and closing a circle by the incomparable Hannah Means-Shannon.

Excerpts:
"I've known these guys for a few years and yet the things they said about their perception of comics and creative choices were things I had never heard before, proving that the combination of people can bring out new elements in any panel situation.

Some of the highlights included:

-The process by which a creator who is both writer and artist may compose or write a comic then hand it off to the artist "who happens to be me", according to Neufeld and Haspiel. In this they seem to act as two different personas.

-Haspiel perceives himself to be a character in his Billy Dogma works, but presents the "story as the comment" on his character and is "willing to be the villain" to serve the story.

-Haspiel might not have created autobio comics had he not felt competitive with Neufeld from a young age, who worked in the genre.

-While Neufeld thinks that "quiet stories" are the hardest to do well in autobio comics, but something to strive for, Haspiel creates comics already in frenetic motion and feels the comic has to "earn" the quiet moment, which is, however, also his ultimate goal, and "what the story is about" really.

-Haspiel's creative endgame lately has been to move toward a more dynamic and fluid style that can move more quickly to keep up with the speed of reading comics. "I want you to feel the comic more than ogle the craft", he said."

Read the entire essay here:
http://hannahmeansshannon.tumblr.com/post/131927269073/an-evening-with-hang-dai-editions-closes-a-circle
Tuesday, October 20th, 2015
---
4:40 pm
- NY Daily News: Dean Haspiel on 'Beef With Tomato,' his book of comics & essays about life in Bklyn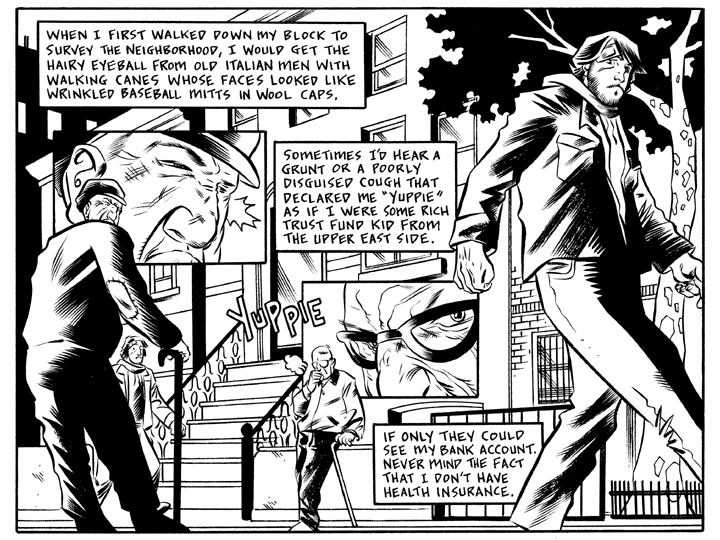 Reporter Cesar Bustamante, Jr. interviewed me about my graphic novel, BEEF WITH TOMATO, for The NY Daily News.

Excerpts:

"It's funny because when I was first walking down the street in Carroll Gardens I would see the old Italians, they would be eyeballing me. I think they looked at me and thought I was some kind of rich yuppie. Because they wouldn't know I was a struggling cartoonist. I just looked like some white guy invading their neighborhood.

It took many years before I didn't feel alienated by the neighborhood because the neighborhood was thick with history."

"Working with Harvey Pekar was a learning experience of what to do and what not to do in autobio comics. What I really loved about Harvey Pekar's writing was his ability to observe and listen to other people's talking, how they talk and what they say and how that can possibly turn into a story, no matter how mundane the event is. He was very good at highlighting the quotidian aspects of life.

I think a lot of autobio comics do that because they can't compete with the superhero comics because of the action and fantasy. But luckily or unluckily I happen to have a lot of things that happened to me or made myself available to, like riding a bike and getting hit by a car."

"I'm kind of a boisterous character and I get involved. I think a lot of writers don't tend to get involved so that's where I think my comics are different in term of autobio comics. Also I don't use my platform to rant and rave. I let the story be my commentary in a way."

"New York City is the most heartbreaking city in the world. I think people go to Paris to fall in love, they must go to New York to break their hearts.

As a true blue New Yorker, I have fully invested my life and my energies and my soul into this city as it hopefully has to me.

But the older I get, and the more I work as an artist in the city… I'm standing in a building right now in Gowanus that we have been given maybe a year or two left that we can work here and then we're going to be kicked out so that developers can turn this into expensive office buildings or another CVS, another bank. It's already happened next door to us. People have been given one month's notice after making this area cool with its art.

But that seems to happen over and over and over again. That speaks also to the heartbreak, the innate heartbreak one experiences in New York City."

"Have you ever broken up with someone or they broke up who you, the writing was on the wall but you kept trying over and over again to make it work. I guess this is my shattered woo, my broken woo to try to make it work still with New York City before I bite the bullet and leave.

The city is what you make it so I can't blame this inanimate object on what's been happening but I can still fight and try. I do love the city, whenever I visit any other place in the world, anytime I come back to New York it still feels like home. I don't want to abandon it. It's hard to abandon.

In a way living in New York City is a relationship between a person and the landscape. And I know enough New Yorkers that have left and not come back because maybe they're afraid to come back. They've found a better quality of life outside of New York City.

We're not talking about rich New Yorkers. We're talking about the artists, the working class and those kinds of folks.

I always complain that I live in New York City but I can't enjoy it's virtues because I ride my bike from my studio to my home, back and forth seven days a week. Occasionally I might dip outside and do something in the city but I can't afford it. I'm working too hard to pay my rent.

Apparently, there are other ways to live that's not like this and I need to consider alternative lifestyles so that maybe I won't be breaking my back just to suffer for this city and the city is not suffering for me."

Read the entire interview here: http://www.nydailynews.com/blogs/pageviews/dean-haspiel-beef-tomato-life-brooklyn-blog-entry-1.2403365