Monday, May 2nd, 2016
---
12:45 pm
- Wizard World Minneapolis 2016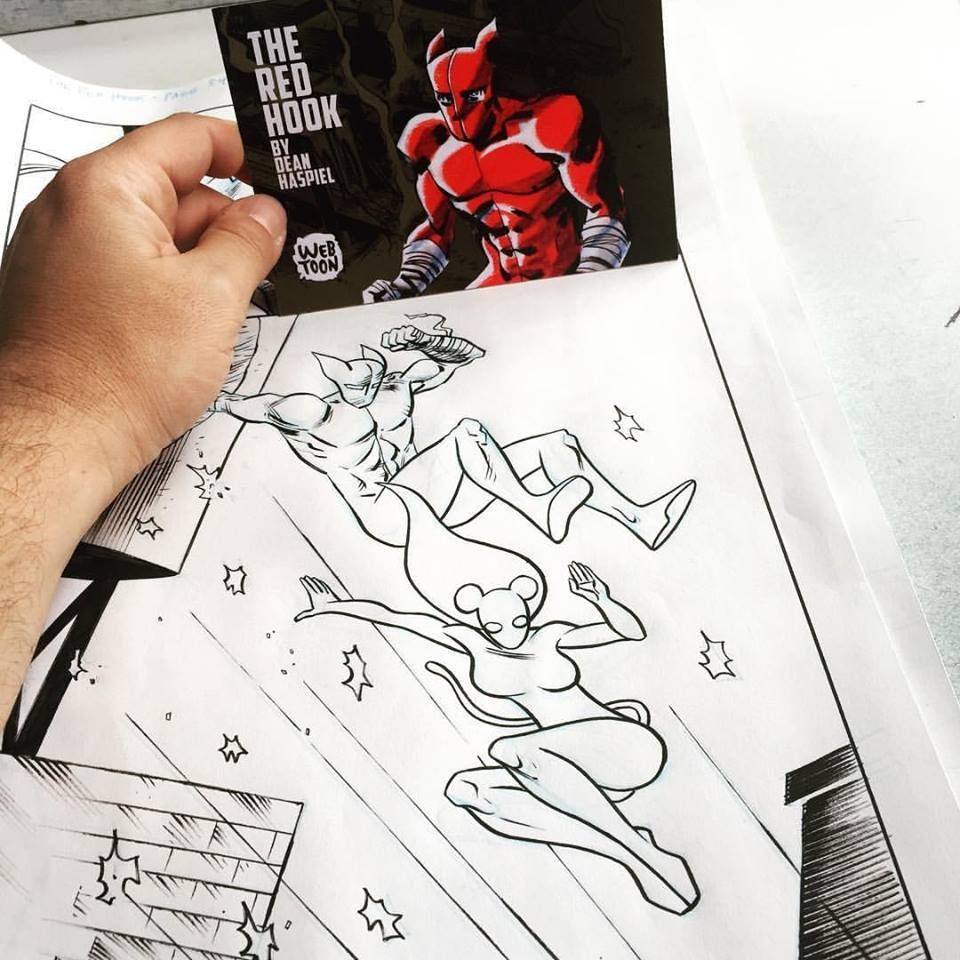 I am a guest at Wizard World Minneapolis, May 6-8, 2016, stationed at table A53. I will have copies of my latest graphic novels, BEEF WITH TOMATO, and FEAR, MY DEAR. Plus, rare copies of my exclusive THE WALKING DEAD cover. Ask me about my new weekly webcomic series, THE RED HOOK, published for free at LINE Webtoons http://www.webtoons.com/en/super-hero/the-red-hook/list?title_no=643 I'm available for commissions, and I will also be doing four panels throughout the weekend (see below).

Click here for Wizard World Minneapolis info: http://wizardworld.com/comiccon/minneapolis

FRIDAY, May 6

5:00 - 5:45 PM PRINCE: THE COMICS CONNECTION—"BATDANCE" AND BEYOND: with DEAN HASPIEL, GUY GILCHRIST, ZAK SALLY & ALEX LUBET (ROOM M100E)
With the recent, shocking passing of music superstar Prince, a group of Prince experts and admirers gathers to reflect on The Artist's career and legacy—and his more-than-casual connection to the world of comics, including composing music for Tim Burton's 1989 Batman movie. Panelists include Dean Haspiel (Billy Dogma; The Red Hook), Guy Gilchrist (singer-songwriter; writer/artist of Nancy), Zak Sally (bassist for the band Enemymine; creator of Sammy the Mouse) and Alex Lubet (professor in the School of Music at UM Minneapolis). Danny Fingeroth (Superman on the Couch) moderates.

6:00 - 6:45 PM THE CREATIVE MIND: TOP ARTISTS ON DRAWING COMICS with THE RED HOOK'S DEAN HASPIEL, THE BOOKS OF MAGIC'S PETER GROSS, ANIMAL MAN'S CHAZ TRUOG & DEADPOOL'S MIKEY BABINSKI (ROOM 100E)
Top comics artists talk about their careers, their craft, the comics business and whatever else might come up—and may even show you some of their top-secret techniques! Join peerless pencilers Dean Haspiel (Billy Dogma; The Red Hook), Peter Gross (The Books of Magic; The Unwritten) and Chaz Truog (Animal Man; Coyote), and inimitable inker Mikey Babinski (Deadpool; Amazing Spider-Man) for as they pull back the curtain and tell you what it's really like to be a comics artist! Danny Fingeroth (How to Create Comics from Script to Print; Spider-Man) moderates.

SATURDAY, May 7

1:30 - 2:15 PM INSIDE THE WORLD OF INDEPENDENT COMICS with BILLY DOGMA'S DEAN HASPIEL, MCAD'S BARBARA SCHULZ, SAMMY THE MOUSE'S ZAK SALLY & ORIGINS UNKNOWN'S VICTOR DANDRIDGE (ROOM M00I)
The model of comics creators tethered to one or two major publishers, working on adventures of corporately-owned characters is no longer the only game in town. Many of the top talents in comics work either exclusively on their own material, while others work both sides of the street, alternating independent work with mainstream assignments done in their own distinctive styles. In this incredible panel, speaking about how they have forged their own paths (and reading from their work), are some of the most distinctive creators in comics today: Dean Haspiel (The Red Hook; Beef With Tomato), Barbara Schulz (MCAD professor; The Chronicles of Kalki), Zak Sally (Sammy the Mouse; Like a Dog) and Victor Dandridge (EIC Vantage In-House; creator of Origins Unknown). The panel is moderated by Danny Fingeroth (The Rough Guide to Graphic Novels; Studs Terkel's Working).

SUNDAY, May 8

12:30 - 1:15PM SECRETS OF COMICS WRITING REVEALED! with SUPERMAN'S DAN JURGENS, THE RED HOOK'S DEAN HASPIEL, ALBERT THE ALIEN'S TREVOR MUELLER & SPIDER-MAN'S DANNY FINGEROTH (ROOM M100B)
Accomplished comics writers Dan Jurgens (Superman; Spider-Man), Dean Haspiel (The Red Hook; The Fox), Trevor Mueller (Albert the Alien; Junkyard Chase) and Danny Fingeroth (How to Create Comics From Script to Print; Spider-Man) talk about how to put together a compelling comics story. Plus, they'll answer your questions about both the creative and business sides of the comics writing profession, including how to find an artist to work with (hint: a comics convention is the number one place!) and how to write exciting dialogue!
Wednesday, April 27th, 2016
---
12:03 pm
- The Red Hook - chapter 4
Tuesday, April 26th, 2016
---
7:56 pm
- PIX 11: Brooklyn artist creates superhero comic about the borough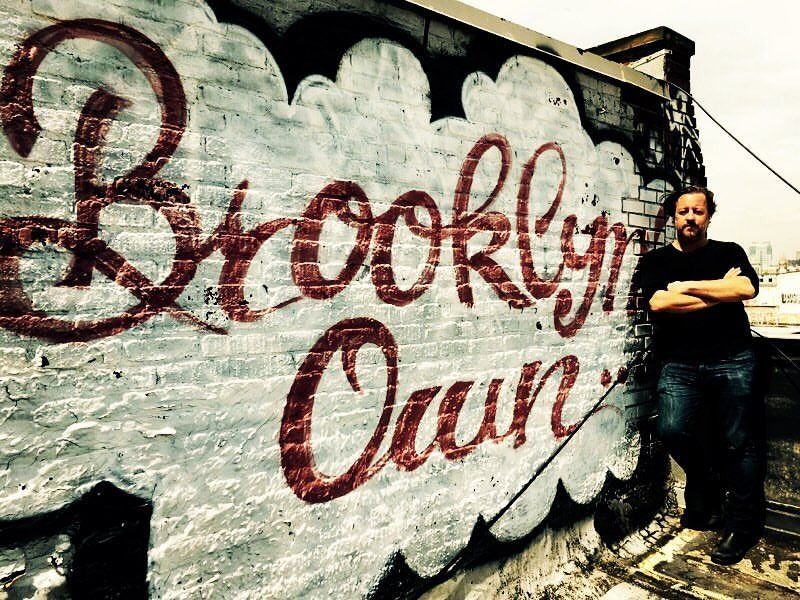 Joe Mauceri interviewed me today for PIX 11 television about my new/free webcomic series, THE RED HOOK, and the New Brooklyn Universe, published every Wednesday at LINE WEBTOON.

See/hear the video report: http://pix11.com/2016/04/26/brooklyn-artist-creates-superhero-comic-about-the-borough/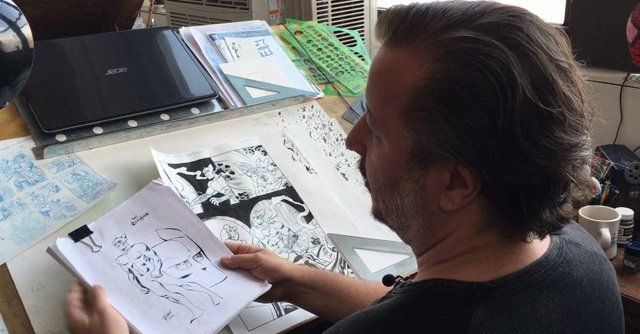 "BROOKLYN, N.Y. — The "New Brooklyn" universe is a comic world where the borough is a character as much as a setting.
Fed up with society, Brooklyn pulls away from the rest of New York creating it's own world and in the process it's own heroes.

"I love Brooklyn, I love New York City. I'm a native New Yorker. I don't want to be banished," said Artist Dean Haspiel. "So, with that in mind I thought about what if Brooklyn banished itself."

Haspiel moved to Brooklyn from Manhattan almost 20 years ago.

"You know when I first moved here did I get looks and stares, of course. People would cough and bark yuppie. I'm like 'I'm not a yuppie' you know. And now Brooklyn is more expensive than Manhattan and I guess that's a weird irony of sorts."

Concerned about getting priced out of a borough for the second time, Haspiel created a fantasy world where the borough beat everyone to the punch.

"I started to realize it's like it's own country and could sustain itself as a country."

In "New Brooklyn" the borough's heart is broken by indifference and apathy in society.

The borough decides to secede from the rest of the state, creating a new world where art is a commodity.

"Art is like Brooklyn's oil," said Haspiel.

The first title revolves around the "The Red Hook": a superhero trying to police good and evil while struggling to figure out where to draw the line for himself.

So far the hero come across other Brooklyn characters like Benson Hurst and The Green Point.

"For every normal sounding superhero character of villain I throw in a Brooklyn reference," said Haspiel.

The artist uses landmarks like the Brooklyn Bridge and the Williamsburg Bank in his drawings.

In the process he says he's learned so much more about the borough and the people who live here.

"The more I write the comic and draw it, the more I fall in love with it."

But he says you don't have to be from the borough to appreciate "The Red Hook" or any of "New Brooklyn." It's a story everyone can relate to.

"I'd like to think that my Red Hook comic could be set in any place else but Brooklyn. But why? Brooklyn is the coolest place on planet earth."

The Red Hook is available for free every week at Linewebtoon.com. New episodes come out every Wednesday."

Full report here: http://mms.tveyes.com/PlaybackPortal.aspx?SavedEditID=7f3abf80-d380-4ed1-9fd7-bb7d34557aa4

You can read THE RED HOOK here: http://www.webtoons.com/en/super-hero/the-red-hook/list?title_no=643
Saturday, April 23rd, 2016
---
11:53 am
- NY Times: Brooklyn Gets a Superhero (and a Few Villains)


George Gene Gustines interviewed me about my new/free webcomic series, THE RED HOOK, and the rest of the "New Brooklyn Universe" creative team for the New York Times.

Excerpts:

"What if Brooklyn was sentient?" the cartoonist Dean Haspiel wondered. "And its heart was broken, and physically seceded from America?" The result is "New Brooklyn," a free weekly comic web series that chronicles life in the anthropomorphized borough. Appearing in its panels are new heroes and villains like the Red Hook, Benson Hurst, Billy Burg and the Brooklynite.

Mr. Haspiel grew up in Manhattan on the Upper West Side but moved to Brooklyn in 1997. He has the borough pride of a new recruit. He is the consummate Brooklyn comic-book artist. He even served as the basis for a larger-than-life Brooklyn comic-book artist played by Zach Galifianakis in the HBO comedy series "Bored to Death."

"New Brooklyn," which began appearing on the comics website LINE Webtoon this month, combines many of Mr. Haspiel's touchstones. There is his adoration of the superheroes and creators of Silver Age comics (like the Fantastic Four and Jack Kirby). There are romantic notions of years of artistic pursuits finally paying off — in the fantasy barter system of "New Brooklyn," art is practically gold. "We'd rise to the cream of the crop," Mr. Haspiel said during an interview at his art studio in Gowanus.

Mr. Haspiel, who lives in Carroll Gardens, had the idea for the Red Hook, the pulp hero who stars in the first 26-week installment, in 2012. The initial conceit was "a superthief that is forced to become a superhero," he said. "It's like the reverse of 'Breaking Bad.' 'Breaking Good' is the corny way of describing it."

But things didn't really jell until 2014, when two American flags on the Brooklyn Bridge were mysteriously replaced with white flags. It turned out to be an art stunt about celebrating public spaces, but it inspired Mr. Haspiel to ponder why Brooklyn had given up. He decided the borough was tired of modern America and wanted to revert to the ways of old.

That kind of thinking is not a surprise to anyone familiar with Mr. Haspiel, 48, who comes across like a comic-book tough guy but is quickly unmasked as a soft touch. A visit to his studio began with him introducing the other comic artists working in the subdivided warehouse. (Though he founded the online comic collective ACT-I-VATE, he's still a firm believer in print and does his inking by hand.) A couple of his studio mates, including Christa Cassano, listened in on the interview and gently scoffed when he said things like "You can't gift a GIF" while talking about the emotional value of books.

You can read the entire article/interview here: http://www.nytimes.com/2016/04/24/nyregion/brooklyn-gets-a-superhero-and-a-few-villains.html?_r=0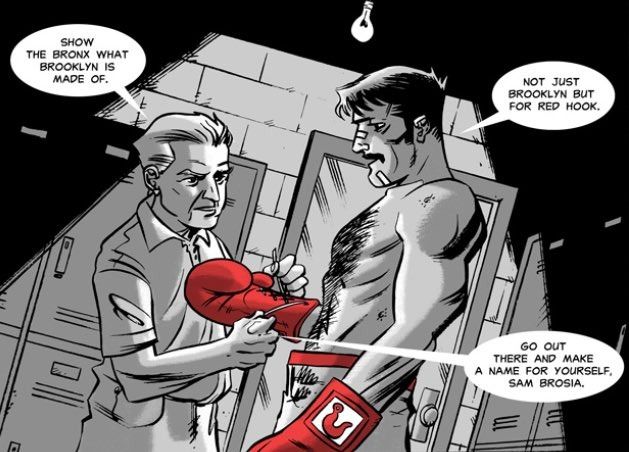 A version of this article appears in print on April 24, 2016, on page MB4 of the New York edition with the headline: Brooklyn Gets a Superhero (and a Few Villains).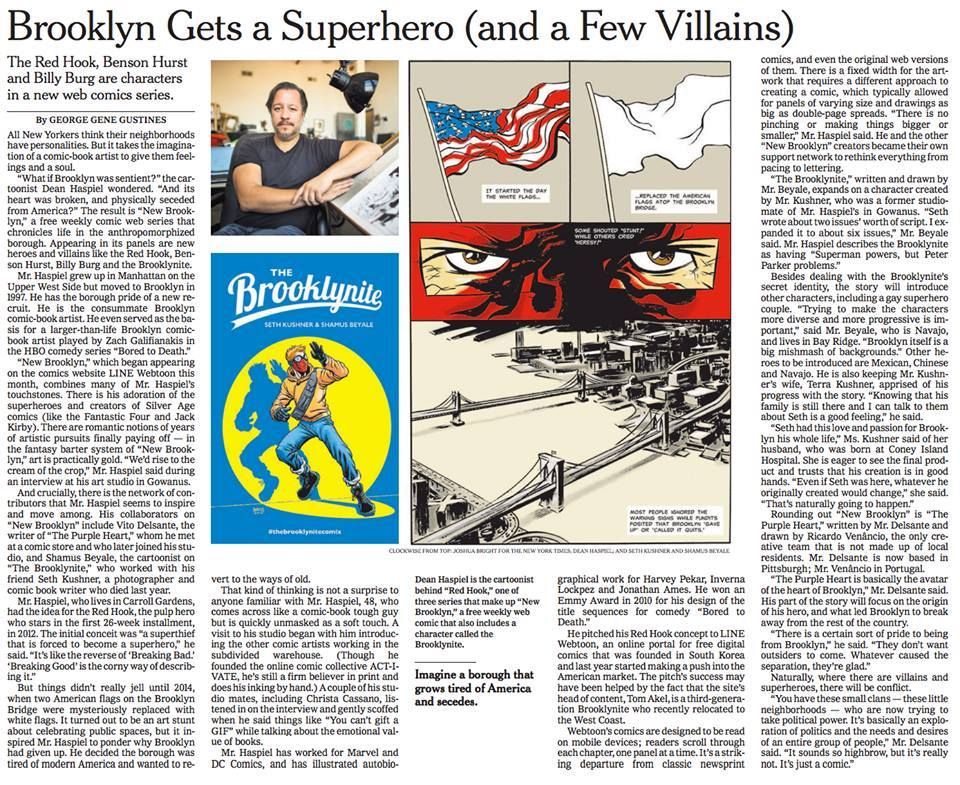 Friday, April 22nd, 2016
---
11:28 am
- Mental Floss re: The Red Hook
Thanks, Rich Barrett, for giving The Red Hook and New Brooklyn some love at Mental Floss:

"Dean Haspiel is always at the forefront of new comic frontiers. He was an early webcomic creator, having founded the influential ACT-I-VATE website in 2006. He's involved with all types of new ventures, like Archie Comics' new superhero line and multimedia initiative Trip City. Now, Haspiel is one of the first big-name American comics creators to jump onboard with Korean webcomic juggernaut LINE Webtoon. Much of the U.S. comic-buying public have never heard of LINE Webtoon, but it is a very popular and forward-thinking innovator in the webcomics space. Their comics take advantage of the vertical format of web and mobile browsers to deliver a modern, digital reading experience.

With New Brooklyn, Haspiel introduces a series of interconnected superhero comics that will run exclusively on Webtoons. The first series, The Red Hook, is about a super-thief who is given something called "the omni-fist of altruism" and is transformed into a hero of Brooklyn, one year after the borough (which has somehow become sentient) secedes from the United States.

This is a loony, over-the-top superhero comic full of Brooklyn references and dramatic artwork that brings to mind the bold work of Frank Miller. New episodes of The Red Hook are published every Wednesday, and two new series by some of Haspiel's friends and collaborators, The Brooklynite and The Purple Heart, will debut later this year."

http://mentalfloss.com/article/78804/4-most-interesting-comics-week
11:16 am
- WRATH OF THE ETERNAL WARRIOR #9 - variant cover by Dean Haspiel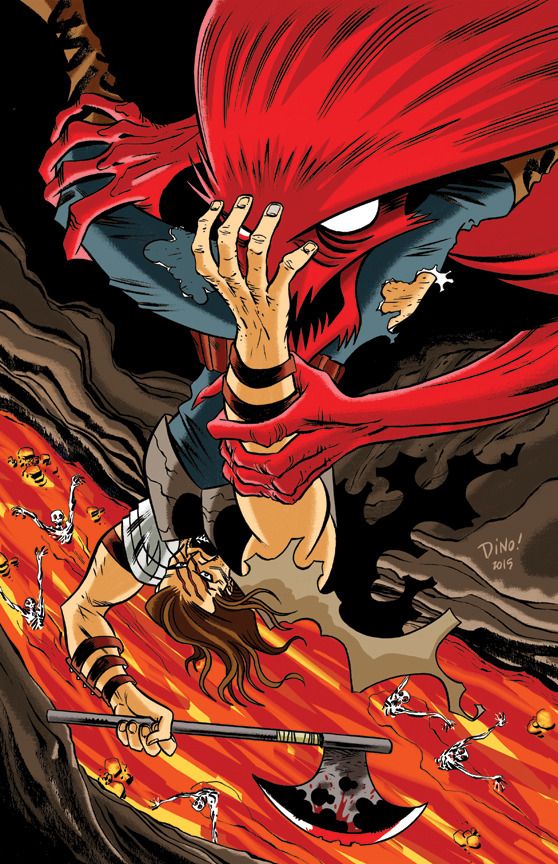 The editors at Valiant asked me to draw a variant cover for ETERNAL WARRIOR. Here is the official solicitation copy:

WRATH OF THE ETERNAL WARRIOR #9 ("LABYRINTH" – PART 3)
Written by ROBERT VENDITTI
Art by RAÚL ALLÉN
Cover A by RAÚL ALLÉN
Cover B by PERE PÉREZ
Cover C by TOMAS GIORELLO
Variant Cover by STEVE LIEBER
Variant Cover by DEAN HASPIEL

"LABYRINTH" delivers the killing blow! The darkest hour of the Eternal Warrior's long life has arrived with blood and torment. Behind every wall and around every corner of the Dying One's "LABYRINTH," new and sadistic ways to burn, tear, and break Gilad Anni Padda await. As the Eternal Warrior's greatest enemy inches closer to unlocking the secret of never-ending life, is all hope lost for Earth's immortal soldier? The monumental Eternal Warrior epic of the year delivers another crushing blow as New York Times best-selling writer Robert Venditti (BOOK OF DEATH) and visionary artist Raúl Allén (Hawkeye) enter the darkest corner of "LABYRINTH" yet!

http://www.bleedingcool.com/2016/04/21/faith-ongoing-and-shadowman-one-shot-lead-valiants-july-2016-solicitations/

Here is a sketch I did for another version of the cover:


Thursday, April 21st, 2016
---
3:54 pm
- RIP Prince
I spent this morning with Jen Ferguson, helping her free a rescue pigeon she was taking care of. We drove the pigeon to a park near DUMBO (where Jen found it over a month ago, sick and unable to fly) and we brought it to an area where other pigeons were hanging out. Jen lifted the newly healed pigeon out of its box and let it hop over to the group of pigeons. It walked around, ate food, commiserated and eventually flew up to a tree branch where another pigeon slowly made its way over to welcome it to the gang. We were happy to see it making friends. Jen is an angel. A half hour later I learned that Prince passed away. "Little Red Corvette" was the first Prince song I remember hearing but "When Doves Cry" is the song that changed my life. It made me think about songs as something that transforms you much more than just moving your feet to the beat or aping a chorus. Out of all the comic books and movies and music I indulged as a teenager growing into an adult until right now, it was Prince who made the most impact on me and influenced my life. I made plans to be a guest at Wizard World Minneapolis this coming May. I was going to sneak into Paisley Park and personally thank Prince for everything he ever did. Rest In Peace, Purple One.
Wednesday, April 20th, 2016
---
3:22 pm
- The Mary Sue Interview: Dean Haspiel Talks The Red Hook and LINE Webtoon's New Brooklyn Universe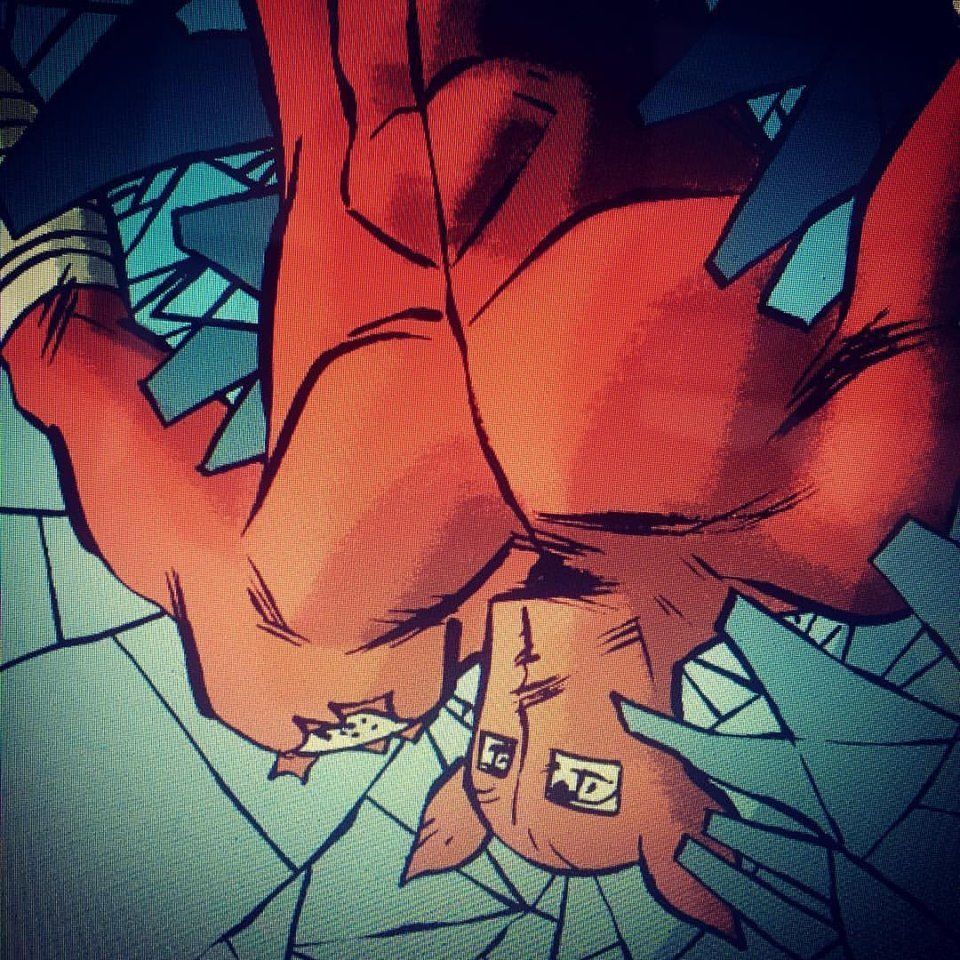 Teresa Jusino interviewed me about my new/free webcomic series, THE RED HOOK and the "New Brooklyn Universe" for The Mary Sue.

Excerpts:

"I was born and raised in Manhattan but moved to Carroll Gardens, Brooklyn 19 years ago after a sad break-up with a girlfriend. It took me a while to acclimate from the fast-paced white noise of NYC to the slower paced neighborhoods of Brooklyn, but I fell in love with how vast and accessible it was. I discovered the waterfront via Montero Lounge on Atlantic avenue and heard whispers of a timeless bar in Red Hook nicknamed Sunny's for the spirited owner who ran it as a friendly speakeasy for folks in the know. I dubbed it "the last bar at the end of the world." I found a serene sense of peace and possibility in Brooklyn that I didn't encounter growing up in competitive Manhattan. A sense I've since discovered in parts of Upstate NY, the Catskills, Los Feliz, and New Orleans. For many years I've made comix in shared Gowanus studios, from Deep6 to Hang Dai, and helped spark small creative communities in real-life and virtually. And, now that a bunch of Gowanus artists are getting kicked out of their studio spaces (including me) for land developers to fancy up otherwise undesirable work-zones in order to hike rents in what has become the most expensive city in America, I'm getting sick and tired of my homeland economically banishing its natives.

I don't have the answers. I'm not a scientist or a professor. I live by my gut and try to contribute good will with the romance of my art. Ergo, my recent memoir collection, BEEF WITH TOMATO (from Alternative Comics), and my abstract fantasy of a New Brooklyn that gets explored in THE RED HOOK and beyond."

"History tends to repeat itself, so you have to look back in order to move forward. Brooklyn is still a great place for diversity, culture, food and art, but it will only be shaped by the last artists and curators standing in an economy that can't afford the avante garde and the under-looked like it once did when my mother was the deputy director of the New York State Council of the Arts. Back when artists could afford to live small and create unhindered. Nowadays, it seems you need to have a 5-year plan and a digital app to hawk while you social network more than you create. Hype has become as necessary as a paint brush and pen."

You can read the entire interview/article here: http://www.themarysue.com/interview-dean-haspiel-the-red-hook/
11:11 am
- The Red Hook - chapter 3
Monday, April 18th, 2016
---
6:29 pm
- BRIC TV: Brooklyn is Getting its First Cat Cafe and Super Hero
Saturday, April 16th, 2016
---
12:39 pm
- Brown Wig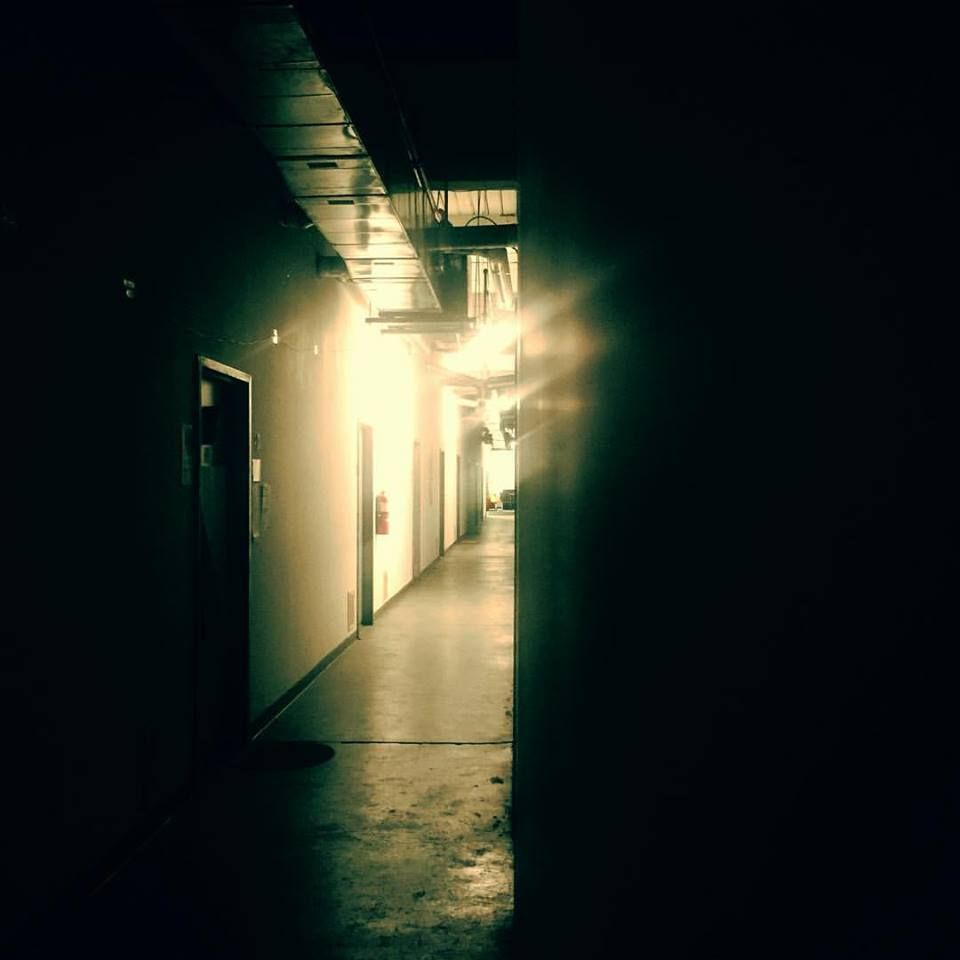 I spotted a brown wig on the street. It had a human scalp attached to it. I wanted to pick its brain but I sneezed instead. It didn't god bless me.
Friday, April 15th, 2016
---
2:27 pm
- Banana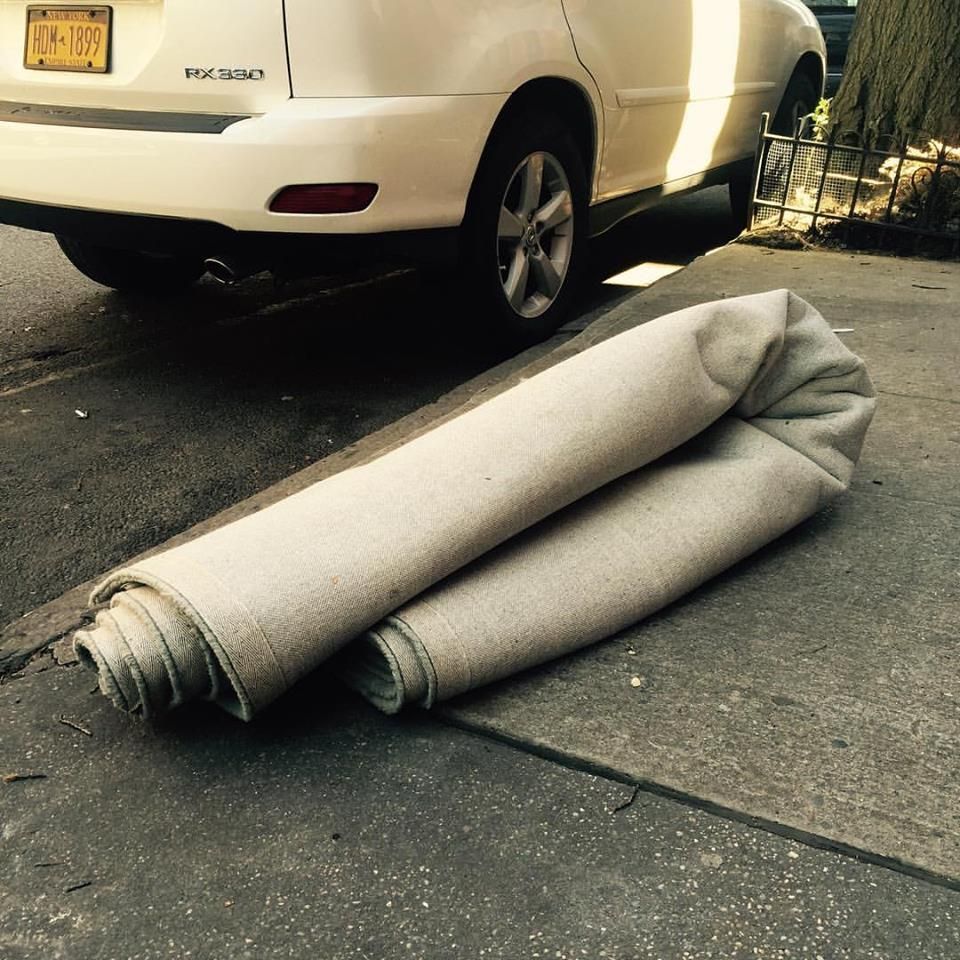 I saw a derelict laying on the street reaching for food. It was a banana peel. Someone had already eaten the banana. He had no hand.
Wednesday, April 13th, 2016
---
12:27 pm
- The Red Hook - chapter 2
Tuesday, April 12th, 2016
---
12:42 pm
- Brooklyn Paper podcast, featuring Dean Haspiel & The Red Hook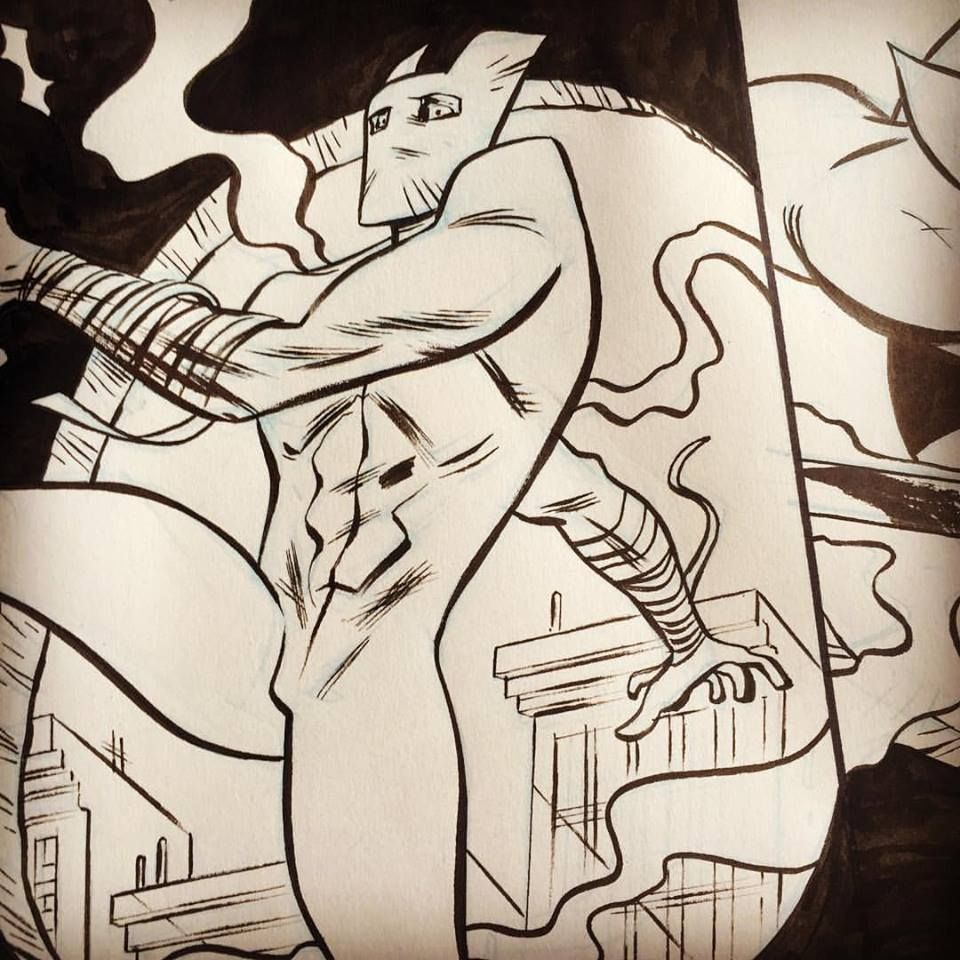 I talked with Gersh Kuntzman and Vince DiMiceli at the Brooklyn Paper Radio podcast and it bounces around between Brooklyn news and politics and The Red Hook and New Brooklyn.

Here is an excerpt from the website synopsis:

Brooklyn literally secedes in new webcomic series by Comic artist Dean Haspiel

"On the latest edition of Brooklyn Paper Radio, legendary Brooklyn comic book artist Dean Haspiel, whose new strip "The Red Hook" was featured in this scintillating breakdown of it on your own BrooklynPaper.com and in Go Brooklyn, described how he birthed the story of a superhero in a new nation of Brooklyn, while clearing his head at the world-famous Yaddo writers' retreat in Saratoga, New York — the same place Gersh has routinely been denied entry to.

"Wait I second," Kuntzman said. "They refused to let me write 'Murder at the Co-op' there."

That play will be produced this summer during the next Fringe Festival in Gaphattan.

Haspiel assured listeners that, despite what Gersh thinks, the retreat is not just a bunch or writers having sex, no matter what its other famous alumni might have written."

You can listen to the podcast here: http://www.brooklynpaper.com/stories/39/16/bpr-dean-haspiel-interview-2016-04-15-bk.html
Friday, April 8th, 2016
---
4:17 pm
- News12 reports debut of THE RED HOOK
Thursday, April 7th, 2016
---
6:42 pm
- Newsarama: BROOKLYN Cartoonist DEAN HASPIEL Pens Superhero Ode To His Hometown With THE RED HOOK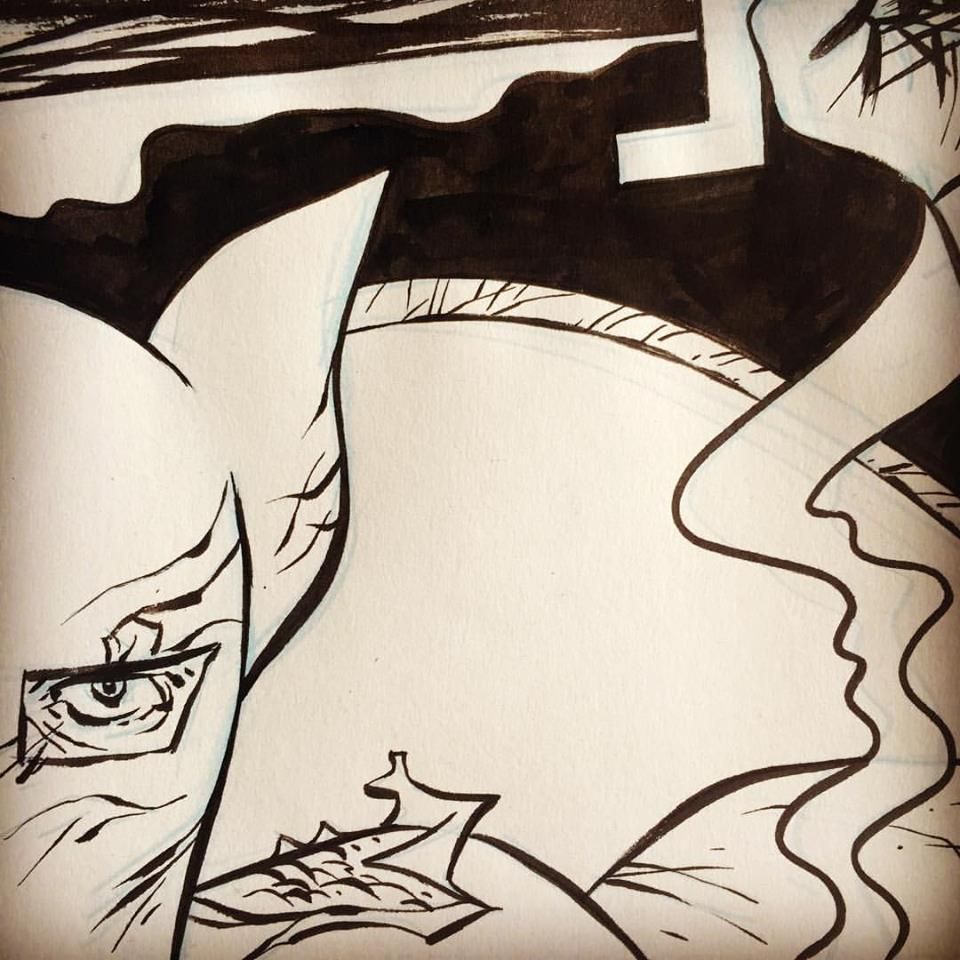 Excerpts:

Nrama: Woah. This is a comic book news website, but you just can't gloss over something called the "Omni-Fist of Altruism." What is it, exactly?

Haspiel: The Omni-Fist of Altruism is a Catch-22 combination of a cosmic death-grip and Spider-Man's "Spidey-Sense."

Nrama: Ok, and who is super thief who obtains it?

Haspiel: Sam Brosia was born and bred in Red Hook, Brooklyn, New York, almost a century after Steve Rogers (who later became Captain America) was raised there. Sam lost most of his immediate family to a mysterious massacre that left him making ends meet alone in the ghetto of Red Hook and led him to a failed career as an amateur boxer and into a successful career as a masked super-thief like a modern-day Robin Hood. Only, instead of robbing the rich to give to the poor, Sam robs the rich to make himself less poor until a chance meeting with a super-god changes his life.

Nrama: This isn't the real world -- it's a future where Brooklyn seceded from the United States. What's it like, living in that Brooklyn compared to our own?

Haspiel: I can only speak to what I experience and then abstract it in my art. In current, real-time Brooklyn, the cultural community of working art-makers is being threatened by real-estate developers selling off work spaces for higher rents to more established and/or secure businesses in less-than-desirable industrial areas in order to create the verisimilitude of "hot spots" to entice wealthy residents. I don't know who these real-estate brokers think are going to want to live yards away from the Gowanus Canal, infamous for its toxic waters, but they don't care as long as they can boot the avant-garde for more commercial and standard appeal. It's become a crisis for people like me, a native New York cartoonist, who feels like he's being banished from the only home I've ever known and actively contributed to just because I don't ping a certain tax-bracket. I work seven days a week, 12-hours or more a day and make just enough money to squeak by in what's become the most expensive city in America. I'm lucky to be able to do what I love but I pay for it, too. Alas, I don't know that I can survive a break-even lifestyle anymore.

In The Red Hook and the "New Brooklyn" comix, the "Heart of Brooklyn" was wounded by the paramount evidence of a self-entitled, attention deficit disorder society ignoring the promise of a better tomorrow. Brooklyn shrugs and throws down the gauntlet by physically pulling away from further interference, suggesting humanity return back to days of old where things and people were defined by their ethics, values and contributions. Where skills and art could be bartered and traded and land could be farmed to sustain life and spawn beauty. "New Brooklyn" is my romantic response to the fantasy of a city I love.

Read the entire interview/article here:
http://www.newsarama.com/28734-brooklyn-cartoonist-pens-superhero-ode-to-his-hometown-with-the-red-hook.html
10:41 am
- SHRINKAGE #6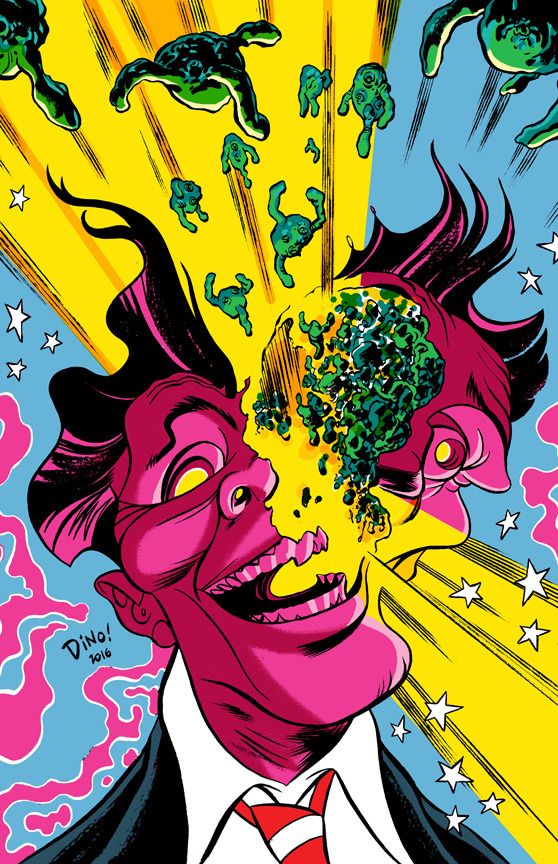 I was hired to draw the cover to SHRINKAGE #6, created by Rob Kutner & John Lucas, and published by Farrago Comics.

Here is the cover with the logo and dressing.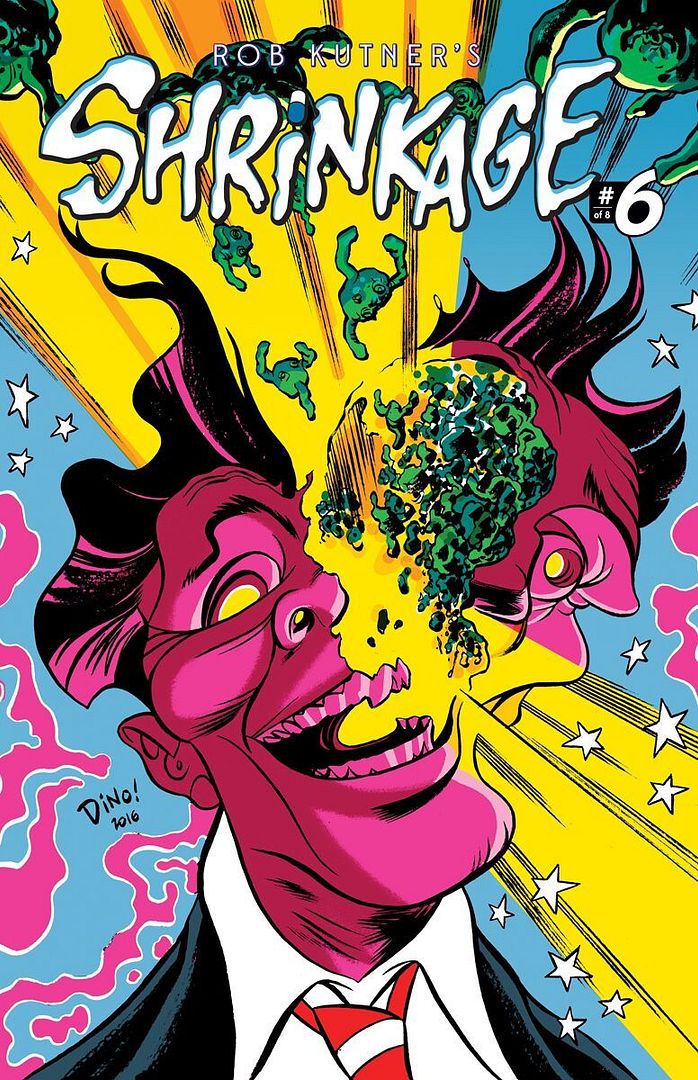 Wednesday, April 6th, 2016
---
5:04 pm
- The Red Hook - chapter 1


I'm proud to launch my new, free Webtoons series, THE RED HOOK, which is a part of the "New Brooklyn" Universe (NuBKU). Best viewed on a smart phone or tablet, you should download the free WebToons App for optimal scrolling. You can also view it large-scale on your laptop. If you like it, please leave a comment and tell your friends & family about it. It will help insure that I get to produce more Red Hook comix. Thanks!

Click here to see/read chapter one:
http://www.webtoons.com/en/super-hero/the-red-hook/ch-1-the-white-flag/viewer?title_no=643&episode_no=2

Also, be sure to read WebToons editor, Tom Akel's nice introduction to the "New Brooklyn" universe I co-created with Vito Delsante, Ricardo Venancio, Shamus Beyale, and the late Seth Kushner.

http://www.webtoons.com/en/super-hero/the-red-hook/an-introduction-to-new-brooklyn/viewer?title_no=643&episode_no=1

From the official press release:

LINE WEBTOON LAUNCHES FIRST TITLE IN "NEW BROOKLYN" SUPERHERO UNIVERSE — "THE RED HOOK"

First Comic Series Set in New Brooklyn Universe Debuts Chronicling the Adventures of Thief Turned Hero during the Fallout Following Brooklyn's Secession from NY

LOS ANGELES, April 06, 2016 – LINE Webtoon, the popular digital comic publisher pioneering the development and distribution of comics worldwide today launched the first of three titles that comprise a brand new comic universe, New Brooklyn. Created by Brooklyn writers and artists, New Brooklyn is the first comic universe to truly encapsulate the borough's spirit with comics starring Brooklyn as their centerpiece. The first title, The Red Hook by Dean Haspiel, follows Brooklyn's master thief, Sam Brosia aka The Red Hook, who finds he can no longer lie, cheat, or steal when America's greatest champion bequeaths him the powers and moral burden of the Omni-Fist of Altruism– against his will.

New Brooklyn follows the adventures of a unique group of heroes who emerge in the fallout from Brooklyn's decision to secede from New York State. In these comics, Brooklyn is not just the setting, but also a character with a broken heart whose decisions greatly impact the destinies of its residents. Fed up with the way society has formed around her, Brooklyn quite literally pulls away from New York – its bridges breaking and tunnels flooding – and proposes that humanity return back to days of old where things and people were defined by their ethics, values and contributions; where skills and art could be bartered and traded; where land could be farmed to sustain life and spawn beauty.

"I'm excited to produce an original comic with full autonomy using a state-of-the-art format that can appeal to everyone," said creator Dean Haspiel. "Ever since print was challenged by the digital age, I've been advocating new storytelling delivery systems while developing a dawn of creator-owned heroes. Working on season one of The Red Hook at LINE Webtoon is a renaissance moment for me."

"New Brooklyn is the first complete comic universe created for LINE Webtoon and we are looking forward to seeing this alternate reality that Dean and his fellow creators have developed come to life in The Red Hook and future titles," said JunKoo Kim, Founder and Head of LINE Webtoon.

In addition to The Red Hook, season one of New Brooklyn follows two additional heroes who are also struggling to make peace with themselves and reconcile their redefined home in theNew Brooklyn Universe – The Brooklynite and The Purple Heart.

Launching in summer from the late Seth Kushner and Shamus Beyale, The Brooklynitefollows Brooklyn cartoonist Jake Jeffries, who gets caught in the fallout of two super-humans battling and is accidentally irradiated with superpowers. Fraught with "Superman powers and Spider-Man problems," Jake learns to fight crime in his secret identity as The Brooklynite, and chronicles his adventures in a comic book series while struggling to lead a dual existence.

The Purple Heart, launching this fall from Vito Delsante, Dean Haspiel, and Ricardo Venâncio, tells the tale of US Navy soldier, Isaiah "Zeke" Nelson has just returned from war overseas. He is done fighting and all he wants is to go home to Brooklyn, but Brooklyn has other plans when her heart is broken and she secedes from America and selects Zeke to become New Brooklyn's cosmic guardian, The Purple Heart.
4:53 pm
- FreakSugar: DEAN HASPIEL GOES TO BROOKLYN FOR HIS LINE WEBTOON SERIES THE RED HOOK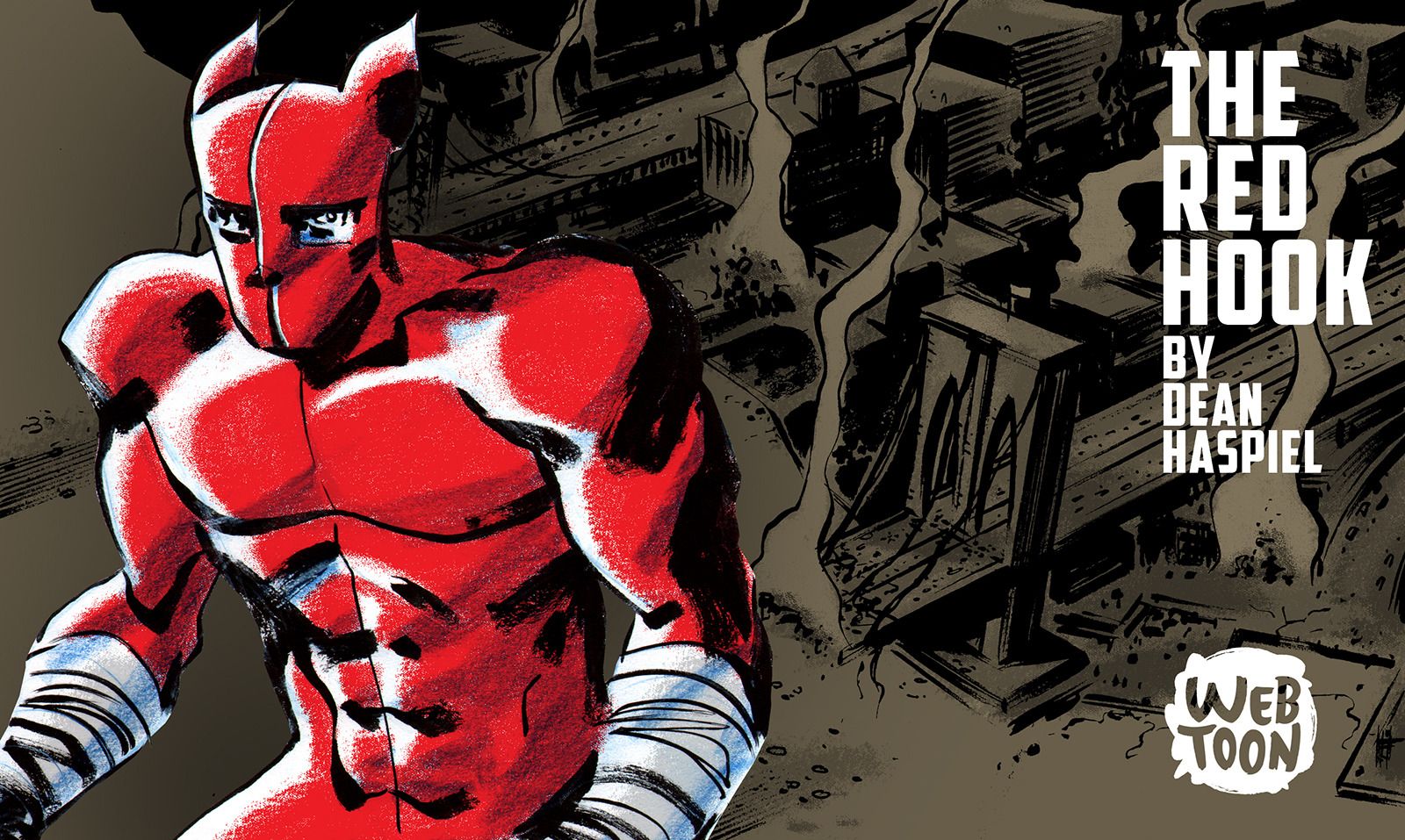 Jed W. Harris-Keith interviewed me about my new, free WebToons series, THE RED HOOK, for FreakSugar.

Here are some excerpts:

FS: As you just said, Brooklyn, specifically New Brooklyn, seems to be a character unto itself in the first chapters of The Red Hook. What made Brooklyn the perfect setting for the comic?

DH: I moved to Brooklyn from Manhattan almost 19-years ago. I live in Carroll Gardens and have been drawing comix in Gowanus for many years, but I fell in love with Red Hook along the way. In that time, I've written and drawn a lot of stories about my experiences in Brooklyn. So, when I decided to create a new superhero, I only had to look as far as my backyard. Brooklyn is rich like Paris with diverse food, artists and culture and became the exodus for so many native Manhattanites as myself. Over the years, it's become too expensive and a challenge to maintain a good quality of life as I watch my fellow artists and freelancers make a new exodus upstate and to the Catskills or to New Orleans, Portland, Los Angeles and beyond.

As a creator, I think it's important to put out there what you want back and my knee-jerk reaction towards the current difficulties of sustaining an affordable lifestyle in Brooklyn is my fantasy of transposing Brooklyn into a place that can support experimental art and champion diverse culture and, heck, inspire new heroes, rather than lose another bodega and another art loft space to more innocuous banks and pharmaceutical stores.

FS: The Red Hook's character seems to have elements of Robin Hood and V from V for Vendetta, with an emphasis on rebellion for the greater good. How would you describe him and what is his ultimate end game?

DH: That's the thing: The Red Hook is not an inherently a good guy. He's not evil, either. He's a criminal who, initially, is only concerned with his own well-being. I relate how hard it is to get by in a suffering economy and the difficulties of making ends meet. I'm a freelance cartoonist who lives in the most expensive city in America! I can understand how a person can bend sideways and not trust the world. Not feel safe. Depending on the day, I can be a half-glass empty kinda guy and this is where our protagonist starts until he's cursed into a position of altruism by fate. He didn't choose to be heroic and must come to terms with his new moral code or die.

You can read the entire interview/article here: http://www.freaksugar.com/dean-haspiel-goes-to-brooklyn-for-his-line-webtoon-series-the-red-hook/
4:46 pm
- The Brooklyn Paper / Going indie: New comic shows the borough seceding


Giaco Furino interviewed me about my new WebToons series, THE RED HOOK, for The Brooklyn Paper.

Here are some excerpts:

In the opening panels of "The Red Hook," which launches its first chapter today, a seismic shock shatters the Brooklyn and Manhattan bridges and separates Kings County from Queens. The comic's creator came up with the earth-shaking idea in July 2014, when artists replaced the American flags on the top of the Brooklyn Bridge with white flags.

"I joked to a friend, 'Oh my God, Brooklyn gave up!' " said Dean Haspiel. "That's a really interesting idea, what if Brooklyn was sentient? And it literally and physically decided to secede from America?"

"I was aiming for a superhero but what I came up with is a super-thief," said Haspiel. "I thought about Red Hook and how difficult it is to live there. And I thought about what kind of superhero would be in Red Hook and I kind of created a bad guy. He's kind of like a Robin Hood, but he only takes care of himself and his girlfriend."

"I like that simplified, streamlined look," said Haspiel. "I can't get into all the bells and whistles of the new superheroes designed today. I like simplicity and clarity."

You can read the entire article/interview here: http://www.brooklynpaper.com/stories/39/15/24-dean-haspiel-red-hook-2016-04-08-bk.html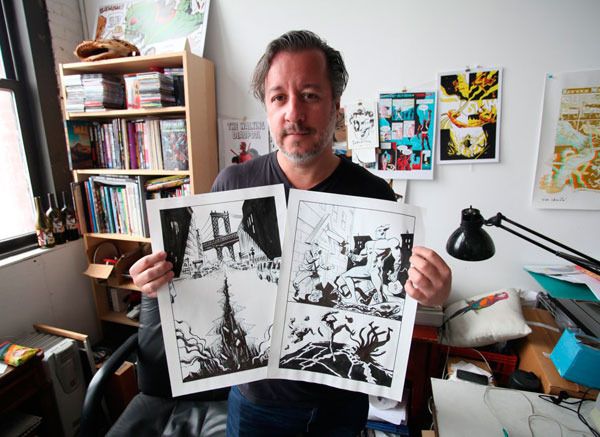 (photos by Jason Speakman for The Brooklyn Paper)