Thursday, October 6th, 2016
---
12:16 pm
- RIP Joe Stockdale.
RIP Joe Stockdale. Your class in Dramatic Structure at SUNY Purchase in the late 1980's taught me the greatest lesson in writing stories. What does a character want? What did Willy Loman want in "Death of a Salesman?" No one knew the answer until you showed us how to find it. Willy Loman wanted to be "well-liked" and that dictated his choices and behavior. It was written in the script. Write what you want. And, I have, ever since.
Monday, October 3rd, 2016
---
8:52 pm
- Dean Haspiel at New York Comicon 2016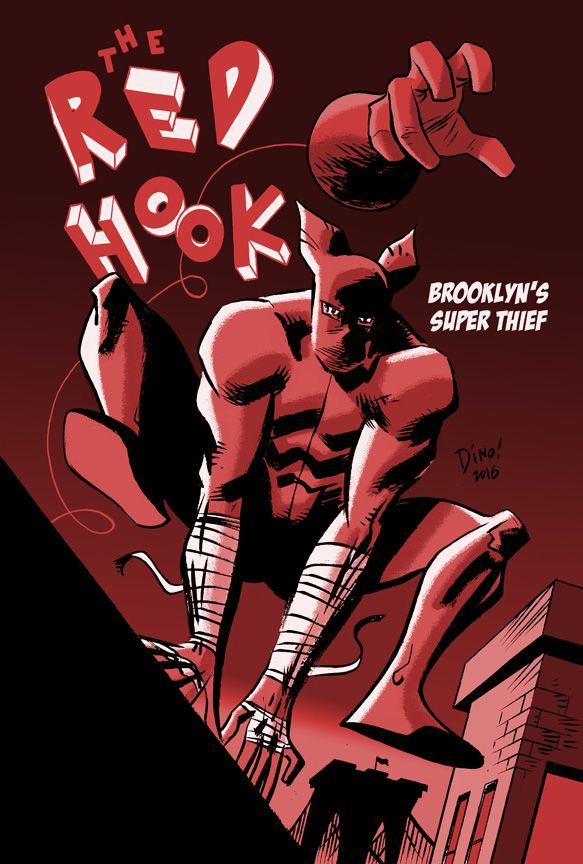 I will be doing some signings and a panel at New York Comicon 2016 at the Jacob Javits Convention Center this coming weekend.

FRIDAY, October 7th

4:30pm - 5:30pm ComiXology's Comic Book All-Star trading cards series 2 at table (M3-4 in Artist's Alley)

SATURDAY, October 8th

2pm - 3:30pm Heavy Metal magazine signing with Stoya (Booth 541)

4pm - 5pm LINE Webtoons signing - (Booth #N101)

SUNDAY, October 9th

12pm - 12:30pm Panel: LINE Webtoon – The Future of Comics – (#NYCC Twitch Live Stage) With Katie Cook (Nothing Special), Colleen Doran (Finality), David Tischman (Heroine Chic), Zach Howard (Buck), and Dean Haspiel (The Red Hook)

2:30pm - 3:30pm LINE Webtoons Portfolio Reviews - (Booth #N101) w/Dean Haspiel
Friday, September 30th, 2016
---
3:40 pm
- ComiXology Comic Book All-Star trading cards, series 2, featuring Dean Haspiel
3:14 pm
- Hillary Clinton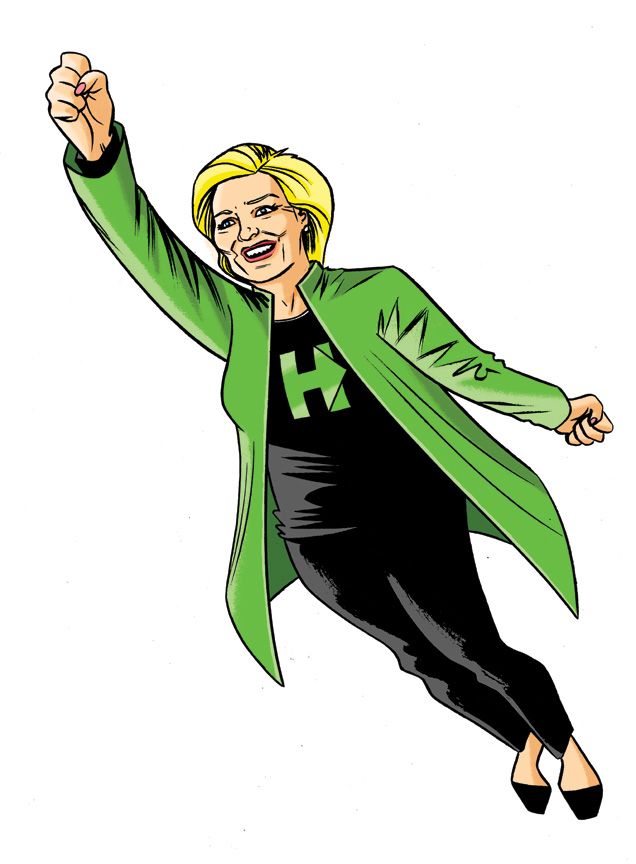 Mom asked me to draw Hillary Clinton as a superhero. I'm terrible at drawing likeness. The design was her idea.

Hill Yes.
Wednesday, September 28th, 2016
---
7:19 pm
- Forces of Geek: Dean Haspiel Bids Adieu To 'The Red Hook' (review)
Clay N. Ferno reviewed THE RED HOOK season one at Forces of Geek. Thanks, Clay!

Excerpts:

"Stan and Jack would be proud of the names of the characters and plot points in the story. You don't need to be a New York native to get the jokes, you have probably seen enough television to cover the main neighborhoods in Brooklyn referenced."

"The Red Hook isn't a rehash of old Marvel or Dean's work on Archie's The Fox. While there are similarities and some Kirby-as-Genre stylistic choices, this is the most unique to market independently published comic since the pay to play model of Brian K. Vaughn and Marcos Martin's The Private Eye."

"The end of the story opens up to a larger world (it is comics after all) and sets up New Brooklyn heroes in a relatively clean sandbox to play in. Art is currency. Thieves are now heroes. New Brooklyn has been born, and I for one can't wait to see what else is hiding in that particular Borough."

Read the entire review here: http://www.forcesofgeek.com/2016/09/dean-haspiel-bids-adieu-to-the-red-hook-review.html
11:12 am
- The end of an era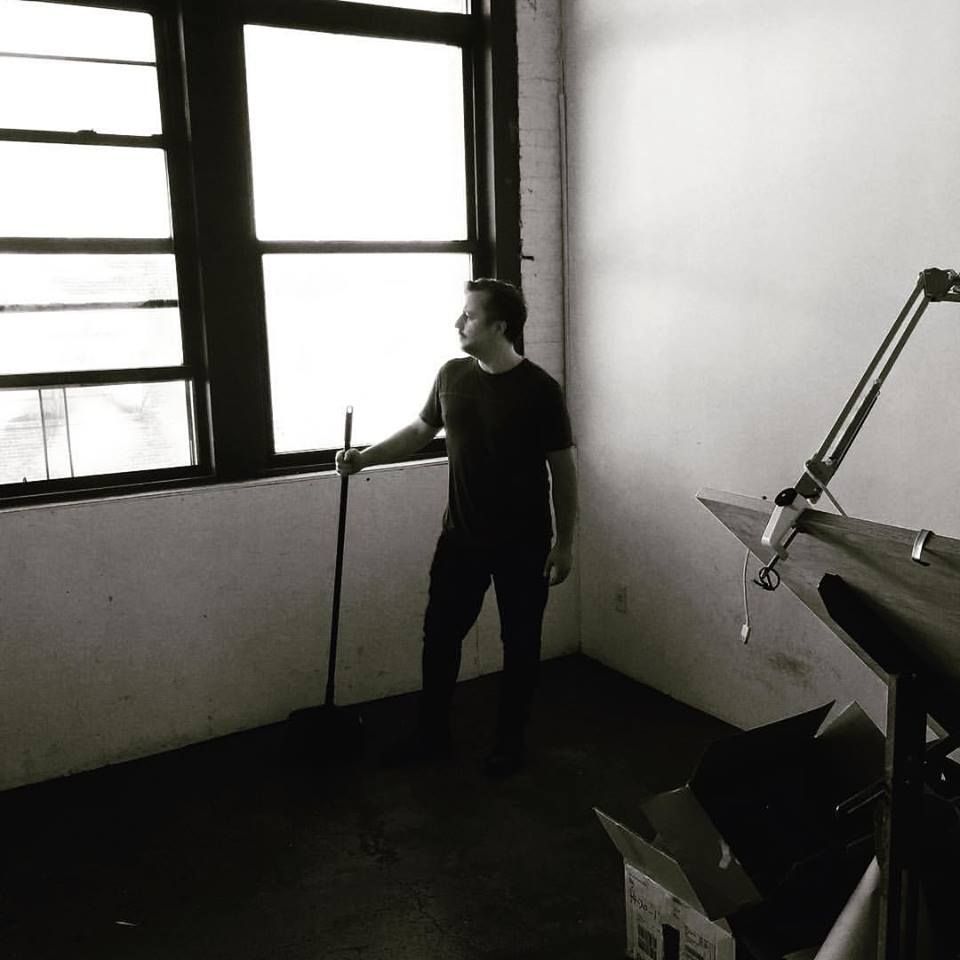 Goodbye studio space at 112 Second Avenue in Gowanus, Brooklyn.

Long Live Hang Dai!
11:02 am
- The Red Hook - chapter 26
Monday, September 26th, 2016
---
12:47 am
- Hyperallergic: Gowanus Artists Are Evicted from Building, and Trash Pickup Suddenly Halts
Wednesday, September 21st, 2016
---
1:30 am
- The Red Hook - chapter 25
Tuesday, September 20th, 2016
---
10:31 am
- Dean Haspiel at Wizard World Austin 2016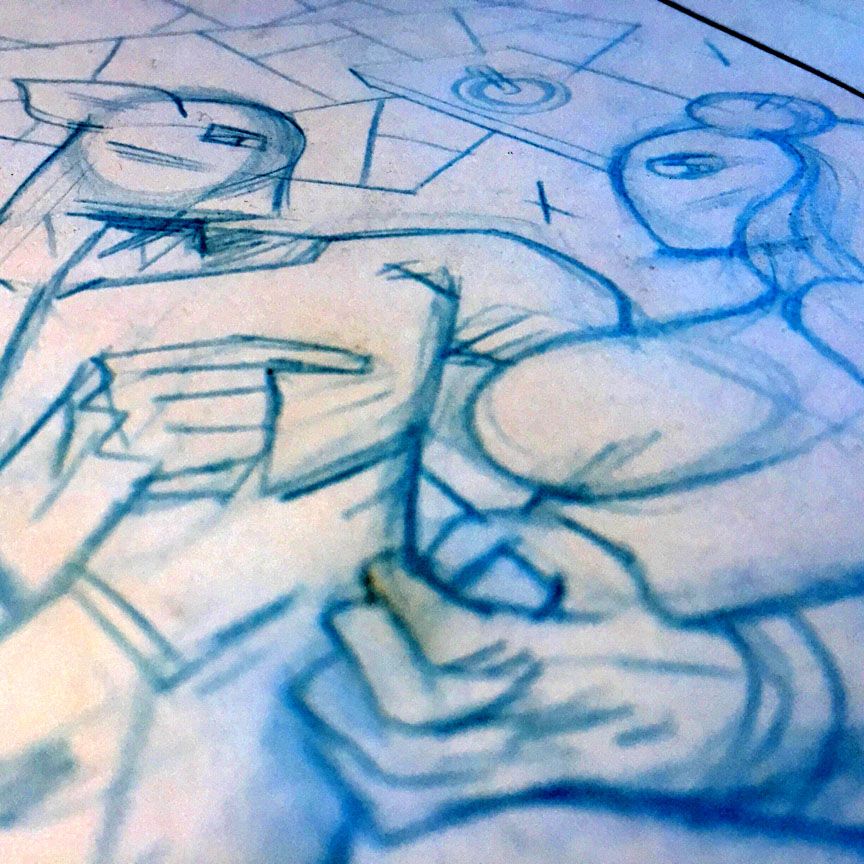 I'm a guest at Wizard World Austin, September 23-25, 2016, stationed at table A29. I will have copies of my graphic novels, BEEF WITH TOMATO, and FEAR, MY DEAR. Plus, rare copies of my exclusive THE WALKING DEAD cover. Ask me about my weekly webcomic series, THE RED HOOK, published for free at LINE Webtoons http://www.webtoons.com/en/super-hero/the-red-hook/list?title_no=643 I'm available for commissions, and I will also be doing four panels and a comix reading performance throughout the convention (see details below).

Click here for Wizard World Austin: http://wizardworld.com/comiccon/austin

FRIDAY SEPTEMBER 23:

7:00-7:45 PM THE CREATIVE MIND: TOP ARTISTS DRAW COMICS with X-MEN'S MICHAEL CHO, HOWARD THE DUCK'S VAL MAYERIK, THE RED HOOK'S DEAN HASPIEL & SPIDER-MAN'S STEVE GEIGER (SHOW STAGE)
Top comics artists talk about their careers, their craft, the comics business and whatever else might come up—and will show you some of their top-secret techniques as they draw live before your eyes! Join peerless pencilers Michael Cho (X-Men: First Class; Shoplifter), Val Mayerik (Howard the Duck co-creator; Magic: The Gathering), Dean Haspiel (The Red Hook; The Fox) and Steve Geiger (Spider-Man; The Hulk) as they pull back the curtain and tell you what it's really like to be a comics artist! Danny Fingeroth (How to Create Comics from Script to Print; Spider-Man) moderates.

SATURDAY SEPTEMBER 24:

1:00-1:45 PM WORDS INTO PICTURES: HOW TO WRITE COMICS with SPIDER-MAN'S TOM DeFALCO, THE RED HOOK'S DEAN HASPIEL, NO MERCY'S ALEX De CAMPI, DAREDEVIL'S CHARLES SOULE, HULK'S PAUL BENJAMIN and SPIDER-MAN'S DANNY FINGEROTH (ROOM 12)
Accomplished comics writers Tom DeFalco (Spider-Man; Thor), Dean Haspiel (The Red Hook; Beef With Tomato), Alex de Campi (Grindhouse; No Mercy), Charles Soule (Daredevil; Uncanny Inhumans), Paul Benjamin (The Hulk; Pantheon High) and Danny Fingeroth (How to Create Comics From Script to Print; Spider-Man) talk about how to put together a compelling comics story. Plus, they'll answer your questions about both the creative and business sides of the comics writing profession, including how to find an artist to work with (hint: a comics convention is the number one place!) and how to write exciting dialogue!

2:00-2:45PM NEW BROOKLYN VS OLD BROOKLYN: Dean Haspiel and friends perform slideshow excerpts from his New Brooklyn webcomic, THE RED HOOK, and balances it with an Old Brooklyn story from his graphic novel memoir, BEEF WITH TOMATO. (Creative Stage)

6:00-6:45PM THE GREATEST GRAPHIC NOVELS EVER TOLD: PERSEPOLIS, WATCHMEN, BATMAN, AND BEYOND (BALLROOM F)
Ironic superhero stories, coming-of-age tales, historical literature, modern drama, and everything in between fill graphic novels. What is a graphic novel, though, and what makes one great? Join authors Katrina Hill and Alex Langley (100 Greatest Graphic Novels: The Good, the Bad, the Epic) as they fight it out with Victor Dandridge (Vantage: Inhouse), Tom DeFalco (former Marvel editor-in-chief), Dean Haspiel (American Splendor; Batman), Clinton Hobart (Disney), and Dr. Travis Langley. Which ones are the best of the best?

SUNDAY SEPTEMBER 25:

12:00-12:45 PM CREATE-A-COMICS-STORY with SPIDER-MAN'S TOM DeFALCO, THE RED HOOK'S DEAN HASPIEL AND BEAUTY AND TANGLED'S CLINTON HOBART (ROOM 12)
Ever wonder what it would be like to collaborate on making comics with top professionals? In this fun-and-educational session, celebrated writer Tom DeFalco (Spider-Man; Fantastic Four), Emmy-winning artist Dean Haspiel (The Red Hook; Spider-Man) and renowned painter Clinton Hobart (Licensed Disney Fine Artist; Beauty and the Beast) create a new character and story before your eyes, incorporating audience members' ideas and suggestions! Come see—and join in—the creative process! The panel will be moderated by longtime Marvel writer and editor Danny Fingeroth (Spider-Man; How to Create Comics from Script to Print).
Thursday, September 15th, 2016
---
10:33 am
- The Red Hook in Dark Horse Presents #s 29 - 31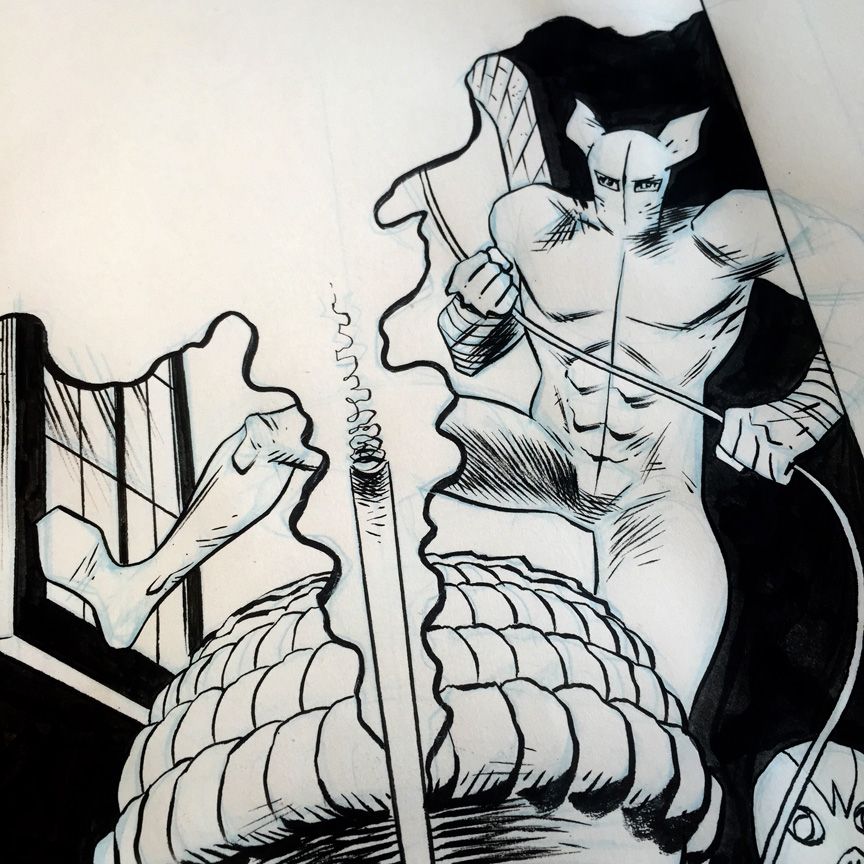 Now that season one of The Red Hook is wrapping up at LINE Webtoons.com (read it for free: http://www.webtoons.com/en/super-hero/the-red-hook/list?title_no=643 ), I'm currently working on a new 3-part Red Hook story for Dark Horse Presents #s 29 - 31. This story takes place BEFORE the great secession that sparked a New Brooklyn Universe.

(BIG UPS to Hannah Means-Shannon for shepherding the deal, and Rachel Roberts for editorial notes)

Solicitation details:

Dark Horse Presents #29

Paul Levitz (W), Carla Speed McNeil (W/A), Kaare Andrews (W), Dean Haspiel (W/A), John Nadeau (W/A), Dan Jolley (W), Francesco Francavilla (W/A/Cover), Tim Hamilton (A), and Troy Nixey (A)

On sale Dec 21
FC, 48 pages
$7.99

This month, Dark Horse is celebrating a decade of Francesco Francavilla in comics! Features a stunning cover as well as the continuation of Francavilla's The Black Beetle in Kara Bocek! Plus, Dean Haspiel brings his popular webcomic The Red Hook to print!

This issue also features the continuation of favorites Brooklyn Blood by Paul Levitz and Tim Hamilton; Finder: Chase the Lady by Carla Speed McNeil; The Black Sinister by Kaare Andrews, Troy Nixey, and Dave McCaig; and Murder Society by John Nadeau and Dan Jolley!

http://www.bleedingcool.com/2016/09/14/dark-horse-solicits-for-deemeber-2016-new-from-richard-corben-john-arcudi-and-a-second-zelda-book/
Wednesday, September 14th, 2016
---
3:12 pm
- Broken Frontier interviews Dean Haspiel about The Red Hook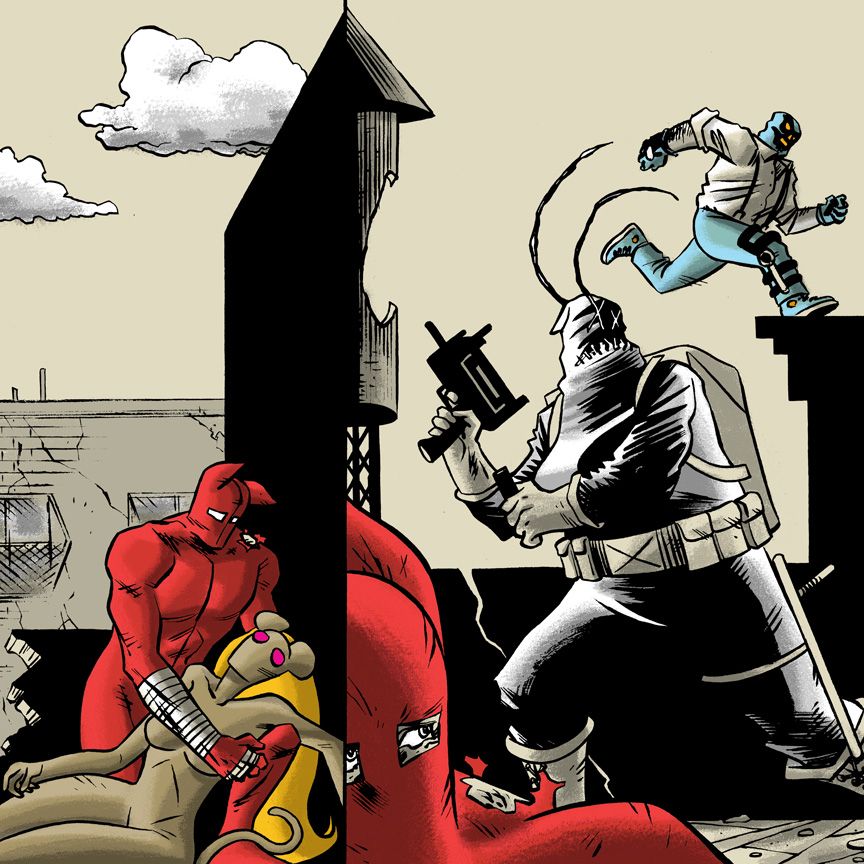 Hooked on Haspiel: The Rabidly Loyal Brooklynite Turns the Page on a New Chapter for his Beloved Borough: http://www.brokenfrontier.com/hooked-haspiel-rabidly-loyal-brooklynite-turns-page-new-chapter-beloved-borough/

Excerpt:

You suggest that works of art will become a lucrative new currency in New Brooklyn. Could you elaborate a little on this idea of art as currency?

It's a total fantasy. In a sense, art has become New Brooklyn's oil where a doodle can buy you a drink and a landscape can buy you a house. There are so many artists in Brooklyn, many of them struggling (including myself), that I wanted to project this good will idea in hopes that it may transcend from my comix and come true.

You pay tribute to Jack Kirby and the Silver Age of comics throughout the strip. How has the King's influence on your work evolved over the course of your career?

Jack Kirby designed great ideas and drew powerful stories that forever impacted me. He practically reinvented the superhero genre, several times! Comix can do anything but one of the things they excel at is superhero stories, which is really just a combination of science fiction, crime and romance, with a sprinkle of horror.

Originally, I created The Red Hook as an artist's residency palette cleanser at Yaddo in Saratoga Springs, NY in 2012. Because I was going there to write for a month, I wanted to shrug off my comix leanings and The Red Hook was my attempt to create a character done in the spirit of "What if Jack Kirby, Alex Toth and Will Eisner collaborated on a superhero together?"
1:58 am
- The Red Hook - chapter 24
Monday, September 12th, 2016
---
5:51 pm
- Comics Alternative reviews Dean Haspiel's The Red Hook
Comics Alternative comix professors Derek Royal & Sean Kleefeld review The Red Hook on their podcast:

"The guys jump into the core of this month's episode with a look at Dean Haspiel's The Red Hook. They discuss, among other things, the fact that superhero comics are relatively rare in webcomics and that this title is reminiscent of what Haspiel did with The Fox, for Archie Comics, and with his own comics centered on Billy Dogma and Jane Legit."

http://comicsalternative.com/webcomics-reviews-of-the-red-hook-kill-6-billion-demons-and-rice-boy/
Friday, September 9th, 2016
---
7:00 pm
- Washington Post: An Emmy-winning cartoonist explains why young artists shouldn't move to Brooklyn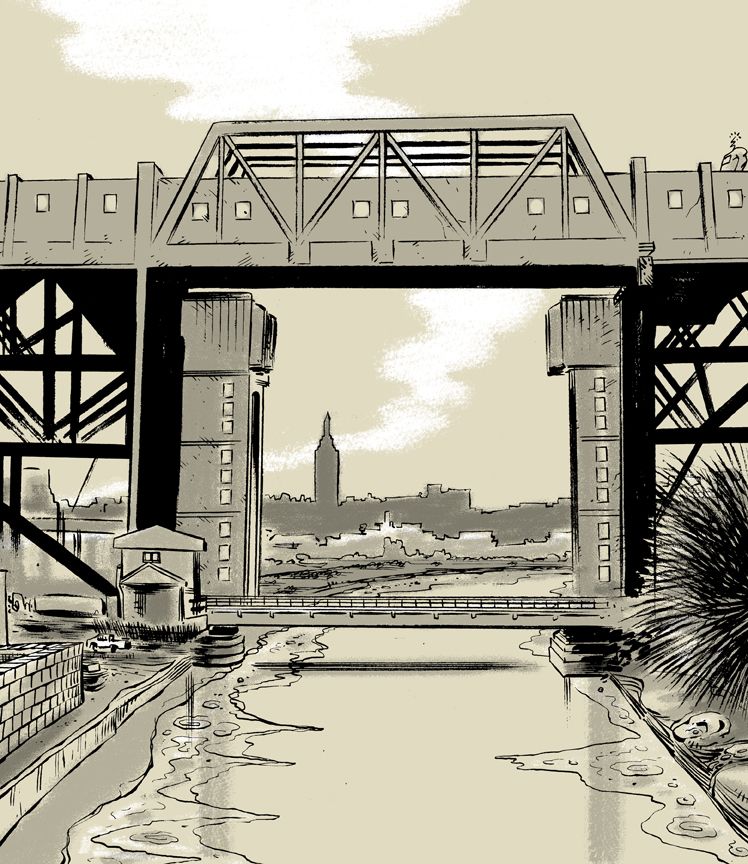 Michael Cavna interviewed me about the challenges of making art while living in NYC in 2016 at the Washington Post:

MICHAEL CAVNA: You and I once talked about how you could win an Emmy Award one day [for HBO's "Bored to Death"], then be back at the drawing board while eating PB&J the next day. For most artists, it's a career of passion that can be high on the creative returns, but low on the financial returns. Is that a fair characterization of the industry now?

DEAN HASPIEL: Awards are acknowledgments that can raise awareness but don't guarantee new work. And since I mainly work in the comic-book biz, winning an Emmy is more a conversation piece than anything else. Because of the recent popularity of superhero movies and cos-players and weekly comic-cons, one might think that making comics would be a lucrative career, but I think it's harder than ever to make a living at. Harder to compete with spoiler-based marketing and binge-culture. At best, comics is a low-budget way to conceive big ideas. At worst, it's a lifelong passion project akin to building castles in quicksand.

MC: In your Harvey Awards keynote, you said that New York, particularly Brooklyn, isn't such a financially friendly place anymore for artists. Several years ago, David Byrne penned a sentiment that he thought the "1-percent" of wealth was killing New York culture. Do you see this as a transitional ill that has many symptoms?

DH: New York City is an amazing place. An incredible spectacle. Some say the center of the world. I wish I could visit its virtues. Sometimes, I want to experience the NYC that people talk about. Alas, I'm just a dumb native who decided to make art in one of the greatest melting pots on planet earth, right as the middle class split into the rich and the poor. Luckily, my currency is based on creating stories and art whether I get paid a penny or a pound. You give me a yacht and I wouldn't know what to do with it. Give me a pen and a blank piece of paper or a spotlight and I'll tell you a damned good story.

MC: Has this been a gradual shift in New York, or have you seen things change swiftly, even radically?

DH: I think the shift in affordability has always been a slow decline but it seems like it sped up most recently, the past five to 10 years, as more artists who cobbled together in tighter spaces, where living rooms became bed rooms, have finally priced people out.

MC: Do you see this decline slowing, or reversing, any time soon — or does it feel like lost artistic support that won't easily be put back in the paint tube?

DH: I think the problem with the concept of designating artists spaces is that, eventually, they become too cool and woo non-artists with bigger bank accounts to live in such sections where, eventually, building owners raise rents, effectively murdering the hope for artistic growth. Check out the history of Soho, New York, where I used to live in the late 1980s, as that artists' community transitioned into an expensive, European-inspired hot spot, pushing out most of the artists. Bottom line: You need certain services in order to live and exist and art will always be trumped by coffee, food, beer and wine. You can't eat a Picasso.

MC: Among your network of creatives are musicians and photographers and other artists. Do you see them facing the same symptoms in New York as you?

DH: They already kicked out the musicians in the building next to ours, almost a year ago. Music bands scrambled off to other spaces or went back home to their parents' garage. A local photographer I occasionally run into on the street basically lost his job to cellphone pictures because most companies don't care about the art and craft when they just want the cursory snapshot. Nice if it's in focus. I'm sure someone will develop a comics app or some kind of filter, if they haven't already, that will make it simpler for anyone to make a digital comic. Fine. Whatever. What makes an artist stand out is their personal voice, and that can never be duplicated. It just may have to come from much farther away, is all.

MC: Anywhere else you're considering moving to make comics?

DH: With all my gripes, I have a really hard time emotionally leaving my native New York City. It's the only home I know. It's where my heart is. A part of me thinks the Catskills is where I'll wind up, boiling an old shoe to make soup like Charlie Chaplin did in that movie. Because I've always strove for making art, I'm otherwise unemployable. But I work hard at keeping my finger on the pulse and keeping it communal,while making an individual stamp in hopes of uplifting the narrative arts for fans of the form. Am I due for a midlife crisis? Sure. Bring it on! I'll turn it into art.

MC: Say I'm a young comics creator weighing whether to move to Brooklyn. What advice would you give?

DH: Sorry, but there is no justifiable reason for a young creator to move to Brooklyn to make art. You'll just wind up liquidating your savings faster than you prepared for while holing up in a corner to work all night and sleep five hours a day while subsisting on cheap food. Better to visit Brooklyn and crash couches and network; make friends with like-minded people, until maybe there is a viable way to innovate and make something sustain. Whatever that looks like in the next phase of New York City's crumbling art scene.


You can read the entire article/interview here: https://www.washingtonpost.com/news/comic-riffs/wp/2016/09/09/an-emmy-winning-cartoonist-explains-why-young-artists-shouldnt-move-to-brooklyn/
Thursday, September 8th, 2016
---
11:44 am
- DNAinfo: Comics Artists Latest Victims to Get the Boot From Gowanus Building


I spoke to DNAinfo reporter Leslie Albrecht about Hang Dai and other studios leaving our current space in Gowanus, Brooklyn.

Excerpt:

"Haspiel grew up in Manhattan and moved to Carroll Gardens nearly 20 years ago. His mother was deputy director of the New York State Art Council and he spent his childhood surrounded by artists who inspired him to pursue a creative career.

He says people sometimes tell him that being an artist is a "privilege" because "it's not a real job," but he said he grew up in a time when artists could make a living in New York and hoped to do the same. He's been successful, winning an Emmy in 2010, but still struggles to make ends meet, he said.

Now some of his colleagues are planning to move to Philadelphia or elsewhere, but Haspiel hopes to stay in New York.

He said the studio at 112 Second Ave. provided not only workspace but a real sense of family that he'll miss. Haspiel said he can work out of his apartment and interact with fellow artists online, but he prefers face-to-face interactions in a shared studio.

"I want to be around people because that's the energy, that's the unexpected," Haspiel said. "There's a tension, there's a conflict that makes you do things you wouldn't otherwise do in the safety net of your own home hiding behind a screen."

Read the entire article here: https://www.dnainfo.com/new-york/20160907/gowanus/comics-artists-latest-victims-of-get-boot-from-gowanus-building
Wednesday, September 7th, 2016
---
10:08 pm
- Dean Haspiel's Keynote speech at the 2016 Harvey Awards - video


Master of Ceremonies, Vivek Tiwary. Recorded by Jeff Newelt.
11:21 am
- The Red Hook - chapter 23
Tuesday, September 6th, 2016
---
4:07 pm
- Comics Beat: Hang Dai Studios' end of days in Gowanus, Brooklyn
1:29 pm
- 40 Days of Supergirl