Tuesday, December 3rd, 2013
---
3:52 pm
- 5-page preview of THE FOX #2 at CBR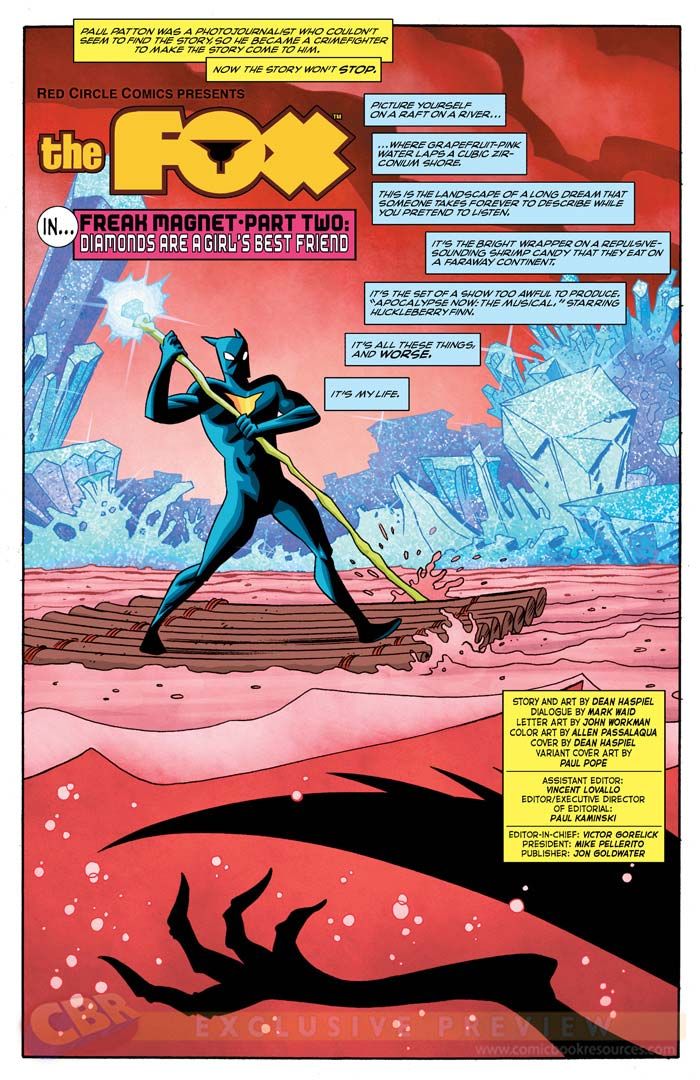 CLICK for 5pp THE FOX 2 preview here: http://www.comicbookresources.com/?page=preview&id=19266


NEW RED CIRCLE SERIES! From the world of the New Crusaders, comes the high-flying FOX! Emmy Award winning writer/artist Dean Haspiel (Billy Dogma, HBO's Bored to Death) and Eisner Award winning writer Mark Waid (Daredevil, Thrillbent) continue the saga of the legendary, pulp-style hero The Fox in FREAK MAGNET Part Two: "Diamonds are a Girl's Best Friend"! When the beautiful Queen of Diamonds enlists our hero to save the diamond realm from the deadly Druid, the FOX faces a whole new dimension's worth of pitfalls, peril and—familiar faces?! Then, acclaimed writer J.M. DeMatteis (Abadazad, Justice League 3000) and Eisner-award nominated artist Mike Cavallaro (Parade (with Fireworks), The Life and Times of Savior 28) take us back in time for an ALL-NEW story featuring the world's first patriotic super hero and leader of the New Crusaders: THE SHIELD! What connection does Shield's top-secret mission in the arctic have to do with the Fox's diamond-studded adventure? And what ultra-powerful villains have arrived to wreak havoc?? Read on, dear reader—The Fox and the Shield have their work cut out for them! Featuring all-new variant cover art from acclaimed artist Paul Pope!
Friday, November 29th, 2013
---
9:21 pm
- Thanksgiving 2013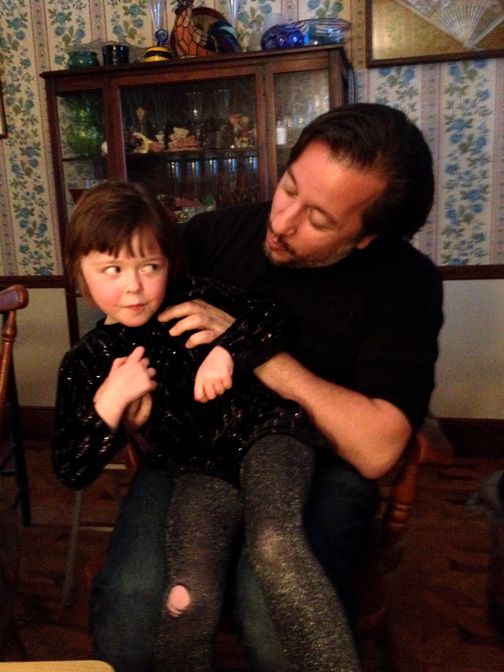 It was Jen's idea. I'd never made a Xmas stocking before. So, Jen handed me a big red sock with a tube of glue and silver and red glitter. I wasn't sure what to do. I was a deer in headlights. So, Jen kindly advised me to write Ruby's name and draw a Santa Claus with the glue. I did that the best I could and added a heart. Then, I poured silver glitter on her name and Santa and red glitter on the heart until it dried. I forgot about it until this morning when Ruby woke us up by sitting on top of us. I handed her the custom made Xmas stocking and her eyes popped as she ran to wake up her parents. We heard her say, "Look, I got a Ruby Santa Heart!" Then, she looked inside the sock and found a classic swirly lollipop and a stuffed rabbit toy (again, courtesy of Jen) and squealed like a 5-year old girl!


Wednesday, November 27th, 2013
---
2:11 am
- Every Day Is Like Wednesday reviews THE FOX #1
"The overall tone is light and fun, and Haspiel's artwork is every bit the treat one might expect it to be. He's great at drawing people throwing and taking punches, and his Fox is wonderful; the costume streamlining the character to almost pure figure and form, a set of lines with little extraneous detail to distract from his existence as a human body in action (The only features on his mask are his big huge Spider-Man eyes, and his ears, which, like some of the better depictions of DC's Wildcat's, flop around)."

Read the rest of the review here: http://everydayislikewednesday.blogspot.com/2013/10/comic-shop-comics-october-30.html
Tuesday, November 26th, 2013
---
2:51 pm
- Comix criticism.
I don't "get" much comics criticism. Maybe that's because I don't feel comfortable officially criticizing comix and, instead, create comix critique via my work. Meaning, my comix IS my criticism. If that makes sense. Otherwise, I just see/read a bunch of comix enthusiasts fostering hate and burning bridges rather than spending their free hours lauding what they love. Sure, comix should be criticized but I don't like how it's being criticized and why. To hate on an old war house while blowing the grasshopper who put out one xeroxed comic 3-months ago is NOT the way to sway a veteran like me.
Monday, November 25th, 2013
---
8:27 pm
- WWE Superstars #1
3:16 pm
- Variant cover to THE FOX #5


Here is my variant cover to THE FOX #5. Please pre-order copies from your local comix shop. Thanks!

THE FOX #5
The fantastically-foxy finale IS HERE in Freak Magnet pt 5: "Future's End"! Emmy Award winning writer/artist Dean Haspiel (Billy Dogma, HBO's Bored to Death) is joined by acclaimed writer J.M. DeMatteis (Abadazad, Justice League 3000) to conclude the "Freak Magnet" saga of the pulp-style hero The Fox! Our hero has won the day and defeated his evil adversaries, so why does he now find himself trapped 70 years in the past, side-by-side with the legendary hero of WW2 known as THE SHIELD?! And what does the Shield's arctic battle-royale have to do with the diamond realm?! And will SOMEONE please tell The Fox, aka Paul Patton Jr., why he can't just have the simple, freak-free life he wants?? Don't miss the finale to end-em-all, and don't miss out on collecting all five "FOX FIVE" Variant Covers to this issue! With art from Dean Haspiel, Howard Chaykin, Mike Cavallaro, Mike Norton and a special ALEX TOTH throwback edition!

Art: Dean Haspiel
Plot/Script: J.M. DeMatteis
Art: Dean Haspiel, Allen Passalaqua, and John Workman
Cover: Dean Haspiel
FOX 5 Variant Cover 1: Dean Haspiel
FOX 5 Variant Cover 2: Howard Chaykin
FOX 5 Variant Cover 3: Mike Norton
FOX 5 Variant Cover 4: Mike Cavallaro
FOX5 Variant Cover 5: Alex Toth Throwback
On Sale at Specialty Comic Shops Date: 3/5
32-page, full color comic
$2.99 US
1:30 pm
- The Fox #2 signing at Jim Hanley's Comics w/Dean Haspiel, Paul Pope + Mike Cavallaro - Dec 4th / 6-8
1:14 pm
- I met Warren Ellis

(Warren Ellis, Dean Haspiel, + Frank Reynoso, NYC, November 21, 2013)

I finally got the opportunity to meet Warren Ellis, one of my favorite writers and, certainly, one of my living heroes. Warren has always encouraged and written nice things about me and my work as I've climbed the comix ranks (and walls - tearing my hair out). He was the first to champion ACT-I-VATE when I tried to innovate the way we delivered personal webcomix and even he wrote the introduction to The ACT-I-VATE Primer. Warren is a mad, forward-thinker who excavates the ugly truths about humanity versus technology while exposing the heart of why we do what we do. He's written great Marvel & DC comic books and lots of creator-owned collaborations, including Planetary, Global Frequency, Desolation Jones, Fell, and a slew of others. If you haven't read Warren's prose, I recommend you start with his first novel, Crooked Little Vein.

I met Warren at a NYC event he spoke at last week, as reported by Hannah Means-Shannon at Bleeding Cool (including an audio recording worth listening to). It was epic.

http://www.bleedingcool.com/2013/11/25/warren-ellis-finds-murder-just-makes-your-life-better-an-evening-of-hit-men-burglars-secret-agents-and-thieves-in-new-york-with-full-audio/


Sunday, November 24th, 2013
---
11:15 pm
- Major Spoilers podcast interviews Dean Haspiel about The Fox
Wednesday, November 20th, 2013
---
1:57 pm
- THE FOX #5 solicitation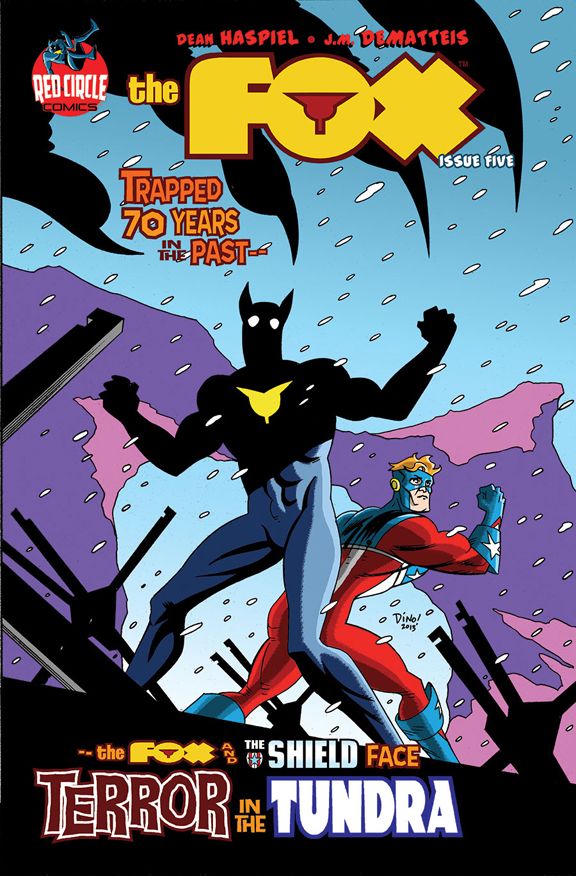 THE FOX #5
The fantastically-foxy finale IS HERE in Freak Magnet pt 5: "Future's End"! Emmy Award winning writer/artist Dean Haspiel (Billy Dogma, HBO's Bored to Death) is joined by acclaimed writer J.M. DeMatteis (Abadazad, Justice League 3000) to conclude the "Freak Magnet" saga of the pulp-style hero The Fox! Our hero has won the day and defeated his evil adversaries, so why does he now find himself trapped 70 years in the past, side-by-side with the legendary hero of WW2 known as THE SHIELD?! And what does the Shield's arctic battle-royale have to do with the diamond realm?! And will SOMEONE please tell The Fox, aka Paul Patton Jr., why he can't just have the simple, freak-free life he wants?? Don't miss the finale to end-em-all, and don't miss out on collecting all five "FOX FIVE" Variant Covers to this issue! With art from Dean Haspiel, Howard Chaykin, Mike Cavallaro, Mike Norton and a special ALEX TOTH throwback edition!

Art: Dean Haspiel
Plot/Script: J.M. DeMatteis
Art: Dean Haspiel, Allen Passalaqua, and John Workman
Cover: Dean Haspiel
FOX 5 Variant Cover 1: Dean Haspiel
FOX 5 Variant Cover 2: Howard Chaykin
FOX 5 Variant Cover 3: Mike Norton
FOX 5 Variant Cover 4: Mike Cavallaro
FOX5 Variant Cover 5: Alex Toth Throwback
On Sale at Specialty Comic Shops Date: 3/5
32-page, full color comic
$2.99 US
1:48 pm
- Mars Attacks: The Human Condition


My "Mars Attacks Christmas" story, colored by Allen Passalaqua, was collected in MARS ATTACKS: THE HUMAN CONDITION, published by IDW.

"Mars Attacks The Holidays and Mars Attacks: Classics Obliterated are collected into one volume by some of comics' most talented creators. Halloween, Veteran's Day, Thanksgiving, and Christmas aren't safe from these alien invaders and neither are such literary classics as Moby Dick, Jekyll & Hyde, and Robinson Crusoe."

See/read preview here: http://www.comicbookresources.com/?page=preview&id=19044
2:49 am
- Indie Edge
I was the featured creator in the December column of Indie Edge in Previews, the Diamond Comics distributor catalog where I discuss some of my choice comix and graphics novels that I've worked on, and I recommend/discuss three independently created comic books series: Saga, Satellite Sam, and Minimum Wage.

http://www.previewsworld.com/Home/1/1/71/942?articleID=141383
Friday, November 15th, 2013
---
11:44 am
- Hang Dai Editions success at CAB
Tuesday, November 12th, 2013
---
12:45 pm
- A.V. Club reviews THE FOX #1
"The Fox #1 is an exhilarating debut with bright, dynamic artwork and a hero with a complicated personal life, making it a great read for both kids and adults. A newly remarried divorced man who is worried about reconnecting with his daughter is a rarity in an industry where concepts like marriage and divorce are thought of as alienating to readers (see: Marvel's Brand New Day and DC's recent comments on superhero marriage), and it's refreshing to see that complex family dynamic depicted on the page. Haspiel's smooth, animated art style and Waid's witty script make this an ideal title for fans of Batman: The Animated Series and the other DCAU cartoons, balancing superhero action, slapstick comedy, and intimate personal drama for a well-rounded first issue."

Read the rest of the review here: http://www.avclub.com/articles/new-comics-releases-include-an-xmen-debut-and-a-jo,105446/
2:39 am
- Section 244 reviews THE FOX #1
Friday, November 8th, 2013
---
3:41 pm
- Pop Culture Maven reviews THE FOX #1
"Haspiel's art really captures a bygone era of good old fashion superhero fun. It's a nice throwback to artist like Alex Toth and C.C. Beck and a blend of Saturday morning animation that really makes the book shine. Haspiel and Waid have put the fun back in superheroes."

http://www.popculturemaven.com/comics/new-comic-book-reviews-11813/
12:48 pm
- Dean Haspiel at Comic Arts Brooklyn
11:35 am
- Publisher's Weekly: Hang Dai Editions debuts at Comic Arts Brooklyn
Thursday, November 7th, 2013
---
4:12 pm
- Dean Haspiel interviewed on Comics For Beginners podcast w/Palle Schmidt
11:25 am
- Comics Execution reviews THE FOX #1