Monday, July 10th, 2017
---
12:51 pm
- The Fantastic Four #42 - One Minute Later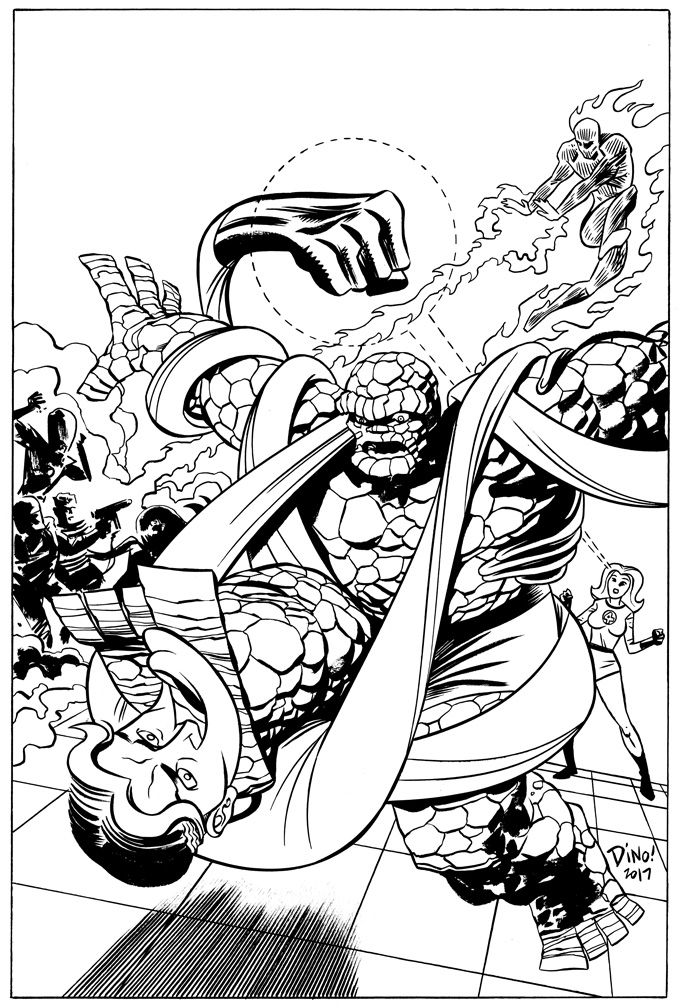 I was honored to be commissioned to draw a cover response for The Fantastic Four #42 for Michael Finn's One Minute Later series. Admittedly, it was a daunting prospect and I came up with a couple of responses, especially after re-reading the comic book, but something about The Thing being entangled by Mister Fantastic got my goat and I ran with it. I had a tougher time figuring out the background, as Jack Kirby gave little space to the concurrent melee between The Invisible Girl, The Human Torch and The Frightful Four, but I think I'm happy with what I decided on, including the fact that Sue Storm is trying to stop her husband Reed Richards from punching Ben Grimm in the back of his head!

Here is the cover I was responding to, The Fantastic Four #42: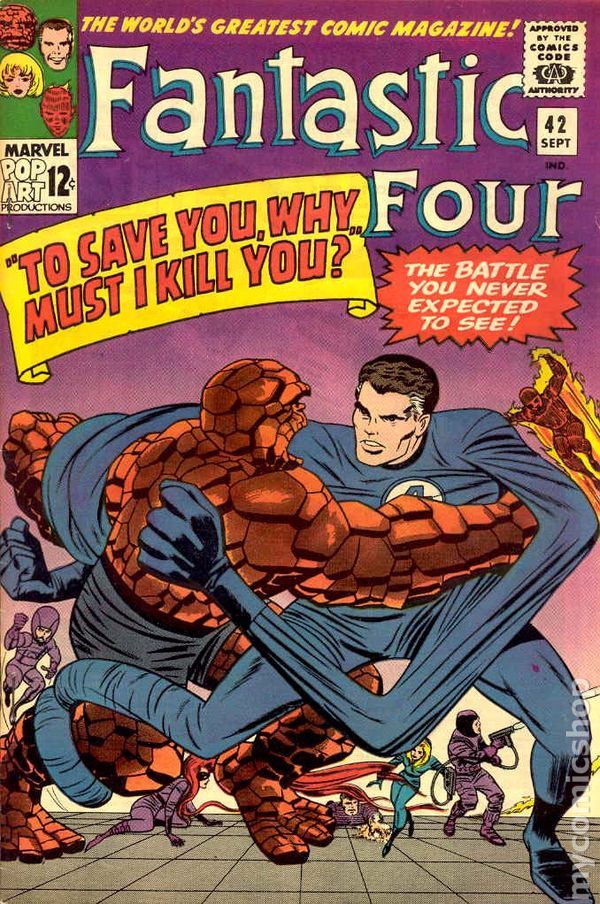 Here is a link to Michael Finn's One Minute Later commissions which is an awesome gallery of top artists meeting the challenge with some of comics' most famous covers: http://www.comicartfans.com/gallerydetail.asp?gcat=9834

I truly hope Michael publishes his incredible collection, someday.

Enjoy!
Tuesday, June 27th, 2017
---
12:47 pm
- The Thing: Artbook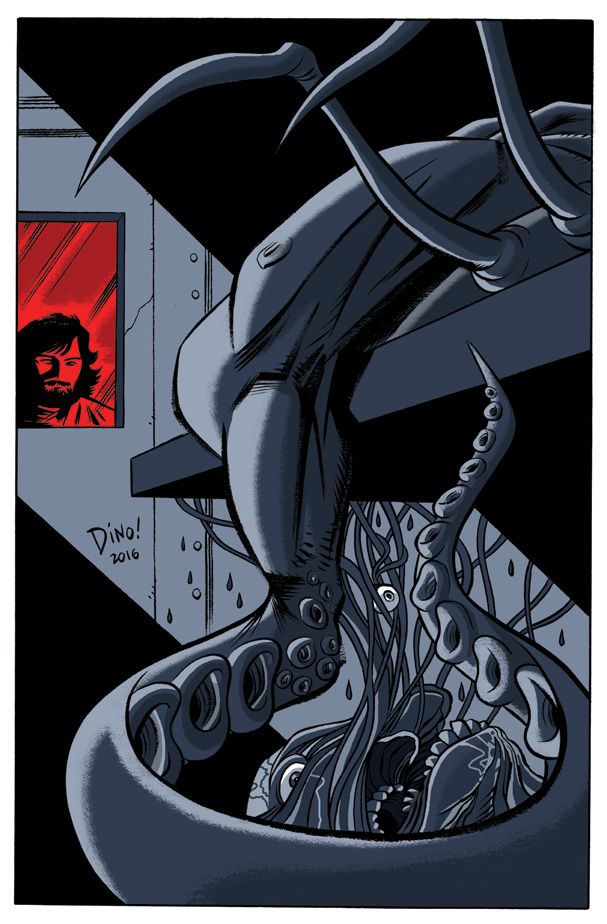 After sharing a high-five and hug from Steven Hoveke last year at New York Comicon 2016, he told me about a great project he was co-curating & publishing, an artbook celebrating the 35th anniversary of John Carpenter's THE THING, one of my favorite horror movies. How could I say no?

Sometimes we take on a job that is too close to our heart and it becomes difficult to commit to one idea, one succinct image that represents your feelings; what you love and admire about a piece of work that influences and transcends. So, with that struggle in mind, I put off my illustration until the 11th hour and, when push came to shove, I vomited something primal and reactionary. A Rorschach, as it were, of something imperfect yet representational. A knee-jerk drawing.

My original pitch was silly. I wanted to draw Carpenter's Thing transforming into DC's Swamp Thing transforming into Marvel's Man-Thing and, finally, transforming into Ben Grimm's Thing (from The Fantastic Four). Alas, the publishers would have to grant rights and that would prove too much a hassle.

So, I settled with the above drawing and I hope it honors at a hint of what I cherish about John Carpenter's brilliant movie, THE THING.

To learn more about the project and the 400 artists involved, including a way to pre-order, click here:
https://printedinblood.tumblr.com/post/162284090061/for-immediate-release-date-06232017-contact
Wednesday, June 21st, 2017
---
2:58 pm
- The Weeknd / Starboy at Barclay's Center


The fine folks at The Barclay's Center in Brooklyn, NY contacted me a couple of months ago to design and illustrate a comix gift for pop star, The Weeknd, who performed at their venue June 6th & 7th, 2017. I was surprised yet impressed to learn that The Barclay's Center had an office dedicated to furnishing custom-made gifts for some of their headlining acts and was flattered that they would reach out to me. My contacts, Courtney and Alanna, told me that The Weeknd was a comic book fan and they wanted me to come up with something that reflected his new "Starboy" album and persona.

A superhero.

So, I came up with the loose idea of an orphaned galaxy roaming the nether-sphere sans purpose and discovering our planets and putting them on as rings, kinda like a mash-up of Marvel's Eternity and the Infinity Gems, and giving our solar system a place to exist among other cosmic life; a Milky Way. Everyone liked my idea and we devised a mute comic poster that, upon print, would be a 16-inch tall by 45-inch wide poster.

Alas, The Weeknd was too busy rocking out and the fine folks at Barclay's Center never got to personally hand the gift off to him but they said they mailed it to him and I hope he got a kick out of what I made.

We saw The Weeknd perform on June 7th, and it was an energizing event. His loyal fans were half the fun of the show. I also discovered another band, an opening act called Rae Sremmurd, which my girlfriend Jen and I quite enjoyed.

Here is an additional aspect of the Starboy gift, a "cover only" version.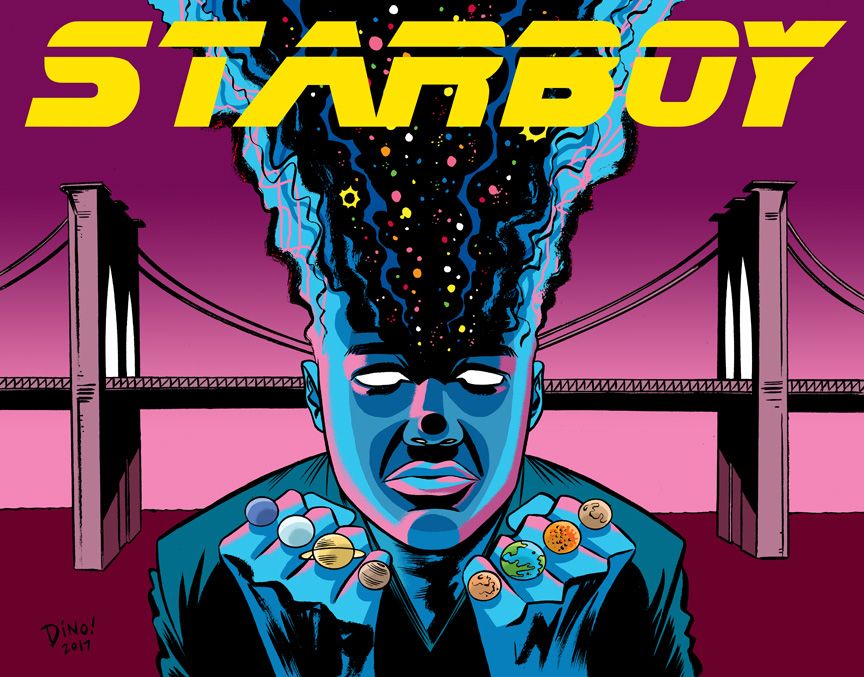 11:08 am
- The Purple Heart: NO MORE GUNS in The NuBKU



Quite proud of this effort. We've been wanting to eradicate all guns in the New Brooklyn Universe for a long while now and today is the day it became official.

NO MORE GUNS.

There are many ways to maim and kill and achieve the soul-shattering horror of violence, but we need to reduce those options and it begins with banishing guns to ashes, as sparked by the power of The Purple Heart's cosmic rap. Chapter 23 is a feather in our creative caps.

Sure, it's fantasy and taking away guns steps on certain rights but the New Brooklyn Universe explores meaningful alternatives, like making art to barter for food and services, and other communal solutions by contrasting and questioning old ways with new ideas.

Please check out what Vito Delsante, Ricardo Venancio, me, and Tom Akel have been doing at LINE WEBTOON -- for free!

http://www.webtoons.com/en/super-hero/the-purple-heart/ch-23/viewer?title_no=723&episode_no=23
Monday, June 19th, 2017
---
10:55 am
- Chaykin Divides
Howard Chaykin picks up the baton from what he started in American Flagg!, only that baton is now a chainsaw oiled with aloe vera as he eviscerates and rebuilds what he hates and loves about America in his new comic book series, THE DIVIDED STATES OF HYSTERIA.

And, speaking of division, there's been a lot of negative chatter about the first issue (of six) based on events that takes place at the beginning of the story, but it's not fair to judge 1/6th of an entire tale. You can not like it and decide to not finish the story but I don't believe it's right to suggest censorship, as I've seen advised in social media.

Chaykin has basically stated publicly that he's writing what he's compelled to show and tell despite the audience...despite the reactions (pro or con). Chaykin is a true artist whether anyone likes it or not. Don't like it? Don't buy it.

And, I personally don't fully react to previews and clips of a whole. I either indulge the entire work and react after I've finished it or I don't indulge it at all because it didn't initially speak to me. And, I rarely react to what I like or don't like in pubic. I understand the function of marketing and provocation but it's old hat to me and I usually know better than to knee-jerk react. I often discover that the post-outrage narrative twist is more uniting than dividing when all is said and done -- and that's a good thing.

I try to take the "your opinion of me is none of my business" stance. It's too time consuming and exhausting to parlay online these days. I prefer my work to be my statement, no matter how it's interpreted. I just hope readers of MY work take the time to fully indulge it (pro or con).

EDITED TO ADD thoughts about the cover to issue #4 (7/1/2017):

That cover is meant to disturb and revolt. It's horrible. But, Chaykin's not celebrating and/or advocating lynchings, etc. It's a reflection of current events (I wish I could say its a heightened reflection but, actually, it's not, which is even worse) brandishing a story that needs to be indulged in order to fully criticize. This isn't your standard comic book. Chaykin often pushes the proverbial envelope (and you can like it or not). I can respect not being interested diving into that kind of story. Don't read it/don't buy it -- but -- you can't have a fully formed opinion based on an image that's meant to provoke and push buttons with the intent to pique your interest, ergo, sell the work. Meanwhile, everyone and their mother loves Game Of Thrones which flexes more rapes and beheading's and torture than I've ever seen conveyed in a story before. It took me awhile to "see" the bigger picture as the story unfolds but I quit watching GOT several times before I fully got on board. And, I'm a guy that loves horror films. Bottom line: Chaykin's current comic is meant to piss people off but not because he's a hater. Because what's happening to America is (as is some of our entertainment) FUCKED UP. Dollars to donuts, new kinds of antiheroes will rise from THE DIVIDED STATES OF HYSTERIA. And, if I'm wrong? Fuck me.
Tuesday, May 30th, 2017
---
12:59 pm
- Dean Haspiel at Wizard World Philadelphia 2017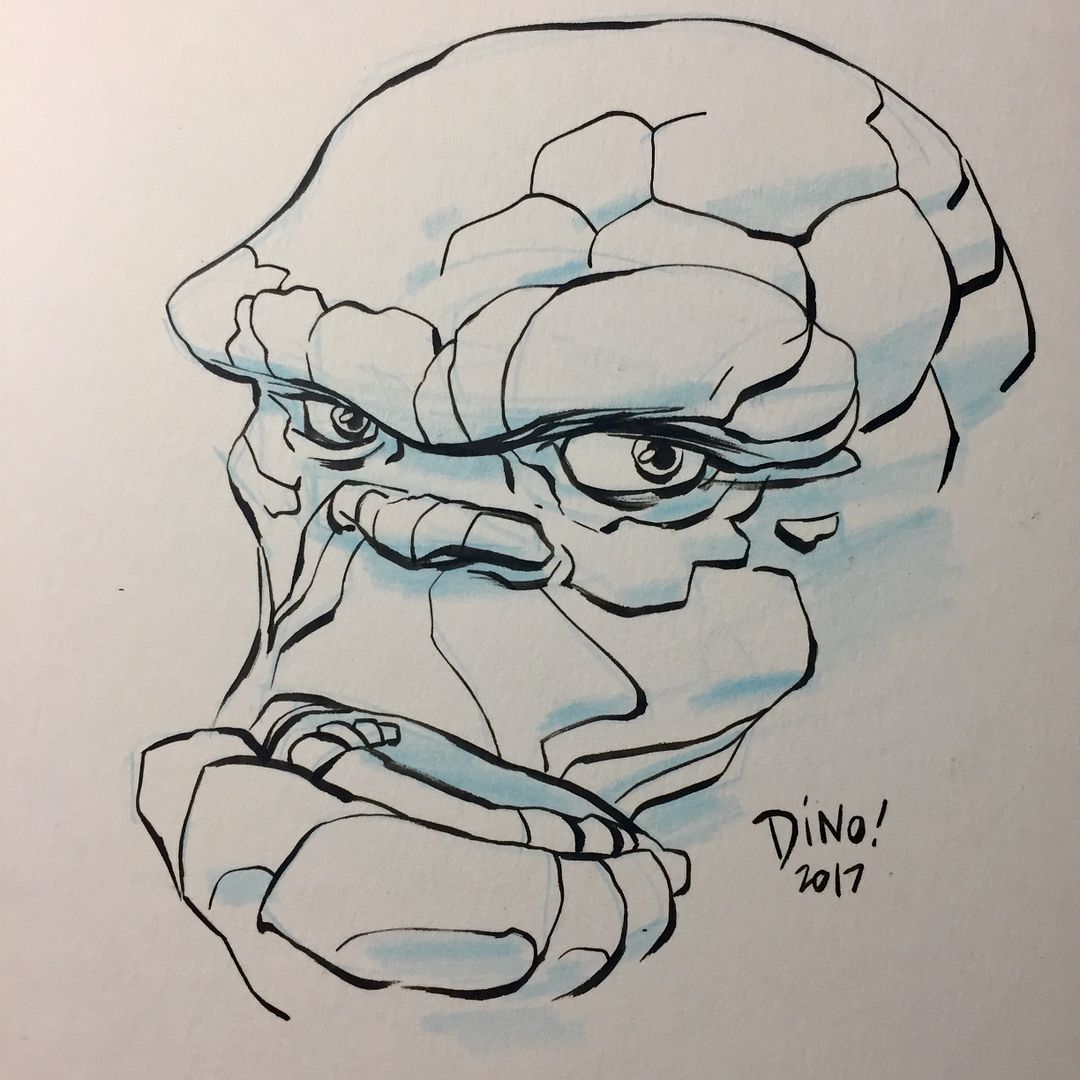 I am a guest at Wizard World Philadelphia, June 1-4, 2017. I will have some stuff for sale. Ask me about my webcomic series, THE RED HOOK, and my upcoming sequel, WAR CRY, published for free at LINE Webtoons http://www.webtoons.com/en/super-hero/the-red-hook/list?title_no=643

I'm available for commissions and will also be doing six panels throughout the weekend (see info below).

Click here for Wizard World Philadelphia info: http://wizardworld.com/comiccon/philadelphia

PANELS

THURSDAY JUNE 1

5:30PM - 6:15PM Room 103AB X-MEN PSYCHOLOGY: THE EXCELSIOR FACTOR with Dr. Travis Langley (Captain America vs. Iron Man; Batman and Psychology), Danny Fingeroth (Dazzler; Superman on the Couch), Dean Haspiel (New Mutants; X-Men Unlimited), and Philip McNulty (Marvel's X-Men)

FRIDAY JUNE 2

2:00 - 2:45PM 107AB: INDY COMICS CREATORS POWER HOUR with 30 DAYS OF NIGHT'S BEN TEMPLESMITH, BILLY DOGMA'S DEAN HASPIEL, SPIDER-MAN NOIR'S FABRICE SAPOLSKY, LOCUST MOON PUBLISHING'S JOSH O'NEIL & SHALOMAN'S AL WIESNER (ROOM 107AB)

3:30 - 4:15 PM CREATE-A-COMICS-STORY with IRON MAN'S JOE CARAMGNA, THE RED HOOK'S DEAN HASPIEL, X-MEN'S MOSTAFA MOUSSA & SPIDER-MAN'S DANNY FINGEROTH (CREATIVE STAGE)

SATURDAY JUNE 3

1:00 - 1:45PM WHO'S THE MOST NEUROTIC SUPERHERO? INSIDE THE MINDS OF BATMAN, SPIDER-MAN, CAPTAIN AMERICA, JESSICA JONES AND MORE with BATMAN AND PSYCHOLOGY'S DR. TRAVIS LANGLEY, BILLY DOGMA'S DEAN HASPIEL. WONDER WOMAN'S AMY CHU, WONDER WOMAN PSYCHOLOGY'S LYNN ZUBERNIS & SPIDER-MAN'S DANNY FINGEROTH (ROOM 107AB)

6:00 - 6:45PM SECRETS OF VISUAL STORYTELLING: TOP ARTISTS DRAW COMICS with THE RED HOOK'S DEAN HASPIEL, SPIDER-MAN'S MIKE McKONE & DR. WHO'S SIMON FRASER (CREATIVE STAGE)

SUNDAY JUNE 4

1:00 - 1:45PM 107AB WORDS INTO PICTURES: HOW TO WRITE COMICS with WONDER WOMAN'S AMY CHU, SPIDER-MAN NOIR'S FABRICE SAPOLSKY, THE RED HOOK'S DEAN HASPIEL & DARKHAWK'S DANNY FINGEROTH (ROOM 107AB)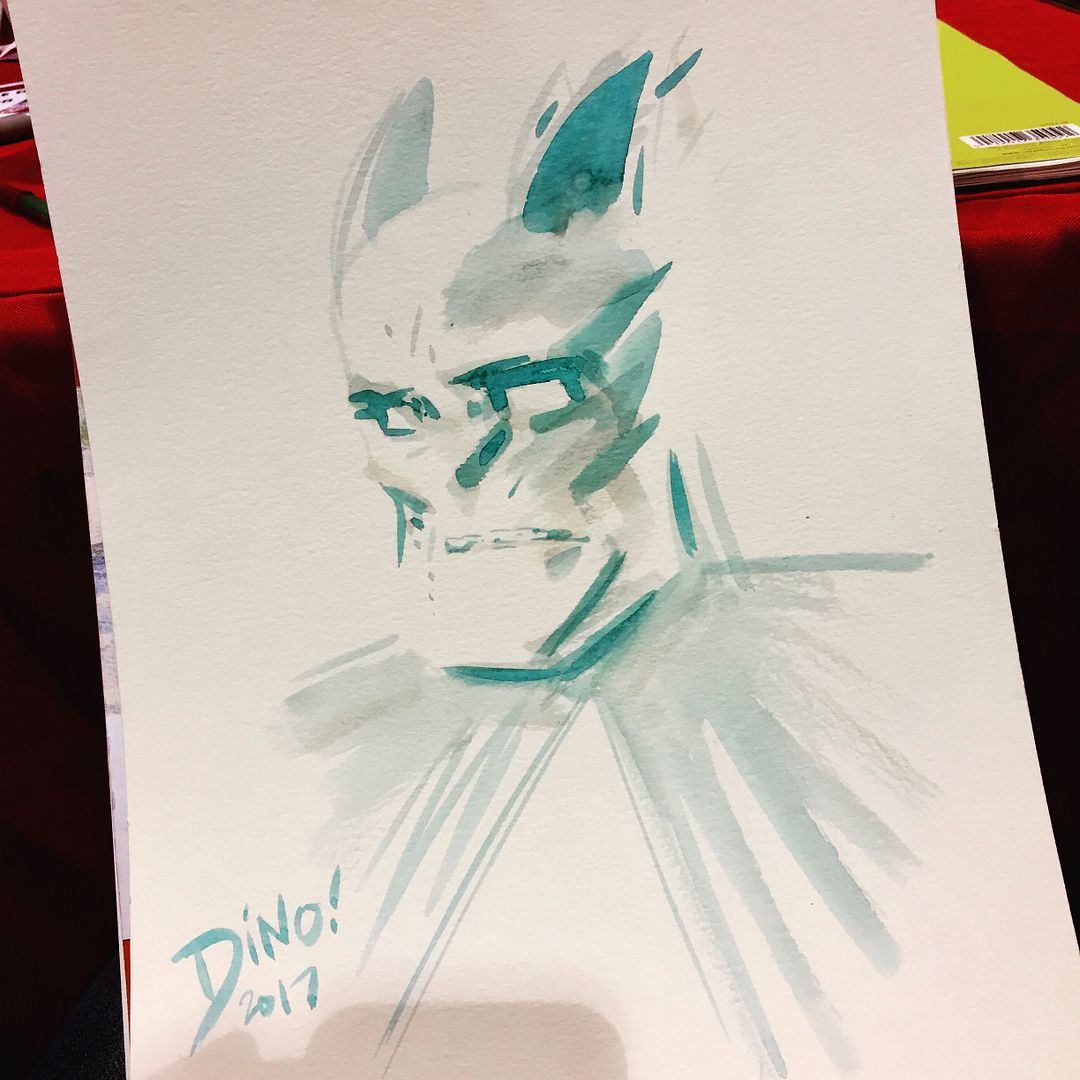 Friday, May 5th, 2017
---
11:09 am
- This Is Comics (A Panel A Day) reviews "Frankenstein Unrequited"
Excerpt:

"Dean Haspiel does a great 10 pages of Universal monsters recast in some sort of silent action movie, where the Bride becomes a superspy invading the generic horror movie castle with a handful of weapons, and even less clothing, facing each of the creatures in turn until she can rescue their captive, like a role-reversed James Bond girl. The art is great- clear, kinetic storytelling which clearly tells all without any need for words, and all the monsters look great- progressing at a perfect pace for its chosen genre."

Read the entire review here: https://thisiscomics.tumblr.com/search/Haspiel
Tuesday, May 2nd, 2017
---
10:17 am
- The Red Hook action figure
Friday, April 28th, 2017
---
11:34 am
- Seth Kushner's The Brooklynite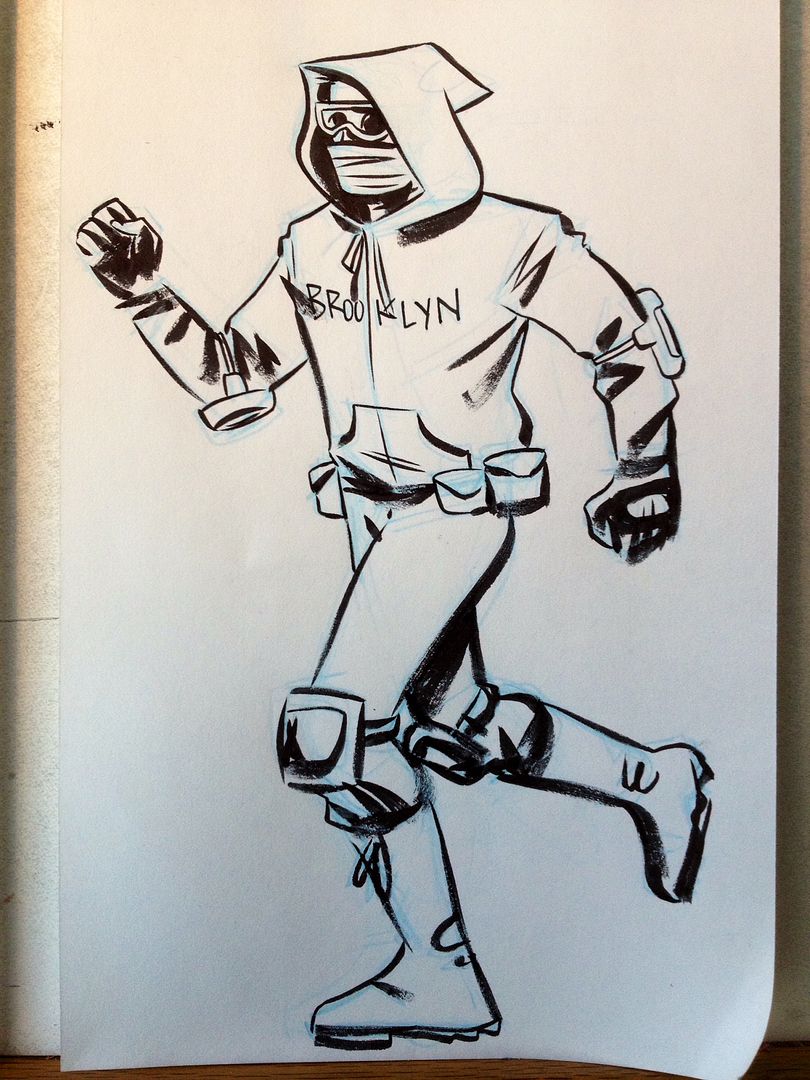 THE BROOKLYNITE is a webcomic co-creation that my pal/former studio mate, the late Seth Kushner never got to see fully realized. If you haven't had the chance to indulge it, please do. It was made easy and free to read on your smart phone and/or magic tablet via LINE Webtoon.

http://www.webtoons.com/en/super-hero/the-brooklynite/list?title_no=813

Start with chapter one (of 26): http://www.webtoons.com/en/super-hero/the-brooklynite/ch1-intro/viewer?title_no=813&episode_no=1

And, don't be shy to share it. Our art is a testament of life and Seth's posthumous superhero speaks to his love for comic books.

Of course, none of this could have happened without Tom Akel, Shamus Beyale, Terra Kushner, Jason Goungor, Komikaki Studio featuring Tiew Keng Boon, Frank Reynoso and the LINE Webtoon crew.

I hope Jackson got a kick out of this.

Above and below are two never-before-seen sketches that were my initial ideas for The Brooklynite when, after a few false starts with other artists, Seth finally settled on collaborating with artist/co-creator Shamus Beyale, who came up with the final design for the character.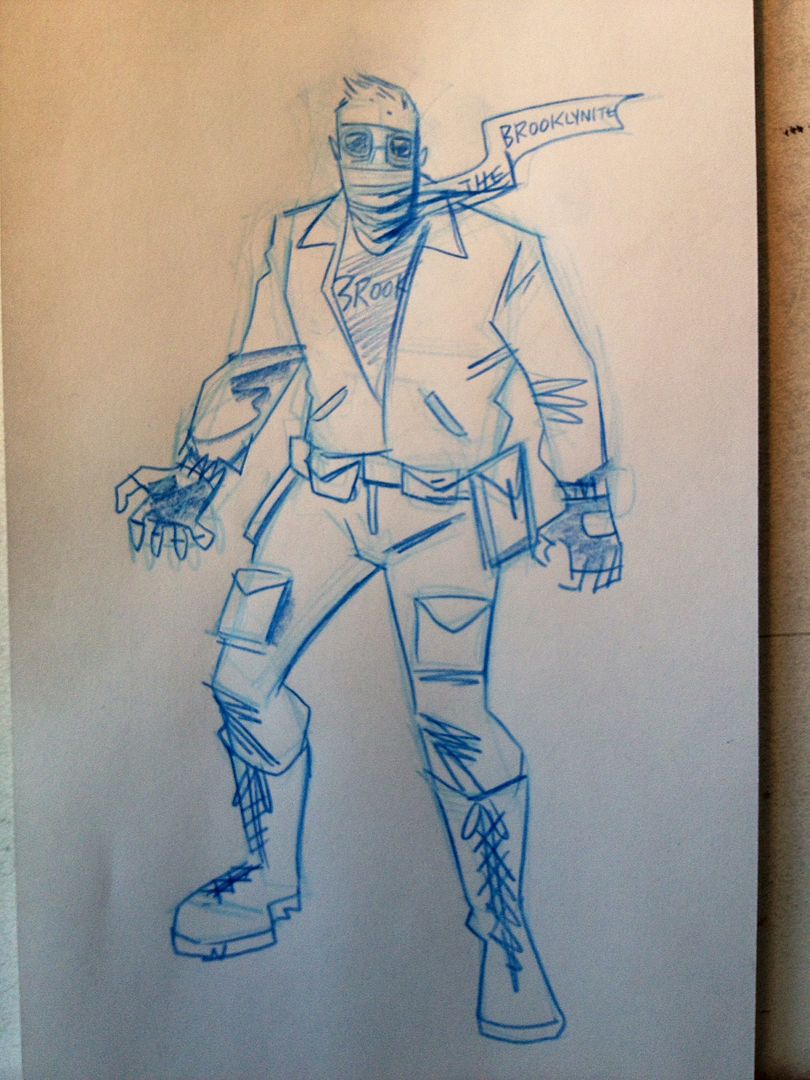 Here is Jason Goungor's art for The Brooklynite finale: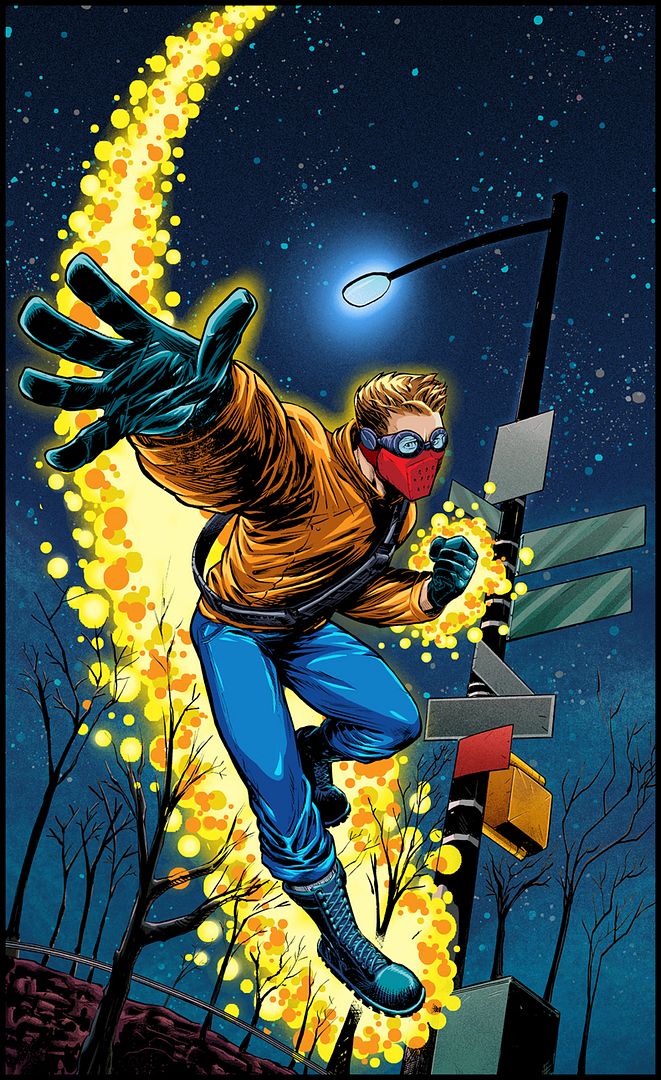 Thursday, April 27th, 2017
---
3:51 pm
- The Politics of Partnership with Mark Waid, Amy Reeder, Brandon Montclare & Dean Haspiel
I was part of a panel: The Politics of Partnership with Mark Waid, Amy Reeder, and Brandon Montclare, moderated by Russell Nohelty at C3, the Comics Creators Conference at The Long Beach Expo in early 2017.

Listen here: http://thebusinessofart.us/c3partnership/
Monday, April 24th, 2017
---
2:17 pm
- a million dollar idea
I saw a guy wearing a t-shirt that said "meh" and I almost punched him the face so he could FEEL something.

I'm altruistic like that.

Then, upon talking to my studio mates about it, we came up with a million dollar idea: a t-shirt that says "Let's Go Meh" using the NY Mets font.

A million. dollar. idea.
Friday, April 21st, 2017
---
1:54 pm
- Comics Manifest Podcast #100: Dean Haspiel
"Don't Be Afraid To Show Up To Your Own Party With Dean Haspiel" a Comics Manifest podcast interview with Aaron Williams.

Another inspiring thing I said (off the cuff): "Sometimes you have to leave your work in order to find it."

http://comicsmanifest.com/deanhaspiel/
Tuesday, April 11th, 2017
---
6:42 pm
- Walter Simonson's RAGNAROK commission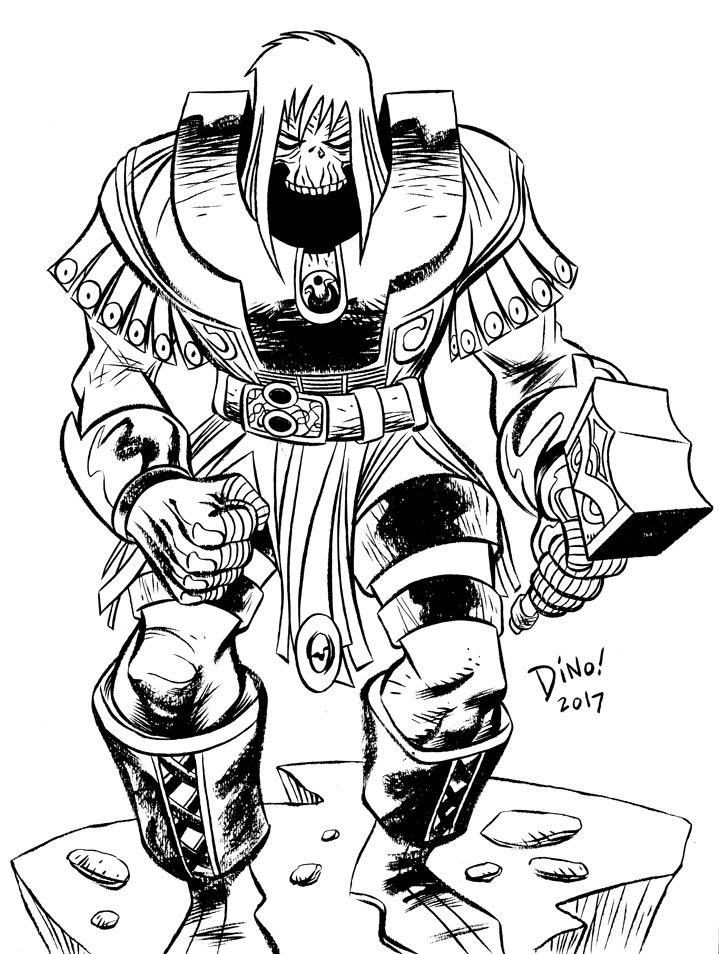 I was commissioned to draw Walter Simonson's RAGNAROK, a comic book published by IDW.
Thursday, April 6th, 2017
---
1:49 pm
- Dean Haspiel guests at Camden Comicon 2017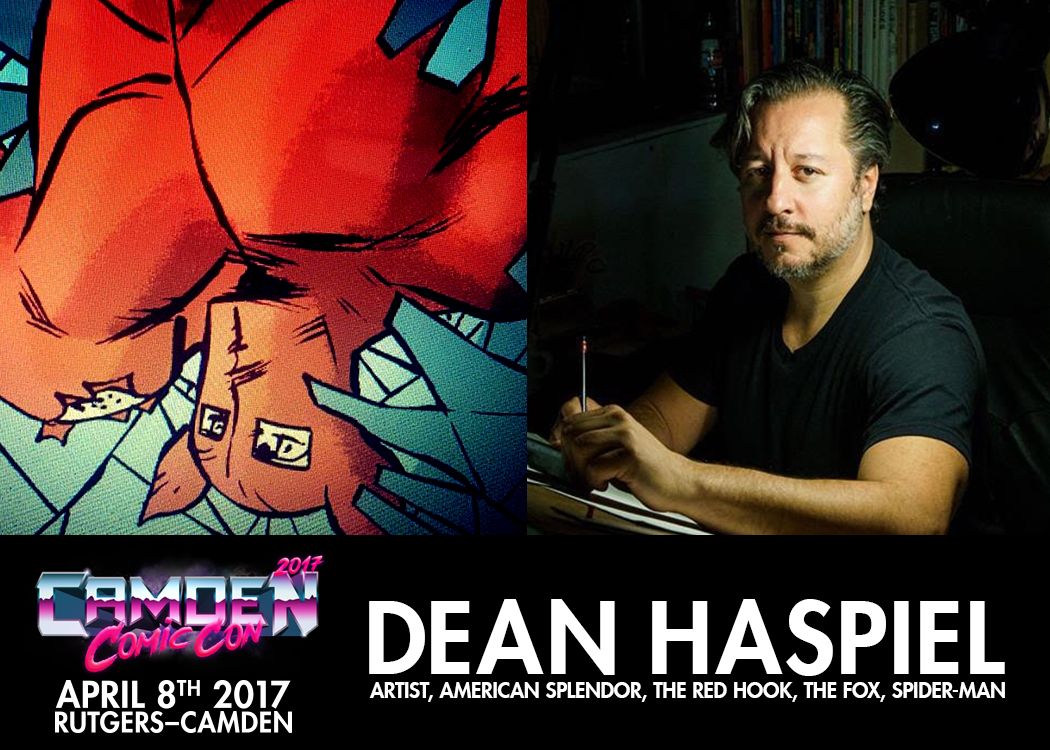 I will be a guest at Camden Comicon this Saturday, April 8, 2017. Please come see me and pick up my latest effort, BECAUSE OF YOU, an exquisite corpse comic book I did with Josh Neufeld. I'll have other comix for sale and I'm available for sketch commissions. I'm also doing a panel.

4:00 PM - 5:00 PM / Share Your Story with Amy Chu, Larry Hama, Dean Haspiel & Fred Van Lente, moderated by Robert Repici.
Join these incredible professionals, and learn about their individual journeys into the world of comics. They may even have some words of wisdom for those seeking to break in!

For more info: http://camdencomiccon.com/
Sunday, March 26th, 2017
---
10:59 pm
- BECAUSE OF YOU: Dean Haspiel makes an exquisite corpse at MoCCA 2017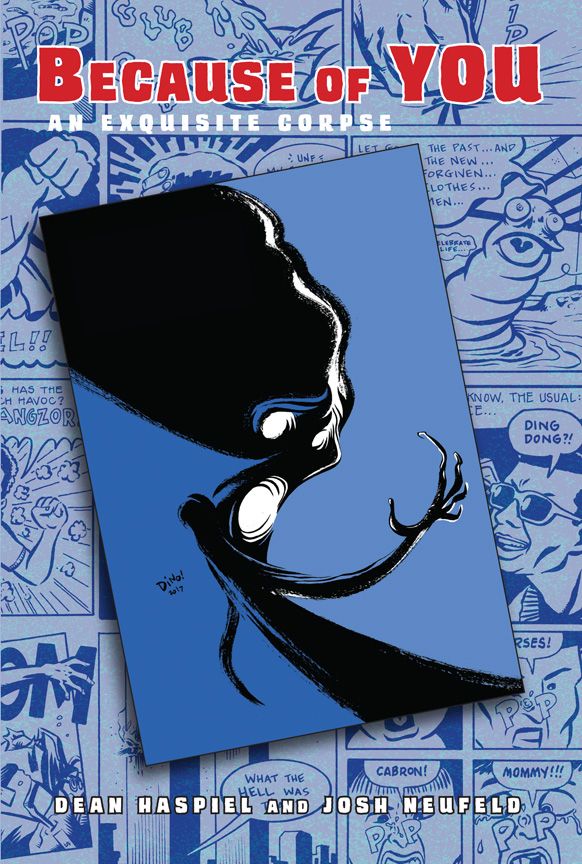 Come see cartoonists Christa Cassano, Dean Haspiel, and Josh Neufeld at MoCCA Arts Festival this April 1st & 2nd (Sat & Sun), 2017 from 11am – 6pm, located at Metropolitan West on West 46th street in Manhattan. They will be tabling at A103B and debuting two exciting comix exploring the exquisite corpse theme done in the tradition of Zap Comix and The Narrative Corpse. Who needs to take off their shirt or be awarded a festival prize when these three artists have stripped their sensibilities down to their most raw and subconscious core, baring their souls and making primal connections between the panels!?!

BECAUSE OF YOU by Dean Haspiel & Josh Neufeld
Created over a three-year period beginning in the summer of 2001, BECAUSE OF YOU is an unscripted, impromptu, dynamic dialogue between Dean Haspiel and Josh Neufeld, a unique two-man exquisite corpse that plumbs unparalleled depths of agony and personal humiliation. The protagonist, "Lionel," wakes up one morning to an unpleasant surprise. From that point on he faces domestic crises, public transportation, the New York City streets, and his own hyperactive imagination — all in the course of one infamous ill-fated day.

CADAVRE EXQUIS by Christa Cassano
Eisner nominee and Yaddo fellow, Christa Cassano collaborates with seven other creators collecting various exquisite corpses featuring alien love trysts, existential angst, sex and death.

For more info about the MoCCA Arts Festival venue, exhibitors, panels, etc: https://www.societyillustrators.org/mocca-arts-festival

EDITED TO ADD PIX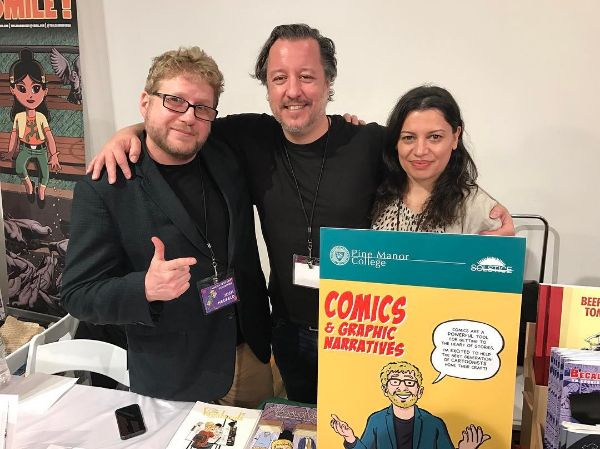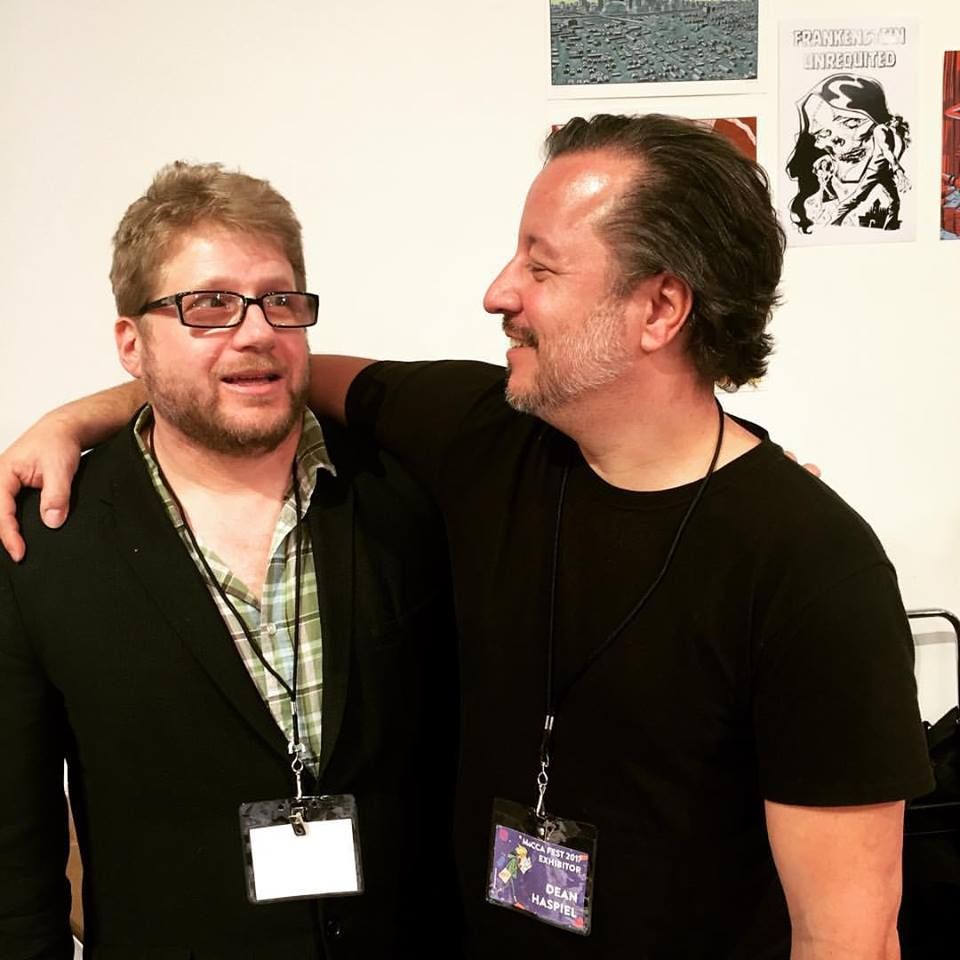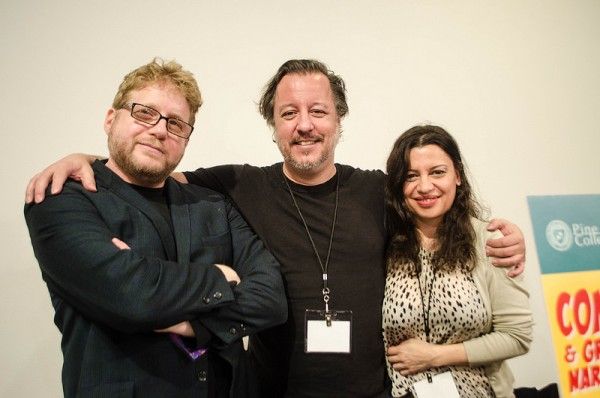 Wednesday, March 15th, 2017
---
12:32 pm
- The Outhousers reviews Dark Horse Presents #29, featuring THE RED HOOK


Reviewed by Tyler Kes at The Outhousers:

THE RED HOOK CHAPTER 1
Story, art, and lettering by Dean Haspiel

The Red Hook started as a feature on Webtoons.com, where the character is part of a shared universe that stands as an ode to Golden Age and Silver Age comics. In that respect, this story is a hit, because it smashes the wacky hijinks of the Silver Age (I mean seriously, Romeo-pathy?) against the two-fisted tales of the Golden Age, then runs them through a modern blender. A lot of stuff happens in these pages, and there's a sort of crackling energy that runs through it. It never really stops to allow the reader a chance to catch their breath, and it reminds me a lot of Casanova, in that it is parodying and playing with genre tropes. It was pretty good. I'd recommend it to someone who likes fun comics and isn't too concerned with all the details.

http://www.theouthousers.com/index.php/reviews/137007-review-dark-horse-presents-29-santas-mixed-bag.html
12:16 pm
- Aim To Dazzle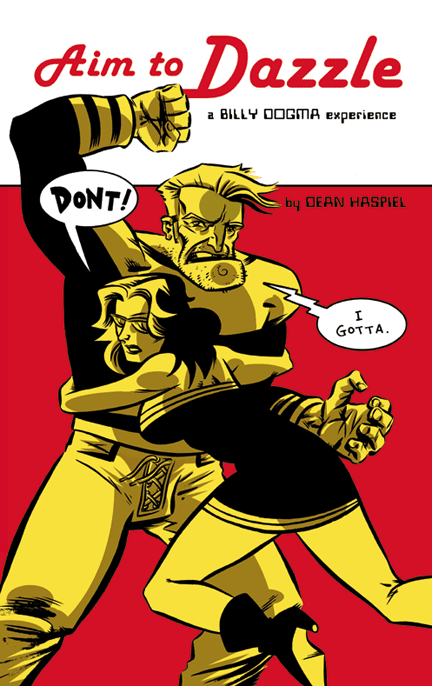 Aim To Dazzle is a comic book one-shot I produced in 2003 featuring Billy Dogma & Jane Legit, published by Alternative Comics.

14 years later, the cover art got some love from David Robertson at Broken Frontier. This is what David had to say:

"I like this cover's simplicity – limited colours, just the two figures, no background (apart from the red rage felt by Billy Dogma). It all works to tell a story and introduce the characters. The dialogue; Jane crying out, "Don't!" and Billy's retort, "I gotta" (no explanation mark there, giving it an interesting tone), made me immediately feel a connection to these vital, action-packed, sexy and romantic characters. As soon as I saw the cover I knew I wanted to read about these people. There's a strong Kirby feel. The cover acts like the best comics – hinting at so much more about the situation and people we can see than is there in the three words of dialogue."

Read the entire article here: http://www.brokenfrontier.com/covers-album-david-robertson-jack-kirby-hate-peter-bagge-dean-haspiel-aim-dazzle/
Thursday, March 9th, 2017
---
9:52 pm
- Jack Kirby Collector #72
2:15 am
- "Frankenstein Unrequited" in Heavy Metal #285
1:09 am
- Imaginary Worlds podcast: The Spirit of Will Eisner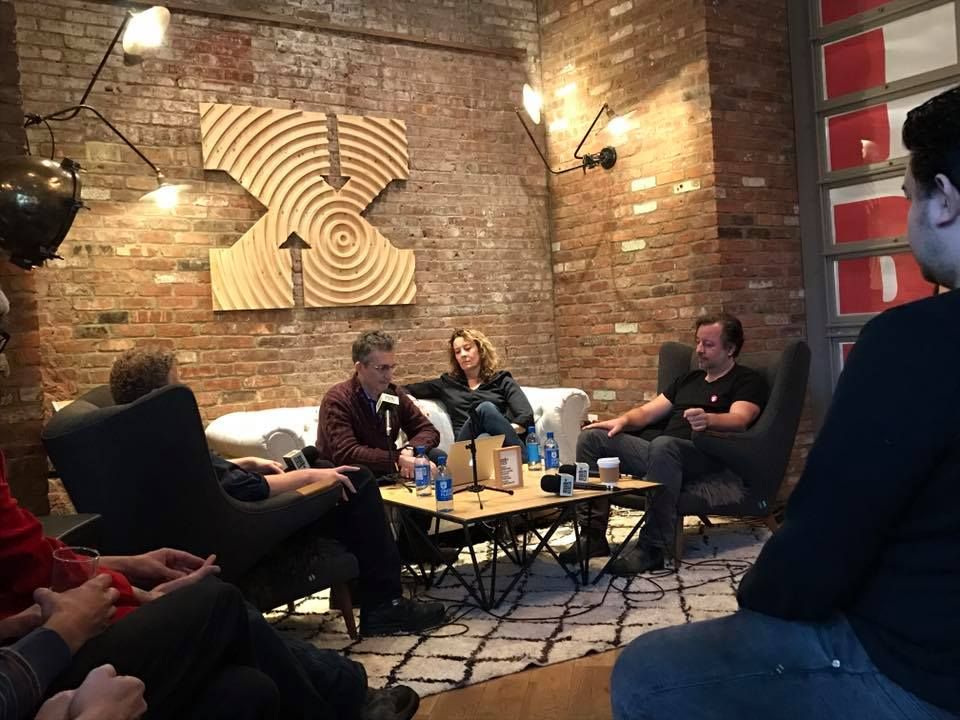 "Imaginary Worlds goes live in this special presentation from the work x work on air festival. In celebration of Will Eisner's centennial, authors Paul Levitz and Bob Andelman, along with comics publisher Denis Kitchen and MAD Magazine's Al Jaffee discuss at how Eisner redefined comics as an art form, and became the "father of the graphic novel." Then comics historian and author Danny Fingeroth, editor Joan Hilty, and artist Dean Haspiel explore Eisner's legacy today in a live panel discussion."

You can listen to the podcast here: https://soundcloud.com/emolinsky/the-spirit-of-will-eisner