Wednesday, October 14th, 2015
---
1:46 pm
- Comics Bastards reviews BEEF WITH TOMATO
Excerpts:

"The stories mostly fall in line with the "so strange they must be true" theme. Dean is our entry point into these strange stories; he's our "every man" in a world that's a bit weird. He has his moments too though, like a friendship with a woman across the street that asks him to film her trimming her private area with a giant pair of scissors. A lot of the stories involve Dean on his bike and that produces a range of tales. From stolen bikes, to accidents involving car doors, to the police and women's rears. Let's just say a lot happens to Dean on his bike.

The stories themselves are well told. They feel well-worn too. Like Dean just showed up to a party and was asked to tell a new person the one about the bench. You cling to his words and no matter the outcome they're interesting stories. Some of them just capture human moments or insecurities that we all have. Others capture the craziness of New York."

"If you're a fan of Haspiel's then you should definitely pick up Beef With Tomato. It's a wonderful collection of stories that are well told, but even better it's accompanied by Haspiel's talented artwork."

Read the entire review here: http://comicbastards.com/comics/review-beef-with-tomato/
11:19 am
- Gowanus Open Studios 2015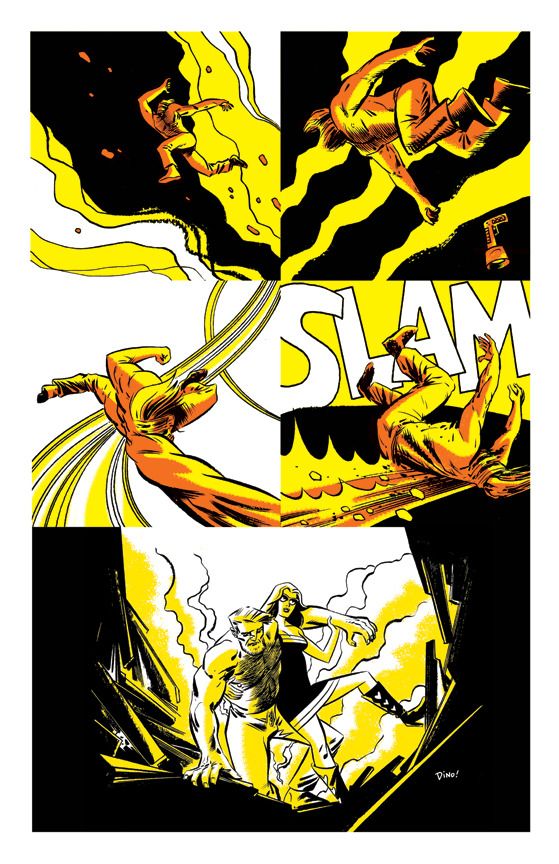 I'm participating in Gowanus Open Studios this weekend from Noon - 6pm, Saturday & Sunday. Despite chronic back pain, I was planning on working anyway. So, I figured I'd keep the Hang Dai Studios door open for people to ogle cartoonists in their natural habitat like a petting zoo. I'll have prints and copies of some of my books for sale, including a brand new Billy Dogma SLAM print. And, I'm available for quick commissions. The warehouse I work in will feature over twenty other artists, including painter Jen Ferguson. Hang Dai is also hosting artist Krista Dragomer.

Hang Dai Studios is located at 112 2nd avenue at the corner of 10th street in Gowanus, Brooklyn. We're on the 2nd floor in Room #30.

GOS: http://artsgowanus.org/gowanus-open-studios-2015

My Artsicle profile: https://www.artsicle.com/Dean-Haspiel

I will also be reading/performing Friday night. Here is the info:

ADDICTED: Music Video Launch & Salon
hosted by Salina Sias & Matt Mailer
Friday, October 16, 7pm
Halyards, 406 3rd Ave, Brooklyn, New York 11215

https://www.facebook.com/events/965264453546907/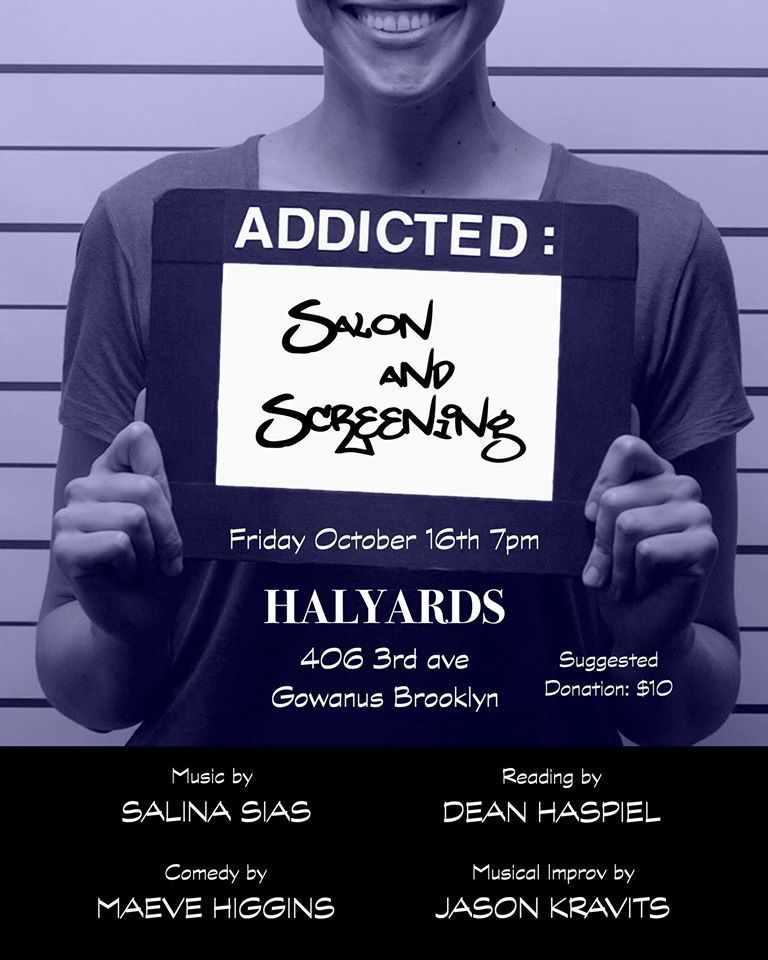 Tuesday, October 13th, 2015
---
1:07 pm
- The Robot's Voice: The 15 Coolest Comic, TV and Video Game Things From New York Comic Con 2015
"Dean Haspiel, most recently of Dark Circle's The Fox (which is a ton of fun) is bringing his latest project to LINE Webtoon. I talked to him for a few minutes about it, and I'm 100% on board: it's building off of a story he and his former studiomate, Seth Kushner, who passed away in the spring following a fight with leukemia, had developed about a cosmically powered Brooklyn seceding from America in disgust and imbuing three individual Brooklynites with super powers: Haspiel's The Red Hook, a gifted thief forced by the Omni-Fist of Altruism to become a hero (or the fist kills him); Kushner and Shamus Beyale's The Brooklynite, a character who gains Superman-level powers but can't quite manage the dual lifestyle of being a hero; and Vito Delsante and Ricardo Venâncio's The Purple Heart, a disillusioned former soldier who just wants to be left alone, who is chosen to be the cosmic protector of Brooklyn. Haspiel described them basically as Batman, Spider-Man and the Silver Surfer.

The world sounds fascinating, and Haspiel, writing and drawing Red Hook and the architect of the New Brooklyn Universe, is one of the best in the business. Seriously, go check out The Fox. He's also really excited for the project, and I'm looking forward to seeing how it translates from a normal comic pitch to LINE Webtoon. He said he has had to modify his work somewhat – when you read a comic on LINE, it drags down, which boxes a creator in a little bit. Haspiel mentioned he had to dial back his propensity for doing inset panels because of the change in the reading experience. I'm psyched to see not just what sounds and looks like good comics, but how he and the New Brooklyn Universe team adjust to the new format and make it work for them. I'm a little disappointed that the newly independent Brooklyn didn't also take Staten Island with her, but I can move past that."

http://www.therobotsvoice.com/2015/10/the-15-coolest-jessica-jones-transformers-lumberjanes-street-fighter-v-new-york-comic-con-2015.php
Monday, October 12th, 2015
---
10:45 pm
- Robots From Tomorrow – Episode 234: Baltimore Comic Con, Part 2, featuring Dean Haspiel
Sunday, October 11th, 2015
---
11:43 pm
- Fast Company: A NEW MUSEUM EXHIBIT REVEALS NEW YORK'S ROLE IN SHAPING SUPERMAN AND BATMAN
9:21 pm
- Bleeding Cool: NYCC '15: Is LINE Webtoon Really "The Future Of Comics?"
"Dean Haspiel is a veteran webcomic artist. His webtoon New Brooklyn is a superhero story in the spirit of "What if Jack Kirby and Alex Toth got together?" The impetus of Haspiel's story were the white flags on the Brooklyn Bridge last year, and thus New Brooklyn is a story about Brooklyn being a sentient being that creates superheroes and villains. It is very much an outlet for Haspiel's tech fatigue and malaise "What if Brooklyn has gotten fed up with the world and technology?"

http://www.bleedingcool.com/2015/10/10/nycc-15-is-line-webtoon-really-the-future-of-comics/
Saturday, October 10th, 2015
---
1:43 am
- Bleeding Cool: NYCC '15: Howard Chaykin On Black Hood And More From The Dark Circle Panel
"Dean Haspiel took a chance to thank the fans for supporting The Fox. He said his run on the book was the longest run he's had on one character. The family dynamic that was a theme in the book was something he really liked. At the end he talked about a pitch he has to come back to the book at some point. Dean did not go too much in detail but said it was very dark and compared to the Dark Knight Returns. If given the chance he would call it The Dark Fox."

http://www.bleedingcool.com/2015/10/09/nycc-howard-chaykin-on-black-hood-and-more-from-the-dark-circle-panel/
Tuesday, October 6th, 2015
---
5:01 pm
- Fanboys, Inc: BALTIMORE COMIC-CON: Flying High With Hang Dai – Panel Recap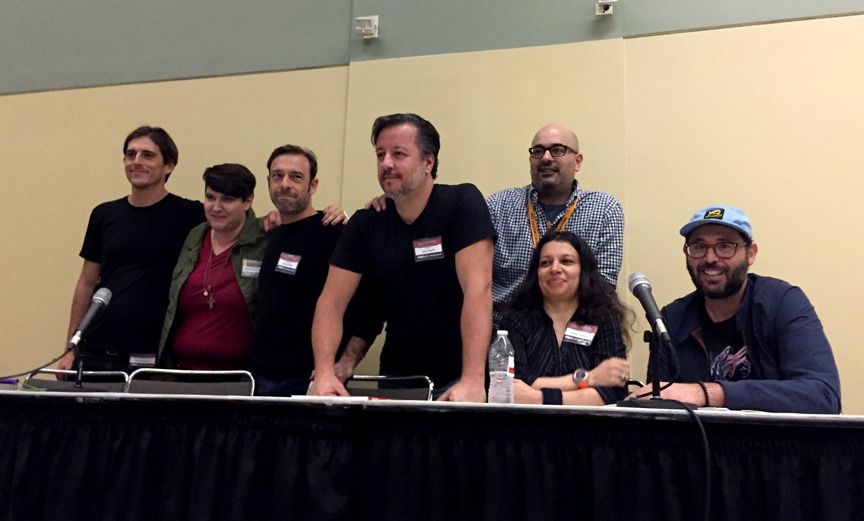 Jeff Ayers wrote a great report about our Hang Dai Studios panel during Baltimore Comic-con 2015 at Fanboys, Inc.

Here is an excerpt:

"The final "performance" piece was from Dean Haspiel, as he read from his new auto-bio book, Beef With Tomato. This book is a window into Haspiel's true being and nature, as it pertains to the city he resides in and resembles. It is as much a love letter to New York City and Brooklyn as it is a "heart on the sleeve" type edict from the one person qualified to put the words and imagery on the page. Haspiel has been giving himself to many different projects as of late, including The Fox with Mark Waid, but this piece is the one that really flexes all his creative muscles. Hearing him read one of the stories, "Buyer Beware", gave more life to the page than one might think it could contain. Hassle's booming and confident voice added the spice the character of himself needed, and his penchant from acute observation was front and center in this short tale of a lover's quarrel."

Read the entire article here: http://fanboysinc.com/baltimore-comic-con-flying-high-with-hang-dai-panel-recap/#sthash.dSzCRfpa.UyFLAFIt.dpbs
Monday, October 5th, 2015
---
9:31 pm
- Dean Haspiel at NYCC 2015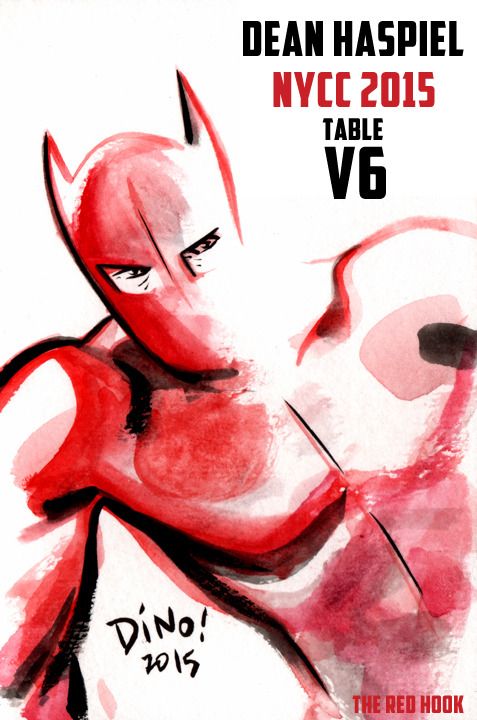 I will be tabling in Artist's Alley at New York Comic-con 2015 with high school chum/cartoonist, Josh Neufeld (author of A.D. New Orleans After The Deluge, The Vagabonds, and other comix). We will be at table #V6, and I will be selling & signing copies of my new graphic novel memoir, BEEF WITH TOMATO, as well as, some copies of my Billy Dogma magazine, HEART-SHAPED HOLE. I'll be selling other comix, including the Wizard World variant cover I did for THE WALKING DEAD, and I'll have two show exclusives: 11x17 prints of "The Walking Deadpool," and a brand new/poster-sized Billy Dogma experience called "Asscape." I will be available for commissions, too. Check below for comix events and panels I'll be involved in.

Please note that Hang Dai Studios mates, Joe Infurnari and Gregory Benton will also be in Artist's Alley, right across from us at Table U15.

NYCC 2015: http://www.newyorkcomiccon.com/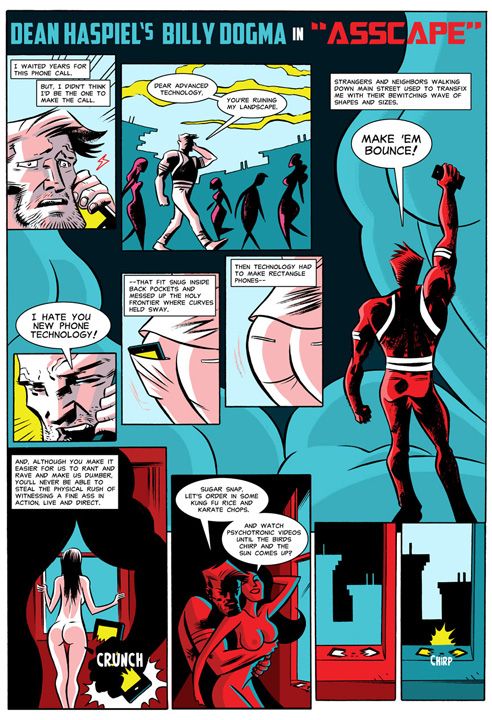 Thursday, October 8 / 7:30pm - 10:30pm
Rockbar NYC
185 Christopher St, New York, New York 10014
Rock N' Comix
Big-name comics creators like Charles Soule and Dean Haspiel read along to their comics (for all to see on the big screen) while alt-rock bands Run by the Gun and Americans UK provide a booming, epic score. Grab a drink and enjoy this multisensory comics experience that goes far beyond the page.
https://www.facebook.com/events/1618043061782648/1633143740272580/
http://www.timeout.com/newyork/things-to-do/rock-n-comix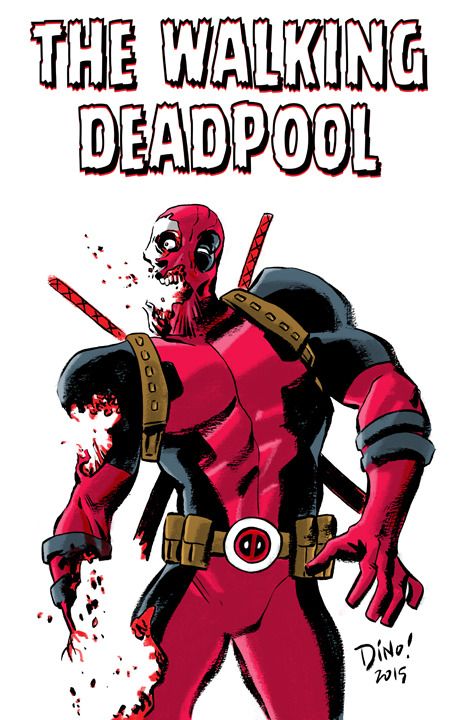 NYCC Panels:

Thursday, October 8
Dark Circle Comics
2:45 p.m. – 3:45 p.m. in Room 1A18
Discover comics' most ambitious new imprint as Alex Segura (editor of Dark Circle Comics), Mike Pellerito (president of Archie Comics), Roberto Aguirre-Sacasa (chief creative officer), Chuck Wendig (co-writer, The Shield), and Frank Tieri (writer, The Hangman) expand the groundbreaking universe of titles coming from Dark Circle Comics with exclusive news and reveals! Find out why The Black Hood, The Shield, The Hangman, and The Web will be your new favorite comics!

Saturday, October 10
LINE Webtoon - Comics For Everyone!
4:00 PM - 5:00 PM | Room 1A21
LINE Webtoon is the global leader in digital comics publishing with over 30 billion issues of comics read. Join LINE Webtoon Head of Content Tom Akel to discuss how to develop, publish and monetize your comic, as well as the unique features of LINE Webtoon's technology and their Fall line-up/upcoming titles with Matt Hawkins (Cyber Force), Dean Haspiel (New Brooklyn), Rob Feldman (Cyko KO) and Stephen McCraine (Space Boy).

Sunday, October 11
The Comix Life of Seth Kushner 11:00 AM - 12:00 PM | Room 1B03
After fighting a brave battle with cancer, the comix community lost photographer and writer, Seth Kushner. In his short time making comix, he left behind such wonderful and ground-breaking works as The Brooklynites, Leaping Tall Buildings: The Origins of American Comics, CulturePOP, and the recently published Schmuck ~ the graphic novel. In October of 2015, a street in Brooklyn was renamed in his honor. Help us continue honoring the his spirit with memories & stories from his collaborators & studio mates: Dean Haspiel, Gregory Benton, moderator Hannah-Means Shannon and surprise guests. Learn how Seth Kushner went from schmuck to mensch to superhero.
2:13 pm
- The New Brooklyn Universe & The Red Hook by Dean Haspiel & Co.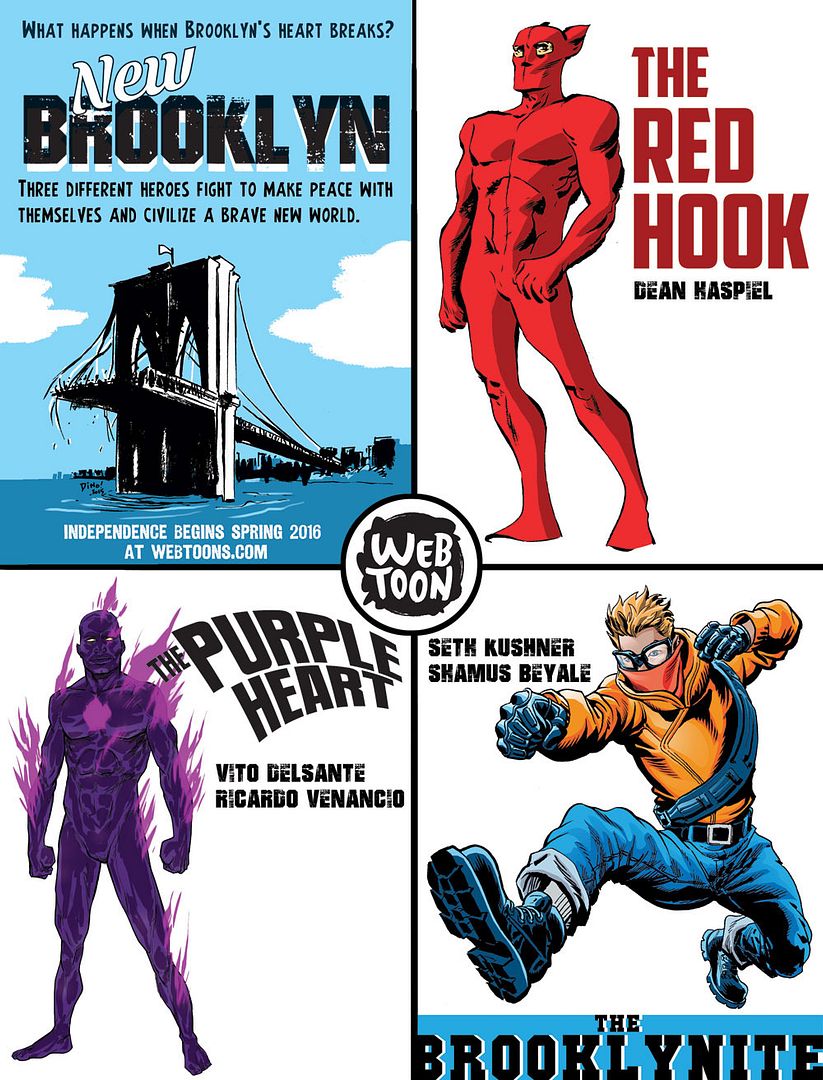 Here is the official press release for the new project I'm working on featuring New Brooklyn and The Red Hook. Including The Brooklynite by the late Seth Kushner & Shamus Beyale, and The Purple Heart by Vito Delsante & Ricardo Venancio.

LINE WEBTOON UNVEILS NEW SERIES DEVOTED TO BROOKLYN SUPERHEROES -- "NEW BROOKLYN"

From the Minds of Dean Haspiel, Seth Kushner, and Vito Delsante New Brooklyn Follows the Adventures of Three Heroes - The Red Hook, The Brooklynite, and The Purple Heart - Who Emerge in the Fallout Following Brooklyn's Secession from NY

LOS ANGELES, October XX, 2015 – LINE Webtoon, the popular digital comic service pioneering the distribution and consumption of comics worldwide announced today the first three titles to debut as part of a brand new comic universe, New Brooklyn. Launching its first title, The Red Hook, in March 2016, New Brooklyn is the first comic universe to truly encapsulate the borough's spirit with comics starring Brooklyn as their centerpieces and created by Brooklyn writers and artists. New Brooklyn is the creation of notable comic artist Dean Haspiel, along with his Brooklyn studio-mates Vito Delsante, Ricardo Venâncio, the late Seth Kushner, and Shamus Beyale.

The series follows the adventures of a unique group of heroes who emerge in the fallout from Brooklyn's decision to secede from New York State. In these comics, Brooklyn is not just the setting, but also a character with a broken heart whose decisions greatly impact the destinies of its residents. Fed up with the way society has formed around her, Brooklyn quite literally pulls away from New York – its bridges breaking and tunnels flooding – and proposes that humanity return back to days of old where things and people were defined by their ethics, values and contributions; where skills and art could be bartered and traded; where land could be farmed to sustain life and spawn beauty.

Season one of New Brooklyn follows three different heroes struggling to make peace with themselves and reconcile their redefined home in the New Brooklyn Universe:

The Red Hook by Dean Haspiel
Brooklyn's master thief, Sam Brosia aka The Red Hook, can no longer lie, cheat, or steal when America's greatest champion bequeaths him the powers and moral burden of the Omni-Fist of Altruism– against his will!

The Brooklynite by Seth Kushner & Shamus Beyale
Brooklyn cartoonist, Jake Jeffries gets caught in the fallout of two super-humans battling and is accidentally irradiated with superpowers. Fraught with "Superman powers and Spider-Man problems," Jake learns to fight crime in his secret identity as The Brooklynite, and chronicles his adventures in a comic book series while struggling to lead a dual existence.

The Purple Heart by Vito Delsante, Dean Haspiel, & Ricardo Venâncio
US Navy soldier, Isaiah "Zeke" Nelson has returned from war overseas. He is done fighting and all he wants is to go home to Brooklyn. But Brooklyn has other plans when her heart is broken and she secedes from America and selects Zeke to become New Brooklyn's cosmic guardian, The Purple Heart.

The creative team is a who's who in comics. Haspiel is an Eisner nominee and Emmy award winning comic book artist best known for his work with Harvey Pekar on American Splendor. He is well known as an early innovator in the world of digital comics and is cofounder of webcomics collective ACT-I-VATE.

Seth Kushner is an award winning Brooklyn-born photographer and comic artist known for his works Schmuck and First-Person POP. Kushner passed away earlier this year following a long battle with cancer and The Brooklynite is to be his last published superhero work, created in partnership with artist Shamus Beyale. Together with their colleagues, Haspiel and Kushner banded together to create a new universe for Brooklyn's heroes, by Brooklyn creators.

"As a native New Yorker, I've always loved the idea of creating a comic universe that captures the history and culture that is unique to Brooklyn," says Dean Haspiel, the architect of New Brooklyn and the creator of The Red Hook and co-creator of The Purple Heart. "I'm very proud of the story we have been able to weave through our individual heroes and we are excited to launch New Brooklyn on LINE Webtoon."

"Brooklyn is a major part of the current pop culture zeitgeist, but there is not yet a comic series out there that truly represents the borough and the people who live there," said JunKoo Kim, Founder and Head of LINE Webtoon. "We are looking forward to bringing the unique and colorful alternate reality of New Brooklyn that Dean Haspiel and his fellow artists have created to life on LINE Webtoon."

Already a huge success for more than 10 years in Korea, LINE Webtoon launched in the U.S. in 2014, and is rapidly expanding with the onboarding of new artists, partners, expansion of ways to interact with the content, and much more.

In support of this announcement, Dean Haspiel will be a panelist on LINE Webtoon's "The Future of Comics" panel at New York Comic Con on Saturday, October 10th at 4pm in room 1A21.

Fans can dive into the New Brooklyn universe beginning March 2016 by visiting http://www.webtoons.com. To download the official LINE Webtoon app, visit the Apple App Store and Google Play.

About LINE Webtoon:
LINE Webtoon is a popular digital comic service available on smartphones, tablets and web browsers, launched by NAVER, Korea's top search portal. Pioneering distribution and consumption of digital comics worldwide, LINE Webtoon is taking the comic experience to the next level by providing readers with daily curated content from around the globe, and giving creators an intuitive platform designed to help them easily publish and publicize their own original content.

http://www.webtoons.com

ABOUT NAVER:
NAVER Corporation is Korea's premier Internet company, operating the nation's top search portal 'NAVER.' NAVER was launched in June 1999 and has since stood at the forefront of the growth of Korea's search service. NAVER has introduced many innovative search services over the years, such as 'Comprehensive Search,' 'Knowledge iN,' and 'Real-time Rising Keyword.' In addition, since releasing the 'NAVER' application, NAVER has launched applications for a wide variety of services. NAVER offers innovative mobile services for the global market, including the mobile messenger LINE through LINE Corporation, NAVER's subsidiary. NAVER launched the Webtoon service in June 2004 in Korea and has pioneered distribution and consumption of webtoons, also known as digital comics. The service receives more than 6 million hits per day from unique visitors and has accumulated more than 30 billion chapters of comics read. NAVER launched the LINE Webtoon service worldwide on July 2, 2014.

http://www.navercorp.com/en


Check out some of these websites that picked up the story:

NY Daily News: http://www.nydailynews.com/new-york/brooklyn/comic-book-artists-bring-brooklyn-alive-superheroes-article-1.2383869

Bleeding Cool: http://www.bleedingcool.com/2015/10/05/a-new-superhero-comic-universe-set-in-a-sentient-brooklyn-from-dean-haspiel-seth-kushner-and-friends/

Newsarama: http://www.newsarama.com/26159-line-webtoons-introduces-new-brooklyn-superhero-universe.html

OurBKSocial: http://ourbksocial.com/brooklyn-gets-superheroes-featured-webtoons/
12:01 pm
- NY Daily News interviews Dean Haspiel about New Brooklyn webcomix-series and The Red Hook.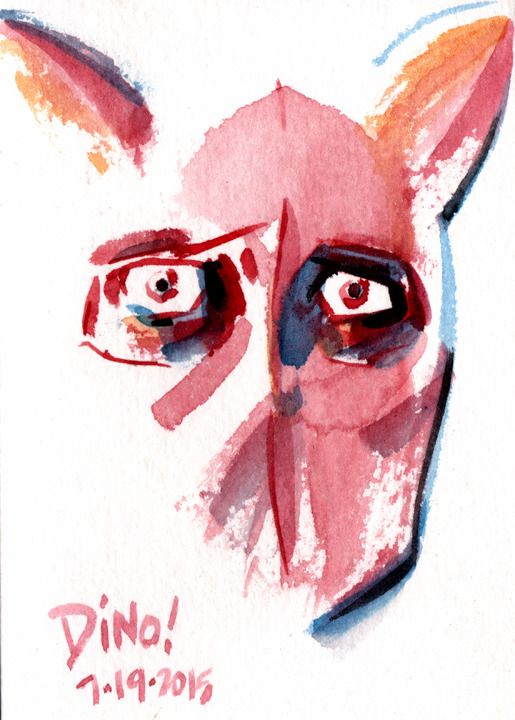 I spoke to the NY Daily News about my upcoming web-series, The Red Hook, and the New Brooklyn Universe, which includes The Brooklynite by Seth Kushner and Shamus Beyale, and The Purple Heart by Vito Delsante and Ricardo Venancio.

Excerpts:

In what is called the New Brooklyn universe, heroes must rise to fight villains in an alternate world where the borough is a sentient entity that separates itself from New York state.

"The idea was what if we incorporated Brooklyn as a character. Not only a character because it's a city, but it actually has a beating heart. And what if Brooklyn's heart got broken and decides to secede the boroughs," Haspiel said.

Brooklyn and its residents as a result of this become self-sustaining. It returns back to a barter system, growing its own food and also giving rise to its own heroes. One of those heroes is Red Hook, created by Haspiel who has lived in Brooklyn for 18 years.

Inspired by the gritty history of the neighborhood with the same name as well as the works of legendary artists Jack Kirby and Alex Toth, the "Red Hook" comic will tell the story of a thief turned reluctant hero when given unexpected powers.

Read the entire article here: http://www.nydailynews.com/new-york/brooklyn/comic-book-artists-bring-brooklyn-alive-superheroes-article-1.2383869
Wednesday, September 30th, 2015
---
2:59 pm
- Fanboys, Inc: BALTIMORE COMIC-CON: Mark Waid Guest of Honor Panel
"Dean had heard of his work in comics, but it wasn't until his run on Fantastic Four that clinched in his mind how important Mark Waid was to comics. Dean really believed that Mark was able to create story that was indicative of the Stan Lee/Jack Kirby era, and he was also intrigued when he would hear that when Mark got mad he would throw books around, which made Dean want to meet him even more, because he felt he was a kindred spirit."

See more at: http://fanboysinc.com/baltimore-comic-con-mark-waid-guest-of-honor-panel/#sthash.gSu1FYgp.dQ7sYQeH.dpuf
1:22 pm
- MyM reviews BEEF WITH TOMATO
British magazine MyM reviewed my graphic novel, BEEF WITH TOMATO.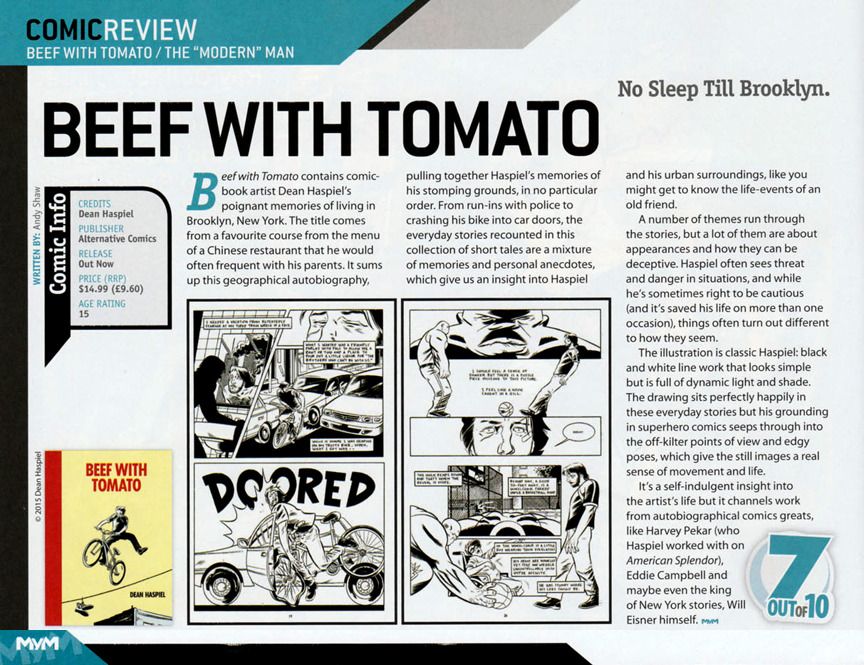 11:16 am
- Charging for signatures
The only time I ever charged for my signature was/is for The Walking Dead variant cover I did for Wizard World Raleigh, which is a signature/celebrity/pop culture show where people PAY for signatures and often flip said signed materials immediately on ebay. I witnessed this MANY times with my Walking Dead variant and it went for as much as $100 on ebay. I was a guest at Wizard World six times this year (they were very good to me) and it's a show that boasts celebrity and signatures where people are willing to pay $250 for a VIP Pass to take a picture and get it signed by William Shatner. Or, pay much more for the same thing to hang with a Dr. Who actor, etc. It's not my money to spend in that way but there is a growing culture that's okay with paying for signed materials. It's almost a silent agreement that a "convention special" or "rare item" be charged more for when signed. And, I don't begrudge any creator from asking, especially these days when a lot of "fans" hardly read or seek out the source materials for the very creation they're dressed up as and/or enjoying iterations of in other, more lucrative mediums. Bottom line: I think there is a big difference between a regular comic book reader (MY bread and butter) and a convention goer (for which I'm learning the ropes). I'm curious to know how many convention goers actually read comix?
Monday, September 28th, 2015
---
10:45 pm
- The Comics Beat: Live blogging the Harvey's 2015
Heidi MacDonald reports about my speech at The Harvey Awards during Baltimore Comic-con 2015:

"Dean Haspiel is up next and no one will take over under on him taking off his shirt. "There's a reason I'm wearing a button up shirt," he says to woots from the crowd. HE teases that he would have done an act to The Time but instead delivers a speech about the late Seth Kushner "Who was a great photographer and a studio mate of ours. he is not alive to see his first graphic novel come out." Dino brings it all around to the family of the Baltimore Comic Con, and how last year a charity auction was held, and Marc Nathan gave a check to Kushner's family. "That's what I wanted to say, 'says dino. "you'll see me naked later whatever, but to me Baltimore Comic Con is family and a room full of beautiful dreamers. Plus my thunder was stolen by Bloodshot and his pecs. ""

http://www.comicsbeat.com/live-blogging-the-harveys-2015/
12:46 pm
- Comic Book Club: Dean Haspiel's Got Beef With Tomato
10:24 am
- Comics Alternative talks to Dean Haspiel at SPX 2015
10:17 am
- Bleeding Cool: Live! From The Harvey Awards 2015 In Baltimore
Hannah Means-Shannon (at Bleeding Cool) wrote about my presentation at the Harvey Awards at Baltimore Comic-con 2015:

"Dean Haspiel spoke about his studio mate Seth Kushner, who passed away this year, and was a photographer who created many portraits of the creators present. Kushner's first graphic novel, Schmuck, has now been released posthumously. He thanked Baltimore Comic Con for their charity auction, held last year, which presented Seth Kushner with a check for $10,000 to help with his medical expenses. "That's what Baltimore Comics is to me", Haspiel said, "family"."

http://www.bleedingcool.com/2015/09/26/live-from-the-harvey-awards-2015-in-baltimore/
Wednesday, September 23rd, 2015
---
2:31 pm
- ComicsDC interviews Dean Haspiel
Excerpts:

What is your training and/or education in cartooning?

The comic book rack on the newsstand at the corner of 79th street and Broadway in NYC was my comix kindergarten. Later on I discovered a steady flow of pop art pulp treasures at West Side Comics, opened a weekly account at Funny Business, and discovered American Splendor and Yummy Fur at Soho Zat. After that, any inklings of pursuing a normal life went out the window when dreams of drawing comix for a living took over and held my sway. I never learned how to draw comix in school because school didn't teach comix. School shunned comix. Comix taught me how to make comix. And, I'm still learning how, one panel at a time.

What do you think will be the future of your field?

Patronized digital comix produced one panel at a time; published one per day, delivered directly to your phone, and story arcs get collected into print (if necessary).

Read the entire interview: http://comicsdc.blogspot.com/2015/09/hang-dai-studios-dean-haspiel.html
2:28 pm
- Graphic Novel Reporter reviews BEEF WITH TOMATO
Excerpts:

"Subtle nods to his muses sprawl naked across the page, like the exhibitionists from "Boy Loves Girl Hair." The art has a familiar, old school feel to it, but not for the sake of noir. It is indicative of the stark shadows of Alex Toth, the manic lines of Will Eisner, and even the grand scenery of Jack Kirby. In fact, Haspiel injects some of Kirby's famous "crackle" in the final panel of "Awful George."

"BEEF WITH TOMATO starts out with a stolen bicycle and a move to Brooklyn, continues with tales of whiskey-fueled nights in a post-9/11 NYC landscape, and ends with an essay about feeling at home wherever you are --- set against the backdrop of a bustling artist community in Upstate New York. Through it all, this strong semi-autobiographical work does what any book, regardless of premise or plot, should achieve: It asks the reader to identify. Haspiel expertly portrays a sense of self-inspection and a love for the world around us through his prose and his drawings, without ever losing a sense of wonder."

Read the entire review here: http://www.graphicnovelreporter.com/reviews/beef-with-tomato