Wednesday, March 15th, 2017
---
12:16 pm
- Aim To Dazzle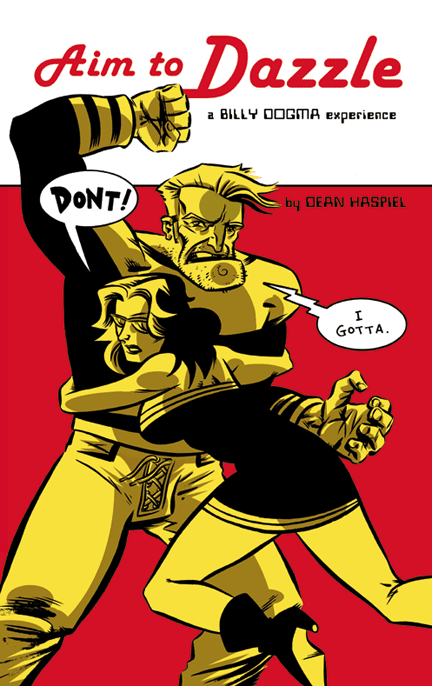 Aim To Dazzle is a comic book one-shot I produced in 2003 featuring Billy Dogma & Jane Legit, published by Alternative Comics.

14 years later, the cover art got some love from David Robertson at Broken Frontier. This is what David had to say:

"I like this cover's simplicity – limited colours, just the two figures, no background (apart from the red rage felt by Billy Dogma). It all works to tell a story and introduce the characters. The dialogue; Jane crying out, "Don't!" and Billy's retort, "I gotta" (no explanation mark there, giving it an interesting tone), made me immediately feel a connection to these vital, action-packed, sexy and romantic characters. As soon as I saw the cover I knew I wanted to read about these people. There's a strong Kirby feel. The cover acts like the best comics – hinting at so much more about the situation and people we can see than is there in the three words of dialogue."

Read the entire article here: http://www.brokenfrontier.com/covers-album-david-robertson-jack-kirby-hate-peter-bagge-dean-haspiel-aim-dazzle/
Thursday, March 9th, 2017
---
9:52 pm
- Jack Kirby Collector #72
2:15 am
- "Frankenstein Unrequited" in Heavy Metal #285
1:09 am
- Imaginary Worlds podcast: The Spirit of Will Eisner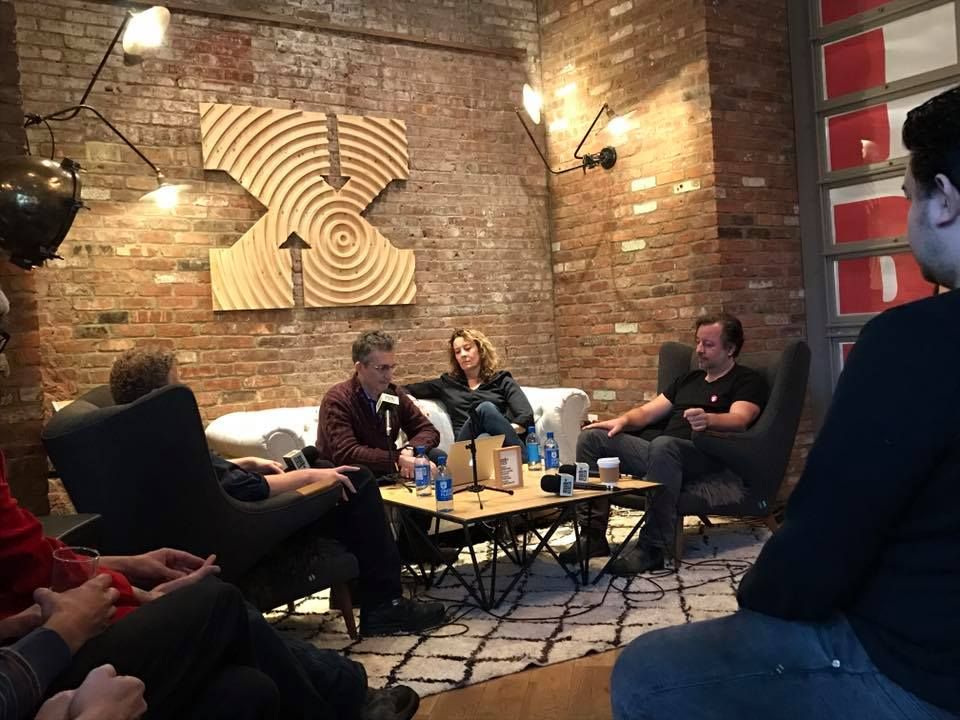 "Imaginary Worlds goes live in this special presentation from the work x work on air festival. In celebration of Will Eisner's centennial, authors Paul Levitz and Bob Andelman, along with comics publisher Denis Kitchen and MAD Magazine's Al Jaffee discuss at how Eisner redefined comics as an art form, and became the "father of the graphic novel." Then comics historian and author Danny Fingeroth, editor Joan Hilty, and artist Dean Haspiel explore Eisner's legacy today in a live panel discussion."

You can listen to the podcast here: https://soundcloud.com/emolinsky/the-spirit-of-will-eisner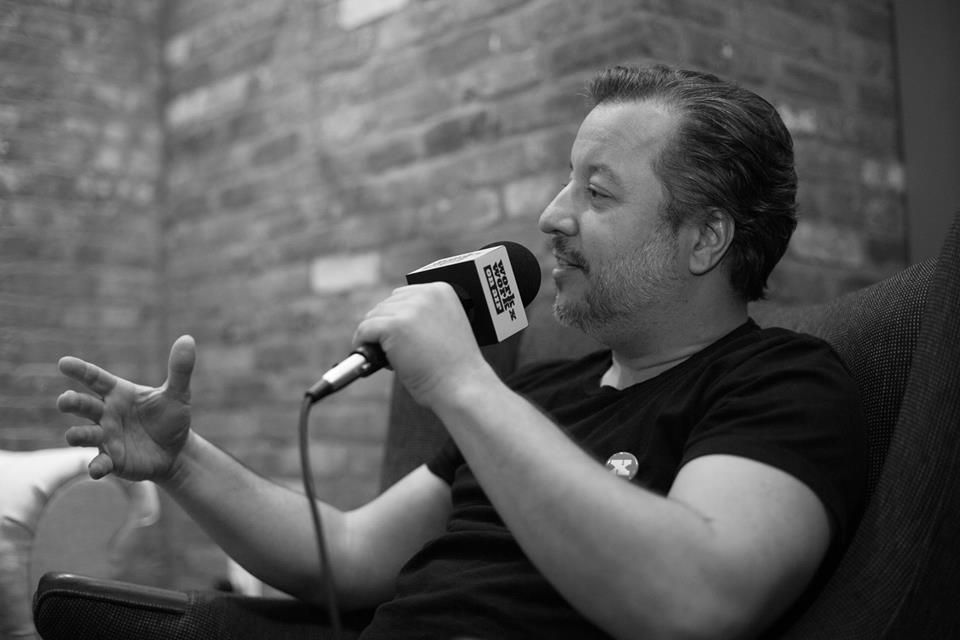 Wednesday, February 15th, 2017
---
12:10 pm
- Dean Haspiel guests at C3 & Long Beach Comics Expo
On February 17th, I will be a guest at Comic Creator Con (C3) and doing a panel.

Friday 2/17, 6:00pm, Room S1
Politics of Partnership
Dean Haspiel, Amy Reeder, Mark Waid & Russell Nohelty
Working with a creative team on an independent title or through a major publisher can come with questions of ownership and percentages. Mark Waid, Dean Haspiel and Amy Reeder discuss how to navigate these waters and negotiate the best deal for all parties involved. Moderated by Russell Nohelty, host of the Business of Art podcast

http://comiccreatorcon.com/index.php

February 18th - 19th, I will be a guest at Long Beach Comics Expo and doing a panel.

Sunday 2/19, 12:30pm, Rumble Room S7
"Write For Your Life"
Mark Waid, DJ Kirkbride, David Gallaher, & Dean Haspiel. Moderated by Heidi MacDonald.
If you've ever wanted to write comics for a living, this panel is a can't miss opportunity. Writing powerhouses Mark Waid, Dean Haspiel, D.J. Kirkbride and David Gallaher have been doing it for years and are here to tell you how they accomplished it! Questions can be asked! Answers will be given! Moderated by The Comic Beat's Heidi MacDonald.

http://longbeachcomicexpo.com/
Tuesday, February 14th, 2017
---
11:44 am
- The Red Hook in "Emotional Ebola" - part 3 - in Dark Horse Presents #31
Thursday, February 9th, 2017
---
11:48 am
- WxW On Air - Will Eisner discussion for Imaginary Worlds podcast
Joan Hilty, Danny Fingeroth and I discuss Will Eisner with Eric Molinsky for his Imaginary Worlds podcast at The Wythe Hotel in Brooklyn during the Work x Work On Air festival @4pm Sunday, Feb 12th, 2017.

4:00PM - 5:00PM
IMAGINARY WORLDS
WILL EISNER LIKED TO SAY HE WAS THERE AT THE BIRTH OF COMICS, AND HE'S OFTEN CALLED THE FATHER OF THE GRAPHIC NOVEL. IN HONOR OF EISNER'S CENTENNIAL, IMAGINARY WORLDS HOST ERIC MOLINSKY LOOKS AT HOW THE CREATOR OF "THE SPIRIT" AND "CONTRACT WITH GOD" SHAPED COMICS TODAY. FEATURING PANELISTS DANNY FINGEROTH FMR EDITOR AT MARVEL COMICS, JOAN HILTY COMICS EDITOR AT NICKELODEON AND COMIC ARTIST, DEAN HASPIEL.

http://wxwonair.com/
http://www.imaginaryworldspodcast.org/

You can listen to our talk here: https://soundcloud.com/emolinsky/the-spirit-of-will-eisner
Monday, February 6th, 2017
---
10:11 pm
- Dean Haspiel on The Troika of Terror podcast
Thursday, February 2nd, 2017
---
5:38 pm
- THE RESISTANCE COMEDY; Fundraiser for the ACLU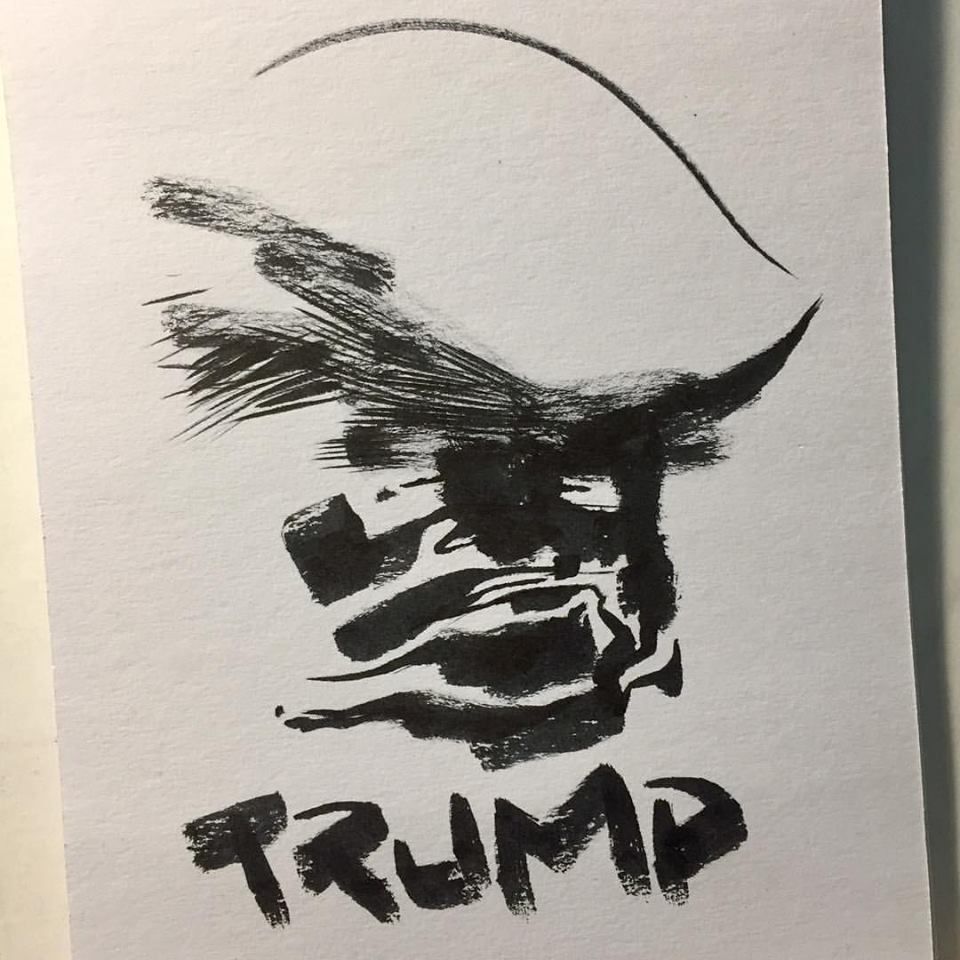 Fundraiser for the ACLU
THE RESISTANCE COMEDY HOSTED BY BENARI POULTEN AND ROJO PEREZ
Dean Haspiel, Emily Galati, Mike Brown, Carolyn Castiglia, Benari Poulten, Rojo Perez

Resist. Laugh. Resist. Comedy to benefit our common good, with alternating hosts and comics. Proceeds will be donated to the charity/NGO/non-profit of their choosing.

Sat, February 4, 2017
Doors: 7:30 pm / Show: 8:00 pm

Union Hall - Brooklyn, NY
$8 Advance / $10 Day of Show

http://www.unionhallny.com/event/1425251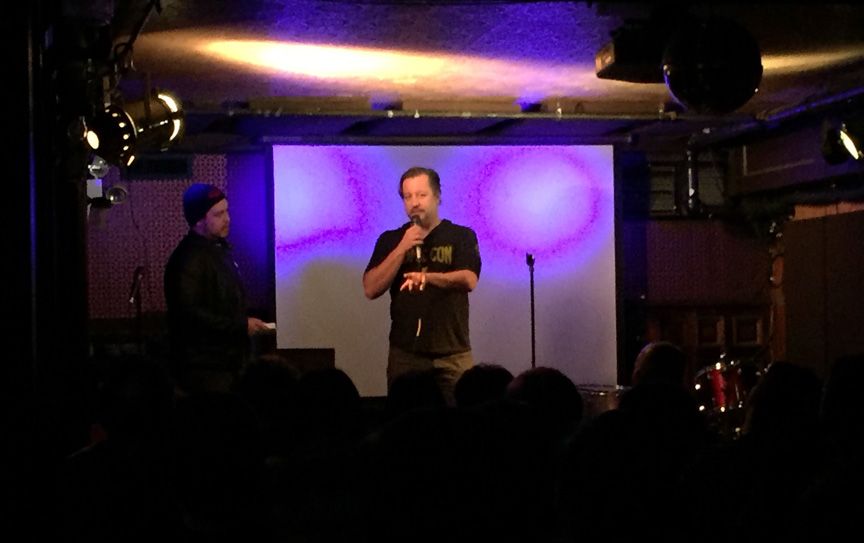 (Jason Goungor and I, along with Britney, an audience member I recruited, read the first two chapters of THE RED HOOK ~ season one, and helped raise $700 for the ACLU)
5:31 pm
- Protect Planned Parenthood!
Sunday, January 29th, 2017
---
11:43 am
- The Year of the Cock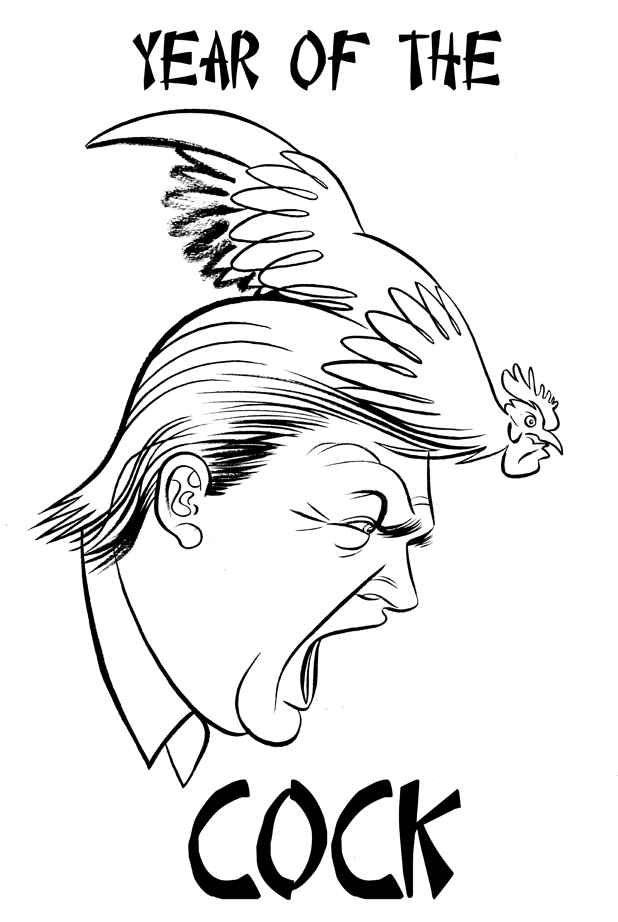 I promised myself I wouldn't draw the current President of the United States because I despise him. As an artist and writer who often reacts to real life in my work, it's nearly impossible to NOT artistically react to POTUS. Still, I think it's better for my heart and soul to ignore the megalomaniac narcissist. They hate it when you ignore them. But, you can't ignore your "commander in chief." Especially, when you find yourself marching and protesting all the awful decisions he makes.

So, when I was approached by two friends (aka Right2the1st) who concocted an idea for a t-shirt that needed illustrating, I initially said "No!" because (see above). However, an important part of being an artist and a citizen of the United States of America is freedom of expression. And, since the t-shirt had already been designed and just needed my finessing, I agreed to do it and here we are.




The first image (posted above) was my misinterpretation of said concept where, what I drew, was too literal. I still like it and I hope Right2the1st makes that version available. Meanwhile, you can get the original t-shirt concept (the second image posted above) here: https://www.etsy.com/listing/508274141/chinese-new-year-t-shirt?ref=shop_home_active_1
Saturday, January 28th, 2017
---
12:22 pm
- Different lines for different minds
I know this sounds impossible to achieve but I recently told a peer that I wish I could draw as fast as you read the art. In my comix work, I yield towards "less is more" but ya gotta know what exactly to convey or it falls apart. Composition and character design is key. Anyway, I prefer the minimal drawing model where story supersedes the drawings. Where image becomes text.

Some artists love to draw the nitty gritty and lots of fans/readers love to immerse in detail. I get lost in the ornate so I prefer simple, albeit clever, storytelling solutions for narrative clarity.
Wednesday, January 25th, 2017
---
10:27 am
- The Red Hook nominated for Bleeding Cool Reader's Awards
Tuesday, January 17th, 2017
---
12:23 am
- Optical Sloth reviews BEEF WITH TOMATO
Excerpt:

"The kind of life he's led shines through in every story, as he's constantly depicting himself with various bandages and scars from incidents that rarely even make it onto the page. The man is a seriously talented writer and he's one of the best artists working today, so if you're like me and have somehow made it this far without buying one of his books, this is the perfect chance to fix that mistake."

Read the entire review here: http://www.opticalsloth.com/?p=24518
Saturday, January 14th, 2017
---
11:18 am
- The Red Hook in "Emotional Ebola" - part 2 - in Dark Horse Presents #30
Tuesday, January 10th, 2017
---
1:37 am
- Comix Q&A from an Indian girl in Grade 10
Right before the end of 2016, I was contacted by a girl from India in Grade 10 who wanted to interview me for her school exam. I was juggling deadlines and holidays and didn't have the time to answer her questions in depth.

1) What piqued your interest in drawing comics?

Reading comics was a way for me to escape and immerse in other worlds, yet, it made me want to draw and write them, too. The medium sells itself. Especially during a time before movies, TV, and video games could do some of the things that only comics could do.

2) How do you come up with your character designs?

I'm inspired by truth and entertainment and my favorite artists and authors. Every good character should exploit its origin but be versatile for expansion.

3) What does it take to make a well developed plot?

A story that involves characters you care about immediately while dramatically exploring what they want and the obstacles that get in their way. And, at the end of the story, what did the characters learn?

4) Do you prefer drawing digitally or utilizing traditional mediums?

I only draw with pencil and ink on paper. I use Photoshop to color and letter. I sometimes hand letter.

5) Which of your works are you most proud of and why?

Billy Dogma in Fear, My Dear. And, The Red Hook. Because they are autonomous works that speak to my sensibilities as a person and creator. I'm also proud of my collaborations with Jonathan Ames on The Alcoholic, and with Inverna Lockpez on CUBA: My Revolution. My work on The Fox is my favorite franchise job, thus far.

6) What was the inspiration behind The Red Hook?

I challenged myself to create a character done in the style and spirit of "What if a posthumous Jack Kirby, Will Eisner, and Alex Toth collaborated on a brand new character?" The Red Hook is a super thief forced to become a superhero against his will or he will die, during a time when a sentient and heartbroken Brooklyn literally and physically secedes from America. It's a concept that lets me play with the absurdity of the superhero genre while commenting on current events in my life.

7) Between DC and Marvel comics, which do you prefer and why?

I grew up reading more stories involving Marvel Comics characters. I think, partially because the characters lived in real places, mostly in New York where I live. I could imagine Spider-man swinging by my window or The Fantastic Four fighting the Mole Man in midtown. There is more science-fiction and romance in Marvel Comics.

8) What is your take on superhero comics in modern pop culture?

Superheroes are America's modern version of Greek and Norse gods and mythology.
Wednesday, January 4th, 2017
---
12:52 am
- Kima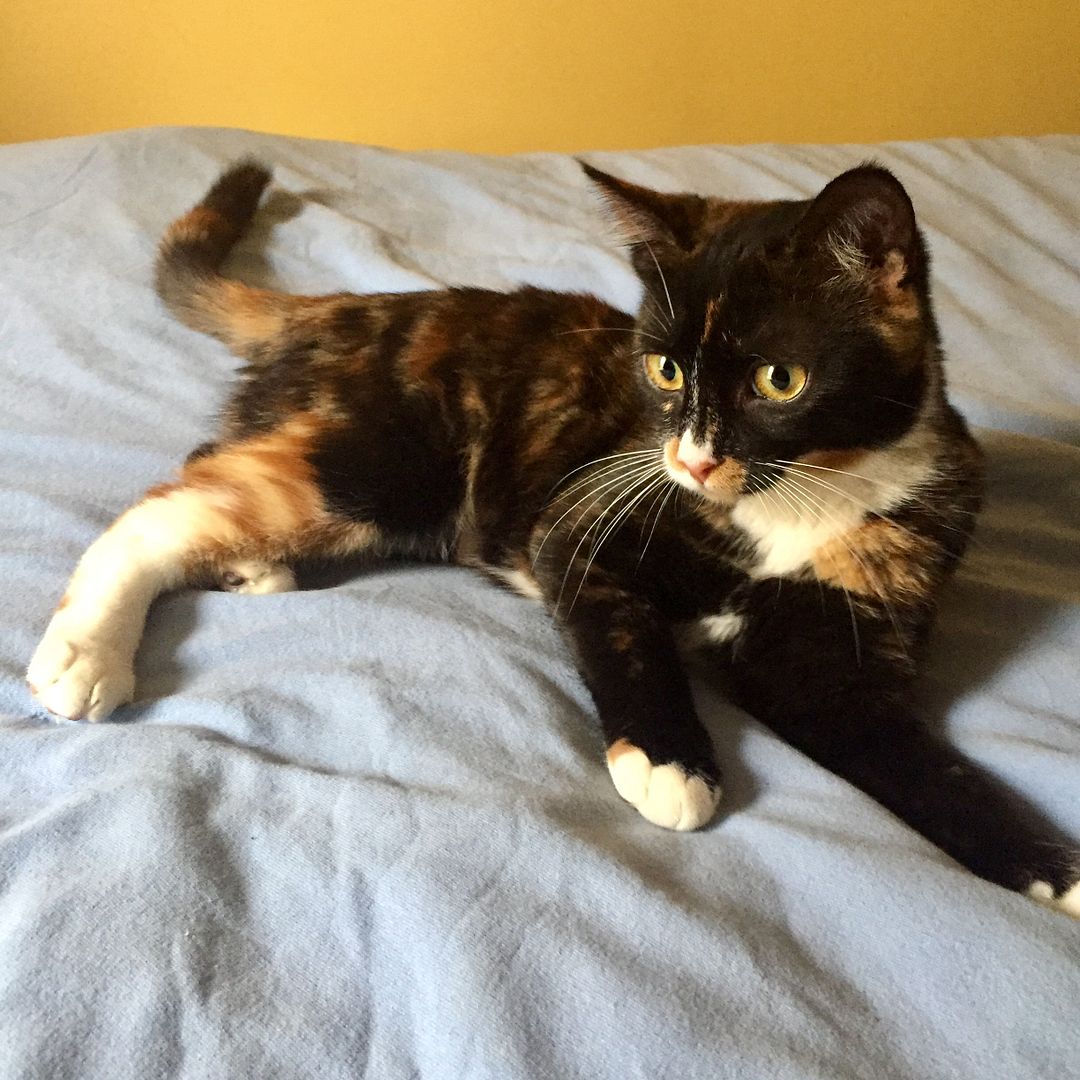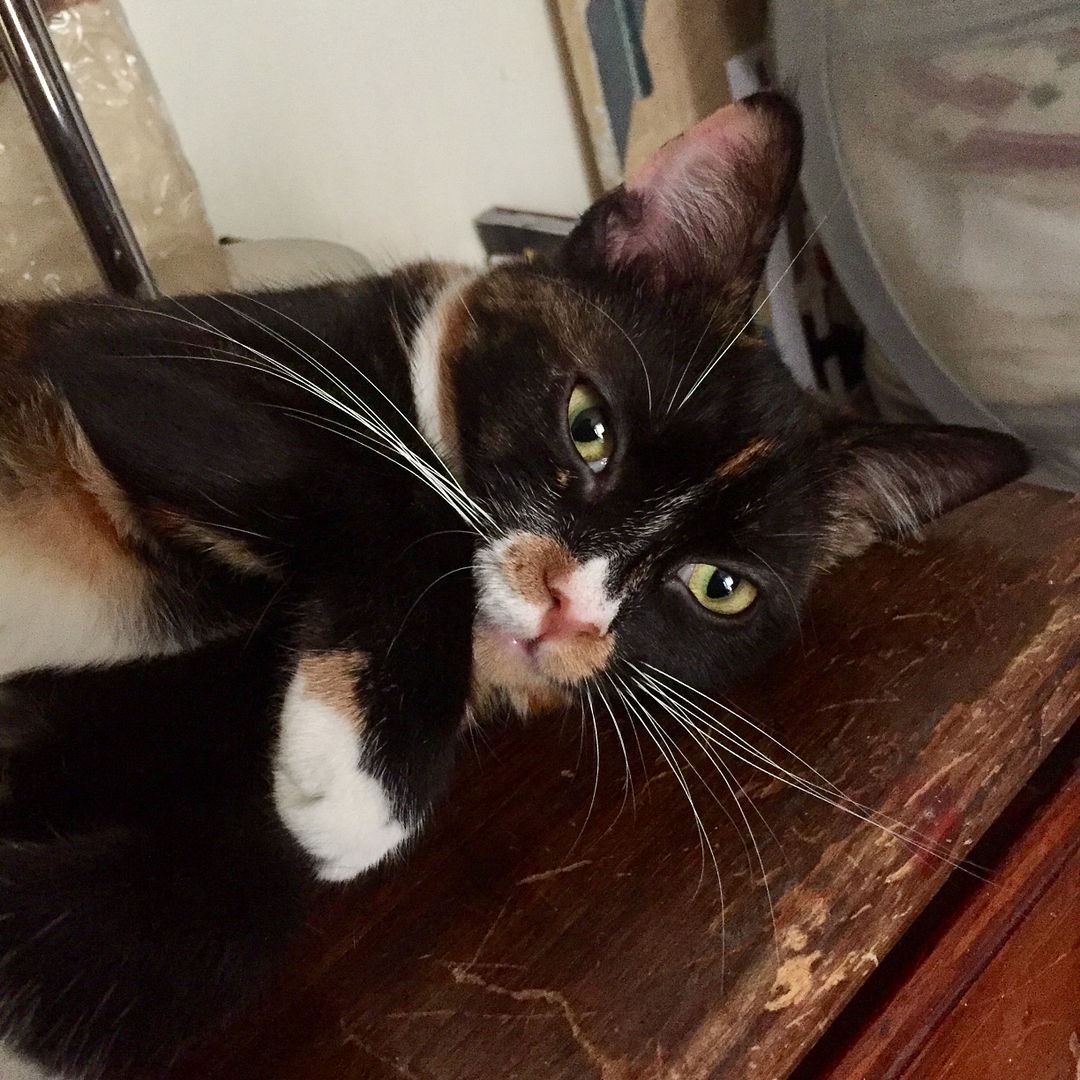 Jen Ferguson Xmas gifted me and Belle a kitty cat named Kima, adopted from the Cat Cafe on Atlantic Avenue, who came to live with us on December 27th, 2016. She's approximately seven months old. She's scrappy like a switchblade sister but her snuggles remind me of Miercoles (RIP), and she purrs like an idling truck. I love her already.
Tuesday, January 3rd, 2017
---
12:46 am
- Dean Haspiel at Wizard World New Orleans 2017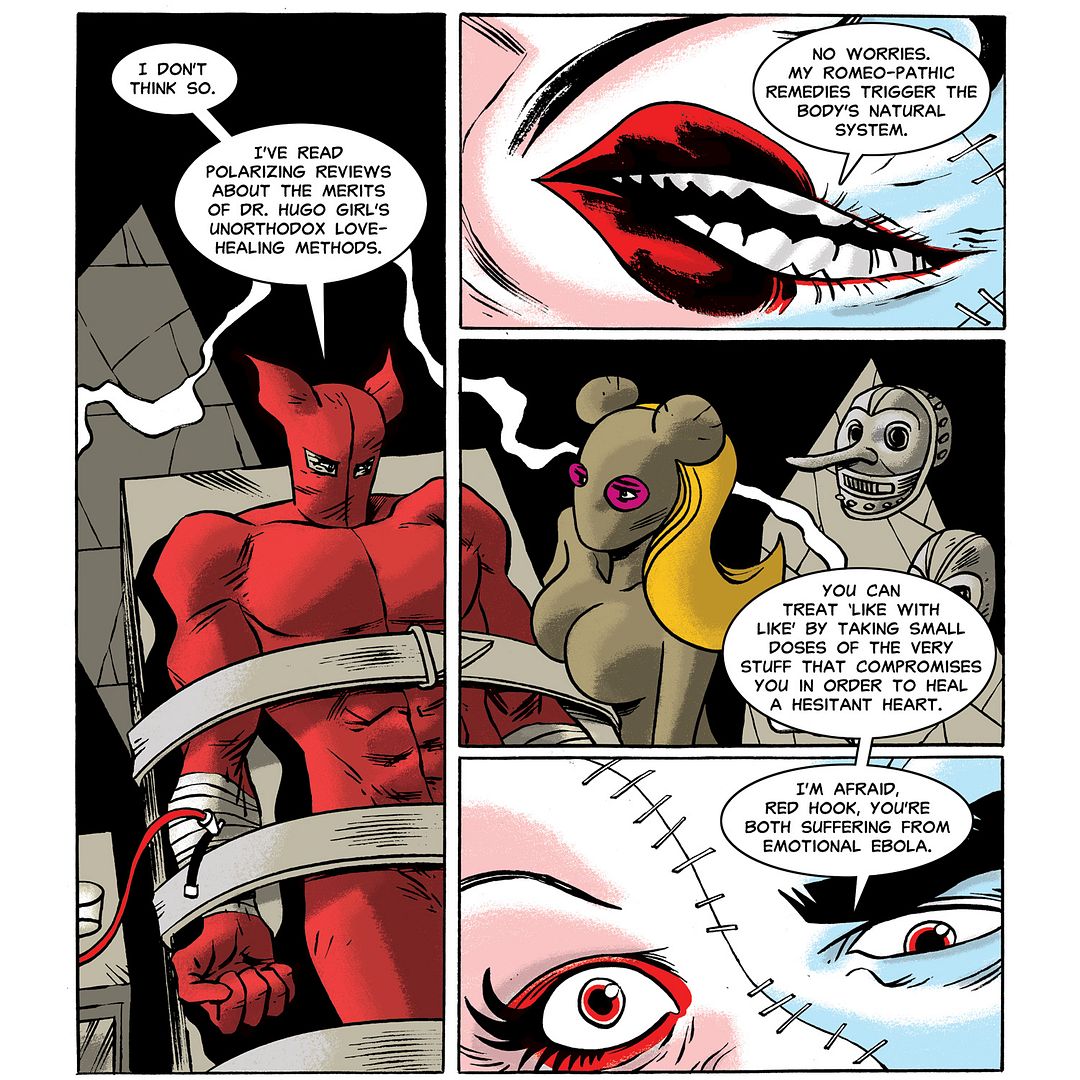 ( Read The Red Hook in "Emotional Ebola" in Dark Horse Presents #s 29 - 31, and Season One for free at LINE Webtoons http://www.webtoons.com/en/super-hero/the-red-hook/chapter-1/viewer?title_no=643&episode_no=2 )


I will be a guest at Wizard World New Orleans, January 6th - 8th, 2017, stationed at table B87. I will be selling some comix and available for commissions. I'm also doing five panels! Hope to see you there.

For more info: http://www.wizardworld.com/comiccon/neworleans

SATURDAY JANUARY 7, 2017

1:00 - 1:45PM ~ A VERY SPECIAL SESSION WITH AMERICAN FLAGG!'S HOWARD CHAYKIN—AND HIS PALS THE RED HOOK'S DEAN HASPIEL & COMICS SCHOLAR BRANNON COSTELLO (ROOM 238)
Howard Victor Chaykin has been a comic book professional for more than forty years. Forty years. Think about it. He took a hiatus from the comics industry for about fifteen years, to work his way up the ladder of television, on shows which he'd never watch—while keeping his hands in the comics business, because he knows nothing lasts forever. He has a terrible reputation among fans for profanity, limited patience with nonsense, and spite, an attitude he's finally and gratefully aged into. Among his many comics works are American Flagg, Black Kiss, and the Shadow. Today, Howard will say stuff about comics and life that you'll regret missing. Writer-artist Dean Haspiel (The Fox; The Red Hook)—Howard's former assistant—and comics scholar Brannon Costello (LSU; editor of Conversations with Howard Chaykin) join Howard in conversation. Danny Fingeroth (Disguised as Clark Kent: Jews, Comics and the Creation of the Superhero; Spider-Man) moderates.

4:00 - 4:45PM ~ TWO CENTURIES OF GENIUS: CELEBRATING THE SPIRIT'S WILL EISNER AND THE AVENGERS' JACK KIRBY with MARVEL ZOMBIES' FRED VAN LENTE, EISNER AWARD WINNER TY TEMPLETON, FANTASTIC FOUR'S DEAN HASPIEL & THE AVENGERS' DANNY FINGEROTH (ROOM 238)
Celebrate two titans as we near their 100th birthdays in 2017. Will Eisner was creator of The Spirit and an innovator of the graphic novel, starting with A Contract With God. Jack Kirby was co-creator of Captain America, Fantastic Four, the Avengers and more. Join panelists including Fred Van Lente (The Comic Book History of Comics), Ty Templeton (Batman Adventures), Dean Haspiel (The Red Hook) and moderator Danny Fingeroth (chair of Will Eisner Week) as they discuss what made these two great.

5:30 - 6:15pm Marvel vs DC: A SILVER SCREEN SUPER FAN SHOWDOWN (Room #243). Forget about who would win in a fight between Batman and Superman, or Team Cap vs. Team Iron Man, because in this riotous (but good-natured) fan debate, we're pitting the onscreen heroes of Marvel and DC against one another. Which classic comics house is owning it on television? Who has the better team movie? Which studio has landed the better villain? And who's film lineup has you the most excited. Join professional nerd Aaron Sagers (Travel Channel, Syfy, MTV, CNN) for an interactive and friendly super-fan showdown. It's the battle to bring the multiverse to its knees!

SUNDAY JANUARY 8, 2017

12:00 - 12:45pm THE WRITERS ROOM GAMESHOW (Room #243). Think Han should have kicked Kylo Ren's butt? Were you lost at the end of Lost? Did Man of Steel's finale snap you out of the movie? For all of you who think you could have come up with a better ending, you can't miss The Writers Room Gameshow. Professional writers join audience members, and are quizzed to come up with funnier finales for iconic movies and TV shows. Hosted by professional nerd Aaron Sagers (Syfy, Travel Channel), this hilariously interactive panel will test the improv skills and creativity of everyone.

2:00 - 2:45 PM WHO'S THE MOST NEUROTIC SUPERHERO? INSIDE THE MINDS OF BATMAN, SPIDER-MAN, CAPTAIN AMERICA, JESSICA JONES AND MORE with BATMAN AND PSYCHOLOGY'S DR. TRAVIS LANGLEY, MARVEL ZOMBIES' FRED VAN LENTE, THE RED HOOK'S DEAN HASPIEL & SPIDER-MAN'S DANNY FINGEROTH (ROOM 238) Ever since the dawn of Marvel's "superheroes with real problems," costumed adventurers have been letting their psychological damage show. Spider-Man's guilt and insecurity, Batman's tango with trauma, Captain America's survivor's guilt and Jessica Jones' smorgasbord of symptoms are just a few of the mental challenges that modern superheroes deal with. Today, psychologist Travis Langley (Captain America vs. Iron Man: Freedom, Security, Psychology), Fred Van Lente (Action Philosophers), Dean Haspiel (The Red Hook) and historian Danny Fingeroth (Superman on the Couch: What Superheroes Really Tell Us About Ourselves and Our Society) discuss the psychological challenges a variety of heroes (and maybe some villains) deals with.
Saturday, December 24th, 2016
---
2:58 pm
- Merry Xmas Jen!
Tuesday, December 20th, 2016
---
11:43 am
- The Red Hook in "Emotional Ebola" - part 1 - in Dark Horse Presents #29