Monday, August 29th, 2016
---
7:24 pm
- Dean Haspiel at Baltimore Comicon 2016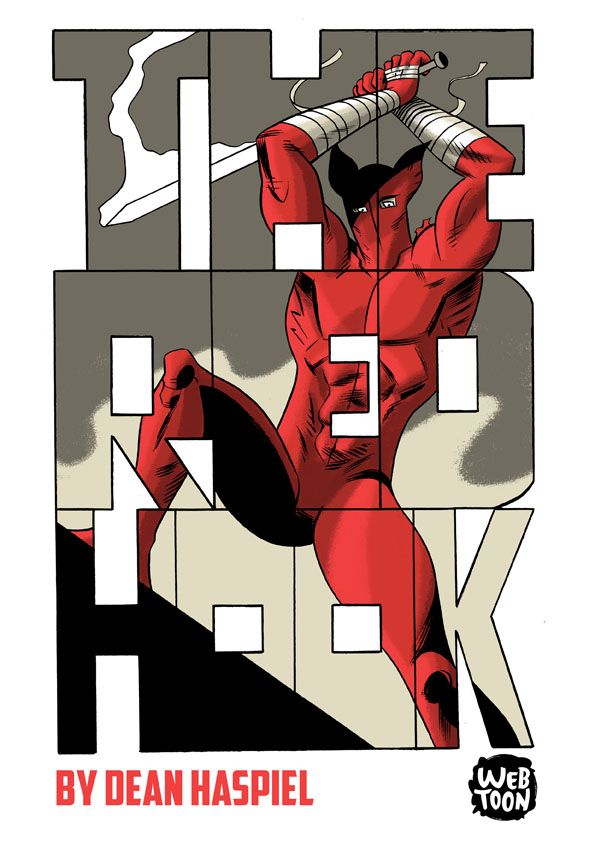 I'm a guest at Baltimore Comicon 2016 this year and will be tabling at booth #2405 with Christa Cassano, Jason Goungor, Jeffrey Burandt, Chris Miskiewicz, David Trustman & Sarah Moseley. I'm also the Keynote Speaker at The Harvey Awards, and will be signing a free, exclusive THE RED HOOK print at the LINE Webtoons Booth #922, plus a panel and portfolio review (see info below). I also contributed an original Moose pin-up for the Baltimore Comic-Con Yearbook featuring Archie Comics!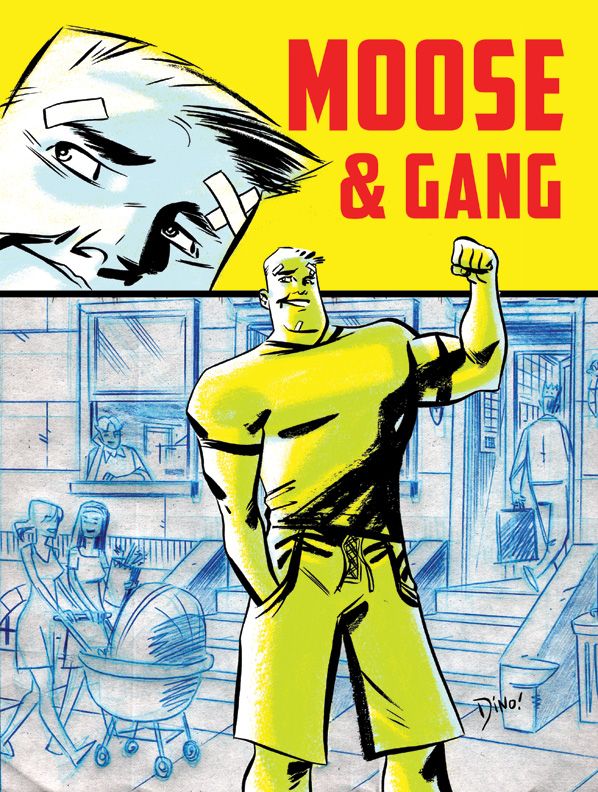 Friday, Sept 2nd

3:00-4:00 - Dean Haspiel signing exclusive/free RED HOOK prints at LINE Webtoons Booth #922

Saturday, Sept 3rd

1:00-2:00 - Portfolio reviews at LINE Webtoons Booth #922

5:15-6:45 Room 339-342 - Monetize YOUR Comics - LINE WEBTOON Discover
Making comics and you can too! LINE Webtoon's Tom Akel will walk you through how to publish and monetize your own IP on the Discover platform and Patreon's Heather Wilder will provide details on a new partnership between LINE Webtoon and Patreon and how creators can take advantage of a new Webtoon creator investment program. Hear from creators who have published their work through Discover while building huge audiences, including Kaitlyn Narvaza (Siren's Lament, Where Tangents Meet), Boredman (Apocalyptic Horseplay/UndeadEd) and Dean Haspiel (The Red Hook).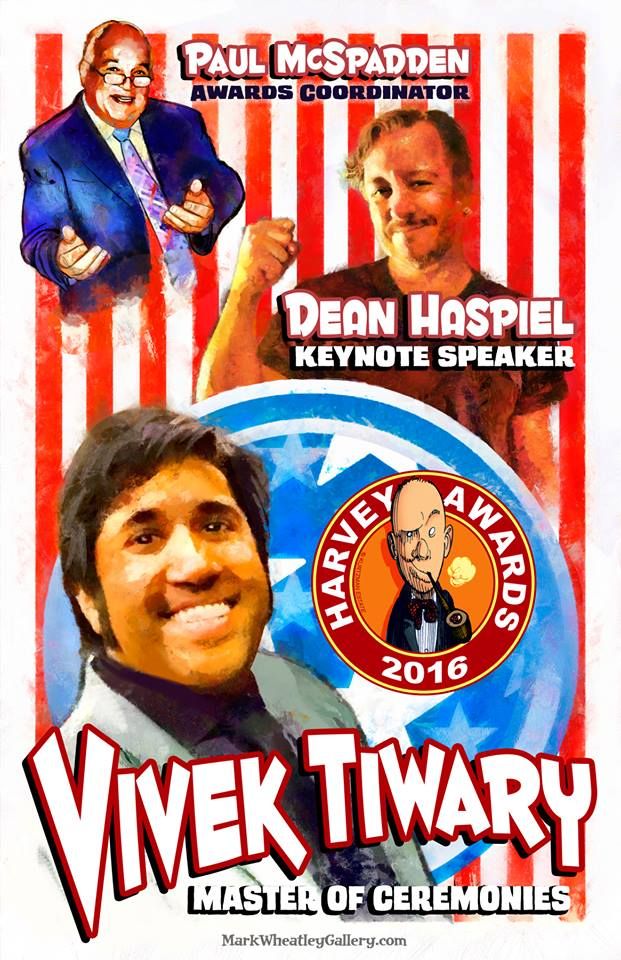 Get all your Baltimore Comicon info here: http://baltimorecomiccon.com/
10:41 am
- BEEF WITH TOMATO digital
9:47 am
- The Creators Project reviews Beef With Tomato
"Dean Haspiel's comic about the struggle, grind, and weirdness of New York will absolutely hit close to home for anyone living in the five boroughs. But his character work and storytelling make this tale about a guy trying to get out from a bad situation truly universal: Haspiel's a prolific creator in the indie/creator owned comic scene, but he's also well known for creating illustrations for HBO's Bored to Death. Though this book came out last year, it's worth revisiting (and deserves a spot on this list) now that it's available digitally on comixology."

Here's a link to the review:
http://thecreatorsproject.vice.com/blog/heres-why-you-should-be-reading-star-wars-comics

Here's a link to the digital version of BEEF WITH TOMATO:
https://www.comixology.com/Beef-With-Tomato/comics-series/80019
Wednesday, August 24th, 2016
---
9:34 am
- The Red Hook - chapter 21
Monday, August 22nd, 2016
---
5:35 pm
- Comicsverse interviews Dean Haspiel
I was interviewed at Wizard World Philadelphia in June, 2016 by Jamie Rice for Comicsverse.

Here is a link to the video interview: http://comicsverse.com/dean-haspiel-interview-wizard-world-philadelphia-2016/



This is what Jamie had to say about the interview:

"Dean Haspiel was the first name that I truly locked on to when I looked through the creator list earlier this year for Wizard World Philadelphia. As a huge fan of noir, detective comedies, and HBO in general, I knew that I would love to have the honor of interviewing the artist behind BORED TO DEATH, a detective tv show starring Jason Schwartzman as a novelist turned private detective, and the creator of a webcomic collective named ACT-I-VATE.

Talking to Haspiel showed me that what he was interested in, however, was much larger than just creating beautiful art and writing intriguing scripts. He is also interested in the technological changes that are occurring within the entertainment industry. Particularly, the fact that people are reading and watching their favorite media more and more on their phones. I can say from personal experience that I have tried and failed many times to truly enjoy a comic book on my iPhone. Whether I'm cramming for the next podcast or just trying to ingest the newest issue of BITCH PLANET the minute it comes to my phone on Comixology, Haspiel has accurately identified that the future of film, TV, and comics isn't just in the computer, it's also in the phone. And that artists and writers should plan accordingly.

Outside of that, he is also a super kind and humble guy. Even though this was not my first interview, I was certainly acting like it since it was my first one at this con and Haspiel was someone whose work I had read and seen over the years. Most of those nerves flew away when Haspiel came over to us setting up the camera and began to dance around me before going "Hey it's just an interview. We gotta have fun." If you like fun and smart people, you're gonna love this interview, and if you need a short introduction to Haspiel and his work I would definitely recommend THE LAST ROMANTIC ANTIHERO. It's stunning."

THANKS, JAMIE!
Wednesday, August 17th, 2016
---
9:46 am
- The Red Hook - chapter 20
Tuesday, August 16th, 2016
---
2:11 pm
- Music & Art
I was never one to make great grades but I wanted to make good art. Music & Art cum La Guardia High School afforded me a time & space to study and practice art, even when my beloved comic books were largely shunned. I am forever grateful to have been part of a specialized and diverse environment that was more concerned with teaching the arts and allowing students to experiment the arts rather than worrying about what an A+ could get you.
1:15 pm
- Seven
Please list your seven current passwords -- I MEAN -- first seven jobs, seven favorite movies, seven favorite bands...seven sandwiches...seven dreams...seven...whatever. Bitch and moan that Big Brother is watching you while you continue to give them every bit of random information they could possibly want. The more we rely on computers, the more we're making it easier to get hacked and taken hostage while our attention is raped by the next fleeting example of ignorant outrage.
12:43 am
- amNewYork: 'New Brooklyn' web comic series gives borough a starring role


amNewYork interviewed me and Vito Delsante about The Purple Heart, the second series to launch from the New Brooklyn Universe, with art by Ricardo Venancio.

Excerpt:

"When two German artists illegally posted a giant white flag atop the Brooklyn Bridge in 2014, law enforcement officials were troubled. But inside the mind of comic book creator Dean Haspiel, a new world began to emerge.

The Carroll Gardens resident's imaginings have resulted in "New Brooklyn," a comic book that explores a world in which the borough breaks apart from the rest of New York City — and the United States of America.

Haspiel, 49, and his co-creators decided to tell the borough's tale through the eyes of Brooklynites who live as superheroes on this newly emerged island. And, as in real life, the characters have to deal with a changing world.

"I talk about what is happening [in real life] and where Brooklyn has gone with the story," the veteran comic book artist and writer told amNewYork.

Haspiel said he and fellow comic book writer Seth Kushner, who passed away last year, came up with the idea for the series in 2014, after the white flag incident on the Brooklyn Bridge.
"I [imagined] that Brooklyn decided that it was finished with this self-entitled, apathetic world we live in," he explained. In the comic storyline, that white flag acts as the first sign of the borough's secession. After that, it floated just far enough away from the city to become a sovereign entity.

Once separated, society changes and artwork becomes currency.

New on the "New Brooklyn" scene is "The Purple Heart," the second series in the universe, joining "The Red Hook," which launched in April, both on the free platform LINE webtoons.
"The Purple Heart" launched three weeks ago and features a black Navy veteran who returned to Brooklyn during the separation from the city.

Isaiah "Zeke" Nelson is transformed into a living purple flame, the de facto protector of the new island.

Vito Delsante, who co-created "The Purple Heart" with Haspiel and Ricardo Venâncio, said he wanted his stories to represent the borough's diversity.

"He could have been white but there is something about making him an African American, being a veteran, and coming from the public houses that gives him more dimension," said Delsante, a Staten Island native."

Read the entire article here: http://www.amny.com/entertainment/brookyn-gets-starring-role-in-web-comic-series-1.12179909
Sunday, August 14th, 2016
---
11:21 am
- Success
I happen to enjoy, on a lizard-brained level, some blockbuster intended movie flops. My B-movie tastes don't reflect the demographics and critical response higher-ups require to make billion dollar decisions. Still, I've witnessed too many well-paid executives pass the proverbial buck when an expensive venture tanked, yet, they continue to keep their jobs while too many innocent craftsmen and creatives who didn't have the power to stick to their guns and manifest their unique visions (for better or for worse) took the bullet. Most (if not all) billion dollar decision-making is predicated on the concept (and hope) of wide-appeal but that's lightning in a bottle when it clicks. And, now that we have WAY MORE delivery systems and WAY MORE diverse tastes being met on a regular basis (for the people/by the people) it's become nigh-impossible to invest in something that will make that kind of surefire impact on the cultural zeitgeist. And, the more I think about that very notion, the more obnoxious it sounds, the more preposterous that kind of a business decision is despite pre-sales across the planet paying for such a world-wide venture. Spend less money and make more different things. Success can be the ability to make more of what you love and eat okay under a nice roof around good people.
Saturday, August 13th, 2016
---
2:23 pm
- Should and Could
If only the self-entitled knew the difference between should and could.
Friday, August 12th, 2016
---
11:33 am
- Dean Haspiel at Wizard World Chicago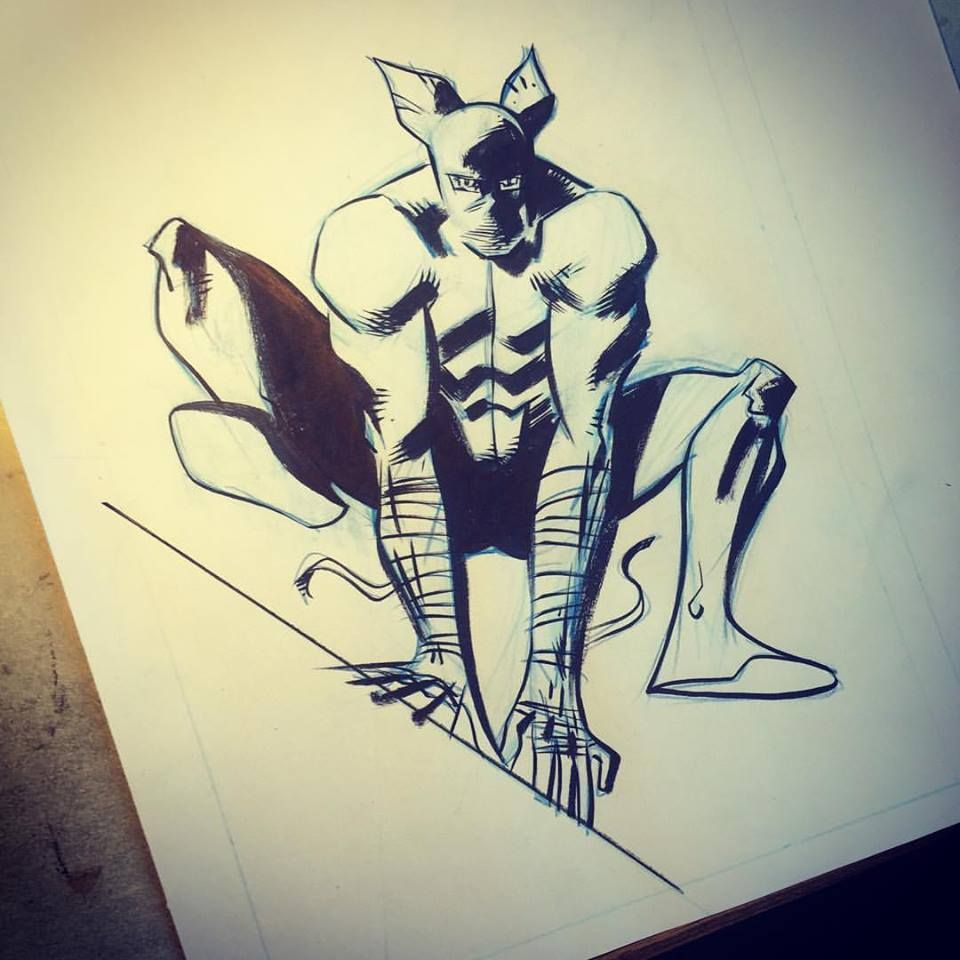 I am a guest at Wizard World Chicago, August 18-21, 2016, stationed at table B41. I will have copies of my latest graphic novels, BEEF WITH TOMATO, and FEAR, MY DEAR. Plus, rare copies of my exclusive THE WALKING DEAD cover. Ask me about my weekly webcomic series, THE RED HOOK, published for free at LINE Webtoons http://www.webtoons.com/en/super-hero/the-red-hook/list?title_no=643 I'm available for commissions, and I will also be doing six panels throughout the convention (see below).

Click here for Wizard World Chicago info: http://wizardworld.com/comiccon/chicago

THURSDAY AUGUST 18:

7:00-7:45 PM THE CREATIVE MIND: TOP ARTISTS ON DRAWING COMICS with BATMAN'S GENE HA, SILVER SURFER'S BILL REINHOLD, THE RED HOOK'S DEAN HASPIEL & SPIDER-MAN'S STEVE GEIGER (ROOM 2)
Top comics artists talk about their careers, their craft, the comics business and whatever else might come up—and may even show you some of their top-secret techniques! Join peerless pencilers Gene Ha (Batman; X-Men), Bill Reinhold (Silver Surfer; The Punisher), Dean Haspiel (The Red Hook; The Fox) and Steve Geiger (Spider-Man; The Hulk) as they pull back the curtain and tell you what it's really like to be a comics artist! Danny Fingeroth (How to Create Comics from Script to Print; Spider-Man) moderates.

FRIDAY AUGUST 19:

2:30-3:15PM BREAKING INTO COMICS (ROOM 2)
If you want to be a professional comic creator, this is the panel for you! Learn how to meet editors, how to get noticed by publishers, and how to break into the industry! Join panelists Dean Haspiel, Trevor Mueller, and more as they tell you their stories and answer your questions.

SATURDAY AUGUST 20:

5:00-5:45PM WRITING FOR COMICS (ROOM 2)
Comics are written very differently from other media. Learn the ins and outs of this unique storytelling medium and how to make your stories come to life! Comic creators Gene Ha, Dean Haspiel, and Trevor Mueller talk through their processes, and answer your questions to help you write your stories.

6:00-6:45 PM WORDS INTO PICTURES: HOW TO WRITE COMICS with GARGOYLES' GREG WEISMAN, THE RED HOOK'S DEAN HASPIEL, DREAM THIEF'S JAI NITZ and SPIDER-MAN'S DANNY FINGEROTH (ROOM 2)
Accomplished comics writers Greg Weisman (Gargoyles; Young Justice), Dean Haspiel (The Fox; Beef With Tomato), Jai Nitz (Dream Thief; El Diablo for Suicide Squad) and Danny Fingeroth (How to Create Comics From Script to Print; Spider-Man) talk about how to put together a compelling comics story. Plus, they'll answer your questions about both the creative and business sides of the comics writing profession, including how to find an artist to work with (hint: a comics convention is the number one place!) and how to write exciting dialogue!

SUNDAY AUGUST 21:

12:30-1:15PM MAKING WEBCOMICS (ROOM 2)
Ever read a comic on the internet and said, "Hey, I'd like to do that!" Well, here's your chance to learn how. Webcomic creators Trevor Mueller and Dean Haspiel have over 15 years experience in the web industry, and want to share their knowledge with you!

1:30-2:15 PM CREATE-A-COMICS-STORY WITH U CRE-8 COMICS' VICTOR DANDRIDGE, THE RED HOOK'S DEAN HASPIEL AND DEADPOOL'S MIKEY BABINSKI (ROOM 2)
Ever wonder what it would be like to collaborate on making comics with top professionals? In this fun-and-educational session, celebrated writer Victor Dandridge (Origins Unknown; The Trouble With Love), Emmy-winning artist Dean Haspiel (The Red Hook; Spider-Man) and accomplished inker Mikey Babinski (Deadpool; Scarlet Spider) create a new character and story before your eyes, incorporating audience members' ideas and suggestions! Come see—and join in—the creative process! The panel will be moderated by longtime Marvel writer and editor Danny Fingeroth (Spider-Man; How to Create Comics from Script to Print).
Wednesday, August 10th, 2016
---
10:48 am
- The Red Hook - chapter 19
Friday, August 5th, 2016
---
12:33 am
- Tofu Scramble recipe
I must preface this vegetarian recipe I'm about to furnish you with the fact that I'm a meat eater. However, I couldn't personally kill an animal to eat it unless it was for survival purposes. I'm a wimp when it comes to murder. Hell, I can't even crush a cockroach. I usually coax cockroaches onto a paper napkin or my hand and throw them out the nearest window while shouting "Fly, pelican fly!"

Here is my recipe for what I dub the "Jen Ferguson Tofu Scramble." Jen loves my tofu scramble.

Ingredients:

One brick of extra firm tofu
Six stalks of bok choy
A handful of scallions
One twig of fresh ginger
One jalapeno
Teriyaki sauce
Rice
Butter
Oil
Salt & Pepper
Sriracha sauce (optional)

Tools:

One wok
One strainer
Two cups
One knife
One cutting board
One pair of tongs
One large spoon

Preparation:

Spark the rice in the rice cooker. I like white rice. Others dig brown rice. The whole meal should be prepared and cooked by the time the rice is ready. Approx 15-minutes?

Rinse clean the bok choy, jalapeno and scallions. Chop off the base of the bok choy and then evenly cut the stalks and leaves into equal half-inch pieces and place them into a strainer. Chop up the scallions and dice up the jalapeno and put them together into a side cup. Skin and thinly slice half a twig of ginger and put that into another side cup. Spark a fire under the wok and put some butter and oil into it until she heats up and starts to bubble. Dump the chopped up bok choy into the wok and sprinkle some salt and pepper onto it. Flip and stir the bok choy with your tongs and then let it sit and fry a little while you evenly cut up the brick of firm tofu into equal sized squares, no bigger than half-an-inch.

Once the bok choy looks half-way cooked, tip and drip the excess water from the wok into the sink without losing the food and then slide the tofu off the cutting board and into the wok and mix the beige with the green. Let that stew a minute over the fire and then add the scallions, jalapeno and ginger, and liberally pour some Teriyaki sauce over the entire contents but don't drown it. Trust the flavors of the fresh spices over the sugar in the Teriyaki sauce. Let it stew a few minutes and the rice should be ready.

Turn off the flame off and scoop a small hill of rice onto your lovers plate and caress the rest of the dome with a mountain of tofu scramble. Offer Sriracha sauce on the side. If you did it right, it won't need any Sriracha sauce. Watch a feature-length film or two episodes of your latest favorite TV show and let the gas flow from your bodies. For dessert, warm up the lava lamp during pillow talk before killing the lights and switch the radio to something ambient.
Thursday, August 4th, 2016
---
11:36 am
- Baltimore Comic-Con's 2016 Yearbook tribute to Archie Comics
Wednesday, August 3rd, 2016
---
9:59 am
- Word of the Nerd interviews Dean Haspiel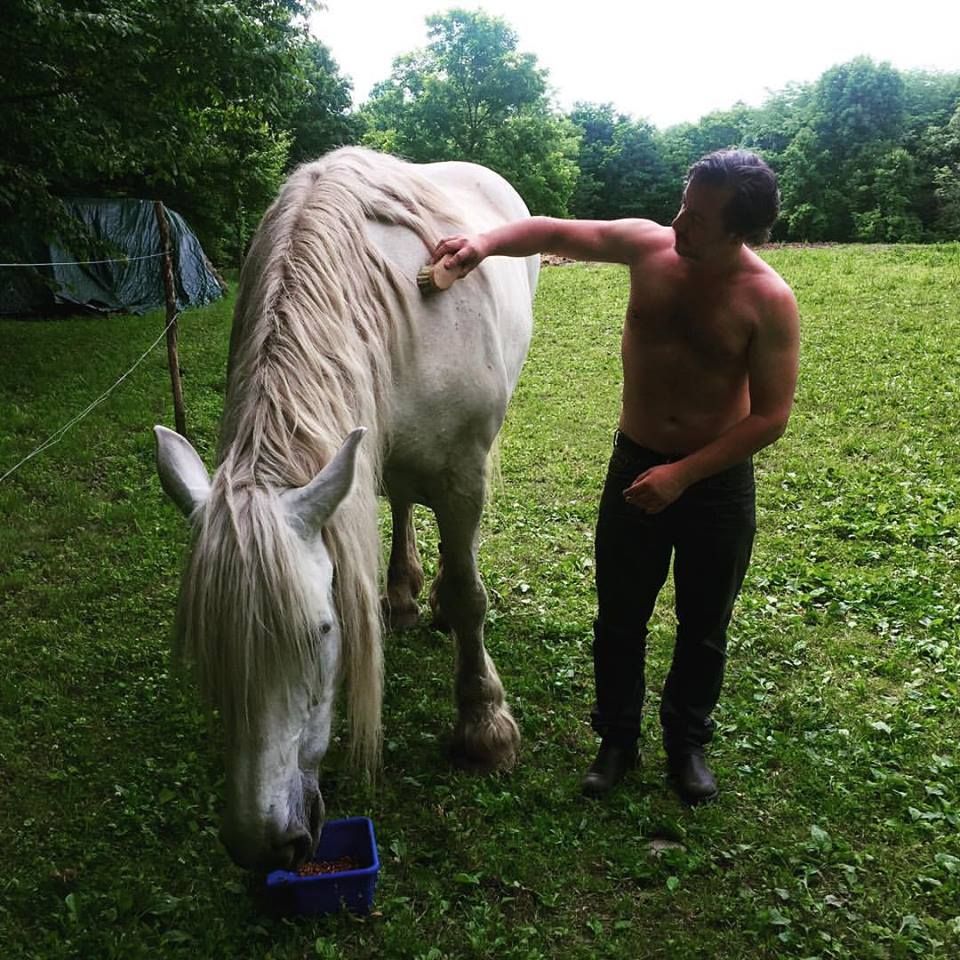 (Dean Haspiel at the Rokeby Estate)

Christopher Calloway interviewed me about The Red Hook and other comix stuff for Word of the Nerd.

Excerpts:

Brooklyn having a broken heart and becoming an island unto itself is an analogy for it undergoing a cultural change. Artists are losing their studios as the neighborhood becomes more "gentrified". How are you and your fellow artists living in the area coping with the change?

Our family is breaking up. As independent freelancers, there is nothing we can do. What was once $25 per square foot a few years ago has become $45 per square foot, if we're lucky. Most of us are moving back into our apartments. Communities and studios are dissolving. Anxieties are high and spirits are low. There's chatter of some freelancers making an exodus to the mountains or to affordable states but nothing organized.

I'm emotionally tethered by the fact that I'm a native New Yorker and NYC is the only place I've ever lived in. But, as evidenced by the abnormal rent hikes, real estate and land developers don't care about grass-roots culture. NYC is no longer interested in underwriting the avant-garde with affordable spaces.

My friend, Reverend Jen, an elf-ear wearing, NYC perennial who has written several books, hosted a legendary Anti-Slam for over two-decades, including the x-rated Mr. Lower East Side Pageant, was recently kicked out of her lower-east side apartment where the worlds greatest Troll Museum existed. Now, she's crashing couches and trying to make ends meet. I'm afraid we're going to lose her. We can't lose her! When some people think about NYC they think of the Empire State Building, Times Square, and Blade Runner-esque billboards. When I think about NYC, I think about the outliers who fuel the heart and energize the soul of NYC.

The other day I was having lunch with my friend/sometimes collaborator/writer/television producer, Jonathan Ames, and we were talking about art in NYC and he agreed it was compromised more than ever before. The wild stuff he performed and curated years ago at The Fez and Mo Pitkins, the stuff of legend, would be tough to engender today because who goes anywhere anymore when everyone is glued to their smart phone? It's hard to compete with an audience that can't extricate themselves from the internet for a couple of hours to experience something live and direct. Our surveillance society has created attention-deficit disorder zombies. The "scene" got taken hostage by the screen. My girlfriend, Jen Ferguson, is a fine artist painter and private teacher but she, too, is losing her work space and is wondering if we need to move to Newburgh or New Jersey, and apply to more artist residencies since we can't seem to sustain our own, home-grown artist colonies.

For the first time in my life I'm eyeballing California. But, I don't know anything about packing up and moving away. Philadelphia is promising, Pennsylvania is pretty, and New Orleans may be the coolest place on earth but I have a mental block in taking that leap of faith. Not to say that NYC is a cultural graveyard and there will never be cool happenings like Cynthia von Buhler's immersive theater, or Nat Towson's Downtown Variety Hour at UCB Theatre, and venues like Cake Shop, Gemini & Scorpio Loft, Littlefield's, The Brick Theater, and Union Hall (where I hosted several salons) which are open to showcasing all kinds of stuff. Modest art galleries like Wendigo's Art on A, the Gowanus Souvenir Shop, pop ups and energized collectives are also keeping culture stumbling along in NYC, but it's no longer assumed. Too many of us are handcuffed to our studios working late into the night and can't attend these happenings. Too many times a month I bear witness to another classic institution shutting down or another artifact crumbling. Just yesterday, I saw the water tower near my studio, the one I drew in The Red Hook, shelled into a skeleton of an iron ladder and base. It's gone. Vanished like the infamous Kentile Floor sign that sat proudly outside my studio window until it, too, was taken away. If Wo Hop, La Caridid, and The Russian-Turkish Bathhouse disappear, I will take that as NYC's official invitation for me to leave. NYC no longer recommends itself to ye old guard.

Meanwhile, some landlords are waiting for that big payday while others are perpetuating the arrogant idea that NYC is only expensive and if your art can't afford the Big Apple, then you're just a hobbyist and "go get a real job!" I've heard through the grapevine that international businessmen are buying and sitting on empty buildings waiting for NYC to appreciate exponentially before they sell to the highest bidder. What used to be scary neighborhoods and underground nooks where you could find a cheap spot to experiment and discover and squeak by on a year of good months and bad months, hardly exists. Which is odd because, growing up with a mother who was deputy director for the NY State Council of the Arts, I counted on the fact that there were a lot of places for artists to make hay. It was that kind of leeway that encouraged me to sacrifice a normal life for the risk of a freelance one, aiming for full autonomy. Now, it feels as if you have to enter a 350-square foot windowless box in East New York, between a garbage dump and daily drug busts, armed with a three-year business plan like a start-up company rather than a group of independent artists willing to share cramped space so as to create cool and exciting ideas necessary to the growth and strength of our culture.

Maybe I should look into the food truck model. Remember those RIF buses (Reading Is Fundamental) from the 1960s & 1970s? Perhaps I could become a wandering cartoonist, drawing my comix and writing my stories on Route 66 while performing and selling my wares though the concession window? The price of gas might be cheaper than an old, quarantined warehouse cement floor steeped in decades of toxic fumes. Or, bite the bullet and hole up in a Catskill barn with my girlfriend. Call it a day.

In Heavy Metal issue #281, you recently collaborated with Stoya on Once Such Partner. Given your work on Billy Dogma and The Red Hook, the former which also appeared in the issue, it seemed like a natural fit for you. What was it like adopting someone else's essay into sequential art? I would think it would be quite different from working from a comic book script.

Heavy Metal's co-CEO Jeff Krelitz and I were hanging out at a Wizard World after-party in Minneapolis and we got to talking about me contributing to the magazine which I'd wanted to do since I was a teenager. In fact, Heavy Metal was the first publisher I ever showed my portfolio to in the mid-1980s. Getting my character Billy Dogma published in Heavy Metal is a dream come true. Jeff had the brilliant idea of teaming me up with Stoya, who I was aware of from mutual friends and from reading some of her writing I'd come across on the internet. Stoya is a brilliant young author and entrepreneur. When I met with Stoya we hit it off instantly and discussed an essay she wrote for her blog that she felt might be something I could use as source material for a short comic.

Because the deadline was looming for a San Diego Comicon release, I only had one week that I could steal from my Red Hook production schedule to adapt Stoya's essay into a sci-fi fantasy. I had to make edits yet visualize something that I felt honored Stoya's intent. Every word is derived from Stoya's original text and I made sure she was happy with what I did. It was a fun exercise and I'm thrilled to have collaborated with Stoya. I hope we can work together again.

Read the entire interview here: http://wordofthenerdonline.com/2016/08/creator-interview-dean-haspiel/
9:51 am
- The Red Hook - chapter 18
Tuesday, August 2nd, 2016
---
10:21 am
- Ruby 8!
10:19 am
- RIP Miercoles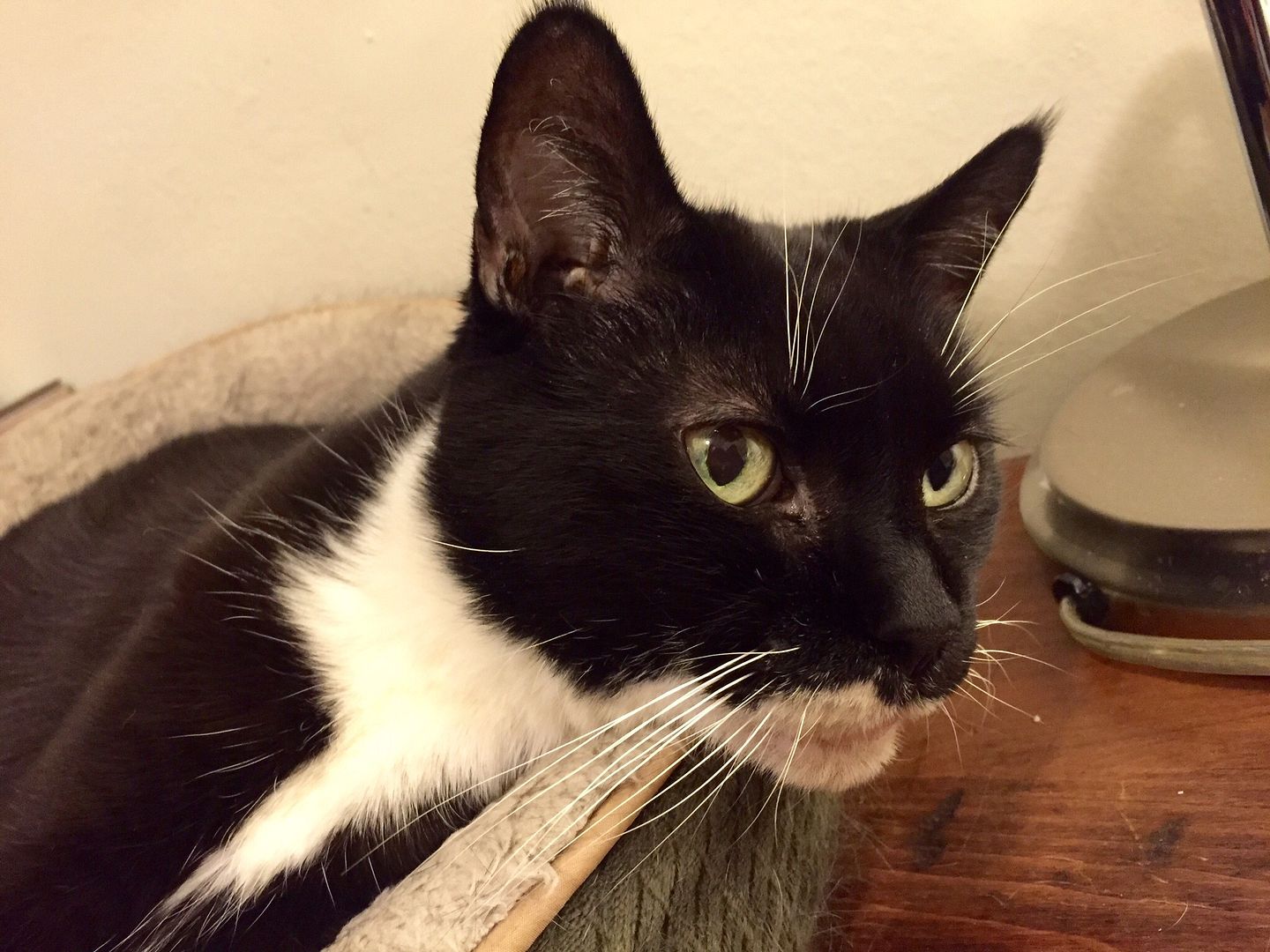 When she was only a month old, she ran over to me and sat on my chest and never left. She had a robust purr and a big personality. She was my little miracle for 15+ years. I hope she's rubbing her forehead against Coca Piloa, now. RIP Miercoles.

I love you.
Sunday, July 31st, 2016
---
11:06 am
- Aug 1st: Nat Towsen's Downtown Variety Hour w/Dean Haspiel, Carmen Christopher, Mina Liccione + more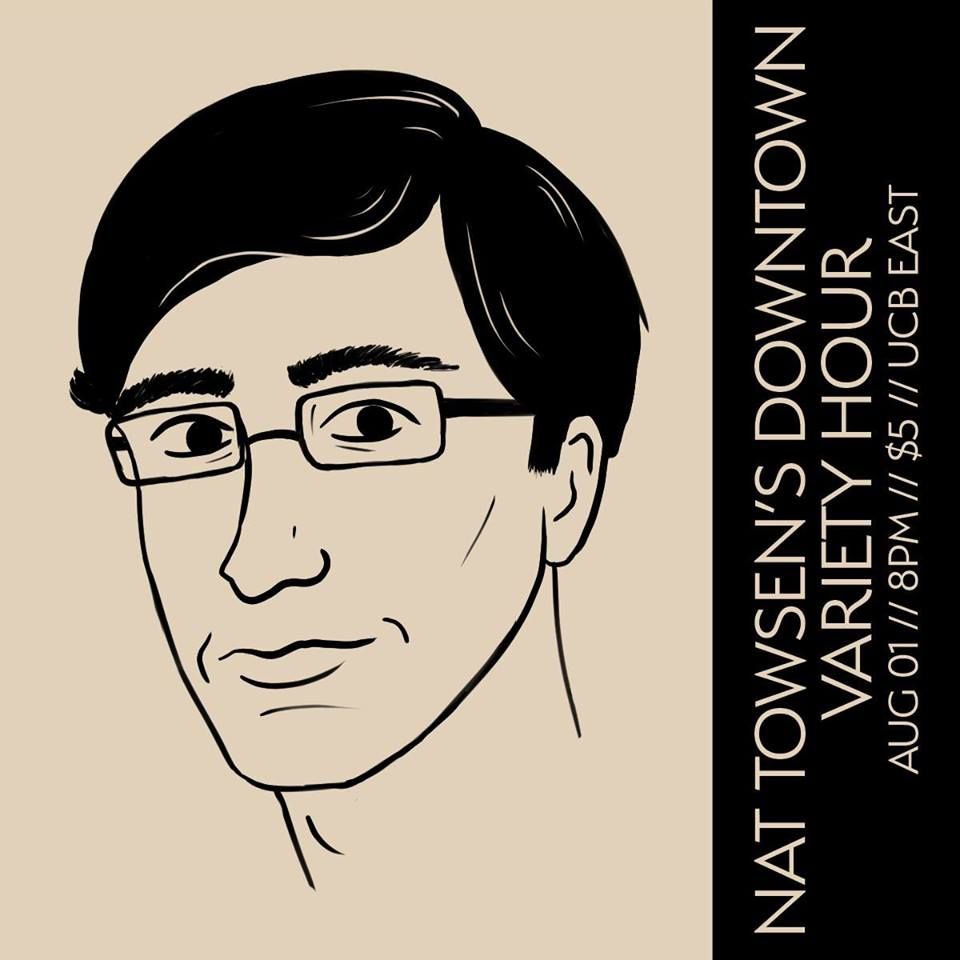 Nat Towsen's Downtown Variety Hour w/ Dean Haspiel, Carmen Christopher, Mina Liccione & more!

Monday, August 1, 8pm
Upright Citizens Brigade Theatre, East Village
153 E 3rd St, NYC 10009

Featuring:

Dean Haspiel
* Emmy Winner, HBO's Bored To Death
* Marvel Comics

Carmen Christopher
* MTV, IFC
* Regular performer at The Annoyance Theater

Mina Liccione
* STOMP
* Dubai's "First Lady of Comedy"

Downtown History
* with Jack Kirby Museum & Research Center

NYC Trivia
* Win prizes from sponsors Two Boots Pizza & Forbidden Planet NYC
* With guest host Jamela Zarha Williams

Sponsored by Prestone Printing Company, Two Boots Pizza, Forbidden Planet NYC & Brewery Ommegang

$5 / Get tickets: http://bit.ly/NTDVH38

Postcard design and illustration by Alyssa Varner

Facebook event page: https://www.facebook.com/events/1556152581361234/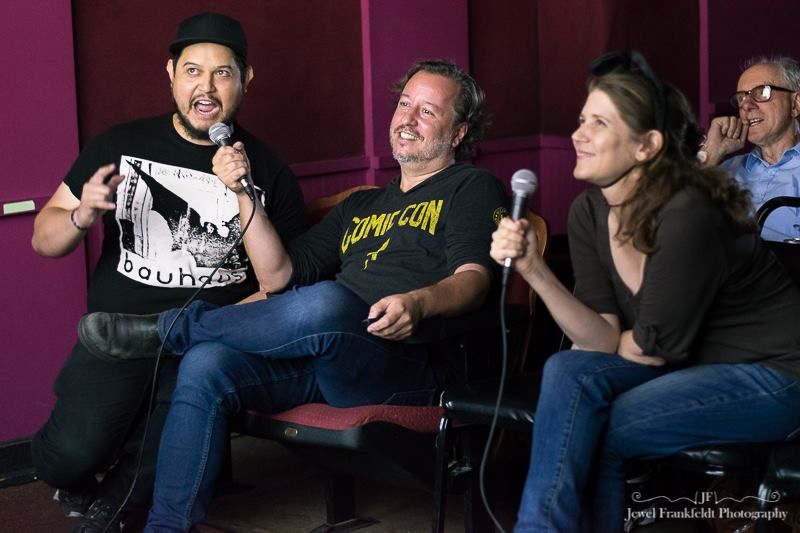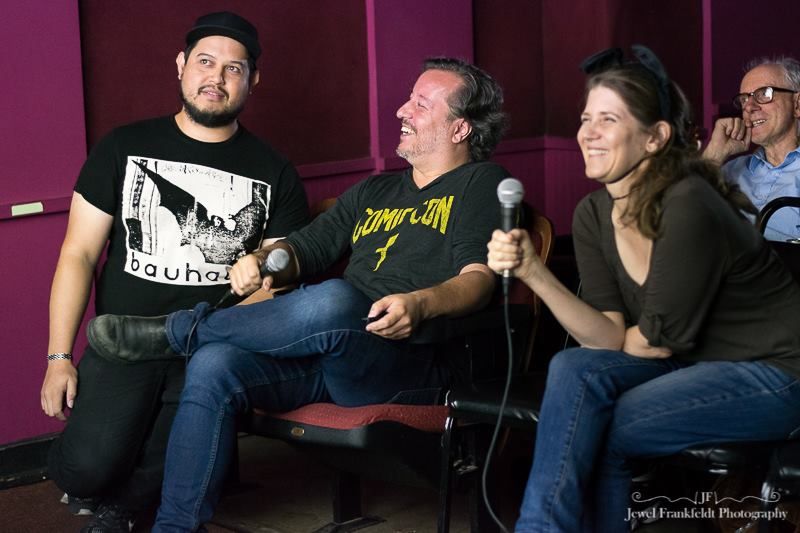 (Jason Goungor, Dean Haspiel & Jen Ferguson perform The Red Hook)