Wednesday, April 17th, 2013
---
12:43 am
- Happy 48 Eric Saul
Tuesday, April 16th, 2013
---
9:16 am
- Aporia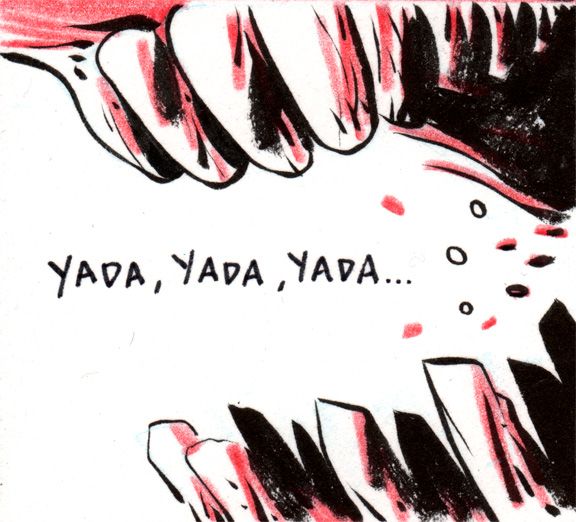 Christa Cassano wrote the latest Studio YOLO challenge, "Aporia," and I gave myself an hour or two to draw it. I didn't fare as well as James Greene, Meghan Lands, and K-Fai Steele but it was a fun one to do. Big ups to Jp Pollard! I hope a few more solutions trickle in.

http://studioyolo.com/timeline/aporia/
Sunday, April 14th, 2013
---
8:48 pm
- "Don't Be a Hater: On Lit Mags and Their Covers"
Grub Street Daily gives me some love for the Barrelhouse cover I did:

"Look at that noir-ish city landscape in the back, that beautiful blue in contrast to the elegant simplicity of the black lines in the cartoon. It's elegant simplicity coupled with drawings of naked, um, camels? Donkeys? And what's this guy about to do—spring up and go somewhere? Collapse in a heap next to that sleeping animal on the couch? What's that small mushroom cloud above his head? Come on. Don't tell me you're not curious."

http://grubdaily.org/dont-be-a-hater-on-lit-mags-and-their-covers/
5:37 pm
- Blame it on New York!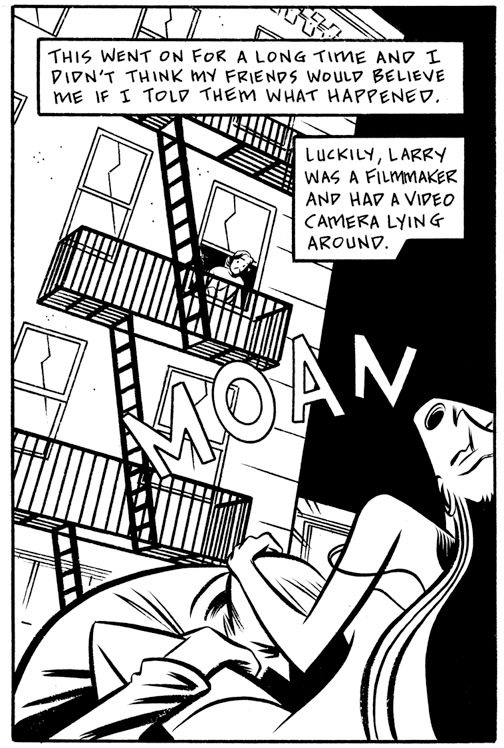 I will be reading "Boy Loves Girl Hair" and discuss the influence of NYC in my comix with a group of great cartoonists in Soho, NY.

–Dino

CBRT: BLAME IT ON NEW YORK!
How The Big Apple Influences Comics Creators

Wednesday, April 17, 2013
7:00pm – 9:00pm
The SoHo Gallery for Digital Art 138 Sullivan St. (between Prince and Houston) New York, NY 10012

Tickets: $10 in advance at http://www.brownpapertickets.com/event/362643, $15 at the door.

The Empire City, the City that Never Sleeps, The Big Apple. By any name (including Gotham City and Metropolis), the variety and diversity of people and places in New York City has had greater influence on comic book storytelling, both words and illustrations, than anyplace else on Earth. Our distinguished panel of NYC-based writers and artists, including

AL JAFFEE (MAD Fold-Ins)
PETER KUPER (Spy Vs. Spy)
DEAN HASPIEL (Bored to Death)
R. SIKORYAK (Masterpiece Comics)
MIRIAM KATIN (We Are on Our Own)
BOB FINGERMAN (Minimum Wage)

–will discuss with moderator DANNY FINGEROTH (Disguised as Clark Kent) how the Naked City inspires and permeates their work.

Facebook event page: https://www.facebook.com/events/272101036258146/
Tuesday, April 9th, 2013
---
3:09 pm
- Spandexless reviews "The Last Romantic Antihero"
Monday, April 8th, 2013
---
9:55 am
- TRIP CITY Podcast #30 Danny Fingeroth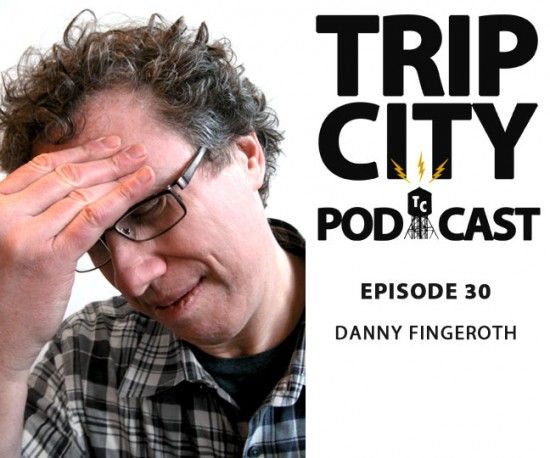 Dean Haspiel talks to Danny Fingeroth, who edited and wrote many Marvel Comics from the late 1970s to the mid-1990s, which included Spider-Man, The Avengers, Iron Man, Daredevil, What If?, Darkhawk, and Dazzler. Danny also wrote several books such as Disguised as Clark Kent: Jews, Comics, and The Creation of the Superhero, and The Stan Lee Universe (with Roy Thomas). They also discuss Danny's career as a comics writing teacher, curator, and organizer, and his new series of Comic Book Roundtable's at the Soho Gallery of Digital Art launching April 10th.

http://welcometotripcity.com/2013/04/podcast-30-danny-fingeroth/
Thursday, April 4th, 2013
---
9:20 pm
- Illegal Leaves of Grass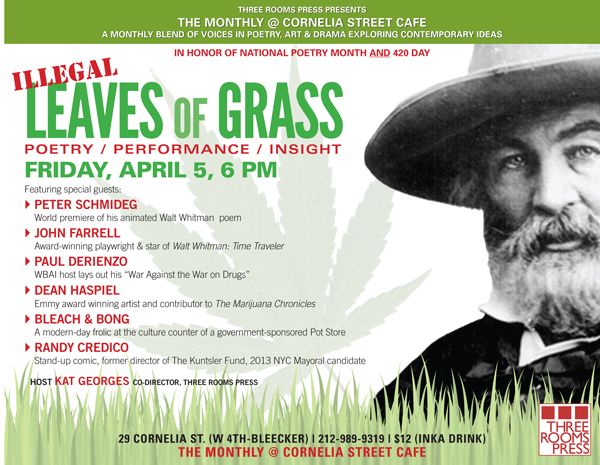 On Friday, April 5th at Cornelia Street Cafe, I will be reading my new comic, "Cannibal Sativa," to be published by Akashic Books in "The Marijuana Chronicles," edited by Jonathan Santlofer [ http://www.akashicbooks.com/catalog/the-marijuana-chronicles/ ]

--Dino

Three Rooms Press presents The Monthly at Cornelia Street Cafe

In honor of National Poetry Month and 420 Day
Illegal Leaves of Grass
An exploration of grass-related ideas from Whitman to Cheech & Chong

featuring readings and performances by
--PETER SCHMIDEG, World premiere of his animated Walt Whitman poem
--JOHN FARRELL, Award-winning playwright & star of Walt Whitman: Time Traveler
--PAUL DeRIENZO, WBAI host lays out his "War Against the War on Drugs"
--DEAN HASPIEL, Emmy award winning artist, contributor to The Marijuana Chronicles
--BLEACH & BONG, A modern-day frolic at the culture counter of a Pot Store
--RANDY CREDICO, Stand-up comic, former director of The Kuntsler Fund, 2013 NYC Mayoral candidate

Friday, APRIL 5, 6 pm
Cornelia Street Cafe
29 Cornelia Street (between Bleecker & W. 4th St.)

An wild array of comics, dramatists and visual artists hit the stage as Three Rooms Press presents "Illegal Leaves of Grass: An exploration of grass-related ideas from Whitman to Cheech & Chong."

Visual artists include DEAN HASPIEL (an Emmy-award winning animator, and creator of the Eisner Award-nominated Billy Dogma) and PETER SCHMIDEG (offering the world premiere of his animated Walt Whitman poem). Dramatists include JOHN FARRELL (founding member of NYC's legendary Everyman Company and author/star of Off-Broadway show Walt Whitman: Time Traveler), along with PAUL DeRIENZO (detailing his "War Against the War on Drugs"). And wrapping up the show will be the hilarious sketch comedy duo BLEACH & BONG, along with stand-up comic, political activist and 2013 NYC mayoral candidate RANDY CREDICO.

The event will include giveaways of Illegal Leaves of Grass-related dvds, books and other prizes!

Doors open at 5:45. Admission is $12, which includes a free drink. Cornelia Street Cafe is at 29 Cornelia Street, in the West Village, between W. 4th Street at Bleecker (http://corneliastreecafe.com/). Reservations and additional information: info@threeroomspress.com.

Illegal Leaves of is the latest installment of The Monthly at Cornelia Street Cafe, a unique series curated by Three Rooms Press that brings together leading poets, intellectuals, performers and budding rebels on a different topic each month.

Facebook event page: https://www.facebook.com/events/618767641470027/
Friday, March 29th, 2013
---
10:19 am
- NIGHT JOB Salon Gets Personal


Hannah Means-Shannon wrote a great review about NIGHT JOB, the salon I co-curated/co-hosted with Katharine Heller at Union Hall in Park Slope Brooklyn on March 20th, 2013

Excerpts:

"Haspiel's comix performance of "Awful George" from his series STREET CODE took the audience deep inside the strangeness, and the horror of urban stories, reflecting his own autobiographical reaction to witnessing a make-shift attempt to save a hoard of cats that had been willfully neglected in an apartment, only to be topped by the discovery of a mummified corpse, begging the question, "How do you deal with these kind of realities?""

"The answer from Haspiel is clearly "by expressing them and reaching out to readers". His debut performance of a newly created Tommy Rocket comic, a spin-off from his BILLY DOGMA web comix, spoke to the twisted aspects of love, and the realities of failure and regret. Haspiel never pulls any punches in his comics, autobio or not, and these hammered home the role of authenticity in performance; getting up in front of a crowd to read your comics demands a kind of soul-baring stance that hits home for the audience."

"One of the most winning aspects of NIGHT JOB, aside from his cohesion as a salon of the personal made public, was the fact that Haspiel asked, repeatedly, if anyone else would like to perform their work, friend or stranger alike. It suggested an open-door to artists of any genre who also had something to share. The tone of the evening, celebrating unique perspectives with communal implications, was as well suited to comics as music and comedy."

Read the full review here: http://comicsbeat.com/on-the-scene-night-job-salon-gets-personal/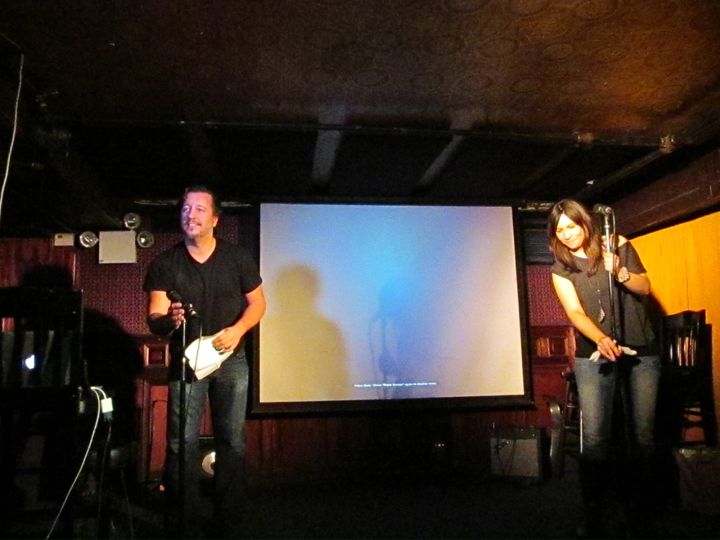 Photographs c.2013 Hannah Means-Shannon
Wednesday, March 27th, 2013
---
11:34 am
- Asbury Park Comicon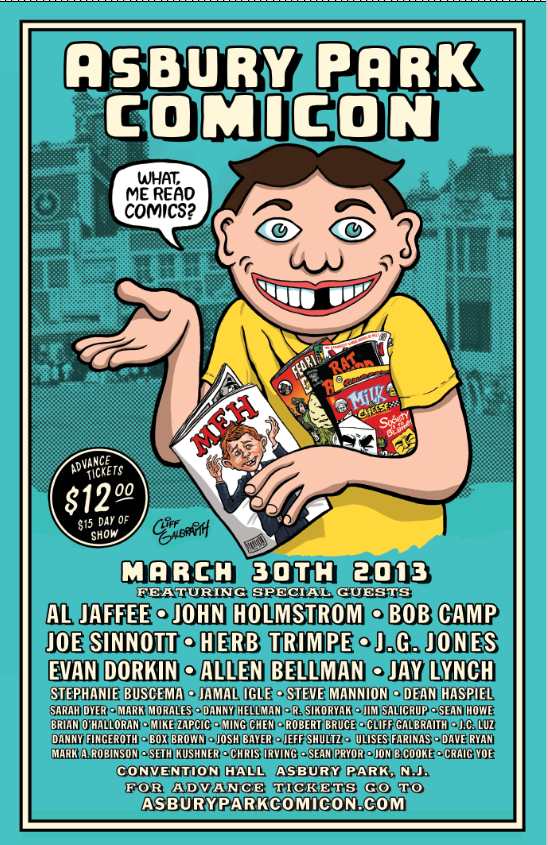 TRIP CITY curators, Dean Haspiel and Seth Kushner will be guests at Asbury Park Comicon this Saturday, March 30th at Convention Hall in Asbury Park, NJ.

http://asburyparkcomicon.com/

Dean will be selling copies of his latest Billy Dogma comic, THE LAST ROMANTIC ANTIHERO, and Seth will have copies of his new anthology, FORCE FIELD FOTOCOMIX VOL.01, as well as copies of LEAPING TALL BUILDINGS: THE ORIGINS OF AMERICAN COMICS, CulturePOP Book-1 and his minicomic, SCHMUCK: Beer, Boobs and Brooklyn Edition.

Other guests include:

Al Jaffee, Bob Camp, Box Brown, Don McGregor, Evan Dorkin, Herb Trimpe, Jay Lynch, John Holmstrom, Box Brown, Christopher Irving, Cliff Galbraith, Craig Yoe, Danny Fingeroth, Danny Hellman, Dave Ryan, Jamal Igle, Jim Salicrup, Jon B. Cooke, Josh Bayer, Mark Morales, Michael Uslan, Mike Dawson, R. Sikoriak, Robert Bruce, Rudy Nebres, Sarah Dyer, Sean Howe, Sean Pryor, Stephanie Buscema, Ulises Farinas

Asbury Park Comiccon is a true celebration of comics, as this recent New York Times article can attest: http://www.nytimes.com/2013/03/24/nyregion/asbury-park-convention-to-focus-on-comic-books.html?_r=2&
Monday, March 25th, 2013
---
10:52 am
- FOREVER DUSTY: A FOTOCOMIX EXPERIENCE
Saturday, March 23rd, 2013
---
10:12 am
- Mom 70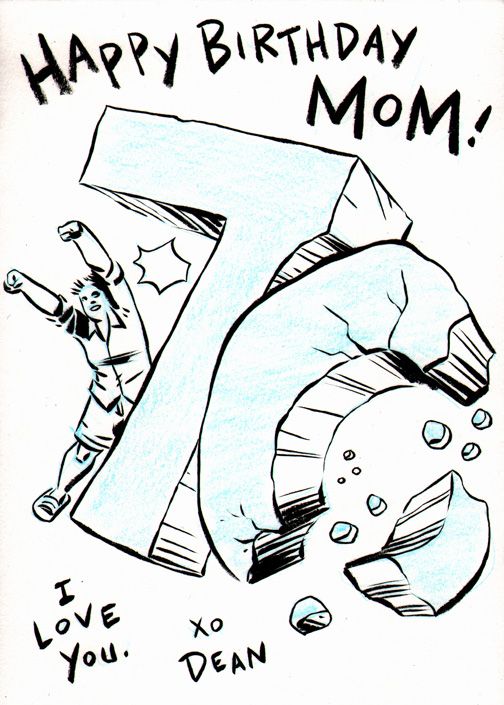 Happy 70th Birthday, Mama!

I love you.

--Dean

current mood: blah
Friday, March 22nd, 2013
---
12:35 pm
- Aleister & Adolf
"I'm doing this graphic novel with Dean Haspiel, and it's basically, "What if Aleister Crowley had been enlisted in the occult war against Adolf Hitler?" Which he was. And then I kind of go, "How might that have played out?" Then it leads to the American advertising industry. So the idea is that Crowley kind of won, but this is what we got. We got another form of fascism, or another sigil."
-- Douglas Rushkoff

http://mobile.avclub.com/articles/douglas-rushkoff-on-khaleesi-lady-gaga-and-why-sop,94094/?mobile=true
Tuesday, March 19th, 2013
---
10:59 am
- Anatomy of a Photocomic
Saturday, March 16th, 2013
---
1:04 pm
- Using Autobiography in Graphic Novels - Video
Here is a video (produced by Alton Christensen) of the autobio comix talk I did with Laura Lee Gulledge, Bob Fingerman, and Ethan Young, moderated by Christopher Irving at Housing Works in Soho, NY on March 5th.


12:58 pm
- ACA #147 video


Here's a "quick look" (video) of my residency at The Atlantic Center for the Arts, featuring Ellen Forney, Megan Kelso, and a bunch of my associates.
Thursday, March 7th, 2013
---
1:11 am
- 'The Cartoonist in Comics' at Housing Works
Hannah Means-Shannon reports about 'The Cartoonist in Comics' at Housing Works NYC at The Beat.

Excerpts:

"Haspiel's comic narrated the already inherently absurd scenario of playing a thug in a friend's film being chased by a costumed superhero an the equally absurd but downright serious impact of being mistaken for a real thief and being mown down by a would-be vigilante on set. Haspiel's "DUMBO" focused on the psychological shock and mental processes handling the bizarre, and all too physically real situation."

"Haspiel's own feelings about the difference between autobiographical and semi-autobiographical comics, two genres he has worked with extensively, pivot on his concern that autobiographical comics only allow the reader to act as "voyeur" in someone else's life. Like Fingerman, Haspiel reflected on the fact that semi-autobiographical narratives enable the creator to zero-in on "emotional truths" that they might not be able to emphasize as fully when sticking purely to facts. His advice to autobiographical or semi-autobiographical cartoonists, generally, is to "get outside" and experience life, making sure you "show up to the party" that is life and take part in order to create compelling stories."

"Haspiel commented on the ways that social media has become a form of autobiographical expression, leading him further down the road of embracing metaphor rather than strict biography in his work. Haspiel argued for the need to be "be part of a community", whether seeking crowd-funding or readership."

Read the rest of the story here:
http://comicsbeat.com/on-the-scene-the-cartoonist-in-comics-at-housing-works-with-haspielfingermangulledgeyoung/
Wednesday, March 6th, 2013
---
11:00 pm
- Aquaman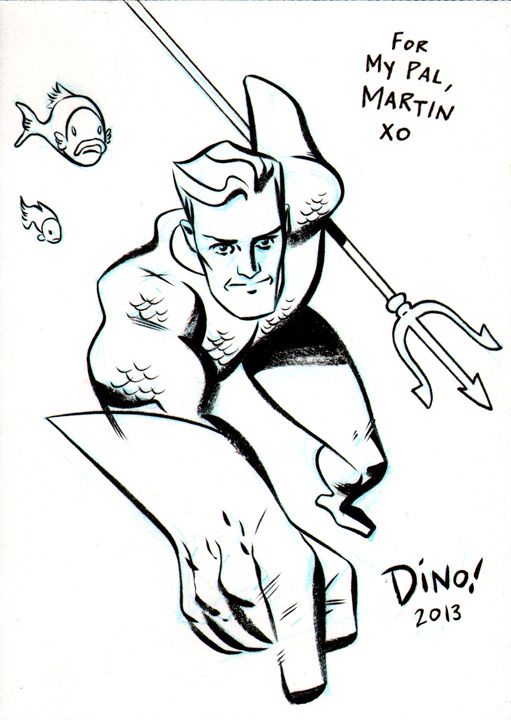 I drew Aquaman for my pal Martin Wendel.
Thursday, February 28th, 2013
---
11:25 pm
- Carousel brings comics and their creators to the stage
"Dean Haspiel had a more contemplative take on the event. "Performing a comic book challenges the presets of what's intended to be read in your head… it frees me to experiment with narrative pace and the meaning of my words," Haspiel continued. "Sikoryak's unique Carousel series inspires me to write and draw comics that have cross-purpose potential."

Article by Dre Grigoropol for The Beat: http://comicsbeat.com/carousel-brings-comics-and-their-creators-to-the-stage/
Wednesday, February 27th, 2013
---
4:30 pm
- March 5th: Using Autobiography in Graphic Novels at Housing Works NYC




I'll be waxing semi-autobio comix and reading "DUMBO," a comic I did about the time someone mistook me for a thief during a film shoot and went vigilante on my ass with his car!

--Dino

The Cartoonist in Comics: Using Autobiography in Graphic Novels

Tuesday, March 5 at 7:00pm
Housing Works, 126 Crosby Street, NYC
Free!

These four cartoonists more than put themselves into their art, but become their cartooning, directly reflecting their lives and personalities in their work.

Geek Week 2013 gets an injection of semi-autobiographical cartoonists Dean Haspiel, Bob Fingerman, Laura Lee Gulledge, and Ethan Young for a panel moderated by Christopher Irving, where they'll get to the core of why they put themselves into their stories. The panel kicks off with quick readings of their work, and an informal round table talk about the ins and outs of semi-autobio cartooning.
http://www.housingworks.org/events/detail/the-cartoonist-in-comics-using-autobiography-in-graphic-novels/
Tuesday, February 26th, 2013
---
7:49 pm
- DARE2DRAW + ACT-I-VATE + Lady Action
On February 20th, 2013, I helped celebrate the 7-year anniversary of the webcomix collective, ACT-I-VATE, during David Chenet's DARE2DRAW, which was hosted by Liza Biggers and special guest host, Josh Siegel, at Society of Illustrators, where dynamic action models brought the classic Captain Action and Lady Action figures to life!

http://www.dare2draw.org/



[Simon Fraser, Josh Siegel, and Dino rallying the troops]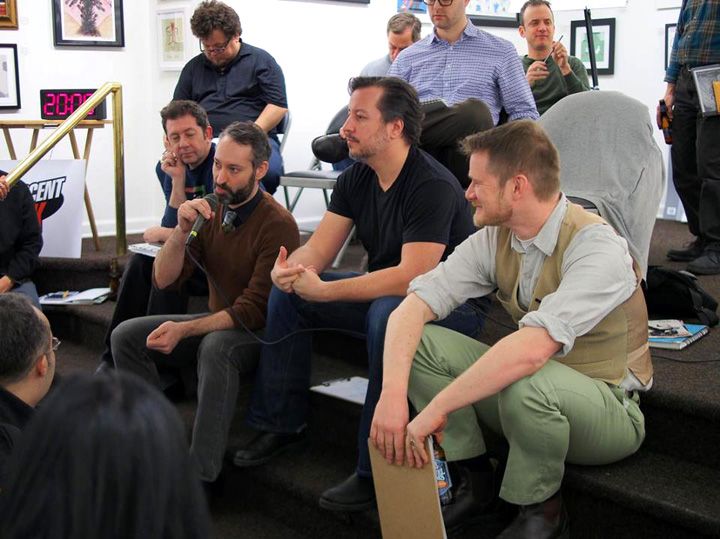 [Josh Siegel, Dino, and Simon Fraser, dropping comix book science]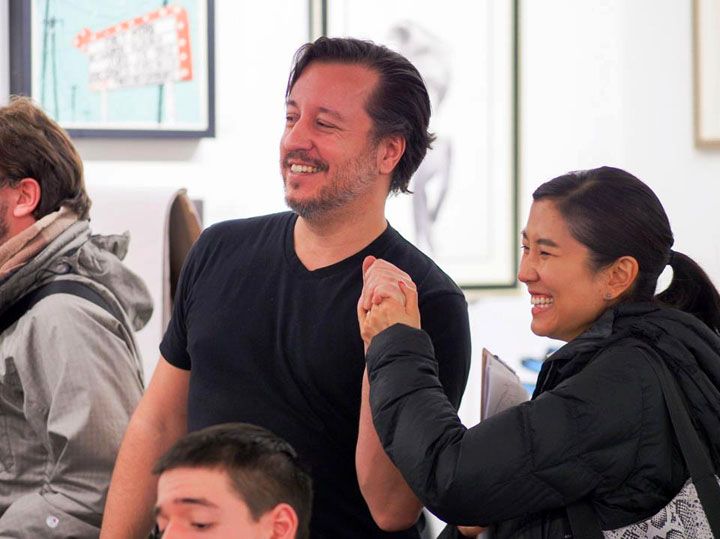 [Dino with actress/entrepreneur, Natalie Kim]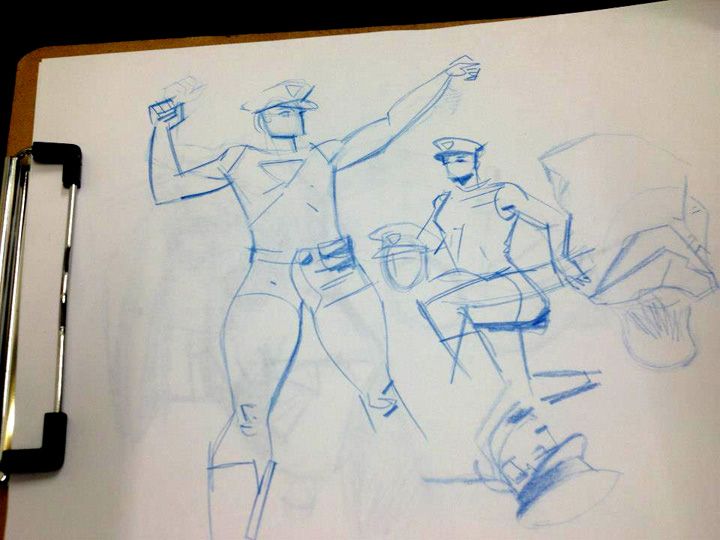 [2-minute Lady Action sketches by Dino]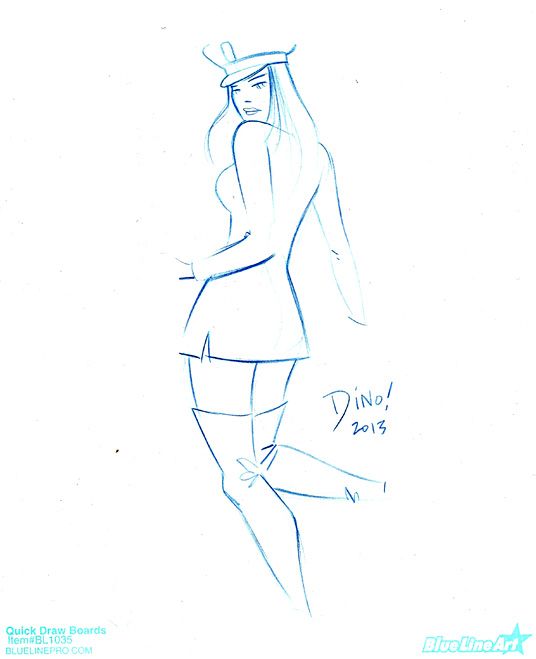 [Lady Action quick draw by Dino]

Photos c.2013 Dan Perico. More Photos here: http://www.facebook.com/media/set/?set=a.512785362092955.111277.184265034944991
---