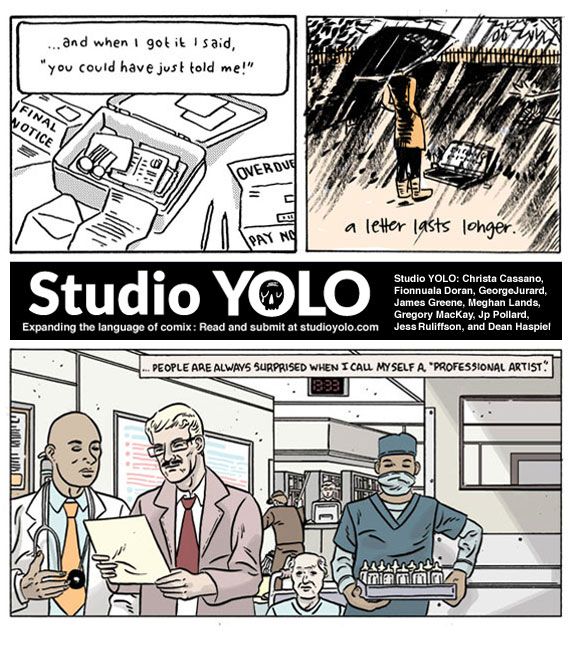 Studio YOLO (You Only Live Once) is an online artist collective composed of eight different cartoonists from around the world. The collective formed as a direct result of a residency held at the Atlantic Center for the Arts in New Smyrna Beach, Florida, where these cartoonists were selected to study under master artist Dean Haspiel, so that they may improve their craft as storytellers over a three week period. During the residency, Dean proposed a challenge to Studio YOLO: to interpret a script with no visual cues, only text used as dialogue and/or narration into a fully realized comic that would later be published at TripCity.net
After the success of this exercise, Studio YOLO decided that new challenges be put forth with one of the members writing a similarly loose script for all the other members to interpret. In addition, Studio YOLO showcases a handful of guest artists whose work is published along with the founder's work on the site. Anyone and everyone is encouraged to take the Studio YOLO challenge.
Studio YOLO is dedicated to telling quality stories and expanding upon the language of comics. Studio YOLO consists of Christa Cassano, Fionnuala Doran, GeorgeJurard, James Greene, Meghan Lands, Gregory MacKay, Jp Pollard, Jess Ruliffson, and YOLO emeritus, Dean Haspiel.
http://studioyolo.com/