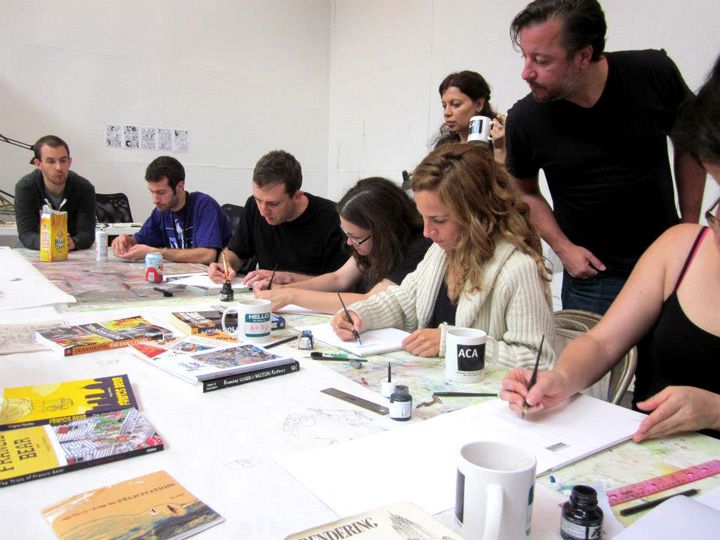 ("Master artist," Dean Haspiel mentoring comix at The Atlantic Center for the Arts)
Calling all writers and artists interested in steeping in the art of comic book storytelling. Earlier this year, I conducted a workshop at MoCCA, to great success and, after a recent 3-week stint mentoring comix at The Atlantic Center for the Arts, I'm conducting another workshop at MoCCA's new spot at The Society of Illustrators in NYC.
Dean Haspiel Comic Book Storytelling Workshop at Society of Illustrators
Wednesday, December 5th
6:30 p.m. – 9:30 p.m.
The Museum of Comic and Cartoon Art (MoCCA) at the Society of Illustrators is proud to announce the third in the fall series of classes and events presented in conjunction with comics writer, editor, and instructor Danny Fingeroth, whose programs at MoCCA set the standard for comics education.
In this three-hour intensive session, Brooklyn's own Dean Haspiel will share his knowledge of how to tell stories in words and pictures. Whether your goal is to create your own stories from first inspiration to finished comic – paper or digital – or to work as part of a collaborative team, Dean will show you how ideas become images and images become stories. Combining an interactive lecture with in-class assignments and critiques of each student's work, this class will test the limits of your storytelling abilities as you stretch heretofore-unknown narrative muscles.
(Note: Students are expected to bring sketchbooks and pencils. A sense of wonder wouldn't hurt, either.)
TUITION:
Early Bird Special!
Register by November 15: $75/ $65 for SI & MoCCA members
Register after November 15: $90/ $80 for SI and MoCCA members
RSVP@societyillustrators.org
http://www.societyillustrators.org/Mocca_Event.aspx?id=8823