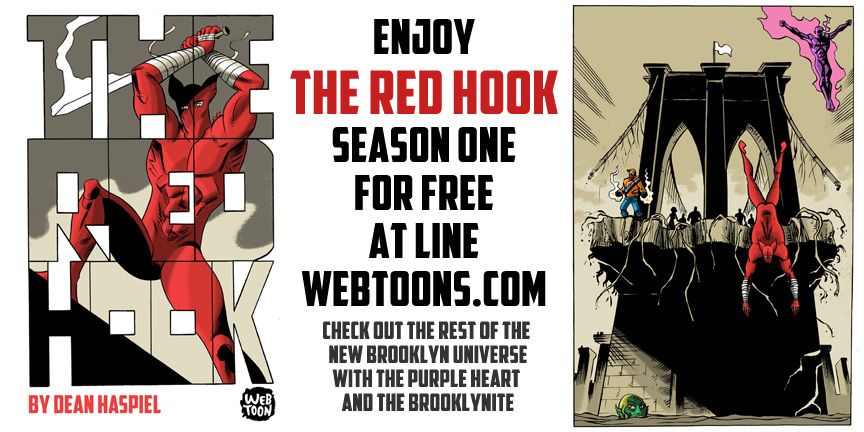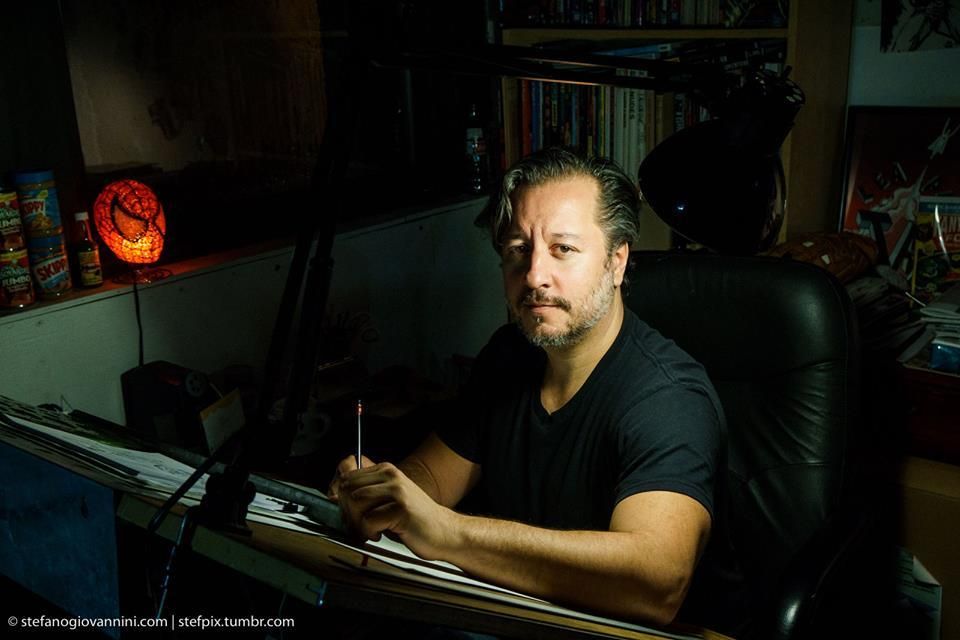 http://www.deanhaspiel.com/

Emmy award winner and Eisner and Harvey Award nominee Dean Haspiel created Billy Dogma, The Red Hook, illustrated for HBO's "Bored To Death," was a Master Artist at the Atlantic Center for the Arts, is a Yaddo fellow, a playwright, helped pioneer personal webcomix via ACT-I-VATE, and multimedia salon TRIP CITY.net, and is the co-founder of HANG DAI Studios. Dino has written and drawn many comix for Marvel, DC, Archie, IDW, Dark Horse, & Heavy Metal, including The Fox, The Fantastic Four, Spider-Man, X-men: First Class, Deadpool, Batman, Wonder Woman, Godzilla, Mars Attacks, Creepy, The Walking Dead, SpongeBob SquarePants, and semi-autobio collaborations with Harvey Pekar, Jonathan Ames, Inverna Lockpez, Jonathan Lethem, Stoya, and Stan Lee. Look out for his latest graphic novel about his Manhattan exodus to Brooklyn, BEEF WITH TOMATO (Alternative Comics). Read THE RED HOOK for free at LINE Webtoons http://www.webtoons.com/en/super-hero/the-red-hook/list?title_no=643

Instagram: https://www.instagram.com/deanhaspiel_art/
Twitter: https://twitter.com/deanhaspiel

Artist's Statement:
I'm impelled to excavate universal truths and impart life experiences from my unique perspective to communicate with strangers and perpetuate hope with no permissions and no apologies.

Honors:
-Yaddo fellow.
-Master Artist at The Atlantic Center for the Arts
-Emmy Award winner for title design work on HBO's "Bored To Death."
-Eisner Award nominee for "Talent Deserving of Wider Recognition" and "Outstanding Webcomic."
-Harvey Award nominee for "Best Artist"




Please click here to see what Dean's been up to at TRIP CITY: http://welcometotripcity.com/author/dean-haspiel/

HANG DAI Editions: http://hangdaieditions.com/

Experiencing Yaddo First-Hand: An Interview with Cartoonist Dean Haspiel: http://thefreegeorge.com/thefreegeorge/dean-haspiel-yaddo-interview/

The Atlantic Center for the Arts: Residency #147: http://welcometotripcity.com/2012/12/the-atlantic-center-for-the-arts-residency-147/

Tom Spurgeon interviews me for The Comics Reporter: http://www.comicsreporter.com/index.php/cr_holiday_interview_2_dean_haspiel/

Poet Sandra Beasley interviews me for Barrelhouse Magazine
http://www.barrelhousemag.com/barrelhousing-with-comic-artist-dean-haspiel-an-interview-by-sandra-beasley/

Dean Haspiel speaks at The Library of Congress: http://www.loc.gov/today/cyberlc/feature_wdesc.php?rec=5709

ATTENTION Art Directors, Editors, Publishers, Writers, Etc: if you'd like to see current samples of Dean Haspiel's art, please check out his gallery: http://welcometotripcity.com/2012/01/dean-haspiel-gallery/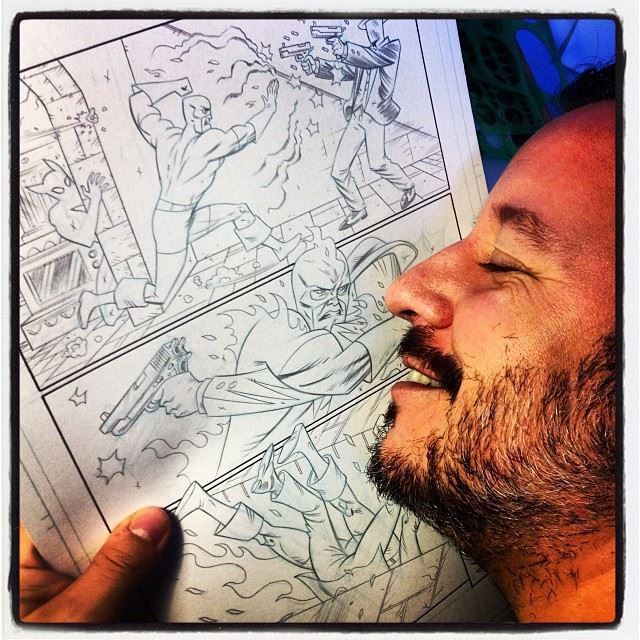 [Photographed by Seth Kushner]

TRIP CITY is the current vista where Dean Haspiel's cosmic bruiser, Billy Dogma, excavates unexpurgated romance and adventure with his knock 'em dead dame, Jane Legit, while flexing two-fisted aggro-moxie and purple staccato for the 21st Century.

Billy Dogma in IMMORTAL: http://www.act-i-vate.com/21.comic
Billy Dogma in FEAR, MY DEAR: http://www.act-i-vate.com/22.comic
Billy Dogma in SEX PLANET: http://welcometotripcity.com/2011/11/billy-dogma-in-sex-planet-2/
SEX PLANET Motion Comic: http://vimeo.com/16505667
Billy Dogma in BRING ME THE HEART OF BILLY DOGMA: http://welcometotripcity.com/2011/10/bring-me-the-heart-of-billy-dogma/
Billy Dogma in THE LAST ROMANTIC ANTIHERO: http://welcometotripcity.com/2011/12/the-last-romantic-antihero/
THE ANGEL: http://www.act-i-vate.com/109-1-1.comic
THE ANGEL - CulturePOP [w/Seth Kushner]: http://www.act-i-vate.com/104-15.comic
THE ANGEL - MOTION COMIC: http://vimeo.com/19466710
Dean Haspiel's STREET CODE: http://www.comixology.com/series/4841/
A-OKAY COOL: http://www.act-i-vate.com/93-1-1.comic
HAVE YOU SEEN HER?: http://www.act-i-vate.com/111-1-1.comic
SNOW DOPE [NY Times]: http://proof.blogs.nytimes.com/2008/12/20/snow-dope/
BZZT: http://www.smithmag.net/nextdoorneighbor/2009/04/19/story-27/
91101: http://www.act-i-vate.com/91.comic
The Red Hook http://welcometotripcity.com/2013/06/the-red-hook/
Tommy Rocket http://welcometotripcity.com/2013/05/tommy-rocket-in-legacy/

Ben McCool & Dean Haspiel's THE-FIVE DIMENSIONAL ADVENTURES OF DIRK DAVIES
http://shiftylook.com/comics/dirkdavies/the-traveler/

THE LAST MORTICIAN http://www.tor.com/stories/2011/10/the-last-mortician
THE LAST MORTICIAN - Behind The Scenes http://vimeo.com/29871087
THE LAST MORTICIAN - News & Reviews http://man-size.livejournal.com/546958.html

Designing "Of Monsters and Men" for Syfy's WAREHOUSE 13
http://man-size.livejournal.com/540925.html

FLAUNT exclusive interview with Dean Haspiel
http://flaunt.com/flaunt/flaunt-exclusive-dean-haspiel

The Hourly Planet interviews Dean Haspiel
http://thwpdotnet.wordpress.com/2011/11/16/winterview-dean-haspiel/

Dean Haspiel reads STREET CODE: Beef With Tomato
http://www.thecomicarchive.com/archives/1399

Body English:
http://www.undiepress.com/2011/03/15/body-english/

New York Times profile: Beyond 'Peanuts' by George Gene Gustines
http://www.nytimes.com/2009/02/01/nyregion/thecity/01cart.html

NPR: Graphic Novel Tells Grim Story Of Cuban Revolution
http://www.npr.org/templates/story/story.php?storyId=131570714

io9: Erotic superhero insanity with Bored to Death's cartoonist Dean Haspiel
http://io9.com/#!5755242/bored-to-deaths-dean-haspiel-talks-act+i+vate-the-internets-premiere-webcomics-collective

LA TIMES/HERO COMPLEX: 'The Angel,' a heartbreak in motion from Dean Haspiel, Moby
http://herocomplex.latimes.com/2011/02/14/the-angel-a-heartbreak-in-motion-from-dean-haspiel-moby/

Seth Kushner's CulturePOP profile on Dean Haspiel
http://www.act-i-vate.com/104-15-1.comic

GRAPHIC NYC profiles Dean Haspiel
http://graphicnyc.blogspot.com/2009/02/bleeding-hipster-ink-chat-with-dean.html

BIT 'Artist to Artist' featuring Seth Kushner & Dean Haspiel
http://briccommunitymedia.wordpress.com/2009/02/27/ciat-eps-11-artist-to-artist/

Authors@Google featuring Jonathan Ames & Dean Haspiel
http://www.youtube.com/watch?v=0fXzCEICm6U

RADAR featuring NDN & DEEP6 Studios
http://www.babelgum.com/html/clip.php?clipId=3015272

BIT 'Neighborhood Beat' featuring DEEP6 Studios
http://briccommunitymedia.wordpress.com/2009/05/28/neighborhood-beat-gowanus-deep-6-studios/

The Daily Cross Hatch interviews Dean Haspiel
http://thedailycrosshatch.com/2010/07/21/interview-dean-haspiel-pt-1/
http://thedailycrosshatch.com/2010/07/27/interview-dean-haspiel-pt-2/
http://thedailycrosshatch.com/2010/08/03/interview-dean-haspiel-pt-3-of-4/
http://thedailycrosshatch.com/2010/08/09/interview-dean-haspiel-pt-4-of-4/

MTV GEEK video-interviews Dean Haspiel at NYCC 2010
http://www.mtv.com/videos/interview/588226/cuba-my-revolution.jhtml#id=1650312
http://www.mtv.com/videos/interview/588147/act-i-vate-and-mtv-comics.jhtml#id=1650312
http://www.mtv.com/videos/interview/588224/a-phone-call-from-harvey-pekar.jhtml#id=1650312
http://www.mtv.com/videos/interview/588151/winning-an-emmy.jhtml#id=1650312

The Brooklyn Paper: The Dean? No, the Godfather of Brooklyn's comic scene
http://www.brooklynpaper.com/stories/33/40/24_deanhaspiel_2010_10_01_bk.html

The Brooklyn Paper: Brooklyn — In Dean Haspiel's words
http://www.brooklynpaper.com/stories/33/40/24_deanhaspielsidebar_2010_10_01_bk.html

ACT-I-VATE [the premier webcomix collective]
http://www.act-i-vate.com/index

ACT-I-VATE EXPERIENCE [documentary]
http://vimeo.com/8204237

NEWSARAMA: Welcome to Webcomics: Dean Haspiel
http://blog.newsarama.com/2009/02/18/welcome-to-webcomics-dean-haspiel/

FLICKCAST interviews Dean Haspiel
http://theflickcast.com/2009/10/26/interview-dean-haspiel-on-act-i-vate-bored-to-death-and-jack-kirby/

BORED TO DEATH: Ray's drawings
http://www.hbo.com/boredtodeath/drawings/

BORED TO DEATH: SUPER RAY mini-comic [Comicon]:
http://www.hbo.com/bored-to-death/inside/extras/download/super-ray.html

BORED TO DEATH - Art of the Title Sequence w/Dean Haspiel + Tom Barham
http://www.artofthetitle.com/2009/10/05/bored-to-death/

Dean Haspiel accepts an EMMY for his work on BORED TO DEATH
http://www.vimeo.com/17903150

Comic Critique interviews Ames & Haspiel
http://www.comiccritique.com/cgi-bin/gcolumn.pl?id=525

Dean Haspiel's Top 5 Non-Comic Book Influences at GRAPHIC NYC
http://graphicnyc.blogspot.com/2009/10/influencing-comics-1-dean-haspiels-top.html

Dean Haspiel's Anatomy Of An American Splendor Cover at GRAPHIC NYC
http://www.nycgraphicnovelists.com/2009/11/dean-haspiels-anatomy-of-american_29.html

Wednesday's Child interviews Dean Haspiel at Baltimore Comicon 2009
http://wednesdayschildcomics.wordpress.com/2010/01/27/132-interview-with-dean-haspiel-baltimore-comic-con-2009/

OVERFLOW Magazine profiles Dean Haspiel
http://issuu.com/overflow.magazine/docs/issue5/13

TWI-NY TALK: Dean Haspiel
http://twi-ny.com/blog/2010/04/06/twi-ny-talk-dean-haspiel/

Graphic NYC presents 'MoCCA Fest 2010: The Art of the Superhero'
http://www.nycgraphicnovelists.com/2010/04/mocca-fest-2010-art-of-superhero.html
http://man-size.livejournal.com/485371.html

LA Times: HASPIEL: Harvey Pekar's testament to life -- with no apologies:
http://latimesblogs.latimes.com/herocomplex/2010/07/harvey-pekar-dean-haspiel.html

TheActionRoom.com interviews Dean Haspiel and Jeff Newelt at MoCCA Fest 2010
http://www.youtube.com/watch?v=UKNZYSu2wNY

PASTE MAGAZINE/FCBD: featuring Dean Haspiel's first comic book memories
http://www.pastemagazine.com/blogs/lists/2010/05/every-day-should-be-free-comic-book-day-mark-milla.html

NYT: The Unfinished Tale of an Unlikely Hero
http://www.nytimes.com/2010/09/05/arts/design/05pekar.html

CBR/Robot 6: Dean Haspiel talks Cuba, Deadpool, Woodgod and missing Harvey...
http://robot6.comicbookresources.com/2010/09/dean-haspiel-talks-cuba-deadpool-woodgod-and-missing-harvey/

Presenting the Ignatz award for Best Graphic Novel at SPX 2010
http://www.comicsalliance.com/2010/09/13/dean-haspiel-shirtless-ignatz-award-presentation-video/

Dean Haspiel discusses Jack Kirby's DEVIL DINOSAUR at HiLobrow
http://hilobrow.com/2011/03/03/kirb-your-enthusiasm-18/

Writing With Pictures interview: http://www.palleschmidt.com/2011/06/interviewed-dean-haspiel.html

The Comic Archive video interviews Dean Haspiel
http://man-size.livejournal.com/539391.html



[Paul Pope, Dean Haspiel, Frank Miller, Kyle Baker, Jaime Hernandez. Photographed by Seth Kushner]

***

CUBA: MY REVOLUTION - news and reviews
http://man-size.livejournal.com/494560.html

THE ACT-I-VATE PRIMER - news and reviews
http://man-size.livejournal.com/484717.html

Cousin Corinne's REMINDER featuring COMIX BLOCK / news & reviews
http://man-size.livejournal.com/485111.html

NEXT-DOOR NEIGHBOR [NDN]: http://www.smithmag.net/nextdoorneighbor/