Sunday, May 31st, 2020
---
12:36 pm
- Dino FAQ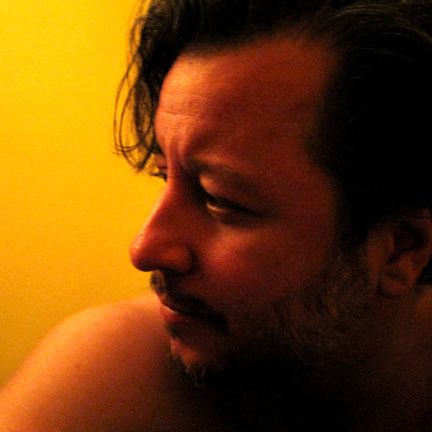 http://www.deanhaspiel.com/

Emmy award winner and Eisner and Harvey Award nominee Dean Haspiel created BILLY DOGMA, illustrated for HBO's "Bored To Death," was a Master Artist at the Atlantic Center for the Arts, is a Yaddo fellow, a playwright ("Switch To Kill"), occasionally teaches comic book storytelling, and is the co-founder of HANG DAI Editions. Dino has written and drawn many comix including The Red Hook, The Fox, The Fantastic Four, Spider-Man, X-men, Deadpool, Batman, Godzilla, Mars Attacks, and semi-autobio collaborations with Harvey Pekar, Jonathan Ames, Inverna Lockpez, Stan Lee, and Jonathan Lethem. Look out for his latest graphic novel, FEAR, MY DEAR: A Billy Dogma Experience.




Please click here to see what Dean's been up to at TRIP CITY: http://welcometotripcity.com/author/dean-haspiel/

Experiencing Yaddo First-Hand: An Interview with Cartoonist Dean Haspiel: http://thefreegeorge.com/thefreegeorge/dean-haspiel-yaddo-interview/

The Atlantic Center for the Arts: Residency #147: http://welcometotripcity.com/2012/12/the-atlantic-center-for-the-arts-residency-147/

Tom Spurgeon interviews me for The Comics Reporter: http://www.comicsreporter.com/index.php/cr_holiday_interview_2_dean_haspiel/

Poet Sandra Beasley interviews me for Barrelhouse Magazine
http://www.barrelhousemag.com/barrelhousing-with-comic-artist-dean-haspiel-an-interview-by-sandra-beasley/

Dean Haspiel speaks at The Library of Congress: http://www.loc.gov/today/cyberlc/feature_wdesc.php?rec=5709

ATTENTION Art Directors, Editors, Publishers, Writers, Etc: if you'd like to see current samples of Dean Haspiel's art, please check out his gallery: http://welcometotripcity.com/2012/01/dean-haspiel-gallery/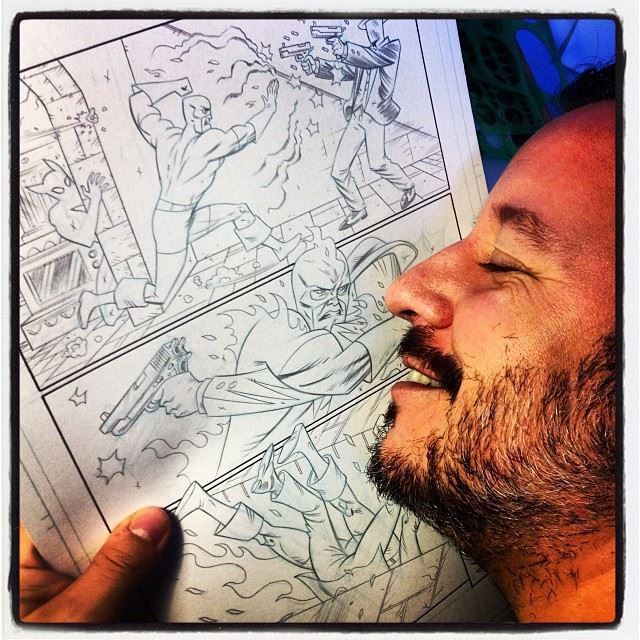 (
Click here for comix, interviews, news, videos, and other essential links
Collapse
)
Tuesday, January 27th, 2015
---
3:09 pm
- Hang Dai Editions announces 2015 slate of signature comix!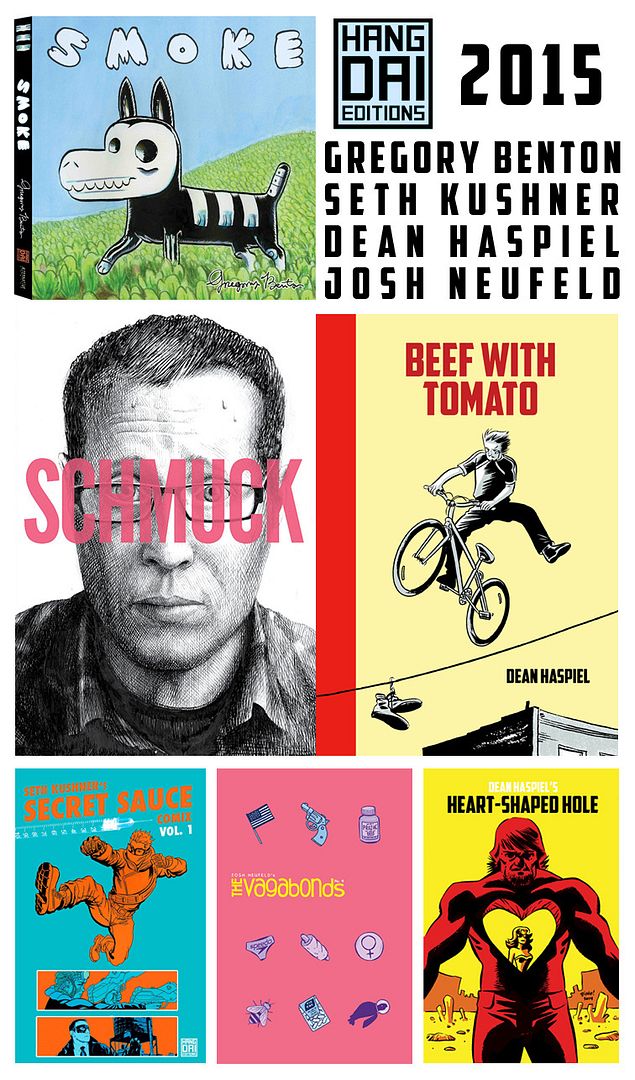 Hang Dai Editions announces 2015 slate of signature comix!

Hang Dai Editions was formed by New York cartoonists Gregory Benton, Dean Haspiel, Seth Kushner, and Josh Neufeld in 2014 to publish their signature works, some of which they make a point of hand-selling only at shows via personal interaction.

HDE is pleased to announce our 2015 slate of releases. We are also teaming up with Alternative Comics for distribution and some publishing. Alternative Comics publisher, Marc Arsenault affirmed, "I'm very excited to welcome Hang Dai Editions to the new Alternative Comics. Josh and Dean were a big part of Alternative in the past—not just as creators. It's nice to have that continuity. I'm looking forward to everything that comes out of their studio."

Alternative Comics is an independent publisher of creator-owned graphic novels and comic books founded in 1993 and based in Cupertino, California. Alternative Comics established itself as one of the leading publishers of the independent comics movement in the 2000's. Under the management of comic book industry veteran Marc Arsenault since 2012, Alternative has expanded it's range of titles and formats, continuing to work with new and emerging talent as well as many seasoned creators. Alternative Comics' creators and books have been nominated for and won multiple comics and publishing industry awards. Their books are distributed by Consortium Book Sales & Distribution and comics are distributed by Diamond Comic Distributors, Inc. More information at: http://IndyWorld.com

HDE's 2015 slate of comix:

SCHMUCK by Seth Kushner and various artists
September 2015
184-pages. Full color.
SCHMUCK is a graphic novel memoir about one man's awkward coming-of-age-quest to find love in New York City, written by SETH KUSHNER, with design by ERIC SKILLMAN and a forward by JONATHAN AMES. SCHMUCK is an anthology featuring art by 23 great cartoonists, including; Nick Bertozzi, Gregory Benton, Dean Haspiel, Josh Neufeld, Noah Van Sciver, Leland Purvis, Sean Pryor, Bobby Timony, Shamus Beyale, Ryan Alexander-Tanner, George Schall, Nathan Schreiber, Stephen Destefano, Jon Allen, Christa Cassano, Kevin Colden, Tony Salmons, George Jurard, Omar Angulo, Pierce Hargan, Skuds Mckinley, James O Smith, Tim Ogline and cover by Joseph Remnant.

SMOKE by Gregory Benton
September 2015
64-pages. Full color.
After an accident on an industrial farm unhinges two young brothers from reality, they are guided through a weird and wonderful journey by Xolo, the mythological protector of souls.

BEEF WITH TOMATO by Dean Haspiel
September 2015
96-pages. B+W comix and essays. (published by Alternative Comics)
A native New York bruiser is fed up with life in the dregs of a drug-addled Alphabet City where his neighbors are shut-ins and his bicycle is always getting stolen. He escapes from Manhattan to make a fresh start in Carroll Gardens, Brooklyn, only to face a new strain of street logic — where most everything he encounters is not as it seems. Emmy Award-winning artist Dean Haspiel returns to his semi-autobiographical roots with BEEF WITH TOMATO, where he explores the emotional truths between prime and primate.

THE VAGABONDS #4 by Josh Neufeld
March 2015
24-pages. Full color.
Josh Neufeld's The Vagabonds #4 serves up a spicy blend of journalism, social commentary, memoir, and literary fiction. This issue features Neufeld's story of racial profiling at the U.S./Canadian border and three collaborations with Neufeld's wife, writer Sari Wilson. Throw in a couple of light-hearted travel tips, and The Vagabonds #4 is chock-full of the thought-provoking and witty comics Neufeld is known for.

HEART-SHAPED HOLE by Dean Haspiel
April 2015
24-pages. Full color.
Billy Dogma and Jane Legit punch the apocalypse right in the kisser as their eternal war of woo breaks a Trip City-wide hymen.

SECRET SAUCE COMIX Vol.1 by Seth Kushner and various artists
April 2015
28-pages. Full color.
Seth Kushner's new anthology features a mix of fumetti/cosplay, indie/sci-fi, and Silver-age inspired heroes by way of THE BROOKLYNITE, drawn by Shamus Beyale, COSTUMED CHARACTERS, layouts by Dean Haspiel, and YOUTOPIA, illustrated by Charles Stewart.

Here is a list of HDE's 2014 comix, still available!

SCHMUCK COMIX #1
Seth Kushner's semi-autobio webcomic gets a print edition with three stories written by Seth and drawn by Jon Allen, Shamus Beyale and Noah Van Sciver. Cover by Gregory Benton.

PSYCHOTRONIC COMIX is Dean Haspiel's anthology of memoir and Silver Age inspired genre featuring The Red Hook, Tommy Rocket, A-Okay Cool, and NY Stories.

FORCE OF NATURE by Gregory Benton, follows an artist through a lush forest as he searches for a lost sketchbook.

THE VAGABONDS #3
After an eight-year hiatus, Josh Neufeld's The Vagabonds returns with its third issue — now published by Hang Dai! Many things have changed in the interim: Neufeld produced three books, became a father, and won a year-long journalism fellowship. This issue highlights Neufeld's journalistic work over the past few years, including reportage on Hurricane Sandy, the Arab Spring, the education wars (with writer Adam Bessie), and the life of a "comics journalist."

STAKE
A lone woman fights the odds in this no-holds-barred short companion piece to B+F by Gregory Benton.

POCKET BOOK 2 by Gregory Benton
Drawn from life, pages from Gregory Benton's sketchbooks create a loose narrative. Travel through the NYC subway, take in a concert or two, and wash up on the beach.

http://hangdaieditions.com/2015/01/27/hang-dai-editions-announces-2015-slate-of-signature-comix/
Monday, January 26th, 2015
---
8:34 pm
- Wizard World Portland 2015 - sketches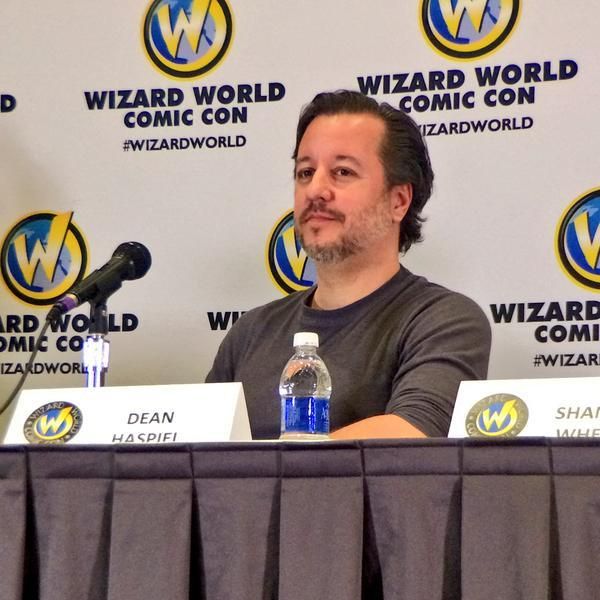 At Wizard World Portland I had a fun time doing panels with Shannon Wheeler, David Chelsea, and Chris Claremont, curated/moderated by Danny Fingeroth. Thanks to old-DEEP6 studio-mate, Leland Purvis, I got to visit the infamous Periscope Studios where Steve Lieber showed me the joint and his creative process, and I met a few of the cartoonists from the 26-member office, including Lucy Bellwood. Periscope made me think of what it must have been like in the legendary Eisner-Iger studio of yesteryear. Art tables stacked close to each other like my studio, Hang Dia, only six times bigger and designed like a horseshoe. Totally inspiring. Friday night, Bob Schreck took me and a small comix crew to delicious Indian food that included Brad Walker, Lieber & Wheeler. Bob then took us to a bar/restaurant in the tallest building of downtown Portland where we drank and shared stories while overlooking rooftops and bridges and a thousand lights. Saturday night, I hung out with Jamie S. Rich, Joelle Jones (and her cool squeeze, Ryan), Brendan Wright, Ryan Alexander-Tanner & Fred Chao and others at The White Owl. Anina Bennett gave me a hug, Diana Schutz gave me a kiss, and Christos Gage gave me a Man-Thing comic book. It was great to see Colleen Coover (sorry I missed you, Paul Tobin, thanks for the note), Michael Avon Oeming, Neal Adams, and Jeff Krelitz (Heavy Metal!). Agnes Barton-Sabo aka Betty Turbo sat at the table next to me + she took care of me all weekend with pie, pastries, cos-play sightseeing, and coffee. Portland is packed with lovely comix-makers, a true sister to Brooklyn. The Wizard World staff was, as usual, sweet and professional; making sure I was safe and happy. Big ups to Danny Fingeroth for casting me in his terrific panels. I did some sketches, including Harvey Pekar, The Thing, The Spirit, and The Fox.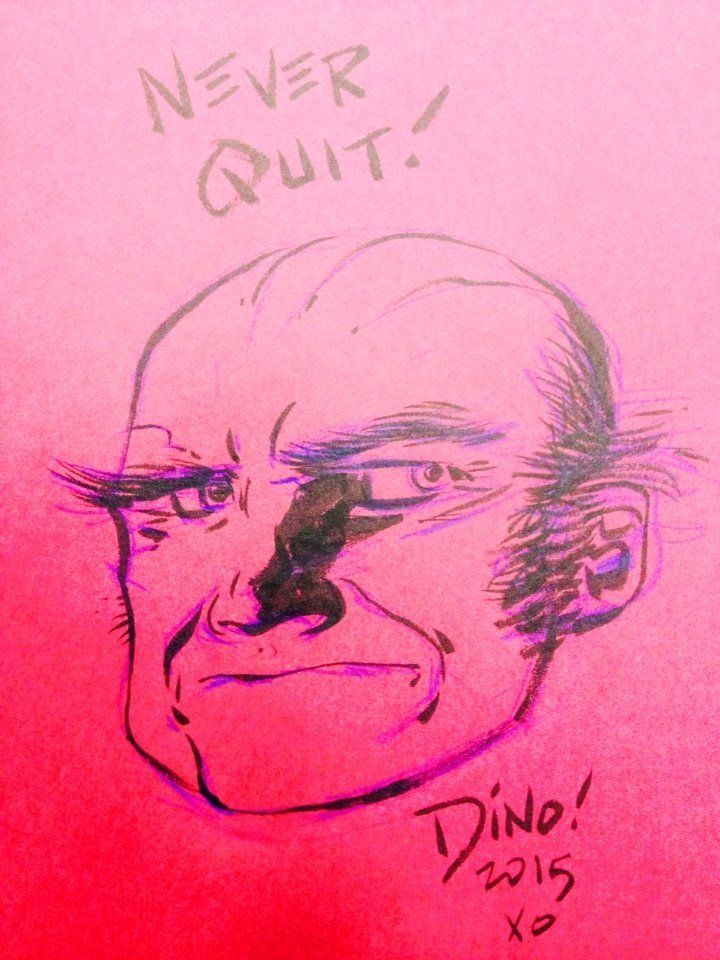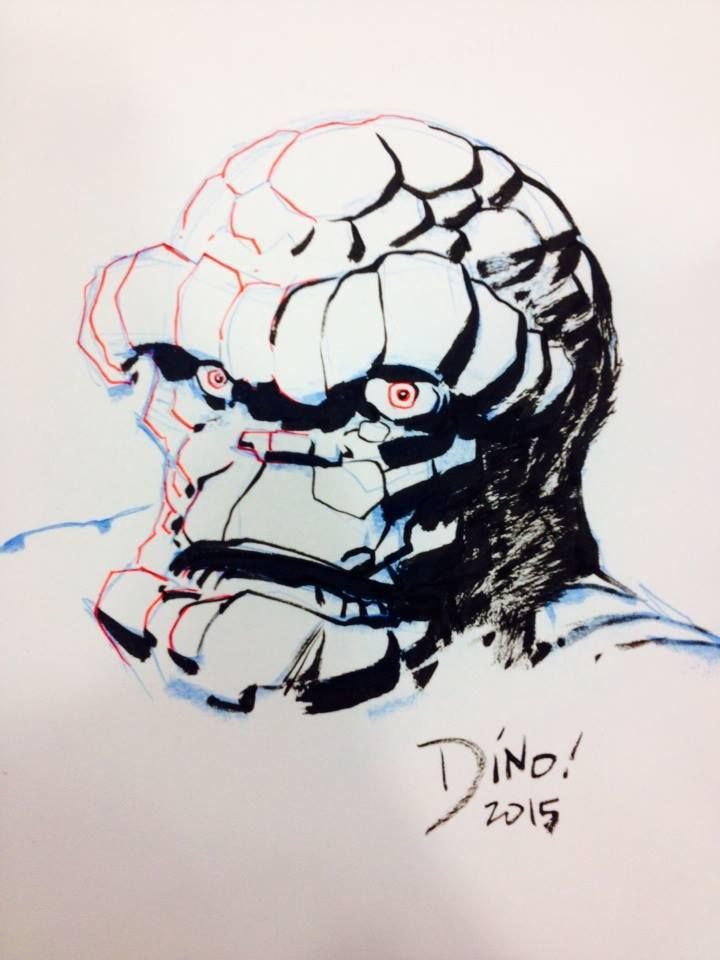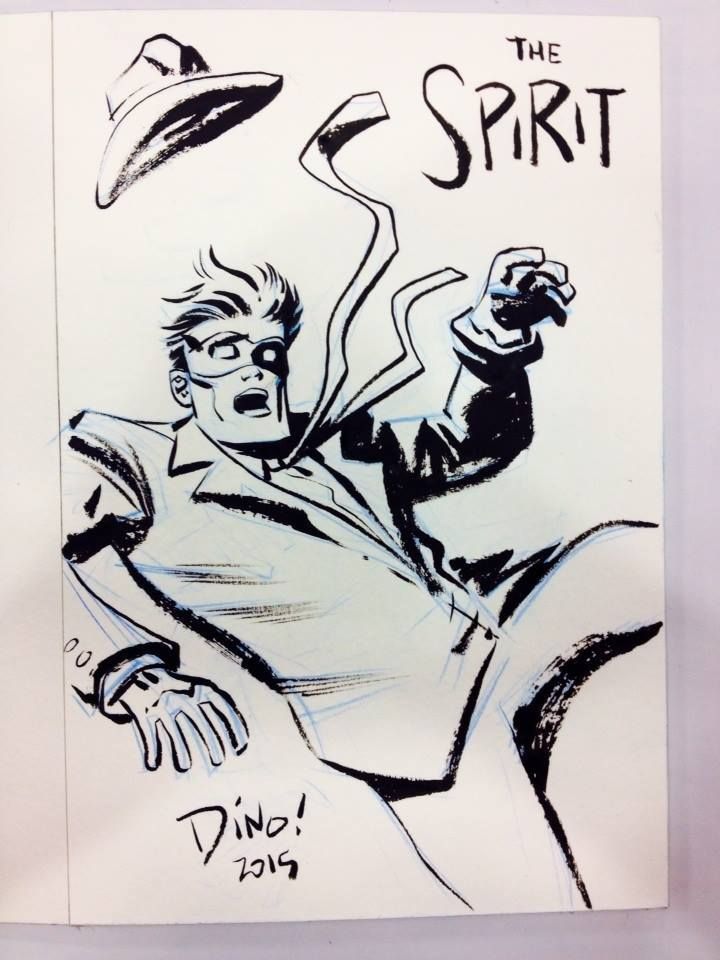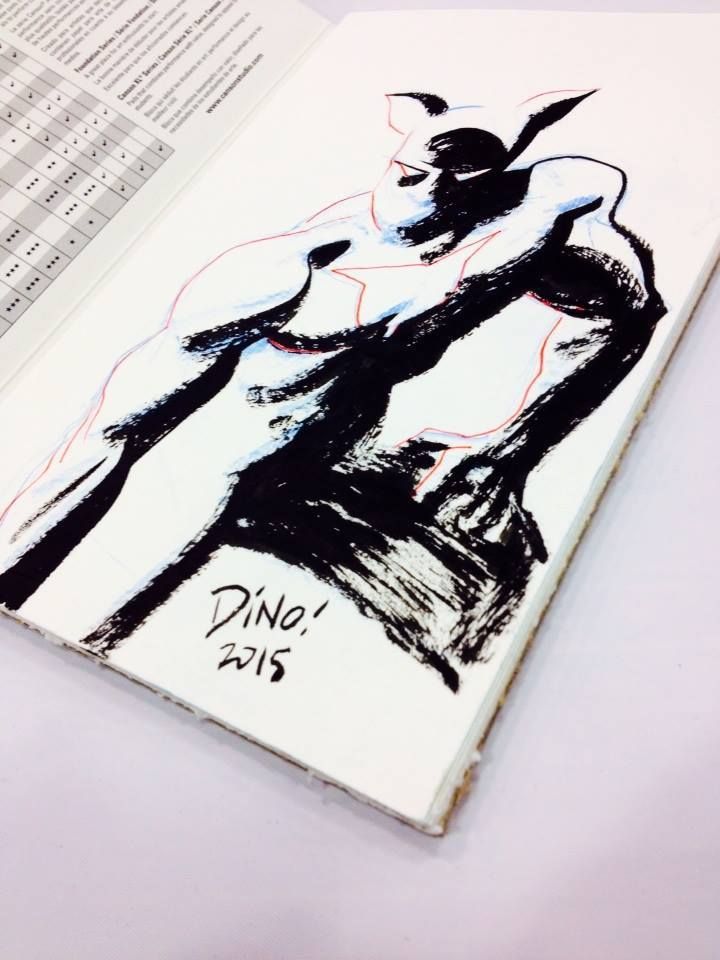 7:24 pm
- Feb 2nd/8pm Nat Towsen's Downtown Variety Hour - featuring Dean Haspiel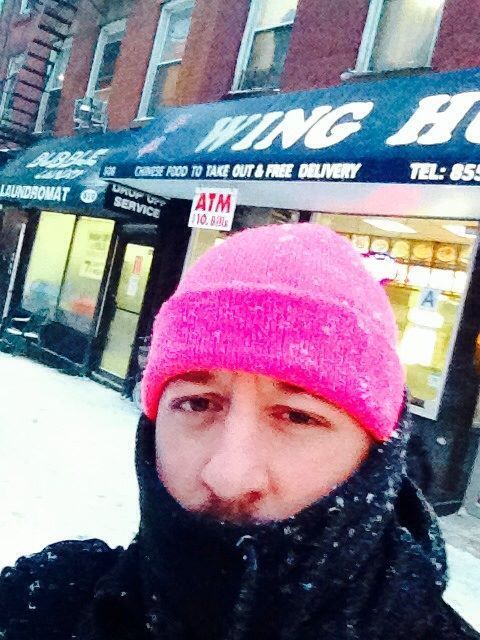 I'll be reading screen projections of some of my personal comix at:

Nat Towsen's Downtown Variety Hour
Monday, February 2, 8:00pm
UCB East Village
153 East 3rd St., New York, NY 10009

Dean Haspiel (Emmy Winner, Bored To Death, Marvel Comics)
Tim Dillon (NY Comedy Festival)
Daniel Koren (Emmy-nominated composer/comedian)
Downtown History (know your city!)
NYC Trivia (win fabulous prizes!)

$5
Patrons under 16 must be accompanied by an adult.

https://east.ucbtheatre.com/performance/36434

Facebook event page: https://www.facebook.com/events/801548676558371/
Monday, January 19th, 2015
---
3:31 pm
- Wizard World Portland 2015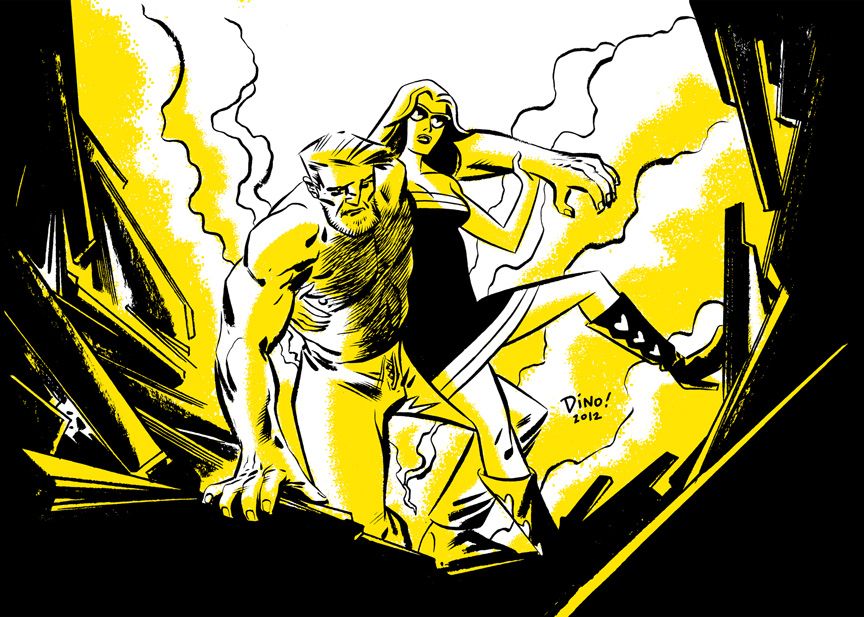 I will be a guest at Wizard World Portland 2015 from Friday, January 23rd - Sunday, January 25th, and I will be doing two panels (see below). I will also be signing my exclusive Wizard World card featuring Billy Dogma & Jane Legit, drawing small commissions, and selling copies of PSYCHOTRONIC COMIX. Hope to see you there.

--Dino

Wizard World Portland 2015
Oregon Convention Center
777 NE Martin Luther King Jr. Blvd.
Portland, OR 97232
http://www.wizardworld.com/home-portland.html

FRIDAY, JANUARY 23

4:30-5:15pm TITANS OF INDEPENDENT COMICS WITH BILLY DOGMA'S DEAN HASPIEL, TOO MUCH COFFEE MAN'S SHANNON WHEELER AND DAVID CHELSEA IN LOVE'S DAVID CHELSEA (C120)
The model of comics creators tethered to one or two major publishers, working on adventures of corporately-owned characters is no longer the only game in town. Many of the top talents in comics work either exclusively on their own material, while others work both sides of the street, alternating independent work with mainstream assignments done in their own distinctive styles. Here, speaking about how they have forged their own paths, are some of the most distinctive creators in comics today: Dean Haspiel (Billy Dogma; American Splendor), Shannon Wheeler (Too Much Coffee Man; Villain House) and David Chelsea (David Chelsea in Love; Everybody Gets It Wrong!). The panel is moderated by Danny Fingeroth (Rough Guide to Graphic Novels; Studs Terkel's Working).

SUNDAY, JANUARY 25

11:30-12:15pm CREATE-A-COMICS-STORY WITH X-MEN'S CHRIS CLAREMONT AND THE FOX'S DEAN HASPIEL (C120)
Ever wonder what it would be like to collaborate on making comics with top professionals? In this fun-and-educational session, superstar writer Chris Claremont (X-Men; Fantastic Four) and celebrated artist Dean Haspiel (The Fox; Billy Dogma) create a new character and story before your eyes, incorporating audience members' ideas and suggestions! Come see—and join in—the creative process! The panel will be moderated by longtime Marvel writer and editor Danny Fingeroth (Spider-Man; How to Create Comics from Script to Print).

http://www.wizardworld.com/programming-portland.html
Saturday, January 17th, 2015
---
1:16 pm
- The Forgiven
When he came back to her, she was digging holes to plant seeds by the stream.
He knelt down and helped her and she looked at him for the first time in months.
They lived the rest of their years together.
And they never spoke to each other again.
Friday, January 16th, 2015
---
3:40 pm
- The Fox #2 solicitation



THE FOX #2
NEW ONGOING SERIES FROM DARK CIRCLE!
"Fox Hunt, Part 2 – The Other Shoe": The fox-hunt has begun, and Impact City's most dangerous criminals are out for BLOOD. When Paul Patton Jr. decides to take his son, Shinji, on a trip to the Museum of the Moving Image, he's hoping to make an effort to finally be a present father and not the superhero freak magnet known as The Fox. But when a violent bank robbery derails their plans, and Paul is unwilling to don his superhero suit and save the day, a new kind of superhero will need to step in and save the day. So why is this new hero The Fox's WORST NIGHTMARE? Emmy award-winning artist Dean Haspiel and Eisner Award-winning writer Mark Waid bring you the next chapter in Dark Circle's most twisted tale yet! Featuring variant cover art from Howard Chaykin and Robert Hack!
Plot: Dean Haspiel
Art: Dean Haspiel, John Workman and Jose Villarubia
Script: Mark Waid
Cover: Dean Haspiel
Father and Son Variant Cover: Howard Chaykin
Dark Circle Movie Throwback Variant Cover: Robert Hack
On Sale Date: 5/6
32-page, full color comic
$3.99 U.S.

http://www.comicbookresources.com/?page=article&id=58525
Wednesday, January 14th, 2015
---
5:14 pm
- Karate Kid vs The Fox


I was commissioned to draw Karate Kid from the Legion of Superheroes (DC Comics) vs The Fox (Archie/Dark Circle Comics).
Tuesday, January 13th, 2015
---
2:48 pm
- The sword can do one thing. The pen can do anything.
Wednesday, January 7th, 2015
---
7:57 pm
- #WeaponOfChoice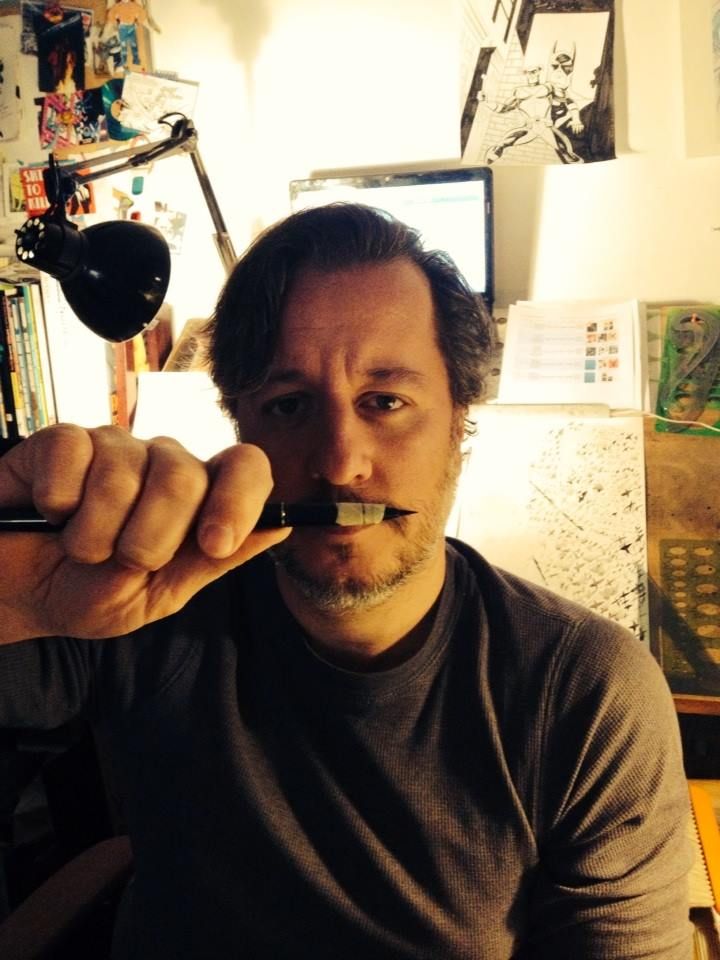 In solidarity for freedom of expression and cartoonists across the world.
Tuesday, January 6th, 2015
---
3:38 pm
- The Beat's Annual Survey 2015 edition Part Three
Along with some of my peers, I weigh in on the comix industry at The Comics Beat:

What was the biggest story in comics in 2014?

"Print Is Dead? Long Live Too Much Information.

I remember back when comic books spoke for themselves and recommended each other. Nowadays? Nowadays we know WAY too much about our process and each other and less about the comix. TMI fosters empty hype and unnecessary scandal that kills the magic of creativity. Sure there will always be industry problems that need to be addressed and changed but it seems like the majority of the people I talk to know more ABOUT comix than actually buy and indulge them. We might as well be debating the pros and cons of astronaut diapers. And, how many more armchair philosophers are going to sprout like moss and negatively attack any given comix topic? When did our hard work get boiled down to a sensational headline scribbled by Tom, Dick and Jane? Sure, it's nice that our friends and family basically replaced the Roger Ebert's of the world but I miss Roger Ebert. I count on my progenitors of cool to keep it considered and qualified. Otherwise, we're only advertising to each other and hardly anyone is buying.

I'm as guilty as the next clown of teasing my action while sharing others in some kind of desperate survival instinct to sincerely spark a kernel of honest interest via social networking. I hate that I have to trend well in order to be let into the party when I'm just trying to show up to my own party. It makes my projects seem less a priority and it's becoming a futile exercise competing with his lunchtime pix, her subway ride rant, and the pop culture gossip that seems to trump anything significant. At the end of the day, I'm producing less artistic content just so I can appear to stay relevant to a mass attention-deficit disorder populace that can't focus for more than 30-seconds.

It's becoming evident that movies and TV have picked up where mainstream superhero comics left off. Eventually, franchise publishers are going to wholly abandon print for digital. Fine. I get it. So, let's rally the troops and take advantage of the handful of brick and mortar stores that are still standing tall and line the shelves with comix that mean something more than just perpetuating revamped dinosaurs. Do yourself a favor the next time you pick up your next haul of comfort comix, try something new and independent and think about what it took to get that into your hands. I make comix because I have to. Not because they're cool."

http://comicsbeat.com/the-beats-annual-survey-2015-edition-with-added-sneak-peaks-at-sfar-and-blutch/
Monday, January 5th, 2015
---
7:17 pm
- Comics Industry Person of the Year 2014
I nominated Seth Kushner as Comics Industry Person of the Year 2014 at The Comics Beat.

–"Seth Kushner. On the heels of successfully funding the Kickstarter for his upcoming graphic novel SCHMUCK, Seth got sick post-MoCCA and soon discovered he had an aggressive form of Leukemia that should have killed him eight-months later. A week ago he walked out of the hospital cancer-free. What cured him is a story for Seth to tell, but what kept him alive (besides family and friends) was his love for comix and TV and movies. Throughout chemotherapy and a bone marrow transplant and setbacks and complications, Seth kept developing and writing his creator-owned comix with his collaborators while drawing daily superheroes and Star Wars characters for his son Jackson — from his hospital bed. Seth even drew Matt Wagner's Grendel for the Baltimore Comicon 2014 Yearbook. And, get this, Seth doesn't draw. But why let comix and cancer stop him? He may not be the CEO of a comic book company and he may not be the creative "architect" that re-contextualized a superhero's legacy, but Seth Kushner is a photographer, writer, artist, studio mate, husband, father and, most importantly, he's a friend. A friend of comix. And, if there's anything the comic book industry needs to keep it alive and thriving, it's true blue friends like Seth Kushner, who is a living inspiration for us all."

http://comicsbeat.com/announcing-the-comics-industry-person-of-the-year-2014-raina-telgemeier/
11:56 am
- Wizard World New Orleans 2015 - Dean Haspiel itinerary


I will be a guest at Wizard World New Orleans 2015 from Friday, January 9th - Sunday, January 11th, and I will be doing three panels (see below). I will also be available to draw small commissions. Hope to see you there.

--Dino

Wizard World New Orleans 2015
New Orleans Ernest N. Morial Convention Center
900 Convention Center Blvd.
New Orleans, LA

http://www.wizardworld.com/home-neworleans.html

Saturday January 10:

3:30-4:45 PM
BILLY DOGMA'S DEAN HASPIEL AND JULIUS KNIPL'S BEN KATCHOR: TWO TITANS OF INDY COMICS TALK ABOUT—AND READ FROM—THEIR WORK (ROOM 245)
Two of today's most distinctive voices of the independent comics world—Dean Haspiel (Billy Dogma; American Splendor) and Ben Katchor (Hand-Drying in America; Julius Knipl, Real Estate Photographer) discuss their work and careers and also do dramatized readings from their comics, which will be projected for us to read along with. Don't miss this amazing pairing of two amazing comics creators! Danny Fingeroth (The Rough Guide to Graphic Novels; Studs Terkel's Working) moderates. [Note: This panel is 75 minutes long.]

Sunday January 11:

12:30-1:15 PM
HOW TO WRITE COMICS WITH IRON MAN'S JOE CARAMAGNA, THE FOX'S DEAN HASPIEL, BATMAN'S GABE SORIA and SPIDER-MAN'S DANNY FINGEROTH (ROOM 245)
Accomplished comics writers Joe Caramagna (Iron Man; Spider-Man), Dean Haspiel (Billy Dogma; The Fox), Gabe Soria (Batman '66; Strange Sports Stories), and Danny Fingeroth (Spider-Man; How to Create Comics From Script to Print) show and tell you how to write comics and graphic novels, going from initial idea to outline to script to finished story. Plus, the panelists will answer your questions about both the creative and business sides of the comics writing profession, including how to find an artist to work with (hint: a comics convention is the number one place!) and how to write exciting dialogue!

1:30-2:15 PM
TALKIN' BATMAN '66 WITH CREATORS DEAN HASPIEL & GABE SORIA & BATMAN & PSYCHOLOGY'S DR. TRAVIS LANGLEY (ROOM 245)
DC Comics has been the talk of comicdom with its reimagining of the classic 1960s Batman TV series in comics form. Some of the coolest '60s-stories have been produced by artist Dean Haspiel (Emmy Award winner for Bored to Death; The Fox) and writer Gabe Soria (Batman Adventures; Strange Sports Stories). Gabe and Dino discuss all things Batman with Dr. Travis Langley, author of Batman and Psychology: A Dark and Stormy Knight and moderator Danny Fingeroth (Spider-Man; Superman on the Couch: What Superheroes Really Tell us About Ourselves and Our Society).

http://www.wizardworld.com/programming-neworleans.html
Friday, January 2nd, 2015
---
7:17 pm
- Den of Geek's 101 Creators to Watch in 2015
Thursday, January 1st, 2015
---
5:39 pm
- Robot 6: Creators weigh in on 2014 and 2015 (Part 3)
Wednesday, December 31st, 2014
---
11:57 am
- USA Today lists Sensation Comics as Best Digital Series 2014
11:52 am
- Examiner reviews Fear, My Dear
Romance, metaphors, and fisticuffs abound with Dean Haspiel's "Fear, My Dear":

"Some may fault this in terms of having a confusing narrative, but that's akin to faulting a music video or a poem for lacking a precise narrative. This work is all about Dean Haspiel using his figures and lines to embellish some very visceral emotions, fears, and doubts about the human condition. It's not for everyone but those who choose it will be in for a brass knuckled, love soaked and philosophically explosive adventure into the weirdly familiar."

Read the rest of the review here: http://www.examiner.com/review/romance-metaphors-and-fisticuffs-abound-with-dean-haspiel-s-fear-my-dear
Tuesday, December 30th, 2014
---
12:05 pm
- Xmas 2014 art


Here are some of the Xmas cards I made for 2014. With all the bad news in the world, I guess I was in a "Walking Dead" kinda mood.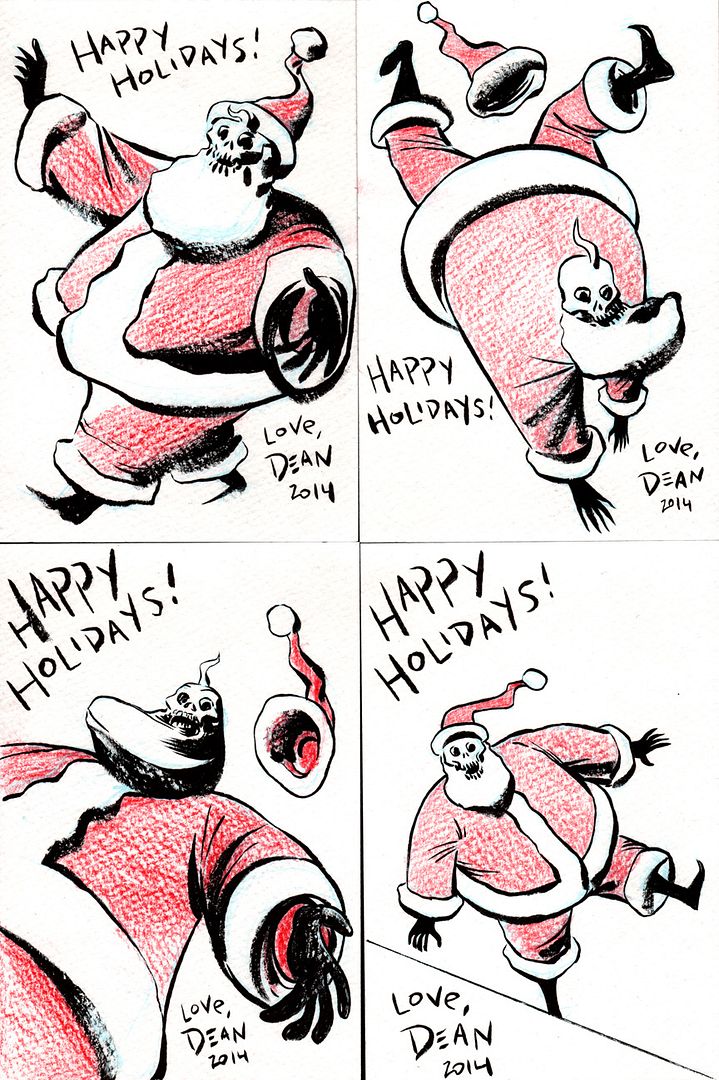 Jen Ferguson custom-painted me an awesome "railbird" version of my very own Billy Dogma and Jane Legit! I can't stop staring at it.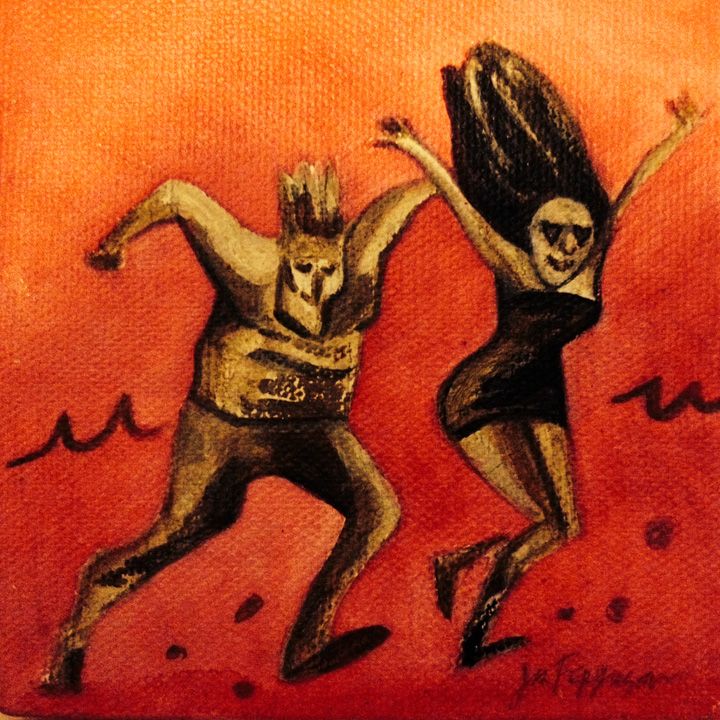 And, I painted something bizarre and weird (as usual); an iteration of Jen playing Hide-And-Go-Seek with a wild Dino-Boar while being surveyed by a pet rat and judged by Troll Gods.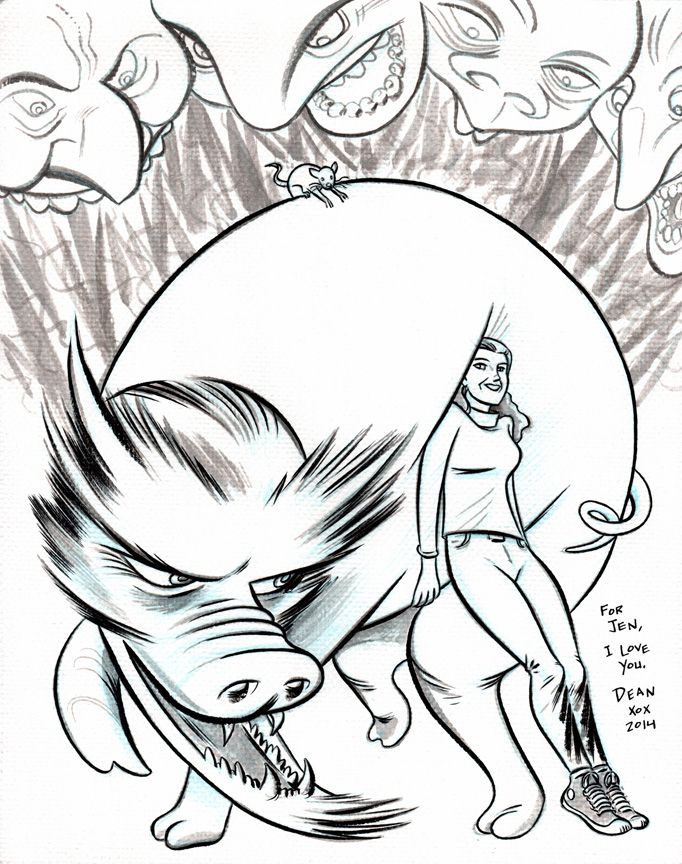 Happy Holidays!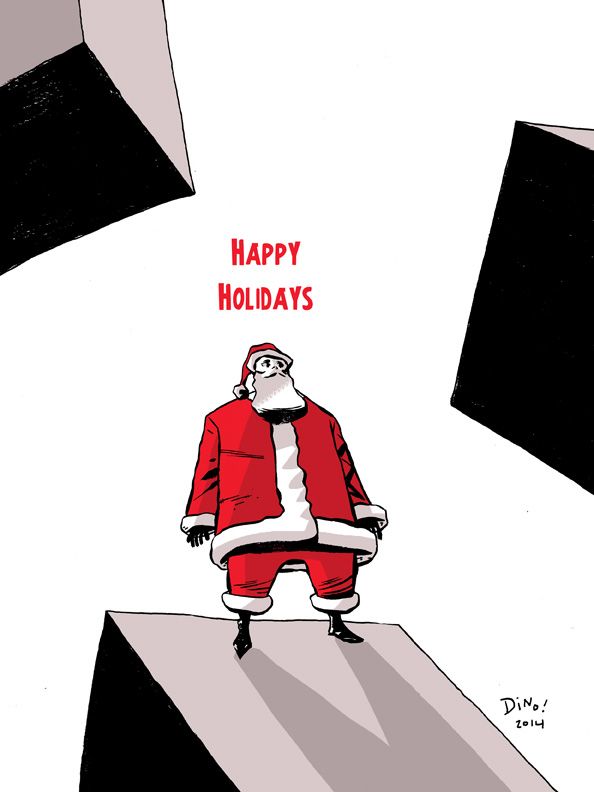 Tuesday, December 23rd, 2014
---
4:44 pm
- CBR: DEAN HASPIEL GETS VILLAINOUS FOR DARK CIRCLE'S "FOX HUNT"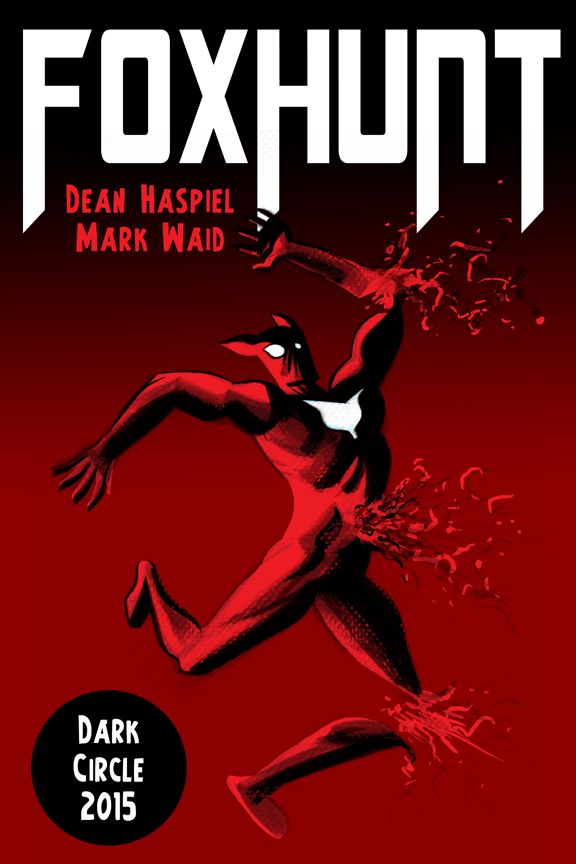 "If I helped set a Dark Circle precedent of sorts, then I'm honored. It seems that a lot of the franchise companies are editorially dictating what they want these days, but I prefer creator-inspired comix, and I'm glad Dark Circle is basically entrusting their characters with their talent. I don't envy DC having to cook up another game-changing Batman story after 75+ years, or Marvel having to make some kind of galaxy-sized sense out of Avengers continuity. And, frankly, the big crossover events often read like desperate yet unnecessary Hail Maries. I have no gripes against exciting the fans and making a big deal out of your fictional universe on an annual basis, but I enjoy the quieter superhero books like "Daredevil," "Hawkeye," "She-Hulk," "Silver Surfer," "Moon Knight" and "Iron Fist" because they're largely left alone and I don't need to spend a quadrillion dollars to get the full scope of the story. And, right now, Dark Circle is mandating that we dig deep, get serious and/or psychedelic and experiment with their toys while keeping us in check of what the market wants. It's been an interesting learning curve for me."

"I suppose the difference between Billy Dogma and The Fox is that Billy can't help himself. The Fox attempts to make sensible and heroic choices, whereas Billy Dogma is a force, albeit a flawed force, of nature. Flaws are where the two characters connect, actually, but Billy embraces conflict whereas The Fox would rather avoid it. Both characters ultimately do what needs to be done but The Fox takes longer to arrive at the solution because he's got too much white noise scrambling his mind, and Billy Dogma is too willing to break things in order to save what he deems worth saving."

Read the rest of the interview here:
http://www.comicbookresources.com/?page=article&id=57976
1:25 pm
- Rhymes With Geek reviews GARBAGE PAIL KIDS: Puke-Tacular
---