Sunday, May 31st, 2020
---
12:36 pm
- Dino FAQ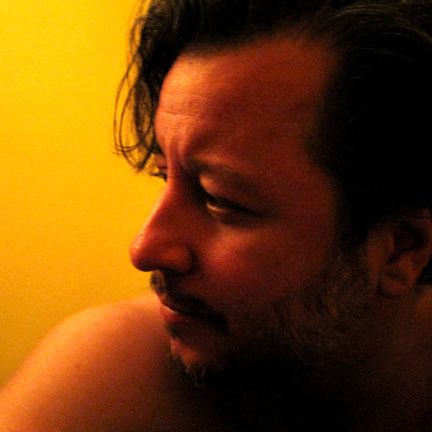 http://www.deanhaspiel.com/

Emmy award winner and Eisner and Harvey Award nominee Dean Haspiel created BILLY DOGMA, illustrated for HBO's "Bored To Death," was a Master Artist at the Atlantic Center for the Arts, is a Yaddo fellow, a playwright ("Switch To Kill"), occasionally teaches comic book storytelling, and is the co-founder of HANG DAI Editions. Dino has written and drawn many comix including The Red Hook, The Fox, The Fantastic Four, Spider-Man, X-men, Deadpool, Batman, Godzilla, Mars Attacks, and semi-autobio collaborations with Harvey Pekar, Jonathan Ames, Inverna Lockpez, Stan Lee, and Jonathan Lethem. Look out for his latest graphic novel, FEAR, MY DEAR: A Billy Dogma Experience.




Please click here to see what Dean's been up to at TRIP CITY: http://welcometotripcity.com/author/dean-haspiel/

Experiencing Yaddo First-Hand: An Interview with Cartoonist Dean Haspiel: http://thefreegeorge.com/thefreegeorge/dean-haspiel-yaddo-interview/

The Atlantic Center for the Arts: Residency #147: http://welcometotripcity.com/2012/12/the-atlantic-center-for-the-arts-residency-147/

Tom Spurgeon interviews me for The Comics Reporter: http://www.comicsreporter.com/index.php/cr_holiday_interview_2_dean_haspiel/

Poet Sandra Beasley interviews me for Barrelhouse Magazine
http://www.barrelhousemag.com/barrelhousing-with-comic-artist-dean-haspiel-an-interview-by-sandra-beasley/

Dean Haspiel speaks at The Library of Congress: http://www.loc.gov/today/cyberlc/feature_wdesc.php?rec=5709

ATTENTION Art Directors, Editors, Publishers, Writers, Etc: if you'd like to see current samples of Dean Haspiel's art, please check out his gallery: http://welcometotripcity.com/2012/01/dean-haspiel-gallery/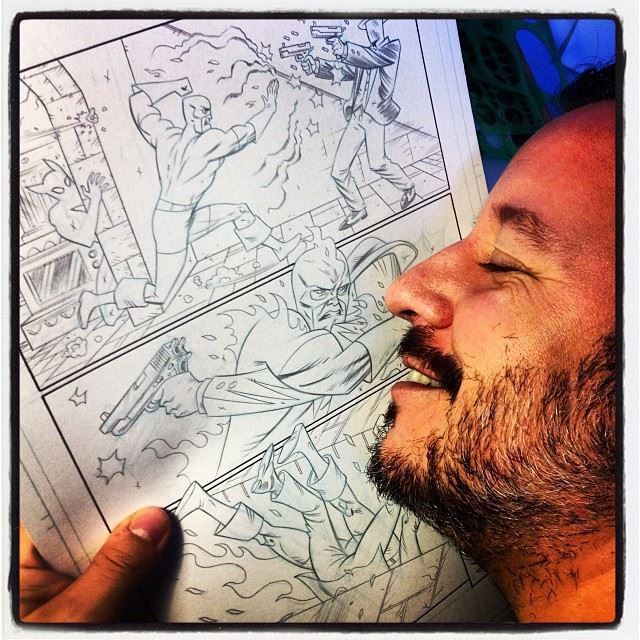 (
Click here for comix, interviews, news, videos, and other essential links
Collapse
)
Thursday, August 21st, 2014
---
1:35 pm
- The Doors App


"One of the most heralded portions of The Doors App, and included in the free version, is the graphic novelization of the notorious, and politically motivated, Miami Incident, when Morrison was falsely accused of exposing himself during a 1969 concert. That infamous episode is retold through drawings by award-winning comic book artist Dean Haspiel, words by Adam Holzman (son of Jac), and rare audio of Morrison secretly recorded that evening. This section also includes the once-confidential FBI report, the arrest report, Jim's full tongue-in-cheek testimony, Morrison's mug shot, and his posthumous pardon issued in 2010."

http://vintagerocknews.blogspot.com/2014/08/the-doors-ipad-app-now-available.html
Wednesday, August 20th, 2014
---
6:09 pm
- Austin Chronicle reviews FEAR, MY DEAR
"Fear, My Dear is a brightly paneled bipartite mind-trip in which the artist's two favorite super-powered protagonists, the lovers Billy Dogma and Jane Legit, wage a "war of woo" for and against each other and tangle with a cosmic deity that's wreaking havoc on the very superstructure of terra incognito itself. Well, that's some of what's going on, at least, as rendered in swaths of black and white and red and yellow, delineated by Haspiel's bold Kirbeyesque lines, and bedazzled with dialogue and description like Lord Buckley guest-starring on a lost episode of Deadwood. "Pulp that emasculating gorgon before she blitzkriegs our power flower!" urges sweet Jane, before kayoing her zombie double in Billy's stead near story's start."

Read the rest of the review here: http://www.austinchronicle.com/daily/books/2014-08-20/pulp-hope-and-crutches-for-a-crippled-crab/
Tuesday, August 19th, 2014
---
5:41 pm
- Dean Haspiel & Wonder Woman at Bleeding Cool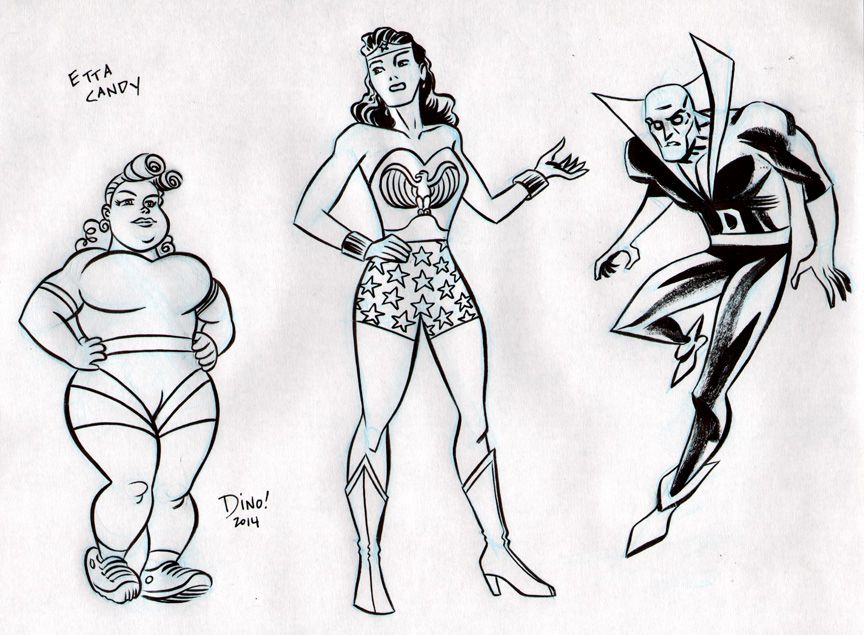 "Significantly, Haspiel has been known for drawing female heroes for some years since the invention of Jane Legit, whose fists of fury dominate the creator-owned comic Billy Dogma. He has a compelling eye for producing muscular, active female characters without making them seem like action figures or unrealistic pin-ups. It's very refreshing to see him taking on Wonder Woman in similar fashion, and of course his silver-age homage comic The Fox with Red Circle/Archie Comics clarifies his ability to transform visual comic traditions into something bracingly new and meaningful. He's also been reviving that silver age feel in recent issues of Fantastic Four for the Original Sin storyline. We look forward to his work on Sensational Comics."

Read the rest of "Dean Haspiel Finally Draws Wonder Woman (And Deadman, And Ra's Al Ghul) For Sensation Comics, Plus Sketches" by Hannah Means-Shannon at Bleeding Cool:
http://www.bleedingcool.com/2014/08/19/dean-haspiel-finally-draws-wonder-woman-and-deadman-and-ras-al-ghul-for-sensation-comics-plus-sketches/
Monday, August 18th, 2014
---
6:30 pm
- Comic Book Club with Dean Haspiel
If you happen to be visiting the lower east side of Manhattan on Tuesday, Aug. 19th @7pm and would like to see a free hour of me and the Comic Book Club wax about my comix and pop culture, please swing by.

Here's the official hype:

We're very excited to announce that DEAN HASPIEL will be our guest on Comic Book Club this week!

He's the artist of a TON of stuff, most recently THE FOX: FREAK MAGNET for Archie and his graphic novel FEAR MY DEAR: A Billy Dogma Experience.

Check him out: www.deanhaspiel.com

This will be a SUPER FUN show and we'd love to see you there! Bring some friends! Tell your neighbors! Come get some FREE COMICS.

Comic Book Club – Live!

Tuesday, August 19th – 7pm
Tickets: FREE! (21+)
Fontana's
105 Eldridge St.
[Btwn. Grand and Broome St.]

Come on down to the live show and be a part of the Podcast! And don't forget, every week we have FREE COMICS as well as a chance to win a $25 gift card to MIDTOWN COMICS!

Check out our website at comicbookclublive.com to find out how to watch the show live! And follow us on Twitter: @comicbooklive, @realpetelepage @azalben, and @jtsizzle

Our podcast is part of THE NERDIST NETWORK! Check it out here:http://www.nerdist.com/podcast/comic-book-club/

Facebook event page: https://www.facebook.com/events/277833192412698/
5:49 pm
- Nolan Woodard is a mensch.
Right back atcha, Nolan!

"I got a chance to color Dean Haspiel, Emmy Award Winner, on a flashback to run through a couple of issues of FF. Cool! I was excited to get to work with him. What I didn't know was how nice a guy he is. Do you know how rare it is for a writer or artist to call their colorist? Super rare. Dean didn't know me from Adam, but called me up to chat a bit anyway. (Insert awkward Phone-Nolan.) He just wanted to get to know me a bit and talk storytelling. It was wonderful. And though we have only done this short story together, he's kept in touch and even reaches out. Just... humbling. He stayed on top of pages and I had everything in a timely manner so I could meet my own deadline without working an all-nighter too. Everything about him is friendly and professional. Truly someone we could all learn from on how to treat collaborators. He also has two new books out this summer called "The Fox: Freak Magnet", written by Mark Waid (who also calls to chat and Dean's equal in personal professionalism, love love love) and "Fear, My Dear" which Dean also wrote. Dean is a joy. Good times!"

http://nolanw.blogspot.com/2014/08/fantastic-four-6.html
5:34 pm
- SENSATION COMICS FEATURING WONDER WOMAN #4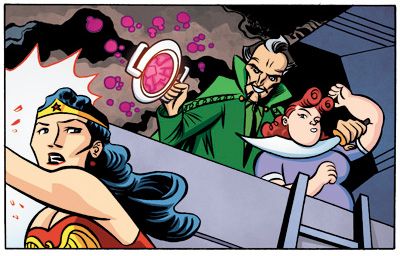 I drew a Wonder Woman story written by Neil Kleid and colored by Allen Passalaqua for SENSATION COMICS #4.

USA Today reported about the new series: http://www.usatoday.com/story/life/2014/08/18/wonder-woman-sensation-comics-exclusive/14219603/

Solicitation:

SENSATION COMICS FEATURING WONDER WOMAN #4
Written by NEIL KLEID, ROB WILLIAMS and OLLIE MASTERS
Art by DEAN HASPIEL, TOM LYLE and AMY MEBBERSON
Cover by ADAM HUGHES
On sale NOVEMBER 19 • 40 pg, FC, $3.99 US • RATED T • DIGITAL FIRST
Wonder Woman appears in a trio of tales with some offbeat guest stars! First, Diana and her friend Etta Candy are captured by Ra's al Ghul, but he's not the most surprising soul they meet. Then, a Thanagarian menace returns to Earth, and you won't believe what Diana must do in her battle with Byth! Plus, the London police are confused as to why they caught Catwoman so easily. Fortunately, Wonder Woman is in town to take charge of the situation!

http://www.newsarama.com/21907-dc-comics-full-november-2014-solicitations.html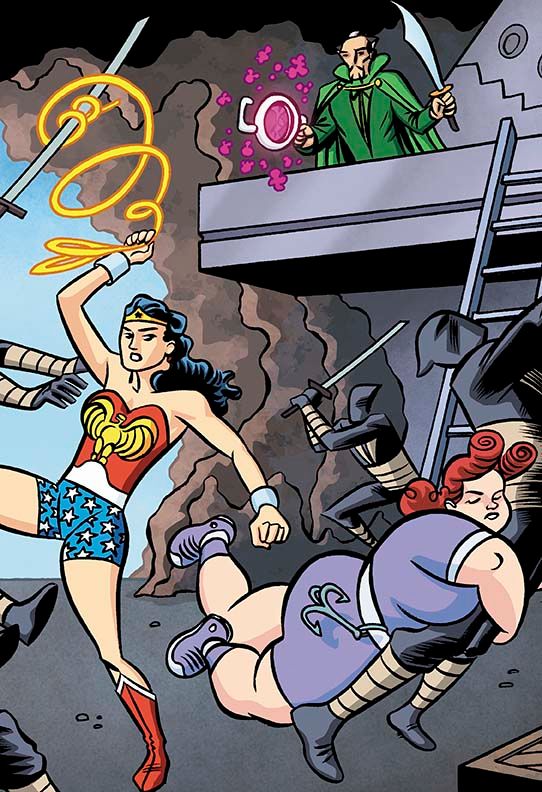 Friday, August 15th, 2014
---
4:40 pm
- 13th Dimension: Enter the DARK CIRCLE: Inside Archie's Bold Move
1:49 pm
- Save Our Schmuck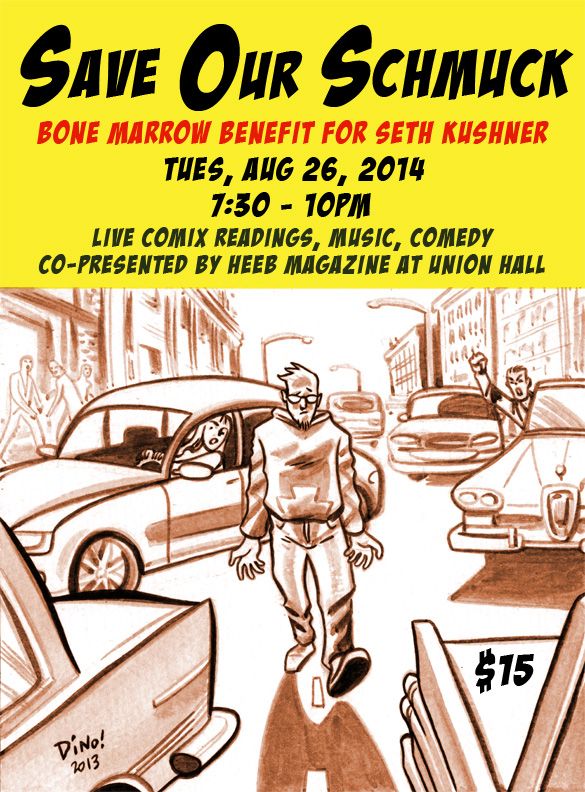 August 26 at 7:30pm to 10:00pm
Union Hall - Brooklyn - 702 Union Street, Brooklyn, NY 11215

An evening of live comix readings, music, & comedy raising funds for health care costs related to Seth Kushner's fight with leukemia.

If you cannot attend but would like to help Seth, you can donate here http://www.gofundme.com/d8gc2o

Performances by
Molly Crabapple http://mollycrabapple.com/
Douglas Rushkoff http://rushkoff.com/
Dean Haspiel http://deanhaspiel.com/
Akim Funk Buddha -- http://funkbuddha.org/
JahFurry http://youtube.com/jahfurry
Josh Neufeld http://www.joshcomix.com/
Plucky Charms http://welcometotripcity.com/2011/11/culturepop-jennie-fisk/
Christa Cassano https://flickr.com/photos/ccassano/
Mike Cavallaro w/ Sticks & Stones
(+more acts TBA)
$15 Tickets & Info: http://www.unionhallny.com/event/647049-save-our-schmuck-bone-marrow-brooklyn/
Produced by Jeff Newelt
Co-presented by HEEB Magazine
Onsite bone marrow registration by Delete Blood Cancer

Read about Seth's fight with Acute Myeloid Leukemia in an article in Bleeding Cool by Hannah Means-Shannon:
http://www.bleedingcool.com/2014/05/09/help-comics-creator-seth-kushner-hulk-smash-leukemia/

About SETH KUSHNER http://sethkushner.com/
Seth is a lifelong resident of Brooklyn, NY, where he and his wife, Terra are raising their five year old son. A renowned photographer, his work has appeared in The New York Times, Time Magazine, Newsweek, L'Uomo Vogue, Sports Illustrated, The New Yorker and other publications.
Published books include, The Brooklynites, Leaping Tall Buildings: The Origins of American Comics and upcoming New York Comics.
Seth is co-founder of TRIP CITY, home to his CulturePOP photocomix and Schmuck comics. In 2013, Seth co-founded HANG DAI Editions an independent publishing imprint.

Help Seth and others find their match by registering at this event to become a bone marrow donor with Delete Blood Cancer -- All it takes is completing a registration form and swabbing the inside of your cheeks. In less than five minutes, you can potentially save a life!
Visit http://deletebloodcancer.org/ to learn more

Tickets & Info: http://www.unionhallny.com/event/647049-save-our-schmuck-bone-marrow-brooklyn/

Facebook event page: https://www.facebook.com/events/554615731328095/

"Make A Stand For A Creator In Need At Seth Kushner's 'Save Our Schmuck Benefit' In New York" at Bleeding Cool: http://www.bleedingcool.com/2014/08/19/make-a-stand-for-a-creator-in-need-at-seth-kushners-save-our-schmuck-benefit-in-new-york/
Monday, August 11th, 2014
---
12:47 pm
- Savage Critics reviews BATMAN '66 #13
"Hey, Dean Haspiel! I like Dean Haspiel! He draws his figures all chunky and loaded with momentum dspite an oddly flat aspect. I like it and I liked seeing it unfold in service of Gabe Soria's comedic conceit about how in the frothy primary coloured world of Batman '66 a Batman TV show would be all grim and B&W but still as fundamentally ridiculous as the world in which it was transmitted. Possibly even more ridiculous even. The highlight is obviously the whole "bat-business" schtick which is even better if you use the voice of that "Ya filthy animal" guy from Home Alone for TV Batman. I mean, you are doing The Voices in your head anyway aren't you? Do people do that? I know I'm reading a good comic when I stop "reading" and realise I've started acting it out in my head. Some people might think it's strange but I certainly have no problem admitting I do that as long as it's a common enough to pass for normal. If it's grounds for having my kid taken off me then I don't know what the hell you're talking about; get the fuck away from me you bloody lunatic! GOOD!"

See more at: http://www.savagecritic.com/reviews/ive-tasted-shoes-with-more-flavour-sometimes-despite-it-being-summer-i-still-sit-here-and-write-this-rhubarb/#sthash.ztjbJVzb.dpuf
10:26 am
- In My Not So Humble Opinion reviews FEAR, MY DEAR
"Haspiel's illustration is beautiful, as well as beautifully grotesque. I've always found his art to be impressive, but this is undoubtedly some of his strongest work.

You can certainly see the influence to the two gods of Silver Age comic books, Jack Kirby and Steve Ditko, in Haspiel's work. At times Billy brings to mind Kirby's two iconic tough guys, Ben Grimm / The Thing and Sgt. Fury. Jane somewhat resembles the curvy, wide-hipped, big-haired groovy gals that The King so evocatively rendered. The "space-god" which is awakened by Billy and Jane's tempestuous love recalls something from one of Ditko's Doctor Strange stories.

Nevertheless, despite those clear influences, Haspiel possesses a style all his own. Like all the best artists, he is inspired by elements from those who went before him, experiments with them, takes them in different directions, and creates something new & distinctive in the process."

Read the rest of the review here: http://benjaminherman.wordpress.com/2014/08/10/comic-book-reviews-dean-haspiels-fear-my-dear/
Thursday, August 7th, 2014
---
2:17 pm
- Robot 6 reviews The Fox: Freak Magnet
"The book is a wonderful introduction to the work of Haspiel, an incredible artist whose own work (Billy Dogma, Fear, My Dear) never seems to receive the accolades it deserves (at least, not in my opinion). In fact, chances are that even the most casual of comics readers have seen and/or read plenty of Haspiel comics without actually associating them with the cartoonist (he drew Vertigo books The Quitter, The Alcoholic and Cuba: My Revolution for writers Harvey Pekar, Jonathan Ames and Inverna Lockpez; the last place I encountered his work was the last issue of Batman '66).

Haspiel is pretty brilliant when it comes to drawing bodies in motion, and his Fox is therefore a perfect fit, as the character's costume reduces him almost entirely to a figure more than a character, with only his big, Spider-Man-sized white eyes and floppy ears serving to give him features or expressions. And, of course, The Fox is always in motion; jumping, punching, dodging, getting flung around.

The Fox may not have much of one, but Haspiel is great at faces, and he gets to draw plenty of square-jawed tough guys — good and bad — in addition to all sorts of bizarre monsters and crazy settings."

Read the rest of the review here: http://robot6.comicbookresources.com/2014/08/so-freaking-good-haspiel-and-waids-the-fox-freak-magnet/
Wednesday, August 6th, 2014
---
11:46 pm
- Forces of Geek reviews The Fox: Freak Magnet
"Haspiel masterfully lays out the page in a way that pays tribute to classic Fox artist Alex Toth, as he keeps the action and your eye moving around the page. Monsters and giant spiders and different realms are depicted unironically and aren't overworked. If you have fun reading Archie, you'll have fun here. And that's sort of the point.

From interviews with Haspiel you can tell he has a real reverence for the character and the romance of comics and the comics page and he just had to get this book out there!"

Read the rest of the review here: http://www.forcesofgeek.com/2014/08/the-fox-freak-magnet-gn-review.html?m=0
1:05 pm
- Locust Moon Comics reviews FEAR, MY DEAR
"A 100-proof bourbon shot straight from the id & the eros, Dean Haspiel's long-awaited passion project is a karate-kicking, panty-dropping, heart-shattering parade of bravura cartooning."
--Locust Moon Comics

http://locustmoon.com/2014/08/06/top-40-july-2014/
Monday, August 4th, 2014
---
12:04 pm
- Street Angel pin-up featuring Billy Dogma
11:57 am
- FEAR, MY DEAR signing at JHU Comics w/Adam McGovern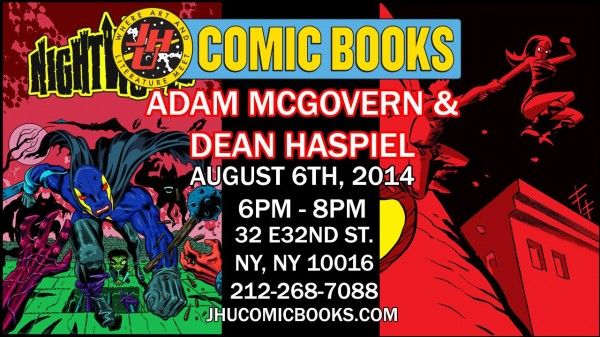 Come for the FEAR. Stay for the NIGHT.

JHU Comic Books Presents: Adam McGovern signing Nightworld #1 and Dean Haspiel signing Fear, My Dear on Wednesday, August 6th from 6-8PM at 32 East 32nd Street in New York.

"JHU Comic Books is proud to present a fantastic signing with two great talents, showcasing a great original debut in Nightworld #1 and a fantastic new release of Billy Dogma material in Fear, My Dear. Adam McGovern (Dr. Id, Extinction Seed) starts off his insane new series, Nightworld, with us, which "offers haunted romance, hellish humor, metaphysical fisticuffs and B-movie psychodrama at its best!" This comic is gorgeous, hilarious and absolute madness. You'll love it, we promise! Dean Haspiel (The Fox, Fantastic Four, American Splendor) uses his near-mythological talents to bring some new Billy Dogma stories to us in the much-loved Fear, My Dear. His The Fox: Freak Magnet has also just recently been released by Archie Comics and is a treat to behold! If you love independent comics, especially weird, crazy and fun ones, you REALLY don't want to miss it! Purchase of Nightworld #1, Fear, My Dear or The Fox: Freak Magnet required to participate in signing".

http://www.bleedingcool.com/2014/08/04/things-to-do-in-new-york-philadelphia-and-new-jersey-this-week-if-you-like-comics-and-nightworld/
Saturday, August 2nd, 2014
---
12:20 pm
- Ruby = 6
Tuesday, July 29th, 2014
---
3:39 am
- Midtown Comics signing with Dean Haspiel & Paul Kupperberg
I had the honor of signing my comix alongside Paul Kupperberg, the writer responsible for killing Archie Andrews in LIFE WITH ARCHIE, at Midtown Comics during their "Not At Comic Con" party on July 26, 2014


Wednesday, July 23rd, 2014
---
10:26 am
- The 75th Anniversary of Batman


I drew BATMAN '66 #13, written by Gabe Soria , colored by Allen Passalaqua, lettered by Wes Abbott with a cover by Mike Allred, and it comes out today in comic book shops to help celebrate Batman's 75th anniversary.

I honestly didn't know that our comic book was going to come out the same day as Batman's 75th anniversary but I'd already snuck in an homage to the cover of BATMAN #1 on page 2 of our comic. Dub it prescient, call it kismet. Happy Birthday, Batman!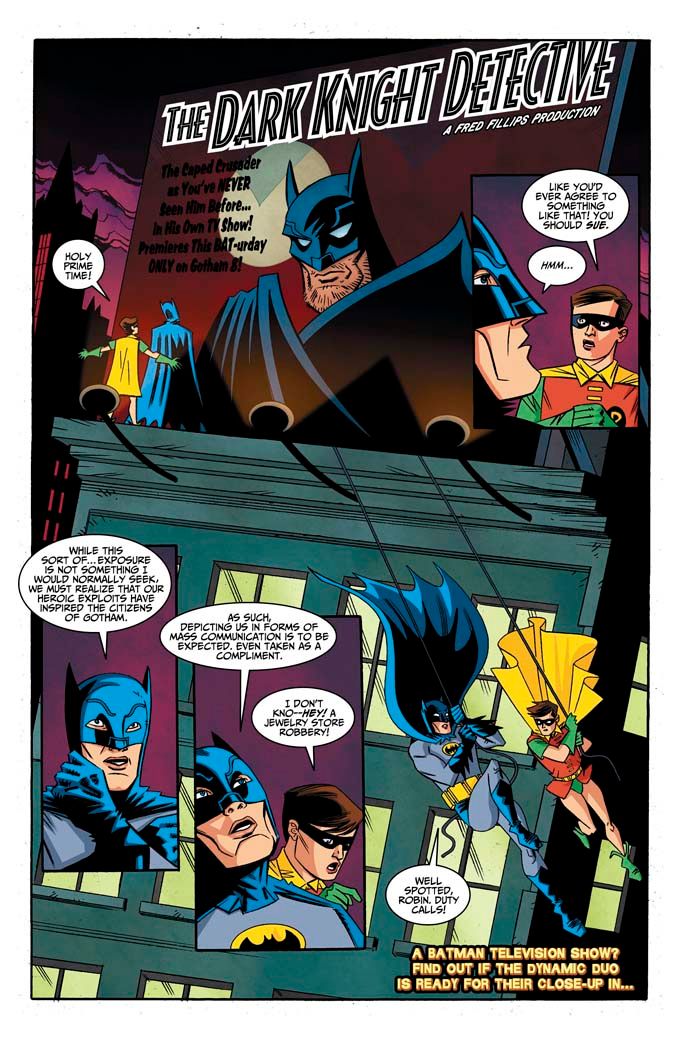 Check out the 6-page preview of my BATMAN '66 #13: http://www.comicbookresources.com/?page=preview&id=22747
Tuesday, July 22nd, 2014
---
12:00 pm
- Dean Haspiel's Spectacular Disaster - Weds. July 23rd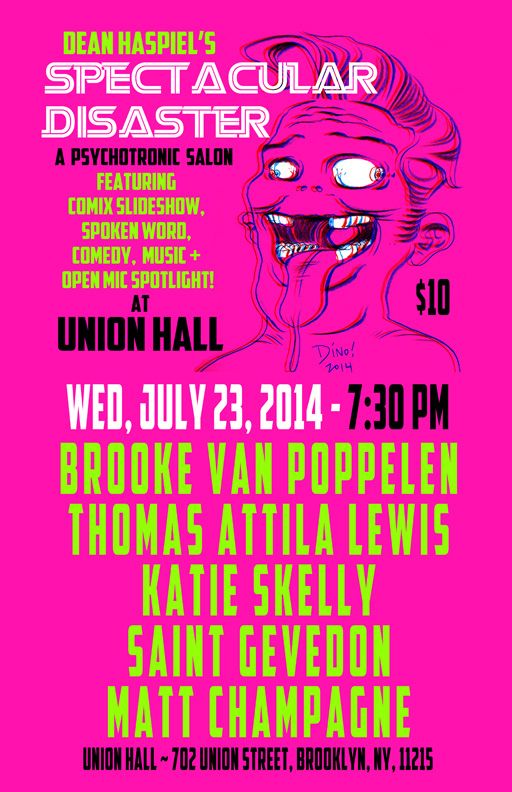 DEAN HASPIEL'S SPECTACULAR DISASTER
Join your host Dean Haspiel for a psychotronic salon featuring comix slideshows, spoken word, comedy, music, some very ridiculous surprises, and a chance to win the Open Mic spotlight. Come and take your shirt off!

FEATURING: Dean Haspiel, Brooke Van Poppelen, Thomas Attila Lewis, Katie Skelly, Saint Gevedon, and Matt Champagne. Plus, the Open Mic Spotlight: Think we're special? Nuh-uh. You can do it, too! Drop your name in the hat and be entered to win our coveted shine a light/open mic slot.

Weds., July 23, 2014
7:30 pm
$10.00

Union Hall - Brooklyn
702 Union Street
Brooklyn, NY, 11215
http://www.unionhallny.com/

PRE-ORDER TIX: http://www.unionhallny.com/event/619325-dean-haspiels-spectacular-brooklyn/
---