Sunday, May 31st, 2020
---
12:36 pm
- Dino FAQ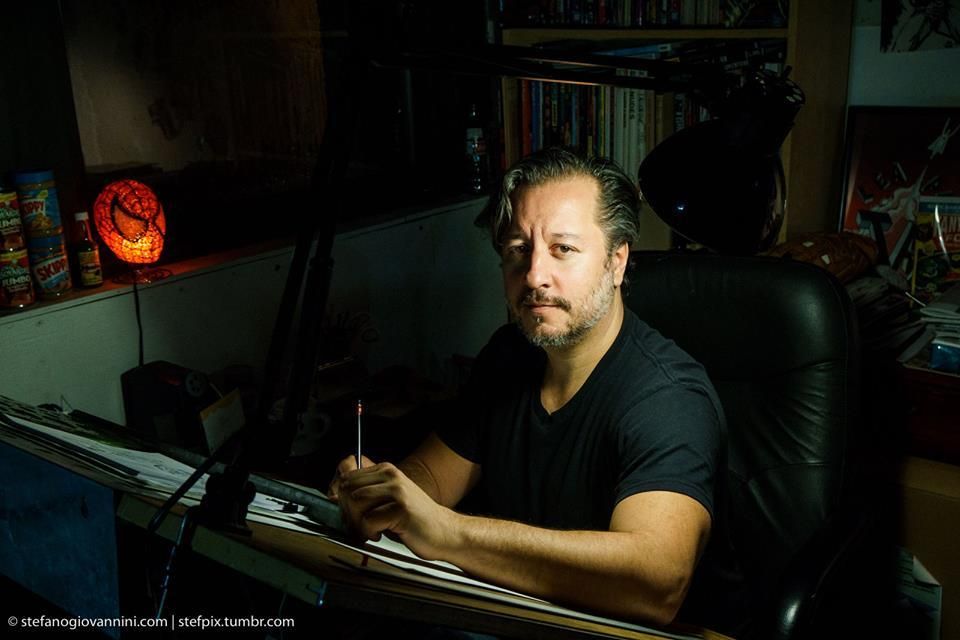 http://www.deanhaspiel.com/

Emmy award winner and Eisner and Harvey Award nominee Dean Haspiel created Billy Dogma, and The Red Hook, illustrated for HBO's "Bored To Death," was a Master Artist at the Atlantic Center for the Arts, is a Yaddo fellow, a playwright, helped pioneer personal webcomix via ACT-I-VATE, and a multimedia salon via TRIP CITY.net, and is the co-founder of HANG DAI Editions. Dino has written and drawn many comix including The Fox, The Fantastic Four, Spider-Man, X-men: First Class, Deadpool, Batman, Wonder Woman, Godzilla, Mars Attacks, Creepy, The Walking Dead, SpongeBob SquarePants, and semi-autobio collaborations with Harvey Pekar, Jonathan Ames, Inverna Lockpez, Jonathan Lethem, and Stan Lee. Look out for his latest graphic novels: FEAR, MY DEAR: A Billy Dogma Experience, and his Manhattan exodus to Brooklyn memoir, BEEF WITH TOMATO.

Read THE RED HOOK for free: http://www.webtoons.com/en/super-hero/the-red-hook/list?title_no=643

Instagram: https://www.instagram.com/deanhaspiel_art/
Twitter: https://twitter.com/deanhaspiel

Artist's Statement:
I'm impelled to excavate universal truths and impart life experiences from my unique perspective to communicate with strangers and perpetuate hope with no permissions and no apologies.

Honors:
-Yaddo fellow.
-Master Artist at The Atlantic Center for the Arts
-Emmy Award winner for title design work on HBO's "Bored To Death."
-Eisner Award nominee for "Talent Deserving of Wider Recognition" and "Outstanding Webcomic."
-Harvey Award nominee for "Best Artist"




Please click here to see what Dean's been up to at TRIP CITY: http://welcometotripcity.com/author/dean-haspiel/

HANG DAI Editions: http://hangdaieditions.com/

Experiencing Yaddo First-Hand: An Interview with Cartoonist Dean Haspiel: http://thefreegeorge.com/thefreegeorge/dean-haspiel-yaddo-interview/

The Atlantic Center for the Arts: Residency #147: http://welcometotripcity.com/2012/12/the-atlantic-center-for-the-arts-residency-147/

Tom Spurgeon interviews me for The Comics Reporter: http://www.comicsreporter.com/index.php/cr_holiday_interview_2_dean_haspiel/

Poet Sandra Beasley interviews me for Barrelhouse Magazine
http://www.barrelhousemag.com/barrelhousing-with-comic-artist-dean-haspiel-an-interview-by-sandra-beasley/

Dean Haspiel speaks at The Library of Congress: http://www.loc.gov/today/cyberlc/feature_wdesc.php?rec=5709

ATTENTION Art Directors, Editors, Publishers, Writers, Etc: if you'd like to see current samples of Dean Haspiel's art, please check out his gallery: http://welcometotripcity.com/2012/01/dean-haspiel-gallery/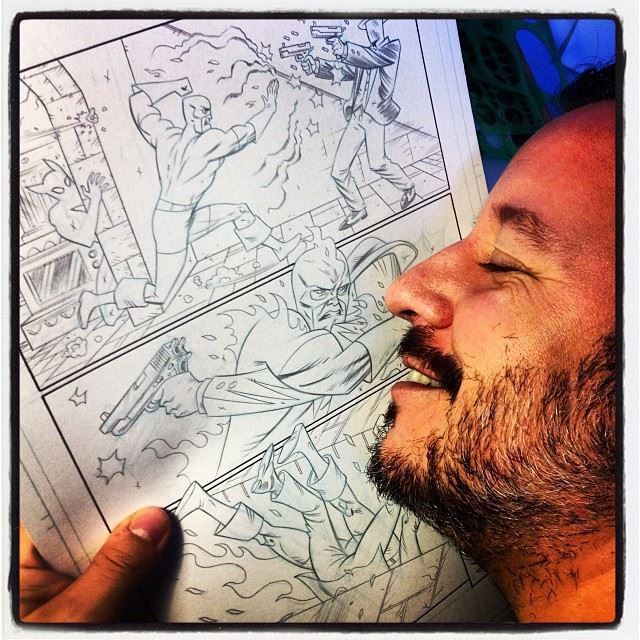 (
Click here for comix, interviews, news, videos, and other essential links
Collapse
)
Wednesday, June 29th, 2016
---
1:10 pm
- The Red Hook - chapter 13
1:04 pm
- OHIO IS FOR SALE book release party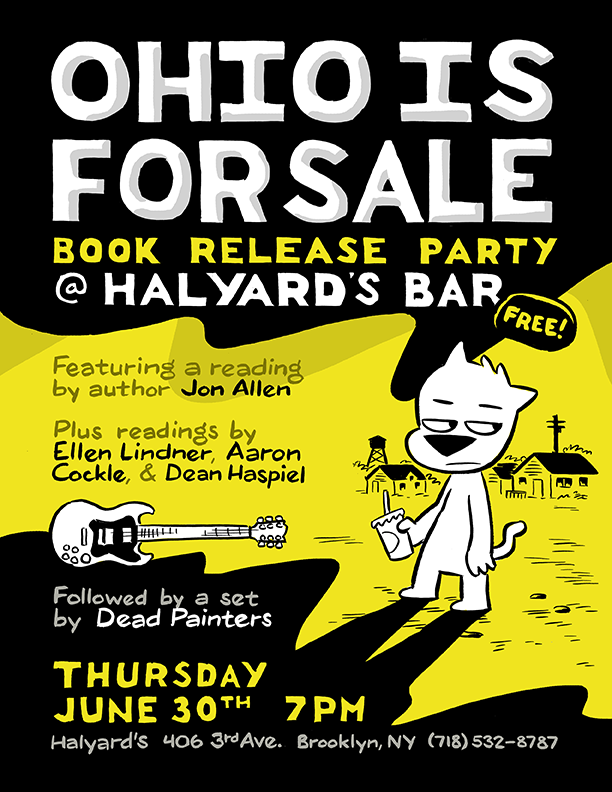 Thursday, June 30th, 7-10pm
Halyards
406 3rd Ave, Brooklyn, New York 11215

"Jon Allen's masterwork, Ohio is for Sale, will be making its official debut on Thursday, June 30th at Halyard's in Brooklyn. It's a full night with readings from Aaron Cockle, Ellen Lindner, Dean Haspiel and the man himself, Mr. Allen. This regal evening culminates with a performance by the band, Dead Painters. The festivities begin at 7 p.m. and best of all, it's absolutely free! Swing by, grab a drink plus a copy of Ohio is for Sale and say "hello". See you soon!"

Facebook event: https://www.facebook.com/events/1035941006497441/
Monday, June 27th, 2016
---
11:02 am
- Comic Book Decalogue episode 11: Dean Haspiel


"On the eleventh installment of Comic Book Decalogue, Dean Haspiel (The Quitter, Beef with Tomato) talks the dual impacts of Jack Kirby and Prince, as well as his new serial, The Red Hook."

Listen here: http://www.tcj.com/episode-11-dean-haspiel/
10:58 am
- Word Balloon Podcast: Dean Haspiel's Red Hook Takes Back Brooklyn
Wednesday, June 22nd, 2016
---
11:22 am
- The Red Hook - chapter 12
Wednesday, June 15th, 2016
---
11:12 am
- The Red Hook - chapter 11
Saturday, June 11th, 2016
---
1:27 pm
- #occupyartistalley
At THE COMICS BEAT: "Artist Buzz calls for #occupyartistalley movement to stop rip-off print vendors"

http://www.comicsbeat.com/artist-buzz-calls-for-occupyartistalley-movement-to-stop-rip-off-print-vendors/

My response:

Artist's Alley (AA) should be populated by artist's of all dimensions, skill-sets and measures. If a show wants to curate and quarantine a "pro section" (however that's defined), I guess that's okay but I prefer to sit among rookies and veterans and odd-balls (like myself). It keeps the energy of AA diverse and exciting.

Draw & sell what you want (franchise companies WANT you to perpetuate their I.P.) as long as it's tasteful and you're not stealing someone else's art. You steal, you get ousted. Dig?

I'm not a fan of what Roy Lichtenstein did — appropriating & recontextualizing comics art for pop art — but that's not what these thieves are doing with the flick of a filter on Photoshop. It's Artist's Alley NOT Crime Alley.

I exhibit at different types of shows; from indie to mainstream to pop culture, and I do my best to hawk my creator-owned wares while, occasionally, appealing to what is hip. I don't draw actors portraying characters (celebrity art is not my cuppa) but an original sketch or reprint of an original sketch is between the artist and the buyer. Reggae dubs it "version." Who doesn't love an original version?

The industry KNOWS how tough it is to squeak by and gives a lot of latitude to creators and its fans. Don't abuse it, is all.
Wednesday, June 8th, 2016
---
12:50 pm
- A brief Recommended & Required reading for making comix
On Facebook, Marcus Bucklin asked, "Hey Dean, what are some books you'd recommend that would help someone looking to improve on their cartooning and anatomy? Also, what books are you enjoying right now? What do you consider required reading for any comix fan?"

My answer, "I'm more concerned with crafting story than I am with anatomy (as evidenced in my art - hah). If you're seriously considering making comix, remember that its all about storytelling; or showing story. Study the tenets of David Mamet's ON DIRECTING FILM and then break them wisely. Read lots of different books & comix and watch movies for their narrative expressions and storytelling devices (boil down moving images into static ones). Three great comix to be entertained by WHILE being educated about the comix form: ALL-STAR SUPERMAN, SCALPED, and Jack Kirby's OMAC. For reckless abandon and sheer indie/alt energy, check out Michel Fiffe's COPRA and David Trustman's GOD-SLAP: http://www.godslapcomic.com/
11:41 am
- 1st Annual Wendigo Productions NY, Art On A Gallery, SUMMER GROUP SHOW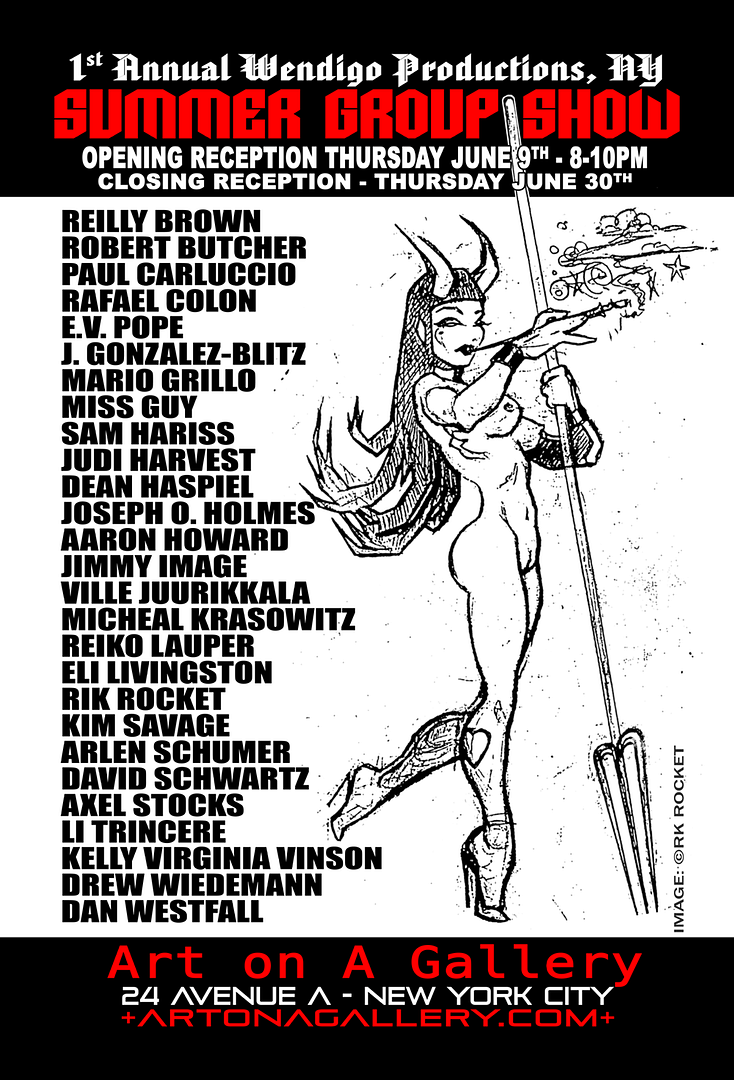 I'll have three different art prints for sale at the 1st Annual Wendigo Productions NY, Art On A Gallery, SUMMER GROUP SHOW, from June 9 – June 30.

OPENING RECEPTION: June 9th, 8pm to 10pm
Art on A Gallery and Shop
24 Avenue A, New York, New York 10009
http://www.artonagallery.com/

featuring:
Luke Daniel Alie
Reilly Brown
Robert Butcher
Paul Carluccio
Rafael Colon
Jimmy Image
E.V. Pope
J. Gonzalez-Blitz
Mario Grillo
Miss Guy
Sam Hariss
Judi Harvest
Dean Haspiel
Joseph O. Holmes
Aaron Howard
Ville Juurikkala
MIcheal Krasowitz
Reiko Lauper
Eli Livingston
Rik Rocket
Bingo Sanatra
Kim Savage
Arlen Schumer
David Schwartz
Axel Stocks
Li Trincere
Kelly Virginia Vinson
Drew Wiedemann
Dan Westfall

Facebook event page: https://www.facebook.com/events/483194265212698/
10:15 am
- The Red Hook - chapter 10
Tuesday, June 7th, 2016
---
11:44 am
- Moby provides original music score for THE RED HOOK


I've known Moby for over 25-years. He's got a big heart and his ambient music, especially the second disc that came with his album, "Hotel," is one of the best examples of his beautifully haunting music I've ever heard. The song "Blue Paper," in particular, got me through a tough time when my brother passed away in 2005. In 2011 Moby graciously gave me some original songs to consider for a motion comic version of my Valentine's comic, "The Angel." When Webtoon Head of Content Tom Akel alerted me that they were going to produce a Red Hook promo-video, I let him know I might have an original Moby song they could use. When I was in L.A. last summer, I attended Moby's 50th birthday party and told him I was starting work on a brand new webcomic series and he seemed to dig the idea of The Red Hook. He recently congratulated me on my NY Times article. He's always been nice to me. I'd love to draw something for him someday.

See/hear THE RED HOOK promo-video here at Bleeding Cool, plus advance sneak-peek of chapter 10:

http://www.bleedingcool.com/2016/06/07/the-red-hook-is-a-super-thief-who-is-bequeathed-the-omni-fist-of-altruism-and-transformed-into-a-hero-against-his-will-a-year-after-a-sentient-brooklyns-heart-is-broken-and-physically-secedes-from-a/



Monday, June 6th, 2016
---
7:50 pm
- Word of the Nerd reviews The Red Hook
Christopher Calloway wrote a very kind review of the first third of my free/weekly webcomic series THE RED HOOK at Word of the Nerd.

Excerpts:

"The Red Hook is a loving tribute the Golden and Silver Age of comics. It also a metaphor for the changes Brooklyn is undergoing that is transforming the community and squeezing its heart."

"Haspiel has leveraged the single panel vertical reading mode of Webtoon's platform to showcase his artwork and storytelling technique. It is the best example I have seen of a comic book created natively for the digital world. I have never experienced sequential art which looks so organic and powerful on a computer screen or tablet device. Short of holding the original art your hands, the detail of the pencil lines can be best experienced in its single panel presentation. The vertical format also makes me feel as though I am propelled along throughout the story beside The Red Hook."

"The Red Hook Chapters 1-10 is fun yet heart-felt story with a strong connection to the creators and community that inspired it. It is story of a criminal with no choice but to become a hero, lest he die."

You can read the entire review here: http://wordofthenerdonline.com/2016/06/the-red-hook-chapters-1-10/
1:43 pm
- GOD SLAP debuts
Brother Science tests your faith in GOD SLAP! Debuting 6-6-16: http://www.godslapcomic.com/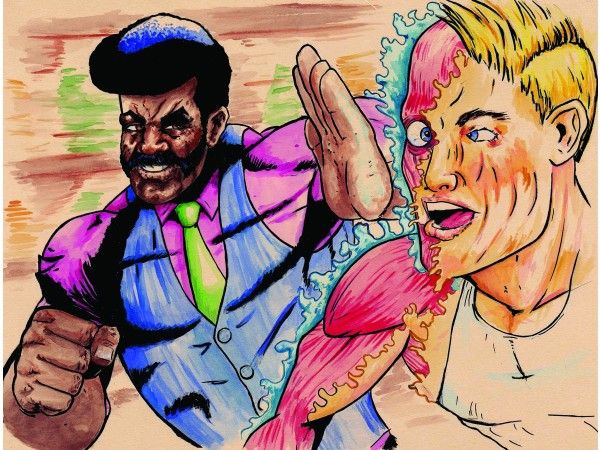 (art by David Trustman)

WTF is GOD SLAP?
by David Trustman

...and on the eighth day David Trustman and Dean Haspiel created GOD SLAP.

It started when I posted a video of various preachers manipulating their flocks, slapping and shoving demons from their bodies. Dean almost immediately messaged me saying that there was a comic just waiting to be plucked out; something with preachers having duels, flinging their godly powers about. Fast-forward to Wizard World Raleigh in March of 2015. While sharing Dean's table we crafted a hero named Brother Science, a young black man sentenced to life in prison for smoking a joint. Ten years into his sentence, the apocalypse happens. Saved by The Lord Science and one true God, Brother Science gets evolved! With his giant hands he sets out to heal the world by slapping the Jesus out of people.

Accompanying the new Messiah is a ten-year-old orphan girl named Little Bitch. Brother Science battles believers and recruits disciples on his way to the ultimate showdown with Emperor Eclipse and the Choke Brothers, the folks who incited the apocalypse.
GOD SLAP came about a full year before "bathroom hysteria" gripped my home state. It came before "gay marriage" simply became "marriage." Fortunately (or unfortunately) for us, every advancement in societal norms sets off a wondrous range of world-ending prophecies that have yet to be fulfilled. These prophecies are bombarded on the public-at-large daily by dozens of talking heads, each peddling their own brand of panic. It was in this hysteria where Dean and I found ultimate inspiration.

Imagine for a moment a world where all the craziest worst-case scenarios actually came into existence. What would that world look like? For us, it was horrifically funny. Terrifying, but humorous nonetheless. Drawing on actual scenarios laid out by religious leaders, pundits and politicians, GOD SLAP is a comic that takes on conservative rhetoric, literally, in the most fun way possible through explicitly graphic portrayal.

GOD SLAP features Brother Science and Little Bitch, along with a congregation of disciples like Black Tyrone, unexpected allies like Captain Jesus, and arch-nemesis the likes of Church Tyson and Emperor Eclipse.

The original version of this essay appeared at Bleeding Cool: http://www.bleedingcool.com/2016/05/24/wtf-is-god-slap/
11:03 am
- Zurxe reviews BEEF WITH TOMATO
Wednesday, June 1st, 2016
---
8:55 pm
- "From Water To Wine" - Jen Ferguson featured in The Brooklyn Paper
3:58 pm
- La Repubblica: Imagine New York with other colors
On the morning of my 49th birthday, I was invited to write a brief essay based on a handful of artistic photographs taken in Central Park, NY for an Italian newspaper called La Repubblica. I was given a couple of hours to turn it around quickly. Thankfully, reporter and my editor/translator, Anna Lombardi, helped me greatly in culling stuff I'd already said about NYC in past interviews and articles while I added new aspects and cobbled something together. The published version of my essay was titled "Imagine New York with other colors."

Here is what I originally wrote (but I'm not sure what was kept and how it translated into Italian for the published version):

In the first season of HBO's True Detective, Matthew McConaughey's philosophical detective, Rust Cohle posits that "time is a flat circle." Appearing as a rustic paradise to picnic and play ball, roller blade or bicycle, run or walk your dog or stand still and watch birds, hold hands or break up, Central Park is an 843 acre, rectangle-sized time machine in the middle of New York City that can transport you to the past, present and future, all at the same time. A past where the roots were steeped in a rich soil bustling with nature-infused chaos bursting with the promise of an industrious tomorrow. When tomorrow came we paved trails and trimmed trees and celebrated each other with flowers, real and digital, while growing towers that scraped our skies and reflected profoundly in our lakes, challenging the future with our pride. Alas, these scorched earth pictures warn us of global warming and social indifference. Sparking dreams of a different tomorrow in a different place.

My exodus from native Manhattan to Brooklyn refugee came at time when I could no longer afford to dream in a place that could no longer afford my unbridled spirit. What Manhattan abandoned for brighter lights and bigger signs and whiter noise, Brooklyn brandished in her water towers and stoops and trees and people. I felt a better sense of community in Brooklyn, even when I was getting the stink eye from indigenous locals. The much scrutinized "hipsters" came later. But, in the late 1990s, I had to earn my way in. Brooklyn hazes you for your self-worth, especially in Red Hook. Ironically, 19-years since my Manhattan escape, Brooklyn has become more expensive. I can't win. Nobody put a gun to my head but I've given my life's blood and art to NYC and it sometimes treats me like an infection just because I'm economically (and aesthetically) allergic to champagne and caviar while my freelance veins proudly pump 70% cheap Chinese food takeout and 30% discounted peanut butter. Give me royalty checks or give me grape jelly.

I used to be concerned, does New York City care about when all the artists move out because they can't afford to be here? New York City doesn't care. At the end of the day, developers or landlords just want money. Once in a while, you'll find a kind landlord who's willing to give space to a certain type of thing, and that's beautiful. My landlord has tried to champion artists, which is why he converted the warehouse I spend most of my hours into an artist studio. But, at the same time, you have to take a bold look at your own career sometimes. If you're not making any money after many years, then maybe your career is a hobby. I hate to say it that way, but you do have to look at your own life sometimes and wonder, "What am I doing and can I continue doing this?" You can't stop doing what you love, but you do have to figure out a way to live.

History tends to repeat itself. So, you have to look back in order to move forward. NYC is still a great place for diversity, culture, food and art, but it will only be shaped by the last artists and curators standing in an economy that can't afford the avante garde and the under-looked like it once did when my mother was the deputy director of the New York State Council of the Arts. Back when artists could afford to live small and create unhindered. Nowadays, it seems you need to have a 5-year plan and a digital app to hawk while you social network more than you create. Hype has become as necessary as a paint brush and pen.

--Dean Haspiel (creator of Billy Dogma, The Red Hook)




http://en.kiosko.net/it/np/repubblica.html

Thank you, Anna! ~xo
11:00 am
- Wizard World Philadelphia 2016



I am a guest at Wizard World Philadelphia, June 2-5, 2016, stationed at table A24. I will have copies of my latest graphic novels, BEEF WITH TOMATO, and FEAR, MY DEAR. Plus, rare copies of my exclusive THE WALKING DEAD cover. Ask me about my new weekly webcomic series, THE RED HOOK, published for free at LINE Webtoons http://www.webtoons.com/en/super-hero/the-red-hook/list?title_no=643

Tabling with me are cartoonists Christa Cassano, Jason Goungor, and David Proch. We're available for commissions and I will also be doing three panels throughout the weekend (see below).

Click here for Wizard World Minneapolis info: http://wizardworld.com/comiccon/philadelphia

PANELS

Friday June 3:

2:00 - 2:45pm TWO GENERATIONS OF UPSTARTS: AMERICAN FLAGG'S HOWARD CHAYKIN & THESRED HOOK's DEAN HASPIEL IN CONVERSATION (Room 121AB)
New York's Upstart Studios was famous for the work it created and the artists who worked there. Living legend Howard Chaykin (Star Wars; American Flagg!) was one of the longtime members of the studio, and among his assistants was Dean Haspiel (Billy Dogma; The Red Hook), who has gone on to create an amazing body of work of his own. Today, Howard and Dean talk about their days at Upstart, their past and current

3:00 - 3:45PM CAPTAIN AMERICA VS. IRON MAN: FREEDOM, SECURITY, PSYCHOLOGY (ROOM 121AB)
Marvel Comics' Civil War and the movie Captain America: Civil War explore superheroes' place in a post-9/11 world where some argue that superhero freedoms conflict with public safety. Captain America leads superheroes fighting for liberty, while Iron Man leads others concerned about national and international security - but why? Dr. Travis Langley (Captain America vs. Iron Man: Freedom, Security, Psychology), Danny Fingeroth (Superman on the Couch), Josué Cardona (Geek Psych; The Walking Dead Psychology), Victor Dandridge (Vantage: Inhouse), Dean Haspiel (Batman '66), and Rusty Gilligan (Captain America: The First Avenger) discuss how character motivations on both sides arise from positive human qualities. Do we really have to choose sides?

Sunday, June 5

1:30pm - 2:15pm THE CREATIVE MIND: TOP ARTISTS ON DRAWING COMICS with SPIDER-MAN'S STEVE GEIGER, BATMAN'S MIKE MANLEY, THE RED HOOK'S DEAN HASPIEL, TMNT's BILLY MARTIN & LEON: PROTECTOR OF THE PLAYGROUND'S JAMAR NICHOLAS (ROOM 121AB)
Top comics artists talk about their careers, their craft, the comics business and whatever else might come up—and may even show you some of their top-secret techniques! Join peerless pencilers Steve Geiger (Spider-Man; The Hulk), Mike Manley (Batman; Draw! Magazine), (Dean Haspiel (Billy Dogma; The Red Hook), and Jamar Nicholas (Fist, Stick, Knife, Gun; Leon: Protector of the Playground) as they pull back the curtain and tell you what it's really like to be a comics artist! Danny Fingeroth (How to Create Comics from Script to Print; Spider-Man) moderates.
10:24 am
- The Red Hook - chapter 9
Monday, May 30th, 2016
---
12:36 pm
- Why THE RED HOOK is a damn important comic book!
Fabrice Sapolsky wrote a very nice essay about my webcomic series, THE RED HOOK.

Excerpt:
"Last week, I met Dean Haspiel for the first time. The Man himself. Meeting Dean was important to me. Not only because I like his work, but also because he's one of the main creators actively promoting the Brooklyn indie comics scene. And I happen to live in Brooklyn. So it was like being a freshman to Brando's Godfather.

Truth is, I fell in love with Dean's last creation, the Red Hook.

If you have never read it, you SHOULD. And you can't say it's too expensive because you can have it for free on your smartphone thanks to the Line Webtoon app or on the web.

The Red Hook is a story about Brooklyn. It has superheroes in it. But beyond that, it's a story about our medium. The comic book medium. Its roots. Its present. Its future. Its founders. Dean tells it himself, it's a "love letter to the superhero comics". And it's damn entertaining too.

Meeting Dean opened my eyes. Here we have a creator who pours every bit of himself in the comics he produces. Sometimes he works for bigger publishers, but he doesn't cheat. He doesn't lie. He bares his naked soul to the comic book medium."

You can read the entire essay here: https://fabricesapolsky.wordpress.com/2016/05/29/why-the-red-hook-is-a-damn-important-comic-book/