Sunday, May 31st, 2020
---
12:36 pm
- Dino FAQ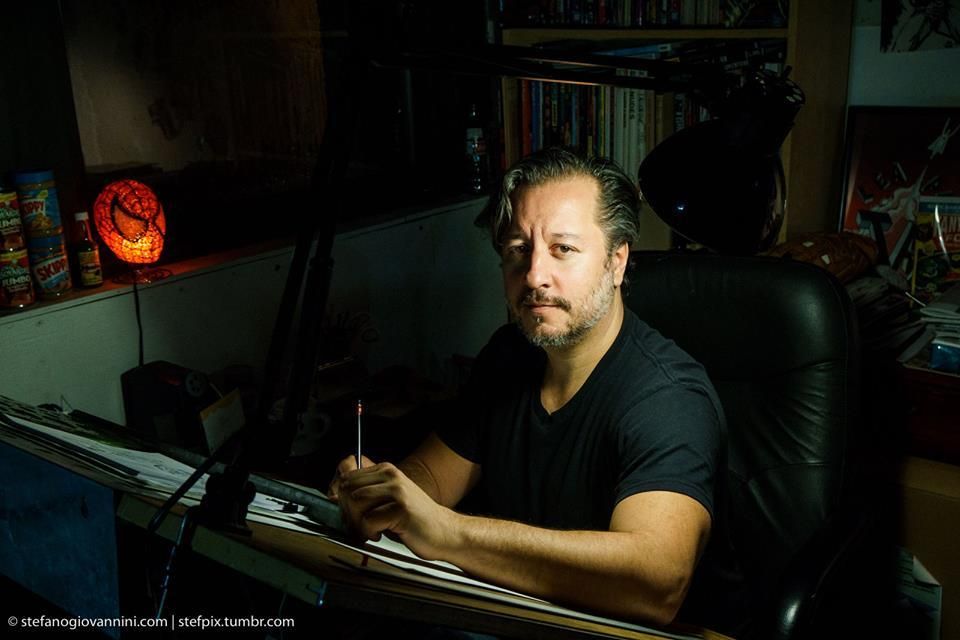 http://www.deanhaspiel.com/

Emmy award winner and Eisner and Harvey Award nominee Dean Haspiel created Billy Dogma, and The Red Hook, illustrated for HBO's "Bored To Death," was a Master Artist at the Atlantic Center for the Arts, is a Yaddo fellow, a playwright, helped pioneer personal webcomix via ACT-I-VATE, and a multimedia salon via TRIP CITY.net, and is the co-founder of HANG DAI Editions. Dino has written and drawn many comix for Marvel, DC, Archie, IDW, Dark Horse, & Heavy Metal, including titles like The Fox, The Fantastic Four, Spider-Man, X-men: First Class, Deadpool, Batman, Wonder Woman, Godzilla, Mars Attacks, Creepy, The Walking Dead, SpongeBob SquarePants, and semi-autobio collaborations with Harvey Pekar, Jonathan Ames, Inverna Lockpez, Jonathan Lethem, Stoya, and Stan Lee. Look out for his latest graphic novels: FEAR, MY DEAR: A Billy Dogma Experience, and his Manhattan exodus to Brooklyn memoir, BEEF WITH TOMATO.

Read THE RED HOOK for free: http://www.webtoons.com/en/super-hero/the-red-hook/list?title_no=643

Instagram: https://www.instagram.com/deanhaspiel_art/
Twitter: https://twitter.com/deanhaspiel

Artist's Statement:
I'm impelled to excavate universal truths and impart life experiences from my unique perspective to communicate with strangers and perpetuate hope with no permissions and no apologies.

Honors:
-Yaddo fellow.
-Master Artist at The Atlantic Center for the Arts
-Emmy Award winner for title design work on HBO's "Bored To Death."
-Eisner Award nominee for "Talent Deserving of Wider Recognition" and "Outstanding Webcomic."
-Harvey Award nominee for "Best Artist"




Please click here to see what Dean's been up to at TRIP CITY: http://welcometotripcity.com/author/dean-haspiel/

HANG DAI Editions: http://hangdaieditions.com/

Experiencing Yaddo First-Hand: An Interview with Cartoonist Dean Haspiel: http://thefreegeorge.com/thefreegeorge/dean-haspiel-yaddo-interview/

The Atlantic Center for the Arts: Residency #147: http://welcometotripcity.com/2012/12/the-atlantic-center-for-the-arts-residency-147/

Tom Spurgeon interviews me for The Comics Reporter: http://www.comicsreporter.com/index.php/cr_holiday_interview_2_dean_haspiel/

Poet Sandra Beasley interviews me for Barrelhouse Magazine
http://www.barrelhousemag.com/barrelhousing-with-comic-artist-dean-haspiel-an-interview-by-sandra-beasley/

Dean Haspiel speaks at The Library of Congress: http://www.loc.gov/today/cyberlc/feature_wdesc.php?rec=5709

ATTENTION Art Directors, Editors, Publishers, Writers, Etc: if you'd like to see current samples of Dean Haspiel's art, please check out his gallery: http://welcometotripcity.com/2012/01/dean-haspiel-gallery/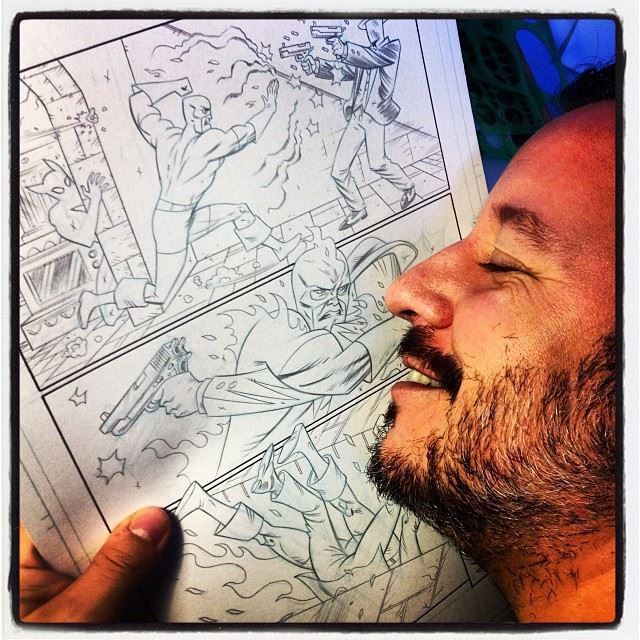 (
Click here for comix, interviews, news, videos, and other essential links
Collapse
)
Wednesday, July 27th, 2016
---
10:20 am
- The Purple Heart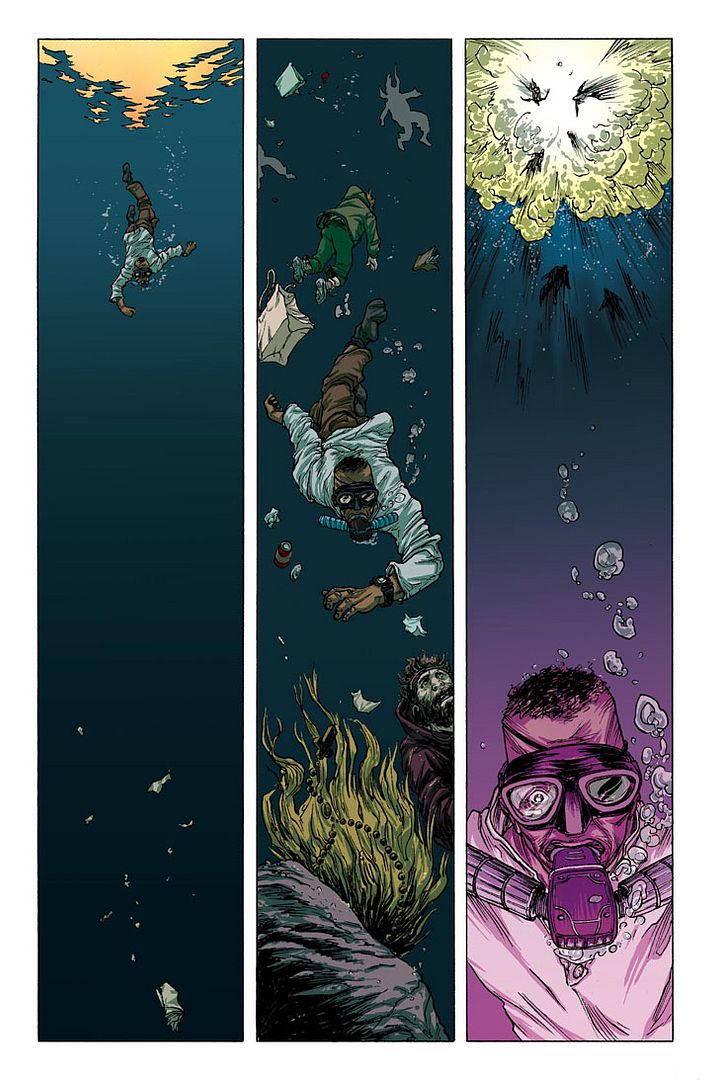 (Purple Heart art by Ricardo Venancio)

THE PURPLE HEART joins THE RED HOOK today in the second phase of the New Brooklyn Universe at LINE Webtoons. I'm excited for everyone to read & see what I co-created with writer Vito Delsante and artist Ricardo Venancio (and editor Tom Akel).

"When Brooklyn separated from New York City, it caused havoc on a massive scale. Now, one year later, a mysterious purple figure engulfed in flames has appeared. Who is the Purple Heart and what does his arrival mean for the future of Brooklyn?"

Click here to read for free: http://www.webtoons.com/en/super-hero/the-purple-heart/list?title_no=723
12:47 am
- The Red Hook - chapter 17
Tuesday, July 26th, 2016
---
1:29 am
- Story vs Internet
I believe binge-watching and unsolicited spoilers and marketing campaigns that reveal major plot points destroyed the art of the moving picture narrative. And, since most media is marketed to the youth (these days it's millennials), I wonder if polls suggest that story doesn't matter or are publishers and studios so desperate to get attention (hopefully leading to sales) that they'll do almost anything (spill beans) in order to gain it?

Maybe millennials are less interested in a story that is shaped by pace and payoff. Why waste your time on something that ends in 2 hours (movie) or 10 hours (season of TV) when you can just sit and stare at a digital version of life happening 24/7/365 (internet) with all its ups and downs and curve balls? A seamless narrative of whatever happens, happens. Perfect fodder for an Attention Deficit Disorder culture. "Hey honey, wanna internet tonight?" You bring the popcorn, I'll bring the charger.

I'm 49 and, basically, know what I like. But, what will surely shorten my lifes is to ONLY indulge what I deem safe and reliable. I'm loyal to what I love but I have a big heart for what is new and uncharted. And, as much as I can "curate" my social networking; turning people on to what I dig and discover, I rely on my peeps to turn me on, too. And, hell no, I cannot afford the time & money required to reach that astral plane of all-knowing awesomeness but I covet those mini-paths that takes me to places I would never consider.
Wednesday, July 20th, 2016
---
12:06 am
- The Red Hook - chapter 16
Thursday, July 14th, 2016
---
1:19 pm
- Starting over from scratch...
I was asked:

If you had to start over from scratch, how would you have approached becoming a good artist with a recognizable style?

My answer:

What you think is good I might think is bad. So, don't worry about that. Concern yourself with getting to a professional* plateau where you're different and not being hired to draw "like that" or "like this." Get to a place where you're being hired to do what you do because only you can do it. Show up to your own party.

*serve the job, make deadlines, and communicate well.
Wednesday, July 13th, 2016
---
3:05 pm
- The Red Hook - chapter 15
Tuesday, July 12th, 2016
---
10:29 am
- Amazing Heroes Wave 2 Super Hero Action Figures Kickstarter, featuring Wonderman
Wednesday, July 6th, 2016
---
1:57 am
- The Red Hook - chapter 14
Monday, July 4th, 2016
---
11:57 am
- Comic book auditioning
I drew a Godzilla comic once. What got me the gig? The editor/writer who solicited my talents loved the way I drew Harvey Pekar. No lie. I got the gig sans "audition" because my previous art spoke for my (then) skill set (see The Quitter/American Splendor and then have the insight to KNOW I could draw GODZILLA, hah!), despite my personal reservations of whether or not I could rock a good Godzilla (I ultimately took the job because the story was so cool). Alas, I needed to do a bunch of revisions but that was AFTER I got the job. Revisions comes with the territory. Who knew Toho would suggest to draw Godzilla more like a cross between an old fat lady and a dog, but I did my best. Naturally, not all solicited jobs go like this but, once you've established yourself as a professional artist (in this case, a cartoonist), I think it's fair to be paid something if the corporation solicits you and wants "samples" before they officially hire you. Everyone else is getting paid (the editor, the writer, the company) to perpetuate company-owned franchises. A printer and distributor wouldn't do their job on spec, why should you (and, no PLEASE don't equate drawing to acting just because I used the term "audition" - don't even). I think I drew one unpaid Godzilla to prove my salt and I was okay with that (I needed to know for myself if I could swing the gig). Don't forget, the sample you send might be the tenth drawing you did (banging your head against the art table) because it could take awhile to "find" your version that you feel comfortable sharing with an editor/writer and the world (and, that's when you been afforded the luxury of expressing your version versus drawing on model; a whole other bag of worms). Corporations used to build a "kill fee" into the budget and process. Nowadays? Of course, other way around, you solicit an editor/publisher and you better bring your A-game. Meanwhile, viva la indie/alt comix!
Friday, July 1st, 2016
---
4:29 pm
- Heavy Metal #281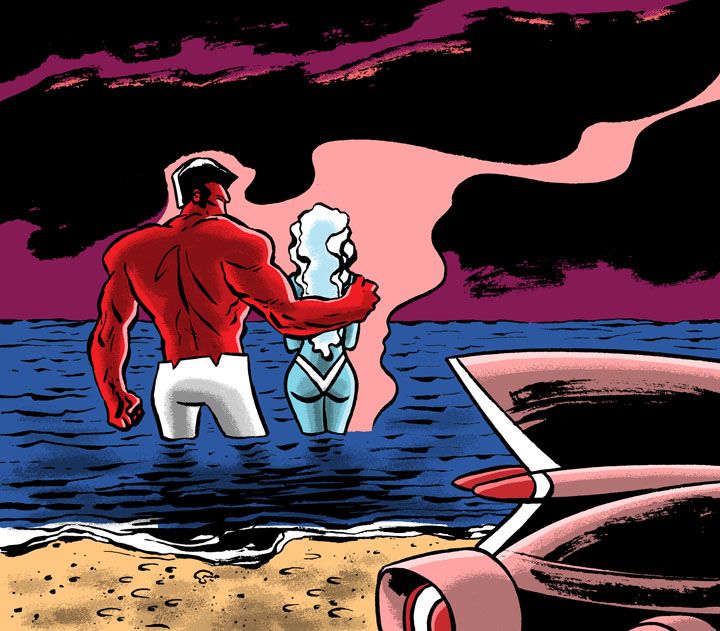 (detail from "One Such Partner," a comix collaboration with Stoya)

I'm honored to have collaborated with Stoya on an original comic for Heavy Metal #281. I adapted an essay Stoya wrote into comix form with her blessings. The issue will also feature my Billy Dogma comic, "The Last Romantic Antihero." I'm excited to be published by Heavy Metal as I've always wanted to be in that magazine since I was a teenager. Heavy Metal was the first publisher I ever showed my portfolio to back in the mid-1980s. The art director was quite encouraging. Big Ups to Jeff Krelitz, Rantz Hoseley, and Grant Morrison for helping make this happen.

You can read & see some of Stoya's work here http://stoya.tumblr.com/ and here http://www.graphicdescriptions.com/blog/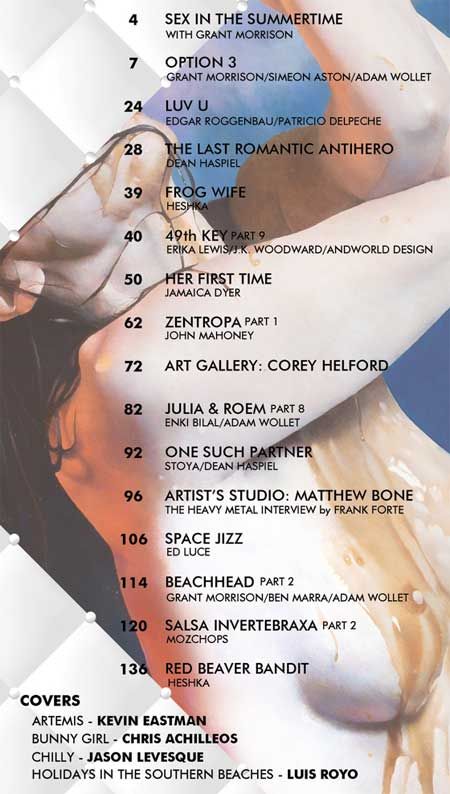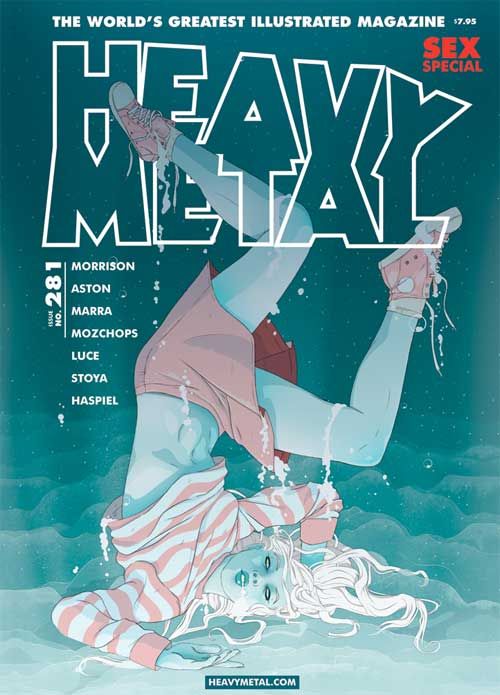 3:47 pm
- Four Color Trading Cards: Pack 2


Chris Irving invited me to take part in his Four Color Trading Card series via the Modern Creator's pack, which gives five cards of some of the greatest creator-owned comics characters:

The Crow by James O'Barr
E-Man by Joe Staton
Buddy Bradley by Peter Bagge
The Red Hook by Dean Haspiel
Nocturnus by Mark Waid and Peter Krause

I'm honored to have my RED HOOK character stand among some of the greatest independent characters in comics.

View the Kickstarter campaign and check out all the other cards here: https://www.kickstarter.com/projects/drawnword/four-color-trading-cards-pack-2
Wednesday, June 29th, 2016
---
1:10 pm
- The Red Hook - chapter 13
1:04 pm
- OHIO IS FOR SALE book release party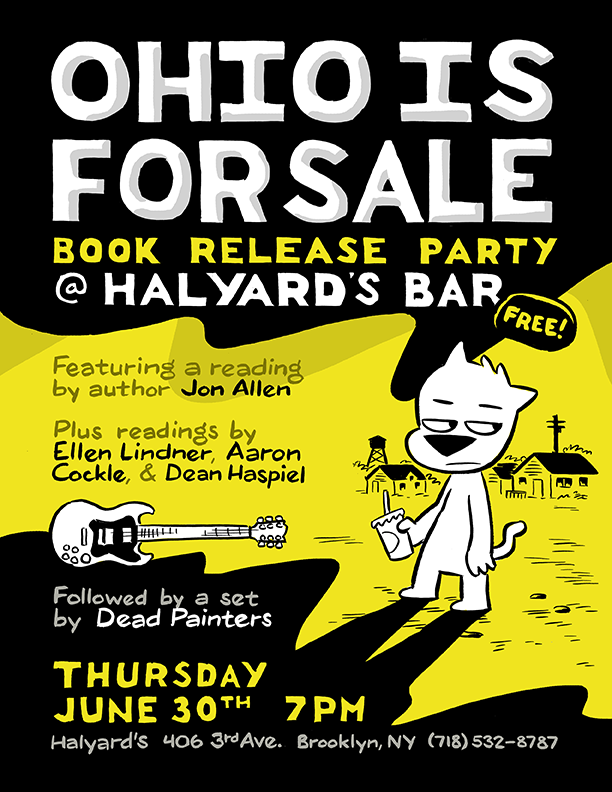 Thursday, June 30th, 7-10pm
Halyards
406 3rd Ave, Brooklyn, New York 11215

"Jon Allen's masterwork, Ohio is for Sale, will be making its official debut on Thursday, June 30th at Halyard's in Brooklyn. It's a full night with readings from Aaron Cockle, Ellen Lindner, Dean Haspiel and the man himself, Mr. Allen. This regal evening culminates with a performance by the band, Dead Painters. The festivities begin at 7 p.m. and best of all, it's absolutely free! Swing by, grab a drink plus a copy of Ohio is for Sale and say "hello". See you soon!"

Facebook event: https://www.facebook.com/events/1035941006497441/
Monday, June 27th, 2016
---
11:02 am
- Comic Book Decalogue episode 11: Dean Haspiel


"On the eleventh installment of Comic Book Decalogue, Dean Haspiel (The Quitter, Beef with Tomato) talks the dual impacts of Jack Kirby and Prince, as well as his new serial, The Red Hook."

Listen here: http://www.tcj.com/episode-11-dean-haspiel/
10:58 am
- Word Balloon Podcast: Dean Haspiel's Red Hook Takes Back Brooklyn
Wednesday, June 22nd, 2016
---
11:22 am
- The Red Hook - chapter 12
Wednesday, June 15th, 2016
---
11:12 am
- The Red Hook - chapter 11
Saturday, June 11th, 2016
---
1:27 pm
- #occupyartistalley
At THE COMICS BEAT: "Artist Buzz calls for #occupyartistalley movement to stop rip-off print vendors"

http://www.comicsbeat.com/artist-buzz-calls-for-occupyartistalley-movement-to-stop-rip-off-print-vendors/

My response:

Artist's Alley (AA) should be populated by artist's of all dimensions, skill-sets and measures. If a show wants to curate and quarantine a "pro section" (however that's defined), I guess that's okay but I prefer to sit among rookies and veterans and odd-balls (like myself). It keeps the energy of AA diverse and exciting.

Draw & sell what you want (franchise companies WANT you to perpetuate their I.P.) as long as it's tasteful and you're not stealing someone else's art. You steal, you get ousted. Dig?

I'm not a fan of what Roy Lichtenstein did — appropriating & recontextualizing comics art for pop art — but that's not what these thieves are doing with the flick of a filter on Photoshop. It's Artist's Alley NOT Crime Alley.

I exhibit at different types of shows; from indie to mainstream to pop culture, and I do my best to hawk my creator-owned wares while, occasionally, appealing to what is hip. I don't draw actors portraying characters (celebrity art is not my cuppa) but an original sketch or reprint of an original sketch is between the artist and the buyer. Reggae dubs it "version." Who doesn't love an original version?

The industry KNOWS how tough it is to squeak by and gives a lot of latitude to creators and its fans. Don't abuse it, is all.
Wednesday, June 8th, 2016
---
12:50 pm
- A brief Recommended & Required reading for making comix
On Facebook, Marcus Bucklin asked, "Hey Dean, what are some books you'd recommend that would help someone looking to improve on their cartooning and anatomy? Also, what books are you enjoying right now? What do you consider required reading for any comix fan?"

My answer, "I'm more concerned with crafting story than I am with anatomy (as evidenced in my art - hah). If you're seriously considering making comix, remember that its all about storytelling; or showing story. Study the tenets of David Mamet's ON DIRECTING FILM and then break them wisely. Read lots of different books & comix and watch movies for their narrative expressions and storytelling devices (boil down moving images into static ones). Three great comix to be entertained by WHILE being educated about the comix form: ALL-STAR SUPERMAN, SCALPED, and Jack Kirby's OMAC. For reckless abandon and sheer indie/alt energy, check out Michel Fiffe's COPRA and David Trustman's GOD-SLAP: http://www.godslapcomic.com/