Sunday, May 31st, 2020
---
12:36 pm
- Dino FAQ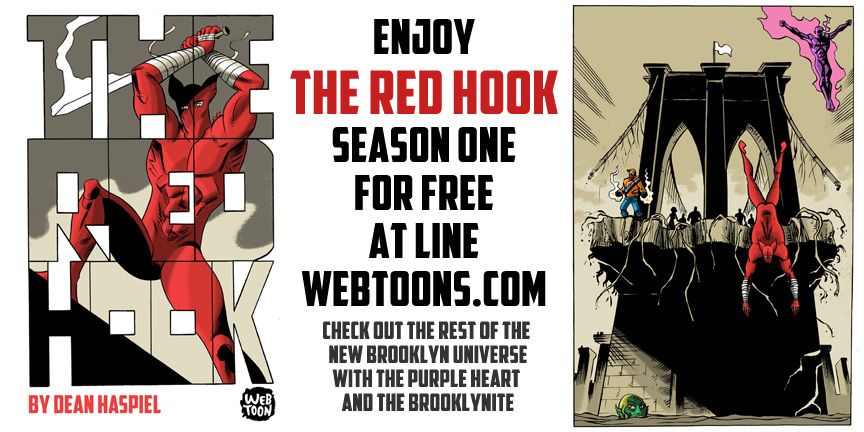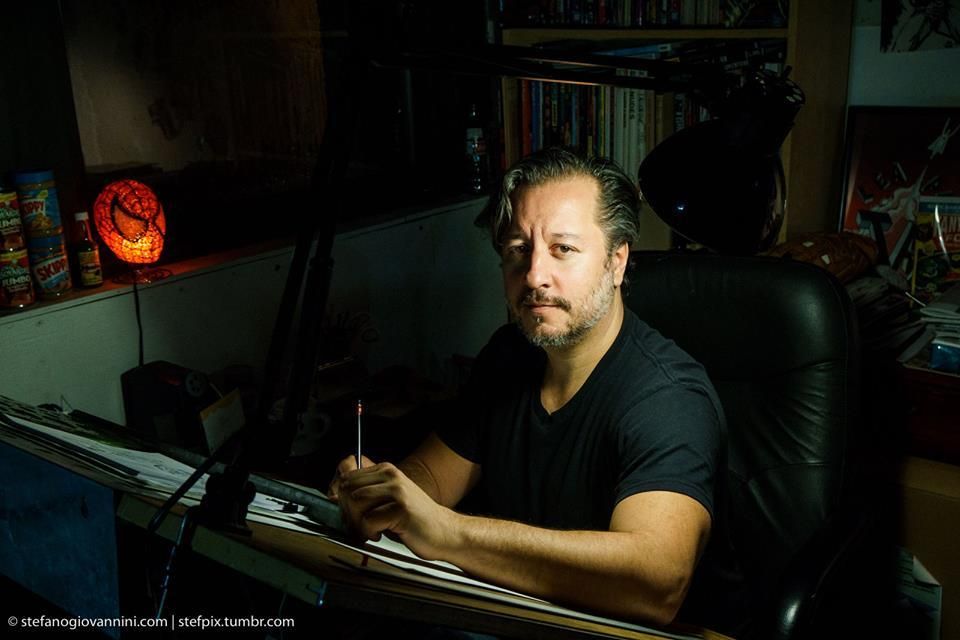 http://www.deanhaspiel.com/

Emmy award winner and Eisner and Harvey Award nominee Dean Haspiel created Billy Dogma, The Red Hook, illustrated for HBO's "Bored To Death," was a Master Artist at the Atlantic Center for the Arts, is a Yaddo fellow, a playwright, helped pioneer personal webcomix via ACT-I-VATE, a multimedia salon via TRIP CITY.net, and is the co-founder of HANG DAI Studios. Dino has written and drawn many comix for Marvel, DC, Archie, IDW, Dark Horse, & Heavy Metal, including The Fox, The Fantastic Four, Spider-Man, X-men: First Class, Deadpool, Batman, Wonder Woman, Godzilla, Mars Attacks, Creepy, The Walking Dead, SpongeBob SquarePants, and semi-autobio collaborations with Harvey Pekar, Jonathan Ames, Inverna Lockpez, Jonathan Lethem, Stoya, and Stan Lee. Look out for his latest graphic novel about his Manhattan exodus to Brooklyn, BEEF WITH TOMATO (Alternative Comics). Read THE RED HOOK for free at LINE Webtoons http://www.webtoons.com/en/super-hero/the-red-hook/list?title_no=643

Instagram: https://www.instagram.com/deanhaspiel_art/
Twitter: https://twitter.com/deanhaspiel

Artist's Statement:
I'm impelled to excavate universal truths and impart life experiences from my unique perspective to communicate with strangers and perpetuate hope with no permissions and no apologies.

Honors:
-Yaddo fellow.
-Master Artist at The Atlantic Center for the Arts
-Emmy Award winner for title design work on HBO's "Bored To Death."
-Eisner Award nominee for "Talent Deserving of Wider Recognition" and "Outstanding Webcomic."
-Harvey Award nominee for "Best Artist"




Please click here to see what Dean's been up to at TRIP CITY: http://welcometotripcity.com/author/dean-haspiel/

HANG DAI Editions: http://hangdaieditions.com/

Experiencing Yaddo First-Hand: An Interview with Cartoonist Dean Haspiel: http://thefreegeorge.com/thefreegeorge/dean-haspiel-yaddo-interview/

The Atlantic Center for the Arts: Residency #147: http://welcometotripcity.com/2012/12/the-atlantic-center-for-the-arts-residency-147/

Tom Spurgeon interviews me for The Comics Reporter: http://www.comicsreporter.com/index.php/cr_holiday_interview_2_dean_haspiel/

Poet Sandra Beasley interviews me for Barrelhouse Magazine
http://www.barrelhousemag.com/barrelhousing-with-comic-artist-dean-haspiel-an-interview-by-sandra-beasley/

Dean Haspiel speaks at The Library of Congress: http://www.loc.gov/today/cyberlc/feature_wdesc.php?rec=5709

ATTENTION Art Directors, Editors, Publishers, Writers, Etc: if you'd like to see current samples of Dean Haspiel's art, please check out his gallery: http://welcometotripcity.com/2012/01/dean-haspiel-gallery/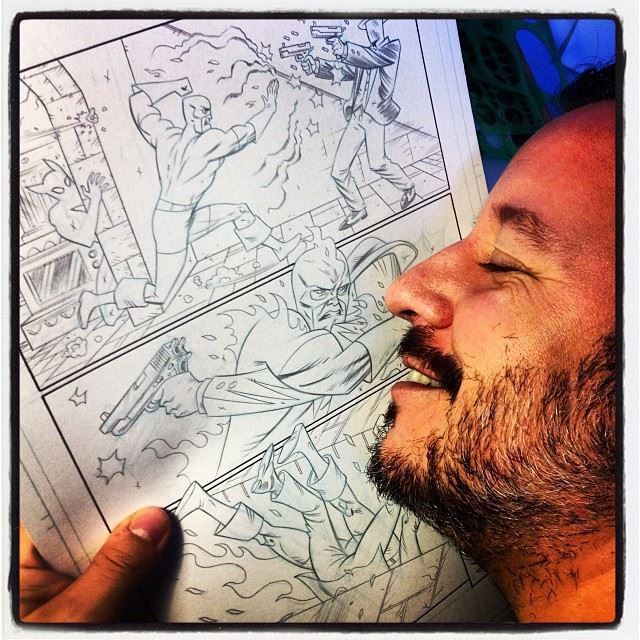 (
Click here for comix, interviews, news, videos, and other essential links
Collapse
)
Thursday, December 1st, 2016
---
12:59 pm
- Jewish Comicon 2016: How to Break Into Comics the Chutzpah Way (video)
Tuesday, November 29th, 2016
---
11:08 am
- ComicMix reviews CUBA: My Revolution
Joe Corallo revisits Inverna Lockpez's and my "CUBA: My Revolution" graphic novel at ComicMix: http://www.comicmix.com/2016/11/29/joe-corallo-the-rule-of-threes/

Excerpts:

"Inverna Lockpez and Dean Haspiel bring to life the horrors that took place in Cuba after the revolution in ways few people have before.

Though we rarely see Castro depicted in the graphic novel, his influence casts a shadow over everyone and everything. As the reader, we slowly watch the unraveling of everyday life in Cuba. We're shown businesses getting taken over by the government slowly at first then rapidly. We see the citizens have their money taken away in part to make escape from Cuba nearly impossible. We watch a charismatic leader rise to power who commands audiences of hundreds of thousands of people. We witness the rise of professional protesters pushing Castro's agenda as dissidents go from being harassed to being put in camps or killed. And all from the point of view of a young woman who was filled with hope for the future. It's an incredibly powerful and heartbreaking story."

"After hearing about Castro's passing I found my copy of Cuba: My Revolution and began skimming through it. I ended up rereading it in its entirety in one sitting. If you haven't heard of this graphic novel or simply haven't gotten around to picking it up yet, now is the time. You may even be taken aback by some of the eerie similarities we are seeing today in American politics compared with the early days of Castro's revolution. I don't mean to say that in a way to diminish the countless lives lost and ruined under Castro. That doesn't mean we should ignore history and allow it to once again repeat itself."
Monday, November 28th, 2016
---
12:43 pm
- TALES FROM THE CRYPT #1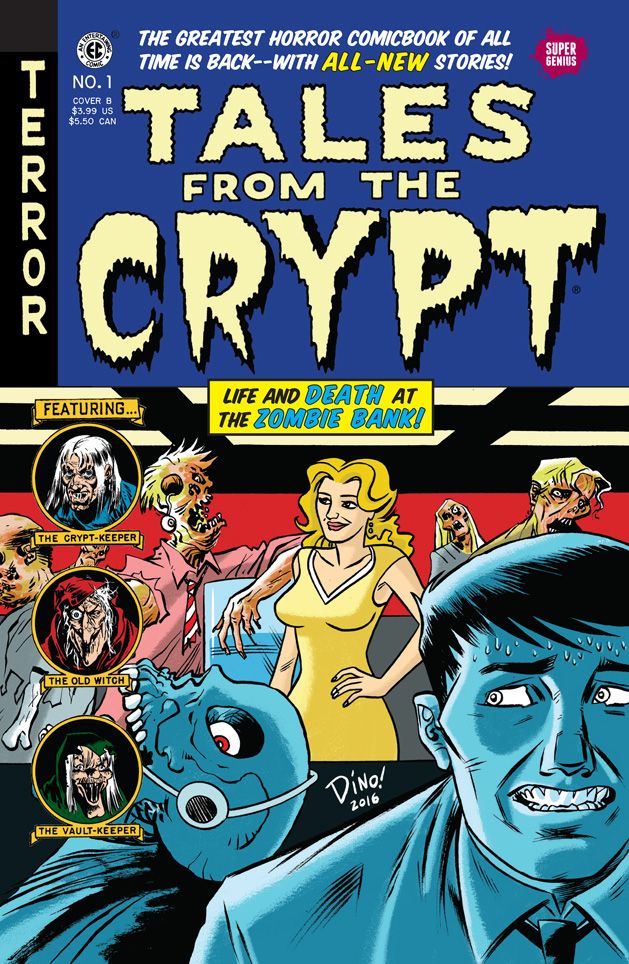 Jim Salicrup hired me to draw a variant cover for a modern reboot of the classic horror anthology, TALES FROM THE CRYPT #1 (Papercutz/Super Genius), coming out this Weds (11/30/2016) in finer comix shops.
Tuesday, November 22nd, 2016
---
12:21 pm
- The Red Hook returns this winter in Dark Horse Presents #s 29 - 31
Monday, November 21st, 2016
---
10:03 pm
- Dean Haspiel's WAR CRY announced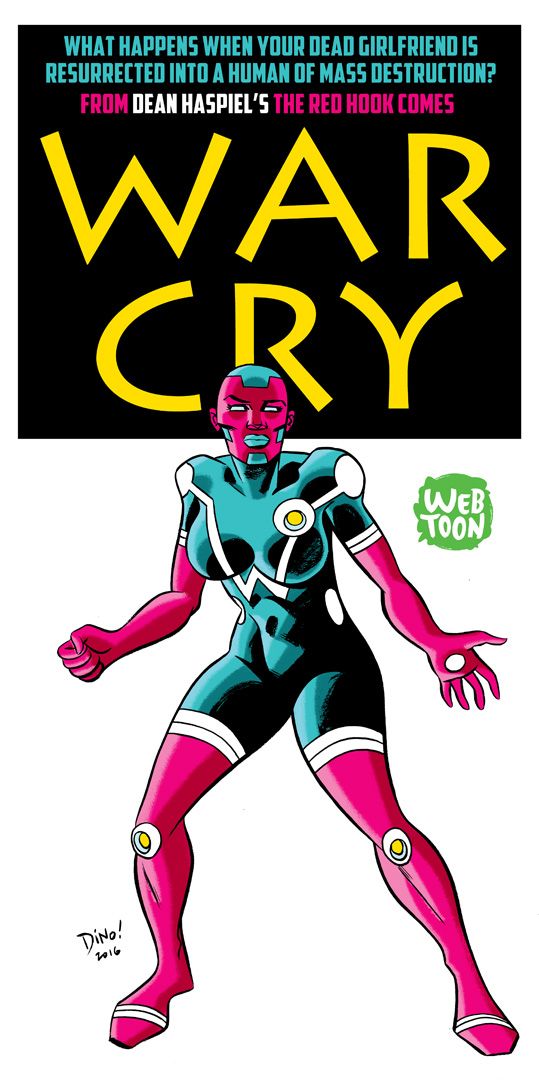 From the LINE Webtoons press release at Newsarama:

War Cry is a spin-off title to the critical hit The Red Hook. It will draw readers back into the Red Hook's adventure with the surprising return of another familiar face. Written and illustrated by Dean Haspiel, War Cry takes readers into the aftermath of the alien attack on earth that killed most of America's superheroes. Now an orphaned, teenager named Rajak has mysteriously become the recipient of all of the dead superheroes powers and escaped to New Brooklyn. When he shouts the words "War Cry," Rajak transforms into the perfect war goddess, who is a cosmic resurrection of Ava Blume, formerly known as The Possum and love interest of superhero The Red Hook.

"War Cry is complex; Romeo versus Juliet but with superpowers," said creator Dean Haspiel. "I'm thrilled to see the New Brooklyn universe develop as the characters story lines start to cross over."

Read the entire article here: http://www.newsarama.com/32019-nyc-gets-a-new-hero-with-the-brooklynite.html
Sunday, November 20th, 2016
---
12:02 pm
- Slings & Arrows reviews Dean Haspiel's BEEF WITH TOMATO
Excerpts:

"Haspiel remains confident and outward looking, but a man now in his forties has an understanding of life, and this imparts greater honesty. Haspiel is no longer attempting to impress, but secure in who he is."

"Given the tragic content included it's too glib to refer to Haspiel as a person to whom relatable events seem to occur. Perhaps he merely has a better sense than most about what constitutes a compelling anecdote."

"Toward the end of the book Haspiel shifts frequently from comic strips to prose, and these are equally fine observational pieces. There's an open and presumptuous tone to them. Judge if you will, Haspiel doesn't care."

"From what's offered, Haspiel has his ups and downs, although a line noting he drinks to get drunk indicates something requiring resolution or exorcism. He's convivial and talented, and appears to make friends easily enough. Make your mind up.

Beef With Tomato presents a pleasing variety of stories worth telling and bring an area to life. They're well drawn, honest and engaging..."

Read the entire review here: http://theslingsandarrows.com/beef-with-tomato/
Tuesday, November 15th, 2016
---
3:29 pm
- JTA: At first Jewish Comic Con, artists and geeks revel in tradition
While Sunday's gathering was a far cry from the largest comic cons, in a certain sense, said artist Dean Haspiel, it was the most appropriate feel for the genre. While Marvel and DC Comics films are booming, he said, comic book artists — like Jews — remain a small community invested in its tradition.

"Even though comic books have become popular in movies and costumes, the actual comic book is becoming like a rare breed," Haspiel said. "What I admire about the Jewish people that were here, they have each other's backs through thick and thin, and that's the same way we feel as cartoonists."

http://www.jta.org/2016/11/15/arts-entertainment/at-first-jewish-comic-con-artists-and-geeks-revel-in-tradition
3:26 pm
- Bklyner: Question the Chutzpahdiks: Brooklyn Welcomes The First Edition Of Jewish Comic Con
"They gave me an offer I couldn't refuse, which was a table and to be on some panels. I always take advantage, because that's part of my community tact," said Dean Haspiel of Carroll Gardens.

"Because I'm half-Jewish, maybe I need to learn more about this. Despite being in the environment, there's some osmosis there," added Haspiel.

You can read the entire article here about the first Jewish Comicon at http://bklyner.com/question-the-chutzpahdiks-brooklyn-welcomes-the-first-edition-of-jewish-comic-con/
10:08 am
- Giant Size podcast #48: Dean Haspiel interview
John Gholson interviewed me at Wizard World Austin 2016 for the Giant Size podcast.

48: Enforceable Curfew and Women in Towers
John interviews Dean Haspiel pre-Election 2016 about what it is that he's afraid of and the infinite emptiness of the internet, while Moisés talks with Alex de Campi about the glorious darkness of certain fairy tales and the importance of being on a Science Ninja Team.

http://www.esn.fm/giantsize/48
Monday, November 14th, 2016
---
10:28 am
- Dean Haspiel at The Miami Book Fair 2016



I'm a guest at The Miami Book Fair 2016, and will be competing in a drink & draw, as well as, doing a panel to promote my graphic novel, BEEF WITH TOMATO.

Wednesday, Nov 16th, 7pm - 9pm
Miami Book Fair Drink & Draw
The Standard Spa, Miami Beach, 40 Island Ave, Miami Beach, Florida 33139

Kick off Miami Book Fair with a night of drinking and drawing led by graphic novelists. Stop by for some competitive cartooning and comic creations with prizes, drinks, and fun guaranteed. Not good with a pen? Just call it "avant-garde."

https://www.facebook.com/events/1407342479276710/

Sunday, Nov 20th, 3:30pm – 4:30pm
Chronicling the Urban Landscape
These comics makers paint a picture of daily life for a varied set, from fading worlds lost to gentrification, to junkies escaping the dregs, and illustrated narratives with unexpected stories, featuring Ben Katchor with Cheap Novelties, Dean Haspiel with Beef With Tomato, and Richard McGuire with Sequential Drawings: The New Yorker series. Moderated by George O'Connor.

Program: Street Fair Presentation - open to general public. Destination: Comics Program
Location: MAGIC Screening Room (Building 8, 1st Floor) Seats 150.
Friday, November 11th, 2016
---
4:41 pm
- Mega-preview for JEWISH COMIC-CON at The Comics Beat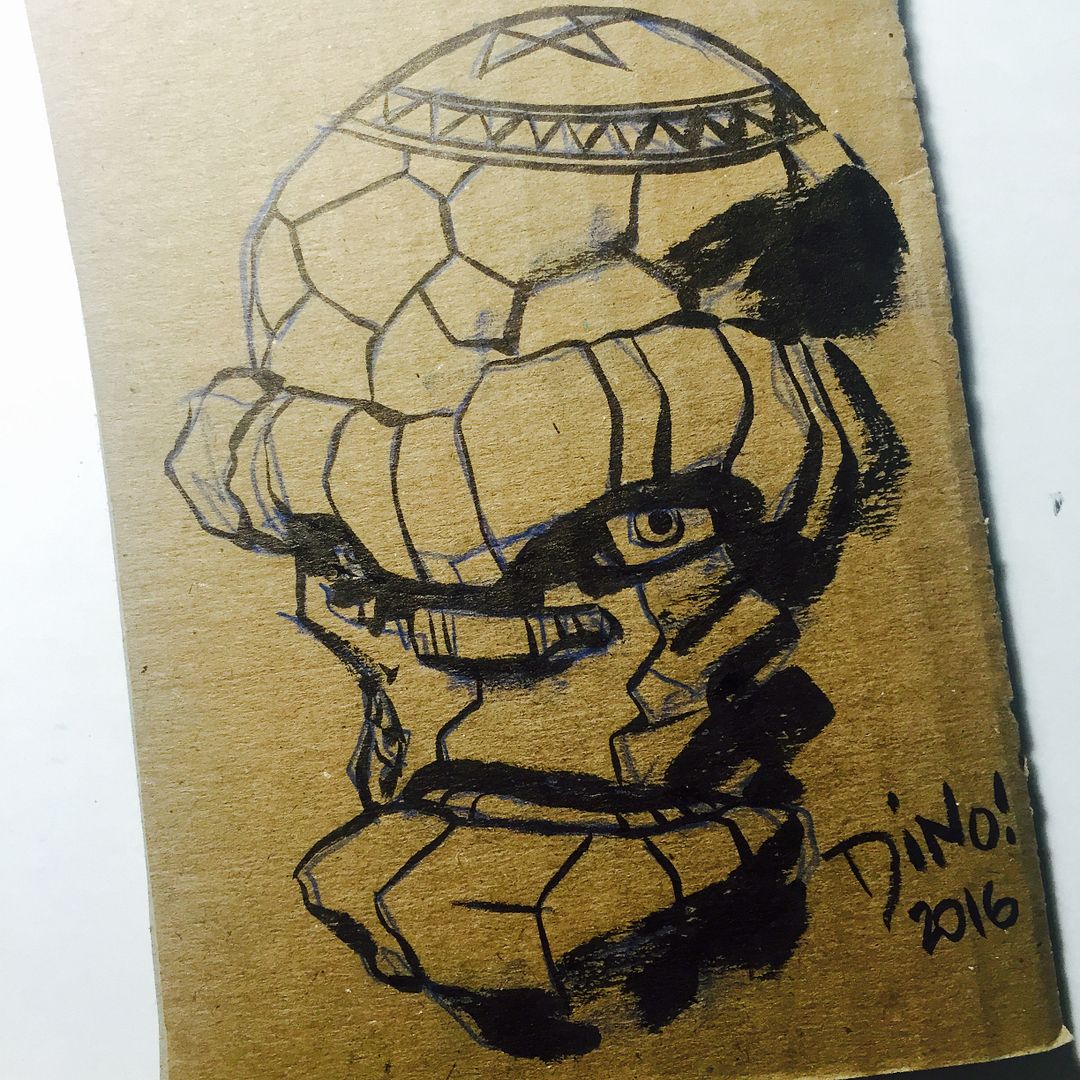 I wrote about being part of the inaugural Jewish Comicon at The Comics Beat.

"On the heels of the first Jewish Comic Con occurring the Sunday after America elected the very worst candidate ever to run for President of the United States, I can't help but wonder how some of my favorite Jewish comix creators would've reacted to such a national atrocity. If I let my imagination run wild, I can see a divisive, sexist, racist xenophobic abomination advising Jack Kirby's greatest villain, Darkseid in The New Gods, and/or Will Eisner's The Spirit hopscotching the rooftops of Trump Towers to knockout a nefarious real-estate developer, and/or Harvey Pekar expounding outrage over a broken political system the likes of Bernie Sanders in the pages of American Splendor. As comix creators, it's our duty to react to current events so that our art helps affect change. This past April, I launched a new superhero webcomic called The Red Hook at LINE Webtoons, where a broken hearted Brooklyn literally and physically secedes from America. Prescient?"

http://www.comicsbeat.com/mega-preview-for-jewish-comic-con/
Monday, November 7th, 2016
---
4:42 pm
- Jewish Comicon 2016, featuring Dean Haspiel


I've been invited to be a featured guest at the inaugural Jewish Comicon this Sunday, November 13th at Congregation Kol Israel, located at 603 St. John's Place (between Franklin and Classon) Brooklyn, NY

http://jewishcomiccon.org/

I illustrated an original pin-up of Marvel Comics' The Thing wearing a yarmulke called "A Jewish Thing," that will be auctioned off at the Preview Party (Saturday night) to help renovate the synagogue that Jewish Comicon takes place at. I'm also doing two panels:

12:30PM – 1:30PM BREAKING INTO COMICS THE CHUTZPAH WAY! It's the question so many fans are asking all the time. How do you break into the industry? What challenges will you face? And once you get your foot in the door… how do you stay in? Four creators talk about their experience in comics and will give their tips. Moderated by Arie Kaplan (comic book writer and author of From Krakow to Krypton) with guests: Danny Fingeroth (former Marvel editor and writer, author of Disguised as Clark Kent: Jews, Comics and the Creation of the Superhero), Dean Haspiel (The Red Hook) and Fabrice Sapolsky (Intertwined, Spider-Man Noir).

2:30PM – 3:30PM INDIE VOICES: PAST, PRESENT & FUTURE Jewish creators and/or Jewish themes have always been around in independent comics and publications. While Jewish Comic Con honors the founders of the industry, we also want to keep the mic open for the current generation of creators. Between comics journalism, activism and reality-based fiction, our guests deliver fascinating and edgy content you'll be thrilled to discover! Moderated by Arie Kaplan/Danny Fingeroth with Ariel Schrag (TBC), Dean Haspiel and Josh Neufeld.

For more information about Jewish Comicon, the panels, guests, and the Preview Night Party, click: http://us7.campaign-archive2.com/?u=f397cbb327573c4abdc68a6da&id=07f63c0a90&e=64ada990c4
Wednesday, November 2nd, 2016
---
12:35 pm
- Dean Haspiel featured guest at Wizard World Pittsburgh 2016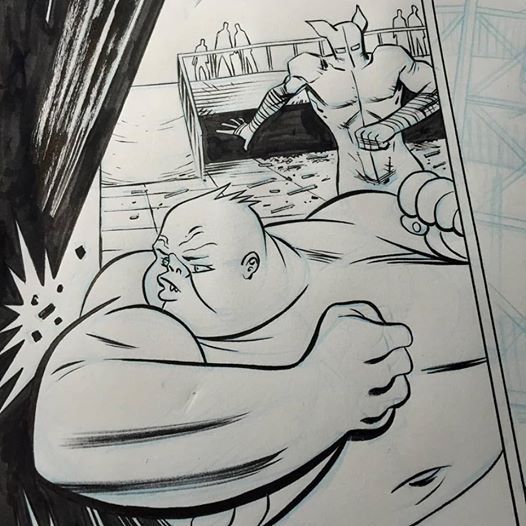 I am a guest at Wizard World Pittsburgh, November 4th - 6th, 2016, stationed at table B9. I will have copies of my latest graphic novels, BEEF WITH TOMATO, and FEAR, MY DEAR. Plus, rare copies of my exclusive THE WALKING DEAD cover. Ask me about my webcomic series, THE RED HOOK, published for free at LINE Webtoons http://www.webtoons.com/en/super-hero/the-red-hook/list?title_no=643 I'm available for commissions, and I will also be doing three panels throughout the convention (see below).

Click here for Wizard World Pittsburgh info: http://wizardworld.com/comiccon/pittsburgh
FRIDAY NOVEMBER 4:

6:30 – 7:15 PM THE CREATIVE MIND: TOP ARTISTS DRAW COMICS with THE HULK'S STEVE GEIGER, STAR WARS' JOE CORRONEY, THE RED HOOK'S DEAN HASPIEL AND SPIDER-MAN'S WAYNE FAUCHER (CREATIVE STAGE/ARTIST ALLEY)
Top comics artists talk about their careers, their craft, the comics business and whatever else might come up—and will show you some of their top-secret techniques as they draw live before your eyes! Join peerless pencilers Steve Geiger (Spider-Man; The Hulk), Joe Corroney (Star Wars; Star Trek) and Dean Haspiel (The Red Hook; The Fox) and awesome inker Wayne Faucher (Spider-Man; Batman) as they pull back the curtain and tell you what it's really like to be a comics artist! Danny Fingeroth (How to Create Comics from Script to Print; Spider-Man) moderates.

SATURDAY NOVEMBER 5:

1:00 -1:45PM: WORDS INTO PICTURES: HOW TO WRITE COMICS with SPIDER-MAN'S TOM DeFALCO, THE RED HOOK'S DEAN HASPIEL, BETTY & VERONICA'S BARBARA SLATE, X-FILES' JOE HARRIS, U CRE-8 COMICS' VICTOR DANDRIDGE and DARKHAWK'S DANNY FINGEROTH (ROOM 401)
Accomplished comics writers Tom DeFalco (Spider-Man; Thor), Dean Haspiel (The Red Hook; Beef With Tomato), Barbara Slate (Betty & Veronica; Yuppies From Hell), Joe Harris (X-Files; Great Pacific), Victor Dandridge (Origins Unknown; U Cre-8 Comics) and Danny Fingeroth (How to Create Comics From Script to Print; Spider-Man) talk about how to put together a compelling comics story. Plus, they'll answer your questions about both the creative and business sides of the comics writing profession, including how to find an artist to work with (hint: a comics convention is the number one place!) and how to write exciting dialogue!

SUNDAY NOVEMBER 6:

1:00 – 1:45 PM HOW IT'S DONE: CREATE-A-COMICS-STORY with SPIDER-MAN'S TOM DeFALCO, THE RED HOOK'S DEAN HASPIEL AND TANGLED'S CLINTON HOBART (ROOM 404)
Ever wonder what it would be like to collaborate on making comics with top professionals? In this fun-and-educational session, celebrated writer Tom DeFalco (Spider-Man; Fantastic Four), Emmy-winning artist Dean Haspiel (The Red Hook; Spider-Man) and renowned painter Clinton Hobart (Licensed Disney Fine Artist; Beauty and the Beast) create a new character and story before your eyes, incorporating audience members' ideas and suggestions! Come see—and join in—the creative process! The panel will be moderated by longtime Marvel writer and editor Danny Fingeroth (Spider-Man; How to Create Comics from Script to Print).
Thursday, October 27th, 2016
---
11:21 am
- Attacks are NOT opinions.
Dear Comix Consumer, if you don't like it, don't buy it. You don't have the right to bully creators & producers. Attacks are NOT opinions. Same goes for TV/movies, music, comedy, novels, poetry, etc. Fed up? CREATE or look elsewhere for your self-entitled universe.

And the people who post more about what they DON'T like versus what they DO like need to get a grip. Those are some unhappy people. Social Networking has become a tiresome challenge & trial of social stamina & endurance. No wonder creatives quit the spotlight and go MAKE what they wanna read, see & hear.
Wednesday, October 26th, 2016
---
5:21 pm
- The Red Hook in Savage Dragon #217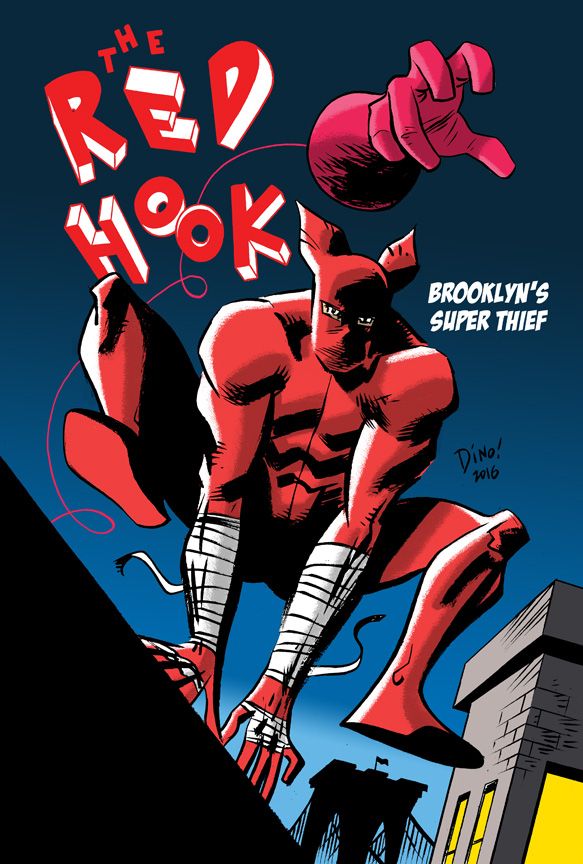 Image Comics published a six-page Red Hook story called "Hooking The Red Hook" in the back of Erik Larsen's SAVAGE DRAGON #217. The print version is available today in comic book shops and digitally on ComiXology.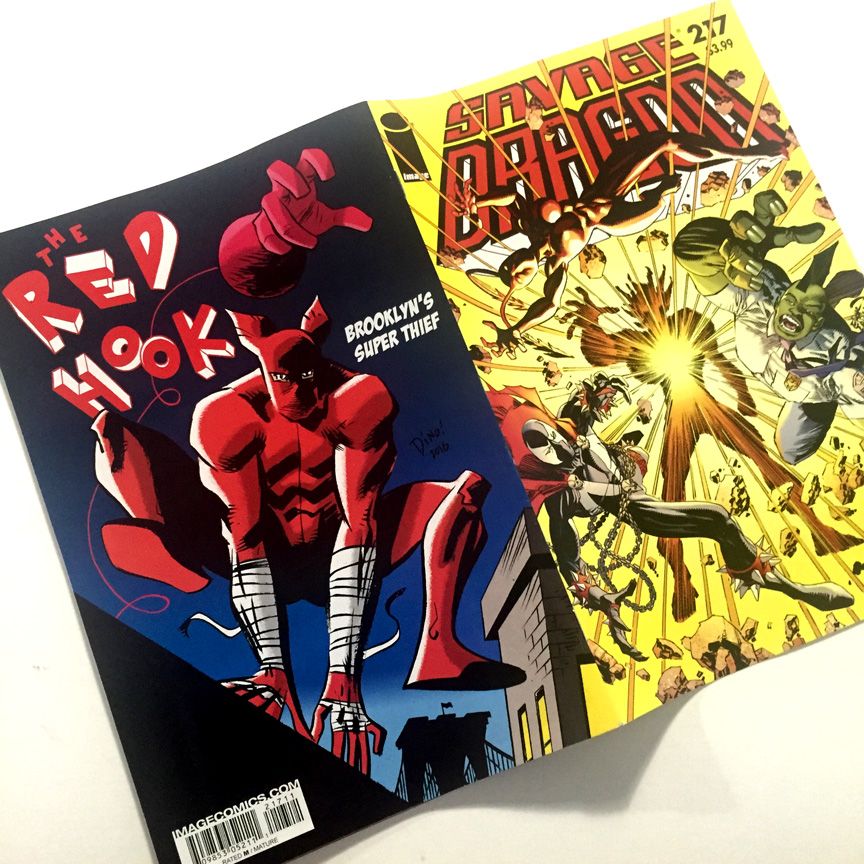 4:07 pm
- Urban Folk Art® Studio's Halloween group art show 2016


Urban Folk Art® Annual Halloween Group Art Show

Friday, October 28 at 7pm - 10pm
Urban Folk Art Studios
101 Smith St, Brooklyn, New York 11201
Facebook event page: https://www.facebook.com/events/1768232630060896/

Join us for Urban Folk Art® Studio's yearly Halloween group art show. Opening Oct 28th, 27 awesome artists of varying mediums and backgrounds including painters, photographers, graphic designers, comic book artists, tattooers and more.

Artists include
Abe Lincoln Jr.
Adam Suerte
Brewster Smith
Chelle Mayer
Christa Cassano
Dave Tree
Dean Haspiel
Elizabeth Kresch
Gabriel Pantoja
Gregory Benton
incognitolibido
Jason Goungor
Jason Mitchell
Jason Shaltz
Jen Ferguson
Jessica Furst
Katie Diamond
Keith Thomson
Kevin Lyons
Luke Ratray
Mahoney Perkins
Mike Sorgatz
Pat Mazza
Pete Conlon
Rachel Gibbs
Robert Bobhomme
Sara Antoinette Martin
subtexture
tfuk
Willie Paredes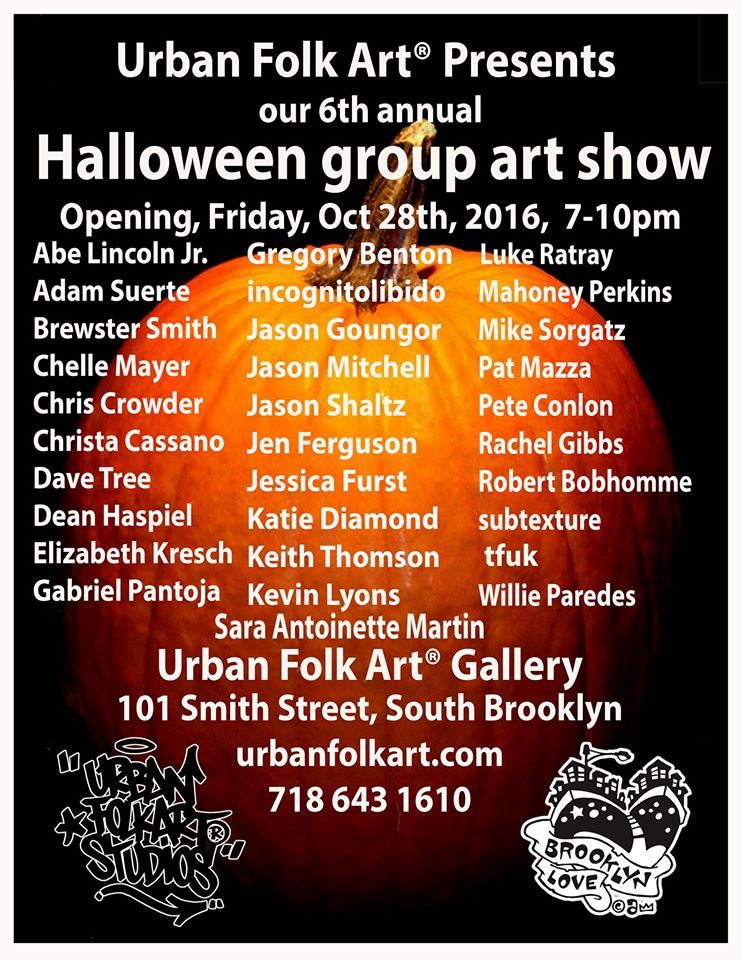 Hannah Means-Shannon reported about the art opening at Bleeding Cool: http://www.bleedingcool.com/2016/11/01/what-the-urban-folk-of-brooklyn-get-up-to-for-halloween/
Tuesday, October 18th, 2016
---
9:44 pm
- A&A: THE ADVENTURES OF ARCHER & ARMSTRONG #11 variant cover by Dean Haspiel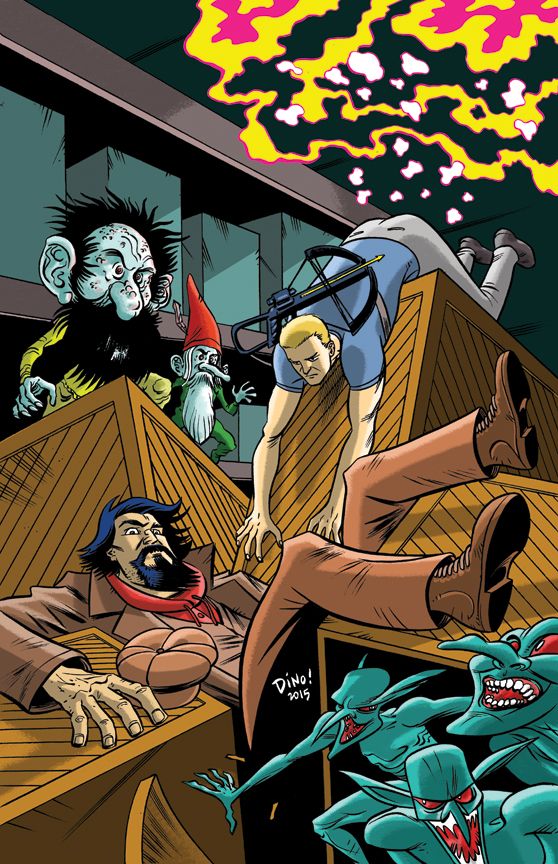 Last year I was commissioned to create a variant cover for Valiant Comics' ARCHER & ARMSTRONG which is finally being published in A&A #11, come January 2017. A&A is a rock 'em sock 'em comic book written by the hilarious Rafer Roberts and illustrated by amazing artists. Check it out!

Here is the official solicitation:

A&A: THE ADVENTURES OF ARCHER & ARMSTRONG #11
Written by RAFER ROBERTS
Art by MIKE NORTON
Cover A by KANO
Cover B by MARC LAMING
Variant Cover by DEAN HASPIEL

Freaky fracas!

Obadiah Archer: Skilled marksmen, trained fighter, and...deranged circus freak?! Through the unfathomable forces of nature, Archer and Gub Gub – the pint-sized and deranged clone of Armstrong – have swapped minds! When Gub Gub's body is kidnapped by nefarious forces, Armstrong and his long-lost wife, Andromeda, must race to save their friend and undo the horrendous merger of minds before the damage becomes permanent!

http://www.newsarama.com/31606-valiant-entertainment-january-2017-solicitations.html
6:41 pm
- ComiXology Unbound Podcast interviews Dean Haspiel at NYCC 2016
"In this podcast episode Dean talks about loving people and also comics.

Topics include being with other creators, image being text in comics, looking amazing, sexy mirrors, comics being a shortcut art, reducing ones art style, working in an artist studio, wearing one sock, LIVEJOURNAL omg yes, artist stereotypes, art reflecting deadlines, how television and comic books have evolved into each other, snoozing during binge-watching, Matt embarrasses Tia because of course, Dean's romance poses, chest-hair, becoming invisible online, showing up to your own party, what he's reading!"

http://comixology.tumblr.com/post/151983794683/dean-haspiel-heavy-metal-in-this-podcast-episode
Thursday, October 6th, 2016
---
1:58 pm
- Slings & Arrows reviews The Alcoholic
"Dean Haspiel's art evokes a real world without being in any way realistic, and his pages have a real charm and character-building panache about them. When older people feature Haspiel supplies a warm dignity, and he's delicate with excess."

Read the entire review here: http://theslingsandarrows.com/the-alcoholic/