Sunday, May 31st, 2020
---
12:36 pm
- Dino FAQ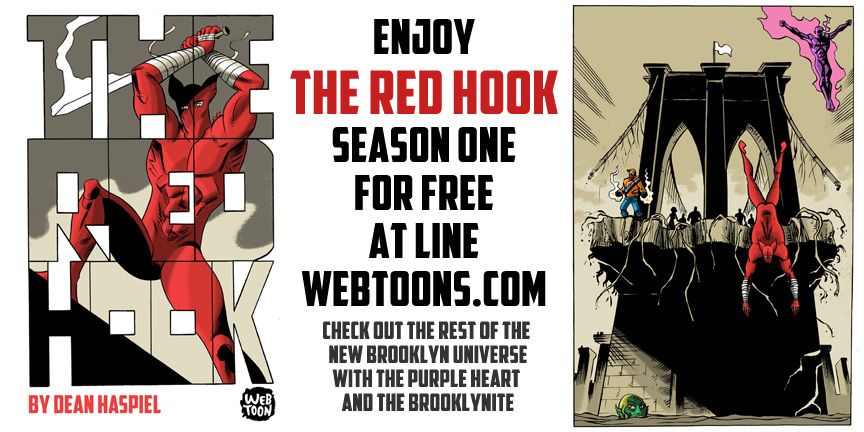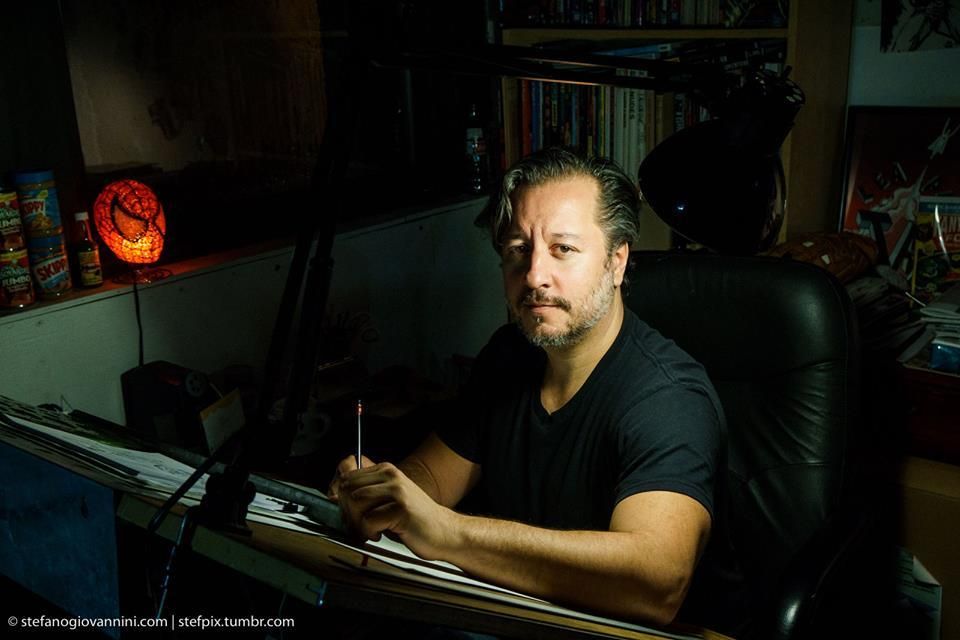 http://www.deanhaspiel.com/

Emmy award winner and Eisner and Harvey Award nominee Dean Haspiel created Billy Dogma, The Red Hook, illustrated for HBO's "Bored To Death," was a Master Artist at the Atlantic Center for the Arts, is a Yaddo fellow, a playwright, helped pioneer personal webcomix via ACT-I-VATE, and multimedia salon TRIP CITY.net, and is the co-founder of HANG DAI Studios. Dino has written and drawn many comix for Marvel, DC, Archie, IDW, Dark Horse, & Heavy Metal, including The Fox, The Fantastic Four, Spider-Man, X-men: First Class, Deadpool, Batman, Wonder Woman, Godzilla, Mars Attacks, Creepy, The Walking Dead, SpongeBob SquarePants, and semi-autobio collaborations with Harvey Pekar, Jonathan Ames, Inverna Lockpez, Jonathan Lethem, Stoya, and Stan Lee. Look out for his latest graphic novel about his Manhattan exodus to Brooklyn, BEEF WITH TOMATO (Alternative Comics). Read THE RED HOOK for free at LINE Webtoons http://www.webtoons.com/en/super-hero/the-red-hook/list?title_no=643

Instagram: https://www.instagram.com/deanhaspiel_art/
Twitter: https://twitter.com/deanhaspiel

Artist's Statement:
I'm impelled to excavate universal truths and impart life experiences from my unique perspective to communicate with strangers and perpetuate hope with no permissions and no apologies.

Honors:
-Yaddo fellow.
-Master Artist at The Atlantic Center for the Arts
-Emmy Award winner for title design work on HBO's "Bored To Death."
-Eisner Award nominee for "Talent Deserving of Wider Recognition" and "Outstanding Webcomic."
-Harvey Award nominee for "Best Artist"




Please click here to see what Dean's been up to at TRIP CITY: http://welcometotripcity.com/author/dean-haspiel/

HANG DAI Editions: http://hangdaieditions.com/

Experiencing Yaddo First-Hand: An Interview with Cartoonist Dean Haspiel: http://thefreegeorge.com/thefreegeorge/dean-haspiel-yaddo-interview/

The Atlantic Center for the Arts: Residency #147: http://welcometotripcity.com/2012/12/the-atlantic-center-for-the-arts-residency-147/

Tom Spurgeon interviews me for The Comics Reporter: http://www.comicsreporter.com/index.php/cr_holiday_interview_2_dean_haspiel/

Poet Sandra Beasley interviews me for Barrelhouse Magazine
http://www.barrelhousemag.com/barrelhousing-with-comic-artist-dean-haspiel-an-interview-by-sandra-beasley/

Dean Haspiel speaks at The Library of Congress: http://www.loc.gov/today/cyberlc/feature_wdesc.php?rec=5709

ATTENTION Art Directors, Editors, Publishers, Writers, Etc: if you'd like to see current samples of Dean Haspiel's art, please check out his gallery: http://welcometotripcity.com/2012/01/dean-haspiel-gallery/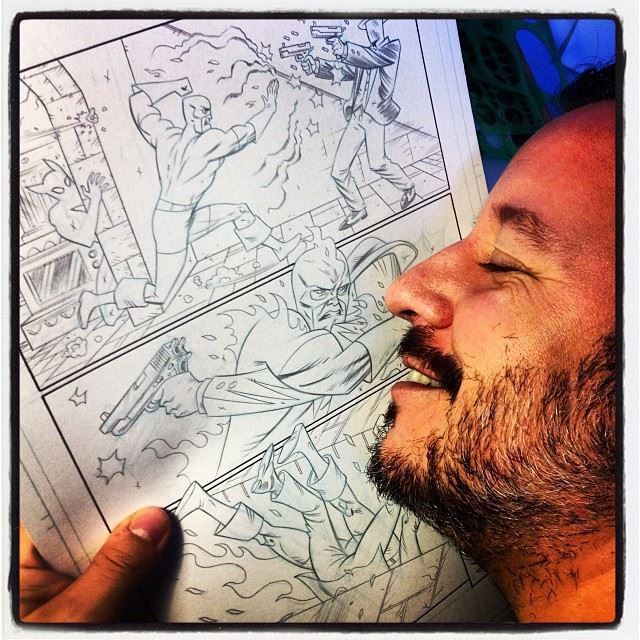 (
Click here for comix, interviews, news, videos, and other essential links
Collapse
)
Friday, April 21st, 2017
---
1:54 pm
- Comics Manifest Podcast #100: Dean Haspiel
Tuesday, April 11th, 2017
---
6:42 pm
- Walter Simonson's RAGNAROK commission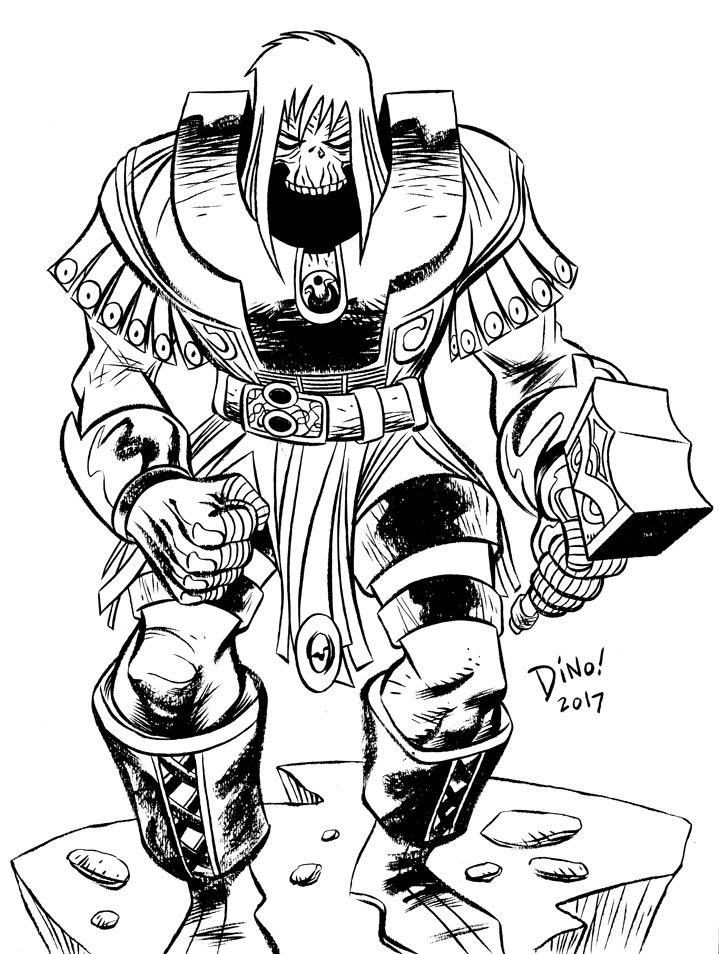 I was commissioned to draw Walter Simonson's RAGNAROK, a comic book published by IDW.
Thursday, April 6th, 2017
---
1:49 pm
- Dean Haspiel guests at Camden Comicon 2017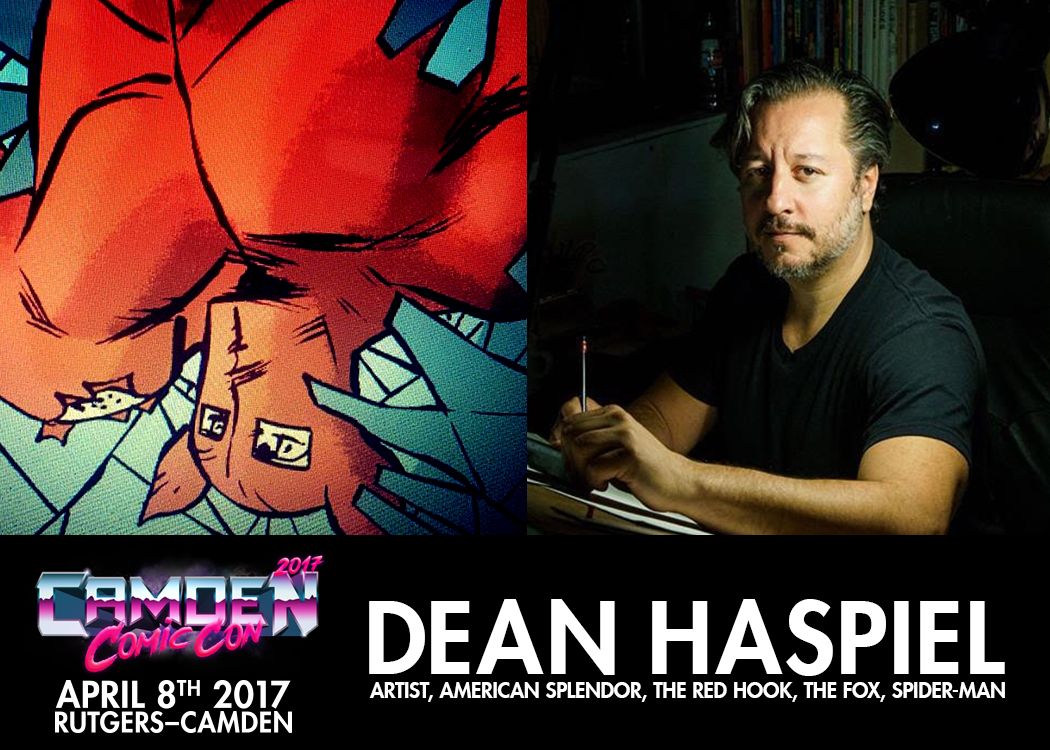 I will be a guest at Camden Comicon this Saturday, April 8, 2017. Please come see me and pick up my latest effort, BECAUSE OF YOU, an exquisite corpse comic book I did with Josh Neufeld. I'll have other comix for sale and I'm available for sketch commissions. I'm also doing a panel.

4:00 PM - 5:00 PM / Share Your Story with Amy Chu, Larry Hama, Dean Haspiel & Fred Van Lente, moderated by Robert Repici.
Join these incredible professionals, and learn about their individual journeys into the world of comics. They may even have some words of wisdom for those seeking to break in!

For more info: http://camdencomiccon.com/
Sunday, March 26th, 2017
---
10:59 pm
- BECAUSE OF YOU: Dean Haspiel makes an exquisite corpse at MoCCA 2017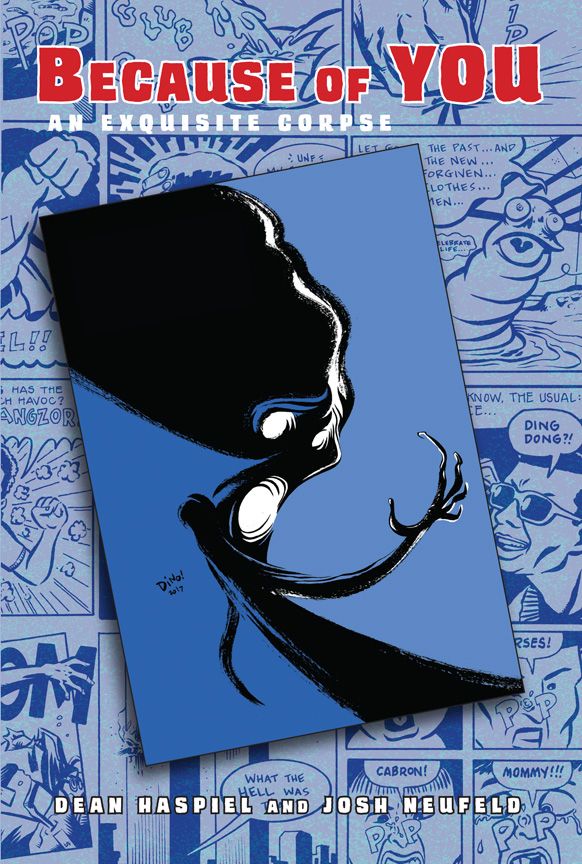 Come see cartoonists Christa Cassano, Dean Haspiel, and Josh Neufeld at MoCCA Arts Festival this April 1st & 2nd (Sat & Sun), 2017 from 11am – 6pm, located at Metropolitan West on West 46th street in Manhattan. They will be tabling at A103B and debuting two exciting comix exploring the exquisite corpse theme done in the tradition of Zap Comix and The Narrative Corpse. Who needs to take off their shirt or be awarded a festival prize when these three artists have stripped their sensibilities down to their most raw and subconscious core, baring their souls and making primal connections between the panels!?!

BECAUSE OF YOU by Dean Haspiel & Josh Neufeld
Created over a three-year period beginning in the summer of 2001, BECAUSE OF YOU is an unscripted, impromptu, dynamic dialogue between Dean Haspiel and Josh Neufeld, a unique two-man exquisite corpse that plumbs unparalleled depths of agony and personal humiliation. The protagonist, "Lionel," wakes up one morning to an unpleasant surprise. From that point on he faces domestic crises, public transportation, the New York City streets, and his own hyperactive imagination — all in the course of one infamous ill-fated day.

CADAVRE EXQUIS by Christa Cassano
Eisner nominee and Yaddo fellow, Christa Cassano collaborates with seven other creators collecting various exquisite corpses featuring alien love trysts, existential angst, sex and death.

For more info about the MoCCA Arts Festival venue, exhibitors, panels, etc: https://www.societyillustrators.org/mocca-arts-festival

EDITED TO ADD PIX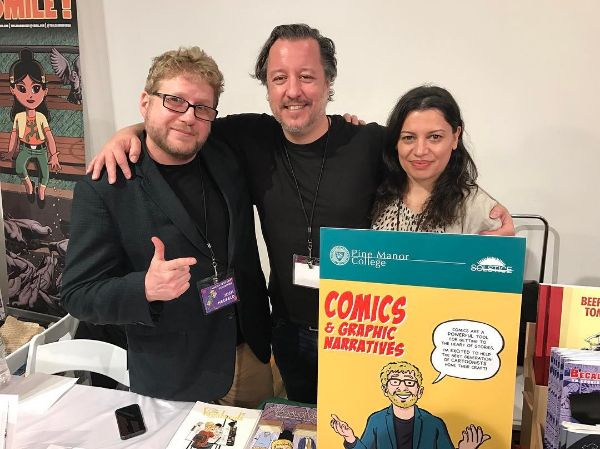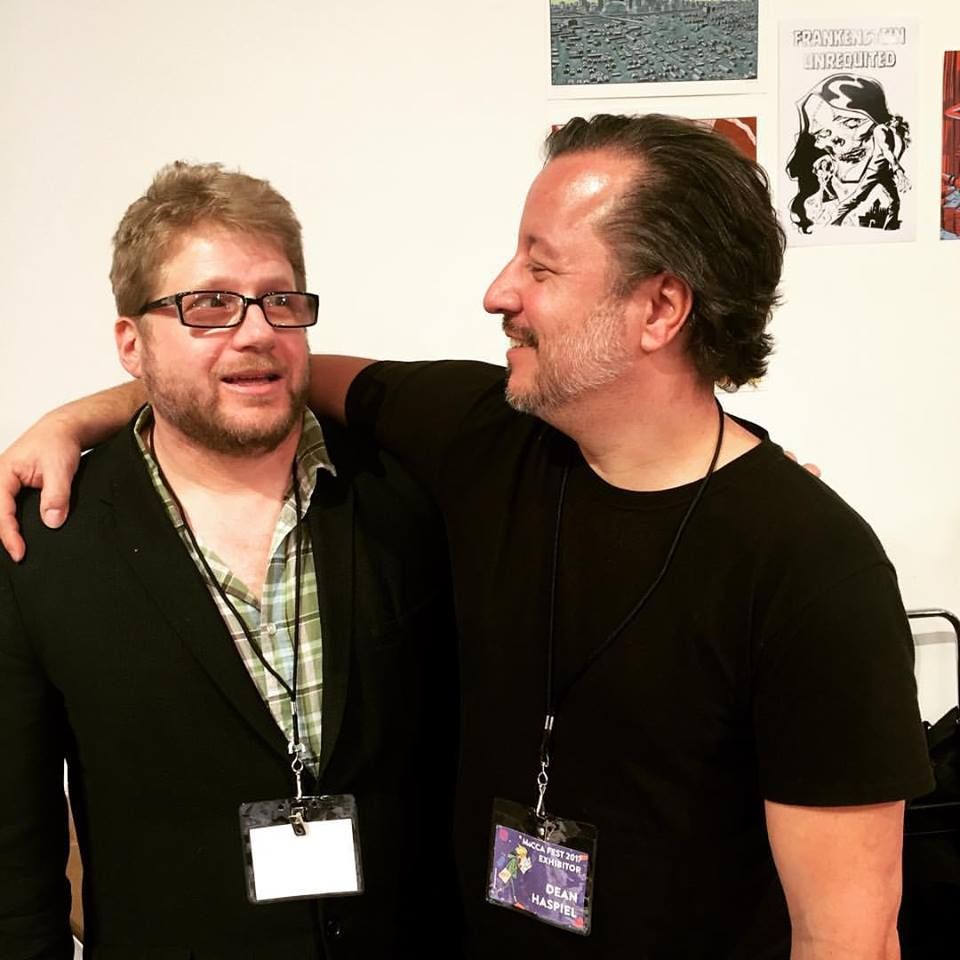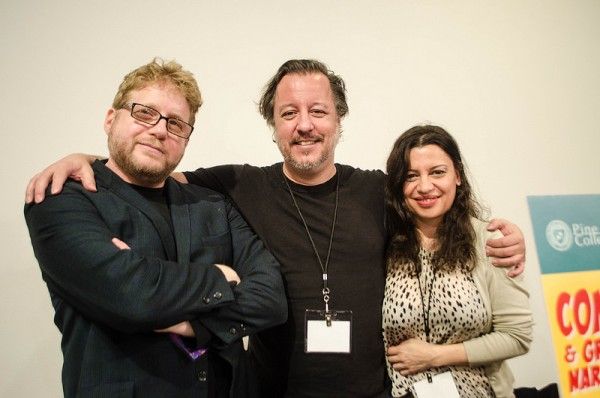 Wednesday, March 15th, 2017
---
12:32 pm
- The Outhousers reviews Dark Horse Presents #29, featuring THE RED HOOK


Reviewed by Tyler Kes at The Outhousers:

THE RED HOOK CHAPTER 1
Story, art, and lettering by Dean Haspiel

The Red Hook started as a feature on Webtoons.com, where the character is part of a shared universe that stands as an ode to Golden Age and Silver Age comics. In that respect, this story is a hit, because it smashes the wacky hijinks of the Silver Age (I mean seriously, Romeo-pathy?) against the two-fisted tales of the Golden Age, then runs them through a modern blender. A lot of stuff happens in these pages, and there's a sort of crackling energy that runs through it. It never really stops to allow the reader a chance to catch their breath, and it reminds me a lot of Casanova, in that it is parodying and playing with genre tropes. It was pretty good. I'd recommend it to someone who likes fun comics and isn't too concerned with all the details.

http://www.theouthousers.com/index.php/reviews/137007-review-dark-horse-presents-29-santas-mixed-bag.html
12:16 pm
- Aim To Dazzle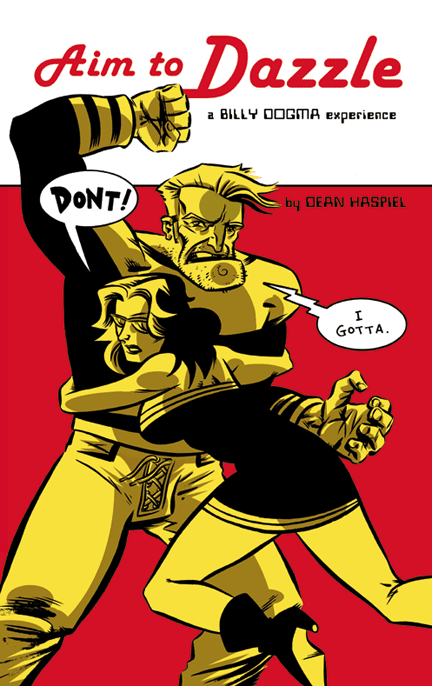 Aim To Dazzle is a comic book one-shot I produced in 2003 featuring Billy Dogma & Jane Legit, published by Alternative Comics.

14 years later, the cover art got some love from David Robertson at Broken Frontier. This is what David had to say:

"I like this cover's simplicity – limited colours, just the two figures, no background (apart from the red rage felt by Billy Dogma). It all works to tell a story and introduce the characters. The dialogue; Jane crying out, "Don't!" and Billy's retort, "I gotta" (no explanation mark there, giving it an interesting tone), made me immediately feel a connection to these vital, action-packed, sexy and romantic characters. As soon as I saw the cover I knew I wanted to read about these people. There's a strong Kirby feel. The cover acts like the best comics – hinting at so much more about the situation and people we can see than is there in the three words of dialogue."

Read the entire article here: http://www.brokenfrontier.com/covers-album-david-robertson-jack-kirby-hate-peter-bagge-dean-haspiel-aim-dazzle/
Thursday, March 9th, 2017
---
9:52 pm
- Jack Kirby Collector #72
2:15 am
- "Frankenstein Unrequited" in Heavy Metal #285
1:09 am
- Imaginary Worlds podcast: The Spirit of Will Eisner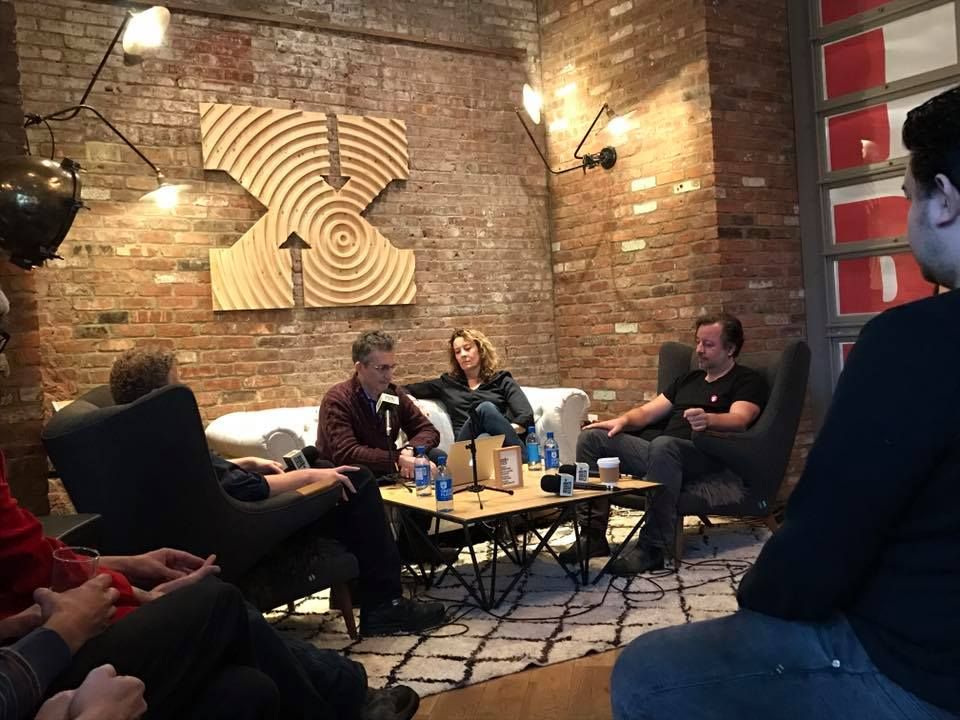 "Imaginary Worlds goes live in this special presentation from the work x work on air festival. In celebration of Will Eisner's centennial, authors Paul Levitz and Bob Andelman, along with comics publisher Denis Kitchen and MAD Magazine's Al Jaffee discuss at how Eisner redefined comics as an art form, and became the "father of the graphic novel." Then comics historian and author Danny Fingeroth, editor Joan Hilty, and artist Dean Haspiel explore Eisner's legacy today in a live panel discussion."

You can listen to the podcast here: https://soundcloud.com/emolinsky/the-spirit-of-will-eisner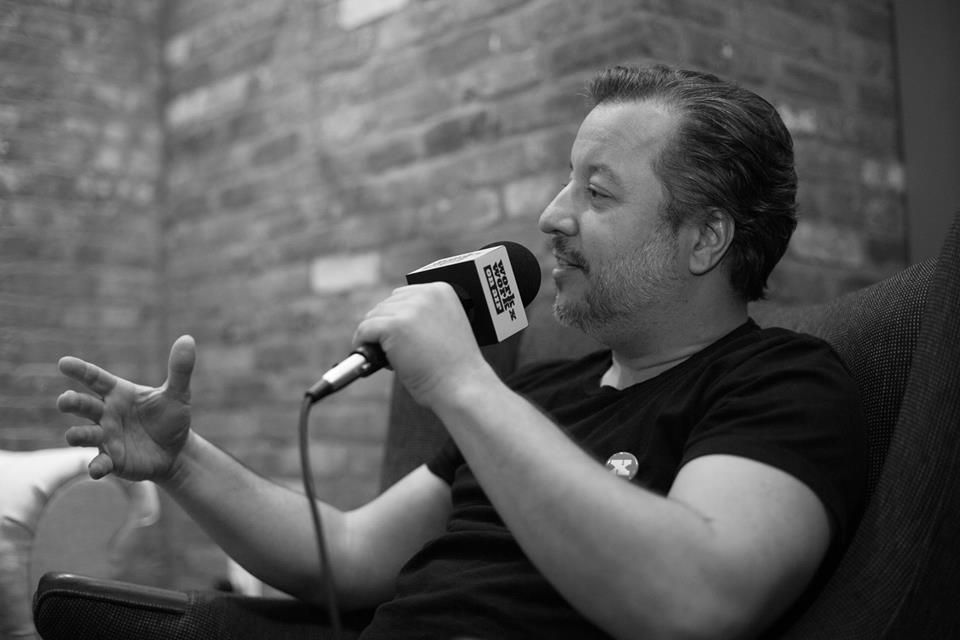 Wednesday, February 15th, 2017
---
12:10 pm
- Dean Haspiel guests at C3 & Long Beach Comics Expo
On February 17th, I will be a guest at Comic Creator Con (C3) and doing a panel.

Friday 2/17, 6:00pm, Room S1
Politics of Partnership
Dean Haspiel, Amy Reeder, Mark Waid & Russell Nohelty
Working with a creative team on an independent title or through a major publisher can come with questions of ownership and percentages. Mark Waid, Dean Haspiel and Amy Reeder discuss how to navigate these waters and negotiate the best deal for all parties involved. Moderated by Russell Nohelty, host of the Business of Art podcast

http://comiccreatorcon.com/index.php

February 18th - 19th, I will be a guest at Long Beach Comics Expo and doing a panel.

Sunday 2/19, 12:30pm, Rumble Room S7
"Write For Your Life"
Mark Waid, DJ Kirkbride, David Gallaher, & Dean Haspiel. Moderated by Heidi MacDonald.
If you've ever wanted to write comics for a living, this panel is a can't miss opportunity. Writing powerhouses Mark Waid, Dean Haspiel, D.J. Kirkbride and David Gallaher have been doing it for years and are here to tell you how they accomplished it! Questions can be asked! Answers will be given! Moderated by The Comic Beat's Heidi MacDonald.

http://longbeachcomicexpo.com/
Tuesday, February 14th, 2017
---
11:44 am
- The Red Hook in "Emotional Ebola" - part 3 - in Dark Horse Presents #31
Thursday, February 9th, 2017
---
11:48 am
- WxW On Air - Will Eisner discussion for Imaginary Worlds podcast
Joan Hilty, Danny Fingeroth and I discuss Will Eisner with Eric Molinsky for his Imaginary Worlds podcast at The Wythe Hotel in Brooklyn during the Work x Work On Air festival @4pm Sunday, Feb 12th, 2017.

4:00PM - 5:00PM
IMAGINARY WORLDS
WILL EISNER LIKED TO SAY HE WAS THERE AT THE BIRTH OF COMICS, AND HE'S OFTEN CALLED THE FATHER OF THE GRAPHIC NOVEL. IN HONOR OF EISNER'S CENTENNIAL, IMAGINARY WORLDS HOST ERIC MOLINSKY LOOKS AT HOW THE CREATOR OF "THE SPIRIT" AND "CONTRACT WITH GOD" SHAPED COMICS TODAY. FEATURING PANELISTS DANNY FINGEROTH FMR EDITOR AT MARVEL COMICS, JOAN HILTY COMICS EDITOR AT NICKELODEON AND COMIC ARTIST, DEAN HASPIEL.

http://wxwonair.com/
http://www.imaginaryworldspodcast.org/

You can listen to our talk here: https://soundcloud.com/emolinsky/the-spirit-of-will-eisner
Monday, February 6th, 2017
---
10:11 pm
- Dean Haspiel on The Troika of Terror podcast
Thursday, February 2nd, 2017
---
5:38 pm
- THE RESISTANCE COMEDY; Fundraiser for the ACLU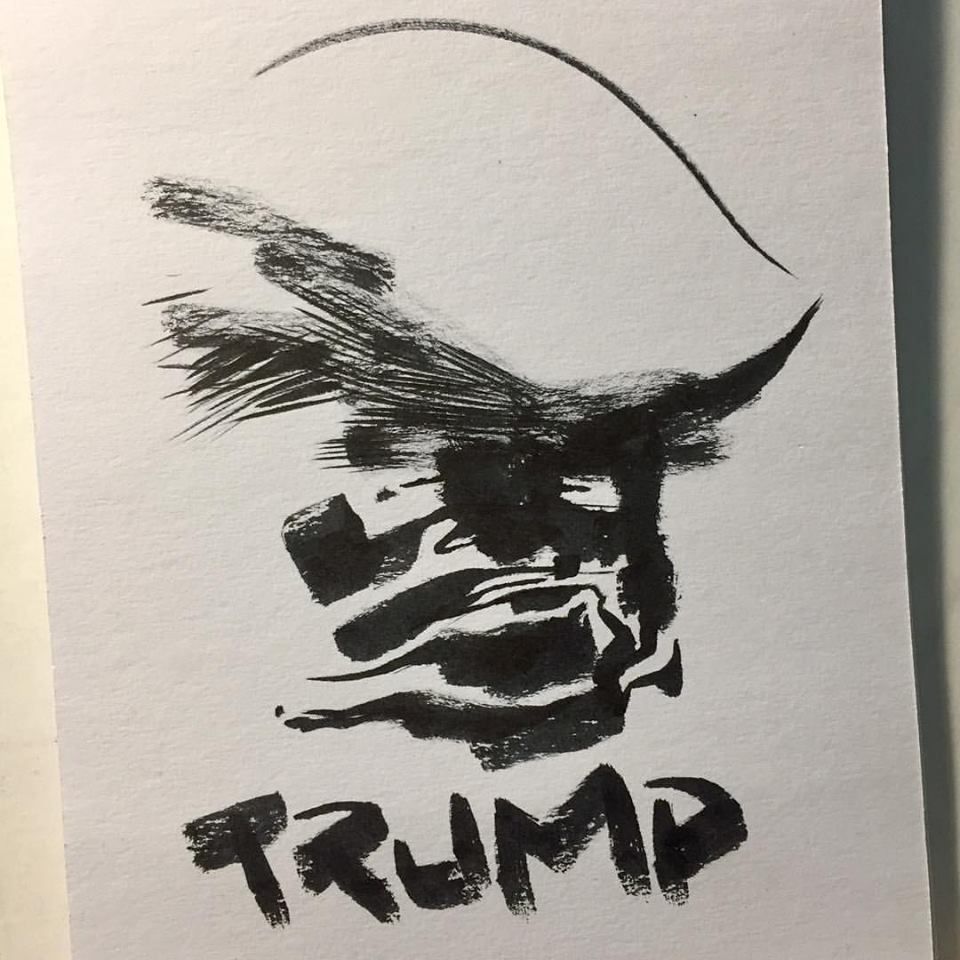 Fundraiser for the ACLU
THE RESISTANCE COMEDY HOSTED BY BENARI POULTEN AND ROJO PEREZ
Dean Haspiel, Emily Galati, Mike Brown, Carolyn Castiglia, Benari Poulten, Rojo Perez

Resist. Laugh. Resist. Comedy to benefit our common good, with alternating hosts and comics. Proceeds will be donated to the charity/NGO/non-profit of their choosing.

Sat, February 4, 2017
Doors: 7:30 pm / Show: 8:00 pm

Union Hall - Brooklyn, NY
$8 Advance / $10 Day of Show

http://www.unionhallny.com/event/1425251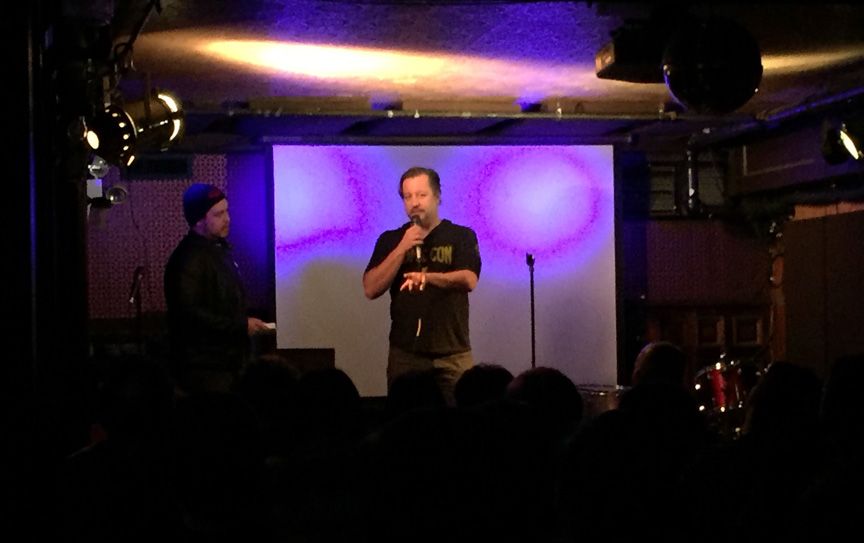 (Jason Goungor and I, along with Britney, an audience member I recruited, read the first two chapters of THE RED HOOK ~ season one, and helped raise $700 for the ACLU)
5:31 pm
- Protect Planned Parenthood!
Sunday, January 29th, 2017
---
11:43 am
- The Year of the Cock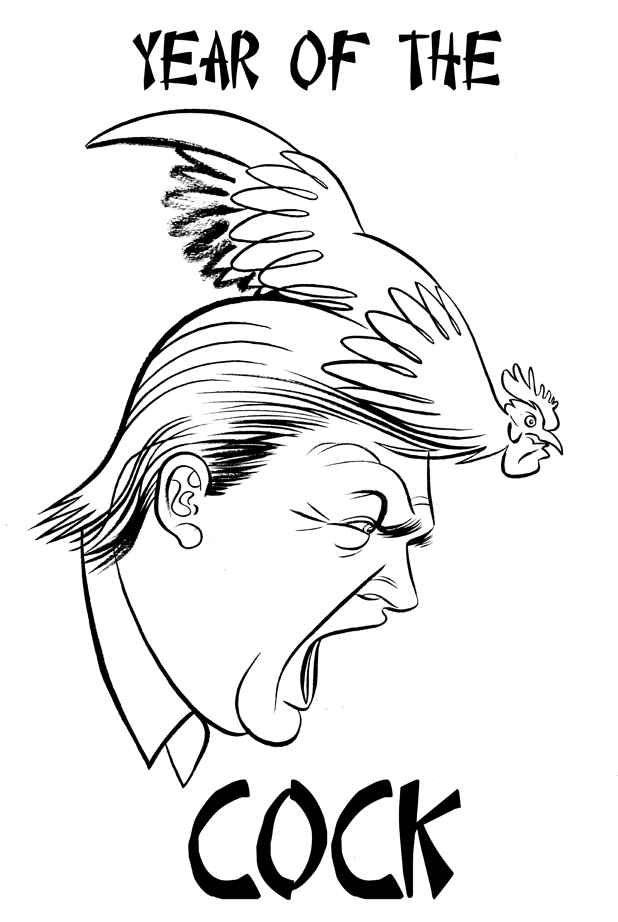 I promised myself I wouldn't draw the current President of the United States because I despise him. As an artist and writer who often reacts to real life in my work, it's nearly impossible to NOT artistically react to POTUS. Still, I think it's better for my heart and soul to ignore the megalomaniac narcissist. They hate it when you ignore them. But, you can't ignore your "commander in chief." Especially, when you find yourself marching and protesting all the awful decisions he makes.

So, when I was approached by two friends (aka Right2the1st) who concocted an idea for a t-shirt that needed illustrating, I initially said "No!" because (see above). However, an important part of being an artist and a citizen of the United States of America is freedom of expression. And, since the t-shirt had already been designed and just needed my finessing, I agreed to do it and here we are.




The first image (posted above) was my misinterpretation of said concept where, what I drew, was too literal. I still like it and I hope Right2the1st makes that version available. Meanwhile, you can get the original t-shirt concept (the second image posted above) here: https://www.etsy.com/listing/508274141/chinese-new-year-t-shirt?ref=shop_home_active_1
Saturday, January 28th, 2017
---
12:22 pm
- Different lines for different minds
I know this sounds impossible to achieve but I recently told a peer that I wish I could draw as fast as you read the art. In my comix work, I yield towards "less is more" but ya gotta know what exactly to convey or it falls apart. Composition and character design is key. Anyway, I prefer the minimal drawing model where story supersedes the drawings. Where image becomes text.

Some artists love to draw the nitty gritty and lots of fans/readers love to immerse in detail. I get lost in the ornate so I prefer simple, albeit clever, storytelling solutions for narrative clarity.
Wednesday, January 25th, 2017
---
10:27 am
- The Red Hook nominated for Bleeding Cool Reader's Awards
Tuesday, January 17th, 2017
---
12:23 am
- Optical Sloth reviews BEEF WITH TOMATO
Excerpt:

"The kind of life he's led shines through in every story, as he's constantly depicting himself with various bandages and scars from incidents that rarely even make it onto the page. The man is a seriously talented writer and he's one of the best artists working today, so if you're like me and have somehow made it this far without buying one of his books, this is the perfect chance to fix that mistake."

Read the entire review here: http://www.opticalsloth.com/?p=24518