Saturday, May 31st, 2014
---
12:36 pm
- Dino FAQ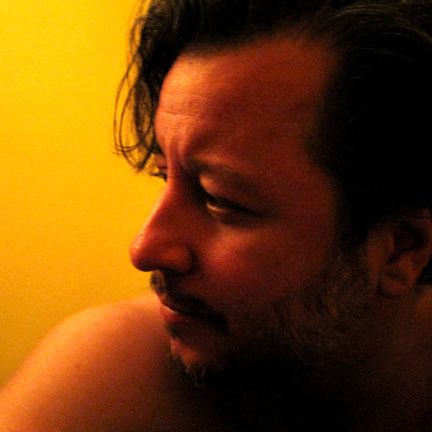 http://www.deanhaspiel.com/

Emmy award winner and Eisner Award nominee Dean Haspiel created BILLY DOGMA, and THE RED HOOK, illustrated for HBO's "Bored To Death," was a Master Artist at the Atlantic Center for the Arts, is a Yaddo fellow, and occasionally teaches comic book storytelling. Dino has written and drawn many superhero and semi-autobiographical comix, including collaborations with Harvey Pekar, Jonathan Ames, Inverna Lockpez, Stan Lee, and Jonathan Lethem. He's currently collaborating with writer Mark Waid on THE FOX for Archie/Red Circle Comics. Look out for his new Hang Dai Editions venture, PSYCHOTRONIC COMIX.

Please click here to see what Dean's been up to at TRIP CITY: http://welcometotripcity.com/author/dean-haspiel/

Experiencing Yaddo First-Hand: An Interview with Cartoonist Dean Haspiel: http://thefreegeorge.com/thefreegeorge/dean-haspiel-yaddo-interview/

The Atlantic Center for the Arts: Residency #147: http://welcometotripcity.com/2012/12/the-atlantic-center-for-the-arts-residency-147/

Tom Spurgeon interviews me for The Comics Reporter: http://www.comicsreporter.com/index.php/cr_holiday_interview_2_dean_haspiel/

Poet Sandra Beasley interviews me for Barrelhouse Magazine
http://www.barrelhousemag.com/barrelhousing-with-comic-artist-dean-haspiel-an-interview-by-sandra-beasley/

Dean Haspiel speaks at The Library of Congress: http://www.loc.gov/today/cyberlc/feature_wdesc.php?rec=5709

ATTENTION Art Directors, Editors, Publishers, Writers, Etc: if you'd like to see current samples of Dean Haspiel's art, please check out his gallery: http://welcometotripcity.com/2012/01/dean-haspiel-gallery/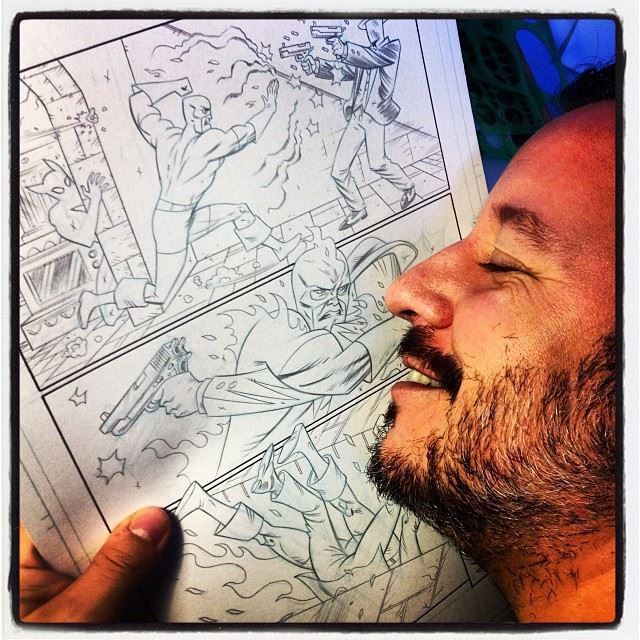 (
Click here for comix, interviews, news, videos, and other essential links
Collapse
)
Thursday, December 12th, 2013
---
1:14 am
- Ain't It Cool News reviews THE FOX #2
"Dean Haspiel and Mark Waid bring their A-game once again to this second issue. The madcap blend of action, thrills, humor and (most of all) fun that sold me on THE FOX in its premiere issue packs this comic from cover to cover, as the Fox battles giant monsters, raging rivers and vivid hallucinations on a strange alien planet. The Jack Kirby influence that was heralded in issue #1's cliffhanger reveal of the sci-fi-skewed Queen of Diamonds positively crackles here—as a matter of fact, the only thing that this issue could use are some authentic Kirby Krackles™ and I would think I was reading a classic issue of FANTASTIC FOUR.

Haspiel's clean-cut style and dynamic compositions infuse the story with a combination of retro charm and modern freshness, while Waid taps into his inner Beatle to pepper the comic with an inner monologue for the Fox that perfectly complements his situation of being spirited away to the pseudo-psychedelic diamond world."

Read the rest of the review here: http://www.aintitcool.com/node/65413
Wednesday, December 11th, 2013
---
10:10 am
- Gowanus Comix Complex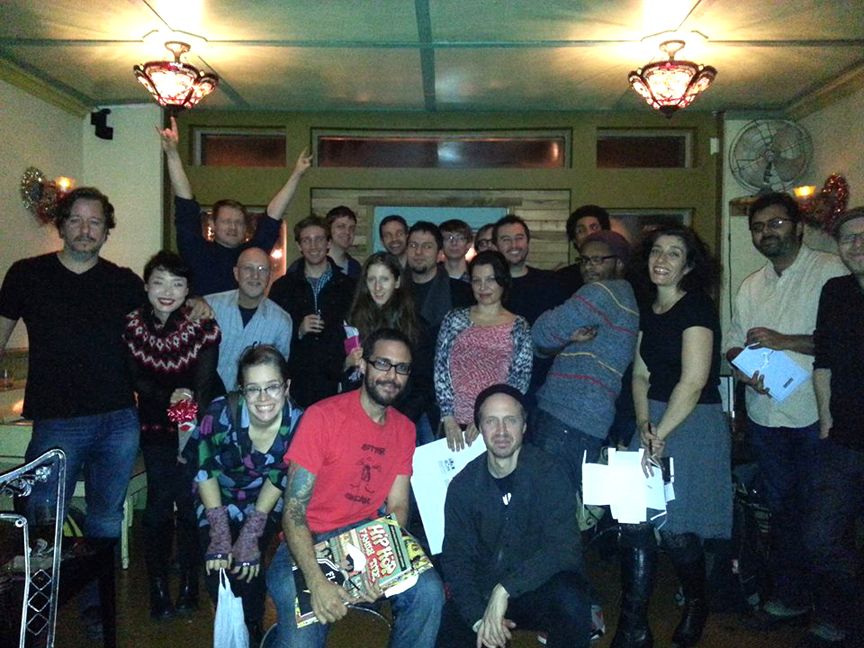 Three comix studios in Gowanus, Brooklyn (Hang Dai, Drawbridge, and Hypothetical Island) partook in a Secret Santa soiree at Lucey's Bar the evening of December 10th, 2013. Santa gave me a bottle of bourbon.
10:01 am
- O'Shea's Offhand Opinions reviews The Fox #2
"Haspiel is a savvy collaborator—having tapped veteran scribe Mark Waid to script/collaborate with him on the dialogue. If I was not predisposed to like this series, Haspiel would have hooked me in the first issue afterword, when he described The Fox as "sounding like James Garner from The Rockford Files."

I really hope that Haspiel continues to infuse humor in this series, as he did in issue 2, when he had The Fox/Paul Patton explain to a visiting alien: "I'm clinging hopefully to a newspaper job. If you lived on this planet, you'd know how ridiculous that sounds.""

Read the rest of the review here: http://talkingwithtim.tumblr.com/post/69677959478/osheas-offhand-opinions-2013-6-the-fox-2
Tuesday, December 10th, 2013
---
2:57 am
- CBR reviews THE FOX #2
"Haspiel's visuals are clean and feel appropriately pulpy and energized. His expressions for The Fox, even considering the costume/mask are highly effective and really highlight the definitive personality of Paul/The Fox. Despite the clean and simple style, Haspiel has no trouble making The Fox both iconic and also incredibly human and relatable."

Read the rest of the review here: http://www.comicbookresources.com/?id=6748&page=user_review
Monday, December 9th, 2013
---
11:44 am
- Pick of the Brown Bag reviews The Fox #2
Sunday, December 8th, 2013
---
2:42 pm
- Comic Spectrum reviews THE FOX #2
"Artist Dean Haspiel's work on this issue tops the first as he includes all sorts of different characters and crazy landscapes in his cartoony and colorful style. It's a pleasure to look at these pages as Haspiel puts his stamp on this character."

Read the rest of the review here: http://comicspectrum.wordpress.com/2013/12/08/the-fox-2-archie/
12:18 am
- Major Spoilers reviews THE FOX #2
"The trick of superheroes in these post-ironic times is in getting past the faint ridiculousness of the concept and finding a real human story to tell. The Fox manages to do it perfectly by embracing the goofiest concepts of Golden Age MLJ Comics lovingly, taking what works and tying it into a cool story, while not being ashamed of the source material like so many dark reboots these days are. (Yes, I'm talking about the New 52. But also about Marvel's output, and even recent TV and movie adaptations, as well.) The Fox #2 is a trippy, clever, thoughtful tale, featuring a likeable hero, and delivering something that can be hard to find in comics these days, a fast and fun story that seems deceptively simple, earning 4 out of 5 stars overall. I'm in for the haul with The Fox, and I hope to see his adventures continuing in this vein for a long time…"

Read the rest of the review here: http://majorspoilers.com/2013/12/07/review-fox-2/#more-233519
Friday, December 6th, 2013
---
10:22 pm
- Three Minutes of Dean Haspiel Inking An Impromptu Incubus by Frank Reynoso, Scored By Barry White
10:09 pm
- All About Books & Comics reviews THE FOX #2
"Haspiel is an indy creator with strong Kirby and Alex Toth influences, and this Archie superhero character, a kind of lone-wolf Batman/Spirit type, offers a great match for his strengths. The credits list Haspiel as "plotter" and Waid as "scripter"; I'm guessing that means Waid took the already-done art, talked to Haspiel about the story outline, and then supplied the dialogue, and the interior monologue that acts as captions. It's a sprawling story that transports the hero to another world, where he has to fight a bunch of monsters to help rescue a kingdom from a tyrant: pretty standard stuff, except that the energetic art and a healthy dose of humor help to propel the story, as does having a non-powered costumed character who's so out of his depth. Look for the variant cover, a Paul Pope homage to Alex Toth that's a marvel of color and composition."

http://allaboutbooksandcomics.com/wp/phils-reviews-stuff-i-bought-264/
11:37 am
- Pop Culture Maven reviews THE FOX #2
"Haspiel has really taken a very middle of the road superhero and turn the book into a really wild ride. The aspect of the book that I really love is it's goofiness, but it never goes too far over the edge of it. I really liked the idea of Haspiel not taking the book in the standard superhero adventures that we see far too often from the big two publishers. He is willing to take chances and take the book in directions that you are not suspecting. He is also creating an underlying mythology that is very intriguing."

"Haspiel has created a really smart and funny superhero book that is not afraid to go in different directions."

Read the rest of the review here: http://www.popculturemaven.com/uncategorized/new-comic-book-reviews-week-of-12413/
11:34 am
- Destroy the Brain reviews THE FOX #2
"I'd like to express my personal gratitude to Dean Haspiel for his rendering of The Fox. A lot of the mainstream superhero comic artists do their best to avoid drawing their male protagonists' in any kind of embarrassing or exposed posture but The Fox isn't given that kind of annoyingly sensitive dignity; he gets tossed around, (wo)manhandled (by his wife no less!), and generally comes off as infinitely more human than standard superhero tropes. I find myself so much more invested in the character because of it."

Read the rest of the review here: http://www.destroythebrain.com/comics/comic-execution-126-grindhouse-fox-burn-orphanage
11:32 am
- Carroll + Clinton
I heard the sounds of rubber tires screeching to a halt and a loud crash of metal crushing flesh. A woman screaming "Call 911!" sent Freon up my spine. I peered out my window and saw neighbors dialing their phones. I ran down my block and lying under a plastic garbage bag was the crumpled body of a Chinese delivery man and his bicycle. Next to him was a black man holding a garbage pail lid over his bleeding head to block the rain. The grill of the black man's van was hanging on by a twisted thread of smashed headlight wires. A woman was telling the semi-conscious victim to "Stop moving your head!" but he didn't understand English. I put a piece of found cardboard under his head because he kept trying to scratch it. The pain from the gaping wound behind his scalp must have itched. Paramedics arrived with cops in tow and they took the poor guy away. The crowd dispersed and the rain washed the blood away, almost making the accident an apparition. Someone tied his busted bike to a rail and it stood there for weeks before it got robbed it of all its parts.
Thursday, December 5th, 2013
---
11:16 am
- Comic Bastards reviews THE FOX #2
"Dean Haspiel's art is just as good as it was last month, but this issue has some pretty trippy looking stuff in it. It doesn't really take place in a conventional setting, which makes it really cool to look at. Allen Passalaqua's colors really popped in this issue. Combined, these two guys really brought something special."

Read the rest of the review here: http://comicbastards.com/review-the-fox-2/
11:08 am
- Every Day Is Like Wednesday reviews THE FOX #2
2:03 am
- The Fox #2 - THANKS


Thanks to everyone who bought THE FOX #2 and made the JHU Comics signing with me, Mike Cavallaro, and Paul Pope a success.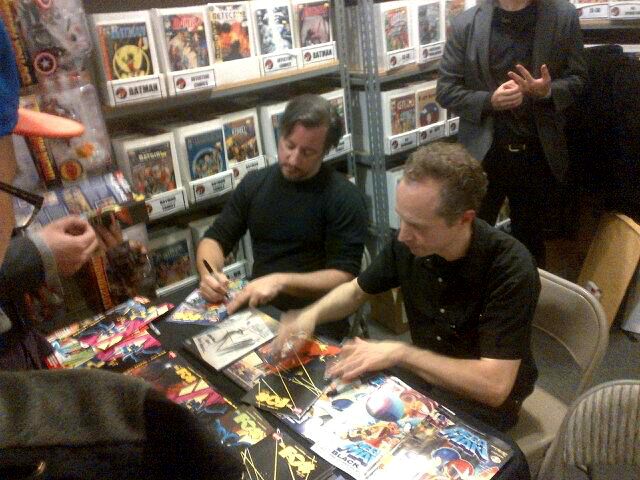 (Battling Boy sketch. Pencils by Haspiel and inks by Pope)



(Thing sketch by Haspiel)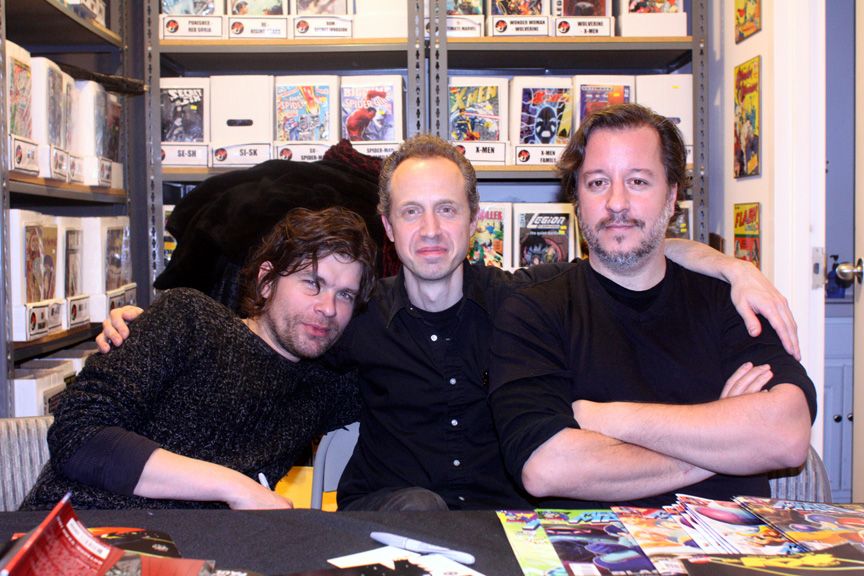 (photographed by Rahadyan Sastrowardoyo)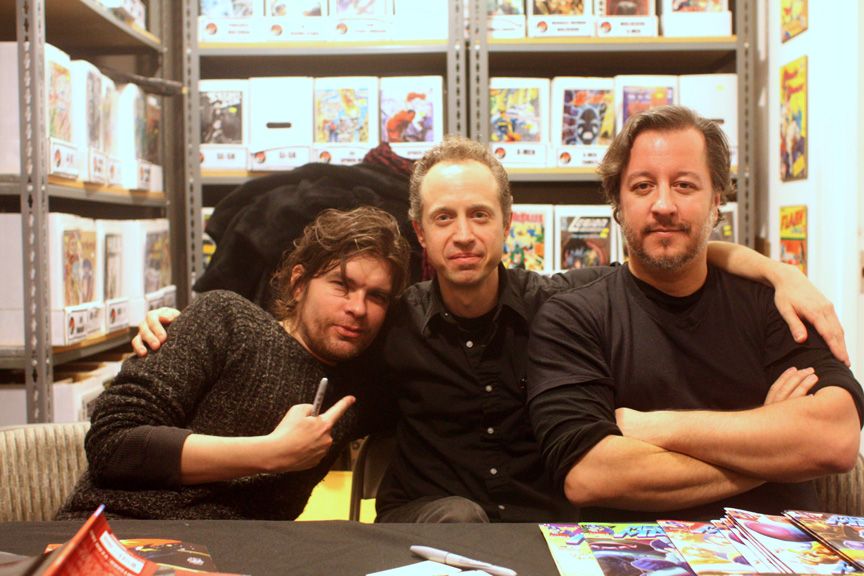 (photographed by Rahadyan Sastrowardoyo)
1:10 am
- Wednesday Night Mass reviews THE FOX #1
"THE FOX #1 — I had to drive to three different stores before finally finding a shelf copy of this when my trusty LCS failed to pull it for me but it was worth the hustle! Emmy-Award-Winning-Cartoonist-&-Animator Dean Haspiel drops some Kirby/Toth justice on the page and then enlists Eisner-&-Harvey-Award-Winning-Writer Mark Waid to dialogue the business, resulting in a comic that feels as fresh and timeless now as it might have in the heyday of the Silver Age. I could stand for it to be a little bit more insane but I suspect they're going to work up to it. Haspiel does cut loose a bit more in the back-up with fight scenes that are more evocative of Kirby's work exploding off of the page. Maybe that's because dude is fighting a building? The only beat about the entire thing that rang false for me was the allusion to the neck-breaking in MAN OF STEEL. I know Waid hated it, and so did I, but we ought not to dignify such travesties with a response. I certainly don't want any allusion to that movie made in the middle of all this buzzing goodness, right here."

Read the rest of the review here: http://energydividedbythespeedoflightsquared.blogspot.com/2013/12/103013.html
Wednesday, December 4th, 2013
---
4:30 pm
- THE FOX #2 trailer
3:23 pm
- Bleeding Cool reviews THE FOX #2
"The Fox, from Red Circle Comics/Archie, also sold out in its first issue, and it's time to jump into issue #2 to see what the bigger story arc holds when you shake up Silver Age elements with a modern, madcap sensibility. Written by Mark Waid and Dean Haspiel, with art from Haspiel that really takes him off the leash in terms of original concept art, this issue also contains the first back-up of The Shield, written by J.M. DeMatteis with art by Mike Cavallaro. The Fox #2 storyline is "Freak Magnet" Part Two, and we're immediately lost in a strange world of popping colors and crystaline structure that breaks through cultural reference to directly citing one of the Beatles' most psychedlic songs, "Lucy in the Sky with Diamonds". A shape-shifting monster with seemingly limitless power is turning The Fox's world inside out in an equally shifting psychological landscape, but things are getting personal when he takes on the mantle of the She-Fox. But the epic struggle is just getting started as Fox encounters various opponents from his life who he's loathe to fight, and let's remember, he wants to walk away from the hero life as it is. In issue #2, there's simply no escape from the conflicts he's already sick of. Keeping up with the permutations of the book is trippy in its own right, but for that reason, it's the wildest ride you'll find in comics this week. Endlessly creative in its visual morphing and strange landscapes, there is simply no predicting where the book is going panel by panel. But all will be revealed as issue #2 sets up the major plot for the arc, the reasons behind The Fox's psychedelic pilgrimage, and just what he has to do to break the spell that has him in thrall. The Fox is wild, weird, and a visual treat, and if you haven't got the second issue, you haven't really even got started yet on unraveling the significance of the book. The Shield back-up in the issue is also setting up the coming series, but drops fans right into the muscular energy of Cavallaro's angular and highly-textured world. His style is more like something you'd expect to see in the best of a Dark Horse book rather than a mainstream superhero book, and that's very, very appealing, particularly with an interesting, lush color palette that brings in superhero primaries and secondaries you might expect from fantasy or horror."
--Hannah Means-Shannon

http://www.bleedingcool.com/2013/12/04/live-from-the-comic-shop-2
3:20 pm
- Locust Moon Comics likes THE FOX #2
"The Fox #2: Dean, you baffled me here, out MADMAN-ing MADMAN at times. But damn if you don't look good doing it. And the added bonus of that killer Paul Pope cover is a cherry on top of a good old fashioned sundae someone slipped a micky into."

Thanks, Locust Moon Comics!

http://locustmoon.com/2013/12/04/good-this-week-26/