Sunday, May 31st, 2020
---
12:36 pm
- Dino FAQ


Start reading WAR CRY here: http://www.webtoons.com/en/super-hero/war-cry/ep-1/viewer?title_no=1247&episode_no=1




http://www.deanhaspiel.com/

Emmy & Ringo award winner (and Eisner & Harvey award nominee) Dean Haspiel created Billy Dogma, The Red Hook, illustrated for HBO's "Bored To Death," was a Master Artist at the Atlantic Center for the Arts, is a Yaddo fellow, a playwright, and helped pioneer personal webcomics. Dino has written and drawn many comix for Marvel, DC, Archie, IDW, Dark Horse, & Heavy Metal, including The Fox, The Fantastic Four, Spider-Man, X-men: First Class, Deadpool, Batman, Wonder Woman, Godzilla, Mars Attacks, Creepy, The Walking Dead, SpongeBob SquarePants, and semi-autobio collaborations with Harvey Pekar, Jonathan Ames, Inverna Lockpez, Jonathan Lethem, Stoya, and Stan Lee. Read THE RED HOOK, and WAR CRY for free at LINE Webtoons http://www.webtoons.com/en/super-hero/the-red-hook/list?title_no=643 & http://www.webtoons.com/en/super-hero/war-cry/ep-1/viewer?title_no=1247&episode_no=1

Instagram: https://www.instagram.com/deanhaspiel_art/
Twitter: https://twitter.com/deanhaspiel

Artist's Statement:
I'm impelled to excavate universal truths and impart life experiences from my unique perspective to communicate with strangers and perpetuate hope with no permissions and no apologies.

Honors:
-Yaddo fellow
-Master Artist at The Atlantic Center for the Arts
-Emmy Award winner for title design work on HBO's "Bored To Death."
-Eisner Award nominee for "Talent Deserving of Wider Recognition" and "Outstanding Webcomic."
-Ringo Award winner for "Best Webcomic 2017" for THE RED HOOK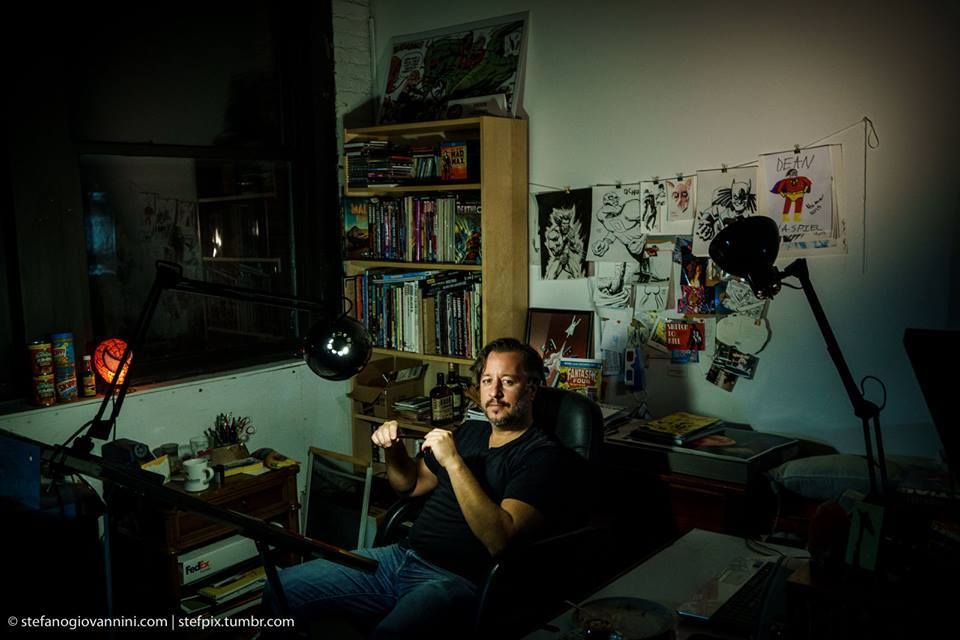 Please click here to see what Dean's been up to at TRIP CITY: http://welcometotripcity.com/author/dean-haspiel/

HANG DAI Editions: http://hangdaieditions.com/

Experiencing Yaddo First-Hand: An Interview with Cartoonist Dean Haspiel: http://thefreegeorge.com/thefreegeorge/dean-haspiel-yaddo-interview/

The Atlantic Center for the Arts: Residency #147: http://welcometotripcity.com/2012/12/the-atlantic-center-for-the-arts-residency-147/

Tom Spurgeon interviews me for The Comics Reporter: http://www.comicsreporter.com/index.php/cr_holiday_interview_2_dean_haspiel/

Poet Sandra Beasley interviews me for Barrelhouse Magazine
http://www.barrelhousemag.com/barrelhousing-with-comic-artist-dean-haspiel-an-interview-by-sandra-beasley/

Dean Haspiel speaks at The Library of Congress: http://www.loc.gov/today/cyberlc/feature_wdesc.php?rec=5709

ATTENTION Art Directors, Editors, Publishers, Writers, Etc: if you'd like to see current samples of Dean Haspiel's art, please check out his gallery: http://welcometotripcity.com/2012/01/dean-haspiel-gallery/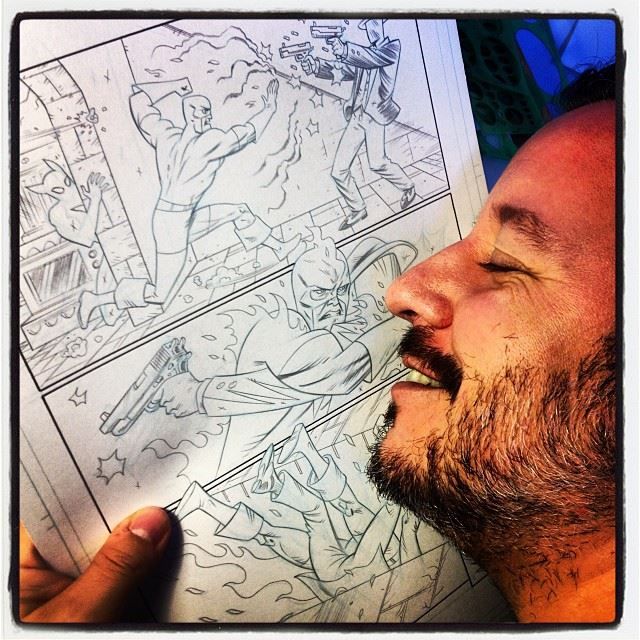 (
Click here for comix, interviews, news, videos, and other essential links
Collapse
)
Monday, January 15th, 2018
---
3:16 pm
- MLK
Martin Luther King Jr is the first hero my parents taught me about and his compassion, resistance, tolerance & revolution resonates with me every day. Happy birthday, kind sir. We shall overcome.
Friday, January 12th, 2018
---
2:16 pm
- Public appearance
Having been lucky enough to be on the other side of the table; the person who's wares people (fans, peers, etc.) come to get signed & appreciated/etc. (thank you very much), doing public signings CAN be tricky. I'm usually empathetic for the "odd man out," especially since I grew up wondering if I was odd for loving comic books (so much so I made it my career), but having grown up in NYC and trucked around artists all my life, I'm used to personality variables and I've tolerated or navigated many a challenging confrontation to a modicum of success. But, there have been incidents that made me question future signings as certain "fans" become self-entitled to the creation and/or exploit access to the creator. For a guy who was never shy to rip off his t-shirt in public just for the fun of it, I've started to hesitate attending upcoming events, including ones I'm NOT the focus of because of the unsolicited, overt intimacy that the legacy of the work and/or social networking purports to yield. Listen, I know what it feels like to connect to the work, to feel that I connect with the author/s of said work, but I also know there is a socially acceptable line that can only be crossed respectfully once a human connection is brokered.
Saturday, January 6th, 2018
---
12:55 pm
- Being the Monkey
I don't mind the occasional video and live stream for promo purposes but what I mostly do is draw comix and sometimes write theater -- which isn't that fun to watch evolve in real time. Suddenly, you find yourself having to entertain while working. Sure it can be educational to show what you do but I'm no teacher. In 2006, I helped lift the veil between creator and creation online via ACT-I-VATE; unlocking the doors to any and all so they could potentially invest more in the product; manifest a loyal fan base of sorts, and I sometimes regret that. It can kill the magic and sparks an expectation that the creator MUST share their process and secrets more than ever before. As if process is now part of the final experience. For some projects that's true and/or serves the world of that project but for others I find it bloated and unnecessary. Again, this is coming from the guy who sometimes takes off his shirt in public (with the aim) to get people to read his free webcomic (<---in retrospect, that's kinda sad). Sharing ancillary aspects online to create the verisimilitude of intimacy between product and consumer is a recent conundrum for me. I no longer wish to be the monkey for my art. I just want to make the art or, at the very least, the thing I wish to express sans bells and whistles. I wish to be the author, not the publicist AND publisher AND distributor but that's where things are these days in our crowd-funding/Patreon world for stay-at-home entrepreneurs (and I'm seriously considering those financing models). I get that ya gotta beat the drum and show up to your own party but I fear that if you don't publish the process on social networking venues -- well -- then maybe it didn't happen and maybe the end result doesn't carry the same weight. And, for a lot of creators, that ONE day of the year that you release your art gets lost in the deluge of chatter and gossip and shame. Now, imagine trying to achieve that once a week? Welcome to the popularity contest called "Your Life." Unless you have big connections and deep pockets, who can compete with the digital ticker tape of outrage culture coupled with consuming an abnormal amount of STUFF for free as long as you can pay the monthly phone bill? I know it's not that black & white but turning 50 last May and still trying to make ends meet while struggling to sway middle-aged folks like myself to NOT wholly abandon the internet and subscribe to yet another damned thing just to keep up with ME, ME and ME, while concurrently trying to appeal to self-entitled, attention deficit consumers is a bitch (and, frankly disheartening) and has me thinking a lot about this stuff and what to do, rather than focusing on the stuff I love to make in hopes that you will love it, too. It's exhausting.
Thursday, December 28th, 2017
---
5:42 pm
- WAR CRY is one of Comicon's 8 Best Webcomics Of 2017


"War Cry debuted in early December, but dropped several chapters at the same time on this free reading platform. Though this is the follow up to his award-winning Line Webtoon comic The Red Hook, Haspiel is exploring quite different themes in many ways. While The Red Hook questioned superheroic tradition in a separatist realm known as "New Brooklyn", and looked at the problematic rise of an unwilling hero, War Cry is set to explore notions of identity and personal aspirations toward doing good through its central hero, a being comprised of a young African American man who forms a hybrid being with a resurrected female hero from the previous storyline. Together they become greater than either could have individually been, but the wild rogues gallery they are up against is all the more overwhelming, and there are big stakes in this new comic, publishing on Wednesdays each week. Haspiel's artwork is getting even more expansive and experimental in this new tale, bringing a liveliness to linework, whether in emotional encounters or fight scenes, that continues to feel inspirational. There's an idealism in his work, however much it is tempered by a questioning attitude, that continues to shine a light of hope for the reader."

http://www.comicon.com/2017/12/28/comicons-8-best-webcomics-of-2017/

Thank you, Comicon.com (and Hannah Means-Shannon)!
Saturday, December 16th, 2017
---
6:51 pm
- The Harakiri Kane roundtable interview at Comicon.com


Hannah Means-Shannon hosted a wonderful, in-depth postmortem round table interview at Comicon.com for my recent play "Harakiri Kane" with me, director/actor Ian W. Hill, and actors Stoya, Alex Emanuel, Alyssa Simon and Philip Cruise. We also officially announced my next play mounting in Spring 2018.

Excerpts:

Hannah Means-Shannon: For all its earthiness, Harakiri Kane is still a play with a lot of surrealism. What do you think non-realistic elements open up for you as a performer or for audience members?

Dean Haspiel: Harakiri Kane is bare bones in its surrealism where metaphor and levity helps anchor the reality of the drama. Absurdity and humor allow a serious or less-open mind to absorb and confront things in a more generous way. Sometimes a punchline can manifest clarity.

I don't believe we can ever truly know anyone by mapping their trends. It's lazy. Individuals are a bouillabaisse of emotional curve-balls. Inter-dimensional, like a Dr. Strange astral plane drawn by Steve Ditko. Put six people in a locked room with a loaded handgun and we'll find out what's what with who's who. Which is why I prefer to indulge what makes the heart beat over what makes the mind tick. I write with my gut.

HMS: Do you have backstory and crossover with other art forms in your life beyond the theater? Can you tell there are influences from various art forms in Harakiri Kane?

Dean Haspiel: My mother was deputy director at The NY State Council of the Arts, and my father wrote about Hollywood blonde bombshells for magazines, and even wrote a few books about Marilyn Monroe, who he knew the last eight years of her life. My godmother was Shelley Winters and she introduced my parents to each other. I grew up around actors and theater, but I never thought I'd be writing plays one day. My eye was on making comic books. Possibly movies.

Harakiri Kane was inspired by true life events coupled with things I took away from Wim Wenders' Wings of Desire, Warren Beatty's Heaven Can Wait, and Tobe Hooper's The Texas Chainsaw Massacre. Writing theater is a departure from writing comics, but both mediums encourage me to express human connections in different ways. With comix I tend to draw a lot of kinetic action, where punching is not far from kissing. In theater, I shape conflict between living human beings staggering around a square space reckoning with their truths.

HMS: What elements in the play did you connect with most that helped you find a way into it and the ability to interpret it for an audience?

Dean Haspiel: Because the premise of Harakiri Kane is far out–agents of death shepherding the dying and the dead–I had to focus on what connects us as strangers. What makes each of us vulnerable, while seeking some understanding of why we're here. What we expect from life. I believe a lot of people go to sleep and wake up thinking about a lot of unanswered questions.

I'm a fan of Edward Albee, Tennessee Williams, Harold Pinter, Arthur Miller, David Mamet, Tracy Letts, Ian W. Hill, etc. But, it wasn't until I saw Eugene O'Neill's Long Day's Journey Into Night in 2003 at the Plymouth Theater in NYC, featuring the late Philip Seymour Hoffman, that I first understood the menace of theater. I remember sitting in the audience wondering "Why is Hoffman in the play?" He was known for a certain gravitas in his movies but, in this bleak play he seemed to barely act.

It wasn't until the 2nd or 3rd act that Hoffman exploded the stage like a time bomb. It was emotional, yet devastating, and something clicked inside my head. Hoffman, like his character, had been waiting to say what he needed to say but everything in that play, up to that point, was against him. The world was an obstacle and he had to tear it all down. I remember thinking about Hoffman's performance for weeks after. How had he exploited the limitations of a stage, the lack of close-ups and angles, bereft of music to manipulate your emotions? He just stood there with his body and voice and shivered his emotions into you. Into me. It was brutal. Years later, Philip Seymour Hoffman would actually run into me, knocking me over, but that's another story. I fell in love with the power of theater and realized it could never truly be mirrored in any other medium.

In Harakiri Kane, a character named Jack talks about his disgruntlement with the way we currently consume culture. He states, "Besides convincing the world that content should be free and allow ineffectual people to feel self-entitled, the worst thing the Internet ever did was brandish the false concept that you don't have to actually be there–to be there." Later on, Jack ultimately concludes that "Surveillance has replaced experience."

HMS: It looks like this whole cycle of plays might end up with a New York flavor, as much dramatic and fictional as based on reality. Do you think evoking known and shared locations makes it easier or more effective to reach an audience?

Dean Haspiel: My first play, Switch To Kill, was a psychological crime noir. My second play, Harakiri Kane, was an existential gore noir. My next play, The Last Bar at the End of the World, is more autobiographical with a twist of metaphysical, and is about troubled people reckoning with lost love and the sages in their lives. Some of the people they meet trade in the same universe that I've been writing all three plays in. Stylistically, all of my stories take place in a German expressionistic version of a spaghetti western NYC, where Giallo and the Grand Guignol intersect.


Please read the entire, intensive round table here: http://www.comicon.com/2017/12/15/the-harakiri-kane-roundtable-interview-with-dean-haspiel-ian-w-hill-stoya-alex-emanuel-philip-cruise-alyssa-simon/
Wednesday, December 6th, 2017
---
8:15 pm
- Heed The War Cry – Dean Haspiel Discusses A Person Of Mass Destruction


Hannah Means-Shannon interviews me about WAR CRY at Comicon.com

Excerpts:

Hannah Means-Shannon: War Cry starts with a homeless orphan and a transformative experience of finding others. It reminds me of elements of classic super hero narratives, but at the same time, it seems new to me among the works you've created. Is this new ground for you?

Dean Haspiel: I'm definitely exploring new territory with WAR CRY. A kind of emotional conflict I've been thinking about for many years. And, with today's politically charged climate, one could hazard that I'm not the artist that's "allowed" to write and draw a story like this because it features a teenage African-American boy named Rajak who shares a body with a cosmically resurrected African-American woman; The Red Hook's dead-girlfriend who has become a Human of Mass Destruction!

But, I was careful in finding a way to tell the tale while respecting boundaries. And, even though I didn't have access to consult a war goddess (relying solely on my imagination), I did grow up with a diverse group of friends, including Mike Hueston, my best friend since we were 12-years old, and I got to observe and share in his plight as an African-American growing up in the 1970s/80s NYC.

HMS: What is the appeal (and I feel it too) of the weird, wild, and wacky heroes and villains from the Golden and Silver Age of comics—the ones who never became big stars? Where do you find the biggest troves of that strangeness?

It must have influenced War Cry and the whole New Brooklyn Universe. That kind of underground energy of super hero traditions without traditional super hero constraints is very compelling.

DH: Weird heroes are the best. I'm influenced by the oddities of Jack Kirby, Steve Ditko, Stan Lee, C.C. Beck, Alex Toth, Will Eisner, Ramona Fradon, Irwin Hasen, Wally Wood, Gil Kane and a bunch of Golden and Silver Age cartoonists. But, as much as we love the more popular superheroes, there's something undeniable about the off-beat heroes that skate the outskirts of normality. I've written and drawn Marvel's Woodgod. I've drawn DC's Wildcat, and, I've plotted and illustrated Archie's The Fox. More recently, I've created a gallery of absurd yet meaningful characters for New Brooklyn because that's how I wrestle with the world and those are the kinds of misunderstood monsters I'm attracted to. It's their stories I wish to convey.

HMS: War Cry will raise some eyebrows in terms of gender perceptions, since our hero is a teen boy who becomes a female hero when he transforms. And as he seems to express, some of his proudest moments happen as a woman. What did you want to express about gender here? How do you hope fans will respond to it?

DH: Everyone knows women are more intelligent and more powerful than men. I've admired women all my life. Most of my best friend's are female. My mother is my mama but she's also a great pal. So, when I realized in War Cry that the boy was gonna transform into the most powerful hero of all, he had to become a she. Who's kidding who? And, anybody who has a problem with that, well, they're just thinking with their dick.




War Cry is influenced by Jack Kirby's O.M.A.C. (One Man Army Corp), C.C. Beck & Bill Parker's Shazam (the original Captain Marvel), Gerry Conway & Al Milgrom's Firestorm, and Steve Ditko's Hawk & Dove. Think of a black Billy Batson shouting "War Cry" instead of "Shazam," and, instead of transforming into the world's mightiest mortal, he turns into a female version of O.M.A.C. (or O.W.A.C.) where she is Hawk to his Dove with a Firestorm complex. You'll have to read the damned comic to understand what I'm going for.

HMS: Is this the first female hero you've focused an entire series on? Do you think that changed the dynamic of your work at all?

DH: Not really. Female protagonists have always bolstered my male protagonists. Jane Legit is the smart one, the empathetic one who helps Billy Dogma find his way in my "last romantic antihero" series. Ava Blume aka The Possum aka War Cry is the emotional foundation for Sam Brosia aka The Rascal aka The Red Hook. But, I usually tell my tales through the male perspective because I'm a man. It's no secret that my art, and my life, is profoundly affected by women.

HMS: Tell us about how Red Hook operates in this story. How much of his legacy is still present? I mean, he's got some serious unresolved issues to deal with, surely. Not least that his [semi] deceased girlfriend Ava is now more powerful than him.

DH: The Red Hook is a bruiser with an uneasy past who was forced to become a superhero against his will or he would die. By the end of the first story arc, he embraced his fate as a fighter for good, but his world's been turned upside down by the proposed death of his lover, The Possum, who has now been resurrected into a teenage boy. It's a cluster fuck that's only compounded by the fact that The Red Hook's semi-psychotic mother has become a vigilante who calls herself The Coney. In War Cry, this sequel will reveal new things about The Red Hook's family and challenge ideas of how to rekindle romance with a cosmic war goddess who shares a body with the opposite sex.

Read the entire interview here: http://www.comicon.com/2017/12/06/heed-the-war-cry-dean-haspiel-discusses-a-person-of-mass-destruction/

Start reading WAR CRY for free: http://www.webtoons.com/en/super-hero/war-cry/ep-1/viewer?title_no=1247&episode_no=1


7:01 pm
- The Comics Beat: Dean Haspiel's New Brooklyn Prepares for WAR CRY


AJ Frost interviewed me about WAR CRY for The Comics Beat.

Excerpts:

AJ FROST: The Red Hook is this epic story about a "bad guy," a thief who becomes a superhero, and its one of the most dynamic explorations of using the vast digital space of the web as the mode of dissemination. What excites you about exploring the ambiguity of "goodness" in your work with Red Hook, and now War Cry?

DEAN HASPIEL: Thanks for the cheer! I don't know anyone who is 100% good and, frankly, those kinds of people make for boring stories. Sorry! I believe most people can be sympathetic to others but not necessarily empathetic. And, that's a huge difference. To step into another person's shoes and experience their truth is something most of us can't do or won't do. It's easier to acknowledge pain and struggle and then look the other way or donate to a cause because you're dealing with your own struggles and pain. People are complex souls and time is an enemy. Some people choose to spend their time understanding others while most people glean a cursory understanding of the human condition, at best, and move on. I'd like to think I observe people well enough to get a good sense but who knows? Our subconscious tends to seek a narrative that supports our personal beliefs rather than energize a third eye for spelunking what's alien. But, I get it. I'm just as culpable as the next person when it comes to turning a blind eye, but I try to keep an open mind.

I don't know how many more times I can become outraged by gun violence, racism, and sexism, but I can ask questions in my work and try to impart good will. So, with that in mind, I find that the bad guys or the misunderstood monsters are much more interesting to navigate because they are the ones who have the most to rehabilitate. Thus, my reasoning for starting The Red Hook's story as a super-thief who is forced to become a superhero against his will or he will die and the choices he makes to foster positive change. War Cry has to deal with a lot more than just sharing a body. He/she struggles with purpose over persona while desperately holding onto what makes them individual.

FROST: The character of War Cry is a gay, teenage African-American boy who becomes, as you say, a "Super Goddess" when going into hero mode. When did the idea for War Cry come about? And when did it seem that the potential for the character was there to create a new and separate story?

HASPIEL: I came up with the idea of WAR CRY many years ago but didn't know where to put it or how to use it. So, it incubated until I created The Red Hook and co-created the New Brooklyn Universe. When I was thinking about a sequel to The Red Hook, I knew I wanted to explore the evolution of heroism and the crisis of identity. WAR CRY is about two very different binary characters who share a non-binary body. After being graced with the power of America's superheroes (think a bastardized combination of The Avengers and The Justice League of America), a teenage boy named Rajak shouts the words "War Cry!" and instantly evolves into a war goddess, the resurrection of The Red Hook's dead-girlfriend Ava Blume (think of a mash-up between Shazam and OMAC with Hawk & Dove). It's a big idea that I explore through the eyes of The Red Hook while presenting the concerns of Rajak and Ava. In some ways, the concept is above my head but I'm not a journalist or a reporter and, instead, I'm a cartoonist who is challenged by the idea of what that might be like and express it in my art. As communication artists, we grow up in public, warts and all, but I won't let that stop me from telling an existential story that explores the shores of identity.

FROST: As I said, The Red Hook is epic in scope and grand in execution, but it's obvious that the universe you've created needs more exploration. When did the idea to do a sequel story become a tangible idea? How much of an influence was Jack Kirby on these projects?

Jack Kirby is the bell I strive to ring every time I tackle a superhero comic book. Kirby is one of the forefathers of the superhero lexicon. I believe the acolytes of Kirby, of which I hesitate to include myself because I don't know that I have what he had, are unafraid to explore the depths of imagination while making human connections. It's that very notion that keeps me from suffering writer's block.

And, yes, there is MUCH MORE of New Brooklyn to explore and make work. The idea of a sentient Brooklyn that's heart is broken by the apathy and indifference of the world, so much so that it secedes from America to start it's own republic where art can be bartered for food and services, is a fantasy that could probably never really happen but, like a Jack Kirby comic book that asks questions about God and then dares to answer them, WHY NOT put out stuff that might could alter the tide of the human condition? That might could help affect change? I'm no kinda revolutionary but art has proven to influence and innovate.

Read the entire interview here: http://www.comicsbeat.com/interview-dean-haspiels-new-brooklyn-prepares-for-war-cry/

Start reading WAR CRY for free: http://www.webtoons.com/en/super-hero/war-cry/ep-1/viewer?title_no=1247&episode_no=1
12:03 pm
- The NY Daily News: 'War Cry' enters New Brooklyn comics with a bang
I spoke to reporter Cesar R. Bustamante Jr. about my new free webcomic, WAR CRY, at The NY Daily News.

Excerpts:

It tells the story of Rajak, a teenage boy who after witnessing the death of a team of superheroes finds himself sharing a body with the superhuman one woman army, War Cry.

"It makes it feel more real (setting it in Brooklyn). I get to hold up a mirror to society in a more blatant way and I get to comment about current events like how our very best fiction does," he said.

"It's just another fun cosmic romp, kind of like what I tried to do at the end of season one, inspired by the works of Jack Kirby, Steve Ditko, C. C. Beck, all the kind of comics I grew up reading as a young kid," he said.

You can read the entire article/interview here: http://www.nydailynews.com/entertainment/theater-arts/war-cry-enters-new-brooklyn-comics-bang-article-1.3679299

Start reading WAR CRY: http://www.webtoons.com/en/super-hero/war-cry/ep-1/viewer?title_no=1247&episode_no=1
11:27 am
- Brooklyn Paper: 'War' of the sexes: New comic stars gender swap superhero(ine)
Bill Roundy talked to me about my new free webcomic, WAR CRY, at The Brooklyn Paper.

Excerpts:

"War Cry" is a sequel to his series "The Red Hook," about a superpowered thief forced to do good, in a universe in which Brooklyn becomes sentient and literally separates from the United States. When creating the new main character, Haspiel said he was inspired by two classic superheroes: Captain Marvel, a kid who transforms into an adult hero when he shouts the word "Shazam!" and the superhuman cyborg called OMAC, for One Man Army Corps.

"I always liked the idea of those two characters, and I wanted to do a mash-up," he said. "And I wanted to do a comic where a young kid shouts a word — and the hero he becomes is this female goddess called War Cry. So instead of One Man Army Corps, it's One Woman Army Corps."

The adventure story comes with a dose of melodramatic romance, because the ferocious female he becomes is also the reincarnation of the Red Hook's dead girlfriend.

"We have to navigate all this through the eyes of the Red Hook — and he just wants his girlfriend back," said Haspiel. "It becomes this kind of star-crossed Romeo vs. Juliet — or maybe Romeo versus Juliet and Julio!"

The story showcases locations around the borough, including the Brooklyn Bridge, the Red Hook grain silo, and an analogue of popular dim sum restaurant Pacificana in Sunset Park. Putting his super-characters in the real world — even a fantasy version of the world — helps the high-flying action to feel more grounded, said Haspiel.

"You can make up characters, but if you can put them in real places, it feels more real," he said.

Read the entire article/interview here: https://www.brooklynpaper.com/stories/40/49/24-war-cry-comic-book-2017-12-08-bk.html

Start reading WAR CRY here: http://www.webtoons.com/en/super-hero/war-cry/ep-1/viewer?title_no=1247&episode_no=1
10:59 am
- Dean Haspiel's WAR CRY debuts!


In the follow up to the 2017 Ringo Award-winner for Best Webcomic, The Red Hook's dead girlfriend is resurrected into War Cry, a human of mass destruction hosted by a teenage boy. When a demigod from their past comes to haunt them to death they must resolve their lost love.

War Cry is a spin-off title to the critical hit The Red Hook. It will draw readers back into the Red Hook's adventure with the surprising return of another familiar face. Written and illustrated by Dean Haspiel, War Cry takes readers into the aftermath of the alien attack on earth that killed most of America's superheroes. Now an orphaned, teenager named Rajak has mysteriously become the recipient of all of the dead superheroes powers and escaped to New Brooklyn. When he shouts the words "War Cry," Rajak transforms into the perfect war goddess, who is a cosmic resurrection of Ava Blume, formerly known as The Possum and love interest of superhero The Red Hook.

Please click here for chapter one (best viewed on your smart phone or tablet): http://www.webtoons.com/en/super-hero/war-cry/ep-1/viewer?title_no=1247&episode_no=1
Tuesday, December 5th, 2017
---
11:33 am
- One more day til WAR CRY
Monday, December 4th, 2017
---
2:29 pm
- 2 more days til WAR CRY
2:08 pm
- Art on A Gallery: 5th Annual Holiday Group Art Show - Dec 7th
Thursday, November 30th, 2017
---
12:43 pm
- Endorsing fiction
When I watch Alfred Hitchcock's PSYCHO, I don't endorse Norman Bates' behavior. Same goes for all fiction I indulge. Including the fiction I create.
Sunday, November 26th, 2017
---
3:08 pm
- MINKY WOODCOCK: The Girl Who Handcuffed Houdini #4


I drew a cover for Cynthia Von Buhler's MINKY WOODCOCK: THE GIRL WHO HANDCUFFED HOUDINI #4, published by Titan Comics, coming out February 21, 2018.

Here is the solicitation copy:

MINKY WOODCOCK: THE GIRL WHO HANDCUFFED HOUDINI #4
Writer/Artist: Cynthia Von Buhler
32pp • $3.99 • On sale Date: February 21, 2018
Unappreciated at her father's detective agency, the fabulous, rabbit-loving Minky Woodcock straps on her gumshoes in order to uncover a magical mystery involving the world-famous escape artist, Harry Houdini.
Created by acclaimed artist, author, director, and playwright Cynthia Von Buhler (speakeasy dollhouse, evelyn evelyn, emily and the strangers)!
COVER A: REGULAR COVER: Dean Haspiel
COVER B: Cynthia Von Buhle

https://www.cbr.com/titan-comics-solicitations-for-february-2018/

Here are some other ideas I came up with for the cover:


Saturday, November 25th, 2017
---
1:02 pm
- When The Boxer Hangs Up His Gloves – Dean Haspiel's Play Harakiri Kane Breaks New Ground
Hannah Means-Shannon reviewed my play HARAKIRI KANE at Comicon.com.

http://www.comicon.com/2017/11/23/when-the-boxer-hangs-up-his-gloves-dean-haspiels-play-harakiri-kane-breaks-new-ground/

Here is the full review:

Dean Haspiel's comic career, like many indie cartoonists, is not easily summed up in a single phrase or even a single sentence. However, there is a commonality to his works, both in an out of comics, that does make it feel recognizable when you encounter it. There is usually a central semi-heroic figure, or a couple, and the world around them often feels alien, changeable, given to upheaval. For that reason, his Billy Dogma character, "the last romantic anti-hero" who populates many of his self-published works, looms large against gargantuan struggles. Imperfect, emotional, overtly confused and prone to sharing his mental processes aloud for the reader, Billy nevertheless casts a bold shadow in the face of a hostile environment.

In Haspiel's series The Fox at Archie Comics, resurrecting a classic character, he nevertheless brought a lot of the same quizzical humor and oddball struggle to the character. And most recently, working on The Red Hook, available to read for free at Line Webtoons, and its soon to be published sequel War Cry, Haspiel crafts a Brooklyn out of joint, and a time of heroes who only half-understand their purpose in life (and that "half" may be generous).

One thing that's also a common feature of Haspiel's works, alongside a perplexed but struggling anti-hero, is an exploration of connection—also a warzone—that runs parallel to outward conflict, or through trippy overlap, becomes outward conflict. In Billy Dogma stories, there's his counterpart Jane, and in War Cry, the Red Hook loses his girlfriend to a superheroic transformation that makes them both estranged and connected.

Haspiel's second play, Harakiri Kane, Or Die! Die Again!!, ran throughout the latter part of October and into this week at The Brick Theater in Brooklyn, New York, following on from Switch to Kill, which was performed as part of a festival in 2014. Switch to Kill followed the noir lives of gangsters, and explored the tension between violence and personality. Harakiri Kane pursues the fate of a boxer whose own ending has been mysterious, now elevated to a position as an Angel of Death, and the end-of-life experiences of others that he plays witness to.

At first glance, it might seem like a departure from the characters and themes that interest Haspiel, but in fact it proves to be a fruitful development. Though we don't get a lot of backstory for Harry (played by Alex Emanuel), our boxer, now living an un-dead existence as an Angel of Death, we can assume that a man who makes his career through violence, even a kind of sanctioned violence, might carry some of that wrath with him into another state.

But Harry, rather, is not a man of violence. His new role dictates that he feels ill every time he knows a human death is impending, and that seems to stand as a proxy for extreme empathy or at least sympathy. A dread for the ending that his fellow beings must face. Harry is a fairly literal reading of John Donne's sermon "For Whom the Bell Tolls", wherein we should not ask who the funeral bell is for—it is always for us–because we are all more connected than we like to acknowledge.

So, a non-violent hero with a violent past, observing the vagaries of human lives drawing to a close, unable to avoid empathy for their suffering, is also one who is faced with the problem of connection. He never mentions loved ones or regrets, except for wishing to break through his amnesia about how his life ended, but he does become connected to strangers through his new job.

We gradually become aware, through the course of the play, that there's a more experienced Angel of Death around who seems to be pulling strings. She, Sharon (played by Jessica Stoya in her stage debut) seems to be looking for her own sense of connection. She encourages Harry to "have a little fun" with his job of taking souls, something he can't much comprehend, but Harry becomes the object of her study. The goal of her attempt at connection.

Though Sharon cannot touch him, she has some degree of romantic interest in Kane, however, the real connection between them is simpler, more delicate, and as brief as a few lines of a story that she has written which she deigns to read to him. It's enough to show that even in death, the human quest for connection lives on.

Harry's role, and the mode by which Sharon tries to reach him, emotionally, is a development upon the more gruff and bombastic approach of heroes, even sympathetic heroes, in Haspiel's work. Here we see a boxer who has set aside his gloves, a soul adrift, and one who's kind and receptive enough to forgive Sharon for her manipulations, and still give her the gift of empathy. In this new post-death role, Kane has changed, too. He's now someone who can visit his old boxing coach (played by Tarik R. Davis) at the appointed hour of his death and handle that with greater grace and understanding than he could have during his mortal days.

The play is obviously built upon plenty of mythological allusions and traditions, though shot through with a New York flavor that you can't fail to recognize. One of the more interesting through-lines concerns an obsessive cook (played by Ian W. Hill) who, auteur-like brings his creations to the world at the cost of the lives of others. Descending into grotesquery to cheat death, he believes that the fresh human hearts of others can shield him from the arrival of an Angel meant to take him away. Once Harry final does confront him, this heart-stealing becomes the key to Harry's choice to "die again" and leave behind this role which many covet.

I mention the mythology since it's an aspect that would've been rewarding to develop further in the context of the narrative. Within a performance limited to 90 minutes, and conveying a great deal of information in that time, the play had to pass over those elements fairly quickly. And yet, the idea of hearts as identity, as something that can determine our fate after death, has interesting implications, possible drawing on Egyptian and Central American storytelling and rites pertaining to the afterlife.

The interpretation and performance of Harakiri Kane was highly committed to the exploration of emotional states, to bringing to life the incisive personas that people Haspiel's own myth-scape, and to planting a few new ideas in the minds of the audience for them to ponder.

Haspiel has mentioned elsewhere that he's hoping to develop this story of life, death, and connection, as a comic someday, and here's hoping we see that. Though the performance of the play itself was an achievement, it would be very interesting to see how Haspiel's art style might interact with a world familiar in many ways from his previous works, but also both darker and more hopeful than territory he's yet explored in comics.
Tuesday, November 21st, 2017
---
12:02 pm
- Bleeding Cool: Before The Curtain Rises On Dean Haspiel's Harakiri Kane For The Last Time…
Rich Johnston interviewed me about my play, HARAKIRI KANE for Bleeding Cool.

Excerpts:

Bleeding Cool: You say the play was inspired by morbid events you experienced years ago. What the hell were they?

Dean Haspiel: In the early 1990s, when I lived in comic book writer Denny O'Neil's old apartment in Soho, NY, with his son Larry, it seemed like every time I left my apartment, someone died. There was a deadly car accident where the hubcap from the tragedy literally rolled half a block around a corner towards me and circled my body, as if somehow targeting and cursing me like in a horror movie. And, that's when more and more people started to die around me.

I remember seeing police tape quarantining a corpse under a bloody sheet and looking up to see if he or she had jumped from the roof or a window. I noticed the drapes of an open window blowing in the wind as I slowly walked backwards, across the street, and stepped into the person's brain matter. It had popped out of their skull upon impact and flew 30 feet — skipping across concrete — waiting for me. There was a delivery boy who had crashed, his face smashed into the back of his head and his bicycle wheels were still spinning like a clock winding down. Bags of Chinese food everywhere. I got hungry but started to wonder, "Was I a specter of death?"

I practically barricaded myself inside my apartment in hopes it would stop death or, at the every least, slow it down, and I started writing about it. First as a screenplay and then as a comic book before, eventually, writing about it as a play. I still would like to draw this story.

BC: You have a former boxer, now an angel of death, trying to beat the odds. It smacks somewhat of David Niven in A Matter of Life and Death, but at a different end of class politics.

DH: I've never seen A Matter of Life and Death, and now I must! Death is a popular subject. I remember being emotionally impacted at age eleven by Warren Beatty's 1978 adaptation of Heaven Can Wait. One could suggest that my play is a different spin on The Walking Dead where, instead of zombies, angels of death have to suffer immortality while helping shepherd the dying and the dead. For some angels it can be a real drag, while others try to find a proactive way to take advantage of the dregs of eternity. The potential to tell tales in this way are limitless. Comic writer/critic Adam McGovern put it succinctly when he reviewed my play at HiLowbrow and stated that it was "a dive-bar Wings of Desire."

BC: It's been said that most chefs are psychopaths; that you have to be to do the job. You have a serial killer chef searching for immortality. Is this about food giving life, but the people who prepare it being potential killers? And what are you like in the kitchen?

DH: I've never heard chefs compared to psychopaths. Maybe TV show chefs, but certainly not the chefs I was in close proximity to the three years I worked as a waiter/expediter at a Soho restaurant. Chef Eric Bromberg is a generous genius who taught me more about the art of food than any recipe book. His kindness is probably half the reason why his chain of Blue Ribbon restaurants are so popular and successful. He loves food and what you can do with it. Same thing goes for chef Girard Fox, who started off as a sous chef and came into his own, but with the addition of being an artist who loves music and races old motorcycles.

I wish I could spend more time in the kitchen. I love to cook, and I believe it's one of the most important things a person needs to know how to do in their life. It's also a loving thing to do for others.

BC: You're known more for comics than as a playwright – though this is your second professionally staged production. What are you biggest stumbling blocks when switching your writing regime from comics to stage and vice versa?

DH: I suppose I've been writing comics all my life because I've been drawing comics since I was a kid. And, with comics, image is text. So, the first time I ever really tried to sit down and write something with just words was in a screenplay format, probably because I love movies so much (and I went to film school for a little while). But, I soon realized I was basically writing plays because there was much more verbal discourse over action. Whenever I write, I think in terms of theater. When I write for comics, I have to remember to edit my story into a visual narrative, where picture supersedes text. So, in fact, I often have to bend my writing instincts for comics.

My first play, Switch to Kill (mounted at The Brick Theater in 2014 by director Ian W. Hill) wasn't specifically written to be a play, but it just turned out to work well as one. With Harakiri Kane, I adapted an old screenplay while modernizing the story, adding new stuff that currently spoke to me, and consciously considered how this might perform on stage. My old college friend/director/actor Phil Cruise helped me workshop Kane, but Ian W. Hill ultimately produced and directed it, again at The Brick (while also brilliantly portraying the psychopathic chef). I discovered that Kane was an ambitious play for an off-off Broadway production to mount, but everyone involved did a great job realizing my absurd, albeit heavy story and brought to life a whole lot of death. I just finished the first draft of my next play, which I will begin work-shopping very soon.

BC: The last night is on Monday. What has reception been, and how have you found the experience as it nears its (current) end? And any chance of moving from off-off-Broadway to just off-Broadway?

DH: Incredibly, every performance has been sold out. The reception has been extremely positive across the board and most everyone who attends seems to be happily surprised by the play. I had no idea what to expect because incarnations of this story have been living with me for over 25 years and I'm just too close to it. I blame the success of the play on the production; the insanely talented and dedicated actors, the avant-garde direction and design, and people's desire to immerse in live theater during a time where surveillance has replaced experience. The 10 performances Harakiri Kane debuted with have been precious to me, and I hope the play can live to see another day.


I also offered a recipe for a tofu scramble. You can read the entire interview here: https://www.bleedingcool.com/2017/11/20/curtain-rises-dean-haspiel-harakiri-kane/
Monday, November 13th, 2017
---
11:07 am
- MAKING COMICS GUTTER TALK EPISODE 107 – DEAN HASPIEL


"When Adam Greenfield and Dean Haspiel first recorded a Gutter Talk episode, it was September of 2015. In those two years, plenty has happened for both. However, that's still not the reason why, just as with the first time they spoke, this episode is also two hours long. In fact, it's so long it had to be separated into two parts. As for the reasons why their talk went over two hours, well, the reasons vary widely. There's what Baltimore Comic Con does right but what New York Comic Con does wrong. There's the positives and negatives of being an artist in the digital world we find ourselves in. There's also talk of fan entitlement when it comes to comics versus perhaps having a reason for their gripes. And all that's only part of what Adam and Dean discussed."

PART 1: http://www.makingcomics.com/2017/11/13/making-comics-gutter-talk-ep-107-pt-1-dean-haspiel-2/

PART 2: http://www.makingcomics.com/2017/11/13/making-comics-gutter-talk-ep-107-pt-2-dean-haspiel-2/
Wednesday, November 8th, 2017
---
10:46 am
- Brooklyn Paper Radio: Deep thoughts with Dean Haspiel
I talked to Vince DiMiceli and Bill Roundy about a slew of stuff, including my new play, HARAKIRI KANE, and my upcoming webcomic, WAR CRY, on the Brooklyn Paper Radio podcast the same day Bill De Blasio was elected NYC mayor for a second term.

SHOW NOTE:

"There aren't any original ideas. But hasn't that been said before?

That was the consensus on the latest edition of Brooklyn Paper Radio when beloved comic-book artist Dean Haspiel joined host Vince DiMiceli and GO Brooklyn editor Bill Roundy to talk about his latest graphic novel, his move into writing words without pictures, and why its a good idea to immerse yourself in the things you love if you want to make those things your life's work.

"As much as you try to crack the code of doing something completely original, it's almost impossible," Haspiel said while discussing some of the influences for some of the characters he created in his new web comic "War Cry." "I hate to say it, but your lunch influences you."

Later, Haspiel pointed out that he has just converted from watching movies on DVD to BluRay, because he finally found a BluRay player that was in his price range.

"Those things are a dime a dozen now," a shocked DiMiceli pointed out.

Haspiel also noted that he didn't get his driver's license until he was in his 40s, proving he is a late adopter of "new" technology.

DiMiceli, of course, started driving at midnight on Feb. 4, 1988, the moment he turned 17, had a Sony Playstation before it was on the market, and keeps all his videos in the cloud so they don't take up space in his tiny house on Staten Island.

The guys also discussed the voices they hear in their heads when reading (and writing). For Haspiel as a youngster, that voice was Spider-Man creator Stan Lee, whose actual voice turned out to sound just like the like the one readers — every one of them — imagined while going through the latest edition.

"His voice is the voice," Haspiel said, before answering a question DiMiceli may or may not of asked. "When I read other comics, do I project some kind of voice? That's a good question."

"I don't know if I asked that question, but I'm glad I did," DiMiceli said.

DiMiceli subsequently performed the voice he hears while editing and writing for The Brooklyn Paper while doing a live-read for show sponsor Dr. Joseph Lichter — a move that will surely make former deputy editor Ruth Brown laugh when she hears it.

All that, plus how Haspiel barters comic art for dental work, on the latest edition of BPR!"

LISTEN HERE: https://www.brooklynpaper.com/stories/40/45/bpr-dean-haspiel-2017-11-07-bp.html