Sunday, May 31st, 2020
---
12:36 pm
- Dino FAQ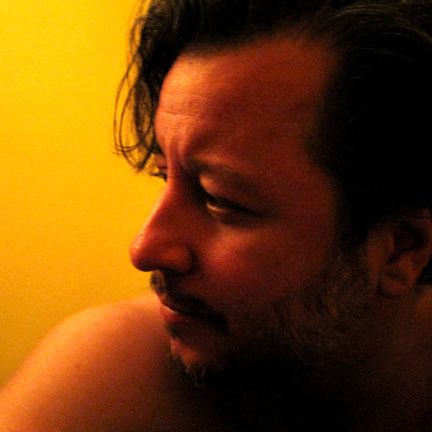 http://www.deanhaspiel.com/

Emmy award winner and Eisner and Harvey Award nominee Dean Haspiel created BILLY DOGMA, illustrated for HBO's "Bored To Death," was a Master Artist at the Atlantic Center for the Arts, is a Yaddo fellow, a playwright ("Switch To Kill"), occasionally teaches comic book storytelling, and is the co-founder of HANG DAI Editions. Dino has written and drawn many comix including The Red Hook, The Fox, The Fantastic Four, Spider-Man, X-men, Deadpool, Batman, Godzilla, Mars Attacks, and semi-autobio collaborations with Harvey Pekar, Jonathan Ames, Inverna Lockpez, Stan Lee, and Jonathan Lethem. Look out for his latest graphic novel, FEAR, MY DEAR: A Billy Dogma Experience.




Please click here to see what Dean's been up to at TRIP CITY: http://welcometotripcity.com/author/dean-haspiel/

Experiencing Yaddo First-Hand: An Interview with Cartoonist Dean Haspiel: http://thefreegeorge.com/thefreegeorge/dean-haspiel-yaddo-interview/

The Atlantic Center for the Arts: Residency #147: http://welcometotripcity.com/2012/12/the-atlantic-center-for-the-arts-residency-147/

Tom Spurgeon interviews me for The Comics Reporter: http://www.comicsreporter.com/index.php/cr_holiday_interview_2_dean_haspiel/

Poet Sandra Beasley interviews me for Barrelhouse Magazine
http://www.barrelhousemag.com/barrelhousing-with-comic-artist-dean-haspiel-an-interview-by-sandra-beasley/

Dean Haspiel speaks at The Library of Congress: http://www.loc.gov/today/cyberlc/feature_wdesc.php?rec=5709

ATTENTION Art Directors, Editors, Publishers, Writers, Etc: if you'd like to see current samples of Dean Haspiel's art, please check out his gallery: http://welcometotripcity.com/2012/01/dean-haspiel-gallery/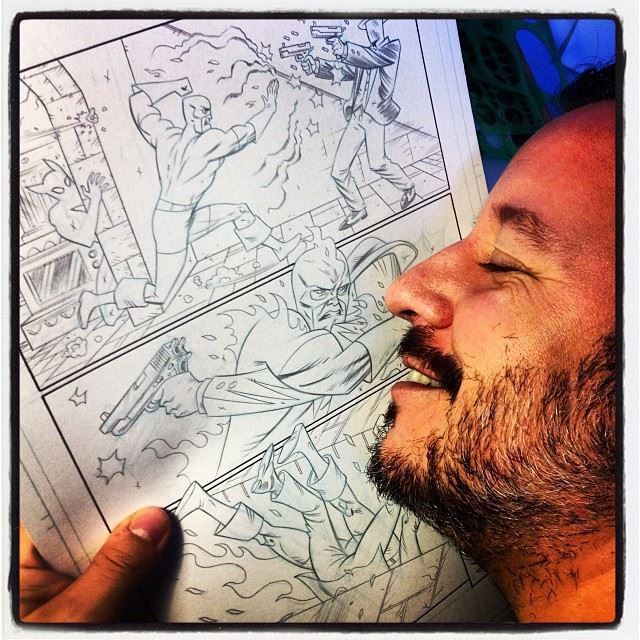 (
Click here for comix, interviews, news, videos, and other essential links
Collapse
)
Friday, November 21st, 2014
---
10:47 pm
- Pop Culture Maven reviews SENSATION COMICS #4
"Haspiel is one of my favorite artists who recently did The Fox series over at Archie and is perfect for this story. His style gives the story the perfect visuals that makes it work so well. His visual take on Wonder Woman harkens back to the original comics but makes it all his own. I really enjoyed his interpretation of Deadman also."

Read the rest of the review here: http://www.popculturemaven.com/comics/new-comic-book-reviews-week-of-111914/
Thursday, November 20th, 2014
---
12:25 pm
- NCTE: "Using Comics to Teach Visual Literacy & Storytelling" ~ Nov. 23, 2014
National Council of Teachers of English Annual Convention
Gaylord National Resort & Convention Center
201 Waterfront Street
National Harbor, MD

Sunday, Nov 23, 2014 at 1:30PM-2:45PM, Session N

TOON panel presentation "Using Comics to Teach Visual Literacy & Storytelling"
Join a second-grade teacher, a literacy expert, an author, and a journalist to hear how comic
books are increasingly taking on deep subjects and being used to teach the Common Core
State Standards with an emphasis on both visual literacy and storytelling.

Featuring TOON author Dean Haspiel, journalist Michael Cavna, and Washington DC-area teacher Sallie Routh.

NCTE Program: http://www.ncte.org/library/NCTEFiles/PD/Annual/2014/Program/Sessions-Exhibitors-Authors.pdf

Toon Books: http://www.toon-books.com/
2:12 am
- Every Day Is Like Wednesday reviews Sensation Comics #4
"The script is a fine one, but the greatest pleasure here is seeing Haspiel get his pencil and pen on so many characters. In addition to the those mentioned, there's also a neat little sequence in which we get to see what Haspiel's Hawks, Spectre and Ragman all look like. If you guessed "awesome," you guessed right."

Read the rest of the revie where: http://everydayislikewednesday.blogspot.com/2014/11/comic-shop-comics-november-19.html
2:04 am
- Publisher's Weekly: Have We Got a Comic for You: Graphic Novels as Gifts, 2014
2:03 am
- What'Cha Reading reviews SENSATION COMICS #4
Wednesday, November 5th, 2014
---
10:46 am
- Dean Haspiel talks about Seth Kushner on Robots From Tomorrow podcast #136
Monday, October 27th, 2014
---
1:28 am
- Breaking In And Staying In: A "Career" In Comics
Breaking In And Staying In: A "Career" In Comics With Denis Kitchen, Box Brown, Dean Haspiel, Daryl Seitchik At The Locust Moon Comics Festival by Hannah Means-Shannon at Bleeding Cool:

http://www.bleedingcool.com/2014/10/25/breaking-in-and-staying-in-a-career-in-comics-with-denis-kitchen-box-brown-dean-haspiel-daryl-seitchik-at-the-locust-moon-comics-festival/

"Haspiel works 7 days a week just to get the money to hand it over to the landlord, and not have health insurance or any other safety nets, just to stay in comics. He doesn't have anything that makes money "while he sleeps" and recently made 41 dollars of royalties on several works he's done for them, combined. It's the most "unprofessional profession" in the world, Haspiel laughed."

"Haspiel added that being on LiveJournal in 2006, he noticed cartoonists putting comics on line, and wondered why people weren't more organized about it, which led to him founding the webcomics platform ACTIVATE. He had to "convince" a number of cartoonists to post for free. He knew that was "the trick", to show up on time and create a "24 hour resume" of your works. Brown recalls noticing the launch of ACTIVATE in 2006 and thinking, "These guys are taking this super seriously" unlike others."

"Haspiel is on Facebook, takes off his clothes and hopes for the best, he joked. He realizes that social network is "curated" and it piggy-backs on each other among communities of creators. When he posts others work on his Facebook page, it creates a curatorial sense that appeals to his Facebook followers. It allows him to spend time saying what he DOES like versus spending time on what he doesn't like."

"Haspiel said that part of creating ACTIVATE was to "life the veil" between creators and readers. Now he feels a little differently and just wants to see the "thing for what it is". He put a process piece on display for Cuba: My Revolution, he recalls in a gallery, and the Red Hook paper did a review saying they didn't understand why comic art should hang on the wall. Haspiel could see that point, but actually found them on Facebook, befriended them, and it led to them trying to pursue comics from fine art."
Tuesday, October 21st, 2014
---
12:16 pm
- Locust Moon Comics Festival 2014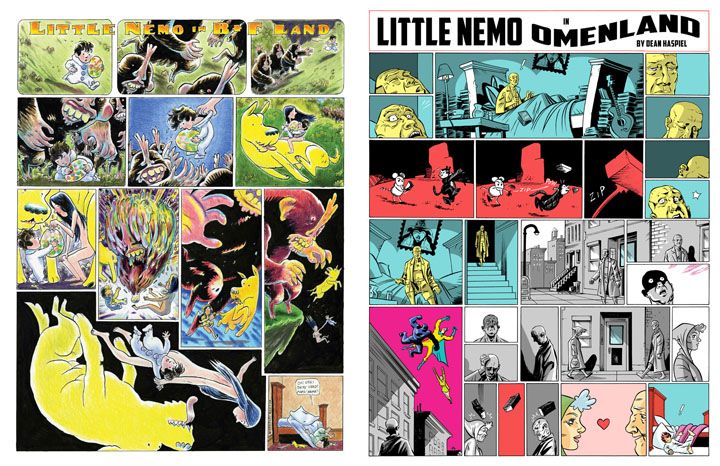 Hang Dai Editions will be at Locust Moon Comics Festival, table S-49, this Saturday in Philadelphia with Gregory Benton, Christa Cassano, and Dean Haspiel.

Locust Moon Comics Festival
Saturday, October 25th, 2014
10am - 6pm
@The Rotunda
4014 Walnut Street
Philadelphia, PA 19104

http://locustmoonfest.com/

Copies of B+F, STAKE, THE GIANT EFFECT, FEAR, MY DEAR, PSYCHOTRONIC COMIX and various prints will be available for signature and sale. Greg & Dean will be signing Locust Moon's massive publication of Little Nemo: Dream Another Dream anthology.

From 2:30pm - 3:30pm, Dean will also be partaking in "Breaking in and staying in: A career in comics" panel featuring Daryl Seitchik and Denis Kitchen, moderated by Box Brown at the Locust Moon Comics store, 34 S 40th St. Philadelphia, PA 19104 (267) 403-2856

See you there!
Monday, October 20th, 2014
---
11:24 am
- The Rise of MF Doom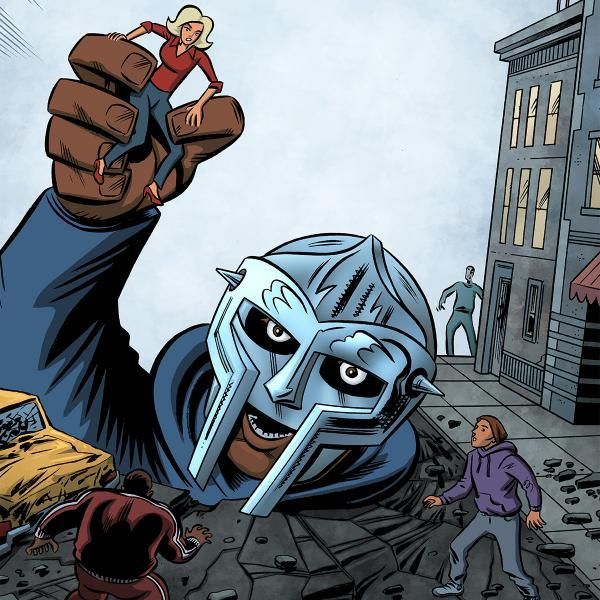 I was hired by editor Marc Weidenbaum to create a comic for Red Bull Music Academy. At first I wanted to do something on Afrika Bambaataa (who is responsible for my favorite rap song, "Planet Rock") and then I wanted to do something on Prince (my favorite singer/songwriter/musician) but I soon realized it would take a bunch of research and savvy wit to boil down such icons into 3-pages. So, I tapped music/comix writer/pal, Gabe Soria to mix it up with Marc and they settled on Daniel Dumile aka Zev Love X aka MF Doom, partially because Dumile is a fan of comic books. We decided early on that we would hip-check some of the classic tropes in Silver Age comic books to convey his "origin" (and I got the chance to draw high school chum, Michael Berrin aka MC Serch of 3rd Bass). I then roped in colorist Allen Passalaqua and letterer/writer Vito Delsante to complete the team. Marc and the fine folks at RBMA made animated magic from some of our panels and BOOM, "The Rise of MF Doom" was born.

You can read/see it here: http://www.redbullmusicacademy.com/magazine/mf-doom-comic/
(be sure to scroll down for maximum viewing pleasure)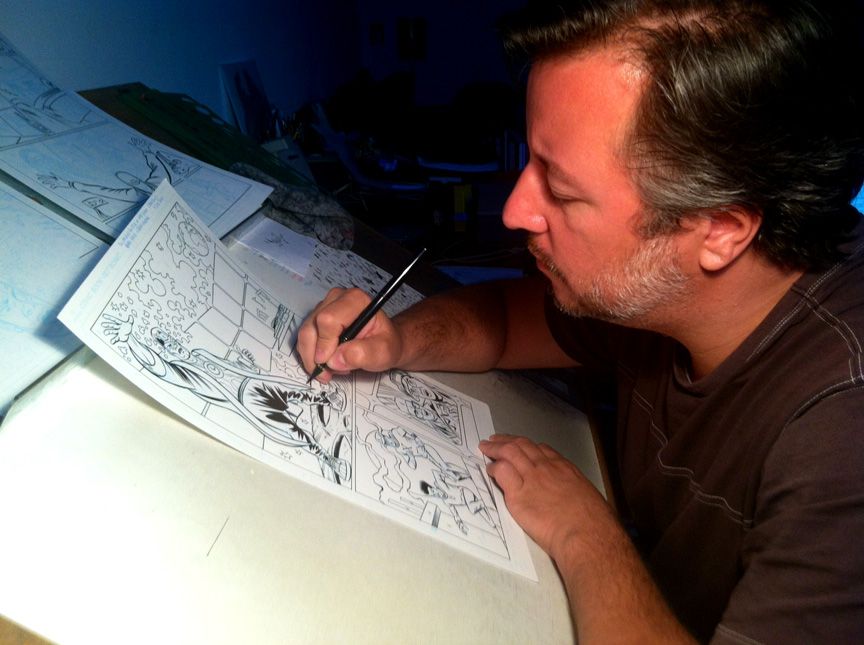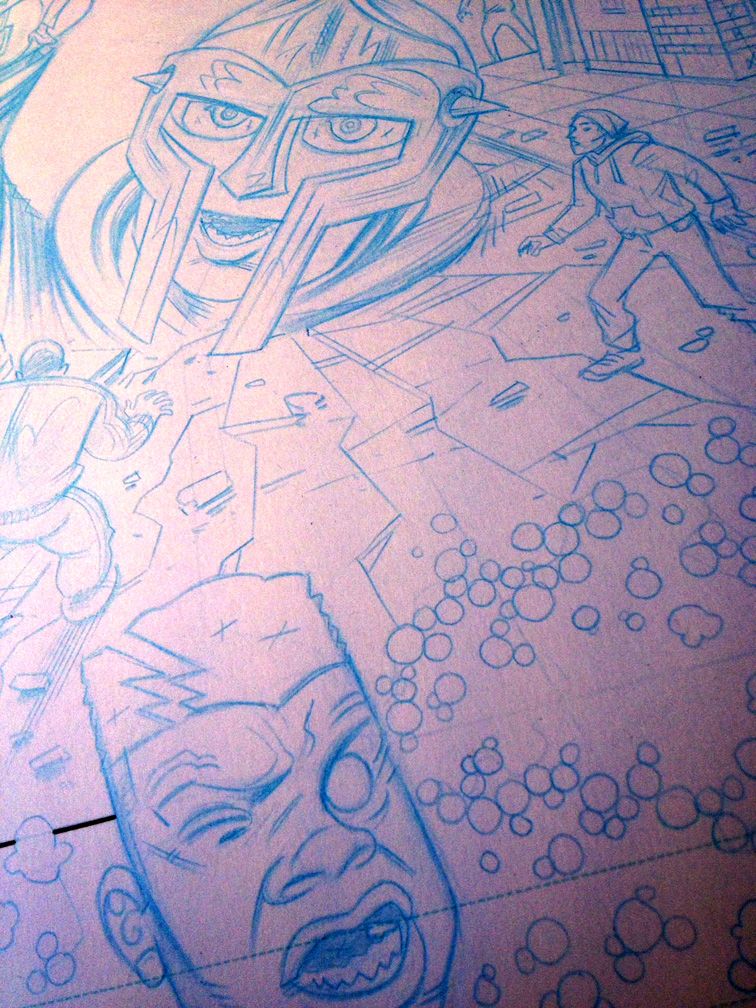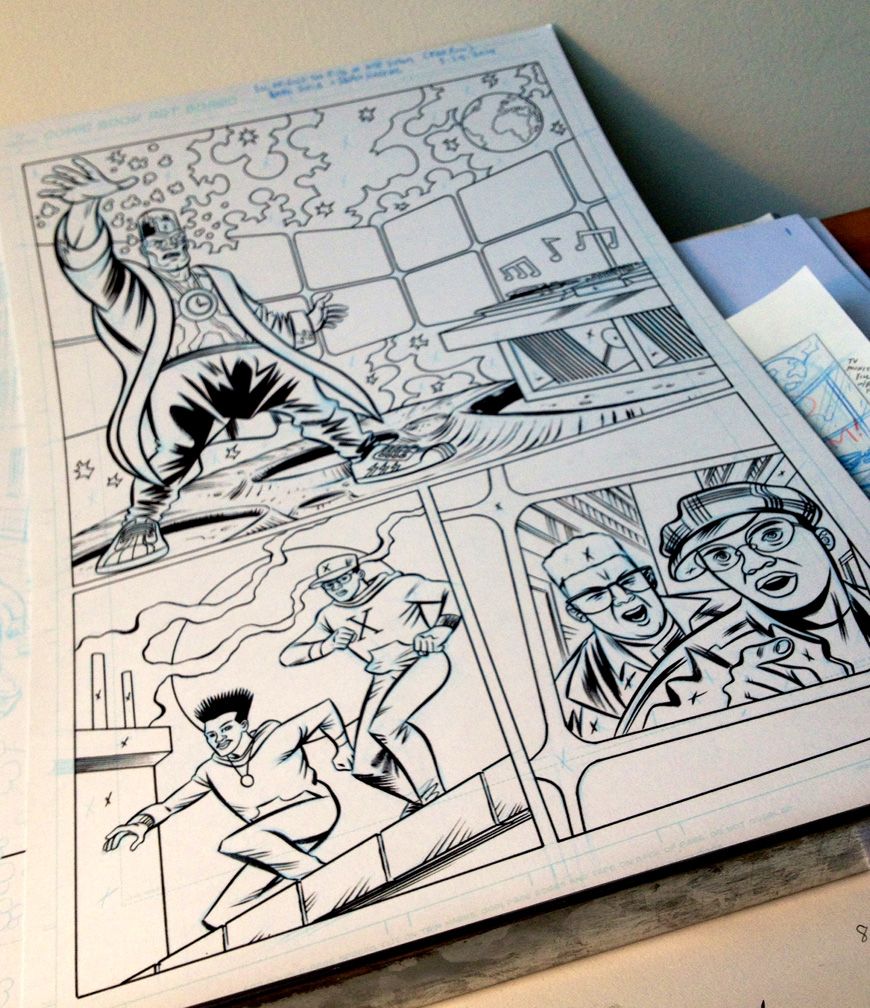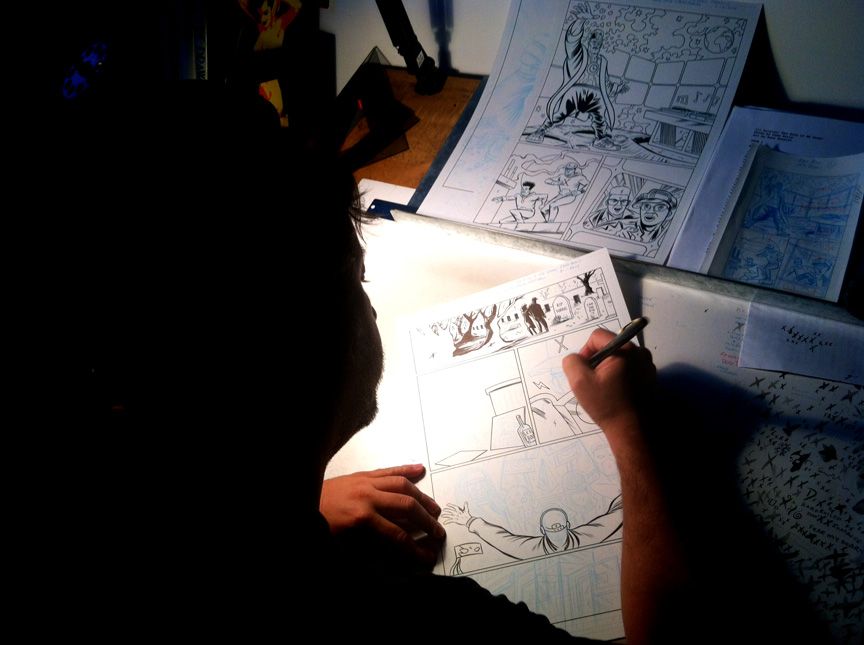 (candid Hang Dai Studios pix by studio mate, Christa Cassano)
Saturday, October 18th, 2014
---
2:38 am
- The blank page


More than half the time I sit down to make comix, I find it hard to justify my dedication to a difficult career choice. The business of comix can be crippling, a tough racket to crack. I grumble and think about all the things I've missed and the things I'm going to miss just because a story is daring me to make pictures out of words. I knuckle up and fight a storytelling solution that almost has me down for the count, spitting in my eye as I roll in the dirt until I gasp, reach for the stars, and punch its lights out. When the dust settles I stare at something that means something. Only then am I reminded of why I love comix so damned much.
Thursday, October 16th, 2014
---
11:17 am
- Newsarama: NYCC 2014: Archie's New DARK CIRCLE Line: 'The Mandate is to Tell Good Stories'
Tuesday, October 14th, 2014
---
10:43 am
- The Comics Alternative reviews FEAR, MY DEAR
"But what really drives this narrative is the sense of smart excitement emanating from every page. Reading Fear, My Dear — indeed, any Billy Dogma story — you can almost feel how much enjoyment Haspiel had in creating these comics and how much playfulness is wrapped up in all of the detail....There is fun to be had here, and if you just let loose and go along with the narrative ride, you may find wisdom in the most ridiculous of places."

Read the rest of the review here: http://comicsalternative.com/review-fear/
Monday, October 13th, 2014
---
11:00 am
- Dilvulger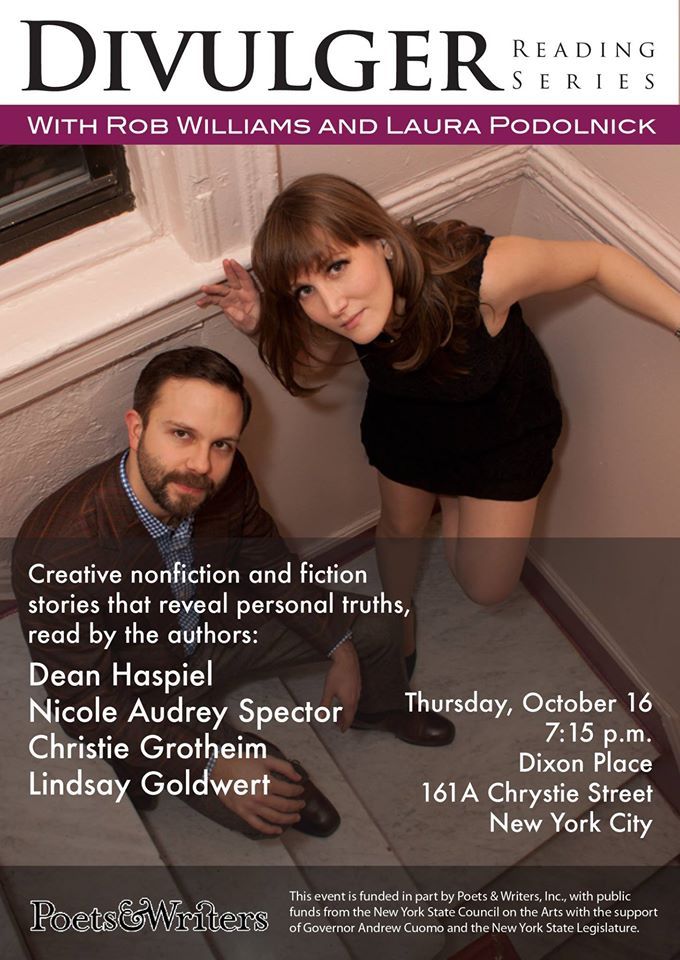 Divulger reading series hosted by Rob Williams and Laura Podolnick

"Halloween, crisp orange leaves, the start of the NBA season—October just might be the best month of the year. At least it was until they started putting pumpkin in EVERYTHING! But never mind that nonsense. Join us on Thursday, October 16, for great Halloween and non-Halloween inspired stories by Dean Haspiel, Nicole Audrey Spector, Christie Grotheim, and Lindsay Goldwert. Invite your friends! Hell, there will probably even be pumpkin-flavored beer."

Thursday, October 16th, 7pm sharp.
Dixon Place
161A Chrystie Street, NYC

Facebook event page: https://www.facebook.com/events/958772350806223/
10:56 am
- Bleeding Cool reports Dark Circle panel at NYCC 2014
"Haspiel said that his inspiration is comics he read as a kid that he just doesn't find around these days. At the beginning of the new series, Paul is "done" with superhero ways but the villains just won't let him go. Haspiel is in the middle of drawing the second issue and has already drawn an "exploding head" and the action "does not stop until the last page of issue 5″ Haspiel said."

"Haspiel teased, "If you are a superhero, don't have a son. He will bite you in the ass" regarding Fox Hunt."

"Haspiel said that going back to origins is useful and good but in this case you don't have to be "beholden" since this is about "stories" and narratives. It's important to these stories to feel something, and do appropriate stories that don't have to strictly conform to early continuity, Archie told him, and that makes things far less "stifling" as a creator."

Read the rest of Hannah Means-Shannon's Bleeding Cool report here: http://www.bleedingcool.com/2014/10/12/live-from-the-dark-circle-panel-at-nycc-with-dean-haspiel-mark-waid-alex-segura-and-more/
Wednesday, October 8th, 2014
---
11:12 pm
- The Fandom Post reviews SENSATION COMICS #8 (digital)
"Neil Kleid has a pretty fun and bouncy script here that keeps it all going well and Haspiel really hits it out of the park with his artwork to give it that old school feeling with a great touch of the present as well, and some cute nods such as the way we see the interior of the invisible jet and its parts. And that's really well helped by what Allen Passalaqua does with his use of color here. All in all, I'm typically not a fan of the actual older books and their style in my modern reading, but I love the throws to the past and they do a great job here."

Read the rest of the review here: http://www.fandompost.com/2014/10/08/sensation-comics-8-review/
1:45 pm
- CBR; NYCC EXCLUSIVE: ARCHIE UNVEILS THE LOOK OF DARK CIRCLE COMICS
"Nowhere else in comics do you get a combo like Dean Haspiel and Mark Waid -- two forces from drastically different corners of the comic book spectrum smashed together and mixed in new and interesting ways. We're also really excited to welcome Jose Villarubia to the team because Jose brings yet another perspective into the mix. All you have to do is check out the award winning "Cuba: My Revolution" book that Dean and Jose collaborated on to see what an insanely awesome combo these two artists make."

Read the rest of the article here: http://www.comicbookresources.com/?page=article&id=56085
Tuesday, October 7th, 2014
---
12:08 pm
- Dean Haspiel's NYCC 2014 schedule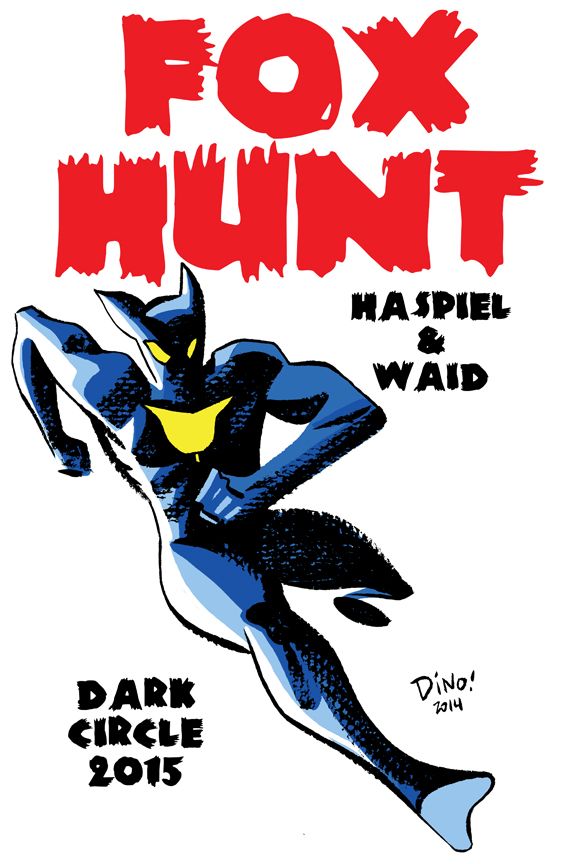 I will be at New York Comic-con ( http://www.newyorkcomiccon.com/ ) at the Jacob Javits Center this coming weekend (Friday - Sunday) where I will be signing an exclusive GARBAGE PAIL KIDS one-shot comic at the IDW booth (alongside writer Vito Delsante), and signing an exclusive Dark Circle poster featuring The Fox at the Archie/Dark Circle Comics booth. Plus, I'm speaking at the Dark Circle panel on Sunday. I will also be hanging out sometimes (possibly selling/signing comix) at new Hang Dai Studios member, Joe "The Bunker" Infurnari's table #Q12.

SATURDAY

4pm - 5pm / Signing GARBAGE PAIL KIDS Comic-con one-shot at the IDW booth.

SUNDAY

12:15pm - 1pm / Dark Circle Comics: Building the Future of Super Hero Comics Room 1A05
Get in on the ground floor of one of the most talked-about launches in comics as Dark Circle Comics Editor Alex Segura, Archie President Mike Pellerito, Editor Paul Kaminski and key Talent like THE SHIELD Co-Writer Chuck Wendig, THE BLACK HOOD Writer Duane Swierczynski and THE FOX Writer/Artist Dean Haspiel and a few Surprise Guests lay the foundation for the cinematic and literary universe of titles coming from Dark Circle Comics, including THE BLACK HOOD, THE FOX and THE SHIELD!

http://nycc14.mapyourshow.com/6_0/sessions/session-details.cfm?ScheduleID=174

2pm - 3pm / Signing GARBAGE PAIL KIDS Comic-con one-shot at the IDW booth.

4pm - 5pm / Signing DARK CIRCLE COMICS poster featuring THE FOX at Archie/Dark Circle Comics booth.
Sunday, October 5th, 2014
---
11:59 pm
- Shadowhawk's Shade reviews SENSATION COMICS #8 (digital)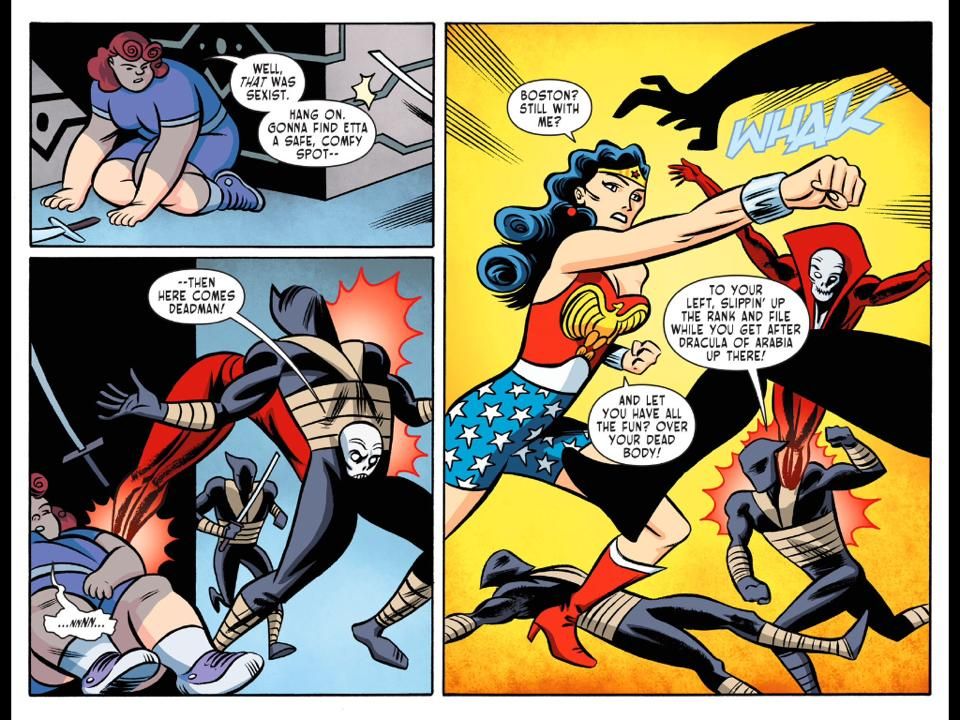 "the art is rather cartoony and it brings to mind the old cartoons and the early days of Superman in the pages of Action Comics. That's a good thing I think, since it keeps the spirit of the series alive and also manages to be a surprise at the same time. A double benefit as it turns out. Dean's Wonder Woman and Deadman are definitely warriors indeed."

Read the rest of the review here: http://sonsofcorax.wordpress.com/2014/10/05/sensation-comics-8-comics-review/
12:50 pm
- Accessibility
I'm not religious. Anybody or anything that promotes hatred and death towards individual lifestyles that don't hurt other people should be challenged. We're supposedly living in an intelligent era where access to information is easy and (mostly) understandable. So much so, we're fighting for privacy rights while becoming our very own surveillance cops via social networking/etc. Does it bother me that beheading's outside of America seems to be the norm? Sure. Watching videos of kids playing with dismembered heads is a bummer. Does it bother me that some people still think homosexuality is wrong? Yup. Who cares if you're gay? Women STILL don't have equal rights as men? How can that be? And, why was color ever a problem? But, at least we have more ways these days to TRY and understand WHY people do what they do and think the way they think. And, yeah, a lot of it has to do with differences in culture. One culture can be very different from another culture. But, instead of dropping bombs of mass destruction because we disagree with some medieval shit, let's give those people ACCESS. If I grew up and lived in VERY different circumstances (outside the realms of America, Asia and Europe the last century), and an airship flew over me and dropped a crate of iPads with access to translated comix, music & movies/etc. (you know, POP culture) -- that kind of door opening would shift all kinds of paradigms. Some might dub it propaganda but maybe it's just giving free ACCESS to other cultures where people's lifestyles are dramatically and humorously expressed via art. I'd like Islam to drop an art box on my head. Dub me a fool, but the simple act of showing other people's lifestyles and ideas, the stuff that challenges us as individuals, could make for a world-wide uprising and game changer. What you don't know you won't know until you know.