Sunday, May 31st, 2020
---
12:36 pm
- Dino FAQ


Start reading WAR CRY here: http://www.webtoons.com/en/super-hero/war-cry/ep-1/viewer?title_no=1247&episode_no=1




http://www.deanhaspiel.com/

Emmy & Ringo award winner (and Eisner & Harvey award nominee) Dean Haspiel created Billy Dogma, The Red Hook, War Cry, illustrated for HBO's "Bored To Death," was a Master Artist at the Atlantic Center for the Arts, is a Yaddo fellow, a playwright, and helped pioneer personal webcomics. Dino has written and drawn many comix for Marvel, DC, Image, Archie, IDW, Dark Horse, Heavy Metal, and LINE Webtoons; including The Fox, The Fantastic Four, Spider-Man, X-men, Deadpool, Batman, Wonder Woman, Godzilla, Mars Attacks, Creepy, The Walking Dead, SpongeBob SquarePants, and semi-autobio collaborations with Harvey Pekar, Jonathan Ames, Inverna Lockpez, Jonathan Lethem, Stoya, and Stan Lee.

Read THE RED HOOK, and WAR CRY for free at LINE Webtoons http://www.webtoons.com/en/super-hero/the-red-hook/list?title_no=643 & http://www.webtoons.com/en/super-hero/war-cry/ep-1/viewer?title_no=1247&episode_no=1

Instagram: https://www.instagram.com/deanhaspiel_art/
Twitter: https://twitter.com/deanhaspiel

Artist's Statement:
I'm impelled to excavate universal truths and impart life experiences from my unique perspective to communicate with strangers and perpetuate hope with no permissions and no apologies.

Honors:
-Yaddo fellow
-Master Artist at The Atlantic Center for the Arts
-Emmy Award winner for title design work on HBO's "Bored To Death."
-Eisner Award nominee for "Talent Deserving of Wider Recognition" and "Outstanding Webcomic."
-Ringo Award winner for "Best Webcomic 2017" for THE RED HOOK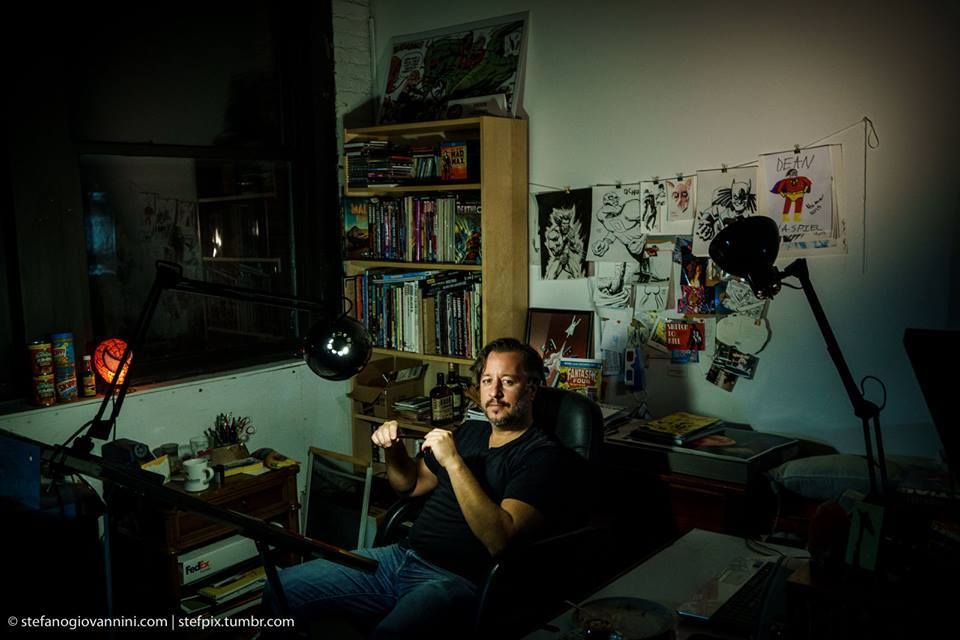 Please click here to see what Dean's been up to at TRIP CITY: http://welcometotripcity.com/author/dean-haspiel/

HANG DAI Editions: http://hangdaieditions.com/

Experiencing Yaddo First-Hand: An Interview with Cartoonist Dean Haspiel: http://thefreegeorge.com/thefreegeorge/dean-haspiel-yaddo-interview/

The Atlantic Center for the Arts: Residency #147: http://welcometotripcity.com/2012/12/the-atlantic-center-for-the-arts-residency-147/

Tom Spurgeon interviews me for The Comics Reporter: http://www.comicsreporter.com/index.php/cr_holiday_interview_2_dean_haspiel/

Poet Sandra Beasley interviews me for Barrelhouse Magazine
http://www.barrelhousemag.com/barrelhousing-with-comic-artist-dean-haspiel-an-interview-by-sandra-beasley/

Dean Haspiel speaks at The Library of Congress: http://www.loc.gov/today/cyberlc/feature_wdesc.php?rec=5709

ATTENTION Art Directors, Editors, Publishers, Writers, Etc: if you'd like to see current samples of Dean Haspiel's art, please check out his gallery: http://welcometotripcity.com/2012/01/dean-haspiel-gallery/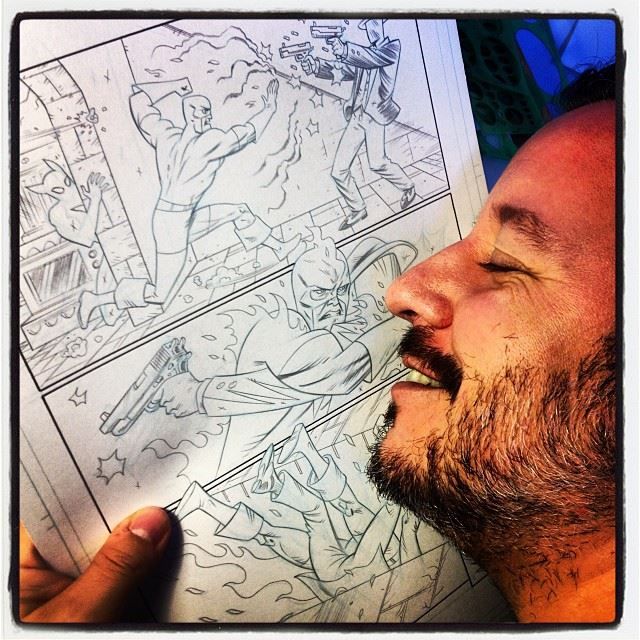 (
Click here for comix, interviews, news, videos, and other essential links
Collapse
)
Thursday, February 22nd, 2018
---
9:14 pm
- IndieGoGo campaign for Dean Haspiel's THE LAST BAR AT THE END OF THE WORLD


We've launched an IndieGoGo campaign for my new play, THE LAST BAR AT THE END OF THE WORLD, produced & directed by Philip Cruise.

Off-Broadway theater is difficult to produce, especially in NYC, and any support you can give; monies, spread-the-word, cheer, etc., is helpful and we're incredibly grateful.

Philip Cruise, Stoya, Seth Gilliam and I got together and shot a fun video for y'all, thanks to our filmmaker pal, a good/old friend of mine, Shannon Goldman.

Here is a link to the crowdfunding page and video with all its campaign perks: https://www.indiegogo.com/projects/dean-haspiel-s-last-bar-at-the-end-of-the-world#/
1:03 pm
- Will Eisner: Breaking Fourth Walls since 1940 at NY Comics & Picture-story Symposium, 2/27/2018 @7pm
I will be speaking at Will Eisner: Breaking Fourth Walls since 1940 (if not earlier) at The 209th meeting of the NY Comics & Picture-story Symposium which will be held on Tuesday, Feb. 27, 2018 at 7pm at Parsons School of Design, Kellen Auditorium (Room N101, off the lobby), Sheila C. Johnson Design Center. 66 Fifth Avenue. Free and open to the public.

Join comics writer and historian Danny Fingeroth (chair of Will Eisner Week) and a panel of fourth-wall-breaking experts including Dean Haspiel (The Red Hook), R. Sikoryak (The Unquotable Trump) and Miriam Katin (Letting It Go) as they explore Eisner's innovative illusion-shattering in comics, and place it in an enlightening context of creative risk-taking in other comics and in other media.

https://nycomicssymposium.wordpress.com/2018/02/21/will-eisner-week-event-feb-27-2018-at-7pm/
12:56 pm
- Image Comics to print publish Dean Haspiel's THE RED HOOK
Saturday, February 10th, 2018
---
1:50 pm
- Algorithms
Algorithms? The more you share hate & garbage the more stool surrounds your pool. Want a sewer or a clean moat to dive into? Celebrate what you like & love; what you did & do, and shift your algorithms towards the light.
Thursday, February 8th, 2018
---
4:12 pm
- Dean Haspiel at Long Beach Comics Expo & C3 2018


I am a guest at C3 (Comic Creators Conference) and Long Beach Comics Expo 2018 from February 16th - February 18th, 2018 and will be doing panels and signings all three days. Please come see me and ask about my current projects.

C3: http://longbeachcomicexpo.com/c3-comic-creator-conference/
LBCE: http://longbeachcomicexpo.com/

FRIDAY, February 16,

3:10-3:55pm / C3 Session 1: Comic Book Production - The Digital Workflow
Come learn how the whole production puzzle comes together, and where all the pieces fit in the digital workflow of creating comics. Join Adobe Education Leader Sean Glumace, colorist David Baron, publisher/writer Chris Dickens, and artist/writer Dean Haspiel for this panel on how the Adobe Creative Cloud and other programs are used in comic book production workflow from layouts, artwork, coloring, lettering, design, production, and more. Come learn how to put the whole production puzzle together, and where all the pieces fit. Adobe will be giving away a 1 year (12 month $599 value) subscription to the Adobe Creative Cloud during the panel.

SATURDAY, February 17

SPACE EXPO signing booth #148:
1pm-2pm Dean Haspiel

4:00pm-5:00pm / Room 103 / Shelfing Yourself–Adventures in Self-Publishing!
Join comics entrepreneurs Buddy Scalera, Dean Haspiel, Barbara Randall Kesel and Neo Edmund for an insider's view of the joys and perils of making your own books!

SUNDAY, February 18

12:30pm-1:30pm / Room 104 / The Webcomics Advocates Present: The Webcomics Gathering
Join a group of experienced webcomics creators – including Dean Haspiel (THE RED HOOK, WAR CRY) – as they celebrate and discuss the exciting world of webcomics! Any webcomic creators in the audience will get thirty seconds to promote their comic to the crowd. All creators and fans are welcome!

SPACE EXPO signing booth #148:
2pm-3pm Marc Bernardin and Dean Haspiel
3:34 pm
- "Comics Industry Asks 'NYT' to Restore Graphic Bestseller Lists"
Here is a link to a Publisher's Weekly article about the comics industry asking The NY Times to restore Graphic Bestseller lists for graphic novels: https://www.publishersweekly.com/pw/by-topic/industry-news/comics/article/75998-comics-industry-asks-nyt-to-restore-graphic-bestseller-lists.html

I honestly have mixed feelings about lists like this. Artistic merits aside, it becomes a popularity contest for publishers with deep pockets, great business relationships, intensive marketing campaigns, and lazy consumers. These lists NEVER sway me to see a movie, read a book and/or listen to an album. Never have. Never will. HOWEVER, I have to assume lists like these influence A LOT of consumers. So, there is a lot of power in these lists.

Bottom line: let's give graphic novels their due; give 'em some space to share among books, movies, music and other popular media in our go-to-institutions for "what sells" (if not necessarily "what's cool"). Lord knows graphic novels SHOULD sit at the same table as the others. And, let's not forget the outliers and small comix publishers who fight the good fight and never even get a mention on them there lists while they continue to innovate the form.

In other news, when are we gonna get more webcomic reviewers? As much as I covet & crave print, the future is digital. The future is in your hands (literally). Let's tell our print comix fans more about it.

ADDENDUM:

A comix peer asked, "If anything it'll encourage competition among creators. I can't speak for the comics community as a whole but at CCS there didn't seem to be much encouragement of competition which I think is important in creation of anything your planning on selling."

I responded:

Healthy competition is good. But, there are games being played that a bunch of cartoonists and publishers don't have a rook, much less a pawn, to enter the game with.

The comix peer asked, "Do you mean going up against companies like Marvel and DC? Because now may be the perfect time to hit them as Marvel is losing a lot of its long-time fans due to poor characters and stories with their big-name arches like Iron Man and Miss Marvel."

I responded:

Actually, Marvel doing well makes everyone in comix do well. Their sales uplifts the industry. Marvel Comics is the product that saves most brick & mortar comix shops from going under. So, in a way, the NYT List I have some gripes with is, at the very least, keeping cats like me alerted to what consumers are consuming while I wrestle with art over commerce concerns. And, I have no beef with large corporations who finally broke through (historically, Marvel has been on the brink of shuttering every decade, until now). When DC Comics starts to make more successful movies & TV that rivals Marvel, therein lies a healthy superhero competition, but it's still an upward battle for other kinds of comix that DON'T have eons-old Intellectual Property to exploit via movies/TV/etc.

It's a bigger, longer, more complex discussion to have than I can muster online, but the NYT List -- and others just like it -- never represent what any given form has to fully offer, DESPITE sales. Everyone know you can't pay rent with critical acclaim.
1:01 pm
- Romance genre
Tuesday, February 6th, 2018
---
12:20 pm
- Simple sophistication
First decade of Marvel comics is near perfection in terms of character designs, narrative clarity, and reader availability. That, and C.C. Beck's Captain Marvel, and Bob Montana's Archie. I try to employ those same graphic/narrative tenets in my recent work (The Fox, The Red Hook, War Cry, etc.) where less is more and colors define character and space. Character designs in comic books should've quit right after Rich Buckler's Deathlok.
Saturday, February 3rd, 2018
---
3:29 pm
- The Lone Ranger
Someone close to me started binge-watching STRANGER THINGS (please don't spoil it, I've only seen the first 3-episodes) and she complained that she hadn't left her chair in hours and was hungry; had to get up and move around, cook dinner, walk the dog. I told her about a bunch of other good shows she could watch and joked that all she needed to do was order in take-out food, fill a cooler with drinks, and get a bed pan. We laughed about that kind of ridiculous predicament. And then it occurred to me -- there are hundreds of thousands of people who live alone and watch a lot of TV, right? My idea is to design THE LONE RANGER; a comfortable lounge chair that can lean back into a horizontal "sleeping" position AND also serves as a toilet. You're alone so there's no one around to offend, right? You can start off your day filling up the cooler with drinks, grab a handful of money or a credit card, some take-out food menus, a roll of toilet paper, and your smart phone, sit down and watch all the TV you ever wanted to and never have to leave your seat until it's time to hit hay. And, even then, you might just call it a day and sleep in the comfort of your LONE RANGER. The executive version of THE LONE RANGER could provide heat and massage capabilities. Anybody know anything about getting a patent?
Friday, February 2nd, 2018
---
12:03 am
- Breaking into comix as a writer in 2018
I received an email recently from a freelance writer asking me advice about breaking into the comic book business and if I knew of anyone that was hiring. The writer was looking for a full-time job in comics.

This is how I responded:

I'm two months away from having no paying work in comix. When you're an old, freelance semi-outlier like me who hopscotches between occasional mainstream work and living by the skin-of-your-teeth indie/alternative comix, you live paycheck-to-paycheck. And, that's WITH a solid 25-year resume to recommend you. Yeah, working in comix is anxiety-inducing; mentality & physically unhealthy. And, because I've been at this for way too long, I don't know that I have any NEW insight into scoring a writing gig except that you gotta pair up with an exciting/intelligent artist who is committed to developing/co-creating a comic (basically for free) and pitching it to the best publishers. If you're lucky enough to gain interest and a fair deal, cross your fingers that your series scores loyal readers and sells. Market the hell out of your wares and don't disappear.

I still covet print but digital is where it's at. Post your comix online, get traction. Use places like LINE Webtoons; upload your stuff in their "Discovery" section. Launch a Patreon. Show up to comix shows/events/signings. Be part of the community. It's very rare that a creator shows up outta nowhere and sticks the landing right out of the gate.

Keep writing. Write for other venues. Get your name out there; become synonymous with comix. Make friends with artists and collaborate on small/doable stories. Spark a weekly webcomic if you can.
Sunday, January 28th, 2018
---
4:57 pm
- Private reading of THE LAST BAR AT THE END OF THE WORLD


Last night we hosted a private reading of THE LAST BAR AT THE END OF THE WORLD at The Parkside Lounge. It's always helpful to hear written words performed in front of a live audience, even if it's just a reading and not the actual theatrical version. You get a sense of how people react to certain lines, monologues, and scenes, and if the entire piece resonates. Luckily, we got a great response to the reading and we're heading into production for an early April show. Details once I have them. Thanks!


Saturday, January 20th, 2018
---
1:13 pm
- Michael Haspiel inducted into Mego Museum Customego Hall of Fame
12:28 pm
- The business of art
I create because I have to. Because I have this thing in me that boldly expresses itself and wishes to communicate. No permissions, no apologies. That's the easy part. The hard part is turning that creativity into a business, into commerce; into a product. And, that's where things often go sideways. We live and we learn to stay on message despite alternative motives, pop-up influences and soul-crushing obstacles. It's tricky to trudge through but you'll thank yourself and those who support you when you cross the finish line. Nobody put a gun to your head. Go with your gut.
Monday, January 15th, 2018
---
3:16 pm
- MLK
Martin Luther King Jr is the first hero my parents taught me about and his compassion, resistance, tolerance & revolution resonates with me every day. Happy birthday, kind sir. We shall overcome.
Friday, January 12th, 2018
---
2:16 pm
- Public appearance
Having been lucky enough to be on the other side of the table; the person who's wares people (fans, peers, etc.) come to get signed & appreciated/etc. (thank you very much), doing public signings CAN be tricky. I'm usually empathetic for the "odd man out," especially since I grew up wondering if I was odd for loving comic books (so much so I made it my career), but having grown up in NYC and trucked around artists all my life, I'm used to personality variables and I've tolerated or navigated many a challenging confrontation to a modicum of success. But, there have been incidents that made me question future signings as certain "fans" become self-entitled to the creation and/or exploit access to the creator. For a guy who was never shy to rip off his t-shirt in public just for the fun of it, I've started to hesitate attending upcoming events, including ones I'm NOT the focus of because of the unsolicited, overt intimacy that the legacy of the work and/or social networking purports to yield. Listen, I know what it feels like to connect to the work, to feel that I connect with the author/s of said work, but I also know there is a socially acceptable line that can only be crossed respectfully once a human connection is brokered.
Saturday, January 6th, 2018
---
12:55 pm
- Being the Monkey
I don't mind the occasional video and live stream for promo purposes but what I mostly do is draw comix and sometimes write theater -- which isn't that fun to watch evolve in real time. Suddenly, you find yourself having to entertain while working. Sure it can be educational to show what you do but I'm no teacher. In 2006, I helped lift the veil between creator and creation online via ACT-I-VATE; unlocking the doors to any and all so they could potentially invest more in the product; manifest a loyal fan base of sorts, and I sometimes regret that. It can kill the magic and sparks an expectation that the creator MUST share their process and secrets more than ever before. As if process is now part of the final experience. For some projects that's true and/or serves the world of that project but for others I find it bloated and unnecessary. Again, this is coming from the guy who sometimes takes off his shirt in public (with the aim) to get people to read his free webcomic (<---in retrospect, that's kinda sad). Sharing ancillary aspects online to create the verisimilitude of intimacy between product and consumer is a recent conundrum for me. I no longer wish to be the monkey for my art. I just want to make the art or, at the very least, the thing I wish to express sans bells and whistles. I wish to be the author, not the publicist AND publisher AND distributor but that's where things are these days in our crowd-funding/Patreon world for stay-at-home entrepreneurs (and I'm seriously considering those financing models). I get that ya gotta beat the drum and show up to your own party but I fear that if you don't publish the process on social networking venues -- well -- then maybe it didn't happen and maybe the end result doesn't carry the same weight. And, for a lot of creators, that ONE day of the year that you release your art gets lost in the deluge of chatter and gossip and shame. Now, imagine trying to achieve that once a week? Welcome to the popularity contest called "Your Life." Unless you have big connections and deep pockets, who can compete with the digital ticker tape of outrage culture coupled with consuming an abnormal amount of STUFF for free as long as you can pay the monthly phone bill? I know it's not that black & white but turning 50 last May and still trying to make ends meet while struggling to sway middle-aged folks like myself to NOT wholly abandon the internet and subscribe to yet another damned thing just to keep up with ME, ME and ME, while concurrently trying to appeal to self-entitled, attention deficit consumers is a bitch (and, frankly disheartening) and has me thinking a lot about this stuff and what to do, rather than focusing on the stuff I love to make in hopes that you will love it, too. It's exhausting.
Thursday, December 28th, 2017
---
5:42 pm
- WAR CRY is one of Comicon's 8 Best Webcomics Of 2017


"War Cry debuted in early December, but dropped several chapters at the same time on this free reading platform. Though this is the follow up to his award-winning Line Webtoon comic The Red Hook, Haspiel is exploring quite different themes in many ways. While The Red Hook questioned superheroic tradition in a separatist realm known as "New Brooklyn", and looked at the problematic rise of an unwilling hero, War Cry is set to explore notions of identity and personal aspirations toward doing good through its central hero, a being comprised of a young African American man who forms a hybrid being with a resurrected female hero from the previous storyline. Together they become greater than either could have individually been, but the wild rogues gallery they are up against is all the more overwhelming, and there are big stakes in this new comic, publishing on Wednesdays each week. Haspiel's artwork is getting even more expansive and experimental in this new tale, bringing a liveliness to linework, whether in emotional encounters or fight scenes, that continues to feel inspirational. There's an idealism in his work, however much it is tempered by a questioning attitude, that continues to shine a light of hope for the reader."

http://www.comicon.com/2017/12/28/comicons-8-best-webcomics-of-2017/

Thank you, Comicon.com (and Hannah Means-Shannon)!
Saturday, December 16th, 2017
---
6:51 pm
- The Harakiri Kane roundtable interview at Comicon.com


Hannah Means-Shannon hosted a wonderful, in-depth postmortem round table interview at Comicon.com for my recent play "Harakiri Kane" with me, director/actor Ian W. Hill, and actors Stoya, Alex Emanuel, Alyssa Simon and Philip Cruise. We also officially announced my next play mounting in Spring 2018.

Excerpts:

Hannah Means-Shannon: For all its earthiness, Harakiri Kane is still a play with a lot of surrealism. What do you think non-realistic elements open up for you as a performer or for audience members?

Dean Haspiel: Harakiri Kane is bare bones in its surrealism where metaphor and levity helps anchor the reality of the drama. Absurdity and humor allow a serious or less-open mind to absorb and confront things in a more generous way. Sometimes a punchline can manifest clarity.

I don't believe we can ever truly know anyone by mapping their trends. It's lazy. Individuals are a bouillabaisse of emotional curve-balls. Inter-dimensional, like a Dr. Strange astral plane drawn by Steve Ditko. Put six people in a locked room with a loaded handgun and we'll find out what's what with who's who. Which is why I prefer to indulge what makes the heart beat over what makes the mind tick. I write with my gut.

HMS: Do you have backstory and crossover with other art forms in your life beyond the theater? Can you tell there are influences from various art forms in Harakiri Kane?

Dean Haspiel: My mother was deputy director at The NY State Council of the Arts, and my father wrote about Hollywood blonde bombshells for magazines, and even wrote a few books about Marilyn Monroe, who he knew the last eight years of her life. My godmother was Shelley Winters and she introduced my parents to each other. I grew up around actors and theater, but I never thought I'd be writing plays one day. My eye was on making comic books. Possibly movies.

Harakiri Kane was inspired by true life events coupled with things I took away from Wim Wenders' Wings of Desire, Warren Beatty's Heaven Can Wait, and Tobe Hooper's The Texas Chainsaw Massacre. Writing theater is a departure from writing comics, but both mediums encourage me to express human connections in different ways. With comix I tend to draw a lot of kinetic action, where punching is not far from kissing. In theater, I shape conflict between living human beings staggering around a square space reckoning with their truths.

HMS: What elements in the play did you connect with most that helped you find a way into it and the ability to interpret it for an audience?

Dean Haspiel: Because the premise of Harakiri Kane is far out–agents of death shepherding the dying and the dead–I had to focus on what connects us as strangers. What makes each of us vulnerable, while seeking some understanding of why we're here. What we expect from life. I believe a lot of people go to sleep and wake up thinking about a lot of unanswered questions.

I'm a fan of Edward Albee, Tennessee Williams, Harold Pinter, Arthur Miller, David Mamet, Tracy Letts, Ian W. Hill, etc. But, it wasn't until I saw Eugene O'Neill's Long Day's Journey Into Night in 2003 at the Plymouth Theater in NYC, featuring the late Philip Seymour Hoffman, that I first understood the menace of theater. I remember sitting in the audience wondering "Why is Hoffman in the play?" He was known for a certain gravitas in his movies but, in this bleak play he seemed to barely act.

It wasn't until the 2nd or 3rd act that Hoffman exploded the stage like a time bomb. It was emotional, yet devastating, and something clicked inside my head. Hoffman, like his character, had been waiting to say what he needed to say but everything in that play, up to that point, was against him. The world was an obstacle and he had to tear it all down. I remember thinking about Hoffman's performance for weeks after. How had he exploited the limitations of a stage, the lack of close-ups and angles, bereft of music to manipulate your emotions? He just stood there with his body and voice and shivered his emotions into you. Into me. It was brutal. Years later, Philip Seymour Hoffman would actually run into me, knocking me over, but that's another story. I fell in love with the power of theater and realized it could never truly be mirrored in any other medium.

In Harakiri Kane, a character named Jack talks about his disgruntlement with the way we currently consume culture. He states, "Besides convincing the world that content should be free and allow ineffectual people to feel self-entitled, the worst thing the Internet ever did was brandish the false concept that you don't have to actually be there–to be there." Later on, Jack ultimately concludes that "Surveillance has replaced experience."

HMS: It looks like this whole cycle of plays might end up with a New York flavor, as much dramatic and fictional as based on reality. Do you think evoking known and shared locations makes it easier or more effective to reach an audience?

Dean Haspiel: My first play, Switch To Kill, was a psychological crime noir. My second play, Harakiri Kane, was an existential gore noir. My next play, The Last Bar at the End of the World, is more autobiographical with a twist of metaphysical, and is about troubled people reckoning with lost love and the sages in their lives. Some of the people they meet trade in the same universe that I've been writing all three plays in. Stylistically, all of my stories take place in a German expressionistic version of a spaghetti western NYC, where Giallo and the Grand Guignol intersect.


Please read the entire, intensive round table here: http://www.comicon.com/2017/12/15/the-harakiri-kane-roundtable-interview-with-dean-haspiel-ian-w-hill-stoya-alex-emanuel-philip-cruise-alyssa-simon/
Wednesday, December 6th, 2017
---
8:15 pm
- Heed The War Cry – Dean Haspiel Discusses A Person Of Mass Destruction


Hannah Means-Shannon interviews me about WAR CRY at Comicon.com

Excerpts:

Hannah Means-Shannon: War Cry starts with a homeless orphan and a transformative experience of finding others. It reminds me of elements of classic super hero narratives, but at the same time, it seems new to me among the works you've created. Is this new ground for you?

Dean Haspiel: I'm definitely exploring new territory with WAR CRY. A kind of emotional conflict I've been thinking about for many years. And, with today's politically charged climate, one could hazard that I'm not the artist that's "allowed" to write and draw a story like this because it features a teenage African-American boy named Rajak who shares a body with a cosmically resurrected African-American woman; The Red Hook's dead-girlfriend who has become a Human of Mass Destruction!

But, I was careful in finding a way to tell the tale while respecting boundaries. And, even though I didn't have access to consult a war goddess (relying solely on my imagination), I did grow up with a diverse group of friends, including Mike Hueston, my best friend since we were 12-years old, and I got to observe and share in his plight as an African-American growing up in the 1970s/80s NYC.

HMS: What is the appeal (and I feel it too) of the weird, wild, and wacky heroes and villains from the Golden and Silver Age of comics—the ones who never became big stars? Where do you find the biggest troves of that strangeness?

It must have influenced War Cry and the whole New Brooklyn Universe. That kind of underground energy of super hero traditions without traditional super hero constraints is very compelling.

DH: Weird heroes are the best. I'm influenced by the oddities of Jack Kirby, Steve Ditko, Stan Lee, C.C. Beck, Alex Toth, Will Eisner, Ramona Fradon, Irwin Hasen, Wally Wood, Gil Kane and a bunch of Golden and Silver Age cartoonists. But, as much as we love the more popular superheroes, there's something undeniable about the off-beat heroes that skate the outskirts of normality. I've written and drawn Marvel's Woodgod. I've drawn DC's Wildcat, and, I've plotted and illustrated Archie's The Fox. More recently, I've created a gallery of absurd yet meaningful characters for New Brooklyn because that's how I wrestle with the world and those are the kinds of misunderstood monsters I'm attracted to. It's their stories I wish to convey.

HMS: War Cry will raise some eyebrows in terms of gender perceptions, since our hero is a teen boy who becomes a female hero when he transforms. And as he seems to express, some of his proudest moments happen as a woman. What did you want to express about gender here? How do you hope fans will respond to it?

DH: Everyone knows women are more intelligent and more powerful than men. I've admired women all my life. Most of my best friend's are female. My mother is my mama but she's also a great pal. So, when I realized in War Cry that the boy was gonna transform into the most powerful hero of all, he had to become a she. Who's kidding who? And, anybody who has a problem with that, well, they're just thinking with their dick.




War Cry is influenced by Jack Kirby's O.M.A.C. (One Man Army Corp), C.C. Beck & Bill Parker's Shazam (the original Captain Marvel), Gerry Conway & Al Milgrom's Firestorm, and Steve Ditko's Hawk & Dove. Think of a black Billy Batson shouting "War Cry" instead of "Shazam," and, instead of transforming into the world's mightiest mortal, he turns into a female version of O.M.A.C. (or O.W.A.C.) where she is Hawk to his Dove with a Firestorm complex. You'll have to read the damned comic to understand what I'm going for.

HMS: Is this the first female hero you've focused an entire series on? Do you think that changed the dynamic of your work at all?

DH: Not really. Female protagonists have always bolstered my male protagonists. Jane Legit is the smart one, the empathetic one who helps Billy Dogma find his way in my "last romantic antihero" series. Ava Blume aka The Possum aka War Cry is the emotional foundation for Sam Brosia aka The Rascal aka The Red Hook. But, I usually tell my tales through the male perspective because I'm a man. It's no secret that my art, and my life, is profoundly affected by women.

HMS: Tell us about how Red Hook operates in this story. How much of his legacy is still present? I mean, he's got some serious unresolved issues to deal with, surely. Not least that his [semi] deceased girlfriend Ava is now more powerful than him.

DH: The Red Hook is a bruiser with an uneasy past who was forced to become a superhero against his will or he would die. By the end of the first story arc, he embraced his fate as a fighter for good, but his world's been turned upside down by the proposed death of his lover, The Possum, who has now been resurrected into a teenage boy. It's a cluster fuck that's only compounded by the fact that The Red Hook's semi-psychotic mother has become a vigilante who calls herself The Coney. In War Cry, this sequel will reveal new things about The Red Hook's family and challenge ideas of how to rekindle romance with a cosmic war goddess who shares a body with the opposite sex.

Read the entire interview here: http://www.comicon.com/2017/12/06/heed-the-war-cry-dean-haspiel-discusses-a-person-of-mass-destruction/

Start reading WAR CRY for free: http://www.webtoons.com/en/super-hero/war-cry/ep-1/viewer?title_no=1247&episode_no=1