Sunday, May 31st, 2020
---
12:36 pm
- Dino FAQ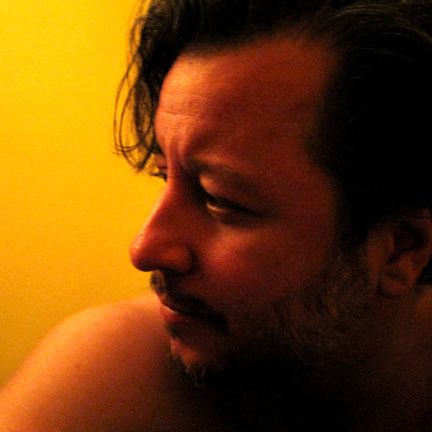 http://www.deanhaspiel.com/

Emmy award winner and Eisner and Harvey Award nominee Dean Haspiel created BILLY DOGMA, illustrated for HBO's "Bored To Death," was a Master Artist at the Atlantic Center for the Arts, is a Yaddo fellow, a playwright ("Switch To Kill"), helped pioneer personal webcomix via ACT-I-VATE and TRIP CITY.net, and is the co-founder of HANG DAI Editions. Dino has written and drawn many comix including The Fox, The Fantastic Four, Spider-Man, X-men: First Class, Deadpool, Batman, Wonder Woman, Godzilla, Mars Attacks, Creepy, The Walking Dead, and semi-autobio collaborations with Harvey Pekar, Jonathan Ames, Inverna Lockpez, Stan Lee, Jonathan Lethem and Mark Waid. Look out for his latest graphic novel, FEAR, MY DEAR: A Billy Dogma Experience.




Please click here to see what Dean's been up to at TRIP CITY: http://welcometotripcity.com/author/dean-haspiel/

Experiencing Yaddo First-Hand: An Interview with Cartoonist Dean Haspiel: http://thefreegeorge.com/thefreegeorge/dean-haspiel-yaddo-interview/

The Atlantic Center for the Arts: Residency #147: http://welcometotripcity.com/2012/12/the-atlantic-center-for-the-arts-residency-147/

Tom Spurgeon interviews me for The Comics Reporter: http://www.comicsreporter.com/index.php/cr_holiday_interview_2_dean_haspiel/

Poet Sandra Beasley interviews me for Barrelhouse Magazine
http://www.barrelhousemag.com/barrelhousing-with-comic-artist-dean-haspiel-an-interview-by-sandra-beasley/

Dean Haspiel speaks at The Library of Congress: http://www.loc.gov/today/cyberlc/feature_wdesc.php?rec=5709

ATTENTION Art Directors, Editors, Publishers, Writers, Etc: if you'd like to see current samples of Dean Haspiel's art, please check out his gallery: http://welcometotripcity.com/2012/01/dean-haspiel-gallery/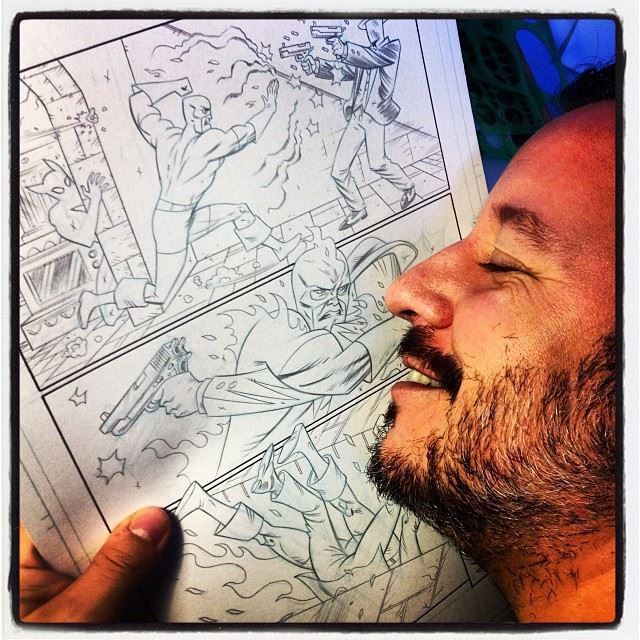 (
Click here for comix, interviews, news, videos, and other essential links
Collapse
)
Monday, May 25th, 2015
---
4:07 pm
- Neither.
It's when you relax and/or go to the doctor for a check up that you discover how broken you are. I choose to do neither.
1:47 pm
- The impossible conversation
The technology and the culture of "social networking" is making it worse for creators to navigate and indulge. An ugly shame that publishers, editors, et al, expect - nay - nearly DEMAND that creators make a daily show of it while sacrificing the quality of their work and their life just to gain one more "click" -- whatever that "click" (clique?) is supposed to mean. I'm seriously considering bailing the digital water cooler - the impossible conversation - for a more peaceful yet proactive life. Let my work speak for itself.
11:26 am
- Toon Books at Book Culture - Thurs, May 28th
Saturday, May 23rd, 2015
---
2:07 pm
- The day Seth Kushner died
Hang Dai Studio mates, Seth Kushner and Christa Cassano are/were the two people I sent my comix art to every time I completed a page. I counted on them to weigh in on what I had done. In a way, when they were happy with what I did, I felt it was "published" months ahead from actual publication. I used to have this same arrangement with Josh Neufeld in the 1990's. Only, instead of email, we used a Fax machine.

Anyway, Seth and I (and a few others) were/are developing a Brooklyn Comix anthology that would incorporate four major characters into one book, including Seth & Shamus Beyale's The Brooklynite, and my very own, The Red Hook. For the pitch package, I decided to add a two-page addendum to my Red Hook portion of the project, expanding a four-page comic into six. I wrote the additional script and Seth approved it a month or so ago. The week before Seth passed away, I decided to draw those two extra pages. I finished the first one on Friday and emailed it to Seth. He loved it. Always encouraging. I finished the line art for the second page on Saturday and was lettering and coloring it on Sunday at Hang Dai Studios when I received the news, early afternoon, that Seth was no longer with us. Dealing with hard feelings, I was locked into finishing that damned page in honor of Seth, knowing he would never see it. Knowing he would never be able to comment and give me that much coveted high-five I must have relied on a thousand times. I sat and cried and worked on that page all day Sunday, glancing at Seth's empty blue desk just a feet from my art table while staring at that Lion-headed Superman painting that hung above his desk, representing Seth and his brave battle with Cancer. I finished that damned page and cried the roar of a thousand lions.

When I looked up and saw what I had finished, I was taken aback. I was the proverbial deer in headlights, working on that page all day with Seth in my heart, trying to cope with the loss of one of my best friends. And, hidden there, inside the comic was a profound message, a spiritual guide lending me a hand to help start a life where Seth is no longer in front of me but, instead, all around me. All around us. Forever.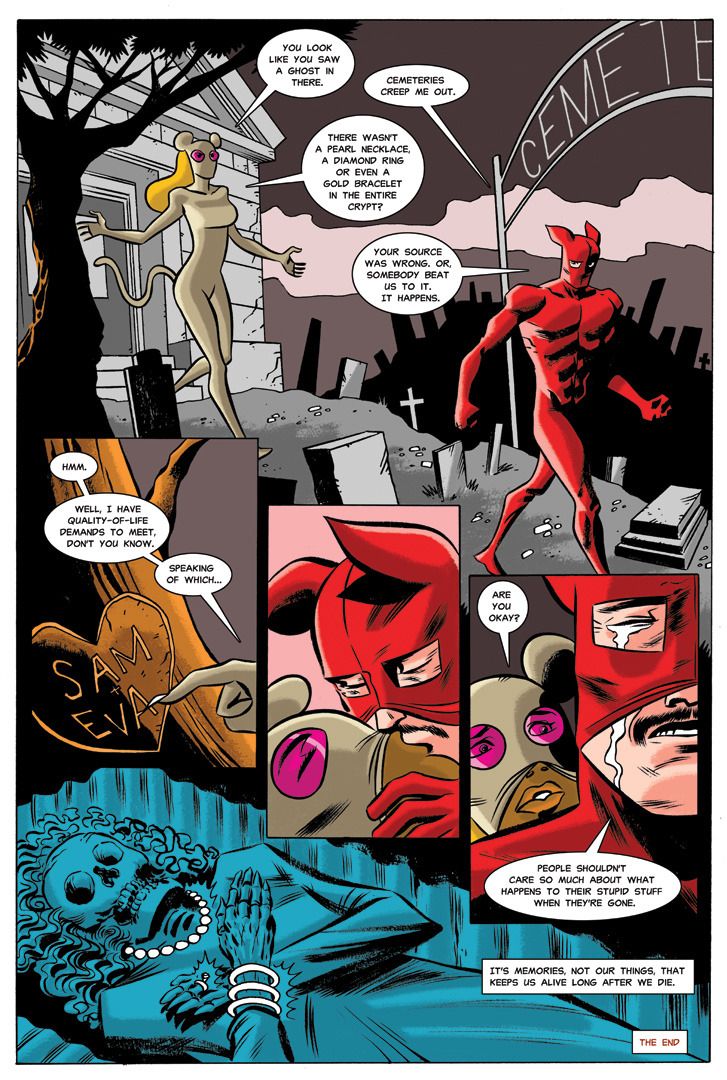 Thursday, May 21st, 2015
---
12:10 pm
- MO & JO picked for NYPL Summer Reading List
MO & JO: Fighting Together Forever, my Toon Book collaboration with Jay Lynch, was picked for the summer reading list of New York Public Library, Brooklyn Public Library, and Queens Library which means they are available in all the branches in the five boroughs of NYC this summer.

http://www.nypl.org/events/summerreading
Wednesday, May 20th, 2015
---
7:58 pm
- All Star Comics Melbourne reviews The Fox: Freak Magnet
Excerpt:
"Its success must be chiefly attributed to the sensibilities of Dean Haspiel, who channels the psychedelic weirdness of his creator-owned Billy Dogma work with a love of Silver Age shenanigans.The five issues collected in "Freak Magnet" are jam-packed – never standing still for any length of time they also constantly escalate in scale."

Read the entire review here: http://ascmelbourne.blogspot.com/2015/05/all-star-recommends-for-may-20th.html
Wednesday, May 13th, 2015
---
2:27 pm
- Dean Haspiel's Heart-Shaped Hole reviews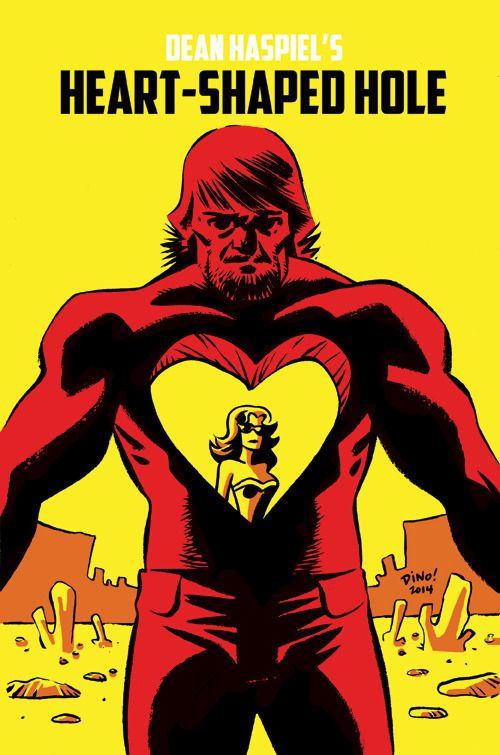 My new Billy Dogma magazine, HEART-SHAPED HOLE received some really nice reviews and I thought I would share some excerpts here:

"In an interview from the 'Men Without Fear' documentary from the "Daredevil" DVD, Frank Miller talked briefly about his thoughts behind introducing Elektra during his run on the title. "Why wouldn't these people be operatic in their romance," he asked, "the way they are in their combat? These people bring down buildings with their passion; that's what they do with their fights." While not every superhero romance has to be elevated to Wagnerian proportions, there's something in the DNA of superhero comics that gives all creators working in it the license to go bigger-than-life at any moment. And there's a lot of superhero DNA in Billy Dogma. But creator Dean Haspiel (who grew up on the comics of Miller, Kirby, Chaykin, Simonson, Byrne, and the like) splices it with the autobio gene to give us personal storytelling expressing itself as dynamically as I'm sure it felt to him as he lived it."

"The stories themselves primarily follow Billy Dogma and Jane Legit; their love and relationship cranked up to an 11 so loud even Miller would be proud. Nothing evokes passion more than walking around with a literal hole where your heart would be if it hadn't been ripped out of your chest from a break-up. But Haspiel doesn't load his characters or stories down like Miller does in almost all of his work; Dogma and Legit still have a snap like cool kids in love, not a snap like bones being broken. There's a charm and a zing to this material, even though done bit-by-bit over almost a decade, that keeps tropes and slang done to death by other creators still effective here."

--Greg Matiasevich, Multiversity Comics

Read the entire review here: http://multiversitycomics.com/reviews/dean-haspiels-looking-to-share-billy-dogmas-heart-shaped-hole-with-his-fans-review/

"Dean Haspiel's Billy Dogma tends toward symphonies, long-form emo-stential epics that go the distance and let out cries of love at operatic pitch, but Heart-Shaped Hole is like a collection of the series' hit singles, yet no one says uncoupled for long. The entries in this book have appeared online, in other creators' anthologies, even as a standalone poster-comic, and now they, what the hell, come together.

Billy is the pillar of strength who knows he's soft inside, the iconic solitary hero who understands it's foolish to go it alone. His facing page is Jane Legit, a modern Aphrodite to his Bacchus; they are the superlative masculine and feminine principles, but only as one can they get the upper hand-in-hand; I once said somewhere that Haspiel has done for sex what Jack Kirby did for violence, and while most superbeing stories are about conflict, Billy Dogma is about convergence, the explosions that pull us together not fling us apart.

Billy and Jane's elemental encounters set the temperature of whole cities and planets around them; their silhouettes are tectonic profiles, each other's puzzle-piece, setting the world in place or multiplying its mystery. Orbits collide and stars and planets spin around our heads, and Haspiel has the inhabitants say the first things that come into theirs; sex as a trance of intensified awareness, a leap of unlikely connections made, is captured in the retinal scripture of his characters' free-associative erotic poetry-slammin'; image immerses us in things mere description is insufficient to express and even in his text Haspiel catches the vantage-point of higher-dimensional understanding crashing into our consciousness from the corner of the frame.

These are hieroglyphics of collective memory, visual shorthand and verbal cues for things we have to learn we knew all along, in Haspiel's chiseled and sinuous symbols and his hormonal washes and slashing sunrises of blood-reds and baking yellows, theatrical gels from the magic lantern of life-force. It's not the bullet that kills you, it's the heart."

--Adam McGovern, Comic Critique

Read the entire review here: http://www.comiccritique.com/v4/?p=2864

"Dean Haspiel draws a love story that feels larger-than-life with Heart-Shaped Hole, a collection of occasionally adolescent, always action-packed vignettes featuring Billy Dogma and Jane Legit. Billy and Jane don't just feel, they express emotions so big they sweep entire cities, and there's a wonderful visual metaphor to each of Haspiel's stories (in particular, the heart-shaped hole that drives Billy to sadness after he and Jane temporarily split up). Billy and Jane aren't the type of lovers who just let things go, but instead they "sweat ecstasy" and cause laser beams to fire from their eyes."

--David Pepose, Newsarama

Read the entire Newsarama review here: http://www.newsarama.com/24082-best-shots-rapid-reviews-convergence-1-all-new-hawkeye-more.html

Thanks!

--Dino

PS -- you can only buy Heart-Shaped Hole personally from me at comix events.
Tuesday, May 12th, 2015
---
10:07 pm
- Bleeding Cool reviews The Fox #2
Another great review from Hannah Means-Shannon at Bleeding Cool!

Excerpts:
"...there is never a moment in any of their Fox stories so far, when they are "laughing at" superhero tradition. They aren't going for a cheap laugh, but a belly laugh, maybe one disrupted by the bruises or cracked ribs of what being a superhero would be like within a fictional reality. I feel like Waid and Haspiel almost argue for the fictional rights to dignity for their characters, and the deeper they go into hero humiliation and psychological realism, the more they make sure hero comics keep their footing as a respectable thing in a changing world."

"It's a beautiful, lively, humor-packed book that doesn't try to make itself look clever and powerful as a be all and end all. There are plenty of things to laugh at in hero comics, and Fox Hunt is one of the best methods around to do so while celebrating the medium."

Read the entire review here: http://www.bleedingcool.com/2015/05/12/fox-hunt-says-were-laughing-with-you-to-hero-comics/
11:57 am
- The Moon Is A Dead World reviews The Fox #1
Excerpt:
"The Fox #1 has a significant comedic bent to it, and contiguously it seems to be hearkening back to older superhero tales from the '30s. That's not just from the writing, though; the art style feels retro in design, with most of its characters lanky and posed in odd but fittingly stealth-like ways. The art itself is something that sticks out most from The Fox; it's got a unique but familiar feel to it that warmly welcomes readers."

Read the entire review here: http://www.themoonisadeadworld.net/2015/05/the-fox-1-comic-review.html
Monday, May 11th, 2015
---
10:56 am
- Review & Roast reviews The Fox #2
Excerpt:
"Archie Comics does it yet again. They resurrect The Fox in a modern comedic/heroic hybrid that is timely, well written, expertly drawn and delivering much enjoyment to this new fan. One issue in, I have already added this series to my pull list and the trade paperback of the previous run is on my current shortlist. If you want a "superhero" book that doesn't take itself too seriously while working within the constructs of the hero/villain dichotomy, you can't go wrong with The Fox."

Read the entire review here: http://www.reviewandroast.com/the-fox-1/review/#.VU-AmfZbLuc.twitter
Friday, May 8th, 2015
---
7:37 pm
- PopCultureMaven reviews The Fox #2
Excerpt:
"Haspiel and Waid take a classic comic book good versus bad and has a lot of fun with it. Not only with the snappy quips but the villains are super outrageous and a real hoot. I love the fact that the book takes a lot of risks with a standard superhero and letting it go in directions that you normally don't see and make it all work so well. As weird as the story can get they never lose sight of the characters and their motivations that keep the book grounded with the mayhem that is going on. Haspiel's cartoony style really fits the mood and fun that the book story needs to work. If you had a more traditional comic book artists doing the book it just wouldn't work as well. Haspiel's art just leaps off the pages and makes the book a visual feast."

Read the entire review here: http://www.popculturemaven.com/comics/new-comic-book-reviews-week-of-5615/
11:51 am
- WhatchaReading reviews The Fox #2
Excerpt:
"One of my fondest memories as a child was watching Saturday morning cartoons with my father. We watched everything from "Spider-Man: The Animated Series" on Fox Kids to "The Tick." What I enjoyed most about "The Tick" was what I now know as Ben Edlund's writing. He had a sharp sense for creating absurd situations rife with colorful heroes and villains. The takeaway each Saturday was that not all heroes were dark, brooding, or even that super. All a hero had to be was someone willing to do what is right, someone with a belief in the future; that tomorrow will be a better day. "The Tick" taught me that and while he wasn't as intellectual as Peter Parker, he still left a very special imprint on my childhood and who I am now. This is the very same feeling I get from reading Dean Haspiel and Mark Waid's current incarnation of "The Fox." Anyone could be a hero. I've often felt while reading this issue that it would make for a perfect cartoon to remind the kids of today (and adults) that still believe in heroes, that good, old-fashioned adventure will never die. I truly believe that there's a certain strength and appeal to this book that makes it so charming. Any day that I recall a memory from my childhood is a great day, indeed! I'd like to thank Dark Circle Comics for bringing back a little of that for me."

Read the entire review here: http://whatchareading.com/the-fox-2-review/
11:42 am
- Geek Chic Elite reviews The Fox #2
Excerpts:
"I will be amazed if, come the end of the year, The Fox does not top my list of my favourite comics of 2015."

"We are just two issues into the Dark Circle Comics series from Dean Haspiel (Billy Dogma, The Quitter) and Mark Waid (Daredevil, Indestructible Hulk), but The Fox has already won my heart. It's just such unrelenting fun, poking fun at comic tropes while revelling in them, mixing believable characters with the sort of ludicrous villains that wouldn't have been out of place in the 1966 Batman TV show."

Read the entire review here: http://www.geekchicelite.com/troubles-reluctant-vigilante-fox-2-review/
Thursday, May 7th, 2015
---
8:41 pm
- CBR reviews The Fox #2
Excerpts:
"Haspiel builds plenty of goofy into the characters' appearances as well, from the large, impossibly expressive eyes on the Fox's mask to the odd, hulking red mess that calls himself Brontosaurus. Haspiel's storytelling is crisp and sharp, with tight panels that contain all of the action and guide the story's flow. The Fox and Ghost Fox are both lithe throughout the issue and all of the characters are expressive and energetic. Haspiel inserts some visual tributes to Jack Kirby in the Gadgeteer's design and drops plenty of Kirby dots into the backgrounds.

"The Fox" #2 is a smart, fun comic worth checking out. Haspiel, Waid, Passalaqua and Workman give readers exactly the type of comic the readership clamors for: light continuity, strong characters, action, intrigue and plenty of fun. Readers looking for a new start with a fun new character and offbeat adventures need look no further than "The Fox" #2."

Read the entire review here: http://www.comicbookresources.com/comic-review/the-fox-2-dark-circle-comics
Wednesday, May 6th, 2015
---
1:29 pm
- SlackJawPunks reviews The Fox #2
Excerpt:
"The Fox is one of those titles you need to really pull off the shelves to enjoy, with heroes such as Spider-man and Superman being the social norm The Fox becomes a great adventure that should be on par with such classic super heroes. I'm looking forward to seeing what Mark Waid and Dean Haspiel have in store for next month!"

Read the entire review here: http://slackjawpunks.com/2015/05/06/comic-book-review-the-fox-2/
Tuesday, May 5th, 2015
---
1:06 pm
- Wizard World Philadelphia


Dean Haspiel will be a guest at Wizard World Philadelphia this weekend, May 7-10, 2015, and will be sitting at table C36 with studio mates/comix-makers; Christa (The Giant Effect) Cassano, Swifty Lang & Skuds McKinley (of Plunder), and he will have copies for sale of his new Billy Dogma magazine, HEART-SHAPED HOLE, including PSYCHOTRONIC COMIX, and the exclusive THE WALKING DEAD variant cover he drew. Dean will also be available for illustration commissions and sign any comix he's done, including THE FOX. He's also doing a couple of panels:

THURSDAY MAY 7
4:00 - 4:45
DRAWING ON HISTORY: WINSOR McCAY'S LITTLE NEMO REVISITED WITH BILLY DOGMA'S DEAN HASPIEL AND MANGO LIZARD'S DAVE PROCH (Room 107)

Winsor McCay was perhaps the greatest cartoonist of all time, and the Sunday newspaper strip "Little Nemo in Slumberland" is his most enduring creation. In Locust Moon Press' Eisner Award nominated anthology LITTLE NEMO: DREAM ANOTHER DREAM, many of the world's finest cartoonists pay tribute to the master and his masterpiece by creating 118 new Little Nemo strips, following their own voices down paths lit by McCay. Contributors to the book include Paul Pope, J.H. Williams III, Bill Sienkiewicz, David Mack, Carla Speed McNeil, Charles Vess, Peter Bagge, Dean Motter, and Dean Haspiel. Today, Locust Moon's creative director Chris Stevens and contributors Dean Haspiel (Billy Dogma; The Fox) and Dave Proch (Mango Lizard; Once Upon a Time Machine) discuss McCay's importance and show classic McCay Nemos as well as a generous sampling of work from Dream Another Dream. Moderated by Danny Fingeroth (The Rough Guide to Graphic Novels).

FRIDAY MAY 8
4:30 - 5:15
HOW TO WRITE COMICS WITH SPIDER-MAN'S TOM DeFALCO, HULK'S PETER DAVID, BILLY DOGMA'S DEAN HASPIEL, ARCHIE'S BARBARA SLATE, AND DARKHAWK'S DANNY FINGEROTH (ROOM 111)
Accomplished comics writers Tom DeFalco (Spider-Man), Peter David (Hulk), Dean Haspiel (Billy Dogma), Barbara Slate (You Can Do a Graphic Novel) and Danny Fingeroth (How to Create Comics From Script to Print) show and tell you how to write comics and graphic novels, going from initial idea to outline to script to finished story. Plus, the panelists will answer your questions about both the creative and business sides of the comics writing profession, including how to find an artist to work with (hint: a comics convention is the number one place!) and how to write exciting dialogue!

More info here: http://www.wizardworld.com/home-philadelphia.html
Thursday, April 30th, 2015
---
5:39 pm
- Denver Butson's "Tuesday 9:00 AM" + THE SUM OF UNCOUNTABLE THINGS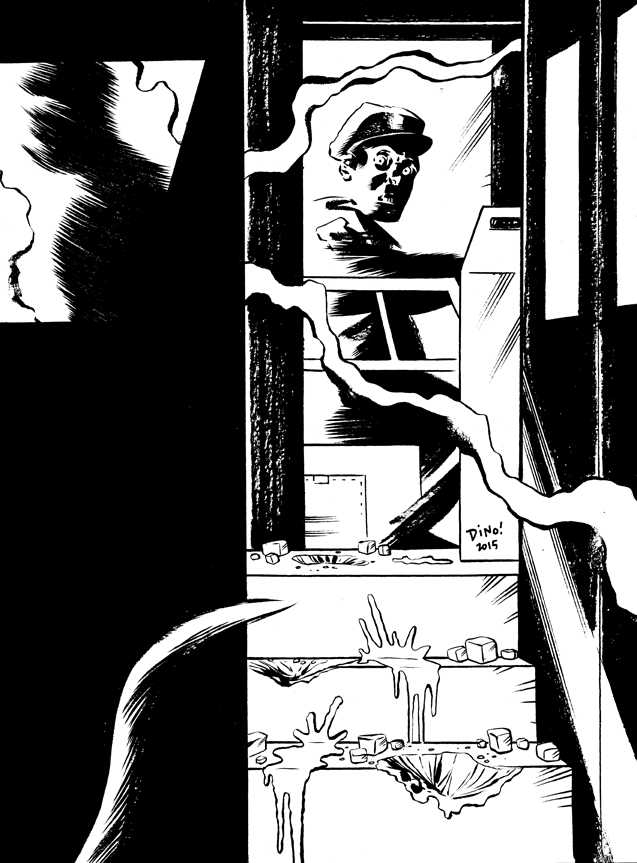 Denver Butson is my favorite contemporary poet. And, he lives down the block from me! I was honored to be asked to collaborate with Denver and to contribute to his poetry/art show, "the sum of uncountable things," in Brooklyn. Below are the show details and the text for the poem I illustrated. Enjoy!

--Dino

Opening Reception: May 2nd, 6pm – 9pm
"the sum of uncountable things"
Poetry Collides with Painting, Sculpture, Invention and Sound at Court Tree Collective.
371 Court St 2nd Fl, Brooklyn, New York 11231
Facebook event page: https://www.facebook.com/events/840750012638991/

"Tuesday 9:00 AM"
by Denver Butson

A man standing at the bus stop
reading the newspaper is on fire
Flames are peeking out
from beneath his collar and cuffs
His shoes have begun to melt

The woman next to him
wants to mention it to him
that he is burning
but she is drowning
Water is everywhere
in her mouth and ears
in her eyes
A stream of water runs
steadily from her blouse

Another woman stands at the bus stop
freezing to death
She tries to stand near the man
who is on fire
to try to melt the icicles
that have formed on her eyelashes
and on her nostrils
to stop her teeth long enough
from chattering to say something
to the woman who is drowning
but the woman who is freezing to death
has trouble moving
with blocks of ice on her feet

It takes the three some time
to board the bus
what with the flames
and water and ice
But when they finally climb the stairs
and take their seats
the driver doesn't even notice
that none of them has paid
because he is tortured
by visions and is wondering
if the man who got off at the last stop
was really being mauled to death
by wild dogs.
4:57 pm
- Bleeding Cool reviews Dark Circle's Free Comic Book Day comic - featuring The Fox
Wednesday, April 29th, 2015
---
11:23 pm
- The Beat: On the Scene with Smaller Cons—Wizard World and Big Wow
Nicky Wheeler-Nicholson wrote a great report about some comic book conventions and said nice things about my work from when I met her at Wizard World New Orleans:

"Dean has worked more in the comic book genre but also has his own independent comics. I'm excited about his latest work with Mark Waid reviving The Fox originally drawn by Irwin Hasen. Dean's graphic novels are full of action and street scenes and can be characterized as personal essays. Dean drew several issues of American Splendor and Harvey Pekar's influence is apparent in Dean's work."

Read the rest of her article here: http://www.comicsbeat.com/on-the-scene-with-smaller-cons-wizard-world-and-big-wow/
---