Sunday, May 31st, 2020
---
12:36 pm
- Dino FAQ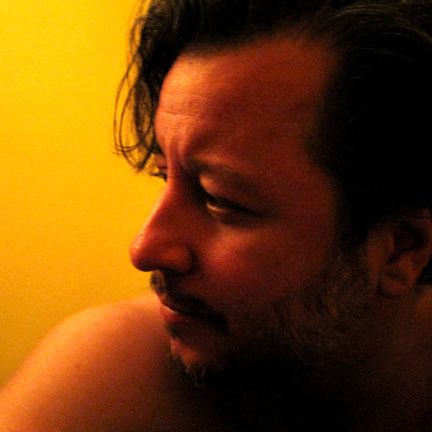 http://www.deanhaspiel.com/

Emmy award winner and Eisner and Harvey Award nominee Dean Haspiel created BILLY DOGMA, illustrated for HBO's "Bored To Death," was a Master Artist at the Atlantic Center for the Arts, is a Yaddo fellow, a playwright ("Switch To Kill"), helped pioneer personal webcomix via ACT-I-VATE, a multimedia salon via TRIP CITY.net, and is the co-founder of HANG DAI Editions. Dino has written and drawn many comix including The Fox, The Fantastic Four, Spider-Man, X-men: First Class, Deadpool, Batman, Wonder Woman, Godzilla, Mars Attacks, Creepy, The Walking Dead, and semi-autobio collaborations with Harvey Pekar, Jonathan Ames, Inverna Lockpez, Stan Lee, Jonathan Lethem and Mark Waid. Look out for his latest graphic novels, FEAR, MY DEAR: A Billy Dogma Experience, and his Manhattan exodus to Brooklyn memoir, BEEF WITH TOMATO, coming out Sept 15th from Alternative Comics.




Please click here to see what Dean's been up to at TRIP CITY: http://welcometotripcity.com/author/dean-haspiel/

Experiencing Yaddo First-Hand: An Interview with Cartoonist Dean Haspiel: http://thefreegeorge.com/thefreegeorge/dean-haspiel-yaddo-interview/

The Atlantic Center for the Arts: Residency #147: http://welcometotripcity.com/2012/12/the-atlantic-center-for-the-arts-residency-147/

Tom Spurgeon interviews me for The Comics Reporter: http://www.comicsreporter.com/index.php/cr_holiday_interview_2_dean_haspiel/

Poet Sandra Beasley interviews me for Barrelhouse Magazine
http://www.barrelhousemag.com/barrelhousing-with-comic-artist-dean-haspiel-an-interview-by-sandra-beasley/

Dean Haspiel speaks at The Library of Congress: http://www.loc.gov/today/cyberlc/feature_wdesc.php?rec=5709

ATTENTION Art Directors, Editors, Publishers, Writers, Etc: if you'd like to see current samples of Dean Haspiel's art, please check out his gallery: http://welcometotripcity.com/2012/01/dean-haspiel-gallery/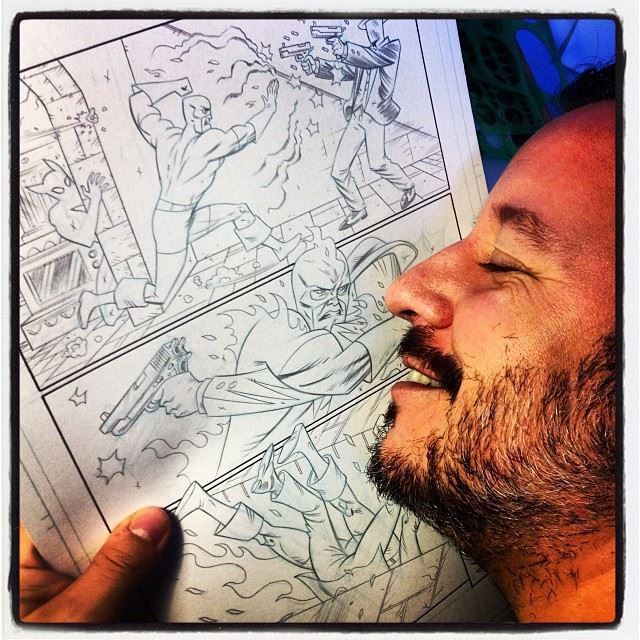 (
Click here for comix, interviews, news, videos, and other essential links
Collapse
)
Monday, August 31st, 2015
---
3:24 pm
- Part Four: My Evening with David and Dean – A Conversation in Five Parts
Saturday, August 29th, 2015
---
4:04 pm
- Adrift with Donald Trump by Matthew Ballen
Monday, August 24th, 2015
---
4:43 pm
- Go Getter
I dated a great Russian gal for 7-months who was quite vocal, highly opinionated, and took charge. A go-getter. I loved that about her. One night, we were in a bar in the lower east side and a drunk woman erratically crashed into a bathroom. Seconds later, a large bully of a man went in after her and locked the door. My gal jumped out of her chair and started banging on the door, screaming "He's raping her! That man is raping a woman in the bathroom!!" I was a deer in headlights. How did my gal know that for sure? I think she was drunk, too. Anyway, I felt that I needed to back her up, protect her, by standing in front of her - waiting for the bully to rip open the bathroom door and confront the accusations. He did. A few seconds later, he ripped open the door and saw me and looked around me to see my gal, sneering at him. Yelling at him. Accusing him of rape. I was prepared to get walloped. But, instead of crushing me, he looked at us and said "My wife is sick and I'm helping her. Mind your own business!" I looked to the side of his bulging bicep and, indeed, his wife was sick, throwing up in the toilet. She looked over at us and gave everyone the nod that he - her husband - "the big bully" - was telling the truth and then hurled a stomach's worth of tequila sunrise. The man, "the monster," closed the bathroom door and my gal felt like a dummy and I was glad to enjoy a still active pulse. Albeit, rapidly throbbing pulse.

Goes to show, we never know all the details of any given public situation and some people jump to conclusions that often says more about them and who they are than the situation presented before them. I'm terrified of a world run by "smart phones" where everything is recorded and disseminated and commented on sans context.

Sure, it's better to look the fool on a situation like the one I describe above BUT, my old gal DID immediately start calling him out as a rapist before he could have possibly done anything and - I guess - that's part of the point. STOP it BEFORE it could happen. Still, it sucks to be considered an automatic rapist because you're big and muscle-bound. I've misjudged people often because of the way they look and it's just not fair. Getting involved can get you killed, too. BUT, you won't see me whipping out my cell phone to record a potentially ugly and dangerous situation and do NOTHING to help resolve it. If I don't have a safe way to involve myself vocally and/or physically, I would use my phone -- AS A PHONE -- and call 911.

I get that we currently live in a George Orwell world (that's begging for Jack Kirby's OMAC), but intelligence (and, I mean true data and understanding of said true data) has been thrown out of the window and been replaced by public shaming for the sake of character assassination. This is why we elect officials and experts to help disseminate potentially caustic information while pundits of all grades continue to wax sensationalism. We all whisper and gossip behind closed doors because we're fascinated by human behavior. We're all a bunch of ill-advised Sherlock Holmes trying to figure out the human condition. But, the second we publish events sans context (I've been guilty of this too with some of those police videos), we let slip the ability to repair and hone positive change and only foster rage and hate. Pointing fingers is a blame game.
3:38 pm
- Part Three: My Evening with David and Dean – A Conversation in Five Parts
12:21 am
- Pop Mythology: Wizard world chicago 2015: where zombies, yoga and sci-fi speed dating converge

(Gavin Smith, Dean Haspiel, Onrie Kompan, and moderator Victor Dandridge, photo c.2015 The Pop Mythologist)

Excerpt:
"Our next panel was How Independent Creators Can Help Solve the Industry's Diversity Issues. Given the topic, it was predictably held in a smaller room than the zombie panel but it was a thoroughly engaging 45 minutes thanks to the well-spoken panelists: Dean Haspiel (Beef With Tomato), Gavin Smith (All Superheroes Must Die), and Onrie Kompian (Yi Soon Shin) along with moderator Victor Dandridge (The Samaritan) discussed numerous kinds of diversity issues in the industry encompassing race, gender, sexuality and class. The panelists acknowledged real problems in the industry while also talking about the importance of introspection and of owning up to the quality of one's work instead of automatically playing the race (or gender/class/sexuality) card when things don't go one's way and saying something like, "They didn't hire me because I'm Asian [or fill in the blank]."

I was able to chat briefly afterwards with panelists Onrie Kompian and Dean Haspiel who were both gracious and even sympathetic to my challenge of trying to cover a con as a disabled writer. "I don't even have Lyme disease and I already feel like I need a nap," quipped Haspiel."

Read the entire Pop Mythology article about Wizard World Chicago 2015 here: http://www.popmythology.com/wizard-world-chicago-2015/
Wednesday, August 19th, 2015
---
2:18 pm
- Batman '66 #29 solicitation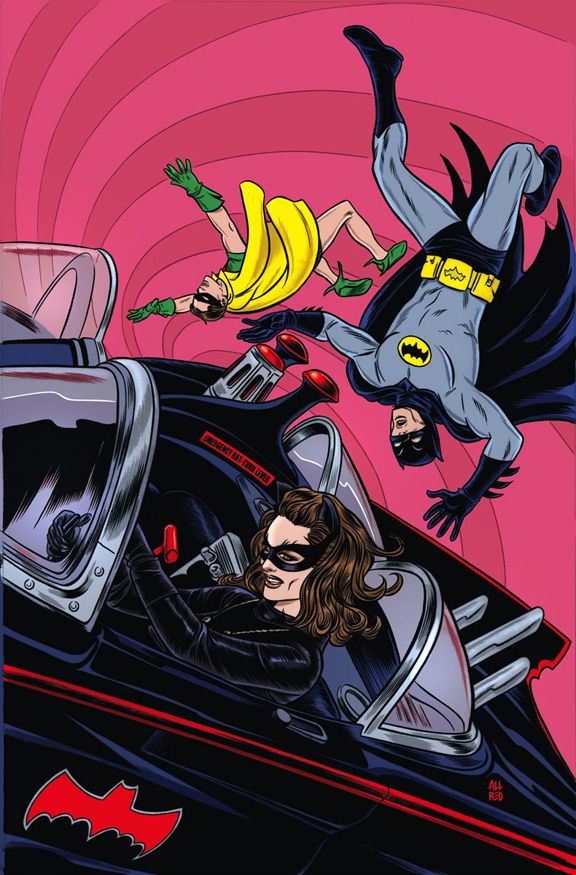 BATMAN '66 #29
Written by JEFF PARKER
Art by JONATHAN CASE and DEAN HASPIEL
Cover by MICHAEL ALLRED
On sale NOVEMBER 18 • 32 pg, FC, $2.99 US • RATED E
Popular BATMAN '66 artist Jonathan Case returns with an all-new story featuring Catwoman! The tables are turned as the Feline Fatale must come to the rescue of her caped crime-fighting counterpart—holy role reversal! Then, get ready for a family reunion as Ma Parker brings her criminal clan back to the streets of Gotham City. It's Batman vs. the ladies in this issue!

http://www.dccomics.com/comics/batman-%E2%80%9866-2013/batman-%E2%80%9866-29
Tuesday, August 18th, 2015
---
10:02 pm
- Benton & Haspiel talk art comix at Word Balloon Podcast
3:48 pm
- Dean Haspiel at Wizard World Chicago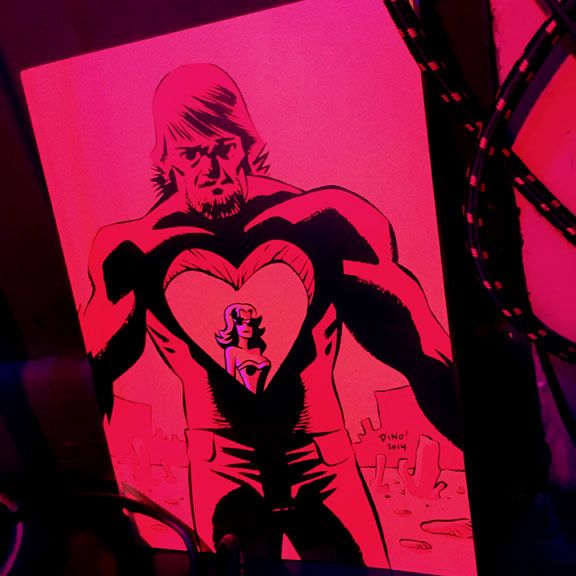 I will be a special guest at Wizard World Chicago this coming Thursday, August 20th - Sunday, August 23rd, and I will be at table B30. I will have copies of my new Billy Dogma magazine, HEART-SHAPED HOLE, and the exclusive THE WALKING DEAD variant cover I did, plus other stuff for sale. I will also be available for illustration commissions and sign any comix.

I'm also doing a few panels moderated by comix legend, Danny Fingeroth:

Friday August 21:
2:00-2:45 PM JOINED AT THE HIPNESS: COMICS AND POP CULTURE! With SNL's J.J. SEDELMAIER, THE FOX'S DEAN HASPIEL, AND GOOD CHARLOTTE'S BILLY MARTIN
While comics are more than ever a major part of popular culture, it's relatively rare that creators work comfortably and regularly in the worlds of comics and other pop culture forms. Today, J.J. Sedelmaier (The Ambiguously Gay Duo, Tek Jansen), Dean Haspiel (writer & artist on The Fox; Emmy-Award winner for the animated credits on HBO's Bored to Death in Brooklyn), and Billy Martin (of the super-popular band Good Charlotte; artist on Teenage Mutant Ninja Turtles) talk about what it's like to shuttle between the worlds of comics and music, TV, and animation, and about what they've learned from doing so. Moderated by Danny Fingeroth (story supervisor of Showtime's WhirlGirl web series; writer and editor of Spider-Man).

Saturday August 22:
5:30-6:15 PM HOW TO WRITE COMICS WITH GREEN ARROW'S MIKE GRELL, BILLY DOGMA'S DEAN HASPIEL, ARCHIE'S BARBARA SLATE, BATMAN ADVENTURES' TY TEMPLETON AND SPIDER-MAN'S DANNY FINGEROTH
Accomplished comics writers Mike Grell (Green Arrow), Dean Haspiel (Billy Dogma), Barbara Slate (You Can Do a Graphic Novel), Ty Templeton (Batman Adventures) and Danny Fingeroth (How to Create Comics From Script to Print) show and tell you how to write comics and graphic novels, going from initial idea to outline to script to finished story. Plus, the panelists will answer your questions about both the creative and business sides of the comics writing profession, including how to find an artist to work with (hint: a comics convention is the number one place!) and how to write exciting dialogue!

Sunday August 23:
3:30-4:15 PM DOING IT ALL: COMICS CREATORS WHO WRITE AND DRAW! With BATMAN ADVENTURES' TY TEMPLETON, BILLY DOGMA'S DEAN HASPIEL, GETTING MARRIED'S BARBARA SLATE & ORIGINS UNKNOWN'S VICTOR DANDRIDGE
The model of comics creators tethered to one or two major publishers, working on adventures of corporately-owned characters is no longer the only game in town. Many of the writer-artists in comics work either exclusively on their own material, while others work both sides of the street, alternating independent work with mainstream assignments done in their own distinctive styles. Here, speaking about how they have forged their own paths, are some of the most distinctive creators in comics today: Ty Templeton (Batman Adventures), Dean Haspiel (Billy Dogma), Barbara Slate (Getting Married and Other Mistakes), and Victor Dandridge (Origins Unknown). The panel is moderated by Danny Fingeroth (The Rough Guide to Graphic Novels).

http://www.wizardworld.com/chicago.html
Monday, August 17th, 2015
---
2:05 pm
- Graphic NYC Trading Cards to Benefit Seth Kushner's Family
9:42 am
- Part Two: My Evening with David and Dean – A Conversation in Five Parts
Thursday, August 13th, 2015
---
1:27 pm
- SpongeBob SquarePants #47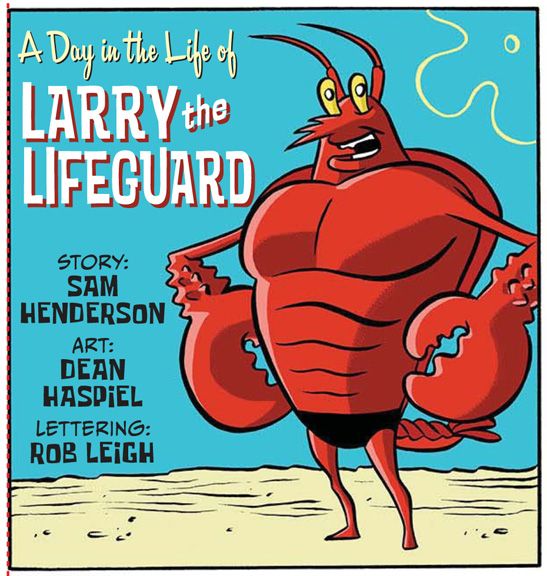 I illustrated a two-page "A Day in the Life of Larry the Lifeguard" comic in SpongeBob SquarePants #47, written by Sam Henderson, lettered by Rob Leigh, and edited by Chris Duffy.
Wednesday, August 12th, 2015
---
12:37 pm
- Comics Alternative's publisher spotlight on Hang Dai Editions
Comics Alternative did a nice publishers spotlight and early review of Hang Dai Editions' fall releases of Seth Kushner's SCHMUCK, Gregory Benton's SMOKE, and Dean Haspiel's BEEF WITH TOMATO, on their podcast, episode #148. Big thanks to Derek Royal and Gene Kannenberg, Jr.

You can listen to it HERE: http://comicsalternative.com/episode-148/
Tuesday, August 11th, 2015
---
6:09 pm
- HOLY HISTORY BATMAN! SUPERHEROES TAKE OVER THE NEW-YORK HISTORICAL SOCIETY
"Also on view will be art from Dean Haspiel's independent web-based comic books, including the Brooklyn-based Red Hook and a comic book set, in part, during the 2003 blackout."

From the press release:

HOLY HISTORY BATMAN!
SUPERHEROES TAKE OVER THE NEW-YORK HISTORICAL SOCIETY
Superheroes in Gotham
On View October 9, 2015 – February 21, 2016

New York, NY (August 11, 2015) – This fall, the New-York Historical Society will share the untold history of comic books, a cultural phenomenon born in 1930s New York City that has since taken the world by storm. On view October 9, 2015 through February 21, 2016, Superheroes in Gotham will focus on our culture's most legendary superheroes – Superman, Batman, Wonder Woman, Captain America, Spider-Man and Iron Man – as well as more recent characters inspired by the contemporary city. Beyond the characters, Superheroes in Gotham will consider the importance of New York as a creative force behind a uniquely American mythology.

Among the range of material on display will be: a rare comic book featuring Superman's first appearance (Action Comics No. 1, June 1938), clips from early radio and film adaptations, Philip Pearlstein's Superman painting (1952), original drawings by Steve Ditko of Spider-Man's first appearance in Amazing Fantasy (No. 15, 1962), a Batmobile made for the Batman television series (1966), a costume from Broadway's Spider-Man: Turn off the Dark (2011), hip-hip pioneer Darryl McDaniels' DMC comic book (2014), and his signature fedora.

"Comics are a huge cultural force, but few remember their New York roots," said Dr. Louise Mirrer, President and CEO of the New-York Historical Society. "Superheroes in Gotham will immerse visitors in the early days of comics and their evolution, so they can learn more about the genesis of their favorite characters, encounter new voices that continue the creative tradition today, and perhaps see aspects of their own neighborhoods imaginatively captured on the page."

The exhibition is curated by the New-York Historical Society's Debra Schmidt Bach, Associate Curator of Decorative Arts, and Nina Nazionale, Director of Library Operations.

Exhibition Overview

Upon entering the New-York Historical Society's Central Park West entrance, visitors will be greeted by an original working Batmobile (1966), one of three cars created for the 1966-68 Batman television series.

The first gallery will trace each character's origins within the context of their creators and period events. A range of first-issue comic books will be displayed, including Superman's Action Comics No. 1 and Batman (No. 1, Spring 1940). During World War II, many superhero stories channeled American concerns about the conflict. In addition, several of their creators also enlisted. Wartime issues of Captain America (1942) and an original drawing (ca. 2000) by Joe Simon—who served in the U.S. Coast Guard— will present Captain America as the ultimate patriotic warrior. Superman was also enlisted, and lent his support in a range of U.S. Army and Navy training materials (ca. 1942-43). A drawing of Wonder Woman in an early version of her patriotic costume by H.G. Peter (ca. 1941) will be shown alongside a "Wonder Woman for President" issue (No. 7, Winter 1943).

Two of Steve Ditko's original drawings of Spider-Man's first appearance in Amazing Fantasy (No. 15, September 1962) will be displayed alongside a copy of the published issue. Considered Spider-Man's "birth certificate", these drawings will be on public view for the first time outside of the Library of Congress. Other Cold War-era artifacts include original cover art for The Invincible Iron Man (No. 1, 1968).

The second gallery will explore how superheroes flew from page to screen decades before they became blockbuster movie franchises. Scripts, audio recordings, animation cels, and cartoon clips will illuminate Superman's multimedia adaptation less than two years after his comic book debut. One particular clip from the Superman cartoon (1941) will depict the character flying for the first time, rather than leaping as he did in print. After appearing in two film serials in the 1940s, Batman was reimagined in a popular television series (1966-68) and full length film (released in 1966). In addition to an original Batmobile (1966), the exhibition will feature three Batman set paintings by art director Leslie Thomas (ca. 1966-68) and a Catwoman costume (ca. 1966). Clips from the Wonder Woman television series (1975-79), as well as a copy of Ms. magazine's first issue depicting her at the helm (1972), illuminate Wonder Woman's development as a second-wave feminist icon.

The third and final gallery will examine the enduring influence of superheroes on a wide range of New York-based artists, cartoonists, contemporary comic book creators, and fans. Known today for his hyperreal nude portraits, the exhibition will feature Philip Pearlstein's Superman (1952), a proto-pop art painting from his early career. Also featured will be cartoonist Mort Gerberg's original illustration art for The New Yorker ("Do you have any references besides Batman?", July 1997) alongside Batman drawings he doodled inside a childhood Hebrew School book (circa 1940). A costume from Spider-Man: Turn off the Dark (2011), the most-expensive production in Broadway history, will also be exhibited.

Superheroes in Gotham will also explore contemporary New York- based superhero comics. A copy of DMC (2014)—which follows the comic book alter-ego of musician Darryl McDaniels in 1980s New York—will be displayed alongside the hip-hop pioneer's trademark fedora, glasses and Adidas sneakers (worn by the fictional superhero DMC as well) . Also on view will be art from Dean Haspiel's independent web-based comic books, including the Brooklyn-based Red Hook and a comic book set, in part, during the 2003 blackout. The exhibition will conclude with ephemera from the United States' first comic convention, which took place in New York in 1964, as well as photographs and posters from recent years.

Support for Superheroes in Gotham is provided by The Private Client Reserve of U.S. Bank and The William T. Morris Foundation.

Public and Family Programs

To celebrate the exhibition's opening on October 9, the New-York Historical Society will host a special superhero edition of The Big Quiz Thing trivia game show, as well as special family activities. On October 16, New-York Historical will screen both classic versions of "The Mark of Zorro," starring Tyrone Power (1940) and Douglas Fairbanks, Jr. (1920, silent), as part of their "Justice in Film" series. On October 31, all ages will be invited to channel their own superpowers at a Family Halloween Party, featuring a supervillain trivia contest, fortune-telling, crafts, scavenger hunts, and trick-or-treating. Farther ahead, Jill Lepore— winner of the New-York Historical Society's 2015 American History Book Prize—will explore The Secret History of Wonder Woman on January 14, 2016.

About the New-York Historical Society

The New-York Historical Society, one of America's pre-eminent cultural institutions, is dedicated to fostering research and presenting history and art exhibitions and public programs that reveal the dynamism of history and its influence on the world of today. Founded in 1804, New-York Historical has a mission to explore the richly layered history of New York City and State and the country, and to serve as a national forum for the discussion of issues surrounding the making and meaning of history.

http://www.nyhistory.org/press/releases/holy-history-batman-superheroes-take-over-new-york-historical-society
Monday, August 10th, 2015
---
11:17 am
- Part One: My Evening with David and Dean – A Conversation in Five Parts
10:48 am
- Phil's Reviews reviews The Fox #5
"The Fox has Haspiel combining superhero styles: the lithe, Ditkoesque hero and his family face blocky, Kirbyish villains, while the main bad guy armors-up like a '90s Image character; it's the conclusion of a five-part story whose idyosynchratic visuals and slightly-off-kilter philosophizing make it worth tracking down."

http://allaboutbooksandcomics.com/wp/phils-reviews-stuff-i-bought-329/
Thursday, August 6th, 2015
---
2:43 pm
- The Fandom Post reviews The Fox #5
Excerpt:

"Things come full circle at the end here where Paul becomes an accessible and likable character that leaves me wanting to see more of the family business come to life and what fallout there may be from their interactions with Smile. Haspiel and Waid have put together a really fun book here that harkens to the past in a lot of ways but with the right kinds of modern touches to bring it all together. Haspiel's artwork in particular is a big sell simply because of the panel layouts and the camera work done to present the action, going from unusual places to give it a very distinct sense of self that makes it engaging to read several times to take in those aspects. Here's to more adventures with The Fox and his family in our future."


Read the entire review here: http://www.fandompost.com/2015/08/06/the-fox-5-review/
11:20 am
- The Beat: Dean Haspiel's Beef With Tomato sparks a "conversational flame"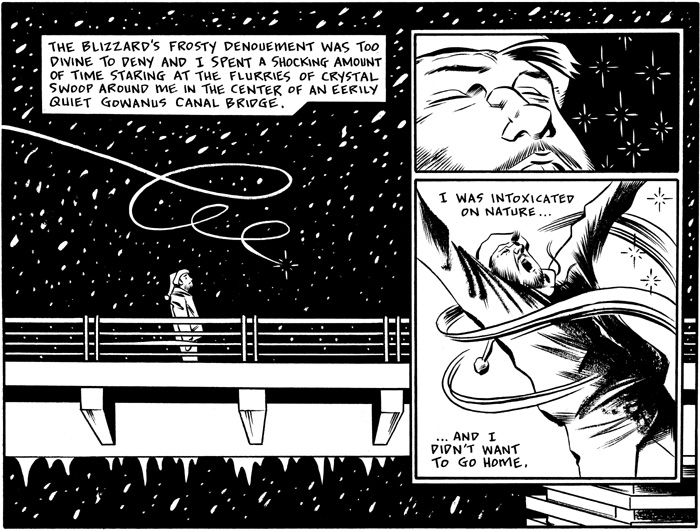 Heidi MacDonald interviewed me at The Beat about my graphic memoir, BEEF WITH TOMATO, and showed an exclusive preview of a comix story called "Snow Dope."

Excerpts:

"Ever since I discovered Harvey Pekar's American Splendor as a young teenager in NYC, I've been a fan of memoir comix. Everything from Joe Matt, Joe Sacco, and Gabrielle Bell to Seth Kushner's posthumous Schmuck, and Jennifer Hayden's upcoming, The Story Of My Tits. In the 1990s, I expanded my superhero trappings and dabbled in my own semi-autobio comix within the pages of Keyhole, a two-man anthology I did at the behest of my then-high school buddy Josh Neufeld, who has grown to become one of the premiere non-fiction comix journalists. I remember discovering the power of true life conversations within the pages of David Greenberger's Duplex Planet Illustrated, and contributing my own rookie sensibilities to that wonderful project. I've always been enamored by the auteur voice and their thinly disguised avatars the likes of Jessica Abel, Adrian Tomine, and Bob Fingerman. BEEF WITH TOMATO is my way of contributing to that literary library."

"I'm a died-in-wool believer in sharing stories. More important than money, stories is our universal commerce. Were benevolent aliens to land in Prospect Park today, we wouldn't be throwing gold at each other, we'd be huddled around a fire trading stories; the very currency of community. BEEF WITH TOMATO is a book meant to honor a NYC that no longer exists while helping spark a conversational flame between you and me."

Read the entire article/interview here: http://www.comicsbeat.com/fall-preview-dean-haspiels-beef-with-tomato-sparks-a-conversational-flame/
11:13 am
- Reading With A Flight Ring reviews The Fox #5
Excerpts:

"I have to hand it to Dean here because while his unique style of artwork is normally what I gravitate towards has taken Mr. Smile and made him this really sexually ambiguous creepy nutcase that just looking at kind of gives you the heebie jeebies."

"I will say that this arc was really well planned and executed full of surprises and twists that kept me entertained throughout."

"The Fox does indeed have its dark side to it but with it's well placed levity and great characterization this is certainly a character to keep your eye on."

Read the entire review here: http://readingwithaflightring.weebly.com/reviews/the-fox-5
Wednesday, August 5th, 2015
---
2:23 am
- Graphic Policy reviews The Fox #5
Excerpt:

"Mark Waid and Dean Haspiel are on fine form here as they bring The Fox #5 to an absolutely stupendous conclusion that brings everything that has made the first four issues of the Fox Hunt story arc great and the fifth issue, entitle I, Superhero, continues along the same trajectory. It's no secret I'm in love with series, and I wasn't disappointed with the finale of the opening arc. Dark Circle Comics are producing some of the most interesting series lately, and The Fox is no exception to that. The almost innocent, fun exterior hides some interesting parallels to one of comics most famous vigilantes without ever really taking itself too seriously. That isn't to say this is a comic to hand over to your five year old, but it does dodge a lot of the darkness so prevalent in comics these days without compromising the quality of the story.

If it sounds that The Fox #5 is a fun comic, well that would be entirely accurate. When it comes to enjoying the comics we read, none of the comics on my pull list are as entertaining as this series has been, and the fifth issue is no exception. Although with I, Superhero being the final chapter in the Fox Hunt arc, it may not be the best place to jump into the story; it's a fantastic ending to the opening arc."

Read the entire review here: http://graphicpolicy.com/2015/08/04/review-the-fox-5/