Sunday, May 31st, 2020
---
12:36 pm
- Dino FAQ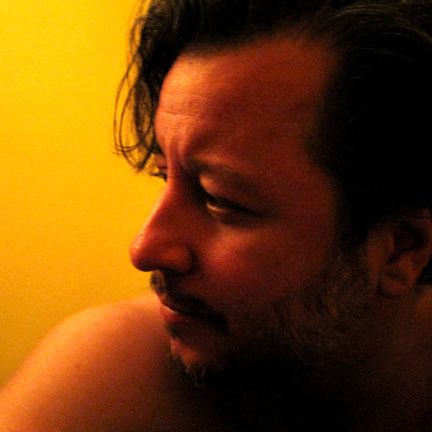 http://www.deanhaspiel.com/

Emmy award winner and Eisner and Harvey Award nominee Dean Haspiel created BILLY DOGMA, illustrated for HBO's "Bored To Death," was a Master Artist at the Atlantic Center for the Arts, is a Yaddo fellow, a playwright ("Switch To Kill"), occasionally teaches comic book storytelling, and is the co-founder of HANG DAI Editions. Dino has written and drawn many comix including The Red Hook, The Fox, The Fantastic Four, Spider-Man, X-men, Deadpool, Batman, Godzilla, Mars Attacks, and semi-autobio collaborations with Harvey Pekar, Jonathan Ames, Inverna Lockpez, Stan Lee, and Jonathan Lethem. Look out for his latest graphic novel, FEAR, MY DEAR: A Billy Dogma Experience.




Please click here to see what Dean's been up to at TRIP CITY: http://welcometotripcity.com/author/dean-haspiel/

Experiencing Yaddo First-Hand: An Interview with Cartoonist Dean Haspiel: http://thefreegeorge.com/thefreegeorge/dean-haspiel-yaddo-interview/

The Atlantic Center for the Arts: Residency #147: http://welcometotripcity.com/2012/12/the-atlantic-center-for-the-arts-residency-147/

Tom Spurgeon interviews me for The Comics Reporter: http://www.comicsreporter.com/index.php/cr_holiday_interview_2_dean_haspiel/

Poet Sandra Beasley interviews me for Barrelhouse Magazine
http://www.barrelhousemag.com/barrelhousing-with-comic-artist-dean-haspiel-an-interview-by-sandra-beasley/

Dean Haspiel speaks at The Library of Congress: http://www.loc.gov/today/cyberlc/feature_wdesc.php?rec=5709

ATTENTION Art Directors, Editors, Publishers, Writers, Etc: if you'd like to see current samples of Dean Haspiel's art, please check out his gallery: http://welcometotripcity.com/2012/01/dean-haspiel-gallery/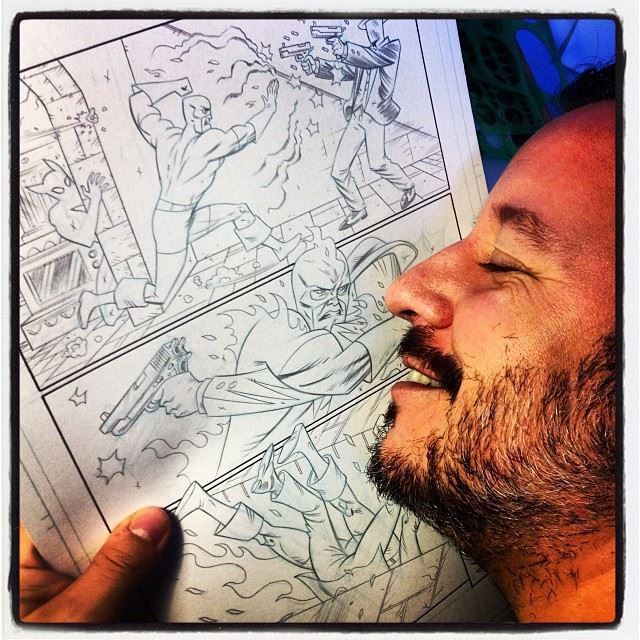 (
Click here for comix, interviews, news, videos, and other essential links
Collapse
)
Tuesday, December 23rd, 2014
---
4:44 pm
- CBR: DEAN HASPIEL GETS VILLAINOUS FOR DARK CIRCLE'S "FOX HUNT"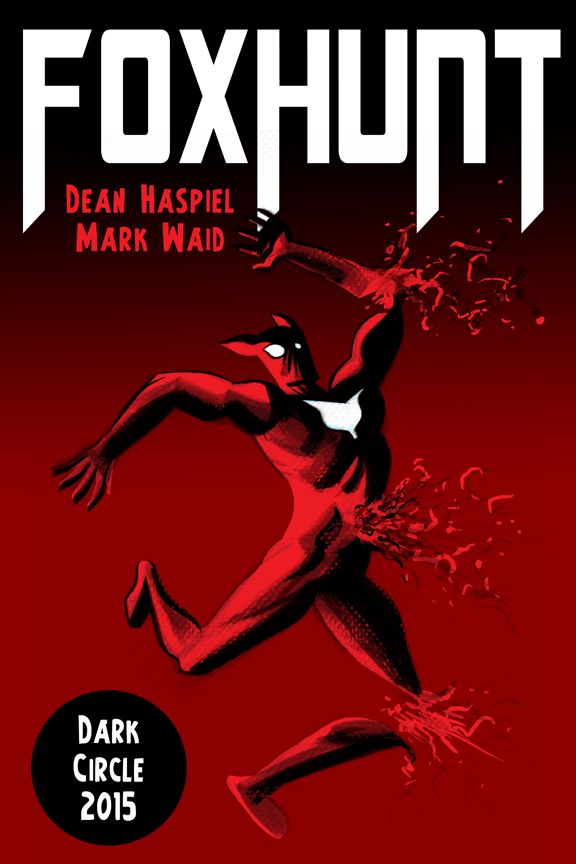 "If I helped set a Dark Circle precedent of sorts, then I'm honored. It seems that a lot of the franchise companies are editorially dictating what they want these days, but I prefer creator-inspired comix, and I'm glad Dark Circle is basically entrusting their characters with their talent. I don't envy DC having to cook up another game-changing Batman story after 75+ years, or Marvel having to make some kind of galaxy-sized sense out of Avengers continuity. And, frankly, the big crossover events often read like desperate yet unnecessary Hail Maries. I have no gripes against exciting the fans and making a big deal out of your fictional universe on an annual basis, but I enjoy the quieter superhero books like "Daredevil," "Hawkeye," "She-Hulk," "Silver Surfer," "Moon Knight" and "Iron Fist" because they're largely left alone and I don't need to spend a quadrillion dollars to get the full scope of the story. And, right now, Dark Circle is mandating that we dig deep, get serious and/or psychedelic and experiment with their toys while keeping us in check of what the market wants. It's been an interesting learning curve for me."

"I suppose the difference between Billy Dogma and The Fox is that Billy can't help himself. The Fox attempts to make sensible and heroic choices, whereas Billy Dogma is a force, albeit a flawed force, of nature. Flaws are where the two characters connect, actually, but Billy embraces conflict whereas The Fox would rather avoid it. Both characters ultimately do what needs to be done but The Fox takes longer to arrive at the solution because he's got too much white noise scrambling his mind, and Billy Dogma is too willing to break things in order to save what he deems worth saving."

Read the rest of the interview here:
http://www.comicbookresources.com/?page=article&id=57976
1:25 pm
- Rhymes With Geek reviews GARBAGE PAIL KIDS: Puke-Tacular
Friday, December 19th, 2014
---
11:13 am
- 12/17/2014
What a day. Obama opens the doors to Cuba. NYC rejects fracking. Sony negotiates with cyber terrorism by denying our freedom of expression (no matter HOW dumb and caustic that freedom is). And Seth Kushner walks out of the hospital cancer free.
Thursday, December 18th, 2014
---
11:17 am
- ESCAPO pin-up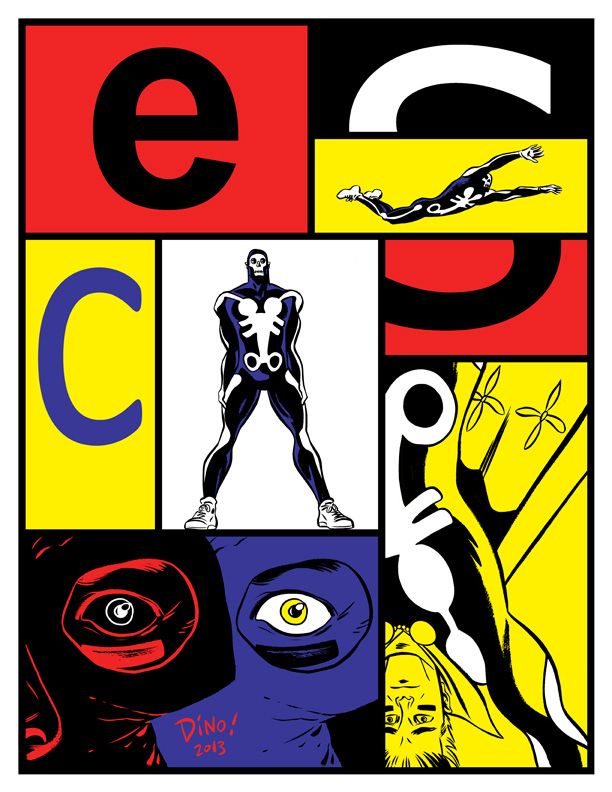 Inspired by Mondrian, I had the great honor of doing a pin-up for Paul Pope's ESCAPO graphic novel (published by Z2).
12:08 am
- Dean Haspiel's Library of Congress donation & comix talk
Wednesday, December 17th, 2014
---
12:42 am
- The Bigger Bang #2
Tuesday, December 16th, 2014
---
12:43 pm
- COSTUMED CHARACTERS in "The Anti-Hero Equation"
12:35 pm
- Costumed Characters in "The Hall of Just Us"
Monday, December 15th, 2014
---
3:31 pm
- The Fox #1 (ongoing series) solicitation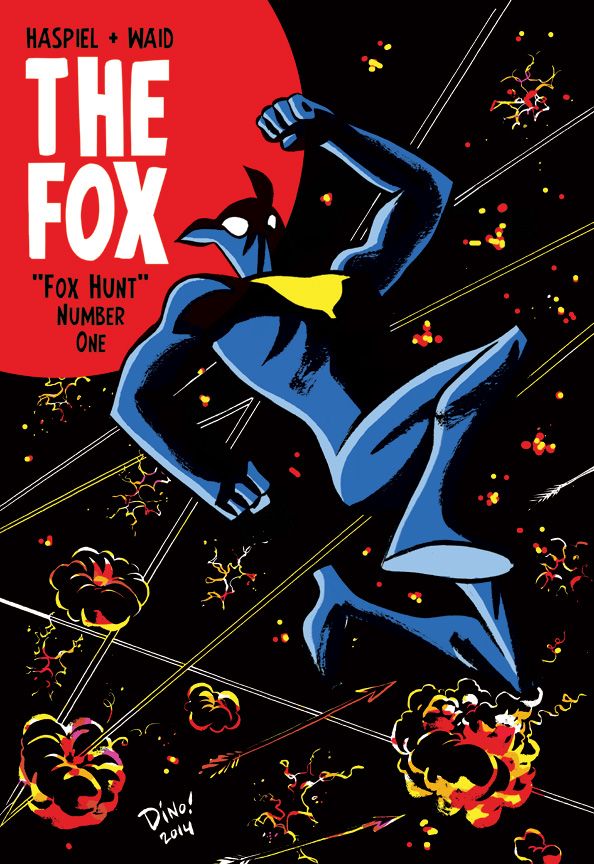 THE FOX #1
NEW ONGOING SERIES FROM DARK CIRCLE! THE FOX is BACK! Emmy Award winning writer/artist Dean Haspiel (Billy Dogma, HBO's Bored to Death) is once again united with Eisner award-winning writer Mark Waid (Daredevil, Thrillbent) for FOX HUNT: Part One "The Situation": When a billionaire philanthropist prepares Paul Patton Jr's home town for demolition, our hero is sent on assignment to photograph the event. But what strange force lurks in the shadows, and why will it take Paul's alter-ego, THE FOX, to stop it? The answer is the beginning of a deadly FOX HUNT and you won't believe what happens next! Don't miss the debut issue from the critically-acclaimed team that brought you THE FOX: FREAK MAGNET, featuring FOUR all-new variant covers! With art from Dean Haspiel, David Mack, Thomas Pitilli, Ulises Farinas and Chris Samnee!

Plot/Art: Dean Haspiel
Script: Mark Waid
Art: Dean Haspiel, Jose Villarubia, and John Workman
Cover: Dean Haspiel
Variant Cover 1: Chris Samnee and Matt Wilson
Variant Cover 2: David Mack
Variant Cover 3: Ulises Farinas and Ryan Hill
Variant Cover 4: Thomas Pitilli
On Sale Date: 4/8
32-page, full color comic
$3.99 U.S.

http://www.comicbookresources.com/?page=article&id=57799
Friday, December 12th, 2014
---
3:15 pm
- The Beat reviews FEAR, MY DEAR
"The pair of poetic graphic stories in Fear, My Dear reflect Dino's unfettered physicality and passionate persona. Since winning an Emmy award for his TV collaboration with Jonathan Ames, Bored to Death and The Alcoholic, their graphic novel from Vertigo, Haspiel has if anything become bolder and more exuberant. For this nicely produced hardcover from Josh Frankel's new Z squared imprint, the artist uses a four-panels-per-page grid format and a monochromatic color scheme (red in the first piece, yellow and orange in the second, both with an elegant use of white for emphasis) to further define the relationship between his creator-owned characters Billy Dogma and Jane Legit. Their romance haunts post-apocalyptic urban rubble and breaks through to a star-crossed dreamscape, only to end up where they knew they must: together."

--James Romberger, The Beat

http://comicsbeat.com/reviews-a-murder-of-cartoonists/
3:05 pm
- Garbage Pail Kids comic book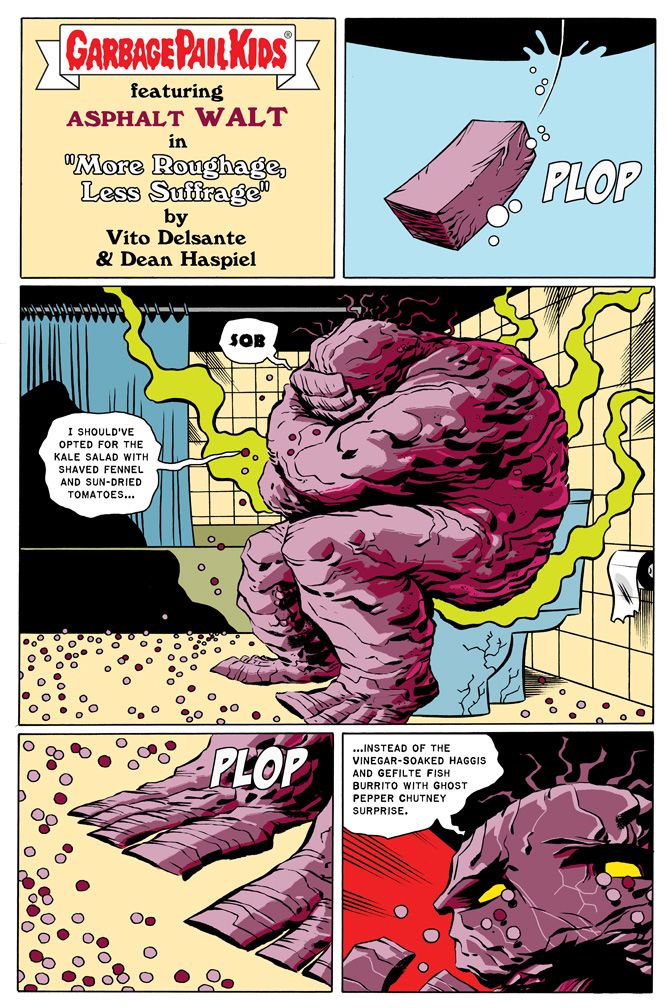 "When Denton asked me to pitch an idea for the romance issue, this is what I initially gave him:

Ew Nick in "Love Punch." Ew Nick (eunuch) likes girls but he has never kissed a girl and didn't get a prom date. So, he's standing sad and alone by the punch bowl at the prom where he (nefariously) spikes it with a love potion in hopes of getting a girl to drink it and fall for him. Literally. Sally Bit (celibate) notices what Ew Nick did and lets him pitch one pathetic line of woo before she declares "I'm saving myself for a proper Romeo, you psycho-sexual predator" and clocks him with her fist, knocking him out. Ew Nick wakes up naked in a bathtub full of ice wearing a bloody diaper and a ransom note for his castrated balls. Those two were never meant to get laid!

Needless to say, Denton (thankfully) shot that idea down. What was I thinking???"

Read the rest of the interview/article here: http://www.comicbookresources.com/?page=article&id=57720
Tuesday, December 9th, 2014
---
1:46 pm
- Happy Holidays
Monday, December 8th, 2014
---
6:29 pm
- Bleeding Cool visits Hang Dai Studios
11:33 am
- Mantronix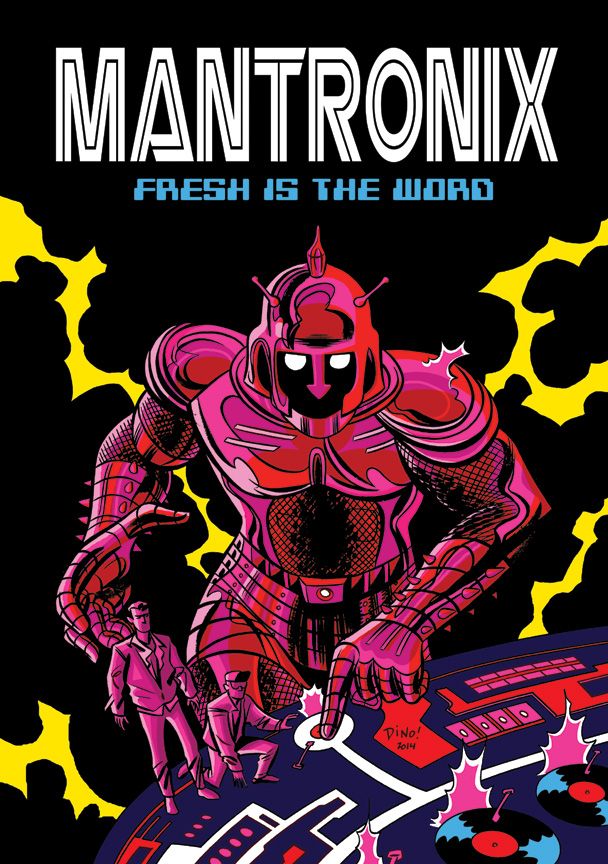 I had the honor of creating a MANTRONIX pin-up for Ed Piskor's upcoming HIP HOP FAMILY TREE book 3. I grew up with NYC Hip Hop since its inception and love what Ed has been doing with the history of it in comix form. My favorite rap song of all time is Afrika Bambaataa and the Soul Sonic Force's "Planet Rock." And, since Ed already covered Bambaataa in earlier volumes, I decided to celebrate Mantronix, a lesser known progenitor of electro-funk with hits like "Fresh is the word" and "Needle to the groove." "Cold Gettin' Dumb" is a phenomenal collaboration between Mantronix and Just-Ice; first introduced to me by old school pals, Raf & Cooly C (Raf aka jazz guitar impresario, Adam Rafferty, and Cooly C aka John-Christian Urich of Tortured Soul) whenever we threw house parties and they would spark a "table bug," which consisted of busting out pots and pans and smashing them together while dancing around a kitchen table.

https://www.youtube.com/watch?v=WQ9_uur0_HU


Sunday, December 7th, 2014
---
2:29 pm
- In My Not So Humble Opinion reviews SENSATION COMICS #4
"The art by Haspiel is fantastic. As I've observed in the past, Dino has always been great at evoking different artistic eras in his work, and he successfully renders these various characters interacting with each other. Haspiel is also a superb storyteller who very much knows how to lay out a page. He clearly had no problems working within the digital-first format, and the action flows very smoothly."

Read the rest of the review here: https://benjaminherman.wordpress.com/2014/12/07/comic-book-reviews-sensation-comics-3-4/
Tuesday, December 2nd, 2014
---
5:39 pm
- COSTUMED CHARACTERS in "Heyday"
5:35 pm
- SO BUTTONS cover
Monday, December 1st, 2014
---
6:34 pm
- Broken Frontier reviews LITTLE NEMO: Dream Another Dream
Wednesday, November 26th, 2014
---
3:43 pm
- New York Times reviews FEAR, MY DEAR