Sunday, May 31st, 2020
---
12:36 pm
- Dino FAQ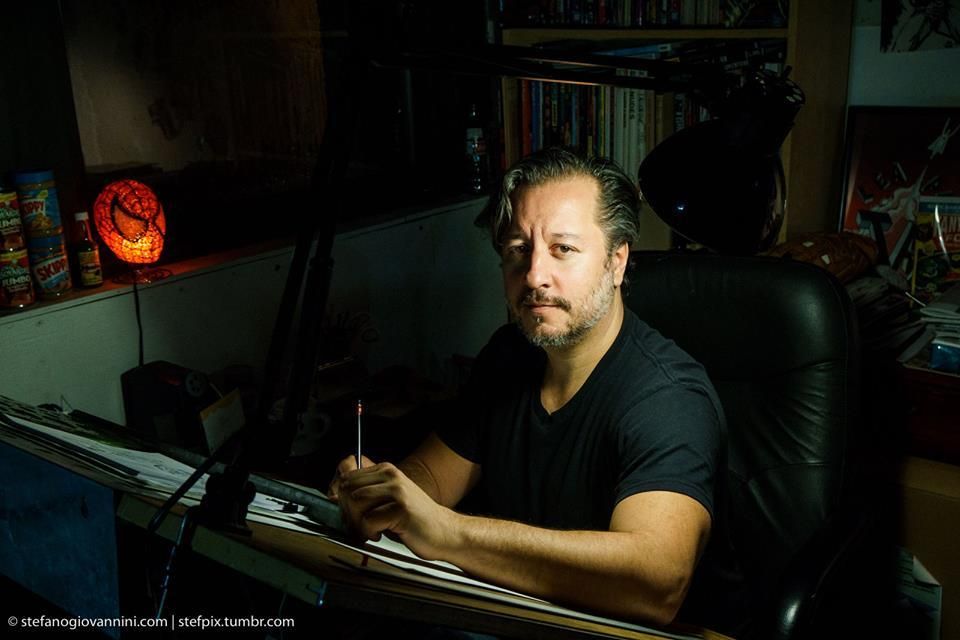 http://www.deanhaspiel.com/

Emmy award winner and Eisner and Harvey Award nominee Dean Haspiel created Billy Dogma, The Red Hook, illustrated for HBO's "Bored To Death," was a Master Artist at the Atlantic Center for the Arts, is a Yaddo fellow, a playwright, helped pioneer personal webcomix via ACT-I-VATE, a multimedia salon via TRIP CITY.net, and is the co-founder of HANG DAI Studios. Dino has written and drawn many comix for Marvel, DC, Archie, IDW, Dark Horse, & Heavy Metal, including The Fox, The Fantastic Four, Spider-Man, X-men: First Class, Deadpool, Batman, Wonder Woman, Godzilla, Mars Attacks, Creepy, The Walking Dead, SpongeBob SquarePants, and semi-autobio collaborations with Harvey Pekar, Jonathan Ames, Inverna Lockpez, Jonathan Lethem, Stoya, and Stan Lee. Look out for his latest graphic novel about his Manhattan exodus to Brooklyn, BEEF WITH TOMATO (Alternative Comics). Read THE RED HOOK for free at LINE Webtoons http://www.webtoons.com/en/super-hero/the-red-hook/list?title_no=643

Instagram: https://www.instagram.com/deanhaspiel_art/
Twitter: https://twitter.com/deanhaspiel

Artist's Statement:
I'm impelled to excavate universal truths and impart life experiences from my unique perspective to communicate with strangers and perpetuate hope with no permissions and no apologies.

Honors:
-Yaddo fellow.
-Master Artist at The Atlantic Center for the Arts
-Emmy Award winner for title design work on HBO's "Bored To Death."
-Eisner Award nominee for "Talent Deserving of Wider Recognition" and "Outstanding Webcomic."
-Harvey Award nominee for "Best Artist"




Please click here to see what Dean's been up to at TRIP CITY: http://welcometotripcity.com/author/dean-haspiel/

HANG DAI Editions: http://hangdaieditions.com/

Experiencing Yaddo First-Hand: An Interview with Cartoonist Dean Haspiel: http://thefreegeorge.com/thefreegeorge/dean-haspiel-yaddo-interview/

The Atlantic Center for the Arts: Residency #147: http://welcometotripcity.com/2012/12/the-atlantic-center-for-the-arts-residency-147/

Tom Spurgeon interviews me for The Comics Reporter: http://www.comicsreporter.com/index.php/cr_holiday_interview_2_dean_haspiel/

Poet Sandra Beasley interviews me for Barrelhouse Magazine
http://www.barrelhousemag.com/barrelhousing-with-comic-artist-dean-haspiel-an-interview-by-sandra-beasley/

Dean Haspiel speaks at The Library of Congress: http://www.loc.gov/today/cyberlc/feature_wdesc.php?rec=5709

ATTENTION Art Directors, Editors, Publishers, Writers, Etc: if you'd like to see current samples of Dean Haspiel's art, please check out his gallery: http://welcometotripcity.com/2012/01/dean-haspiel-gallery/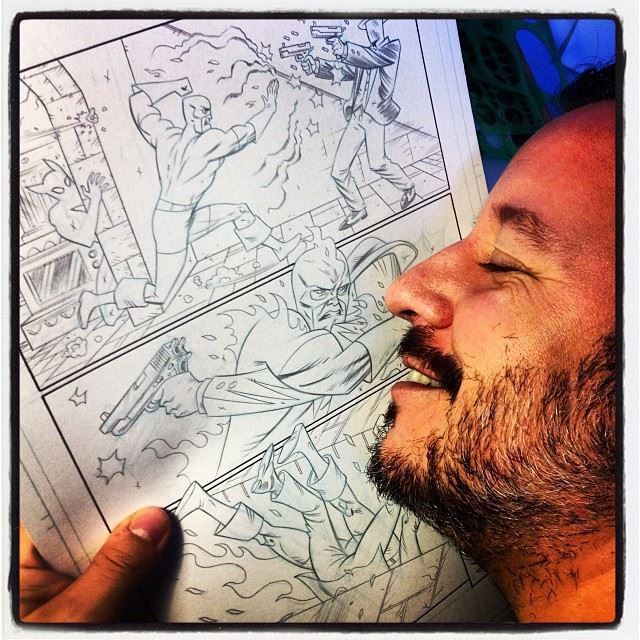 (
Click here for comix, interviews, news, videos, and other essential links
Collapse
)
Wednesday, September 28th, 2016
---
11:12 am
- The end of an era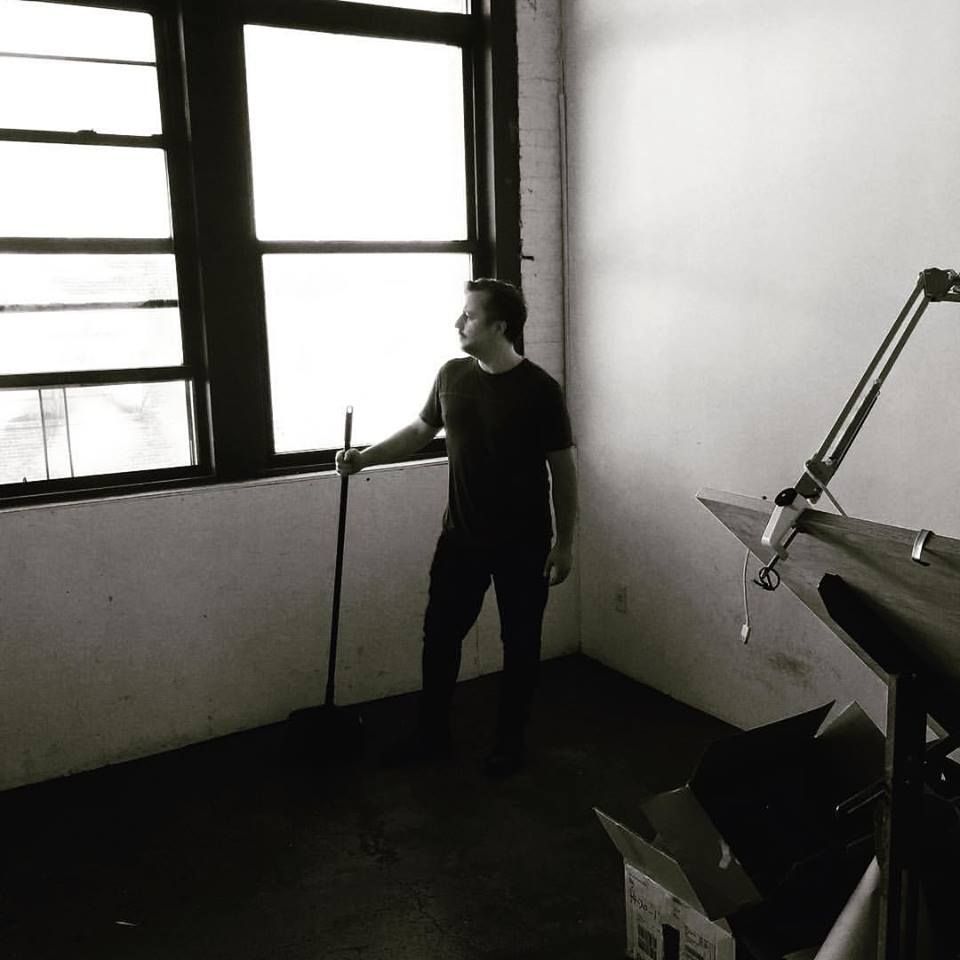 Goodbye studio space at 112 Second Avenue in Gowanus, Brooklyn.

Long Live Hang Dai!
11:02 am
- The Red Hook - chapter 26
Monday, September 26th, 2016
---
12:47 am
- Hyperallergic: Gowanus Artists Are Evicted from Building, and Trash Pickup Suddenly Halts
Wednesday, September 21st, 2016
---
1:30 am
- The Red Hook - chapter 25
Tuesday, September 20th, 2016
---
10:31 am
- Dean Haspiel at Wizard World Austin 2016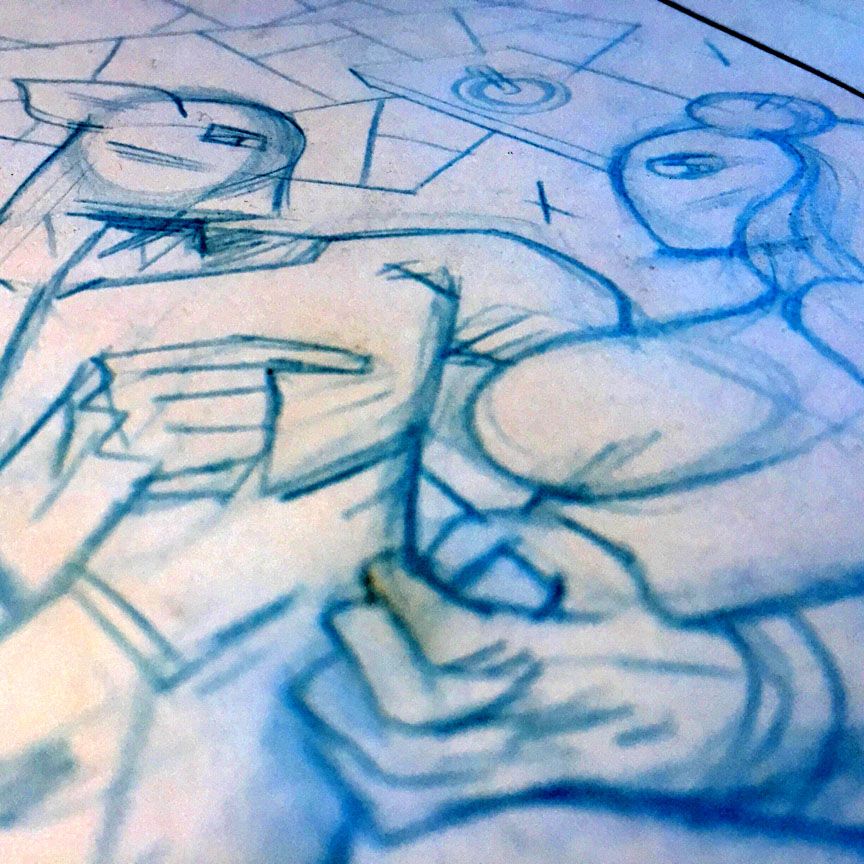 I'm a guest at Wizard World Austin, September 23-25, 2016, stationed at table A29. I will have copies of my graphic novels, BEEF WITH TOMATO, and FEAR, MY DEAR. Plus, rare copies of my exclusive THE WALKING DEAD cover. Ask me about my weekly webcomic series, THE RED HOOK, published for free at LINE Webtoons http://www.webtoons.com/en/super-hero/the-red-hook/list?title_no=643 I'm available for commissions, and I will also be doing four panels and a comix reading performance throughout the convention (see details below).

Click here for Wizard World Austin: http://wizardworld.com/comiccon/austin

FRIDAY SEPTEMBER 23:

7:00-7:45 PM THE CREATIVE MIND: TOP ARTISTS DRAW COMICS with X-MEN'S MICHAEL CHO, HOWARD THE DUCK'S VAL MAYERIK, THE RED HOOK'S DEAN HASPIEL & SPIDER-MAN'S STEVE GEIGER (SHOW STAGE)
Top comics artists talk about their careers, their craft, the comics business and whatever else might come up—and will show you some of their top-secret techniques as they draw live before your eyes! Join peerless pencilers Michael Cho (X-Men: First Class; Shoplifter), Val Mayerik (Howard the Duck co-creator; Magic: The Gathering), Dean Haspiel (The Red Hook; The Fox) and Steve Geiger (Spider-Man; The Hulk) as they pull back the curtain and tell you what it's really like to be a comics artist! Danny Fingeroth (How to Create Comics from Script to Print; Spider-Man) moderates.

SATURDAY SEPTEMBER 24:

1:00-1:45 PM WORDS INTO PICTURES: HOW TO WRITE COMICS with SPIDER-MAN'S TOM DeFALCO, THE RED HOOK'S DEAN HASPIEL, NO MERCY'S ALEX De CAMPI, DAREDEVIL'S CHARLES SOULE, HULK'S PAUL BENJAMIN and SPIDER-MAN'S DANNY FINGEROTH (ROOM 12)
Accomplished comics writers Tom DeFalco (Spider-Man; Thor), Dean Haspiel (The Red Hook; Beef With Tomato), Alex de Campi (Grindhouse; No Mercy), Charles Soule (Daredevil; Uncanny Inhumans), Paul Benjamin (The Hulk; Pantheon High) and Danny Fingeroth (How to Create Comics From Script to Print; Spider-Man) talk about how to put together a compelling comics story. Plus, they'll answer your questions about both the creative and business sides of the comics writing profession, including how to find an artist to work with (hint: a comics convention is the number one place!) and how to write exciting dialogue!

2:00-2:45PM NEW BROOKLYN VS OLD BROOKLYN: Dean Haspiel and friends perform slideshow excerpts from his New Brooklyn webcomic, THE RED HOOK, and balances it with an Old Brooklyn story from his graphic novel memoir, BEEF WITH TOMATO. (Creative Stage)

6:00-6:45PM THE GREATEST GRAPHIC NOVELS EVER TOLD: PERSEPOLIS, WATCHMEN, BATMAN, AND BEYOND (BALLROOM F)
Ironic superhero stories, coming-of-age tales, historical literature, modern drama, and everything in between fill graphic novels. What is a graphic novel, though, and what makes one great? Join authors Katrina Hill and Alex Langley (100 Greatest Graphic Novels: The Good, the Bad, the Epic) as they fight it out with Victor Dandridge (Vantage: Inhouse), Tom DeFalco (former Marvel editor-in-chief), Dean Haspiel (American Splendor; Batman), Clinton Hobart (Disney), and Dr. Travis Langley. Which ones are the best of the best?

SUNDAY SEPTEMBER 25:

12:00-12:45 PM CREATE-A-COMICS-STORY with SPIDER-MAN'S TOM DeFALCO, THE RED HOOK'S DEAN HASPIEL AND BEAUTY AND TANGLED'S CLINTON HOBART (ROOM 12)
Ever wonder what it would be like to collaborate on making comics with top professionals? In this fun-and-educational session, celebrated writer Tom DeFalco (Spider-Man; Fantastic Four), Emmy-winning artist Dean Haspiel (The Red Hook; Spider-Man) and renowned painter Clinton Hobart (Licensed Disney Fine Artist; Beauty and the Beast) create a new character and story before your eyes, incorporating audience members' ideas and suggestions! Come see—and join in—the creative process! The panel will be moderated by longtime Marvel writer and editor Danny Fingeroth (Spider-Man; How to Create Comics from Script to Print).
Thursday, September 15th, 2016
---
10:33 am
- The Red Hook in Dark Horse Presents #s 29 - 31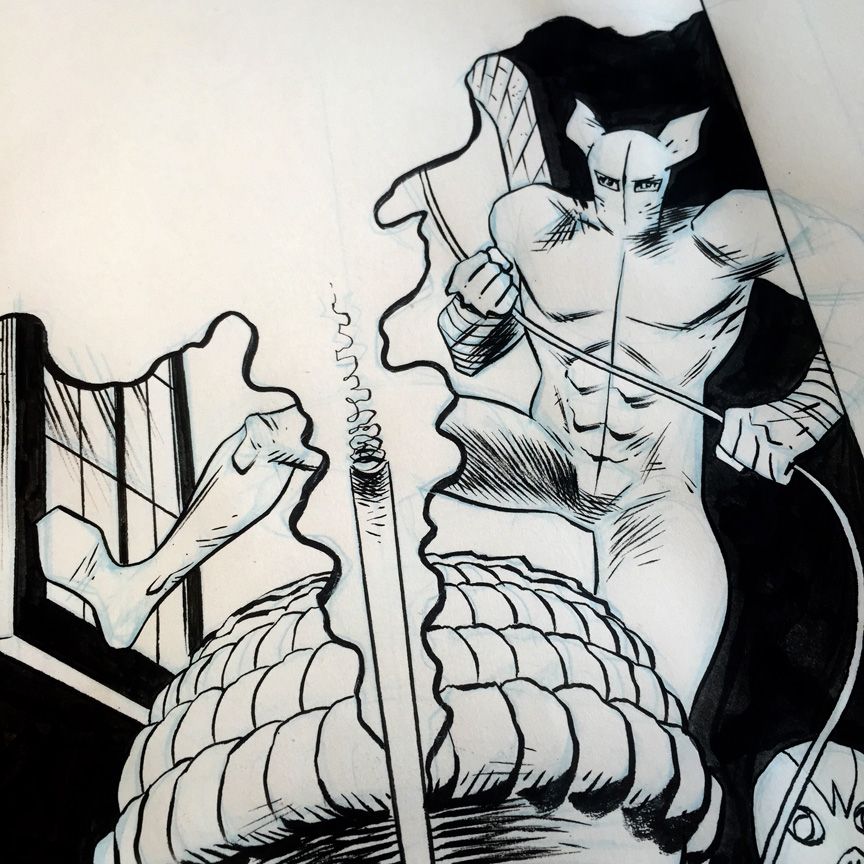 Now that season one of The Red Hook is wrapping up at LINE Webtoons.com (read it for free: http://www.webtoons.com/en/super-hero/the-red-hook/list?title_no=643 ), I'm currently working on a new 3-part Red Hook story for Dark Horse Presents #s 29 - 31. This story takes place BEFORE the great secession that sparked a New Brooklyn Universe.

(BIG UPS to Hannah Means-Shannon for shepherding the deal, and Rachel Roberts for editorial notes)

Solicitation details:

Dark Horse Presents #29

Paul Levitz (W), Carla Speed McNeil (W/A), Kaare Andrews (W), Dean Haspiel (W/A), John Nadeau (W/A), Dan Jolley (W), Francesco Francavilla (W/A/Cover), Tim Hamilton (A), and Troy Nixey (A)

On sale Dec 21
FC, 48 pages
$7.99

This month, Dark Horse is celebrating a decade of Francesco Francavilla in comics! Features a stunning cover as well as the continuation of Francavilla's The Black Beetle in Kara Bocek! Plus, Dean Haspiel brings his popular webcomic The Red Hook to print!

This issue also features the continuation of favorites Brooklyn Blood by Paul Levitz and Tim Hamilton; Finder: Chase the Lady by Carla Speed McNeil; The Black Sinister by Kaare Andrews, Troy Nixey, and Dave McCaig; and Murder Society by John Nadeau and Dan Jolley!

http://www.bleedingcool.com/2016/09/14/dark-horse-solicits-for-deemeber-2016-new-from-richard-corben-john-arcudi-and-a-second-zelda-book/
Wednesday, September 14th, 2016
---
3:12 pm
- Broken Frontier interviews Dean Haspiel about The Red Hook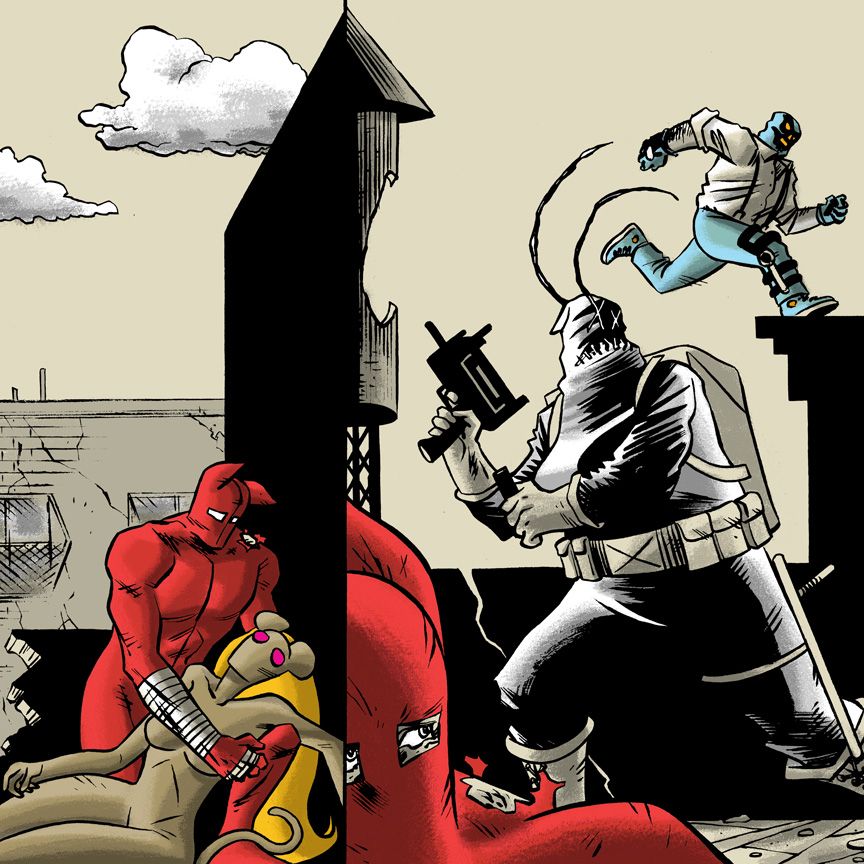 Hooked on Haspiel: The Rabidly Loyal Brooklynite Turns the Page on a New Chapter for his Beloved Borough: http://www.brokenfrontier.com/hooked-haspiel-rabidly-loyal-brooklynite-turns-page-new-chapter-beloved-borough/

Excerpt:

You suggest that works of art will become a lucrative new currency in New Brooklyn. Could you elaborate a little on this idea of art as currency?

It's a total fantasy. In a sense, art has become New Brooklyn's oil where a doodle can buy you a drink and a landscape can buy you a house. There are so many artists in Brooklyn, many of them struggling (including myself), that I wanted to project this good will idea in hopes that it may transcend from my comix and come true.

You pay tribute to Jack Kirby and the Silver Age of comics throughout the strip. How has the King's influence on your work evolved over the course of your career?

Jack Kirby designed great ideas and drew powerful stories that forever impacted me. He practically reinvented the superhero genre, several times! Comix can do anything but one of the things they excel at is superhero stories, which is really just a combination of science fiction, crime and romance, with a sprinkle of horror.

Originally, I created The Red Hook as an artist's residency palette cleanser at Yaddo in Saratoga Springs, NY in 2012. Because I was going there to write for a month, I wanted to shrug off my comix leanings and The Red Hook was my attempt to create a character done in the spirit of "What if Jack Kirby, Alex Toth and Will Eisner collaborated on a superhero together?"
1:58 am
- The Red Hook - chapter 24
Monday, September 12th, 2016
---
5:51 pm
- Comics Alternative reviews Dean Haspiel's The Red Hook
Comics Alternative comix professors Derek Royal & Sean Kleefeld review The Red Hook on their podcast:

"The guys jump into the core of this month's episode with a look at Dean Haspiel's The Red Hook. They discuss, among other things, the fact that superhero comics are relatively rare in webcomics and that this title is reminiscent of what Haspiel did with The Fox, for Archie Comics, and with his own comics centered on Billy Dogma and Jane Legit."

http://comicsalternative.com/webcomics-reviews-of-the-red-hook-kill-6-billion-demons-and-rice-boy/
Friday, September 9th, 2016
---
7:00 pm
- Washington Post: An Emmy-winning cartoonist explains why young artists shouldn't move to Brooklyn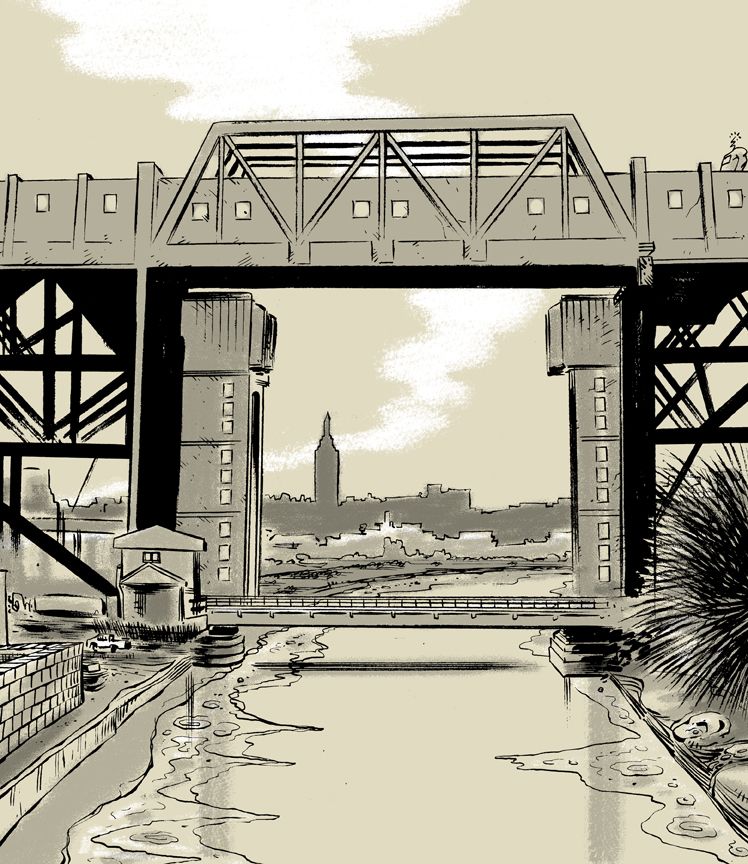 Michael Cavna interviewed me about the challenges of making art while living in NYC in 2016 at the Washington Post:

MICHAEL CAVNA: You and I once talked about how you could win an Emmy Award one day [for HBO's "Bored to Death"], then be back at the drawing board while eating PB&J the next day. For most artists, it's a career of passion that can be high on the creative returns, but low on the financial returns. Is that a fair characterization of the industry now?

DEAN HASPIEL: Awards are acknowledgments that can raise awareness but don't guarantee new work. And since I mainly work in the comic-book biz, winning an Emmy is more a conversation piece than anything else. Because of the recent popularity of superhero movies and cos-players and weekly comic-cons, one might think that making comics would be a lucrative career, but I think it's harder than ever to make a living at. Harder to compete with spoiler-based marketing and binge-culture. At best, comics is a low-budget way to conceive big ideas. At worst, it's a lifelong passion project akin to building castles in quicksand.

MC: In your Harvey Awards keynote, you said that New York, particularly Brooklyn, isn't such a financially friendly place anymore for artists. Several years ago, David Byrne penned a sentiment that he thought the "1-percent" of wealth was killing New York culture. Do you see this as a transitional ill that has many symptoms?

DH: New York City is an amazing place. An incredible spectacle. Some say the center of the world. I wish I could visit its virtues. Sometimes, I want to experience the NYC that people talk about. Alas, I'm just a dumb native who decided to make art in one of the greatest melting pots on planet earth, right as the middle class split into the rich and the poor. Luckily, my currency is based on creating stories and art whether I get paid a penny or a pound. You give me a yacht and I wouldn't know what to do with it. Give me a pen and a blank piece of paper or a spotlight and I'll tell you a damned good story.

MC: Has this been a gradual shift in New York, or have you seen things change swiftly, even radically?

DH: I think the shift in affordability has always been a slow decline but it seems like it sped up most recently, the past five to 10 years, as more artists who cobbled together in tighter spaces, where living rooms became bed rooms, have finally priced people out.

MC: Do you see this decline slowing, or reversing, any time soon — or does it feel like lost artistic support that won't easily be put back in the paint tube?

DH: I think the problem with the concept of designating artists spaces is that, eventually, they become too cool and woo non-artists with bigger bank accounts to live in such sections where, eventually, building owners raise rents, effectively murdering the hope for artistic growth. Check out the history of Soho, New York, where I used to live in the late 1980s, as that artists' community transitioned into an expensive, European-inspired hot spot, pushing out most of the artists. Bottom line: You need certain services in order to live and exist and art will always be trumped by coffee, food, beer and wine. You can't eat a Picasso.

MC: Among your network of creatives are musicians and photographers and other artists. Do you see them facing the same symptoms in New York as you?

DH: They already kicked out the musicians in the building next to ours, almost a year ago. Music bands scrambled off to other spaces or went back home to their parents' garage. A local photographer I occasionally run into on the street basically lost his job to cellphone pictures because most companies don't care about the art and craft when they just want the cursory snapshot. Nice if it's in focus. I'm sure someone will develop a comics app or some kind of filter, if they haven't already, that will make it simpler for anyone to make a digital comic. Fine. Whatever. What makes an artist stand out is their personal voice, and that can never be duplicated. It just may have to come from much farther away, is all.

MC: Anywhere else you're considering moving to make comics?

DH: With all my gripes, I have a really hard time emotionally leaving my native New York City. It's the only home I know. It's where my heart is. A part of me thinks the Catskills is where I'll wind up, boiling an old shoe to make soup like Charlie Chaplin did in that movie. Because I've always strove for making art, I'm otherwise unemployable. But I work hard at keeping my finger on the pulse and keeping it communal,while making an individual stamp in hopes of uplifting the narrative arts for fans of the form. Am I due for a midlife crisis? Sure. Bring it on! I'll turn it into art.

MC: Say I'm a young comics creator weighing whether to move to Brooklyn. What advice would you give?

DH: Sorry, but there is no justifiable reason for a young creator to move to Brooklyn to make art. You'll just wind up liquidating your savings faster than you prepared for while holing up in a corner to work all night and sleep five hours a day while subsisting on cheap food. Better to visit Brooklyn and crash couches and network; make friends with like-minded people, until maybe there is a viable way to innovate and make something sustain. Whatever that looks like in the next phase of New York City's crumbling art scene.


You can read the entire article/interview here: https://www.washingtonpost.com/news/comic-riffs/wp/2016/09/09/an-emmy-winning-cartoonist-explains-why-young-artists-shouldnt-move-to-brooklyn/
Thursday, September 8th, 2016
---
11:44 am
- DNAinfo: Comics Artists Latest Victims to Get the Boot From Gowanus Building


I spoke to DNAinfo reporter Leslie Albrecht about Hang Dai and other studios leaving our current space in Gowanus, Brooklyn.

Excerpt:

"Haspiel grew up in Manhattan and moved to Carroll Gardens nearly 20 years ago. His mother was deputy director of the New York State Art Council and he spent his childhood surrounded by artists who inspired him to pursue a creative career.

He says people sometimes tell him that being an artist is a "privilege" because "it's not a real job," but he said he grew up in a time when artists could make a living in New York and hoped to do the same. He's been successful, winning an Emmy in 2010, but still struggles to make ends meet, he said.

Now some of his colleagues are planning to move to Philadelphia or elsewhere, but Haspiel hopes to stay in New York.

He said the studio at 112 Second Ave. provided not only workspace but a real sense of family that he'll miss. Haspiel said he can work out of his apartment and interact with fellow artists online, but he prefers face-to-face interactions in a shared studio.

"I want to be around people because that's the energy, that's the unexpected," Haspiel said. "There's a tension, there's a conflict that makes you do things you wouldn't otherwise do in the safety net of your own home hiding behind a screen."

Read the entire article here: https://www.dnainfo.com/new-york/20160907/gowanus/comics-artists-latest-victims-of-get-boot-from-gowanus-building
Wednesday, September 7th, 2016
---
10:08 pm
- Dean Haspiel's Keynote speech at the 2016 Harvey Awards - video


Master of Ceremonies, Vivek Tiwary. Recorded by Jeff Newelt.
11:21 am
- The Red Hook - chapter 23
Tuesday, September 6th, 2016
---
4:07 pm
- Comics Beat: Hang Dai Studios' end of days in Gowanus, Brooklyn
1:29 pm
- 40 Days of Supergirl
Monday, September 5th, 2016
---
10:57 am
- Trouble with Comics reviews Dean Haspiel's BEEF WITH TOMATO
Thanks, Matt Lacroix, for writing such a great review for my graphic novel, BEEF WITH TOMATO at Trouble With Comics.

Excerpts:

"Much of the book finds Haspiel at the center of acts of sexual exhibitionism, blunt force trauma, and/or drunken Greek mobsters as a matter of course, not so much surprising as they are disorienting. Beef With Tomato is a look into the non-trust-fund-fueled life of an urban artist living somewhere between the hipster elite and the lunatic fringe. Less a cohesive narrative (albeit with several common threads) than a series of vignettes, the book delivers a fully-realized experience that resonates past the confines of the page."

"To put it charitably, Haspiel's life (as depicted) is pretty weird, and I don't use that as a pejorative. The situations in which Haspiel finds himself are almost too weird to believe, and yet are sadly indicative of the undeniable madness found in the modern world. Unlike many such biographical works, Beef With Tomato is suffused with an undercurrent of chaos that defies convention."

"The art is crisp and clean, detailed yet unobtrusive, which allows Haspiel's narrative to shine. In his more unfettered moments, Haspiel's New York is an eclectic mix of constant, jarring, disparate images."

"When Haspiel is profoundly affected by something, he is an able philosopher with a fresh take on otherwise mundane (or one-note) occurrences. These moments largely occur in several short essays toward the latter part of the book, and the format shift helps to more fully flesh out Haspiel's philosophy."

Read the entire review here: http://troublewithcomics.com/post/149972232031/dean-haspiels-beef-with-tomato-reviewed-by-matt
10:41 am
- Harvey Awards 2016 keynote speech by Dean Haspiel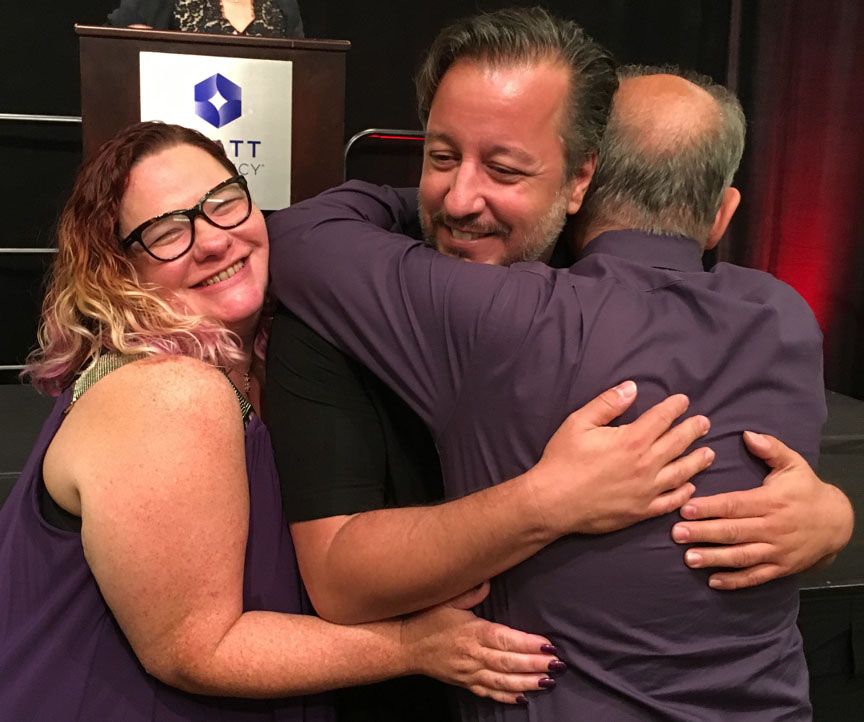 (Shelly Nathan, Dean Haspiel, & Marc Nathan at the Harvey Awards 2016. Photo by Chris Miskiewicz)

Here is the Keynote speech I wrote and delivered during the Harvey Awards at Baltimore Comicon 2016...



When Marc Nathan called me on the phone a few weeks ago, he asked if I was sitting down. I was. So, I stood up. Marc then asked me if I would like to be the keynote speaker at the Harvey Awards. I sat right back down. I told him I appreciated his offer and was honored that he asked me but I had to decline. It was too nerve wracking to even consider such an honor. He asked me to think about it for a day.

See, Marc was aware of a recent rant I made about my current status as a freelance artist trying to make ends meet in my native NYC. A rising epidemic that most of us can relate to as mutual comix makers and movers and shakers struggling to keep the lights on, no matter where we live. I think Marc wanted me to talk a little bit about that.

I'm currently wrapping up the first season of a free weekly webcomic I produce called The Red Hook for LINE Webtoons.com. It's a superhero story that's partially about a sentient Brooklyn whose heart gets broken by an indifferent yet entitled society. Brooklyn decides to literally and physically secede from New York to go back to days of old where society bartered their skills and talents for food and services and communities had each others back. A New Brooklyn is born where a sketch can get you a drink and a painting can buy you a house.

Christopher Calloway of Word of the Nerd interviewed me about my project and asked: "Brooklyn having a broken heart and becoming an island unto itself is an analogy for it undergoing a cultural change. Artists are losing their studios as the neighborhood becomes more "gentrified". How are you and your fellow artists living in the area coping with the change?"

Here's a version of my answer:

Our family is breaking up. As independent freelancers, there is nothing we can do. What was once $25 per square foot a few years ago has become $45 per square foot – if we're lucky. Most of us are moving back into our one-bedroom apartments. Communities and studios are dissolving. Anxieties are high and spirits are low. There's chatter of some freelancers making an exodus to the mountains or to affordable states but nothing organized.
I'm emotionally tethered by the fact that I'm a native New Yorker and it's the only place I've ever lived in. When some people think about NYC they think of the Empire State Building, Times Square, and Broadway theater. When I think about NYC, I think about the outliers who fuel the heart and energize the soul of NYC. But, as evidenced by abnormal rent hikes, land developers don't care about grass-roots culture. NYC is no longer interested in underwriting the avant-garde with affordable spaces.

I was having lunch with my friend and sometimes collaborator/writer/television producer, Jonathan Ames, and he agreed that art in NYC was compromised more than ever before. The wild stuff he performed and curated years ago at now defunct basements and second floor venues would be tough to engender today because who goes anywhere anymore when everyone is glued to their smart phone and tablet? It's hard to compete with an audience that can't extricate themselves from the internet for a couple of hours to experience something live and direct with carbon dioxide. Our surveillance society has created attention-deficit disorder zombies. The "scene" got taken hostage by the screen.

I grew up during a time when artists could live most anywhere in the city and I counted on the fact that there were going to be places for me to lay down my head so I, too, could take art seriously. My mother was deputy director of The NY State Council of the Arts for 30-years. Through her, I got to witness diverse artists, performers, and organizers of all measures do what they did and get by. It was that kind of leeway that encouraged me to sacrifice a normal life for the risk of a freelance one so as to create cool and exciting new ideas with like-minded artists, necessary to the growth and strength of our culture. What used to be less-than-desirable neighborhoods where artists could find a cheap spot to experiment and squeak by, hardly exists anymore. We made scary places cool enough to price us out.

For the first time in my life I'm thinking about leaving NYC but I'm having a mental block in taking that leap of faith. Maybe I should look into the food truck model? I could become a roving cartoonist on Route 66, performing my stories and selling my comix though a concession window. The price of gas might be cheaper than an old, windowless warehouse room stacked between a garbage dump and daily drug busts.

My rant got some attention from fellow artists across the nation and across our industry. But, you can easily replace their plight with most cartoonists who have dedicated twenty-to-fifty years or more of their life and service to help evolve our industry and perpetuate franchise characters, only to lose work because they didn't trend anymore in a business that doesn't provide a proper pension. I get that there is no guarantee in comix but, in the eternal words of Chris Oarr, "Give a crippled crab a crutch."

Come September 30th, at the end of this month, after many years sitting in the same room inches from my peers, creating comix and art under the banner of Hang Dai Studios, we will say our goodbyes. Some of us are going back home to start new lives while others are sparking new studios...smaller studios in more expensive spaces, far away. I'm giving myself a year to see how it all shakes out.

But, why?

I'm 49-years old and I still feel the same tingle I felt when I was a skinny little boy every week new comics come out. I remember getting a 50-cent weekly allowance from my parents and waiting at the newsstand on my corner for the clerk to rack the new comic books so I could be the first kid on my block to see what came out. To ogle the new covers and spy the new stories. Very quickly, 50-cents wasn't enough money to buy what I wanted. Especially when they raised the price from 20-cents to 25-cents! Soon, my parents stopped giving me an allowance when they saw what I spent it on and just bought me the comics I wanted until I discovered a holy grail.

West Side Comics, a local comic book store! Suddenly, I could buy back issues and collections and that meant I had to get a job. And, at age 15, I got a job at my local candy and cigar store that paid me two-dollars an hour so I could buy more comics. Old comics! I met my first real life cartoonist when a regular customer, a short, unassuming Japanese-American man came in with a portfolio and I asked him what was in it. He pulled out original art from Prince Valiant and Dondi that he was lettering. His name was Ben Oda.

Suddenly, comics became humanized and were much more than The Fantastic Four, Spider-man, Batman, and something called Star Wars before the movie came out. Real people made these things. I started to recognize names and follow my favorite creators. Later on, I discovered Chester Brown's Yummy Fur and Harvey Pekar's American Splendor and learned that comic books could be about anything. And, with that, I decided I was going to be a comic book creator, no matter what.

But, how?

Instead of paying attention to science and math, I drew crazy clowns and giant squids attacking battleships in the corners of my junior high school books. I came up with a Shakespeare super-team led by Mercutio, Tybalt, and Iago. By putting my stuff out there in class, I discovered other comic book fans and we soon became friends. We hung out after school and formed a comic book company where we created new characters, and sometimes collaborated, and would xerox and staple our comics to make them feel real.

A couple of years later, I befriended a kid in high school named Larry O'Neil who turned out to be Denny O'Neil's son. Denny O'Neil, the legendary comic book writer and editor of Batman, Green Lantern/Green Arrow, Iron Man, Daredevil, Moon Knight and so much more. Denny got wind that Howard Chaykin, the guy who drew that Star Wars comic, needed a new assistant for his magnum opus, American Flagg! Another artist down the hall named Bill Sienkiewicz wanted someone to help him out on New Mutants, and Elektra: Assassin. When Walter Simonson got a look at what we could do, he put us to work on Thor. That was 1985. I was 17 going on 18. That was 31 years ago.

I never went to a comic book convention until the mid-1990s when my high school pal & cartoonist, Josh Neufeld convinced me to fly to Chicago and promote our first, two-man comic book anthology titled Keyhole. That's where I met Jessica Abel, Harlan Ellison, and John Byrne. What a trifecta of diverse talents. Needless to say, I got bitten by the comicon bug even though I never got to meet my hero, Jack Kirby, to shake his hand and say, "Thank you." Something I regret to this day.

And, even if my portfolio wasn't ready for prime time, my peers and, more importantly, comics didn't let me know that when I got wind of an expo in Bethesda, MD called SPX, The Small Press Expo. I found my tribe at SPX. Inclusive and innovative yet bucking the system while reinventing it. That's where I befriended the likes of Jeff Smith, Diana Schutz, Bob Schreck, James Kochalka, Evan Dorkin, Roger Langridge, Pete Sickman-Garner, Joan Reilly, Brett Warnock, Chris Staros, Greg Bennett, Chris Oarr, Warren Bernard, and got an authentic fist-pump from Will Eisner as he shouted, "You're a part of the future, kid!" SPX was my first home away from home.

On Tuesday, September 11, 2001, the worst attack on American soil occurred when terrorists flew airplanes into several of our most prominent buildings, murdering over 3000 people. If I remember correctly, SPX was supposed to happen that very weekend and was canceled for obvious reasons. Soon after, a man named Marc Nathan reached out to SPX, and to all the exhibitors who were supposed to attend, and gave them a free room at Baltimore Comicon that very Halloween. The first time I met Marc Nathan, I recognized him in the hotel bathroom and I hugged him before I even shook his hand. Somehow, I fooled Marc (and Brad Tree) into inviting me back as a guest every year since; treating me like I was special for no good reason but because they say so. Two years ago, when my studio mate, Seth Kushner, had a bad run with cancer, Marc came up to my table with a blank check and asked, "How do you spell Seth's last name?" I told him and Marc proceeded to write a check to Seth for $10,000 and said to me, "Please make sure Seth and his family get this money so they can have food and fruit and vegetables."

Baltimore Comicon is another home away from home and genuinely celebrates and takes care of its cartoonists. Baltimore Comicon is where I met Ramona Fradon, Martin Nodell, Nick Cardy, Herb Trimpe, Jerry Robinson, Sal Buscema, Gene Colan, Joe Kubert, Jules Feiffer, George Perez, Jose Louis Garcia-Lopez, Joe Rubinstein, Ron Wilson, Stan Lee, and Mike Wieringo.
It was at Baltimore Comicon 2007 that writer Mark Waid and I commiserated about the then recent passing of one of his greatest collaborators, Mike Wieringo, and promised that we wouldn't just talk about doing something together like we'd promised the previous years. We'd make it happen because...you never know. Seven years later we made good on our promise collaborating on The Fox for Archie Comics. The Fox of which I convinced Darwyn Cooke to do a cover for. Another talent like no other taken away from us far too soon.

I first discovered North Carolina cartoonist David Trustman while perusing artist's alley at Baltimore Comicon a few years ago with my studio mate, Christa Cassano. I told her my favorite thing to do at comicons is to discover those diamonds in the rough; the grassroots efforts of outliers. We were unprepared for David Trustman's self-published comix which has the single most shocking yet absurd images I have ever seen. We're talking pure, unexpurgated comix! We became friends and, just recently, started collaborating on a free webcomic called GOD SLAP. This is the kind of beautiful thing that can only happen when you curate a room that allows rookies and veterans to mesh with retailers and cos-players and publishers with editors. A full-blown Nerd Mardi-Gras. Whenever someone asks me "how do I let people know about my comix," I always say, "show up to your own party." Your party is my party is our party. Make yourself available. Be open to anything and everything and comics will give you back something profound and unexpected.

Comics have come a long way since I picked up a copy of Shazam! #1 off the newsstand in 1973. The border lines between mainstream and independent comics have blurred substantially. Batman, Superman, The Avengers, Jessica Jones, and Wonder Woman can share the same space as Love & Rockets, The Walking Dead, Fun Home, March, and The Story of My Tits. Comics have become more diverse in substance and talent as print dukes it out with digital. The NY Times and most all major news outposts have broken the levee between socially acceptable and the critically inclined, expanding the readership and shifting the dialogue. Fans have become more involved and, dare I say, entitled. And, in order to make comix, it seems that you don't ever have to have read a comic but I highly recommend studying the form and knowing its history. We now have universities and How To books that can give anyone and my mother a leg up on the sequential narrative arts. But, is comix a smart career choice? A good way to spend the majority of your life?

There's a profound scene in the American Splendor movie where Harvey Pekar, played by Paul Giamatti, is sleeping in bed and suddenly wakes up from an apparent nightmare. Terrified, he looks around and says "I got a job. I got a job." And it quells his fear.

Every night I go to sleep, I have a panic attack and I think about the career I chose and the life I live and wonder what's going to happen? What will tomorrow bring? Will I get more work? Is this where it stops? I remind myself that no one put a gun to my head and forced me to make comix, but I worry so much about comix that I can't breathe and I start to choke and jump out of bed suffocating. I pace around my apartment in the dark until I calm myself down and lay back in bed and, eventually, I pass out. I don't "go to sleep." I pass out. The only thing that lets me sleep for a few hours at a time...the thing that quells my anxiety is the fact that I'm not alone. That I have this family, that I have all of you, and we're not breaking up. We're not going away. That, some of you are wide awake when I'm fighting sleep, too. And, like me, the majority of the people who make up the comix community are there because they have to be.

Once in awhile I wake up in the middle of the night and I think about you and I say, "I have a family. I have a family."

Thank you.


You can watch/hear it here: https://www.youtube.com/watch?v=0QNUbbWqhXg
(thanks, Jeff Newelt & Vivek Tiwary)
Wednesday, August 31st, 2016
---
10:34 am
- The Red Hook - chapter 22
Monday, August 29th, 2016
---
7:24 pm
- Dean Haspiel at Baltimore Comicon 2016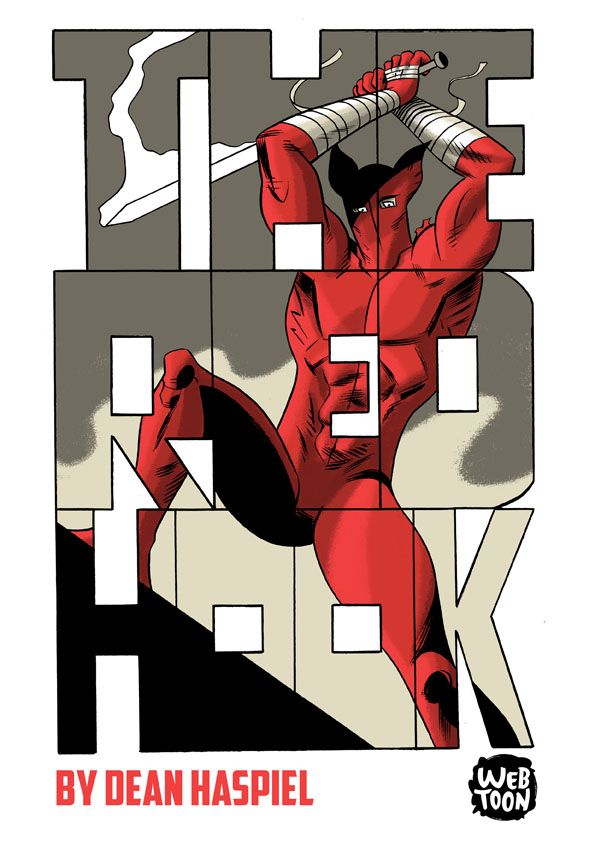 I'm a guest at Baltimore Comicon 2016 this year and will be tabling at booth #2405 with Christa Cassano, Jason Goungor, Jeffrey Burandt, Chris Miskiewicz, David Trustman & Sarah Moseley. I'm also the Keynote Speaker at The Harvey Awards, and will be signing a free, exclusive THE RED HOOK print at the LINE Webtoons Booth #922, plus a panel and portfolio review (see info below). I also contributed an original Moose pin-up for the Baltimore Comic-Con Yearbook featuring Archie Comics!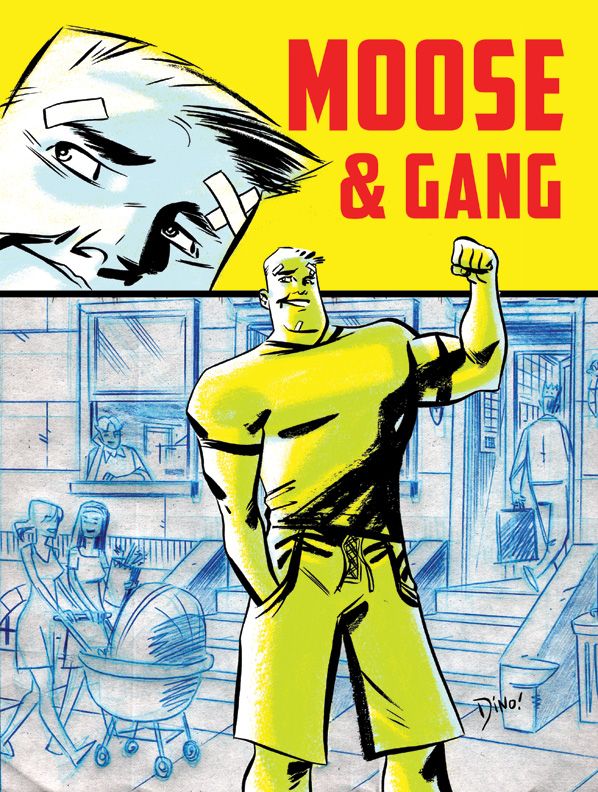 Friday, Sept 2nd

3:00-4:00 - Dean Haspiel signing exclusive/free RED HOOK prints at LINE Webtoons Booth #922

Saturday, Sept 3rd

1:00-2:00 - Portfolio reviews at LINE Webtoons Booth #922

5:15-6:45 Room 339-342 - Monetize YOUR Comics - LINE WEBTOON Discover
Making comics and you can too! LINE Webtoon's Tom Akel will walk you through how to publish and monetize your own IP on the Discover platform and Patreon's Heather Wilder will provide details on a new partnership between LINE Webtoon and Patreon and how creators can take advantage of a new Webtoon creator investment program. Hear from creators who have published their work through Discover while building huge audiences, including Kaitlyn Narvaza (Siren's Lament, Where Tangents Meet), Boredman (Apocalyptic Horseplay/UndeadEd) and Dean Haspiel (The Red Hook).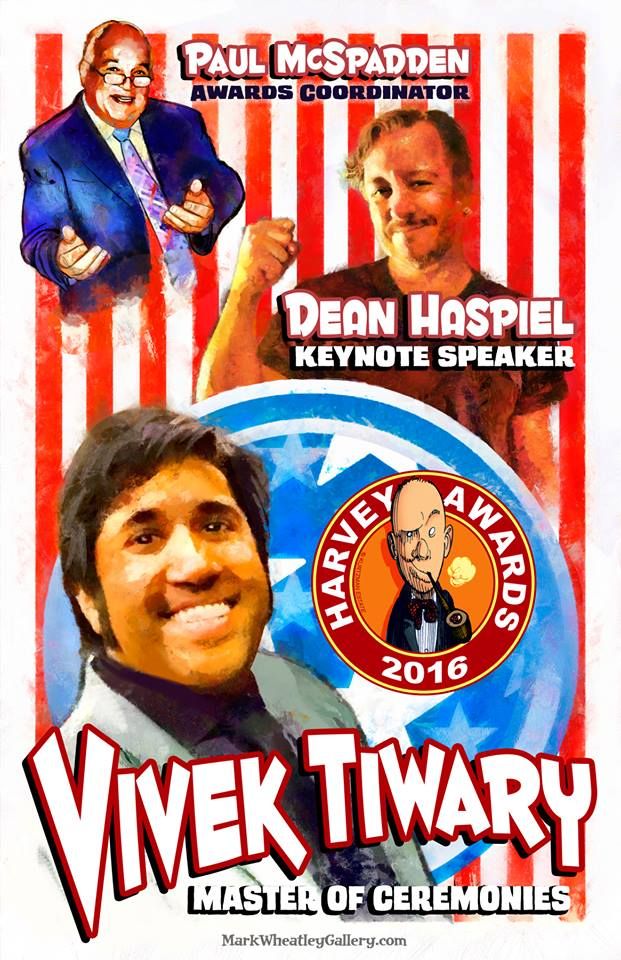 Get all your Baltimore Comicon info here: http://baltimorecomiccon.com/